I first had to drive to London City Airport where I took a plane to Frankfurt, then to Nagoya and then to New Chitose. I then took a train, around 1070 Yen, to Sapporo Station where I then met my exchange co-ordinator at the information desk. The trip didn't take too long and in fact it wasn't nearly as difficult than I thought it would be to get here. As it took around 2 days to actually arrive at Bisen, it was fairly late in the day, but I still received a tour of the accommodation as well as a drive past Bisen itself. After the tour of my accommodation I was given a folder of all of my time tables and a PDF textbook was E-Mailed to me as soon as I got my Wi-Fi set up so I can start learning written and spoken Japanese. I know very little Japanese so I look forward to my Japanese culture classes. My room in itself is quite roomy. My accommodation gave me a fridge/freezer for my room so I don't have to worry about storing snacks and drink throughout my stay. The view outside of my room: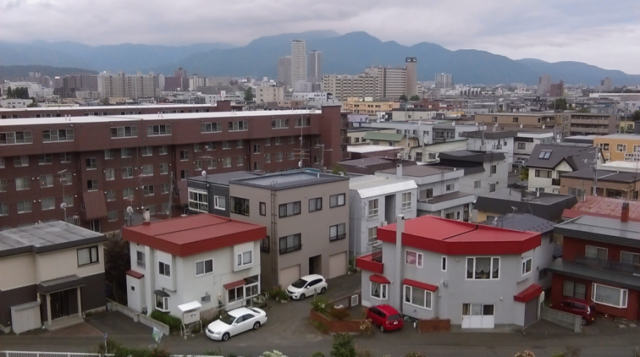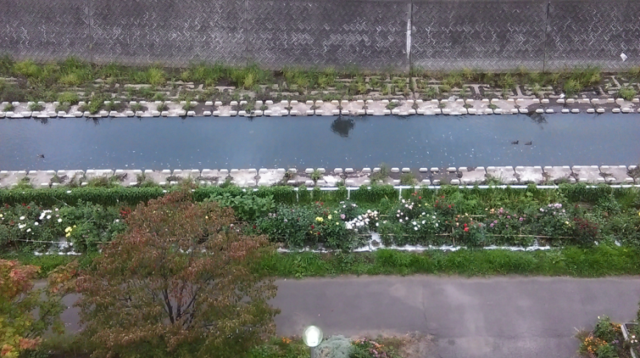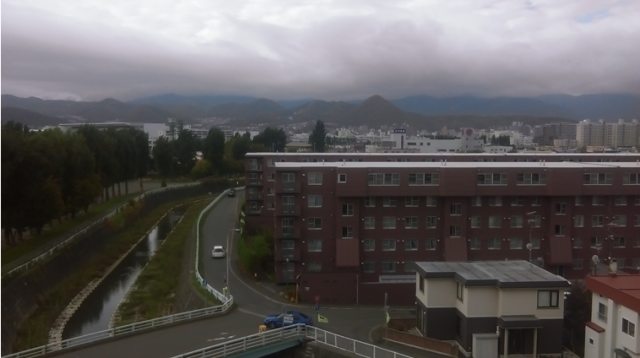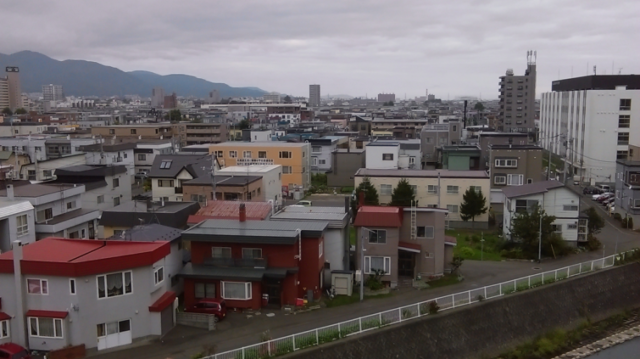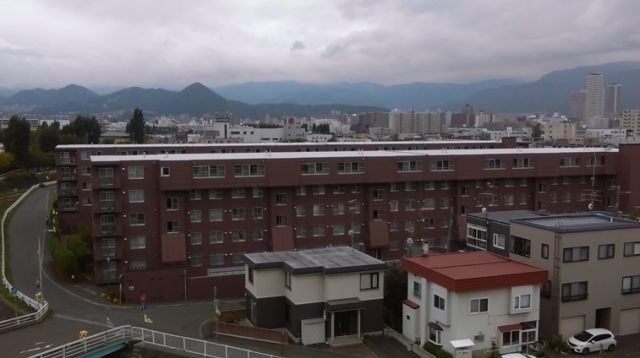 So many mountains. So many trees. These images do not do the scenery justice. Though it is a city, the air feels clean unlike that of Plymouth. Maybe it's due to the fact that the city fits in with nature, allowing the mountains to be full of forest that replenishes the air.
Woke up at 5:45 so I can get a shower before breakfast. I ended up procrastinating taking a shower so by the time I went downstairs to do so it was already 7:15. Breakfast lasts from 7 – 9 so I still had plenty of time. However, I didn't feel that hungry and decided to buy a couple of drinks from the vending machine instead and wait for dinner.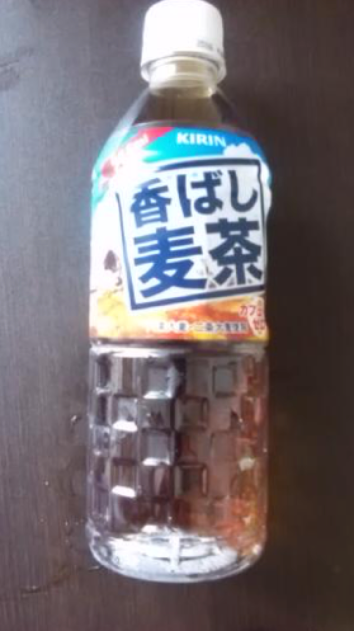 One of the best drinks (iced tea) I have ever had and at 130 Yen, 71p, it is a great deal. Bought two to last the day but will probably end up buying more. Today I wanted to spend the day getting used to the time, just relaxing at my room and getting myself and my things in order. My room is a bit messy so I will probably end up taking a picture once everything has been put away. Something I have noticed is that in most public bathrooms there are no soap. I now understand why everyone told me to bring hand sanitiser and to use it when I absolutely must and I'm glad I did so. I am also glad I looked up the Kanji for the flush function on the hi-tech toilets that Japan is notoriously known for. I was pleasantly surprised when I found that the toilets have heated seats and that there is a sanitiser wipe station so you can clean the toilet before you use it.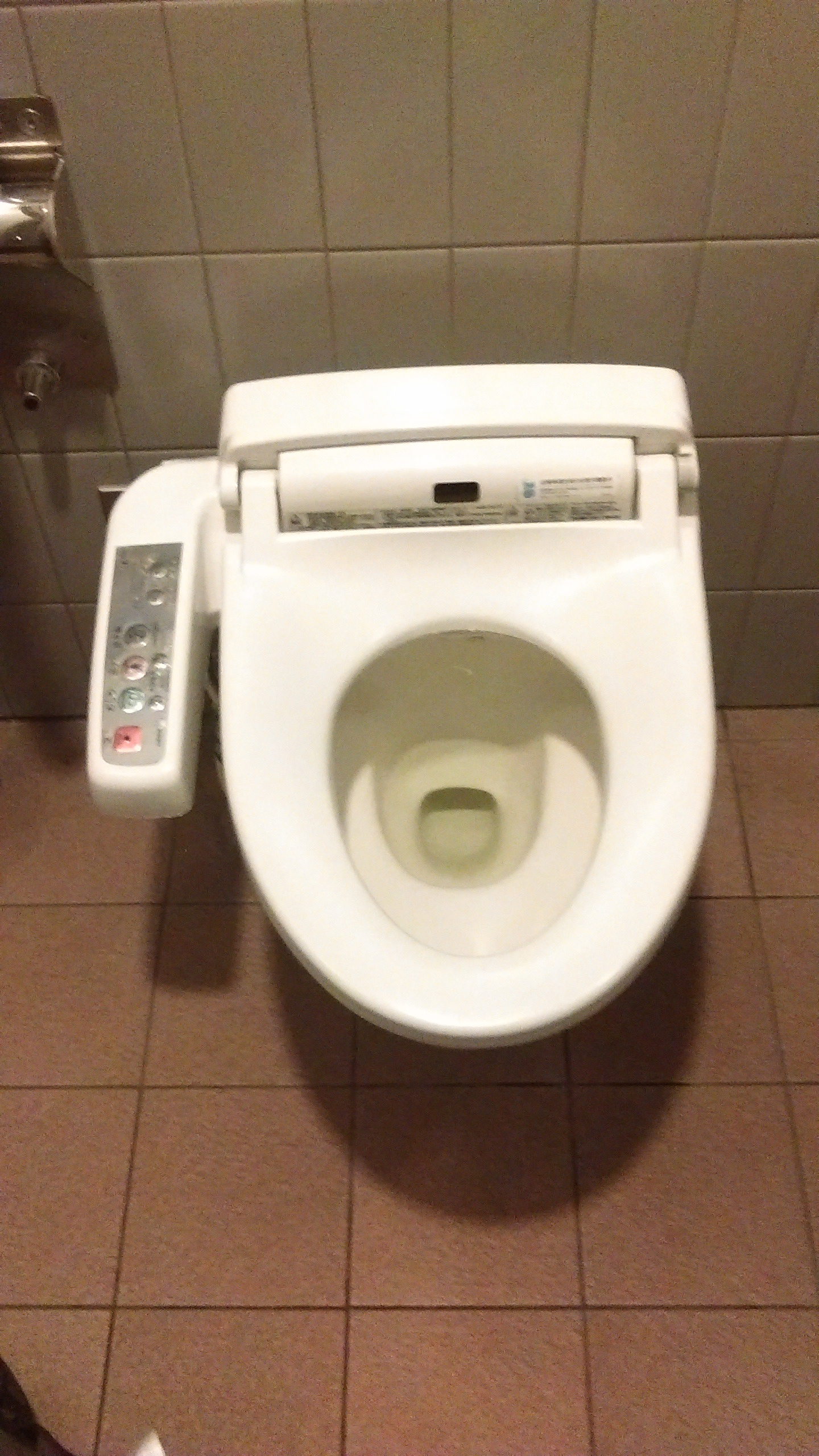 There are two different toilets, a floor toilet and the 'hi-tech' toilet. Needless to say I always go for the latter. There is also a function that allows you to play a running water soundtrack for those who are pee shy. All these quirks and still no soap.
The showers are really nice though. Earlier on i had procrastinated using one, in fear of what it would be like. However, all it is in one room in which you take off your shoes which then goes through to another with lots of baskets in the wall. This is where you take off your clothes and get dried and dressed once you have finished. Once all of your belongings are in the baskets, you then grab your soap and shampoo/conditioner and go through to sit down shower cubicles. Once finished, you can then go through to a bath full of clean hot water. I missed this step and instead went straight through the the drying room. It was empty so I took the opportunity to use it without anyone seeing me. It seems no-one actually cares about being naked in the shower room, they where coming in and out all the time so it makes me wonder why it is so taboo at home?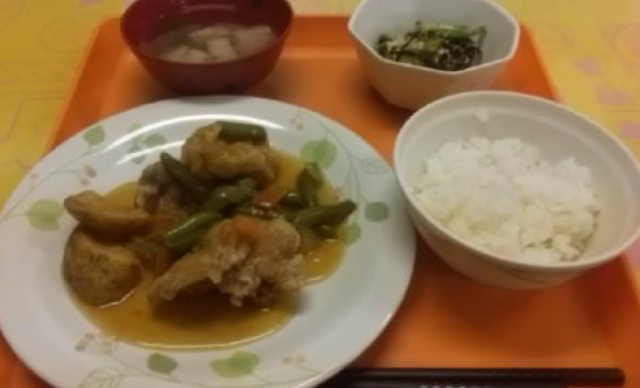 (My first taste of proper Japanese food.) Before I went downstairs to eat I had taken a nap, so I was surprised when I was able to remember the correct order and table manners. Dinner was extremely delicious and filling. After eating you have to wash your dishes and put them in a tub full of water before they then clean them properly. My accommodation host is extremely nice. Though she doesn't understand English and I know very limited Japanese, she is very patient and always makes sure to explain in any way she can to me what she is trying to say. When I went to the vending machine to get some drinks, she wished me a good afternoon and asked if I had eaten yet. I nodded and said yes, not fully understanding what she had said until I got into the elevator back to my room. I must apologise tomorrow and pay my rent for my room. I have come to accept that Google Maps is my best friend. As I cannot read Kanji, searching for my accommodation proved to be impossible so I instead retraced the road from Bisen and with the help with a few landmarks (thank you big buildings with red roofs) I finally found where I am staying. Tomorrow I shall go on a food run and maybe explore a little bit.
Woke up a lot later today. I think i've finally settled into the time differences.
Today I want to explore the nearby areas so I know where the local stores are. I have learned the Hiragana for A, E, I, O and U and am now starting Ka, Ki, Ku, Ke and Ko. There's so much to learn but hopefully I can learn enough to get me by for 3 months.
Just as I was about to leave my room I got a knock on the door from two other students who live on my floor. They are really nice and invited me to go out to the store with them at 11:30. One of them is from America and the other is from Japan but both speak English really well. It's really comforting knowing that there are English speaking students nearby who can help me learn Japanese.
I'm making friends! It's such a relief.
Okay, i'm going to talk about something I never thought I would from this trip.
I am going to talk a little about church.
In England, church is pretty boring. You sit down, listen to a few hymns, listen to the message, maybe take sacrament and go to bible study after.
Today I went to church for the first time in a long time.
I met Selena and Mio (sorry if I got your name wrong) at 11:30 in the reception room in our accommodation. We took the bus to the centre of Sapporo and walked the rest of the way.
The church itself is of multi-language, multi-christian faith. It isn't like the UK. They have a rock band, one of the lead singers being a leader of the church herself. There are people from all over the world who go there (one of them even knows what Plymouth is) and before church even begins they teach English to those who want to learn. I helped out with this, having basic conversations in English with some of the people there. It allowed me to learn a little more Japanese too which is always good.
I noticed that with UK churches, their faith is pretty confusing. Is Jesus God? If that's so then wasn't God meant to be Jesus' father? However, I found that with the church I went to today it is very straight forward. They take the bible for what it is, they don't add or take away, they leave it down to their individual interpretations of the scriptures.
The sermon was very interesting. It was about the question 'What is church?'. Seems fairly boring, but the way that they spoke about how we are the church, that we can talk to God any time we want to and that he gave us the ability to 'shine with his light' was very interesting to me. They spoke about confidence building and being happy with yourself. They gave all of the new comers wristbands that are pretty cool. It's something nice to remember them by.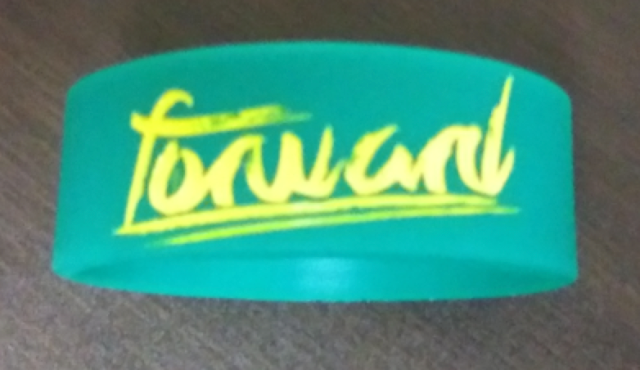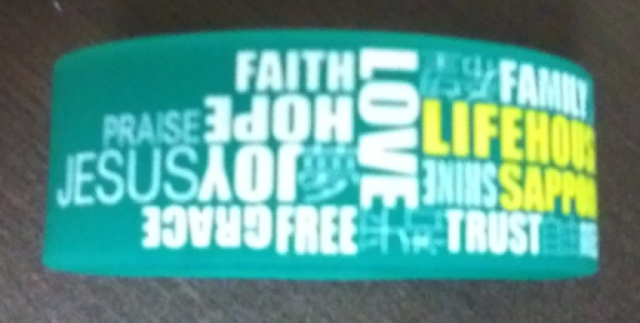 I for one shall not be joining their church, but it's a good chance for me t o speak to other English speaking people as well as to just have a good time. Their band is amazing and want to listen to them more. Bible study was very interesting after too. The woman (most of them mothers) sat down on a matt and took out their journals on what they had learnt in the last week. Everyone was very nice and most of them spoke English so it was a lot easier for me to speak to them.
After this Selena left for work and Mio (?) took me around Sapporo. She needed her picture taken for a job application and after many photos we went to a big camera shop to print them. I was surprised to see that you can plug your phone into machines and edit the photos before printing them. I haven't seen anything like that in England so I stood there in awe as she edited a picture into the perfect profile shot for her application.
We went for a walk around Sapporo TV Tower. We walked around the food 'festival' and there was a cabin with bee's in a box that they casually took honey out of when needed for their ice-cream. It seemed crazy to me but everyone else just seemed to ignore it.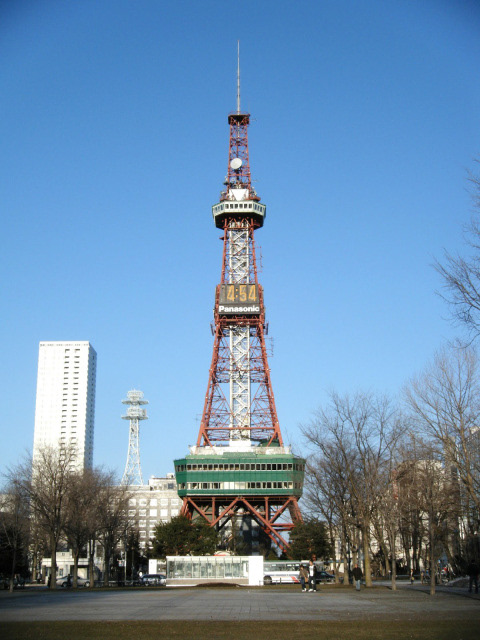 (Photo: https://upload.wikimedia.org/wikipedia/commons/6/6b/Sapporo_television_tower_01.jpg)
We then went to a huge shopping mall where we went to a Disney store, Snoopy store and a huge stationary store. We used to have a Disney store in Plymouth but was shut down a few years ago. Everything was so magical in there, the music and halloween/christmas theme was really nice to walk into. I had a good look around everything and decided to come back later to find gifts for friends and family back home.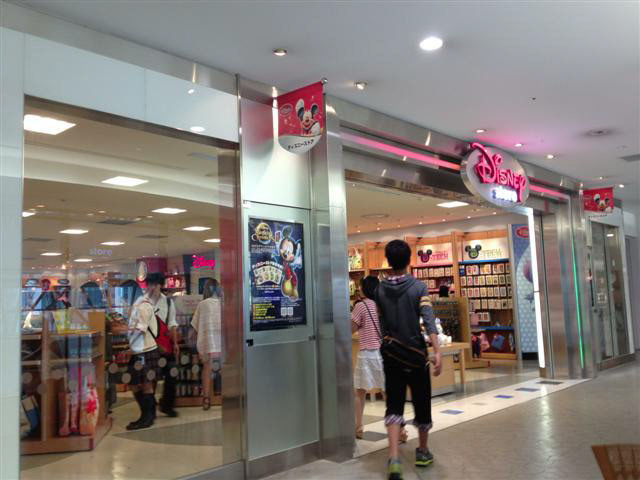 (Photo:  http://img.photobucket.com/albums/v414/alivealive/Japan20130817to0830/JapanDay04/IMG_6092Custom.jpg)
I bought myself a notebook, a highlighter, glue stick and a drink in the stationary store. There was a section where you can take a brown bag and stamp it with lots of different things for free. It is designed so when you buy something for someone else you can wrap it in personalised gift wrap. Everything came to 415 Yen (£2.27) much less than if I bought it at home.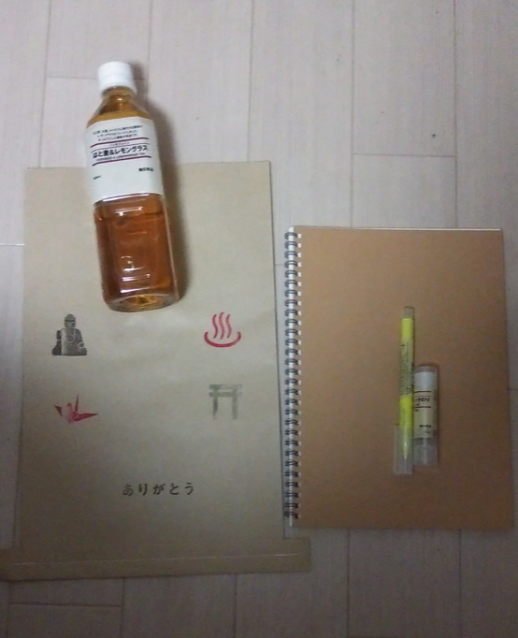 We got the bus back at 5:50 and got back to our dorms just in time for dinner.
Today was such a rush and so packed full of events that I didn't really get to take pictures today, not even for dinner. However, it consisted of fruit in milk, squid and beans with potato, chicken and rice with beans and a soup. Dinner was delicious yet again today. I ate with my friend who told me that most of the girls here think that the food is rather bland compared to food at Konbini's or from home. If this is bland then I want to know what they consider to be delicious. I must try it.
The lady that runs the dorms came up to us in the dinner hall and asked us if the meal was good. I was so tired I didn't quite catch what she was saying so thank goodness my friend was there to help me. It seems that when i'm confronted with conversation all of my Japanese knowledge escapes me or they talk so fast I don't quite understand what they are saying to me. I feel bad for my friends though as it is not fair for them to keep translating for me, even though they say it isn't a problem and not to worry about it.
I didn't get time to pay rent today but will find a way to pay it tomorrow.
Tomorrow I have my orientation at 2:30 meaning I need to catch my bus as 2:15 outside of my dorms. I am very nervous and not quite sure where I am meeting everyone but I am taking the bus with Melina tomorrow so the two of us will figure it out. We are meeting Sakai Sensei tomorrow who will show us around Bisen before my Exchange Co-Ordinator finalises our stay at Bisen at 4. I am very nervous but looking forward to seeing where I will be studying for the next 3 months.
Before I came here I thought I would be stuck for money here. I allowed myself £56 a week, around 10,000 Yen, and at the end of the week I have around 8,000 Yen left. As breakfast and dinner is free with accommodation all I have to pay for is lunch, drinks and the bus into Sapporo centre if I want it. At 210 Yen for a one way trip on the Bus into the Centre, it comes to about £4.50, 420 Yen, for an all round trip.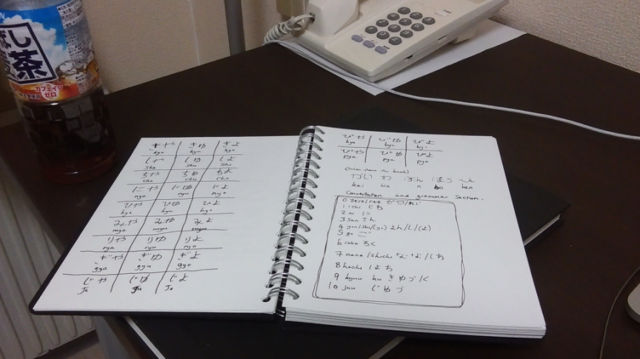 Before I went to bed I tried to learn more Hiragana.
No matter how early I wake up it seems I always miss Breakfast. I woke up at 7 today, which is the latest I have woken up, and went downstairs for a shower. This time though I managed to work the hot water so I didn't have to endure an ice cold shower.
I met Melina on my way and we both decided to get the 2:15 bus together for our Orientation. It'll be great to finally meet her and talk to her.
We took the bus at 2:15 at arrived at Bisen by 2:30
Me and Melina took the bus together and met Jack in the main hall. We met our other 
Exchange Co-Ordinator who took us on a tour of the campus. She took us to each of our classes as well as the Library.
We also had a meeting with the Head Teacher of Bisen, the Vice President and the Head of Office where we spoke a little about who we are, where we came from and how our stay has been so far. Everyone is so welcoming and understanding, teaching us Japanese within conversations. They gave us a lot of paperwork as well as their business cards so we can remember their names.
We then met with our first Co-Ordinator who introduced us to 3 students who are learning English. He sat us all down and we paired up, the other students telling us what our course was and the sort of things that we would be doing. As I am in Illustration, I will only have Japanese Language and Drawing Classes with Jack and Melina.
The shop at Bisen is amazing, full of sketchbooks and pens that are actually pretty cheap.
Once introductions and tours had finished, Melina, the 3 students and I decided to miss the bus and go to the huge supermarket next door. The store consisted of 2-3 other stores; a 100 Yen store and a grocery store. After a while, me and Melina decided to stay a little while longer while the others left and we ended up buying food as we thought we would miss dinner back at accommodation.
I also bought a really nice Pokemon chopstick set that was around 900 Yen, £4.50, the single most expensive thing I have bought so far on this trip.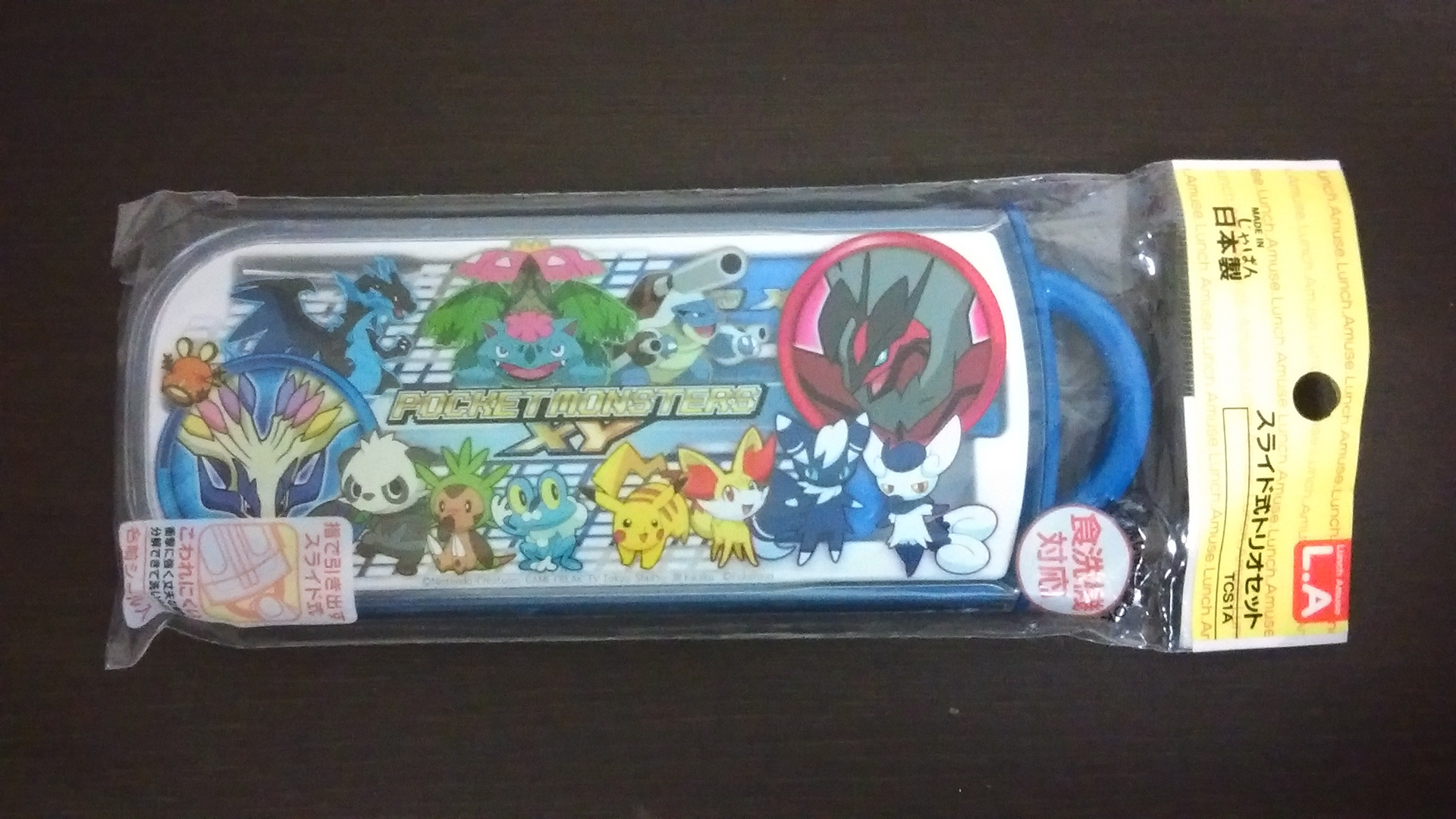 We then took the 10 minute walk back to our accommodation and ended up getting back in time for dinner so I kept the food I had bought back for lunch the next day.
Melina and Jack asked me if I would go to Tokyo with them for the weekend some time so we can go to the Ghibli Museum, Akihabara and other stores. We also decided that on Saturday we would go to a huge gaming centre that's nearby. I can't wait.
Tomorrow I must introduce myself to the class I will be with in Japanese as well as a present our portfolio to the Head Teacher in the afternoon. This is what I am most nervous about. Whenever I need to speak Japanese I am either too panicked to remember what to say or too embarrassed/scared in case I say something wrong. It's the only way to learn though.
I need to say something along these lines:
"Ohayo Gozaimasu. Watashi wa Hannah Desu. Watashi was Ingirisu no Irasuto no Gakusei. Watashi wa 19-saidesu. Dozo Yoroshiku"
"Good morning. My name is Hannah. I am an English Illustration student. I am 19 years old. Pleased to meet you."
I guess all I need to do now is just read the paperwork and some of the briefs I have been given before heading off to bed.
Today was a long day. A long, stressful but incredibly fun day. I have so much to write about I will probably miss something to check back tomorrow or the next day in case I edited it. First off we went to the staff room so meet our homeroom teachers. We had to speak in Japanese, which was hard as I knew what I wanted to say but faced in front of so many people completely blanked. My teacher is extremely nice and straight away told me that he would be waiting in my next classroom to give me some materials and to show me my seat for my main lesson. First lesson was really fun. I met my homeroom teacher again who showed me to my desk and gave me a huuuuge box full of all kinds of art supplies. Copic Markers, Acrylic, Watercolour, Gouche, pens, pencils, oil pastels, paint brushes, inks, palettes, and so much more. I was given a big chest of draws that's lockable and a huge stack on books (to borrow) for each of my classes. Thank goodness I start Japanese Language lessons tomorrow (we aim to learn the whole Hirakana alphabet within a month).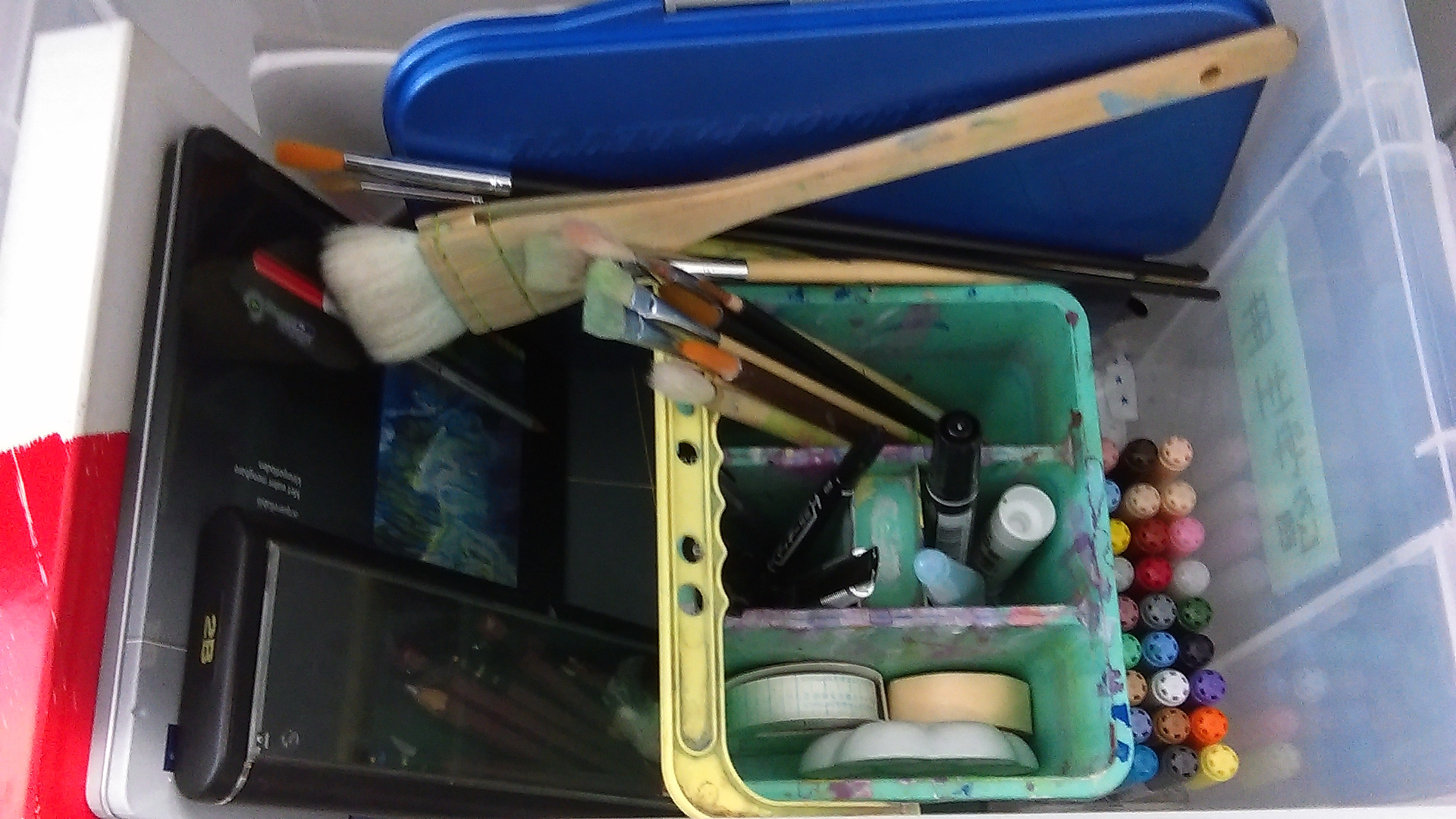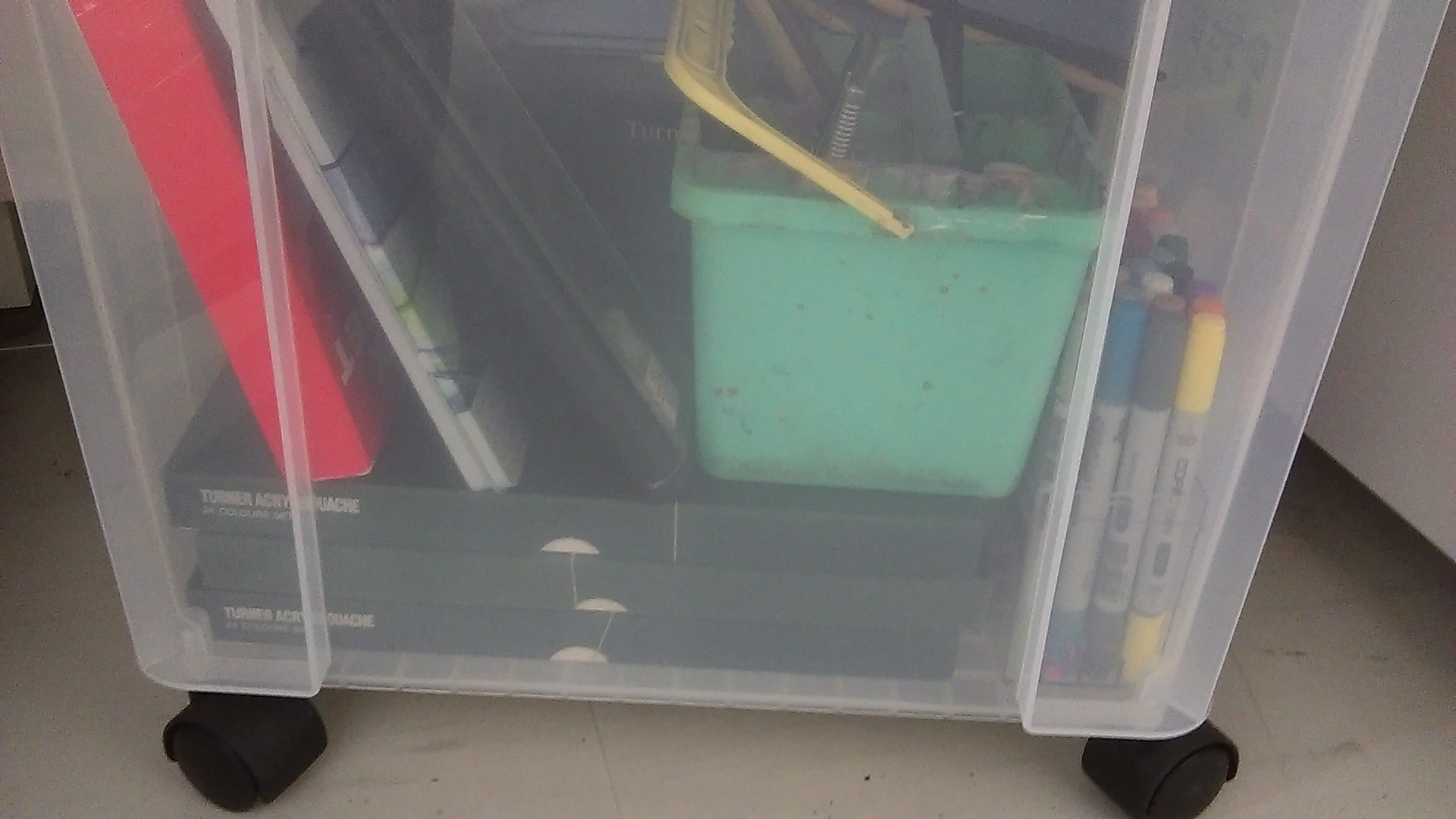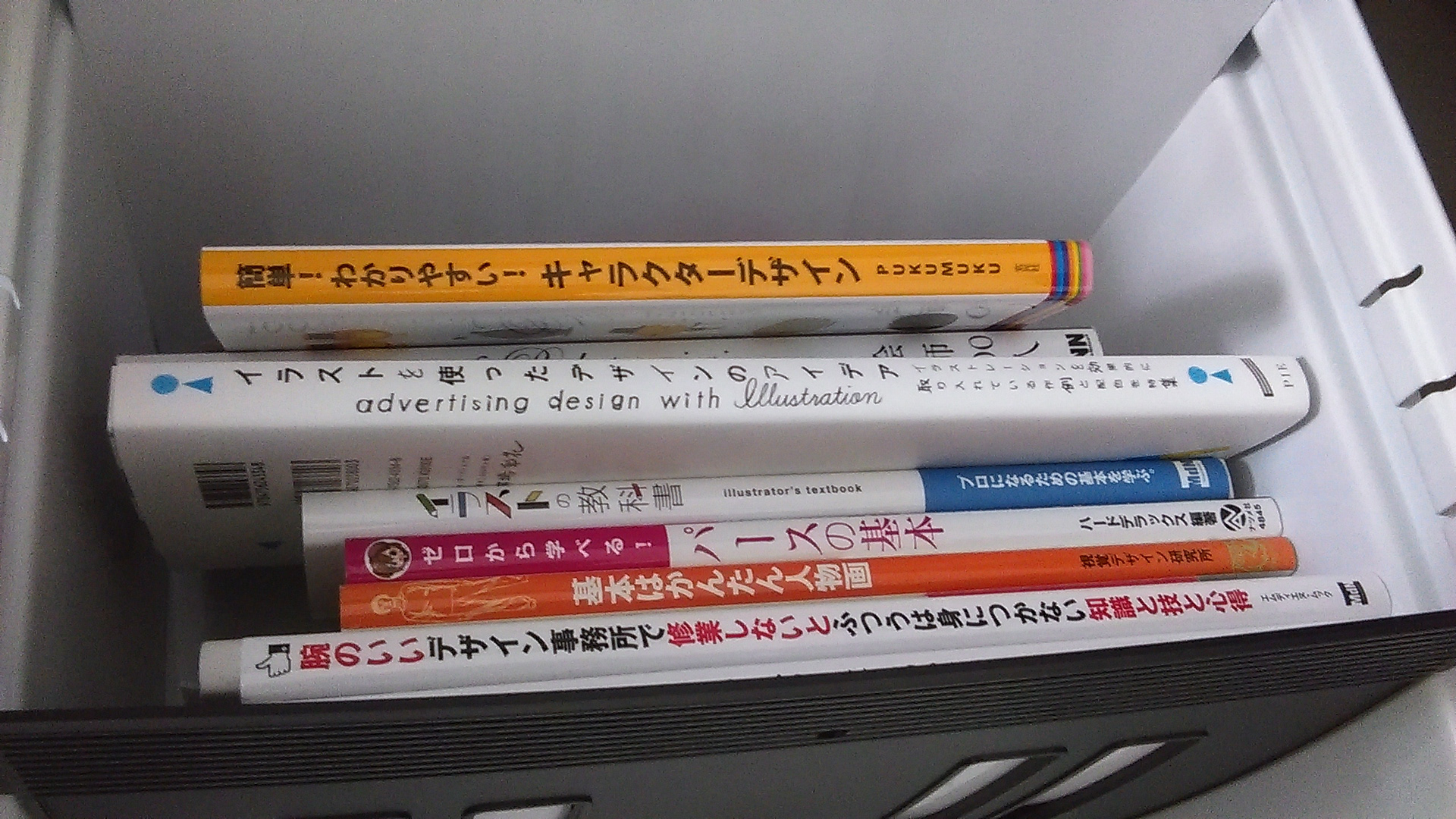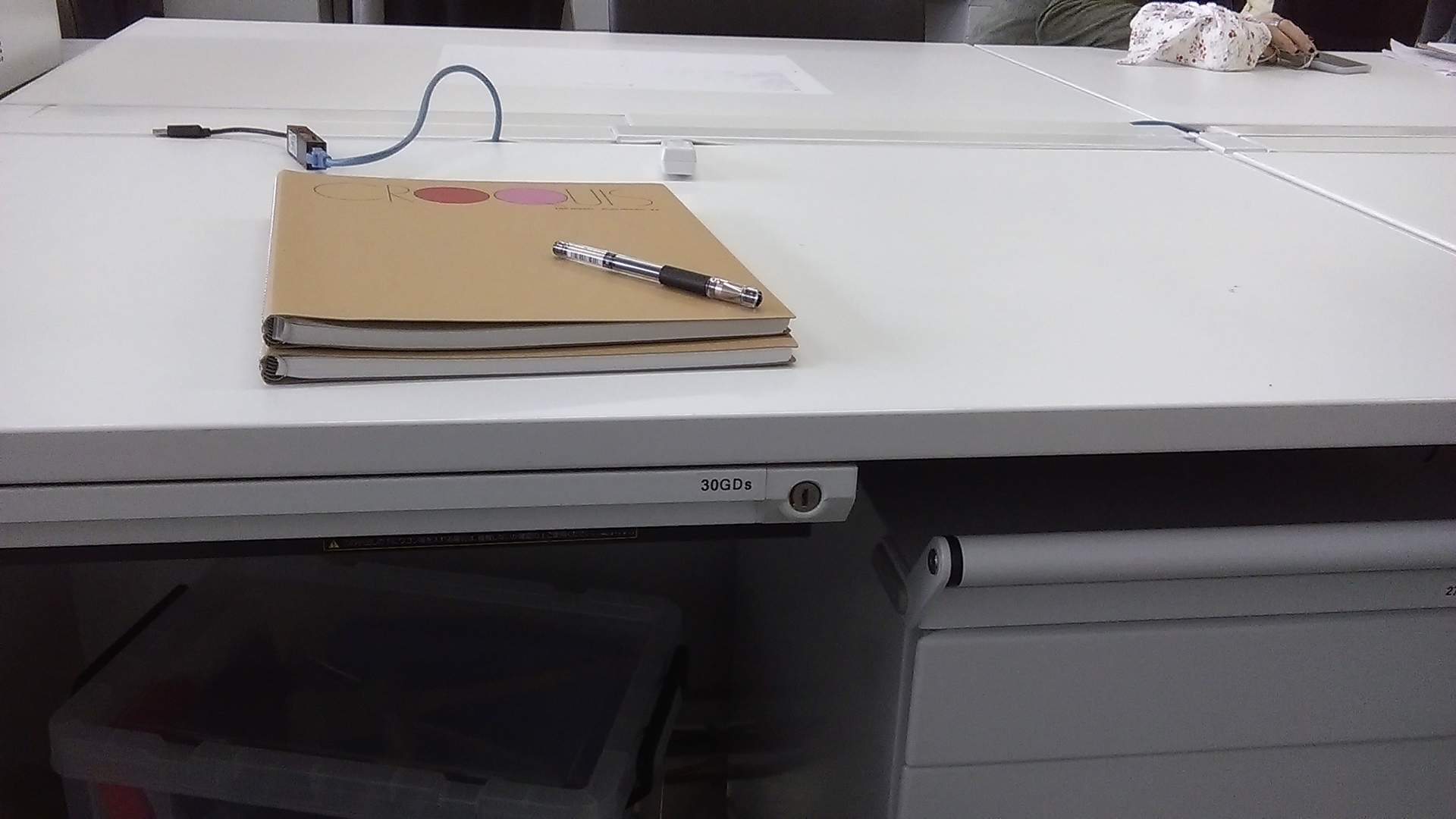 My Character Design teacher arrived and we all stood up and said good morning before he took the register. He read my introduction to the class and was so humbled by how much I kept complimenting their school. He explained that the building we are in is new, so the cleanliness and pureness of the white walls is down to it being new. Or it could be how much they clean the building. As I was walking up the stairs there was an old lady cleaning each one of them by hand. We then went on with the lesson, looking at how original designs of characters change due to its backstory or country the character is aimed for. We looked at Japanese mascots as well as KFC and HMV mascots. We where then given a piece of paper where we had to write a little about ourselves and then do three character design exercises. We had to draw 1) A delicious vegetable, 2) A beautiful woman and 3) A character based on ourselves.
 Luckily I was sat next to a student who know English really well. You wouldn't tell that her first language is Japanese. She helped me with phrases I didn't understand and we seem to be good friends now. During class, the technician came in and set up my computer with Bisen Wi-Fi, high speed land-line internet connection and connection to all of the printers. A luxury you get when you're an exchange student I guess. It was then lunch time and I went downstairs to the cafeteria. It was delicious, as usual, and was surprised to see that the people I was with who showed me down took their food upstairs back to the classroom. We ate in the classroom and took the dishes back downstairs and paid. It was then time for Manga class. I had no translator helper this time but I managed to understand the class anyway. Most of the time was taken by watching an episode of Natsume Yuujinchou. Again, wasn't subtitled but I understood this anyway. 
The purpose was to better understand how you tell a story, the beginning, middle and end as well as how to make it more interesting with effects and different camera angles/perspectives. It's the first time ever that I got to see anime in any kind of class. It just seems the UK doesn't like anime/manga style; telling people who wish to pursue it as a career that it isn't real art. It's so good to be with people who have such a passion for this and who actually like my work. (My sketches earning a lot of "Kawaii desu ne" 's amongst the students.' For this class I have to make a one page manga in the time that it takes the other students to make 8-12 pages. They really push their students here but as this is my first time they didn't want to pressure me too much. It's great but can't help but feel it's a little unfair for the others that I can do so little compared to them. After this class we then had a party. I say party. It consisted of me, Jack and Melina standing in front of the entire school with our portfolio on the screen while we each had to explain our work. I was so nervous, I forgot everything. 
I ended up standing there look at my co-ordinator for help. Somehow, I managed to introduce myself in Japanese but resorted to English to explain my work. Thankfully my teacher was able to translate for the other students and that they allowed me to sit down (before I fell down) and only have to explain three pieces of work. When I returned to my seat (me and the other exchange students where seated away from each other within our own classes so we can sit with our classmates and homeroom teacher) teachers said I showed true signs of a Bisen student. I've never had such a nice compliment before in my life. With introductions over, it was time to talk. As there is a huge language barrier I once again relied on my friend to translate for me. (I'm going to have to give her something nice for everything she has done for me). 
Everyone was really nice and where very understanding. I am socially awkward and very nervous when meeting new people but they really made me feel at home and at ease. After a while we then did a quiz. It was 'guess the anime from the opening song.' We had to work as class teams, so me and my class where one team, Melina and her class another and Jack and his class another. We all got the same score (full marks) and so had to battle in rock, paper, scissors. I can second and won a big bag of snacks. As well as this bag, everyone in my class kept pushing food over to me to try. I tried 2 or 3 pieces and took the rest home with me to have after dinner. Japanese snacks taste so good. So much better than we have at home.
Me, Melina and Jack had planned to go to the arcade today but it started to storm. Japan seems to get huge thunder storms very suddenly and of course, when me and Melina was walking back we went the wrong way and had to double back in the worst of the storm. Thank goodness we stopped off and the Daiiso first so I could get an umbrella from the 100 Yen shop. I don't mind storms but the ones in Japan are super powerful but really does clear the air. We found our way back and when I got to my room I found that my window was open. I was sure I closed it before I left in the morning (which was gloriously hot) but obviously the floors where soaked. At least the rooms aren't carpeted in case such a thing happens. Needless to say we didn't go to the arcade and are planning to go tomorrow instead if the weather clears for a while. It means having to take a bike ride but it will be completely worth it.
This morning I had to go to class earlier so I could talk to my teacher about my lessons. After this, me, Jack and Melina all had Japanese Conversation classes. We learned Hiragana letters and pretty soon we got the hang of translating (with help with the letter chart) Japanese characters into English. It was really fun and homework was set to use as many phrases as we can remember with the students we are working with in class. We had lunch in the store next door and came back to Bisen. Next lesson for me was DTP (Desktop Publication) where we learned the basics of Illustrator for our project to design a flyer for a local hotel restaurant. As my software was different due to being English I had to change the settings to allow me to edit Japanese and as the students here use PC and I had a Mac (stupid UK telling us to only use Mac) it was a little hard to find the shortcuts I needed. Nevertheless, I found what I needed and managed to stay up to date with the class. The student next to me helped me with translation again and without her I don't think I could understand most of what the teacher was saying (the teacher speaks so quickly). For this class we use our normal desks and are able to take out a huge second monitor and tablet so we can plug it into our computers. It felt so good to be using another screen again instead of just my Mac screen. It makes me miss my gaming set-up at home.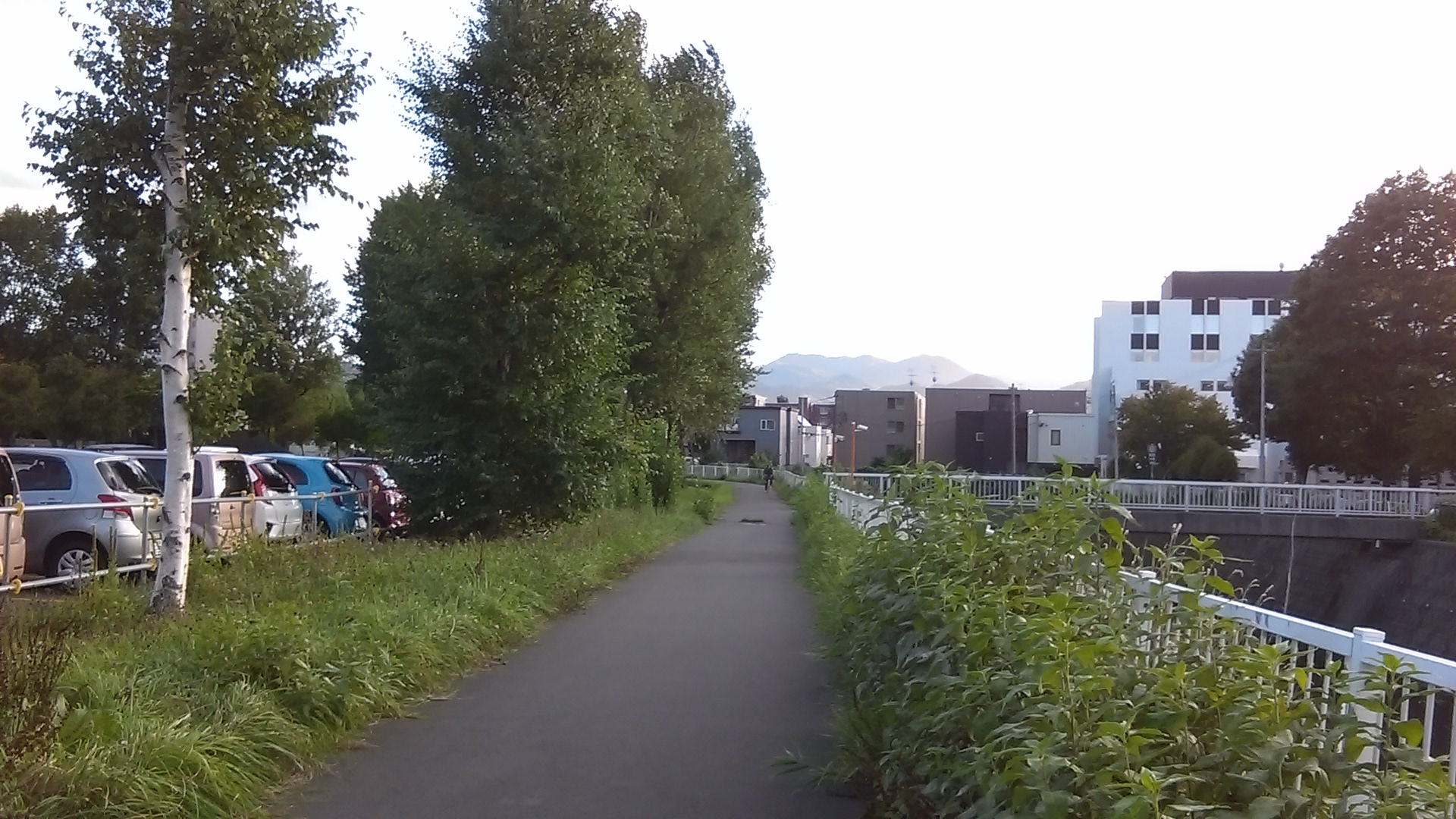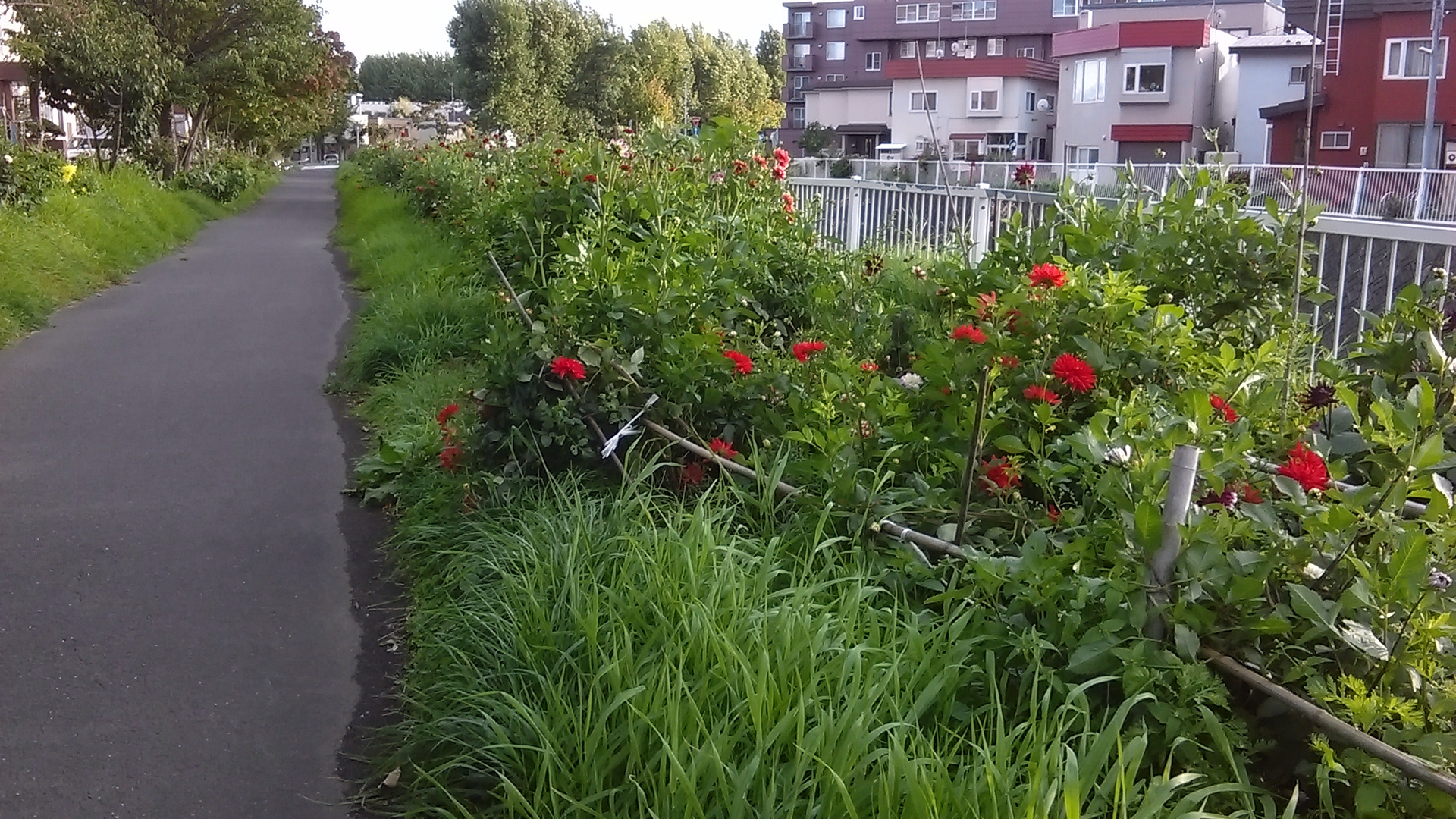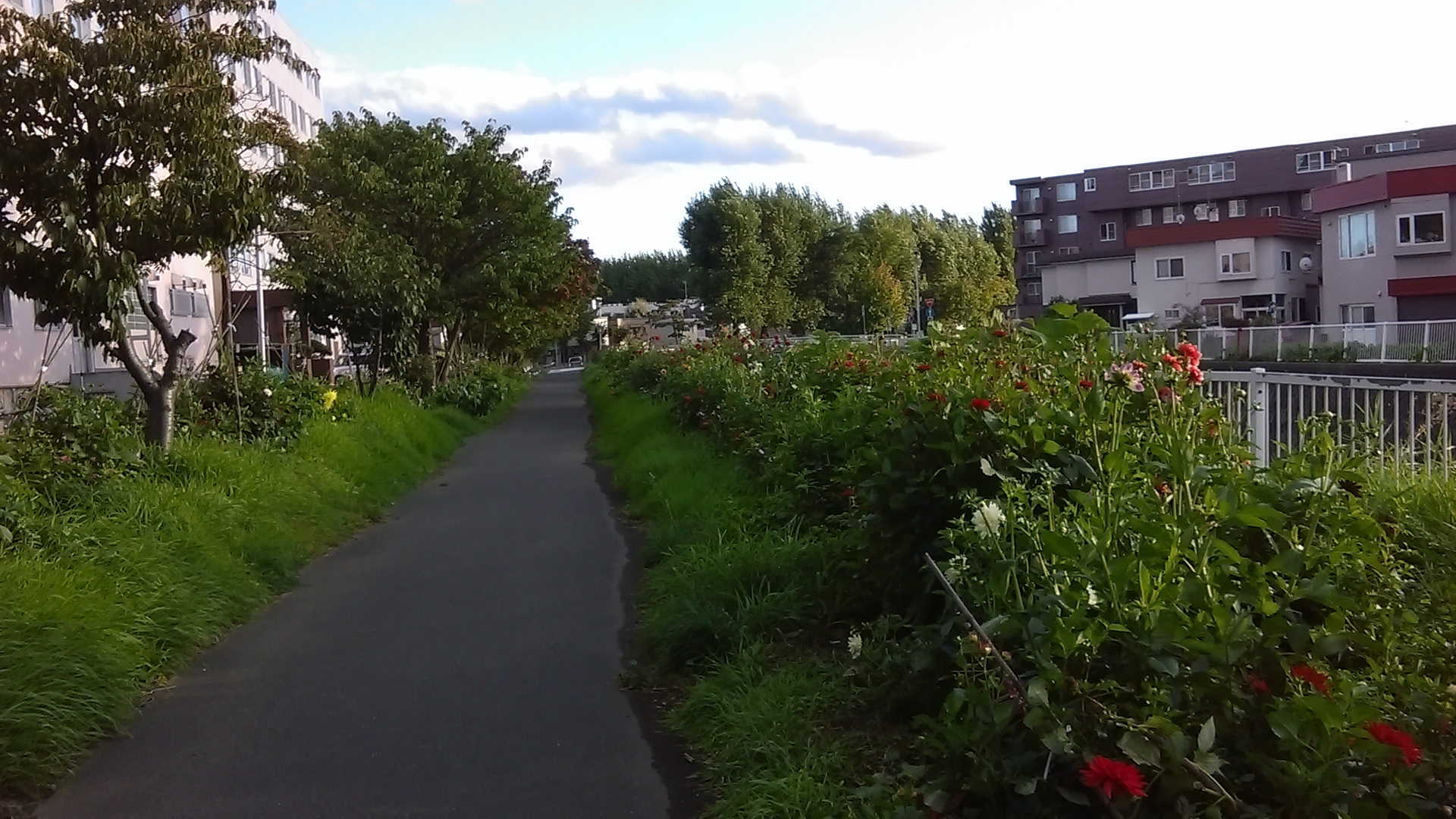 These are some pictures of my way home. The weather is so nice at the moment I just hope it stays like this for when we finally go to the Arcade today. Hopefully anyway.
I also found that Bisen had put a video of the party on their Facebook page. I feel so honoured but also embarrassed about being filmed but I can feel my confidence slowly building.
At around 7pm Melina, Jack and I went into town on bikes. We went to a little place to have soft drinks and play darts which was great. It's something I have never done before so it was a new experience I really enjoyed. We where the only people there which made it a lot quieter.
We came back at around 10.
Today was amazing as usual. First class was Digital Comics. We had two monitors again this class and we used Manga Studio. I have finally learned how to use this software properly and I love it. So much better than Photoshop.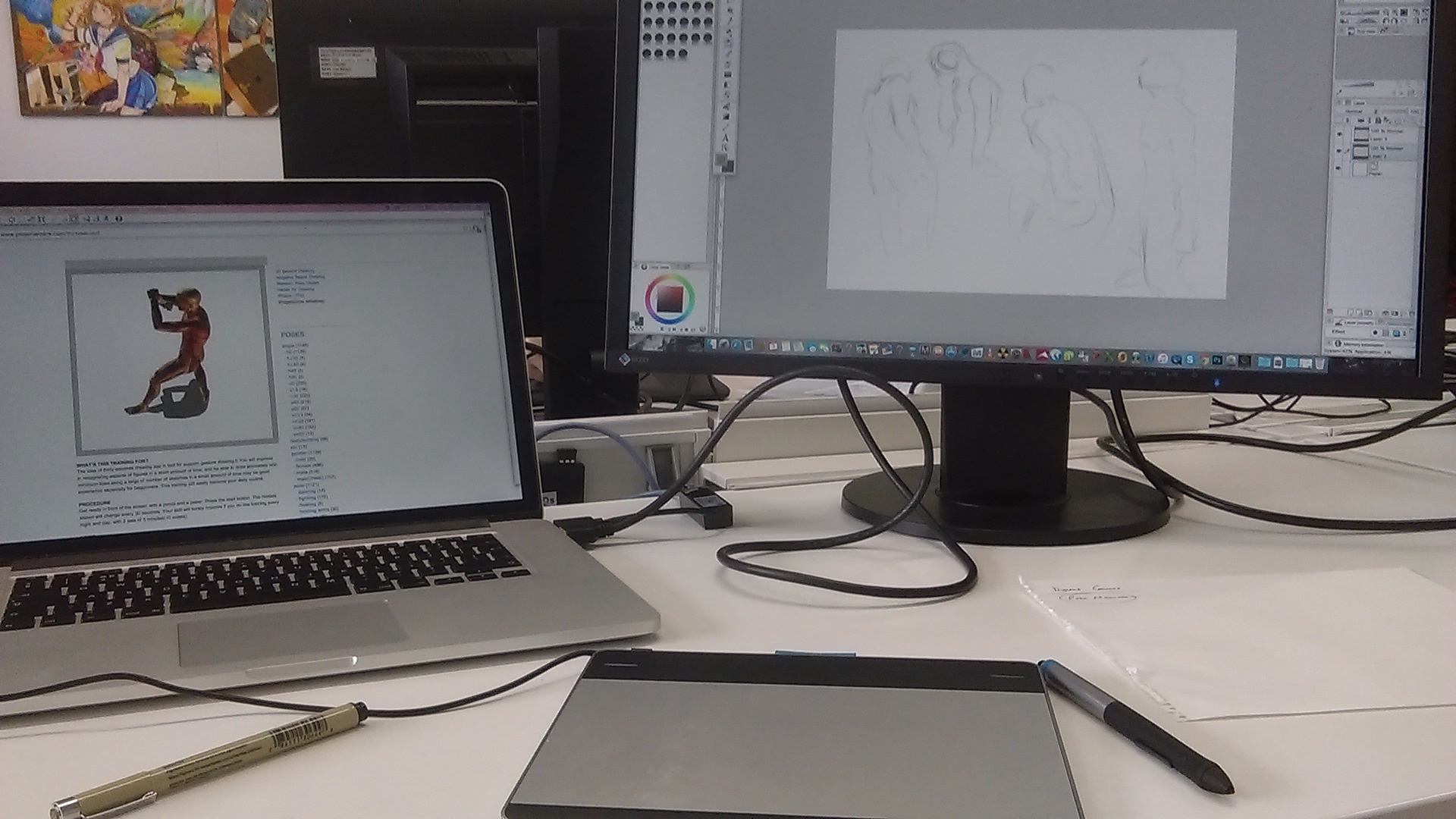 I have to make a double page spread comic in Manga Studio and it's so much fun. These are the exercises I had to do: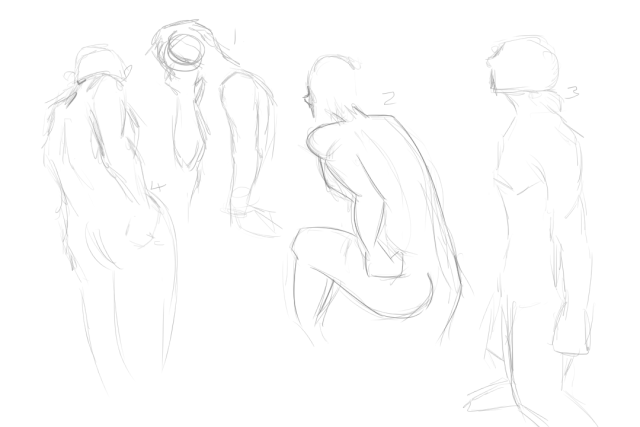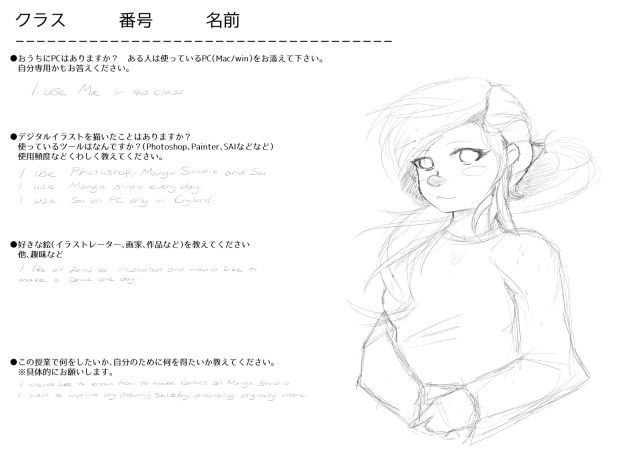 I then had lunch again in the store next door and when done went back to class for Free Time. This was basically just me telling the people nearby to my seat how much things cost in England. It's so expensive back at home, a typical students weekly went  6 times more than a students monthly rate in Japan (from what I can remember). They want me to do a presentation for Thursday about things in England so that we can compare our cultures. I still can't speak Japanese very well so my friend is going to help me by translating what I say for the class. The plan for today is to do some more work, have lunch and go to the Arcade/Book Off. Book Off is an amazing store where they sell Manga, Anime, Games and other electronic devices dirt cheap. In England a manga will cost anywhere between £6-12, 109.41 – 2182.82 Yen, where in Japan a volume will cost around 420 Yen, £2.31. As i'm learning how to read Japanese, buying some volumes from here will be a big motivational push to learn. I've always wanted to read a Manga volume in its original language so I can't wait.
This morning I had my illustration induction. I have to make one illustration from the word future, so naturally I chose a sci-fi biometric theme. I then had Life Drawing, learning about perspective and how to get the basic sketch just right before moving onto finer details and colour. Jack, Melina and I then went into the local high street and had a wonder around. We stumbled across a manga café but wanted a membership fee so we walked out again. It's great to Sapporo as it's getting colder but as it is currently storming as i'm typing this (I can hear so much thunder), i'm glad we got back when we did. Same as yesterday except this time we went to Mister Donut, the best donut place in Japan. The milkshake was amazing and I had a sugar glaze donut but wasn't able to take a photo in the building. My blog is probably going to be a little more inactive now – perhaps updated every couple of days – as the work load is really piling high now. I still need time to just go out and explore Japan, so expect these blogs to be a little shorter and more sporadic. This blog takes a lot of time and research to do and without going out and doing things I won't be able to write as much, so I just need some time to just do work and have fun and blog when I can. Everyone at home keeps asking me if the prices are really that low in Japan, and that I must have gotten the pricing wrong. I haven't.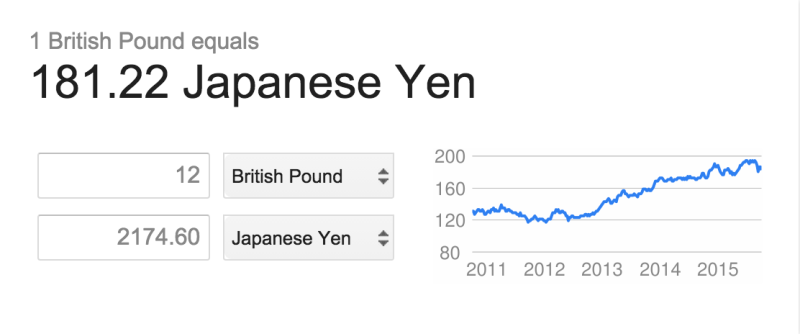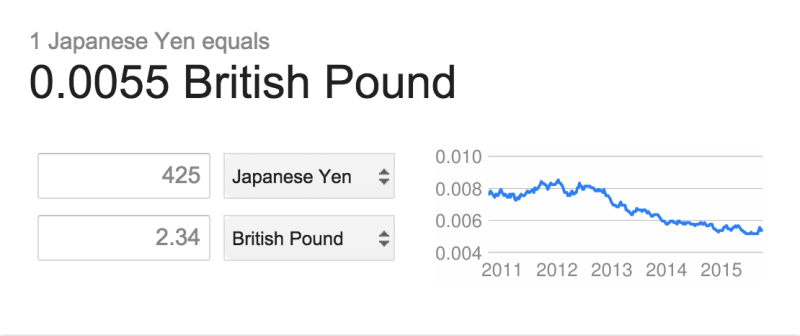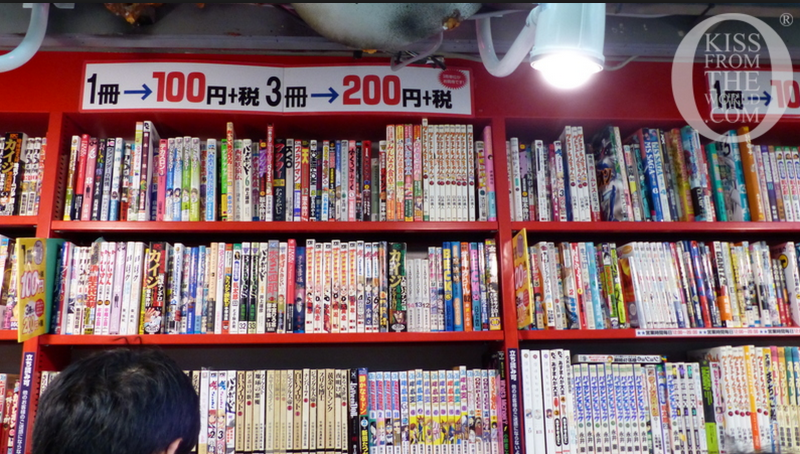 (Photo: https://www.kissfromtheworld.com/user_blogs/2363/images/003_Japan_Tokyo_Tokyo_Guide_for_Manga_and_Anime_Nerds_____Otaku_Extravaganza_Kiss_From_The_World_travel_and_people_magazine.jpg Manga in Japan for 100-200 Yen per volume)

When you think that prices are relative to your pay check, prices in Japan is all relative. To an outsider, the Pound is much stronger than the Yen meaning we get more for our money. It is cheaper for us visiting but if we worked here then it would feel about the same as if we where in the UK.
When you think of import tax and the time it takes to translate Manga it's going to be more expensive for us to buy. It's like a rarity in the UK. Not many places sell it. In Japan, everyone talks about it. My teachers are even trying to get me to Cosplay for halloween. Manga is sold in EVERY store, even petrol stations. It's the norm and with no import tax (obviously) it's extremely cheap.
I know google isn't the best source of information when it comes to currency convertors but it's all I have to go on and seriously, you have no idea how cheap it is here when you are a tourist until you go. They're just giving away Copics in class to me. Tomorrow will be filled with doing work and then exploring Sapporo TV Tower with Jack and Melina. Hopefully. If the weather clears.
Today was spent doing a lot of work. I woke up at around 11:00am and did work for both Digital Comics and Illustration. I have a lot to do for Manga Class though so I still have a lot to do.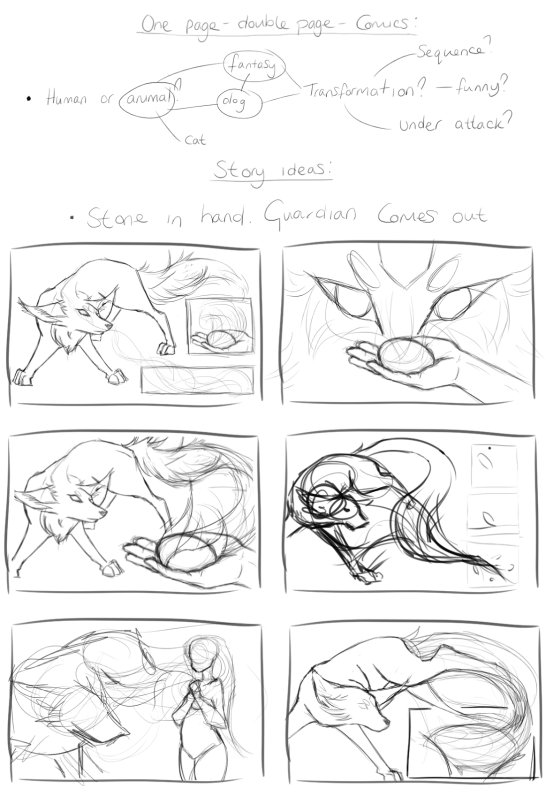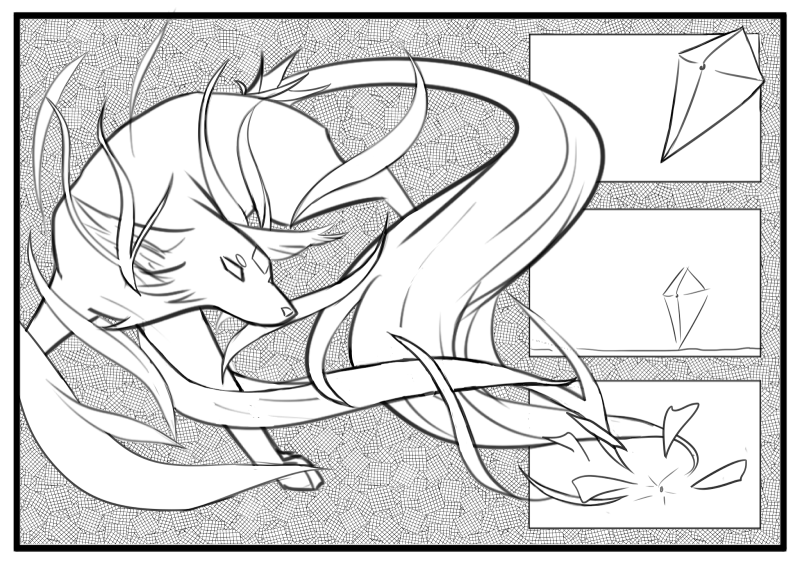 This is what I have so far for Digital Comics. Melina, Jack and I then went for a cycle in the local area and planned our day for tomorrow. We plan to go to Odori by bike at around 2pm so i'll have something interesting to post here. It's now 00:32 so it's time for bed.
Since last time I have been to OctoberFest, progressed with my coursework, been to Sapporo Tower, went to an arcade where I also did karaoke and played bowling, bought manga for £1 a volume, bought a PS Vita and SAO games and plan to go to Kyoto for next weekend. I have also done my crash course in Ikebana, traditional Japanese flower arranging (pictures soon) and generally explored Sapporo on a bike. More information will be up soon and I plan to do more daily blogs now.
For the first day in Kyoto, Melina, Jack and I went to Arashiyama Forest. This is a huge bamboo forest that you can walk through which leads to shrines and old traditional stores such as chopstick specialists, bamboo merchandise, traditional restaurants and kimono/yukata stores. On our walk to the station we had to go passed Toji Temple. We decided to go here on the last day of our stay in Kyoto.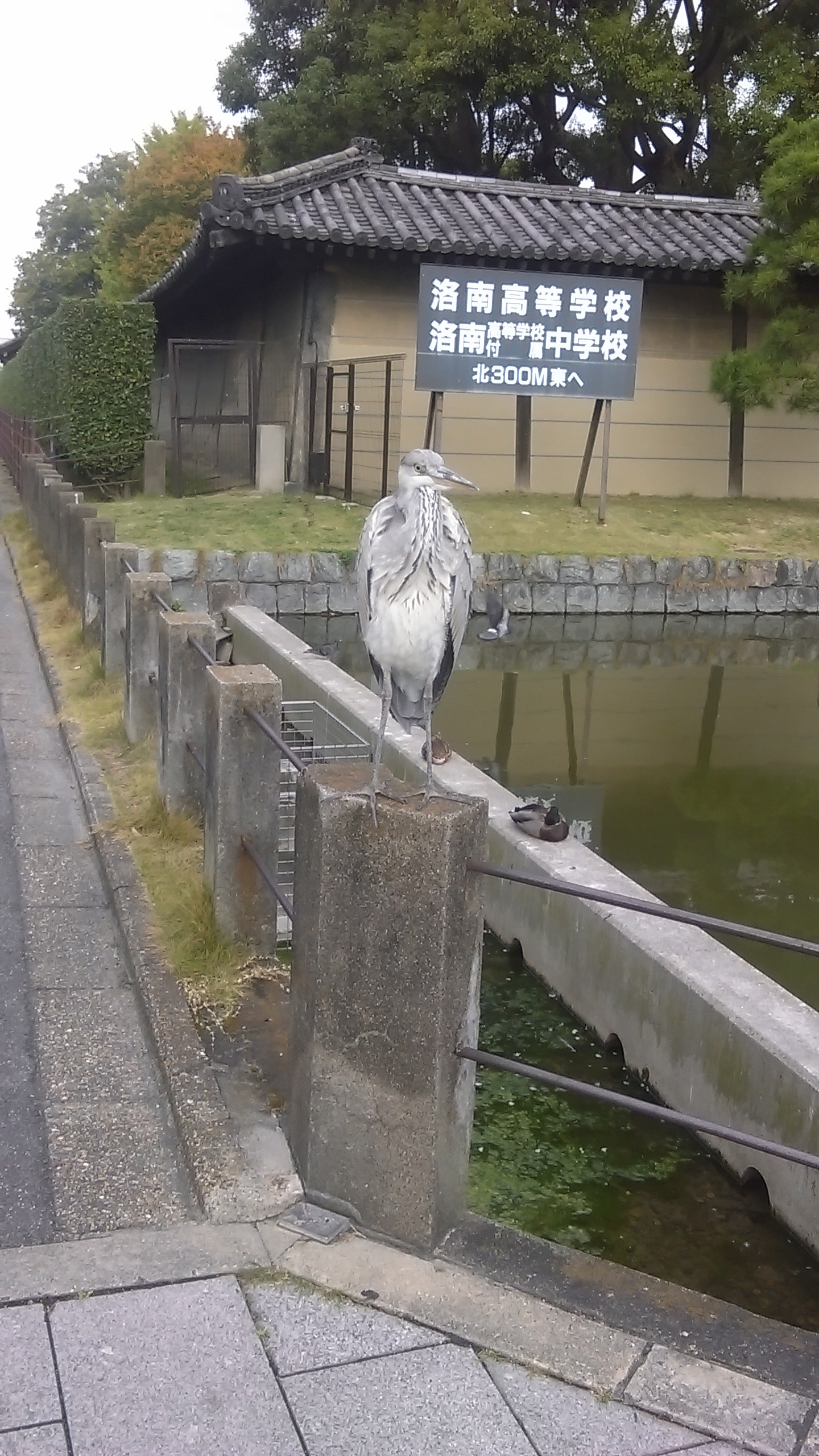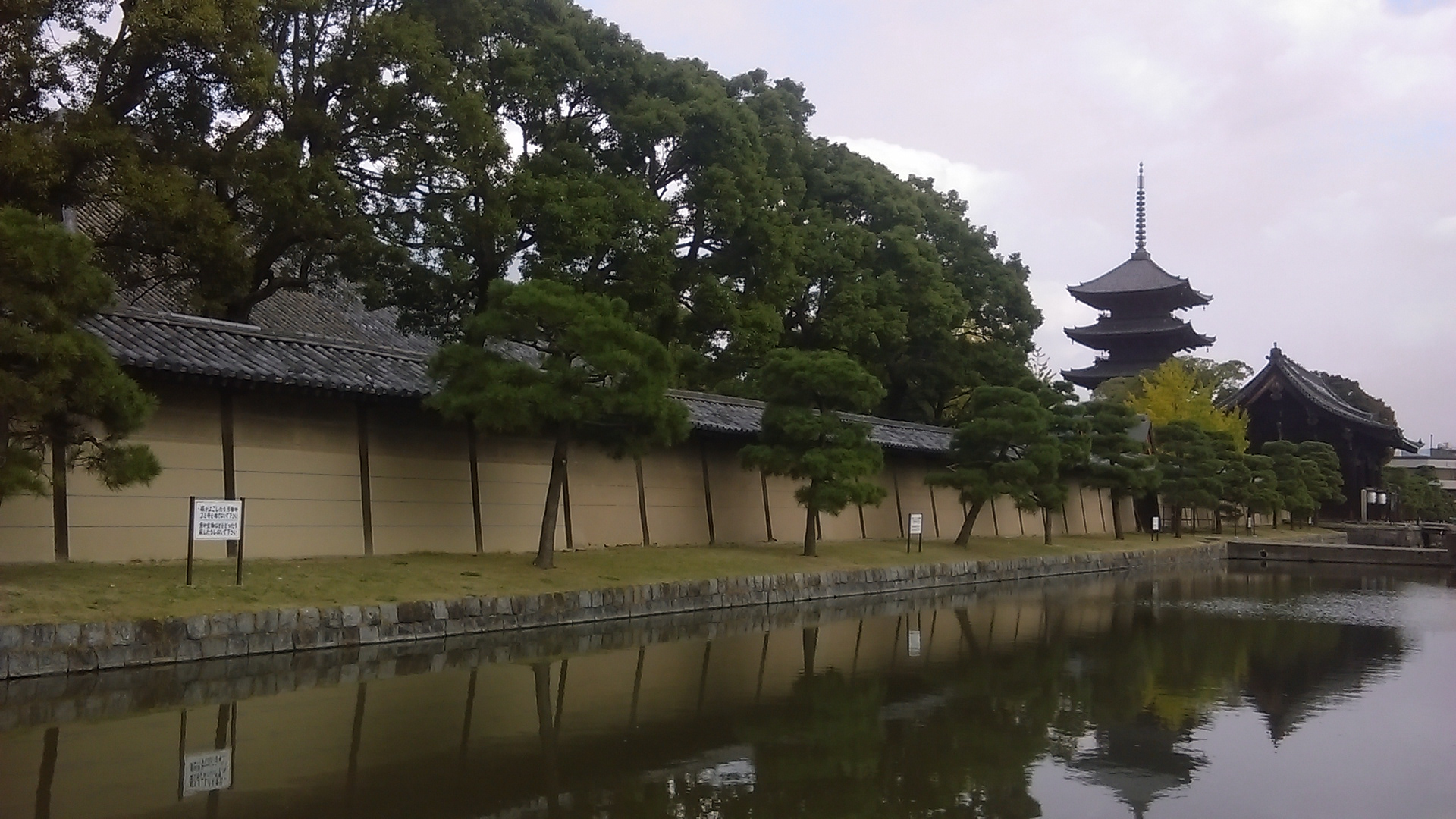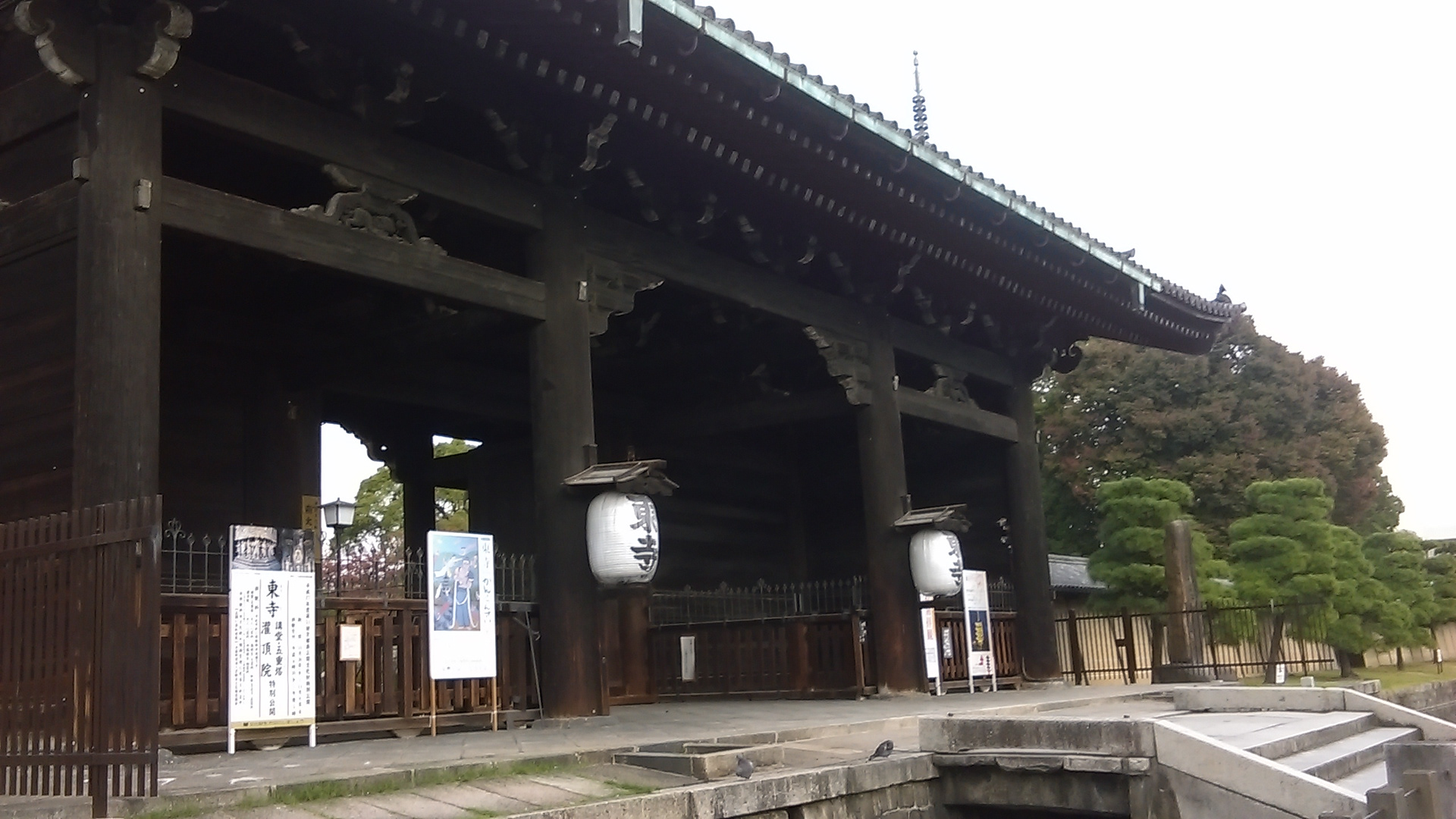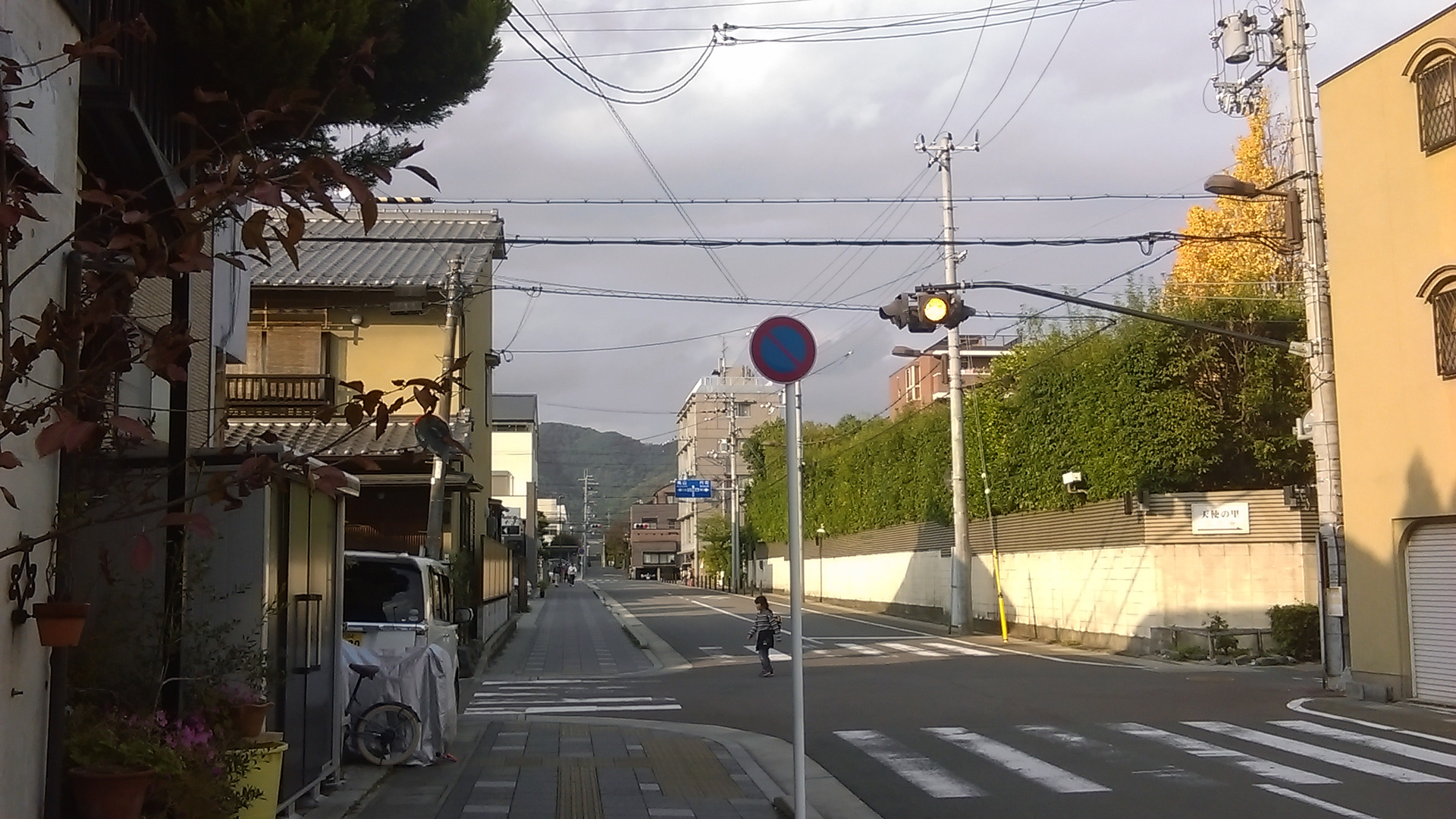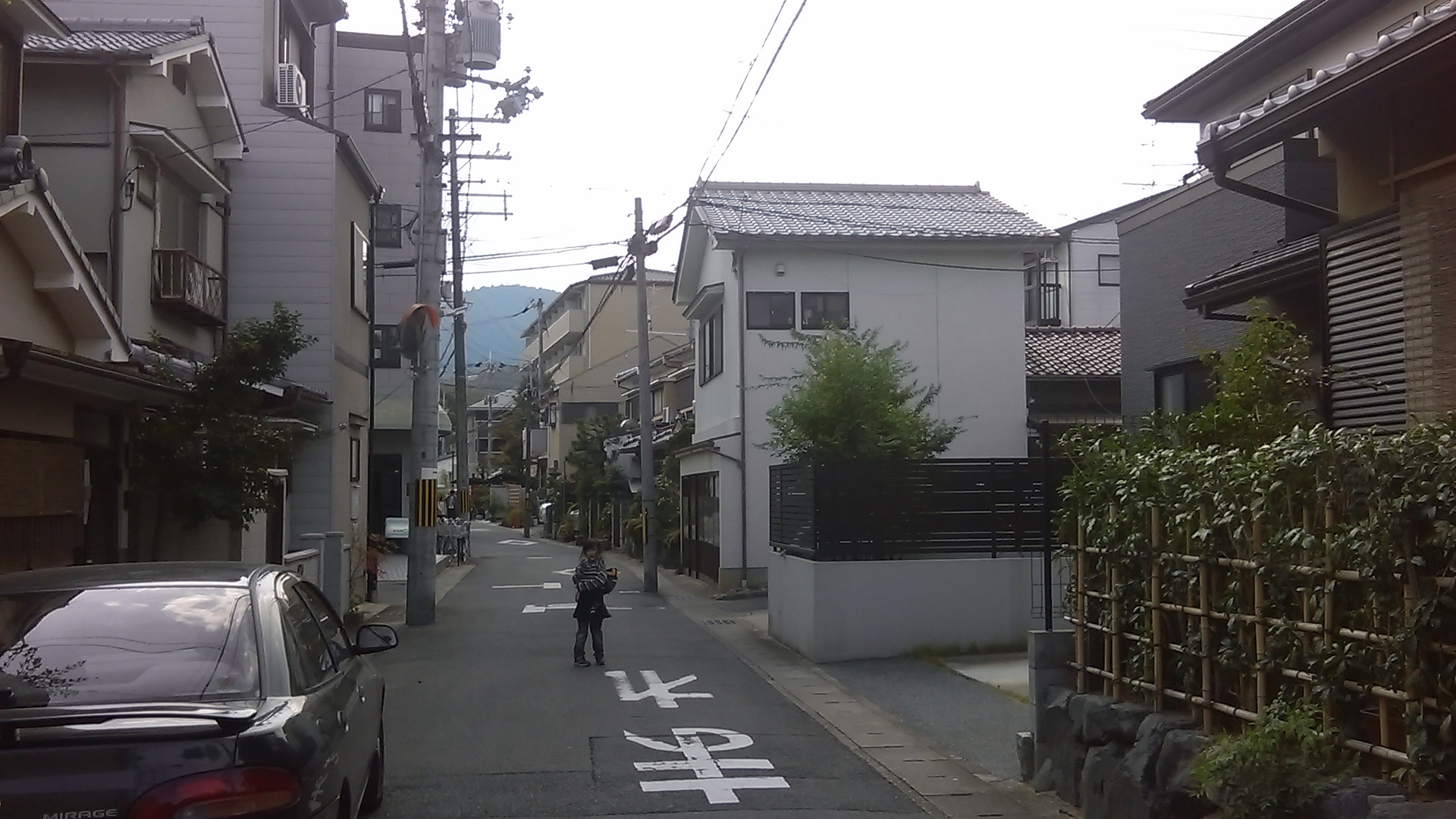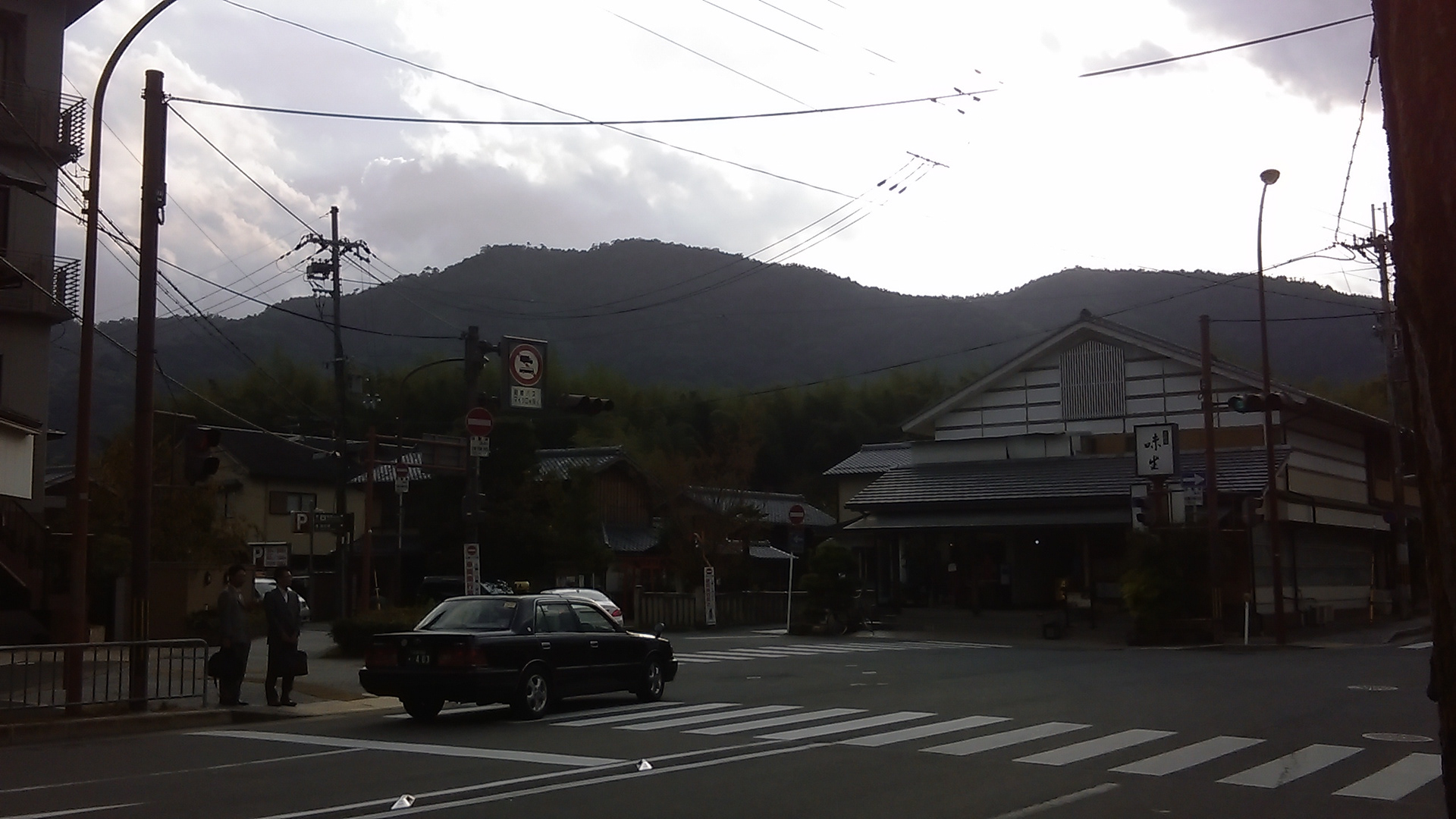 I was surprised to see how cheap a Yukata is considering most are hand made. I love the look of traditional Japanese dress.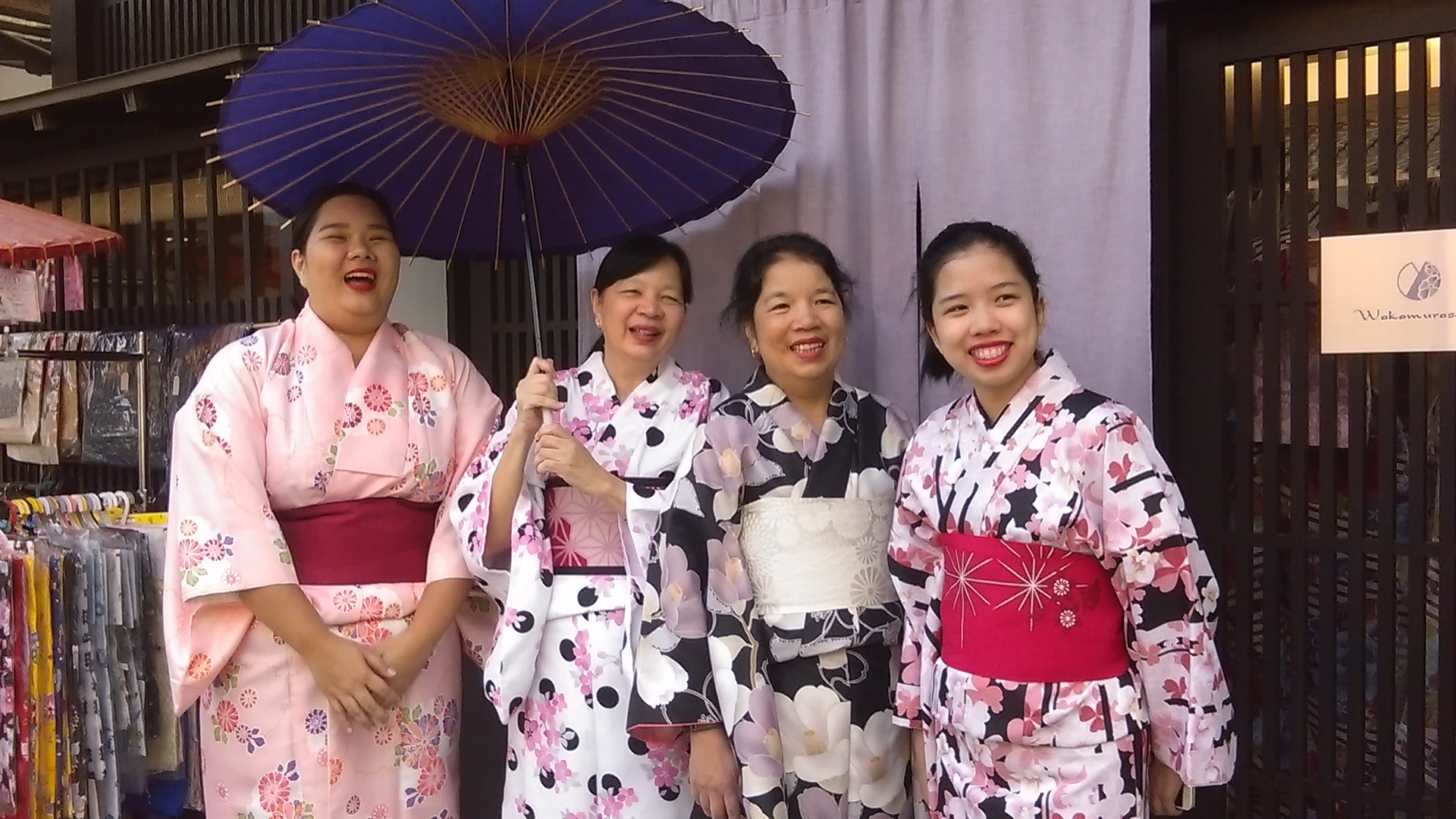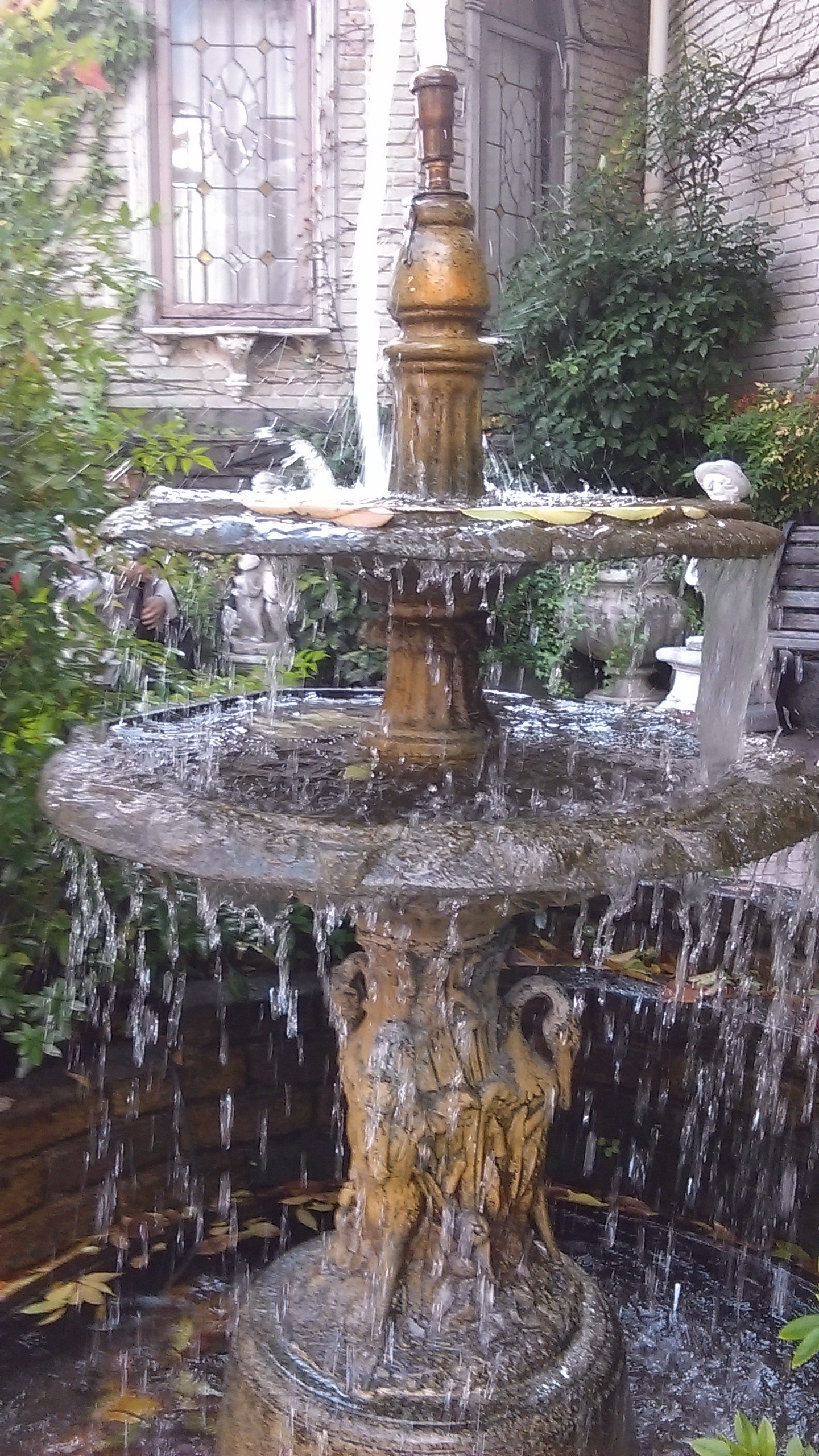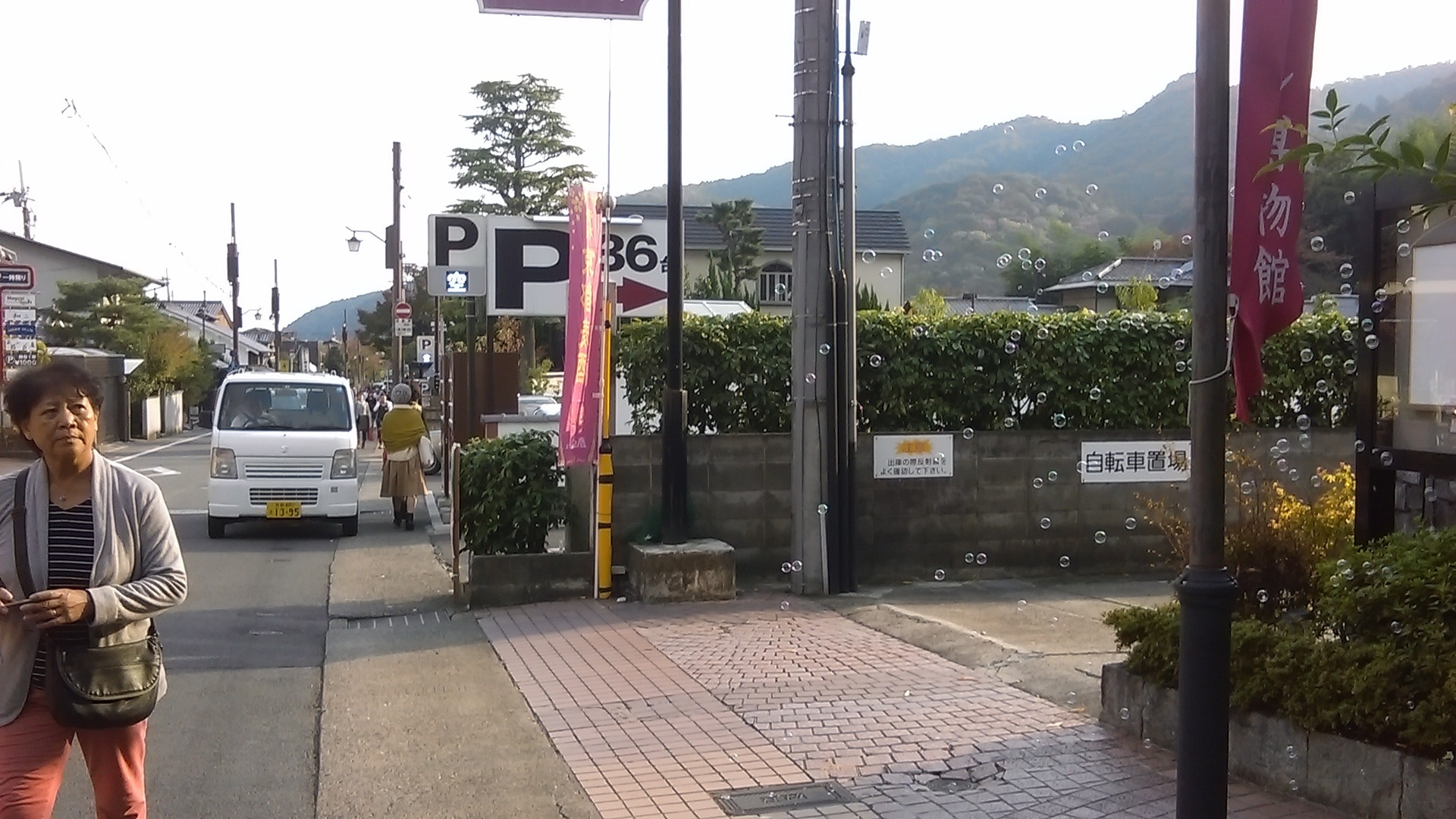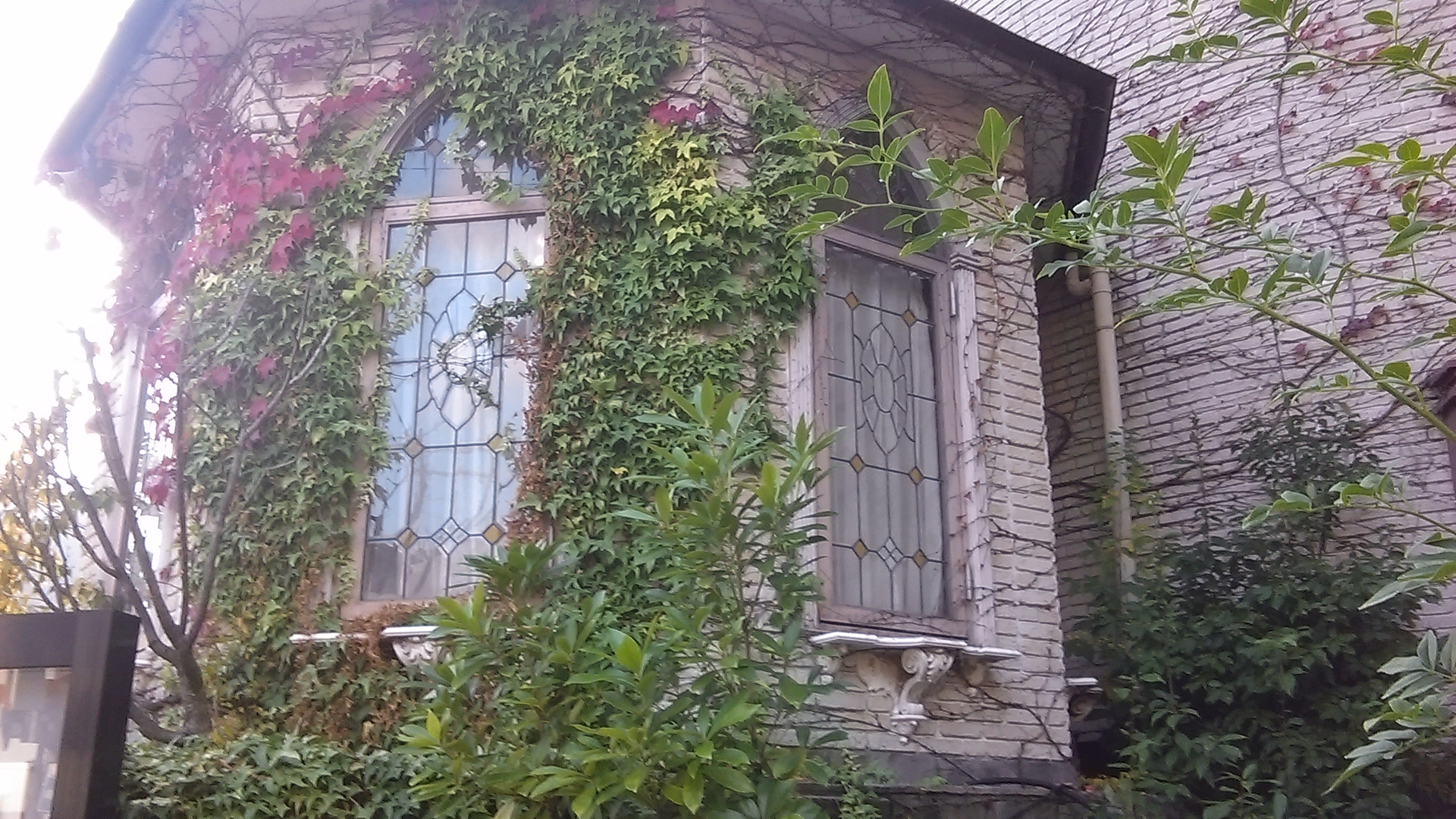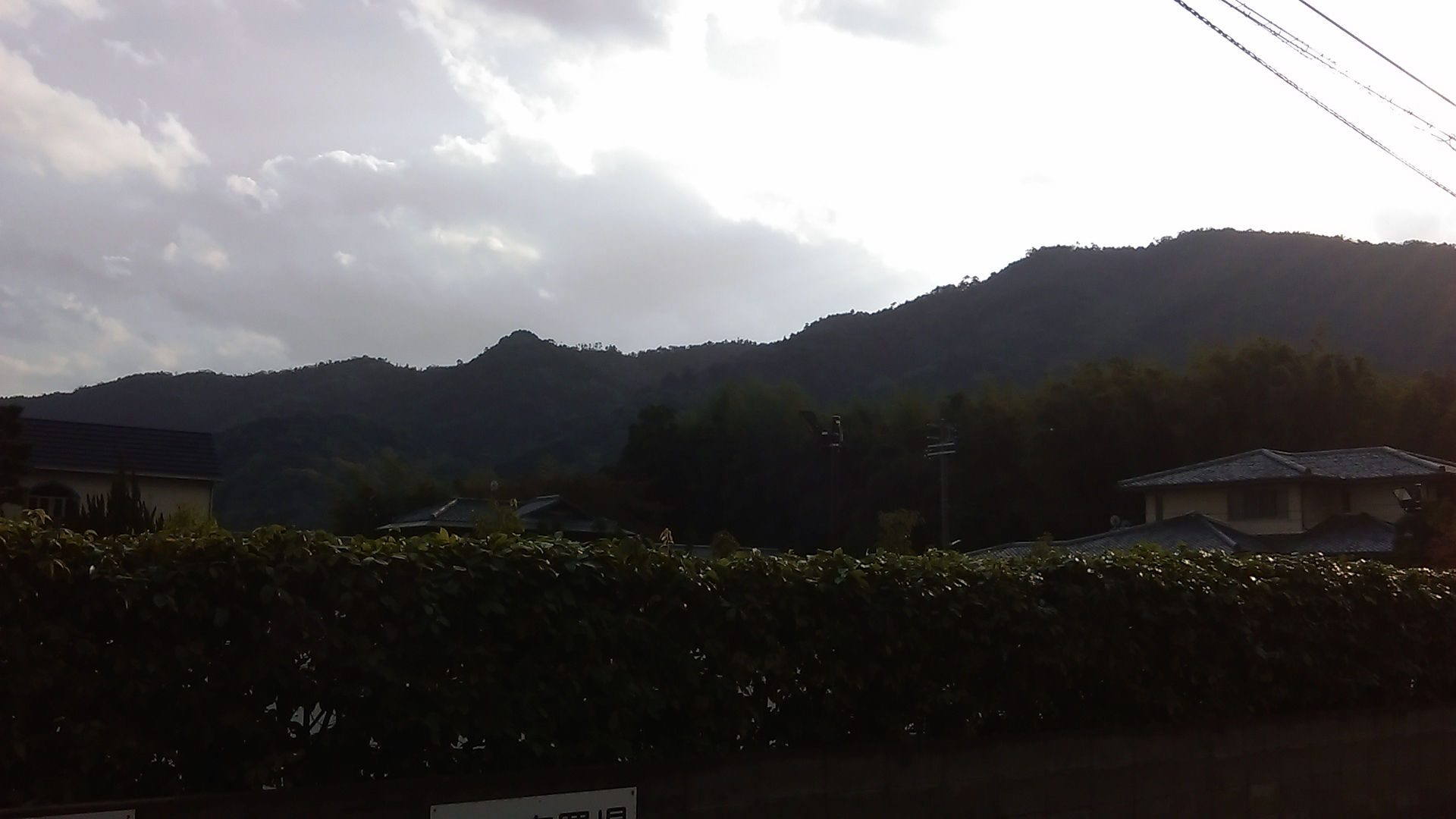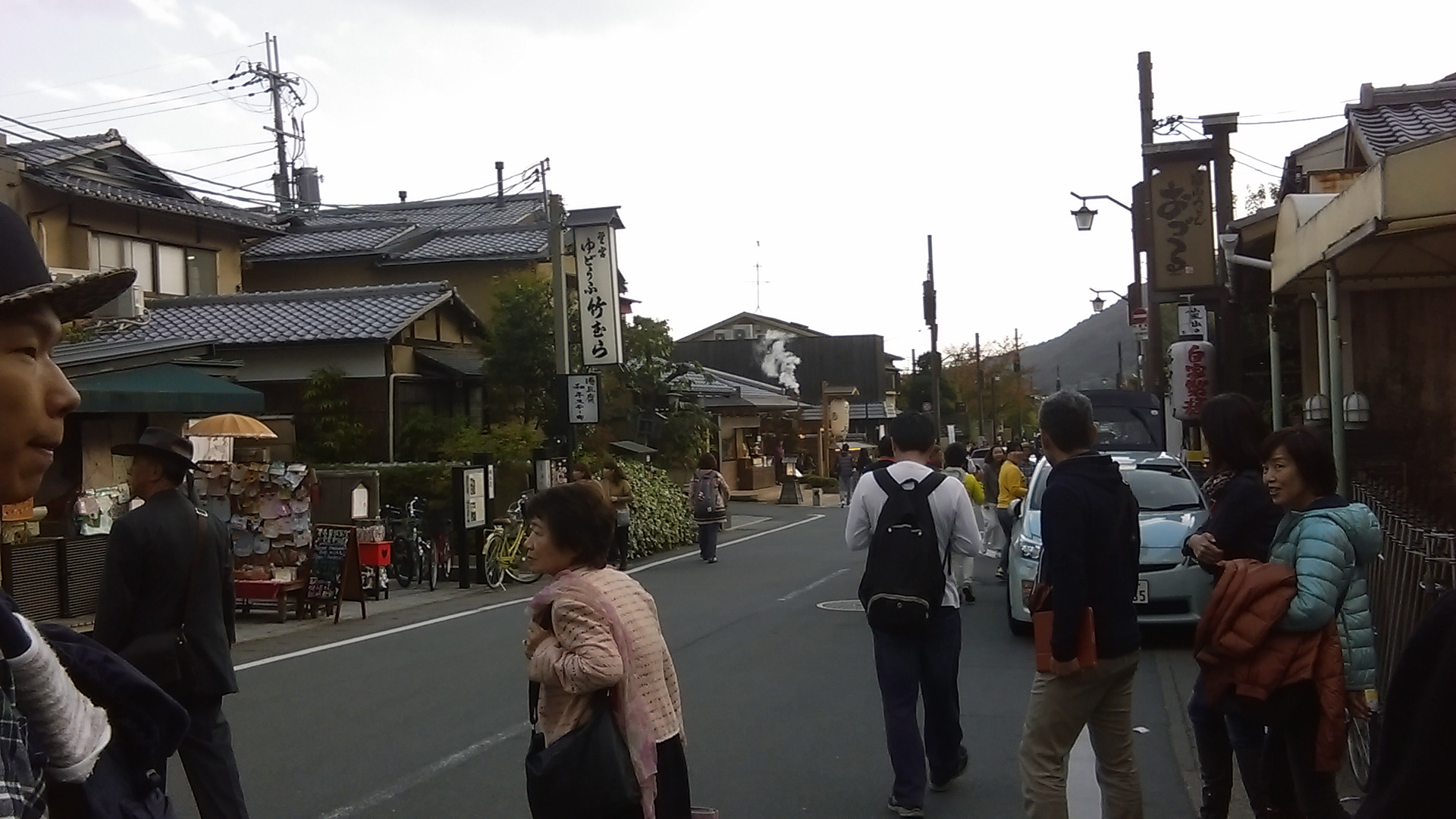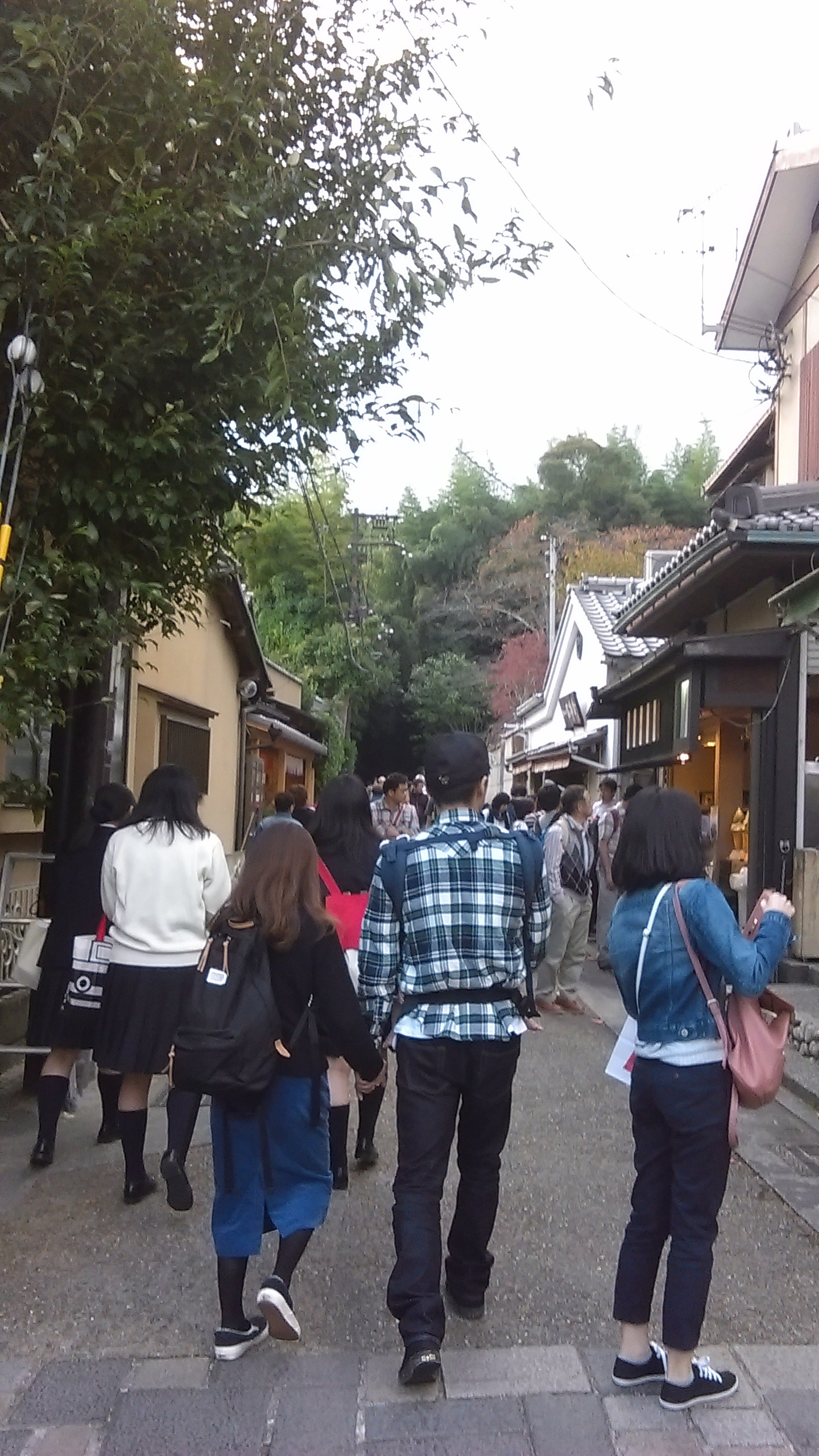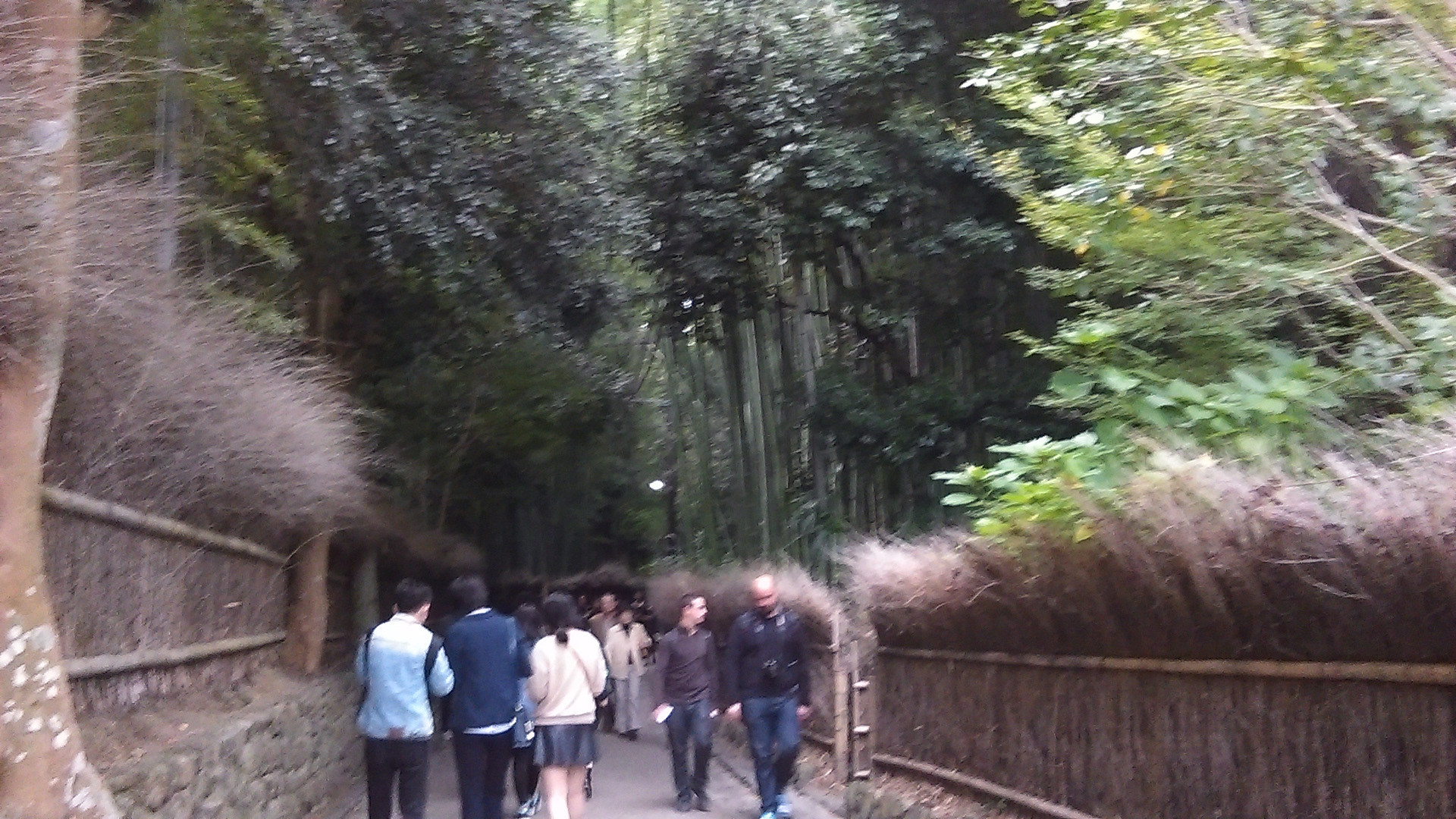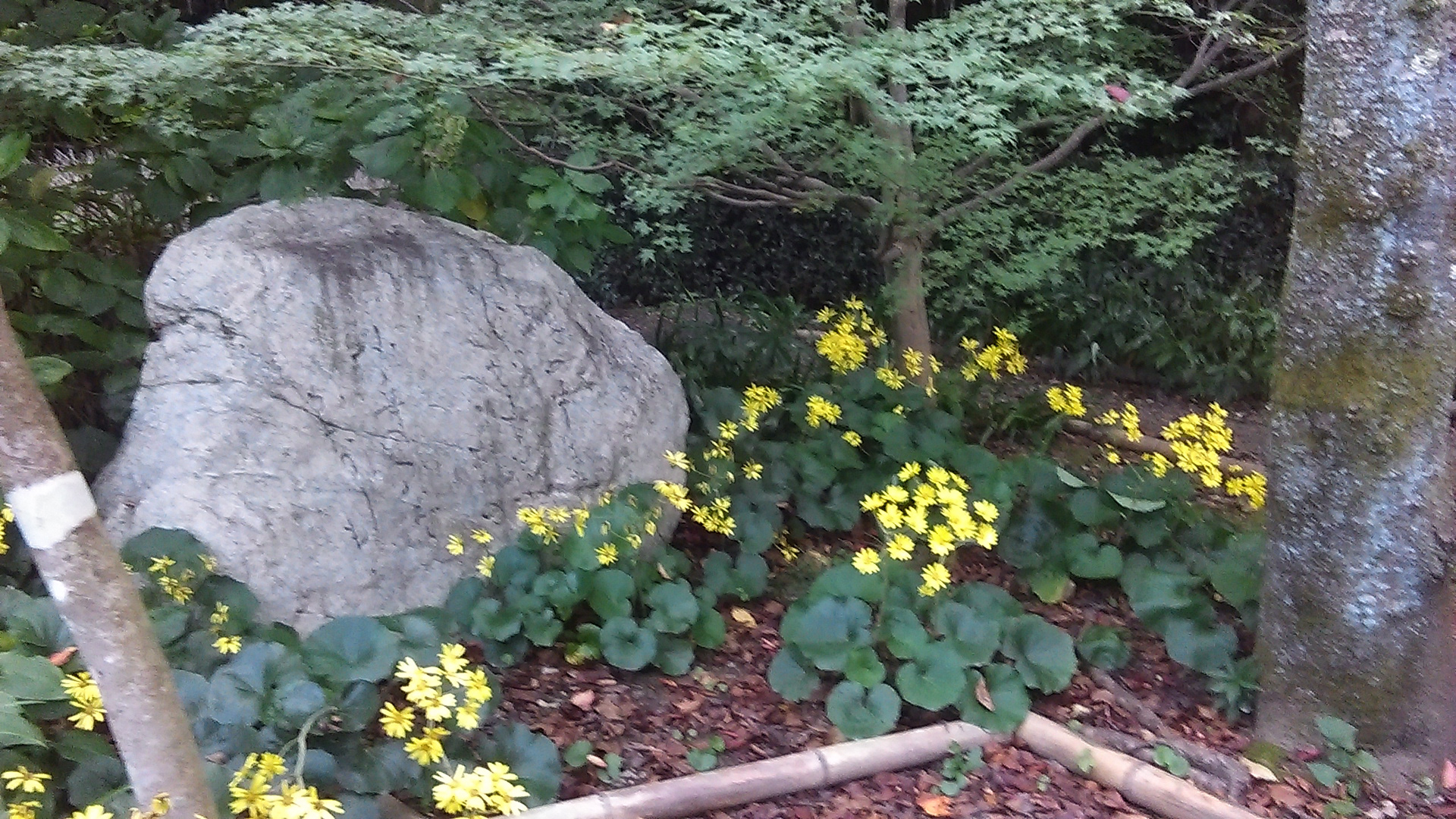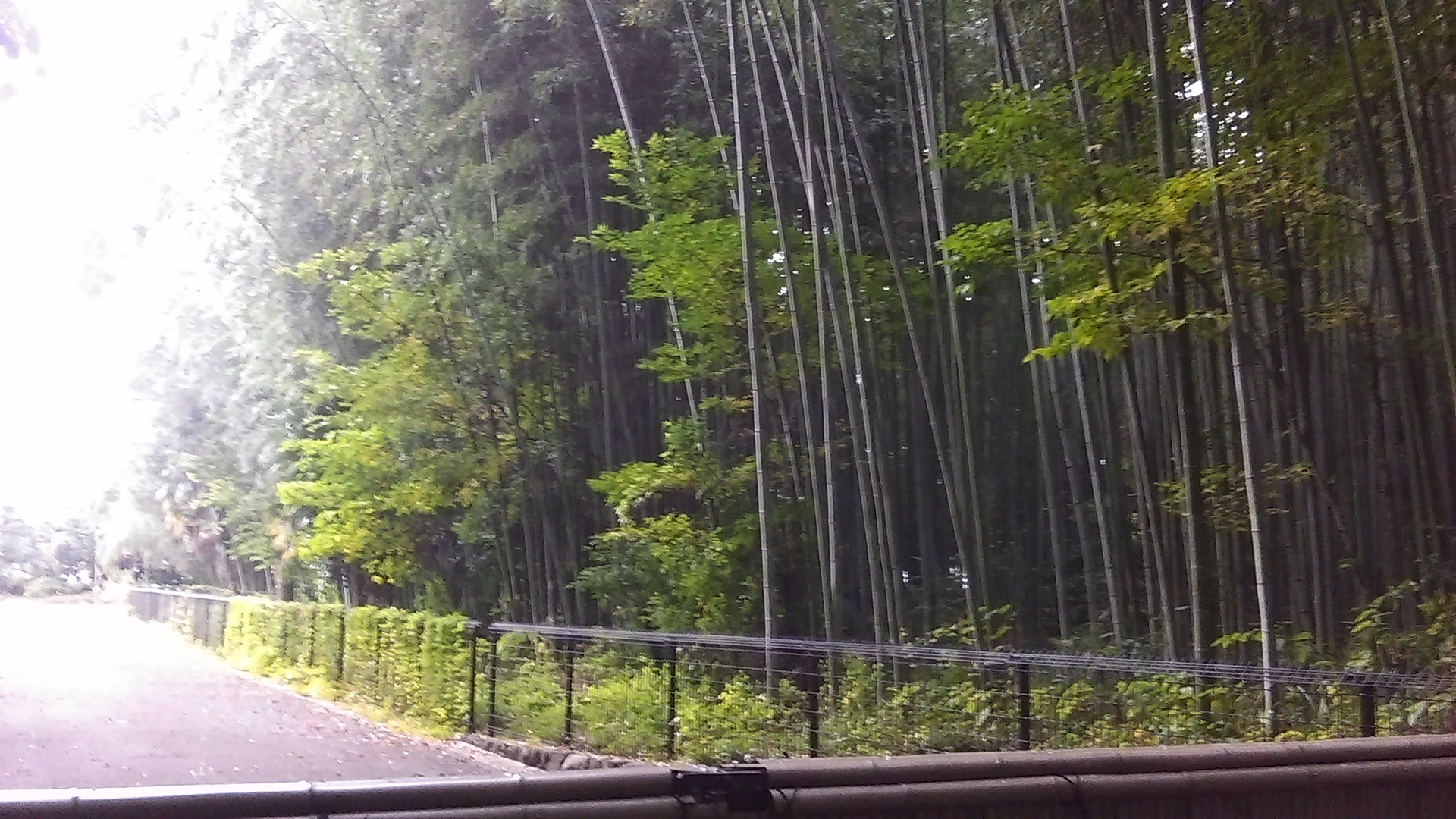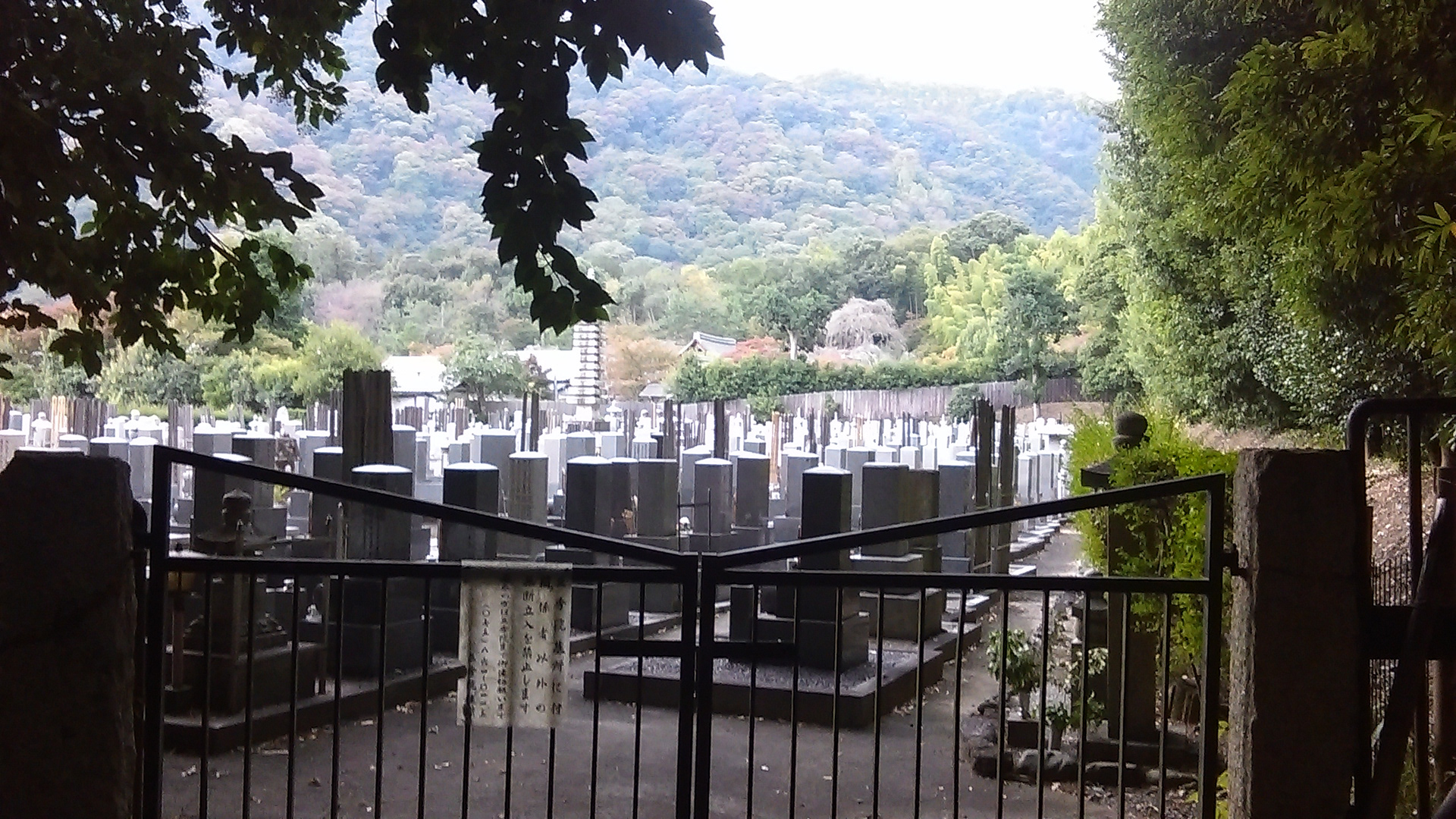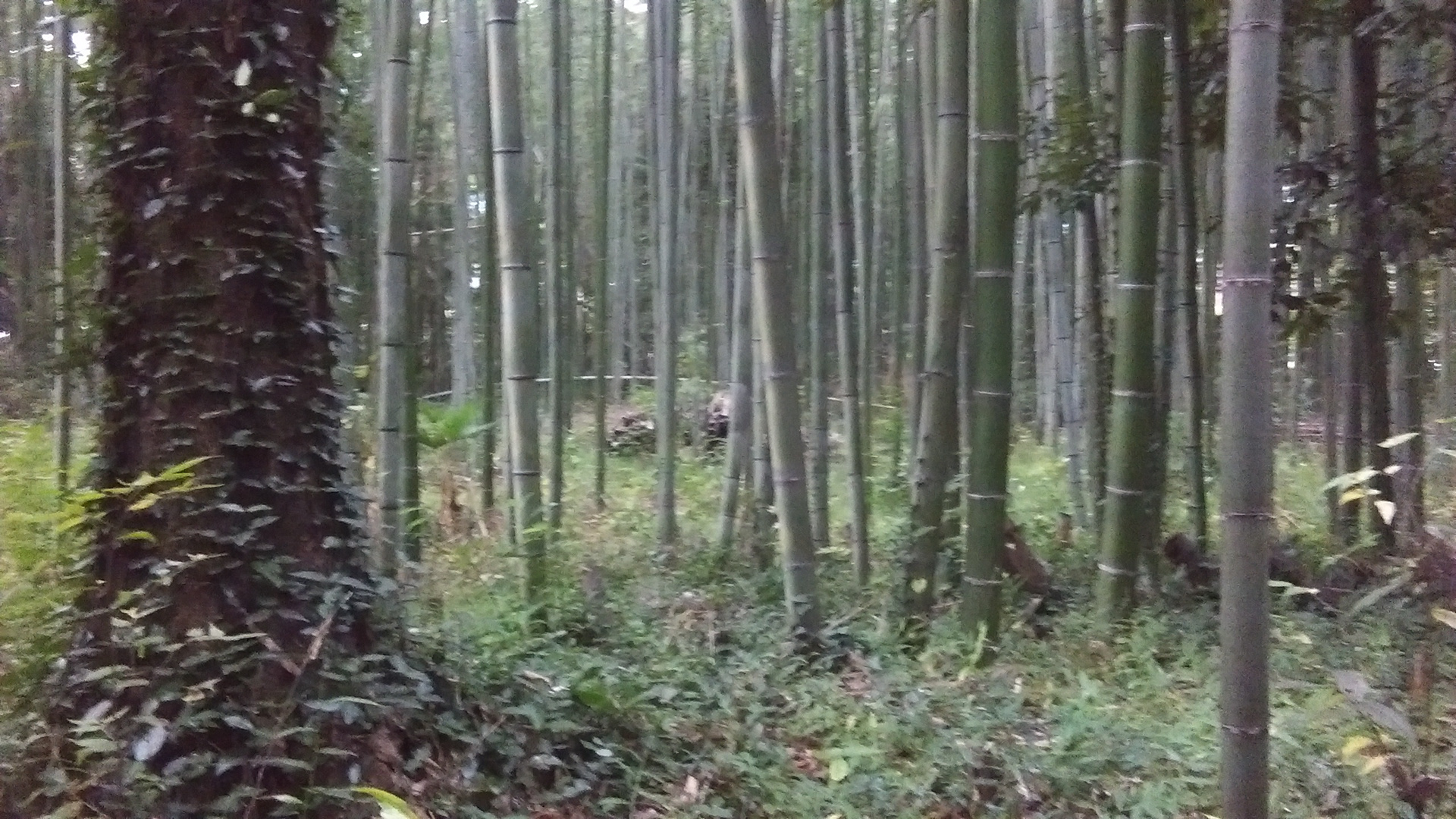 Through part of the walk we stumbled across a temple which was so beautiful. I got a few christmas presents that where blessed by the shrine. Here I learned how to pray at the shrine. You stand at the altar, give your 5 yen donation. You then shake the huge piece of rope which have bells at the top to get the Gods attention. You bow twice, clap your hands twice and on the second clap you keep your hands together and pray/ask your wish. By giving a 5 yen donation, you are paying the God to follow through with your wish and also pays for the shrine.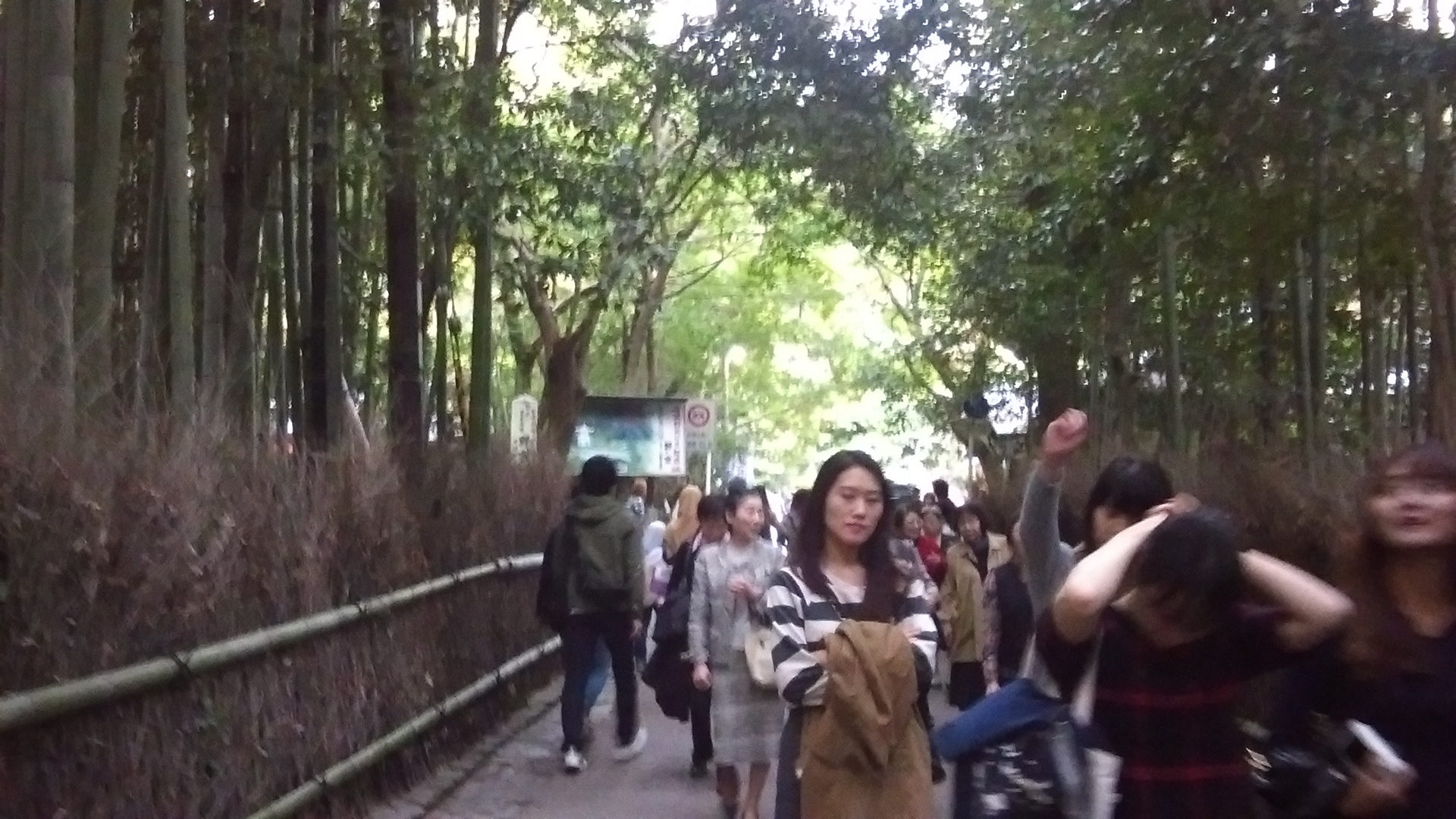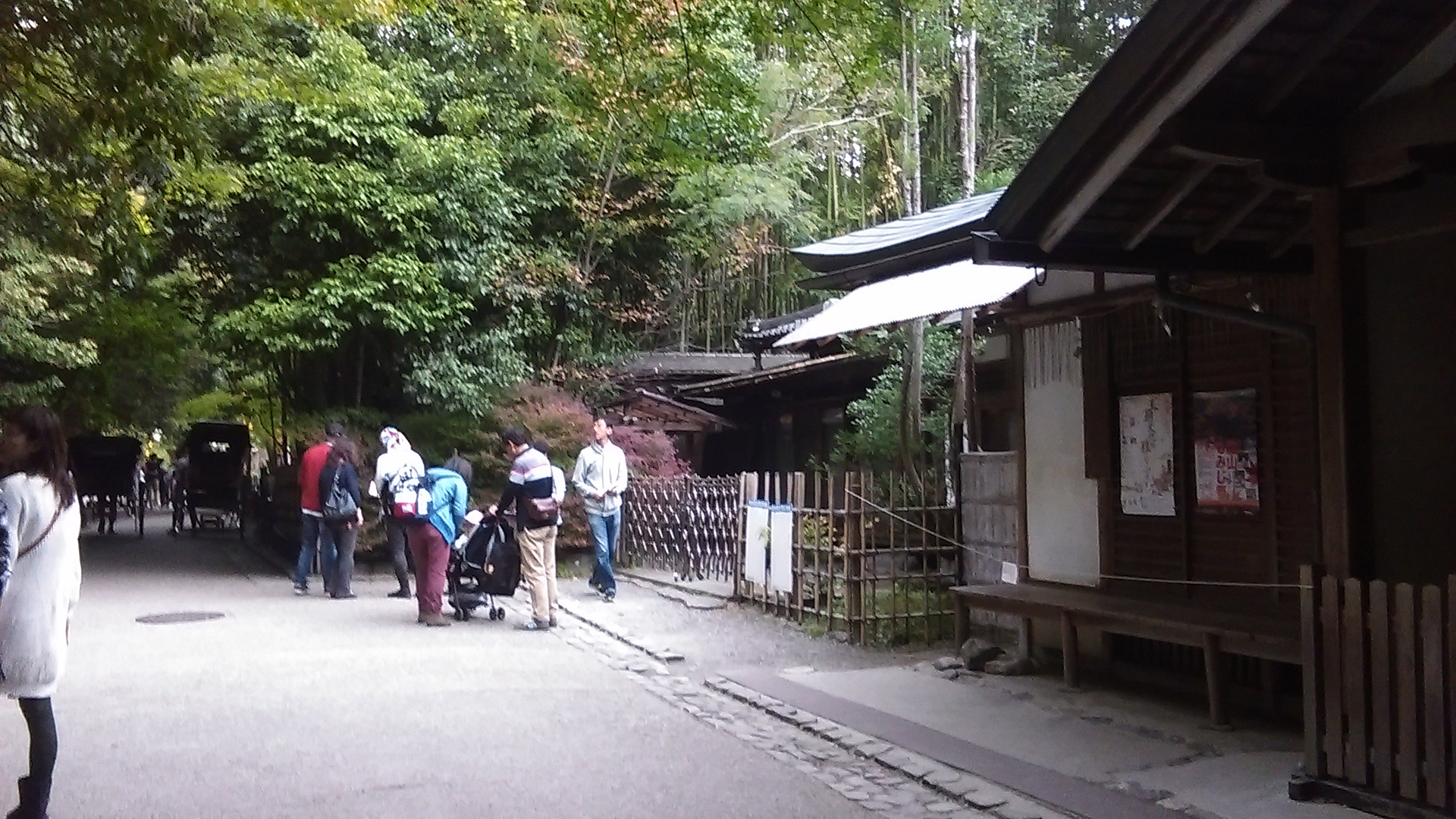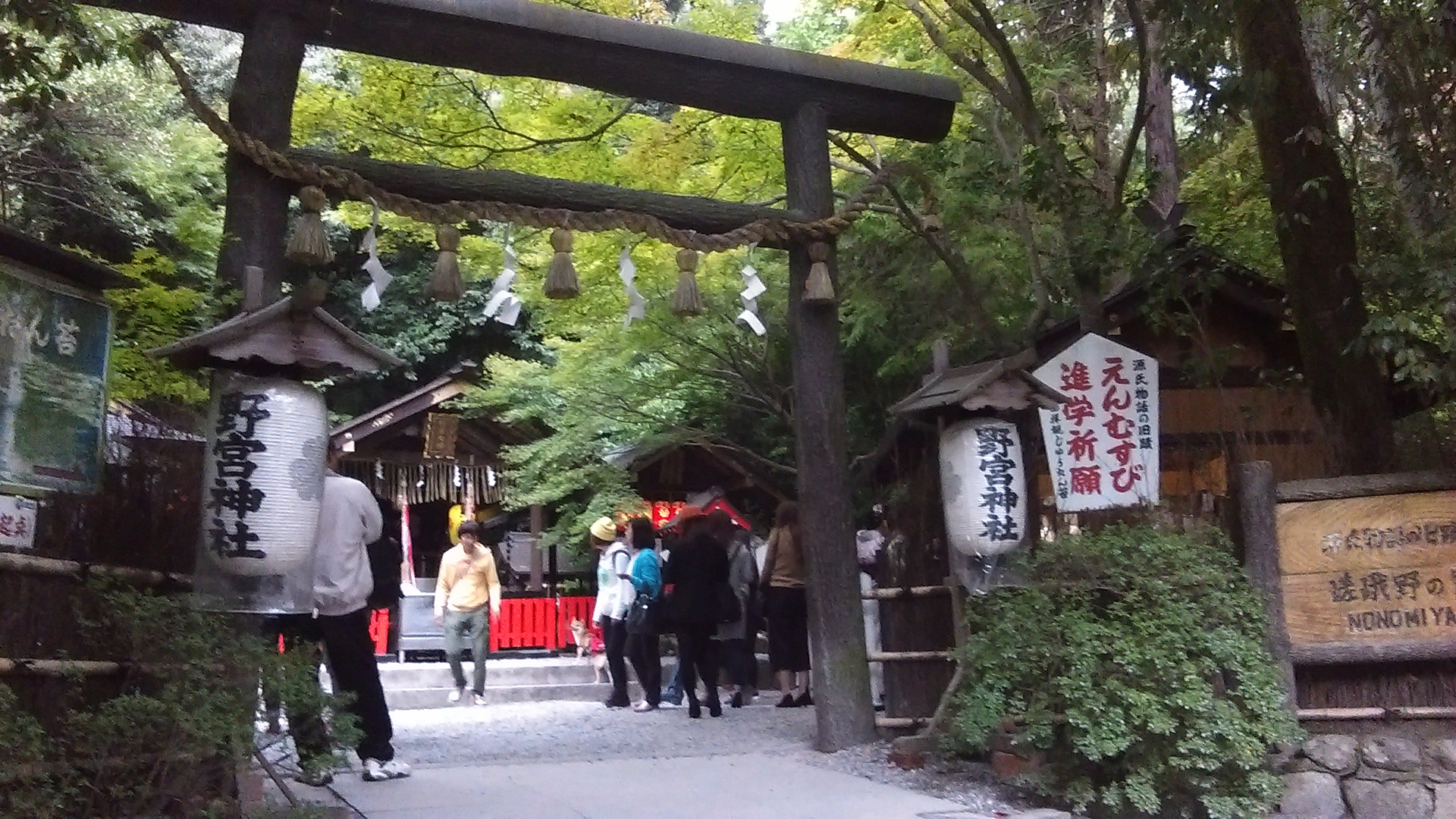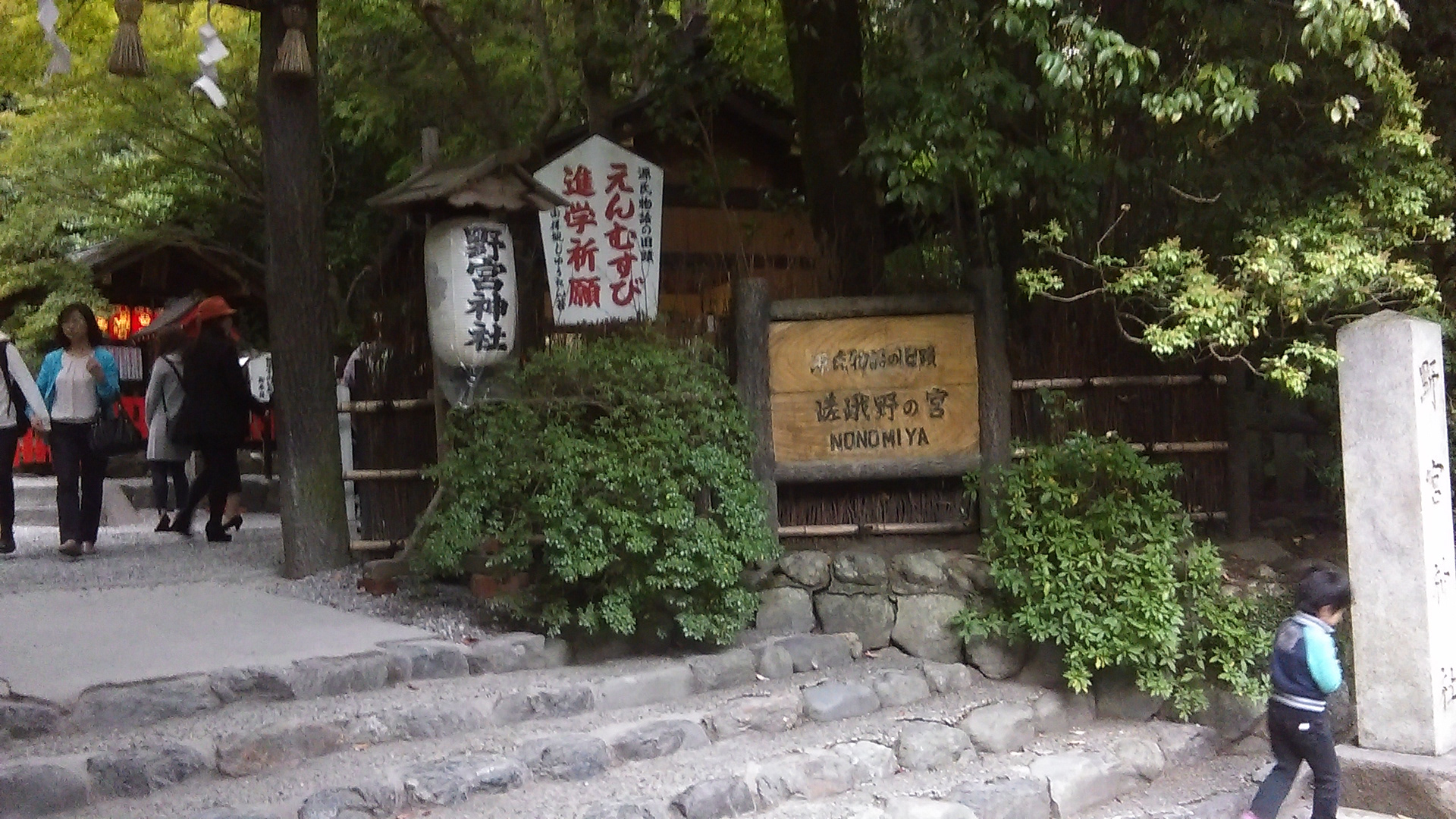 One of the most adorable things I have seen. A dog with a medicine bag.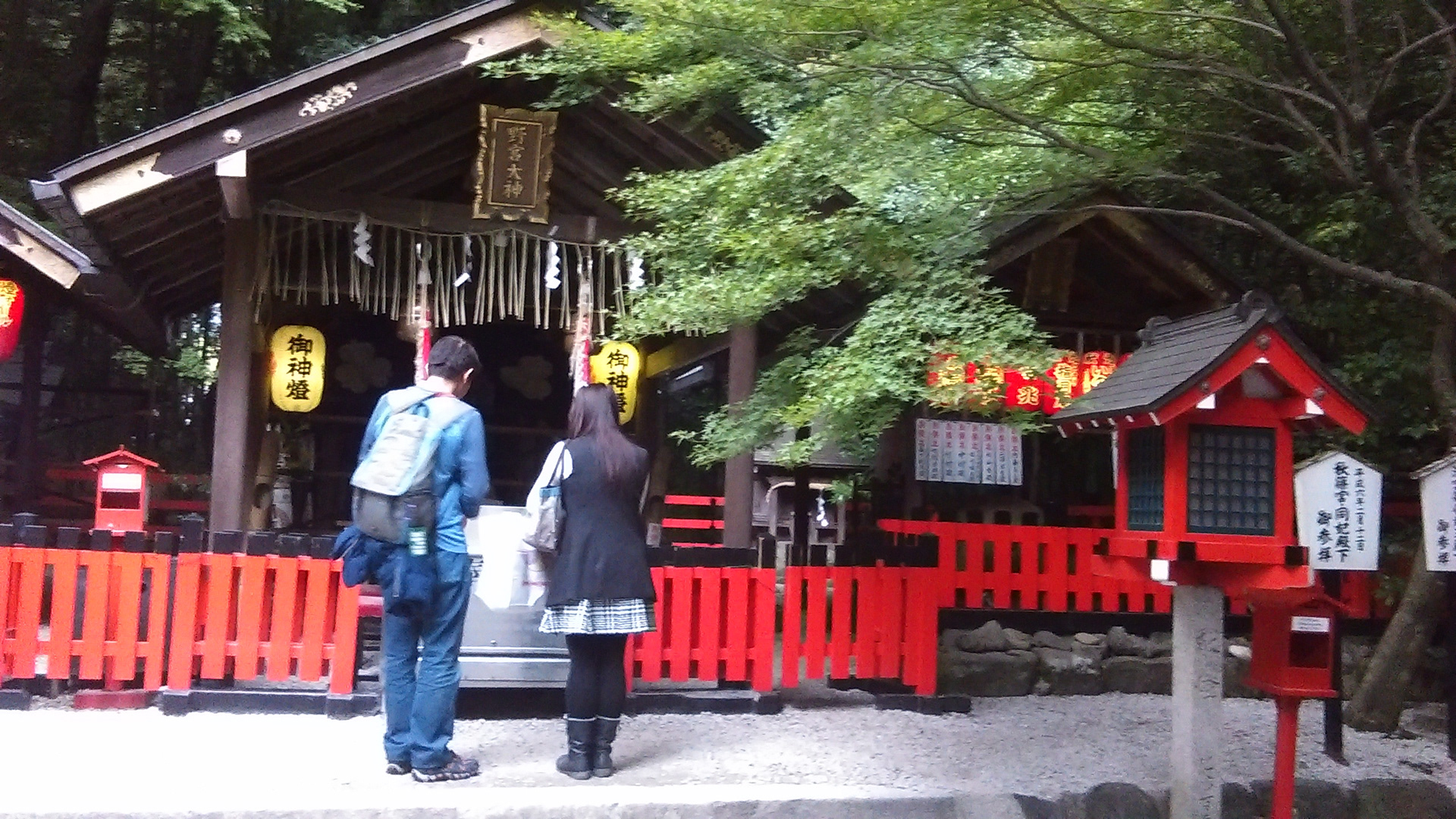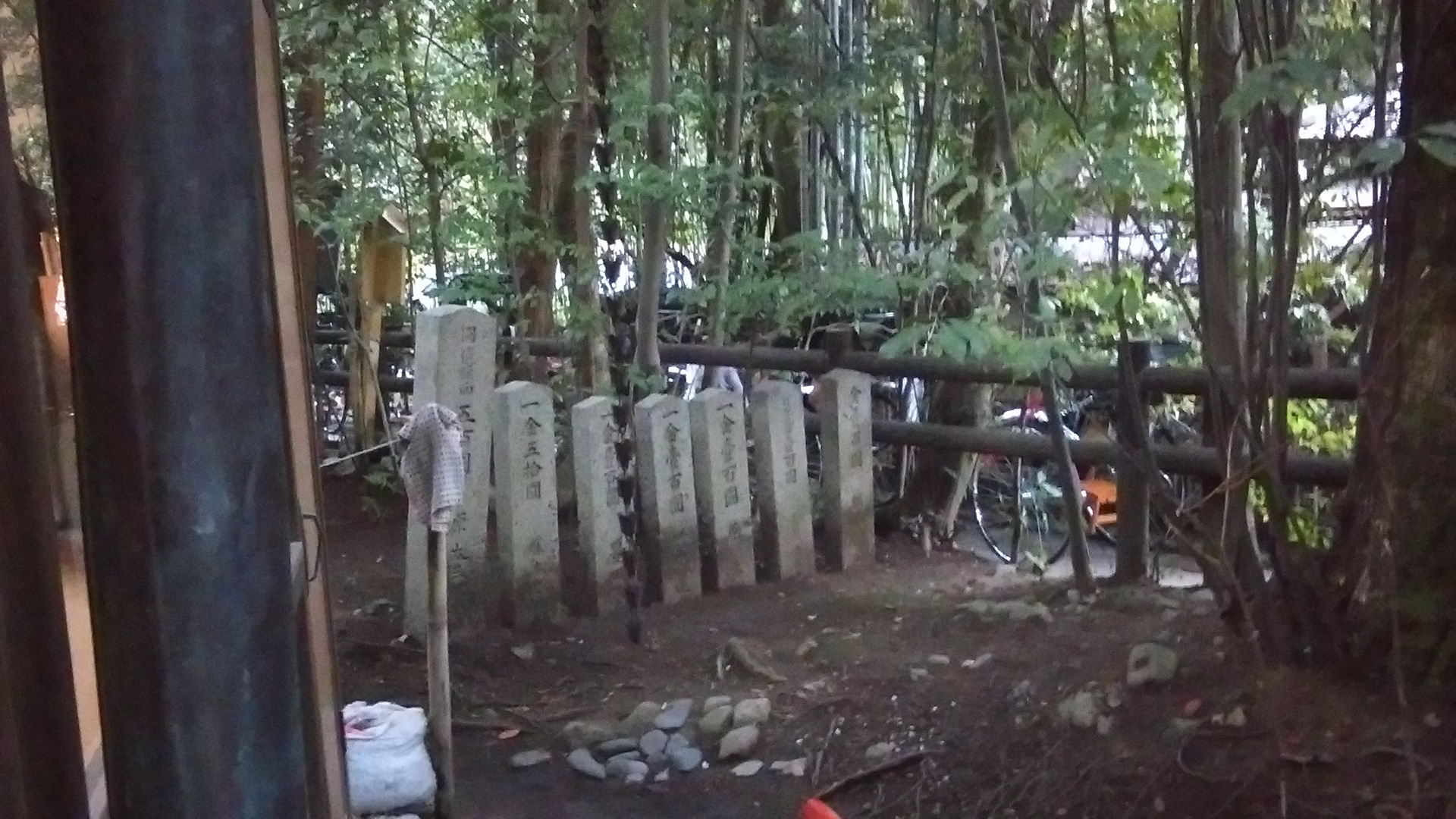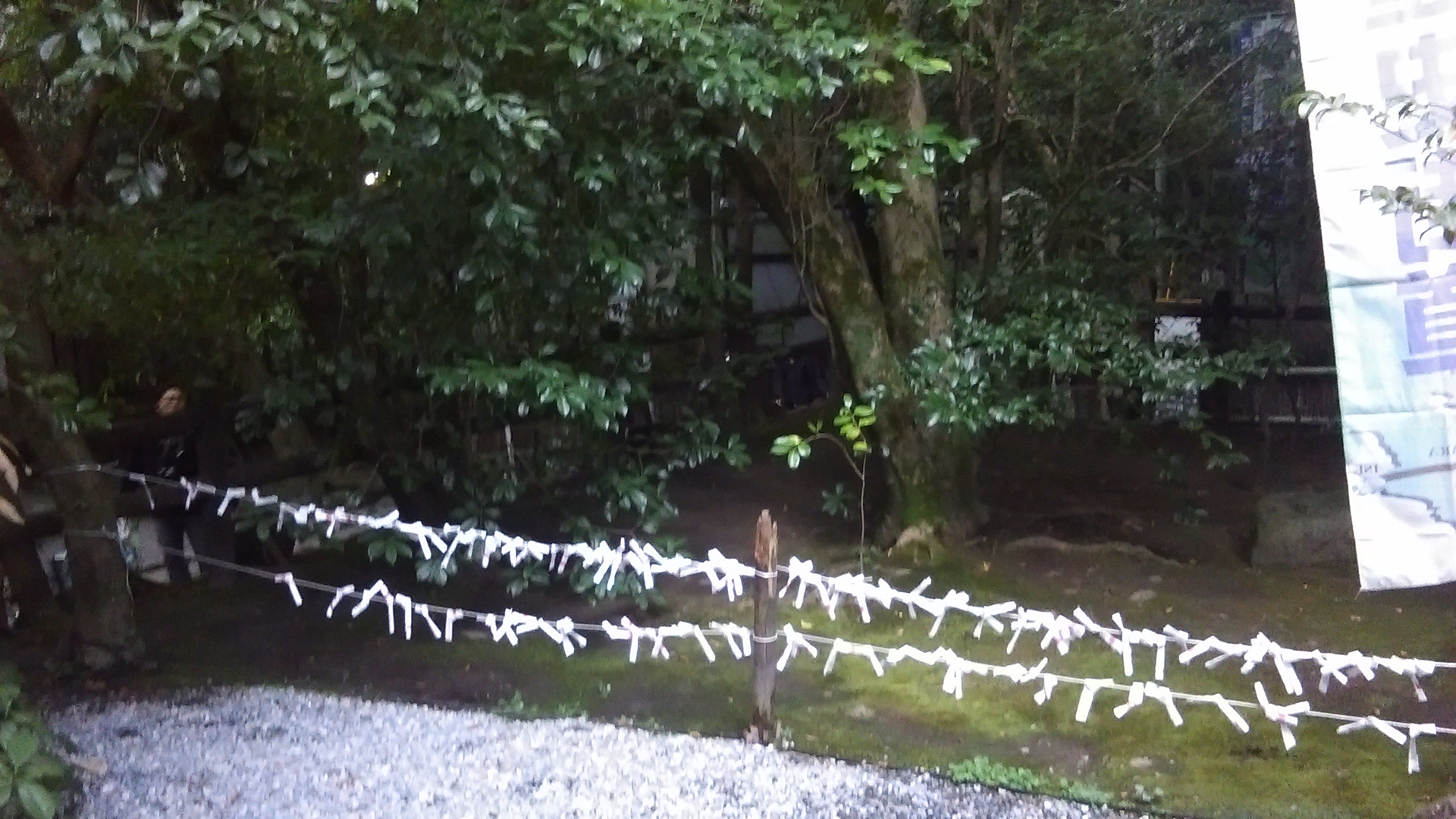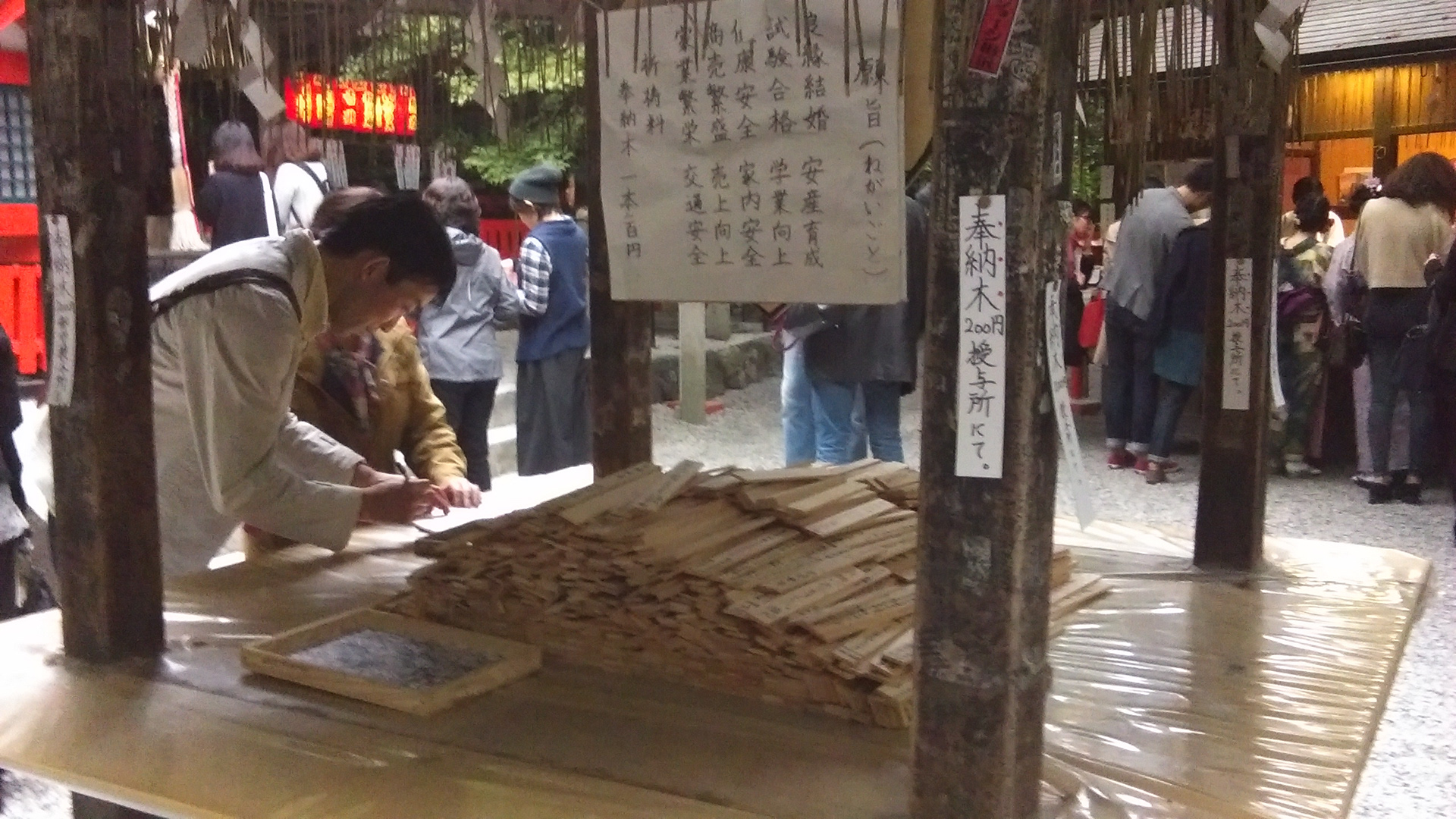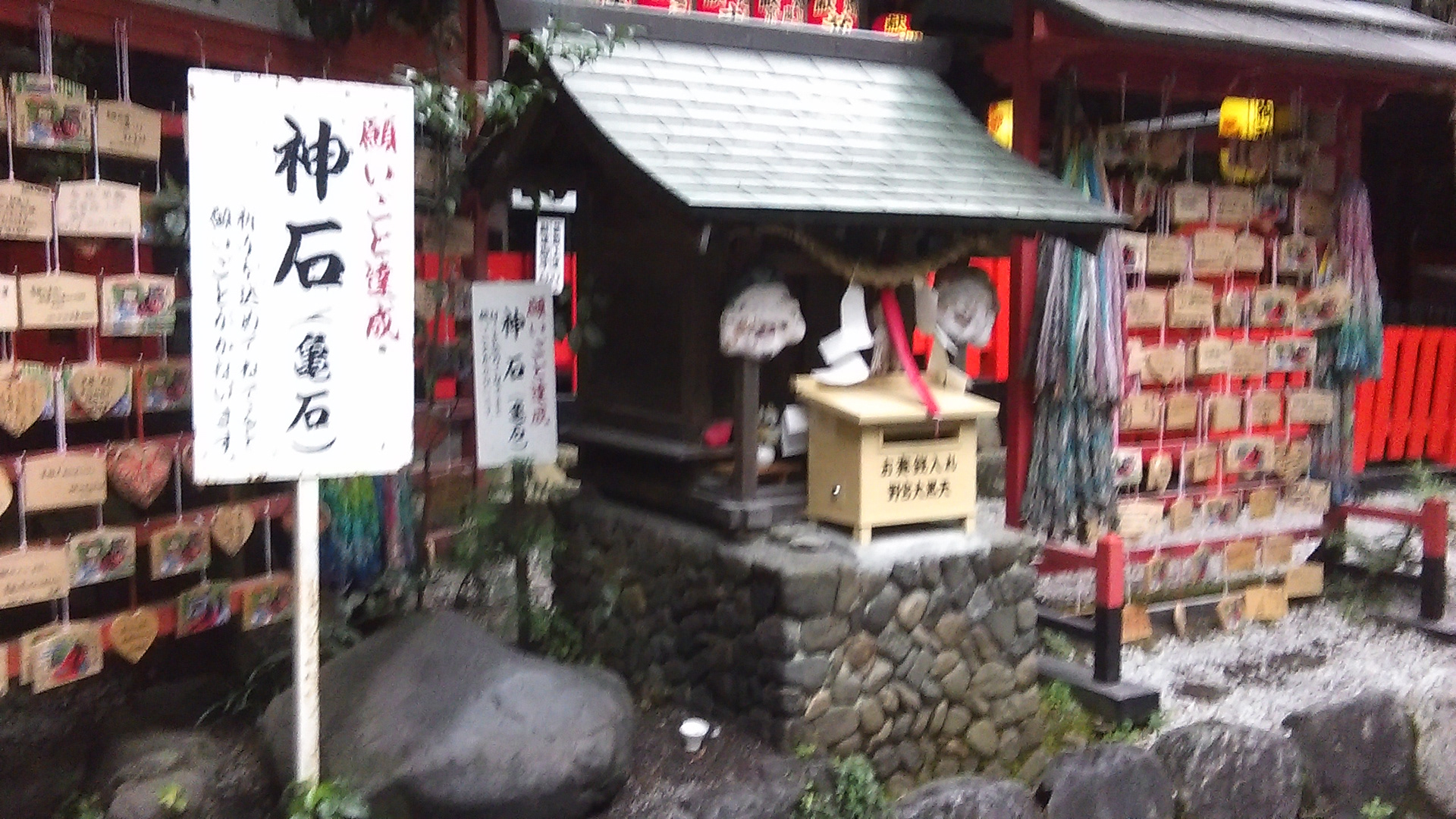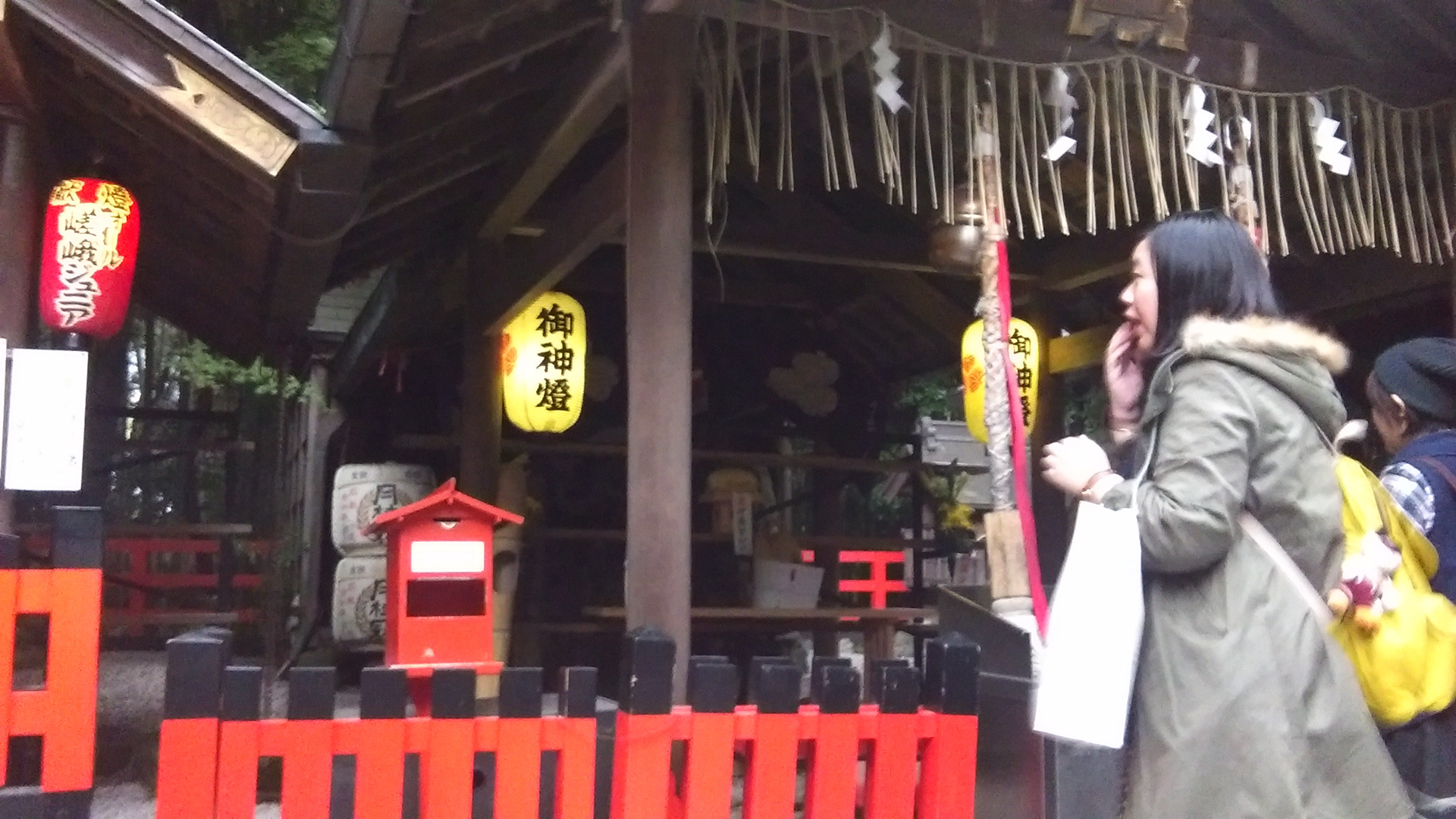 I was surprised to see how many different ways they pray and ask the Gods in Japan. You can write on a plaque, pray at the shrine, tie your wish to a tree, pile your wishes together on an alter on pieces of wood and much more.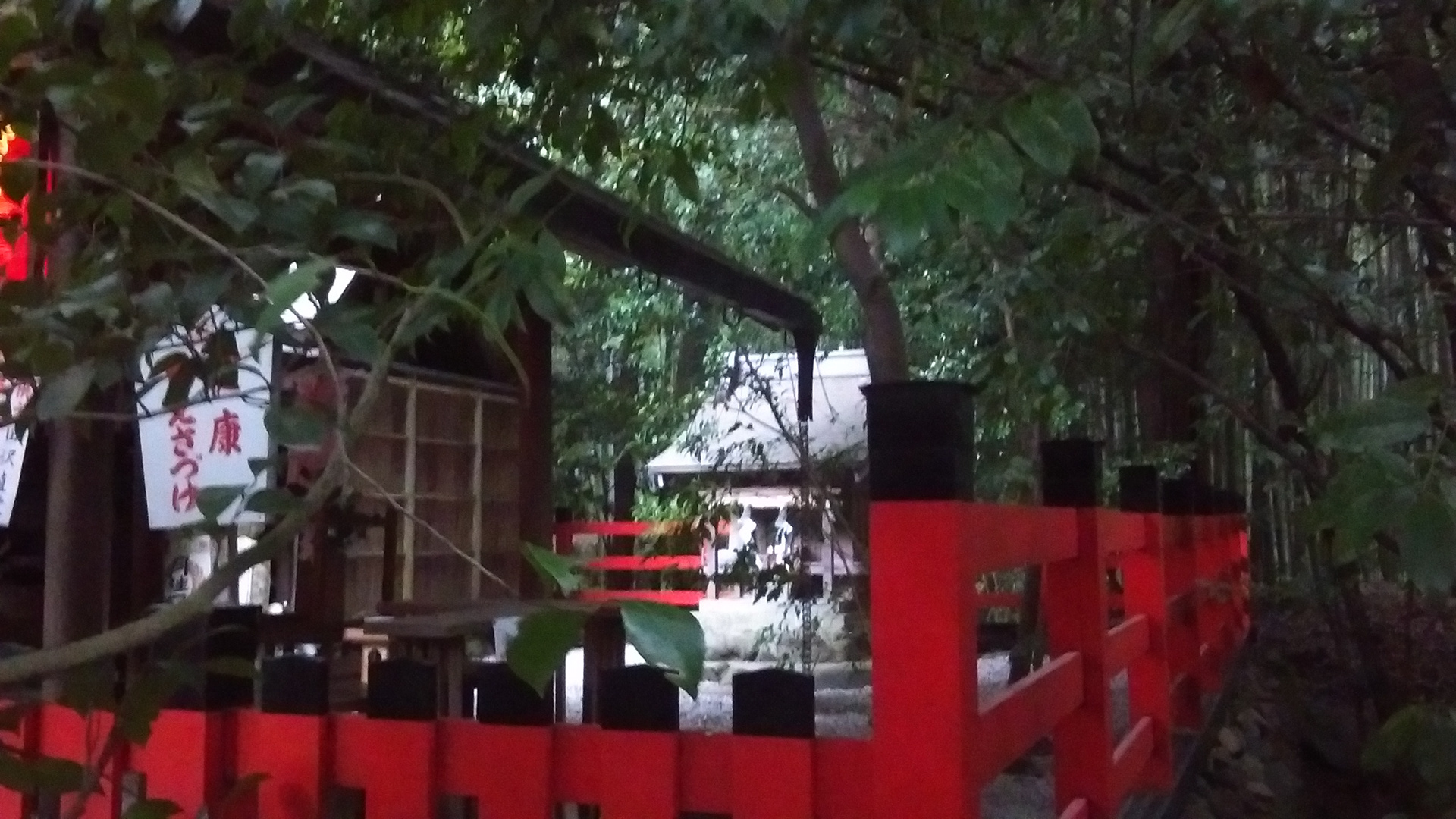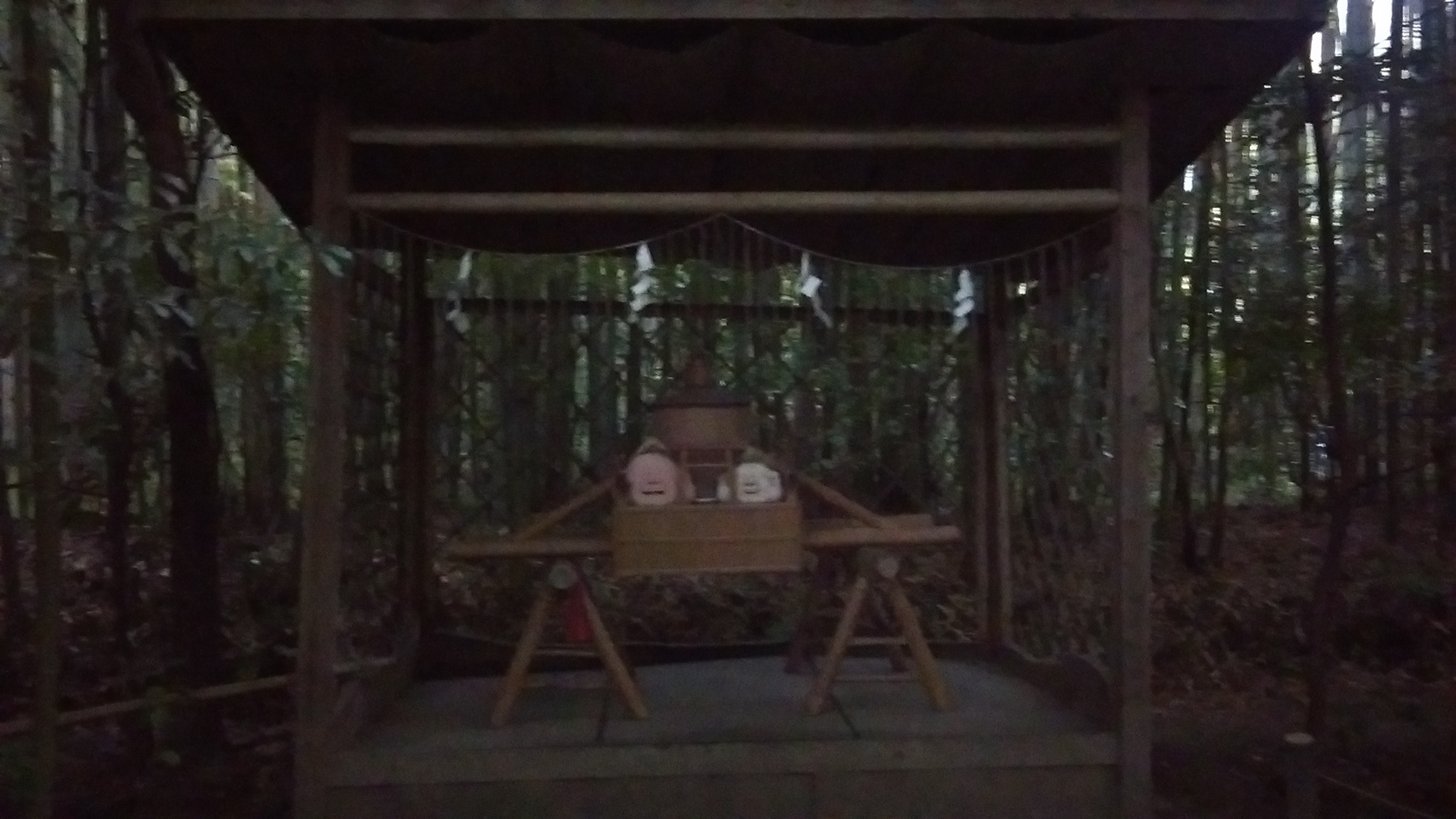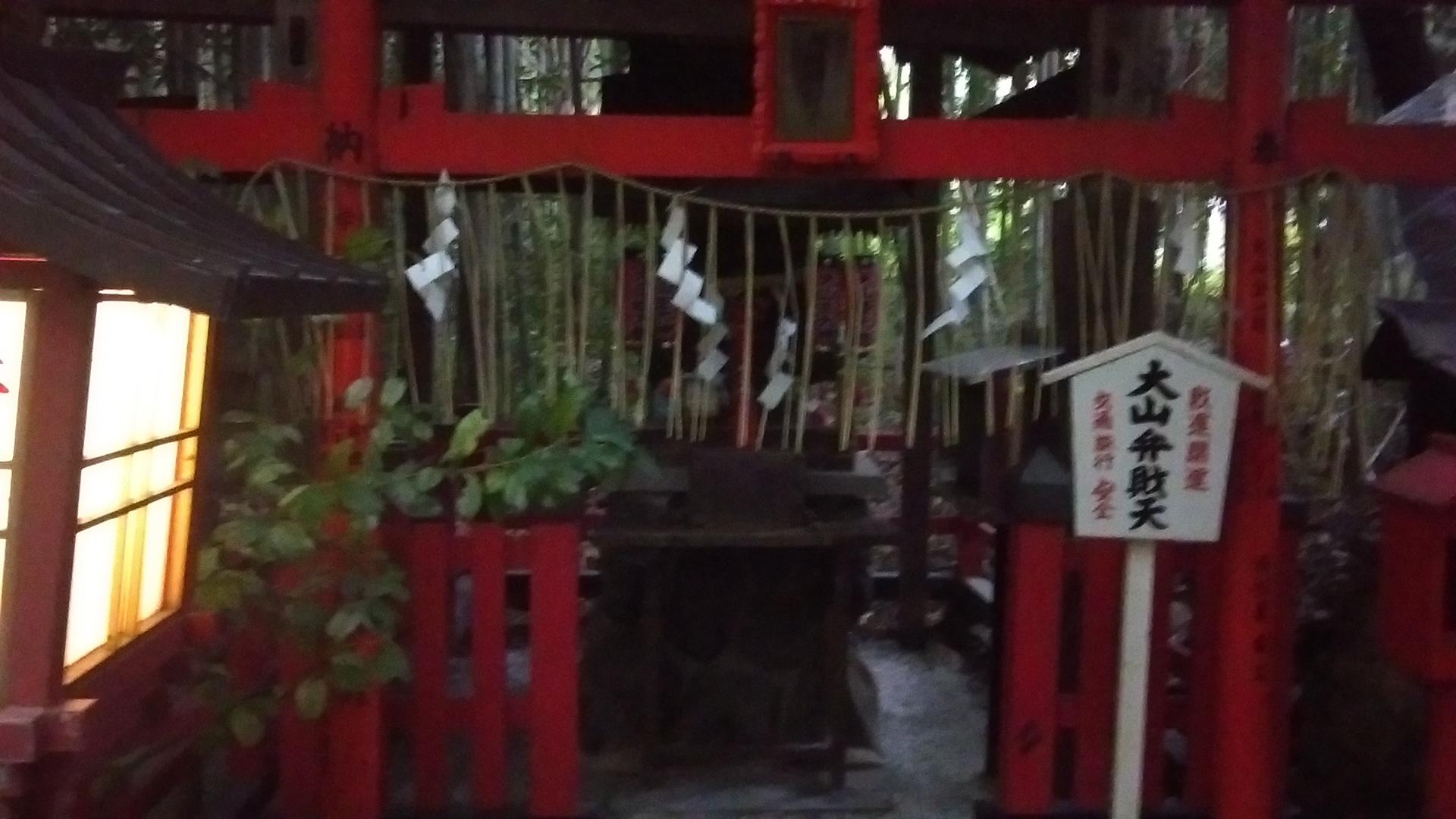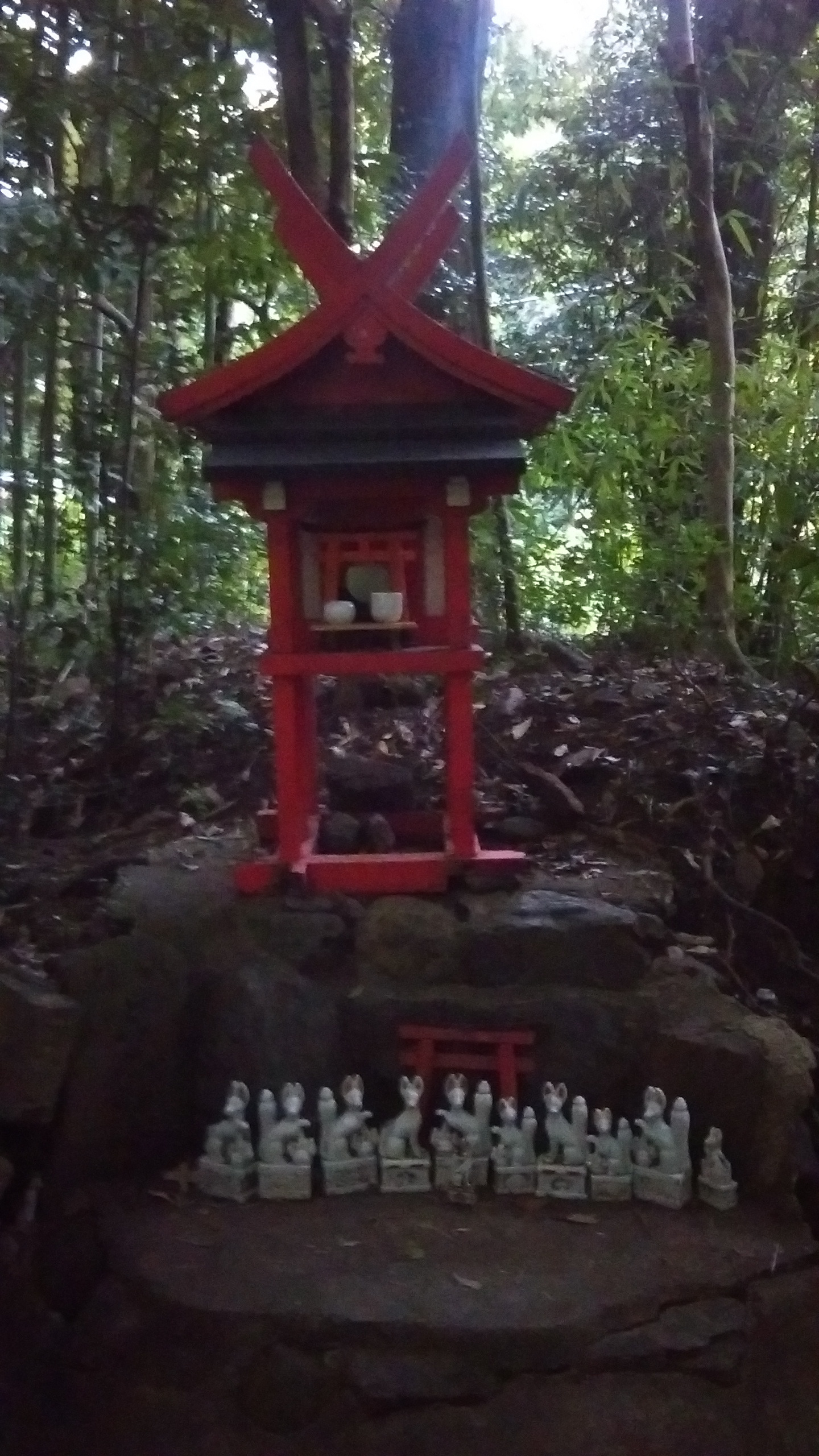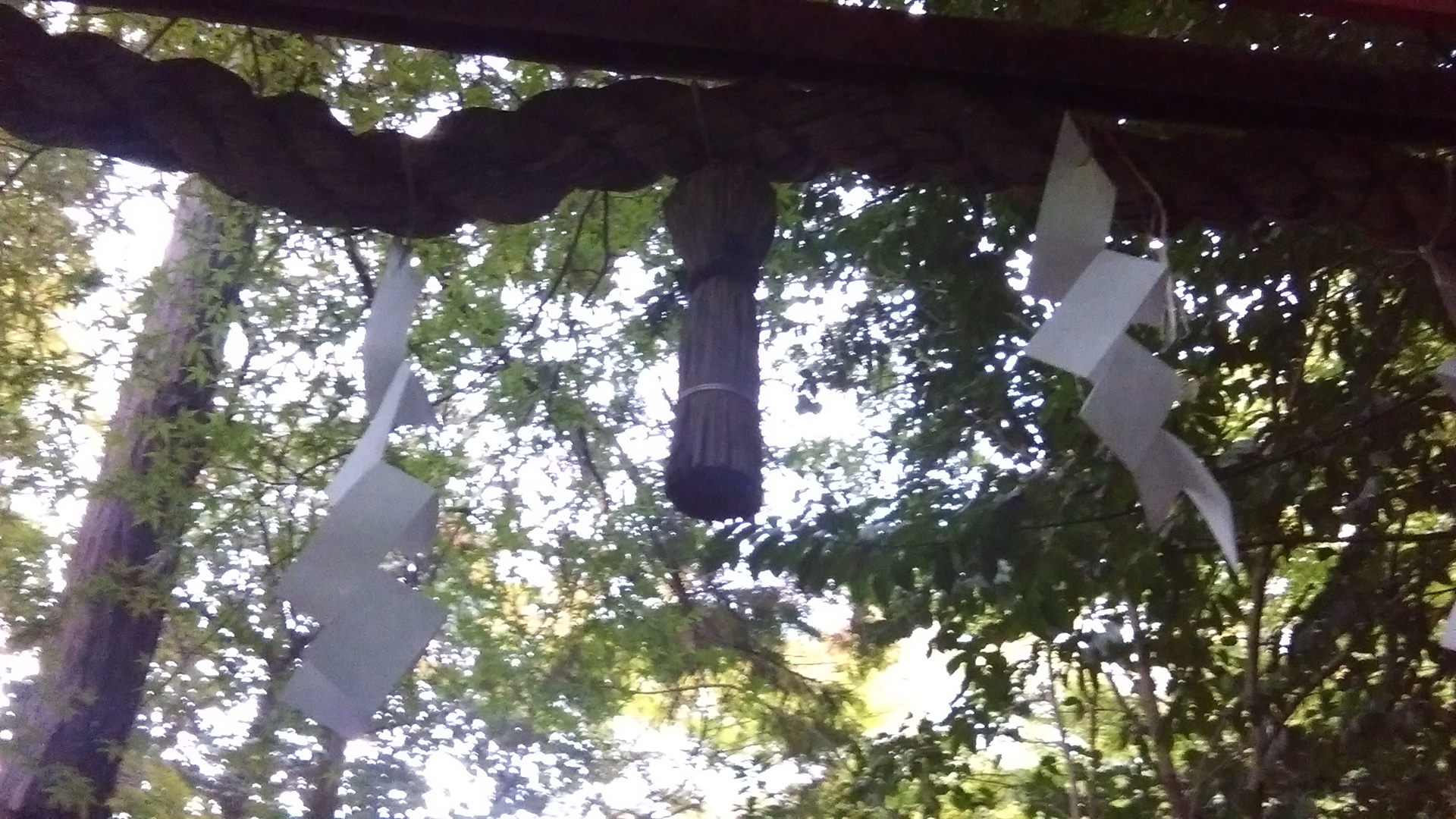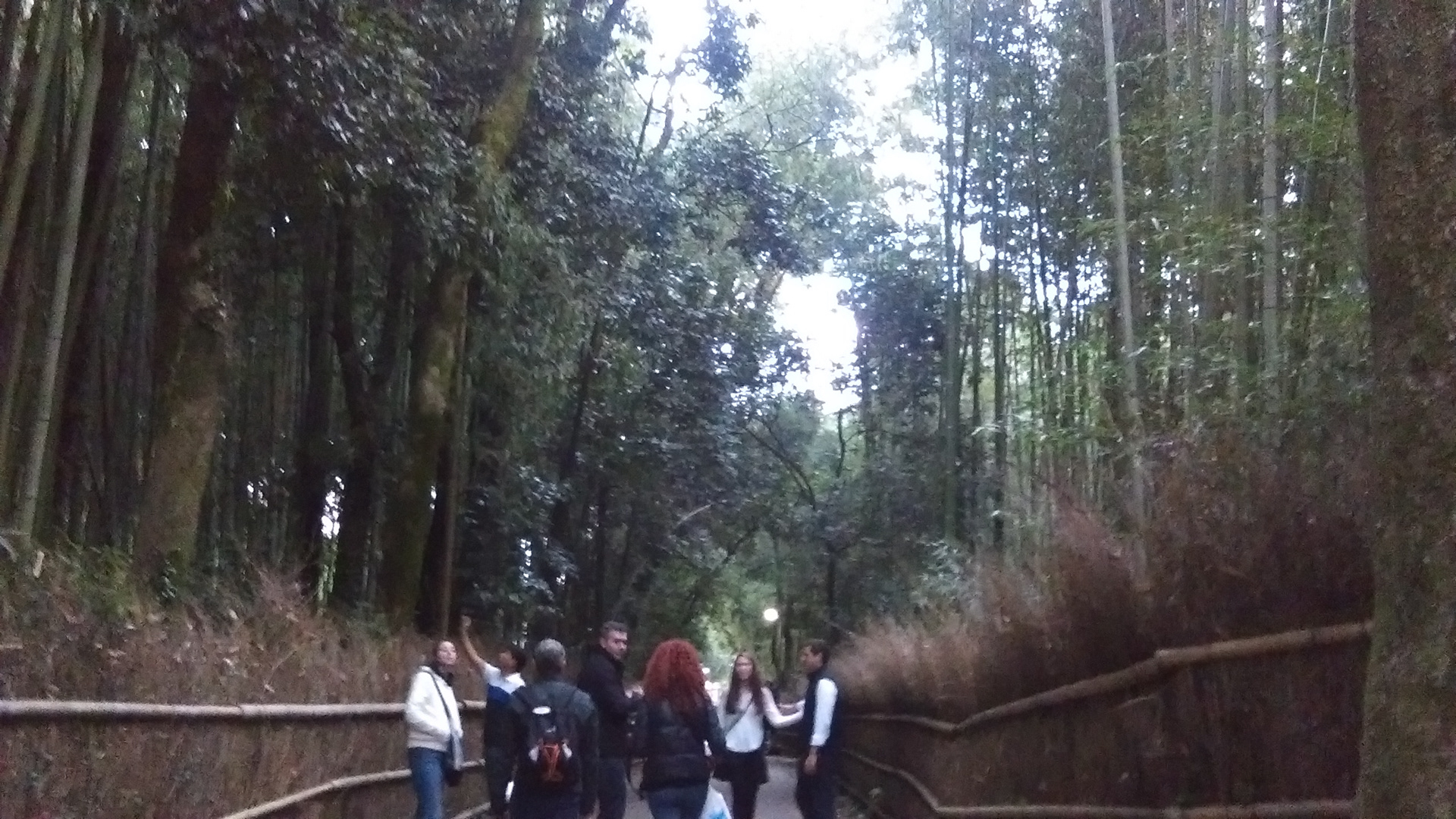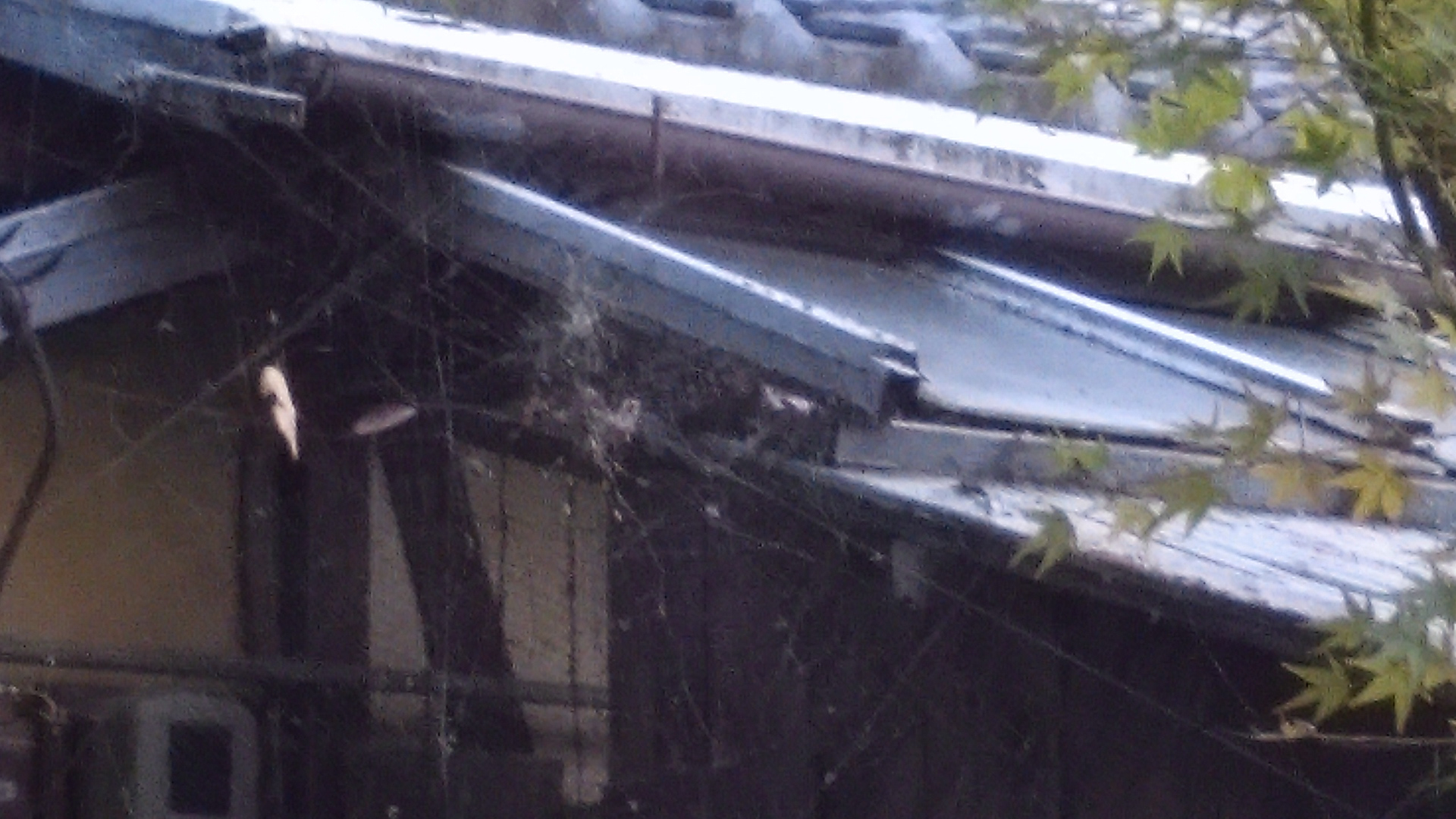 There are so many dangerous spiders in Kyoto. As we took this photo I stopped Melina from backing up too far. There was another one laying in wait behind her.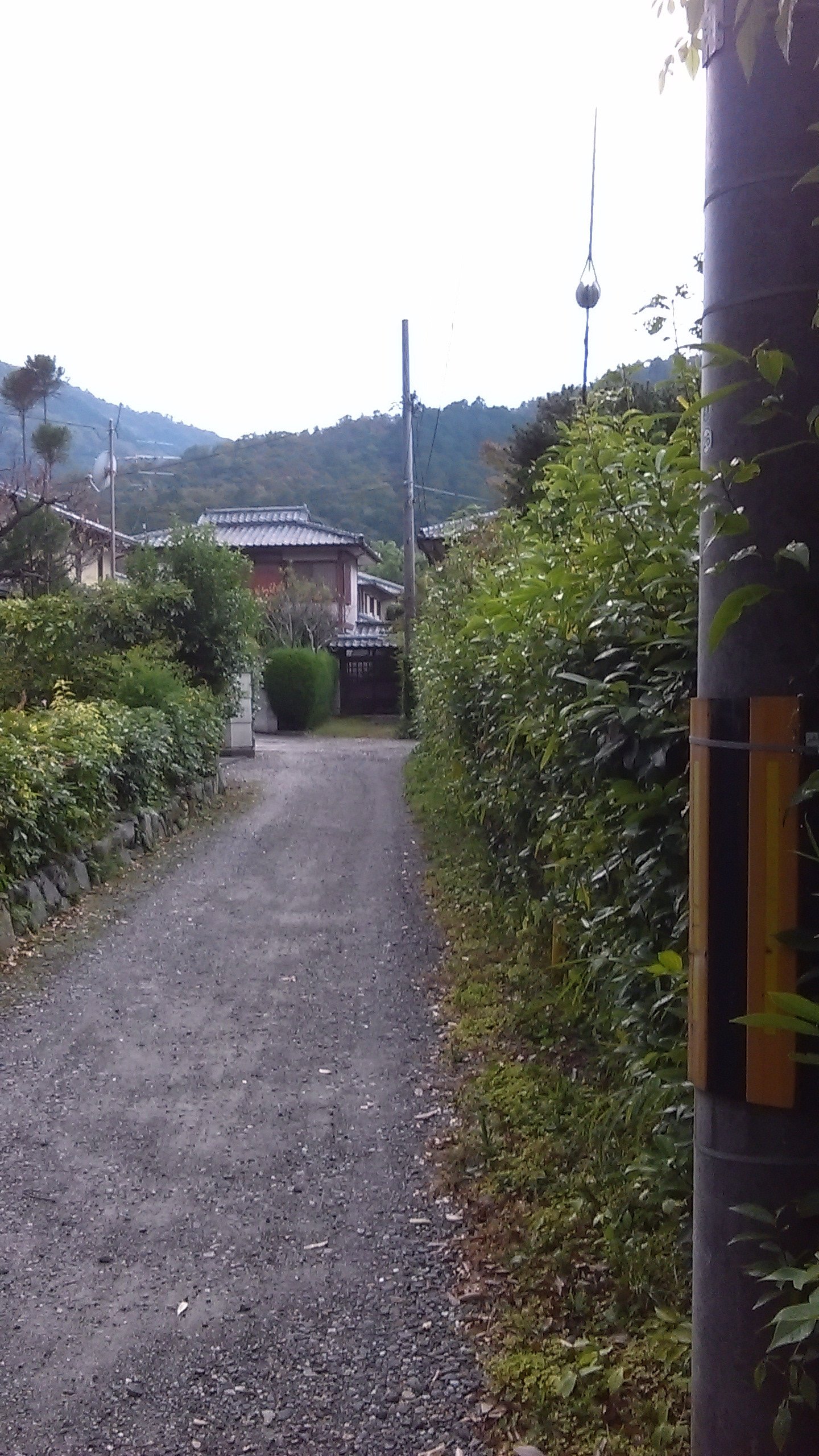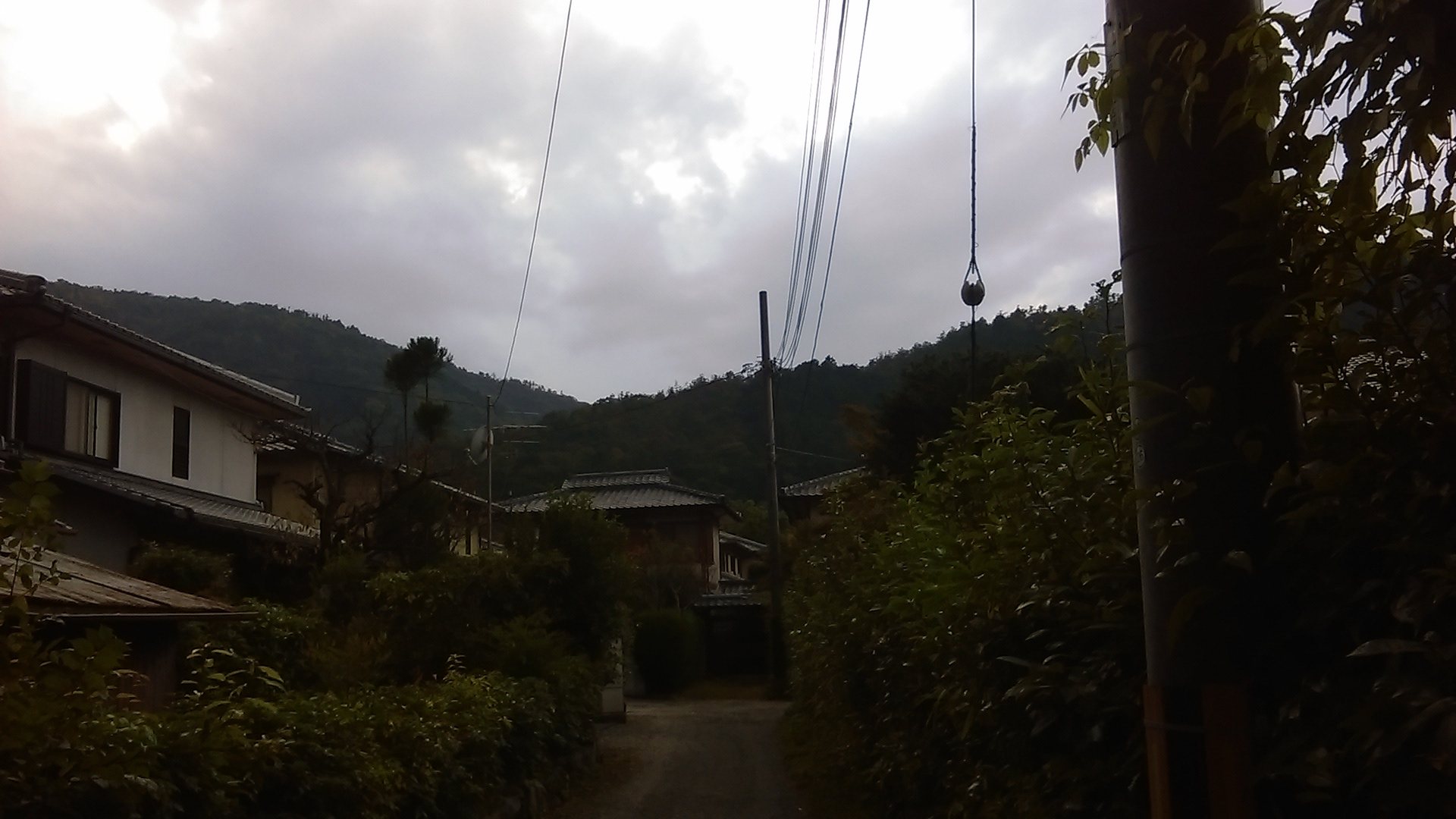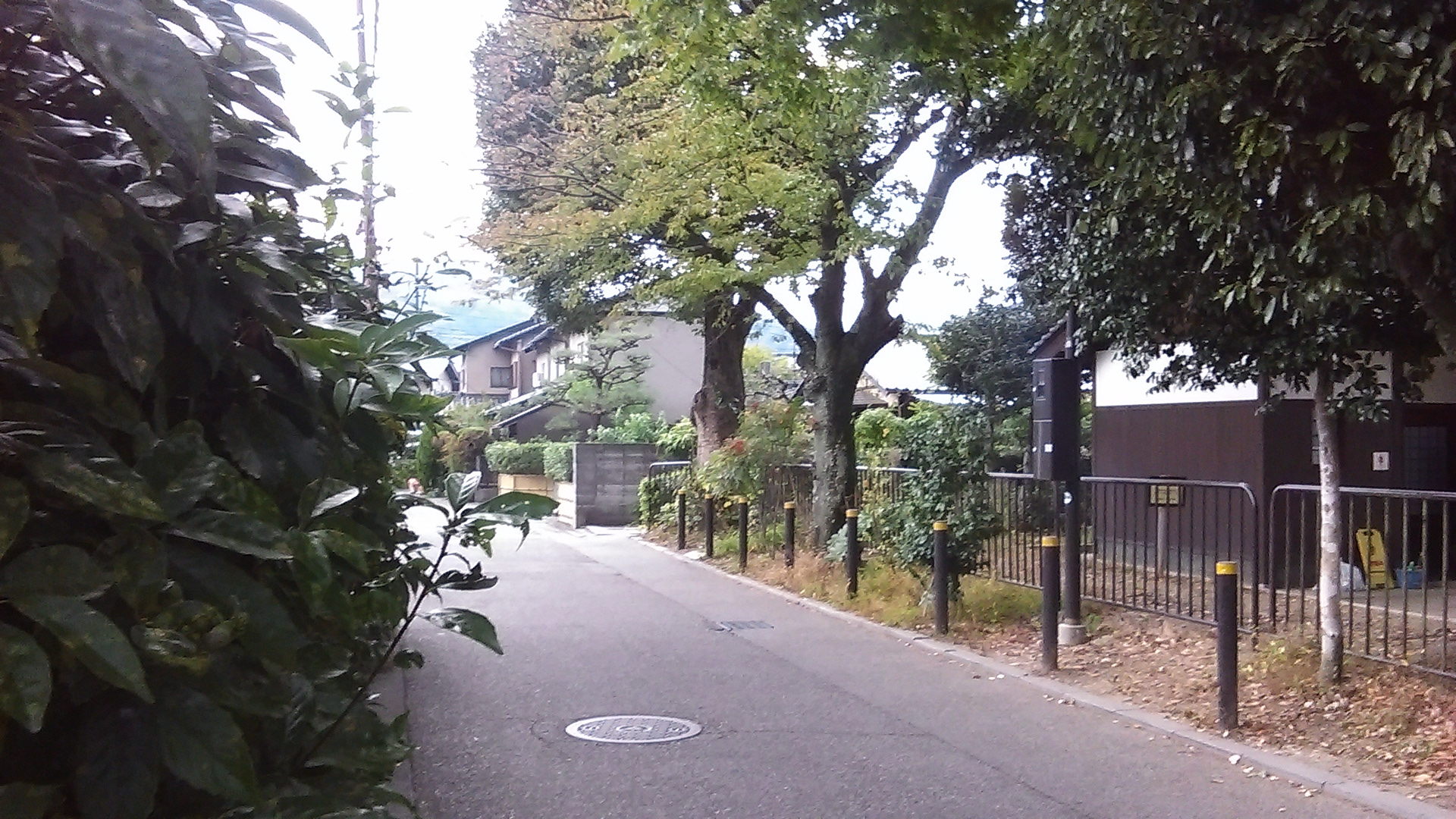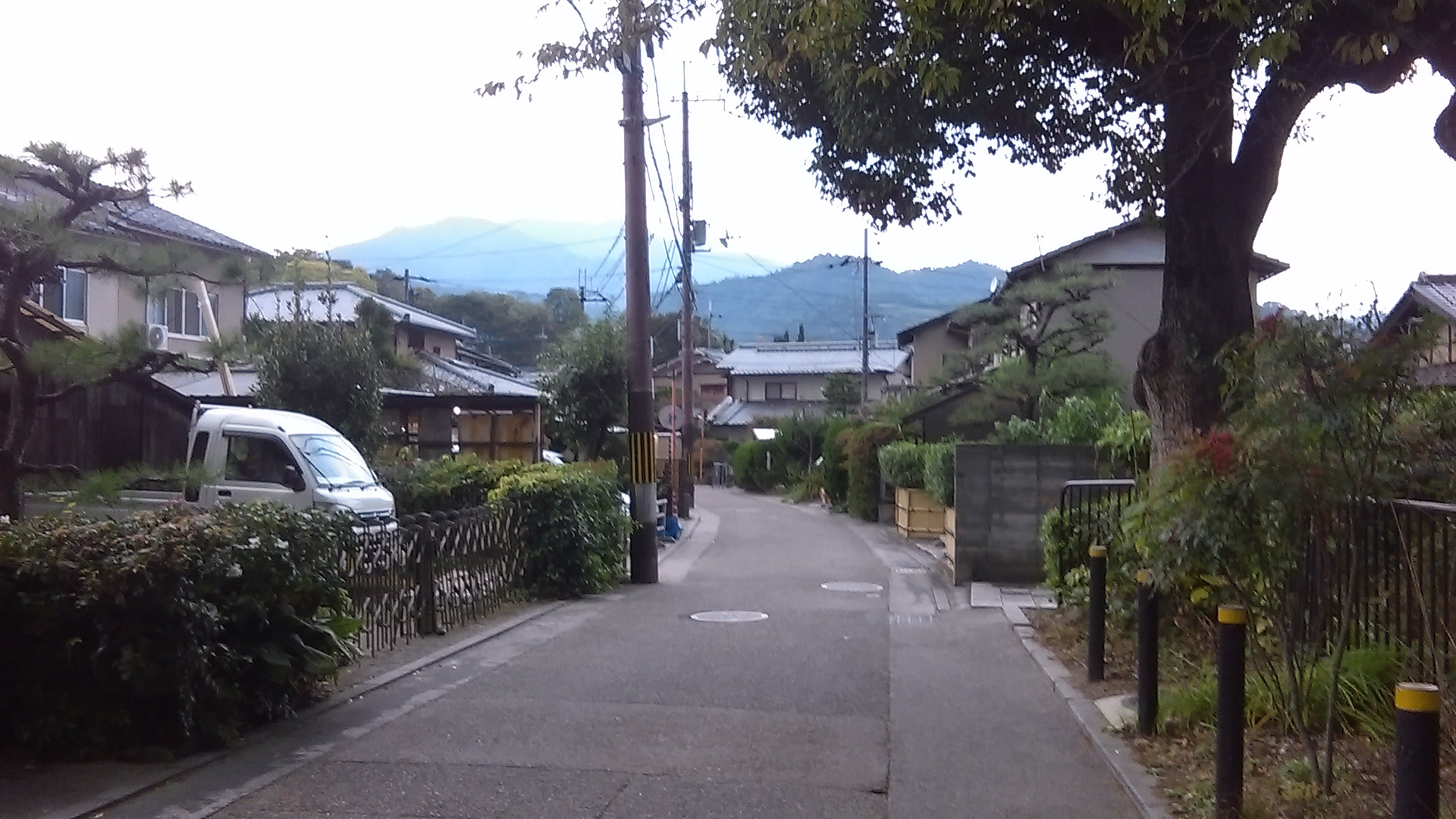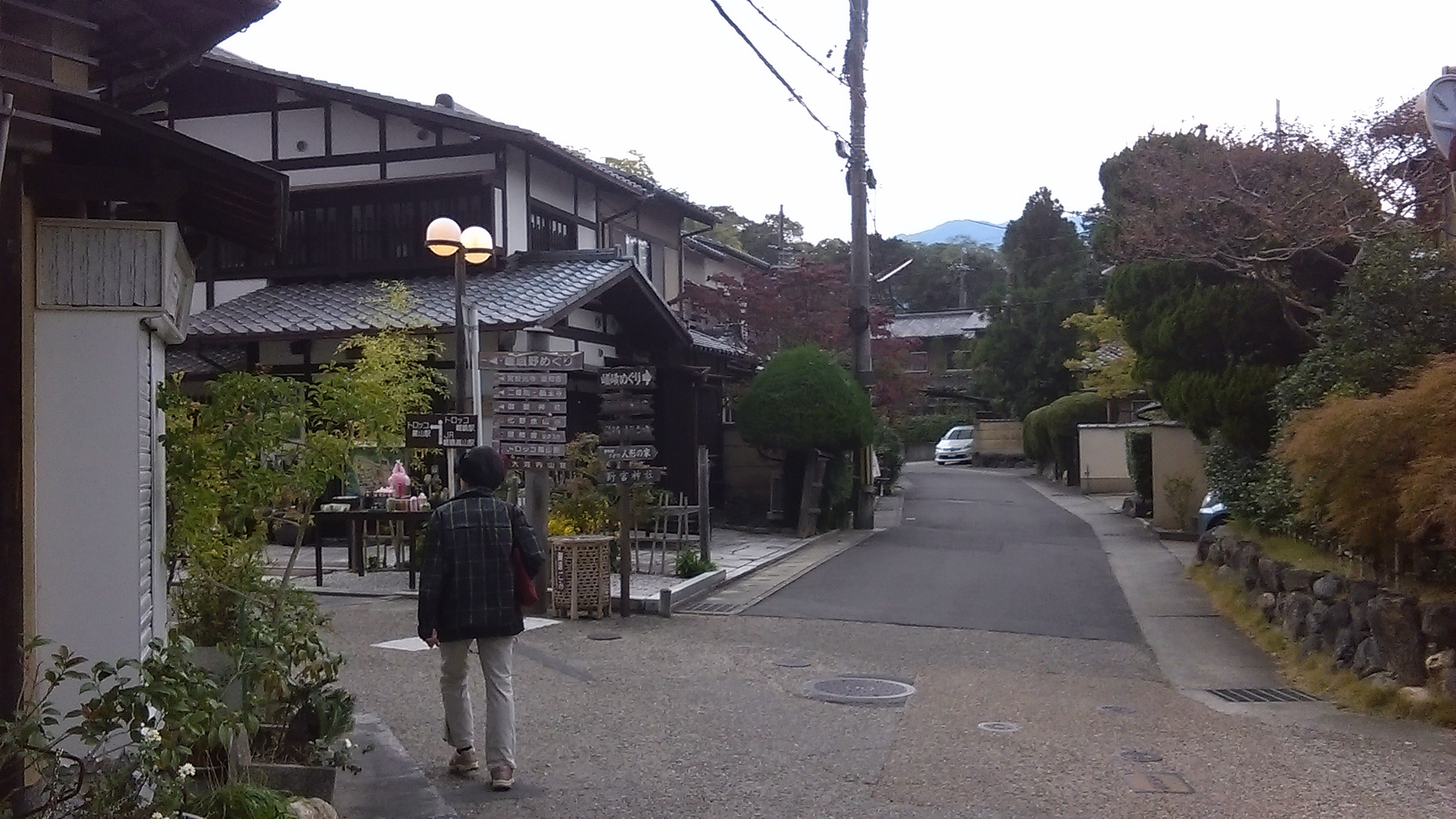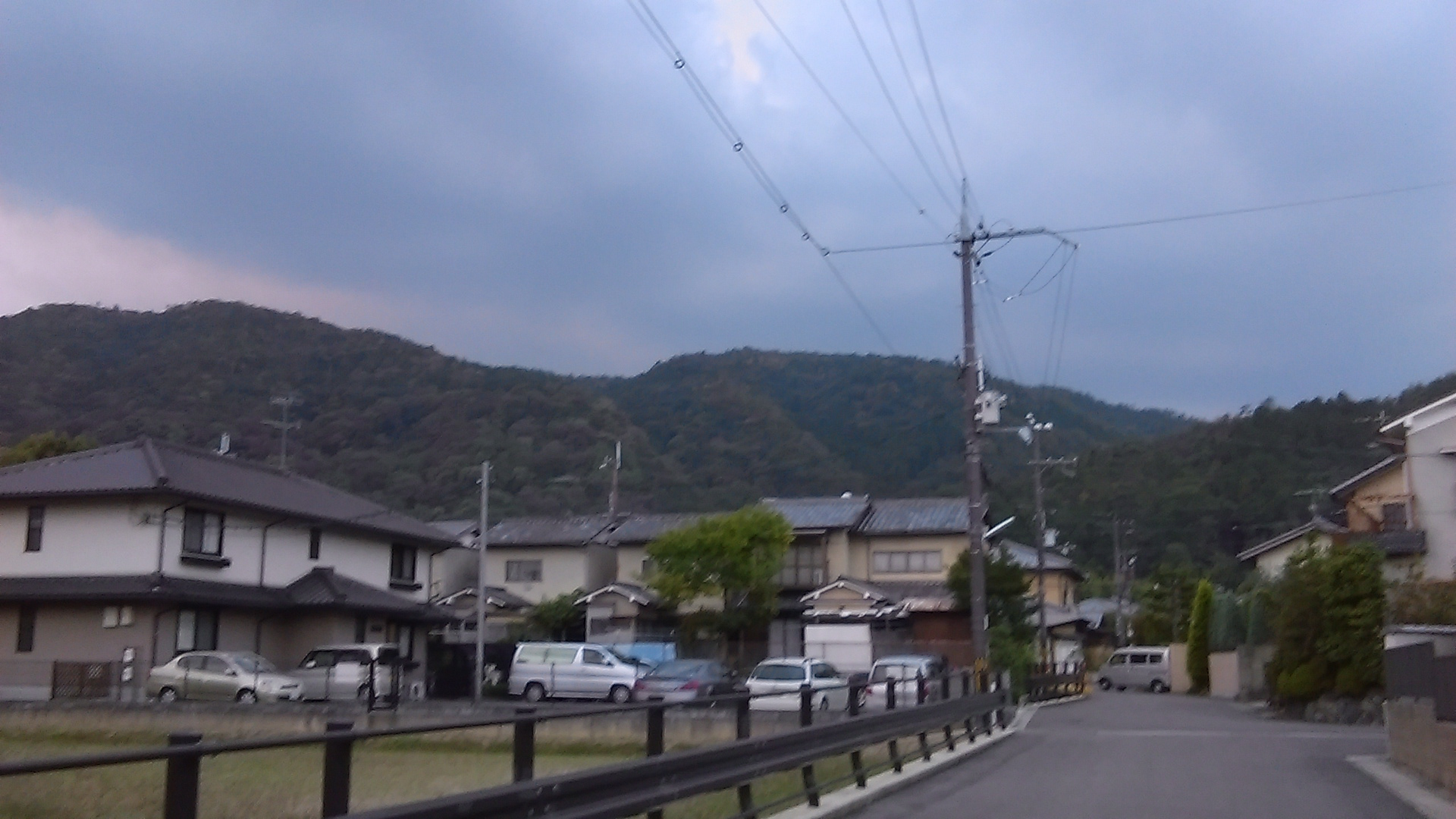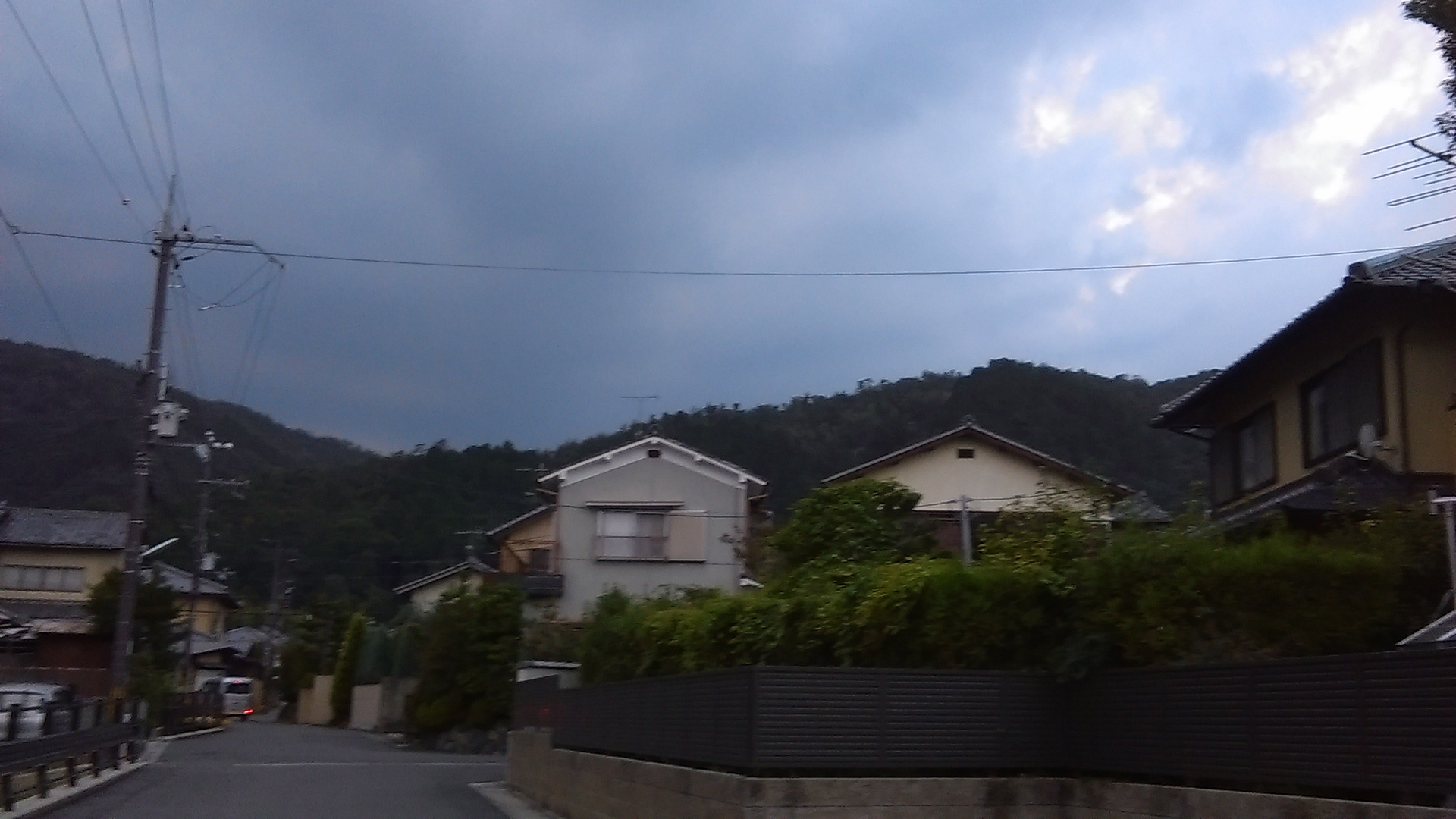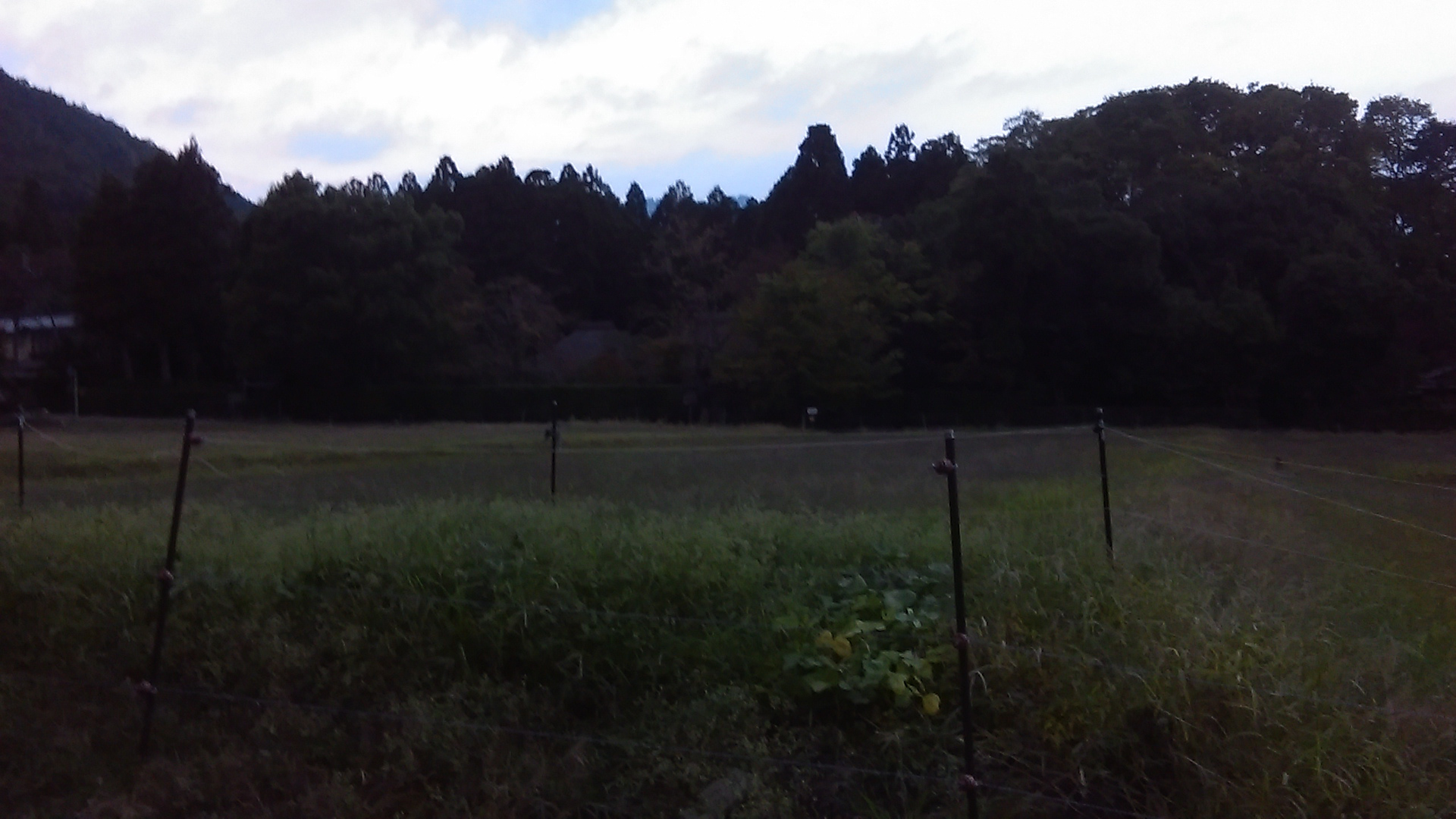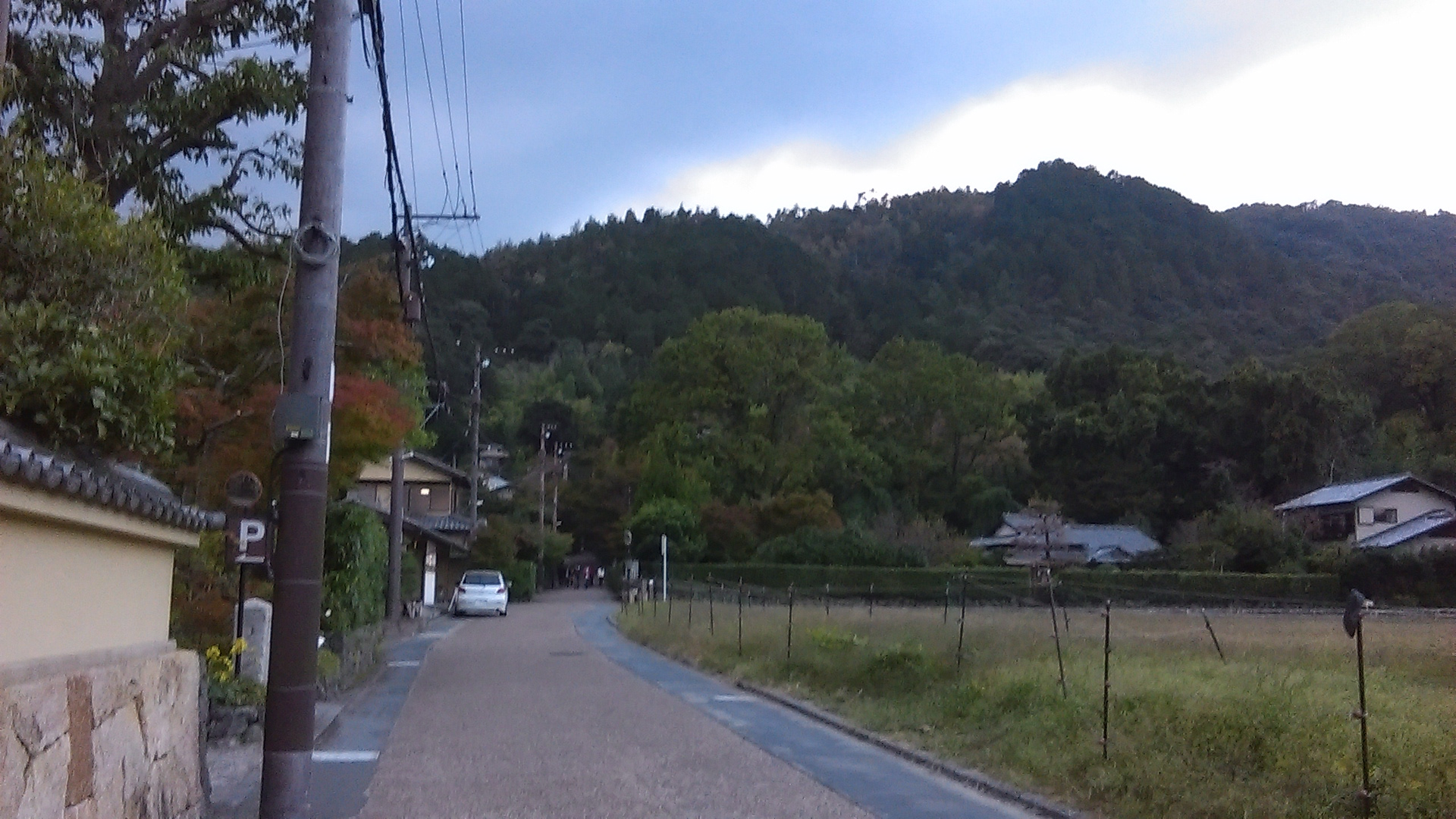 The nearby Museum/Cafe/Gallery. Unfortunately it was closed by the time we got there.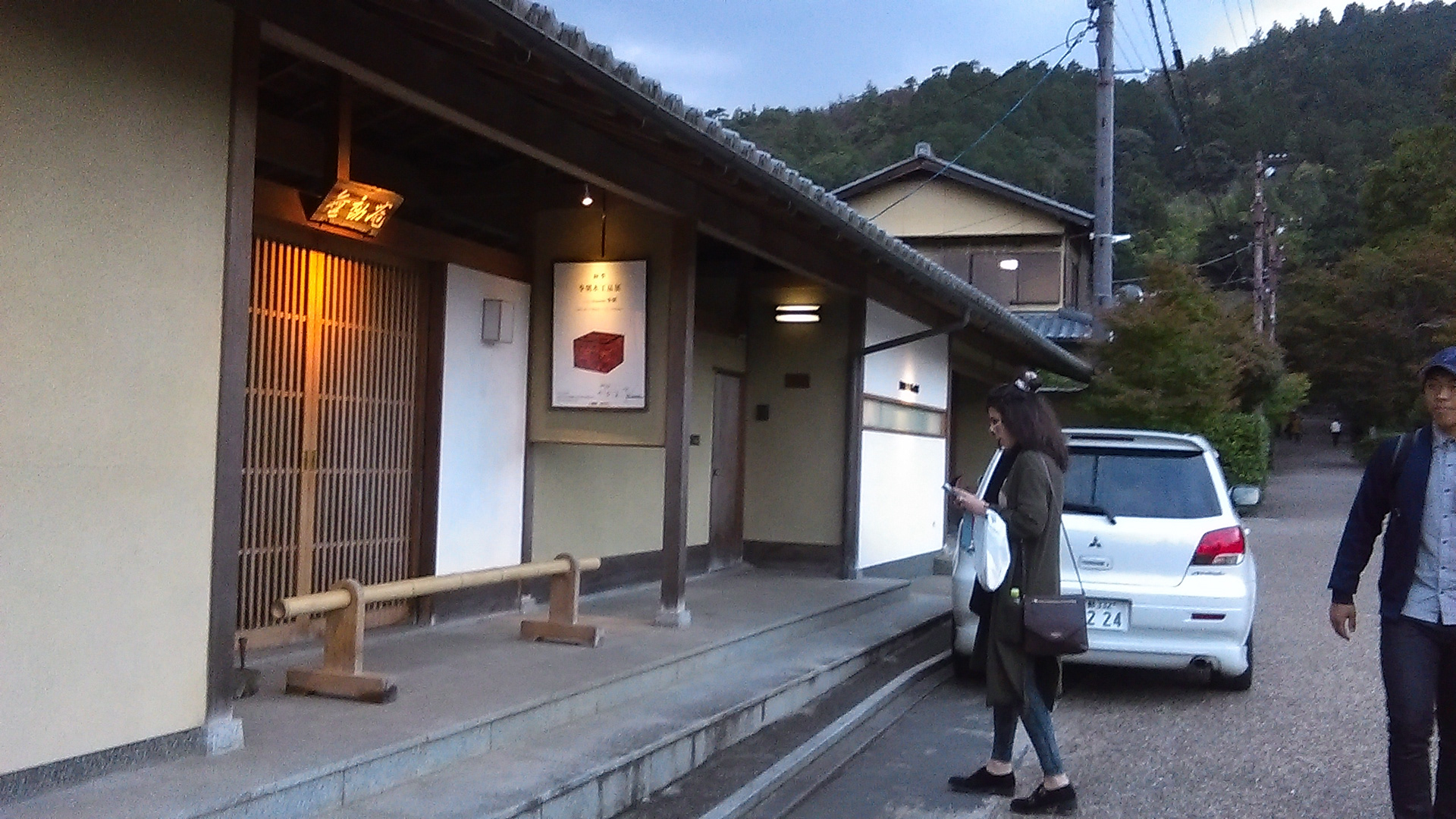 An area where there are 5 temples. Again, closed by the time we got there but we made up for it with the other shrines that we stumbled across.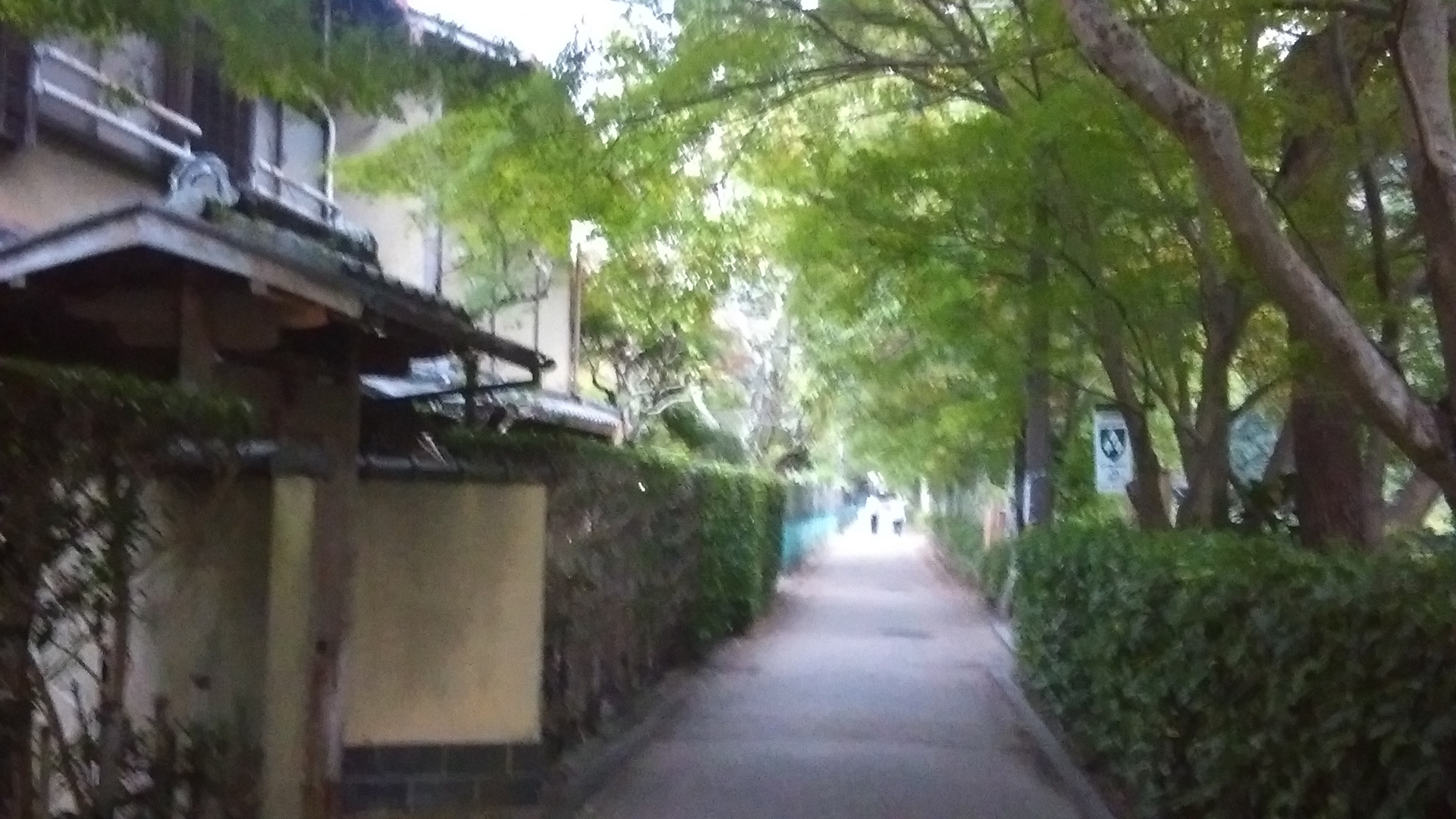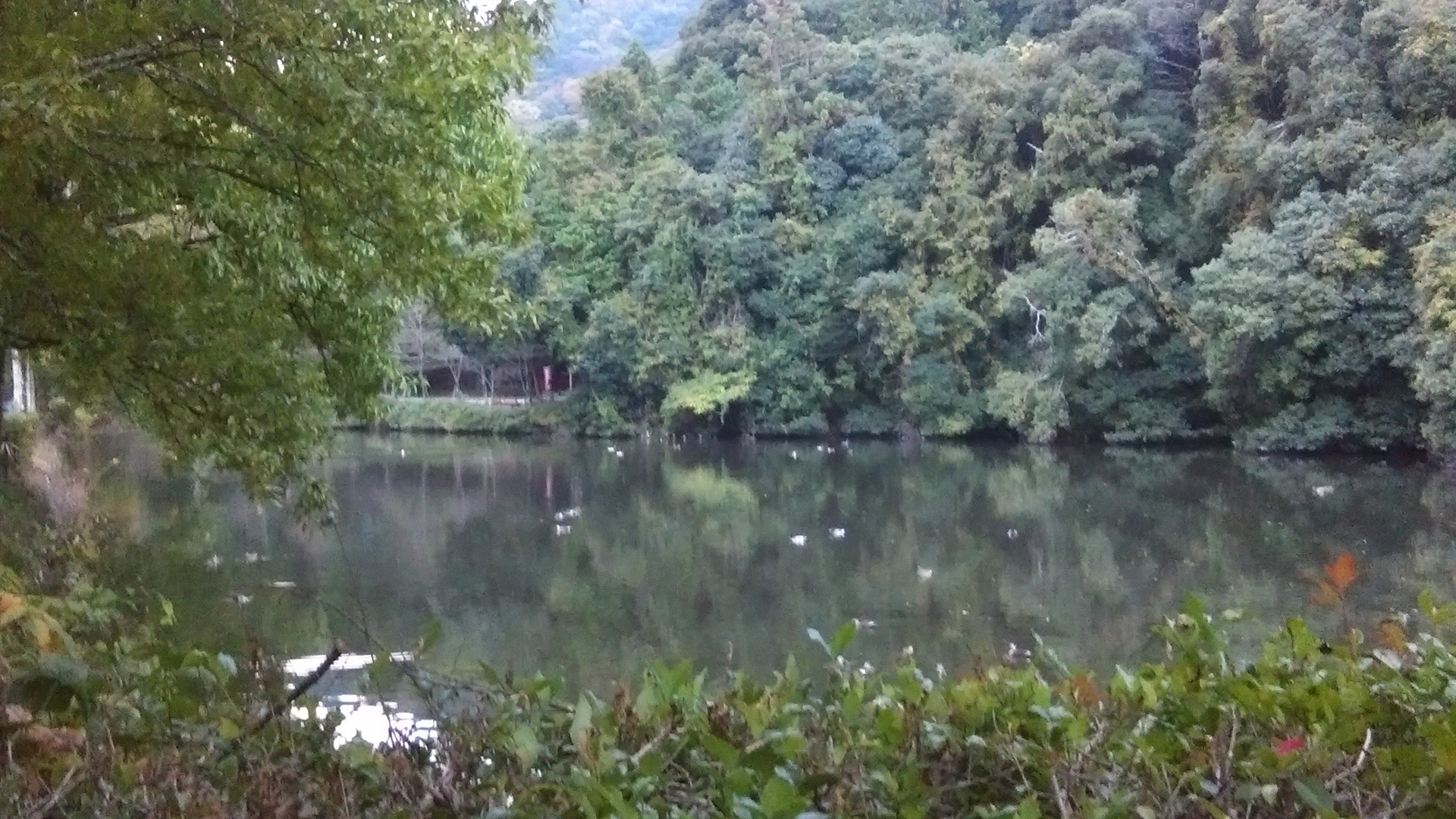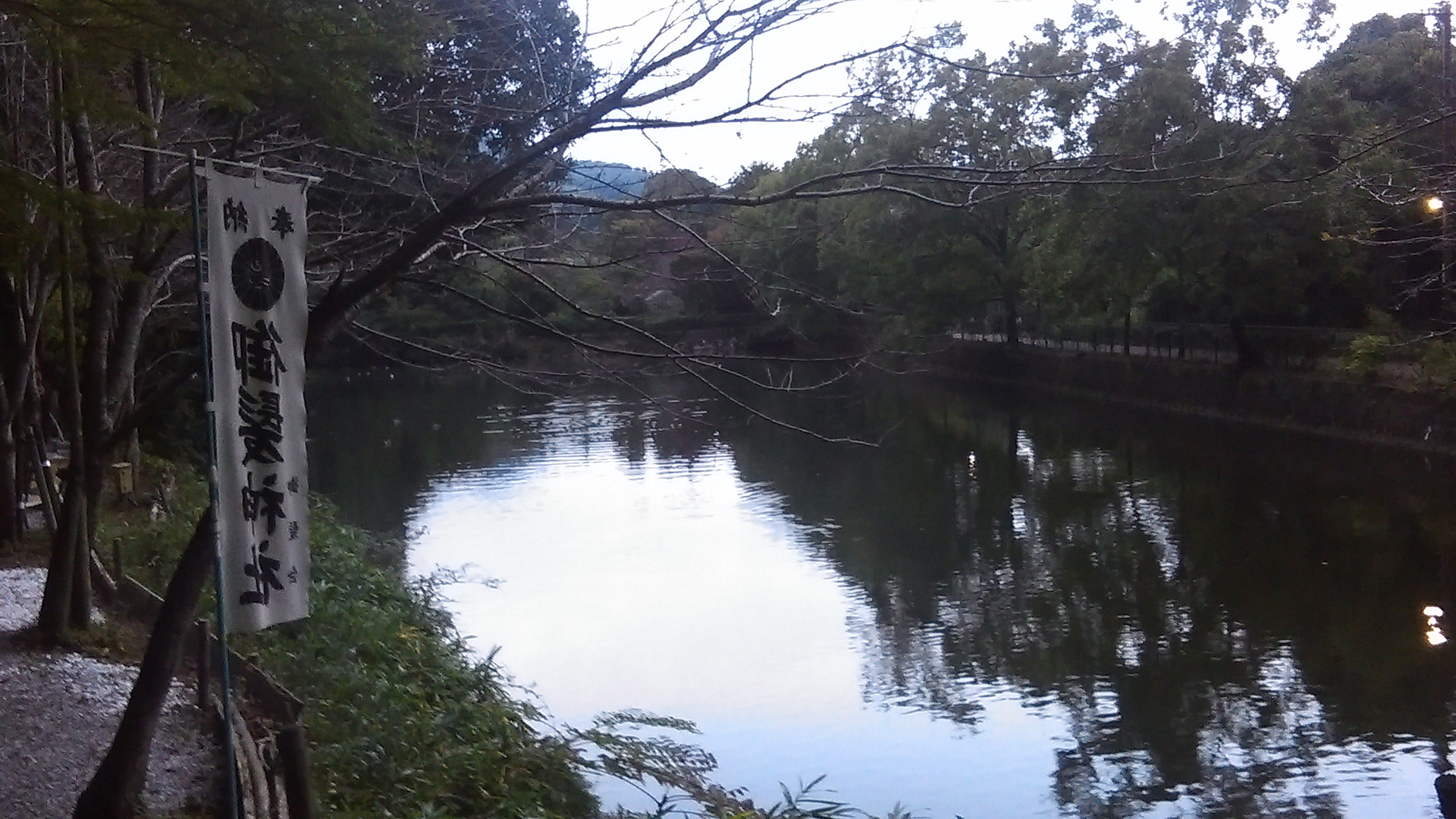 Another hidden little shrine. I think it's for a God of War? I noticed that at every shrine we went to there was an animal there. The previous had a dog and this one a cat. Another had an owl and another a lot of Crows. I found this very interesting.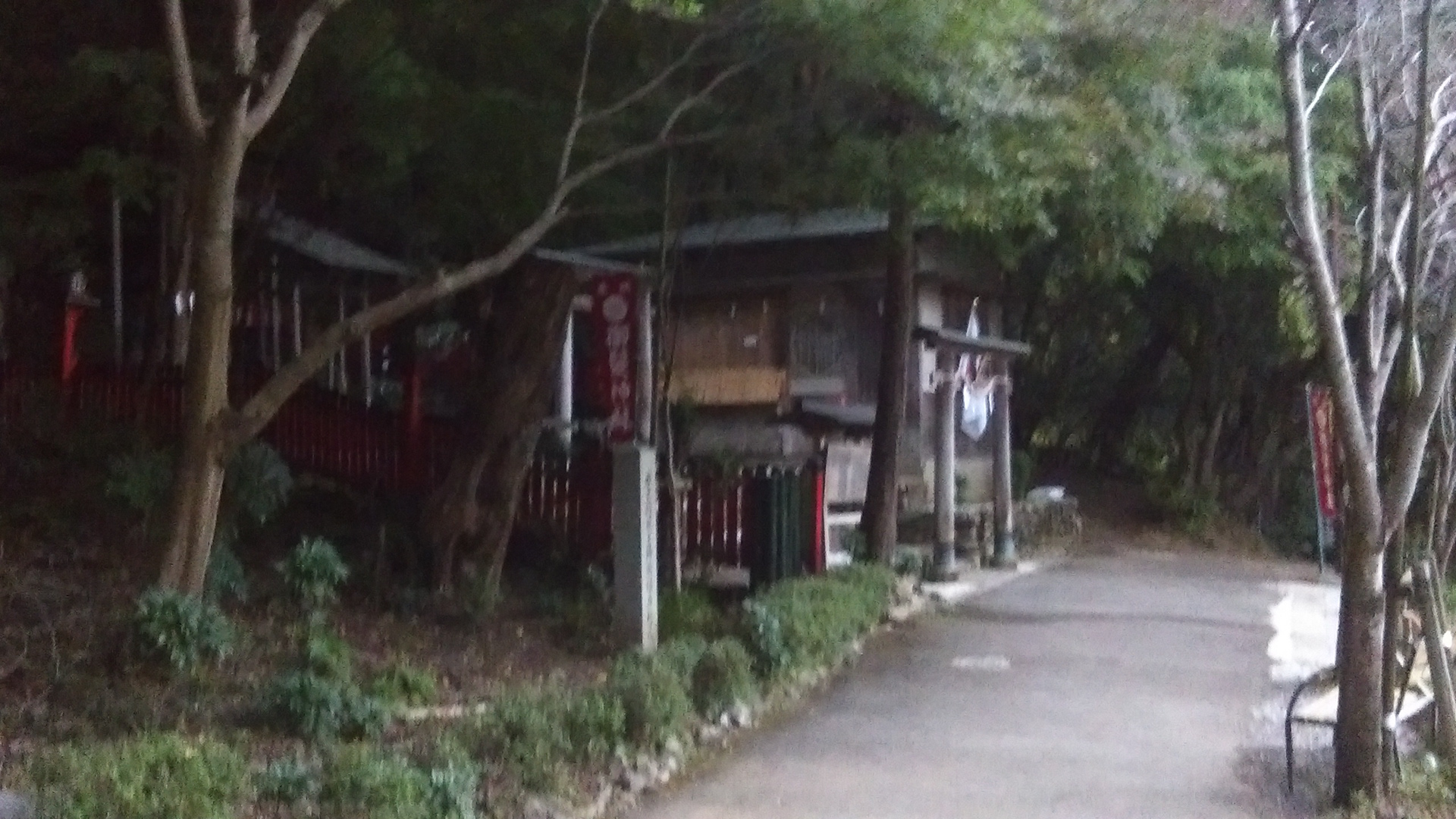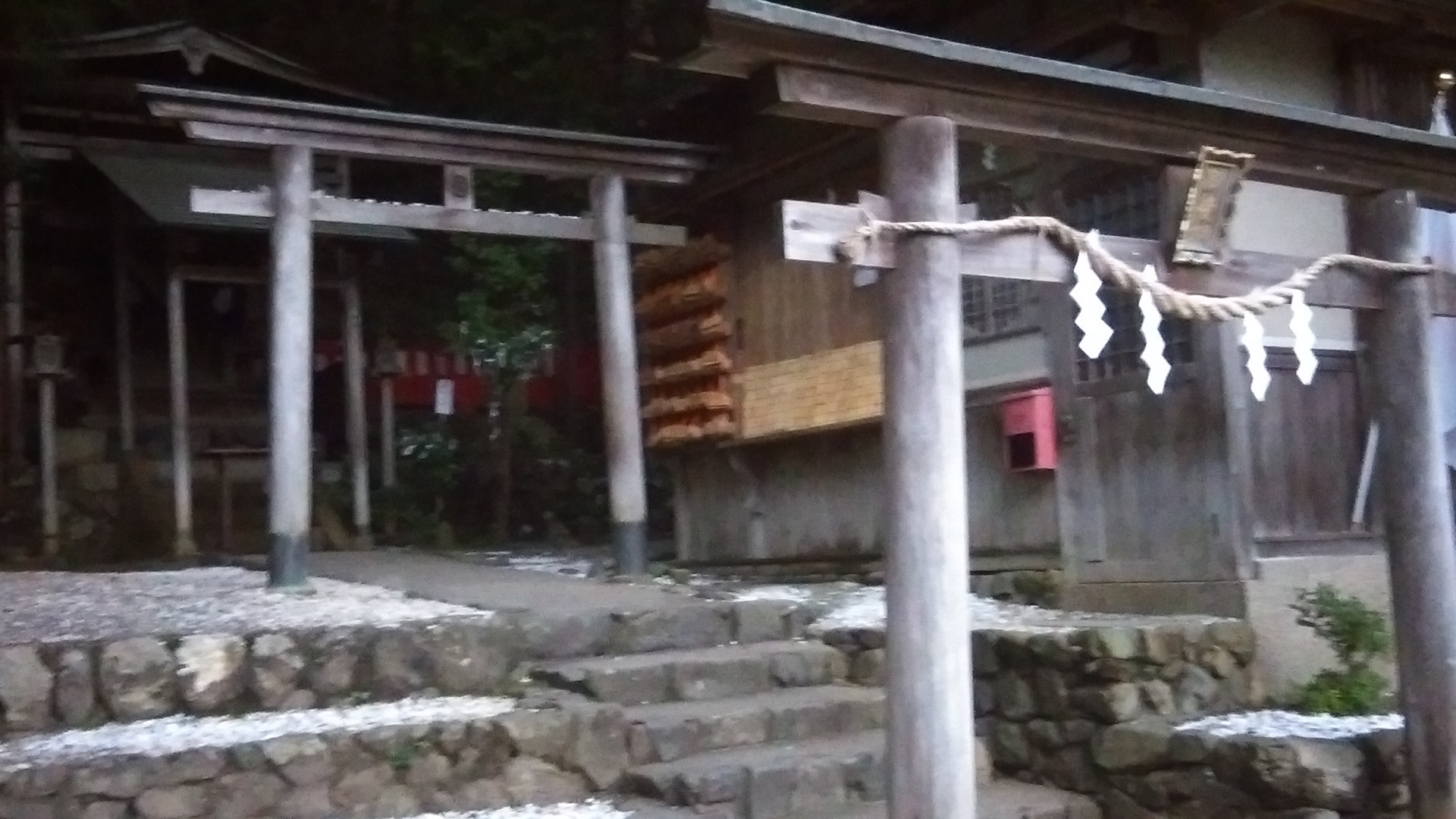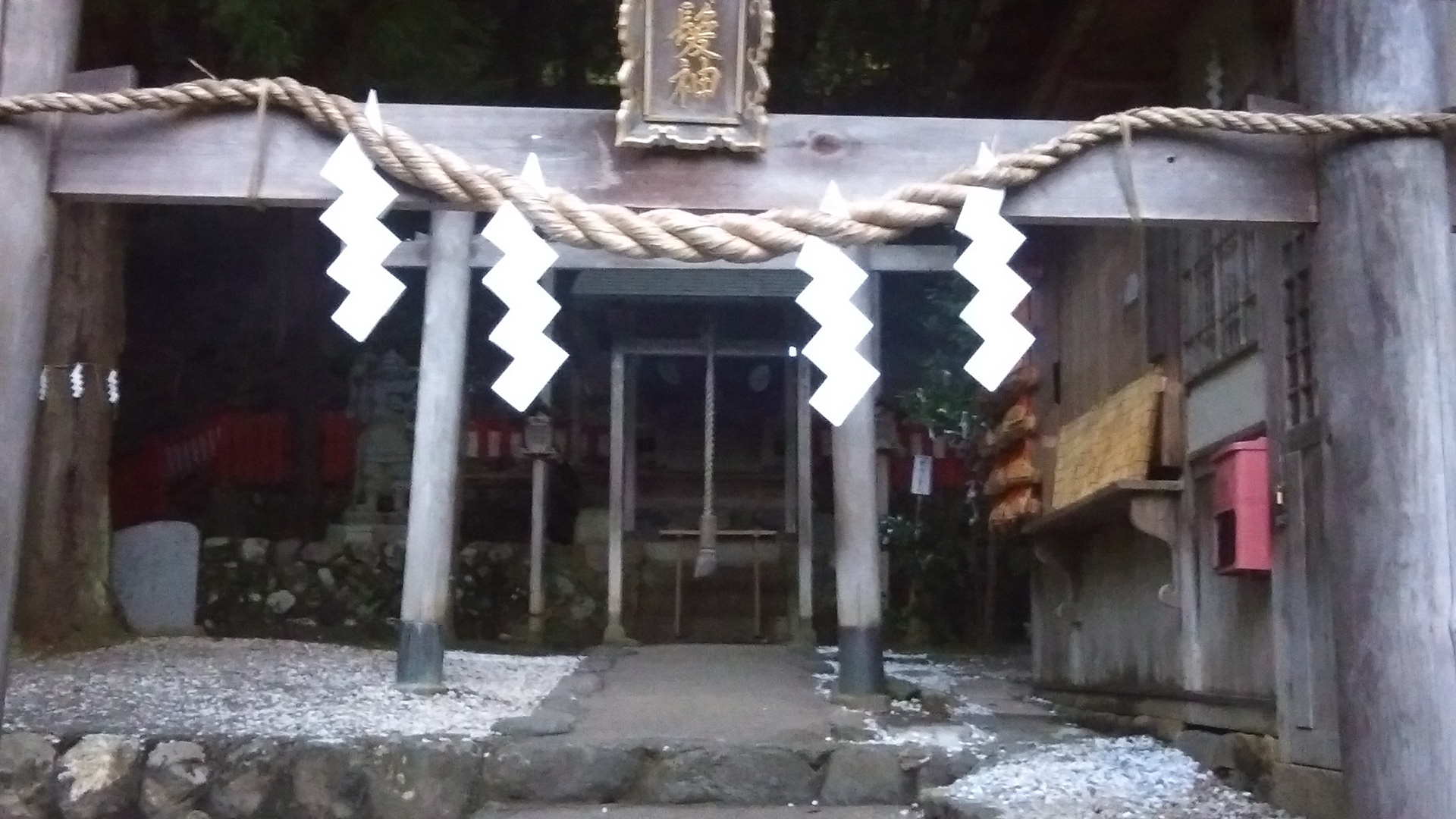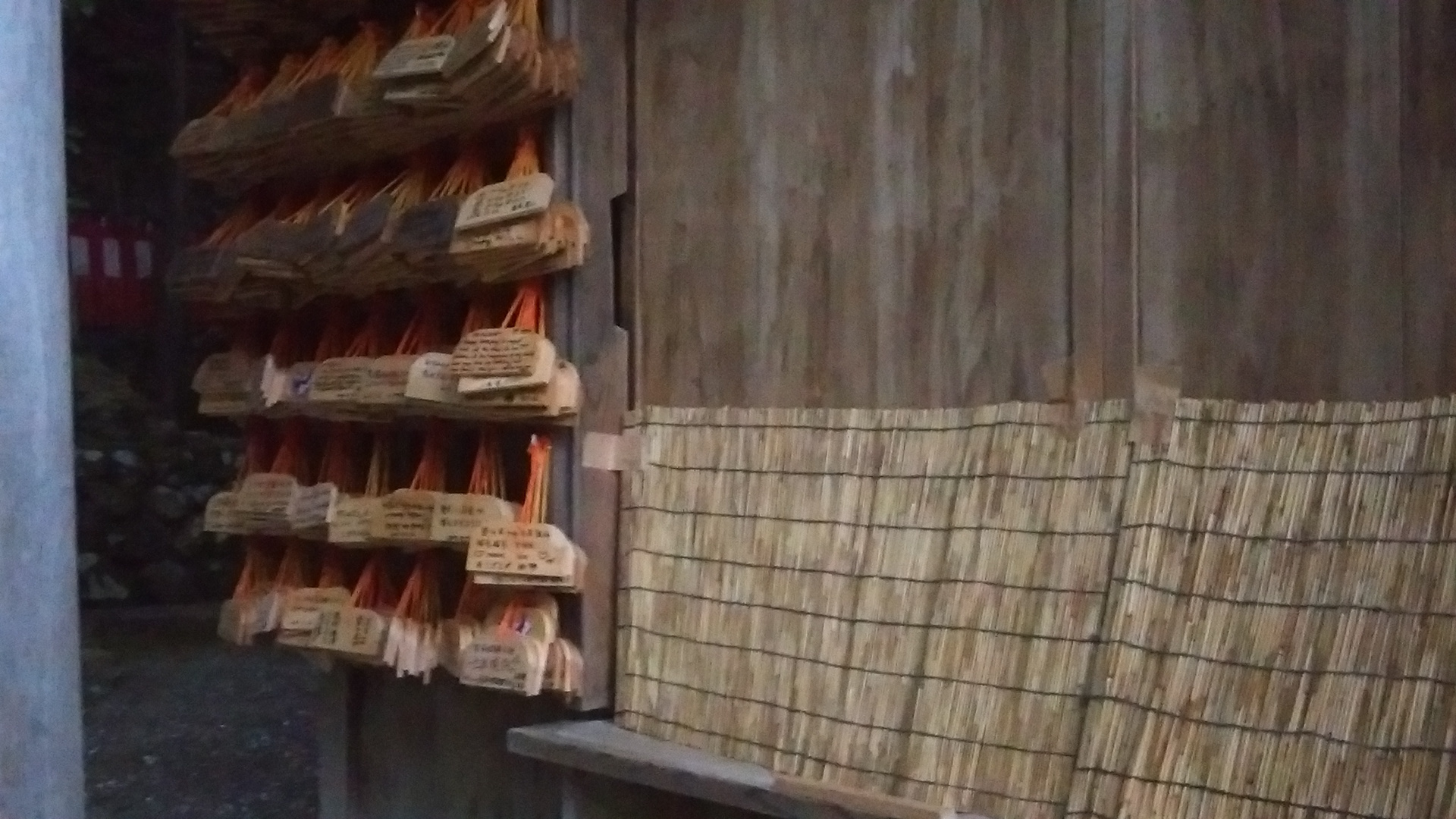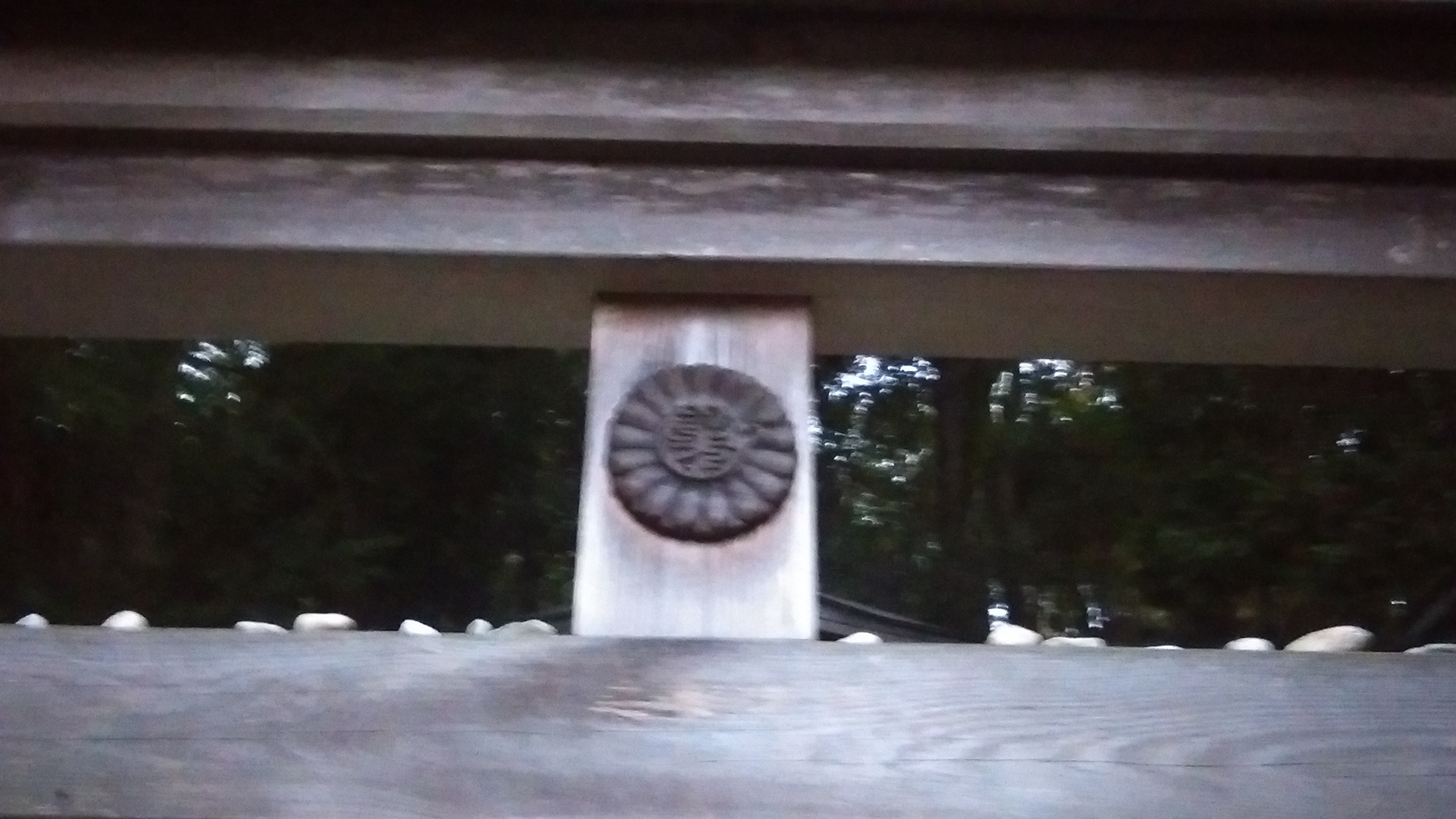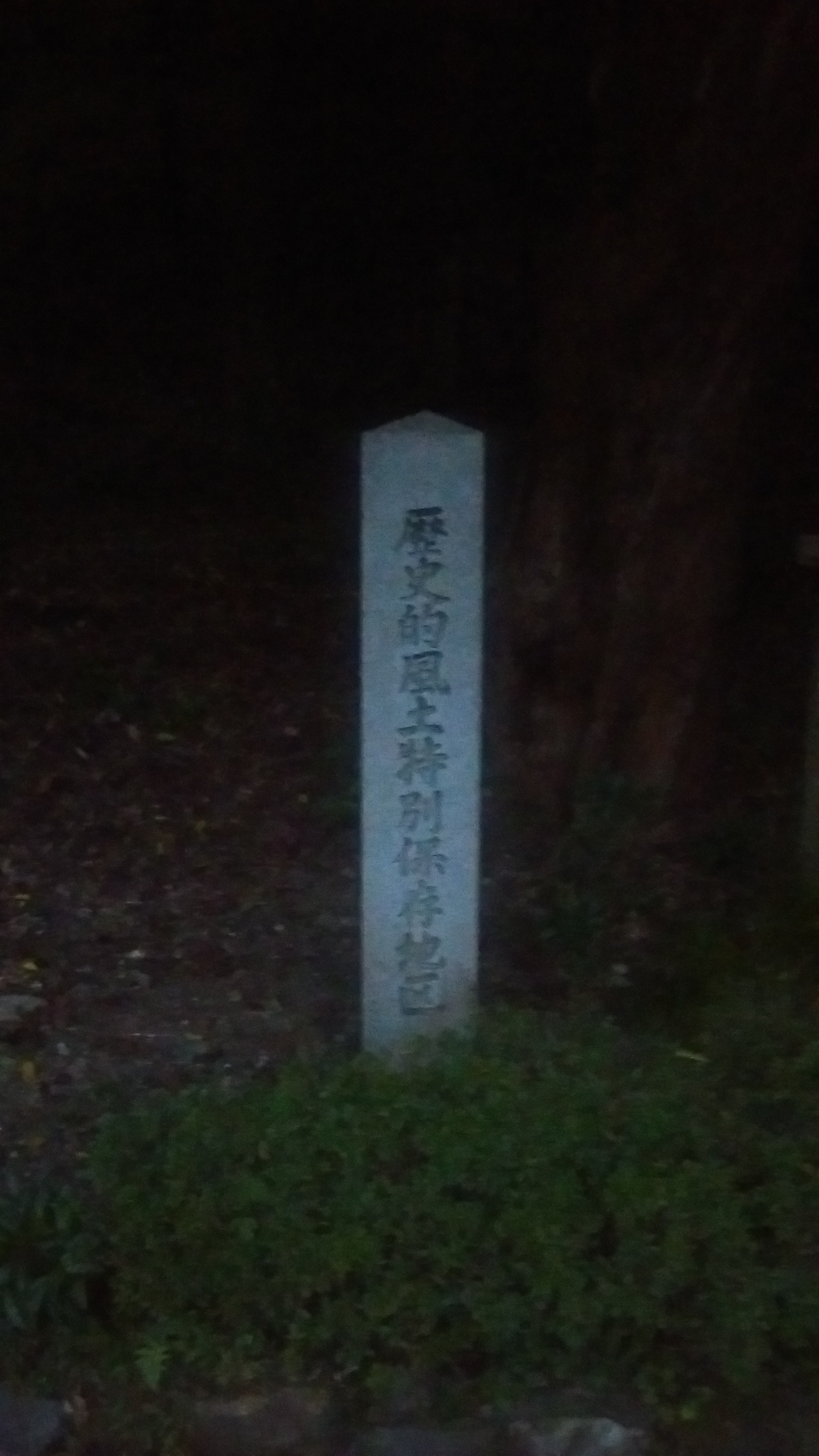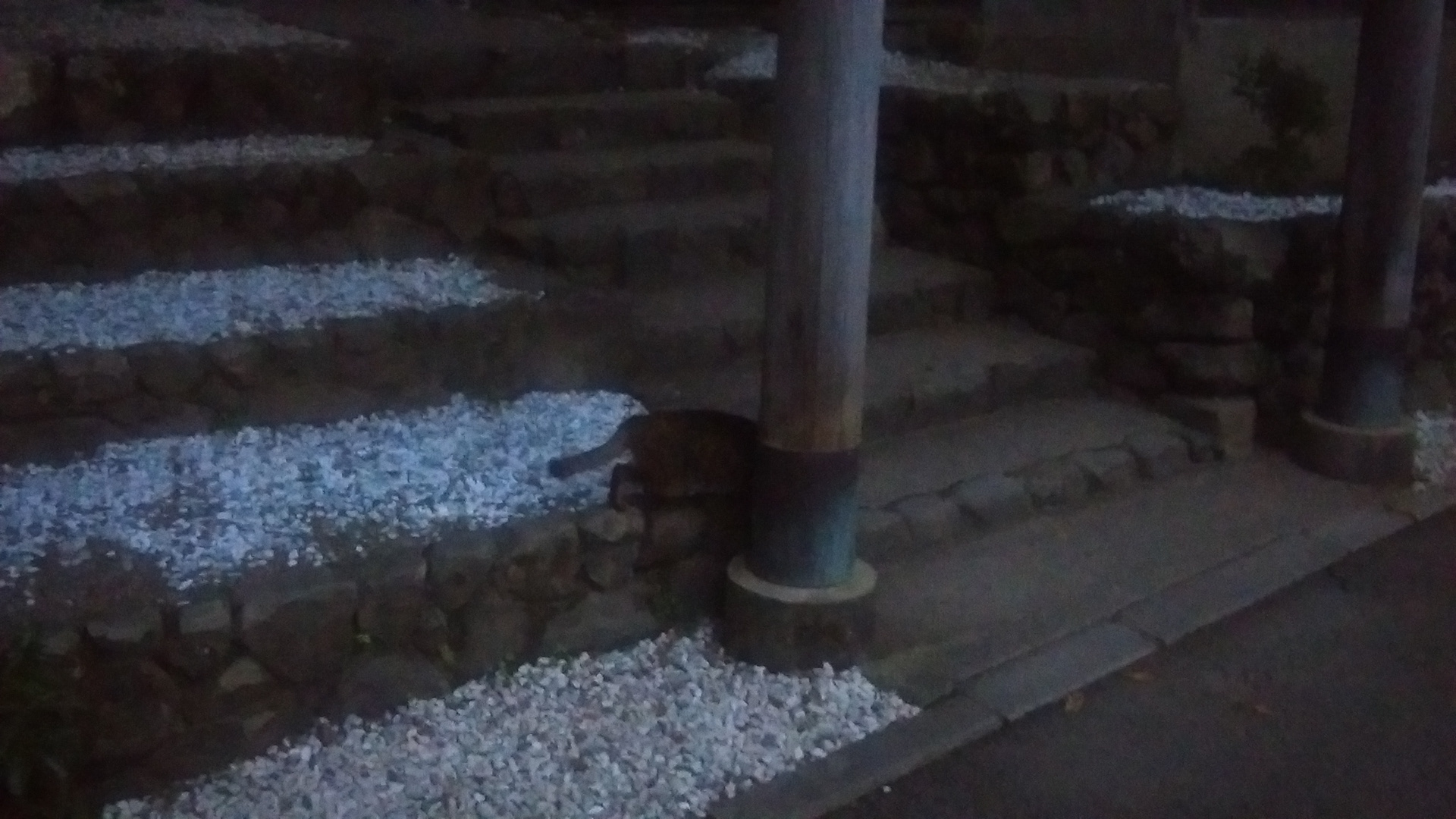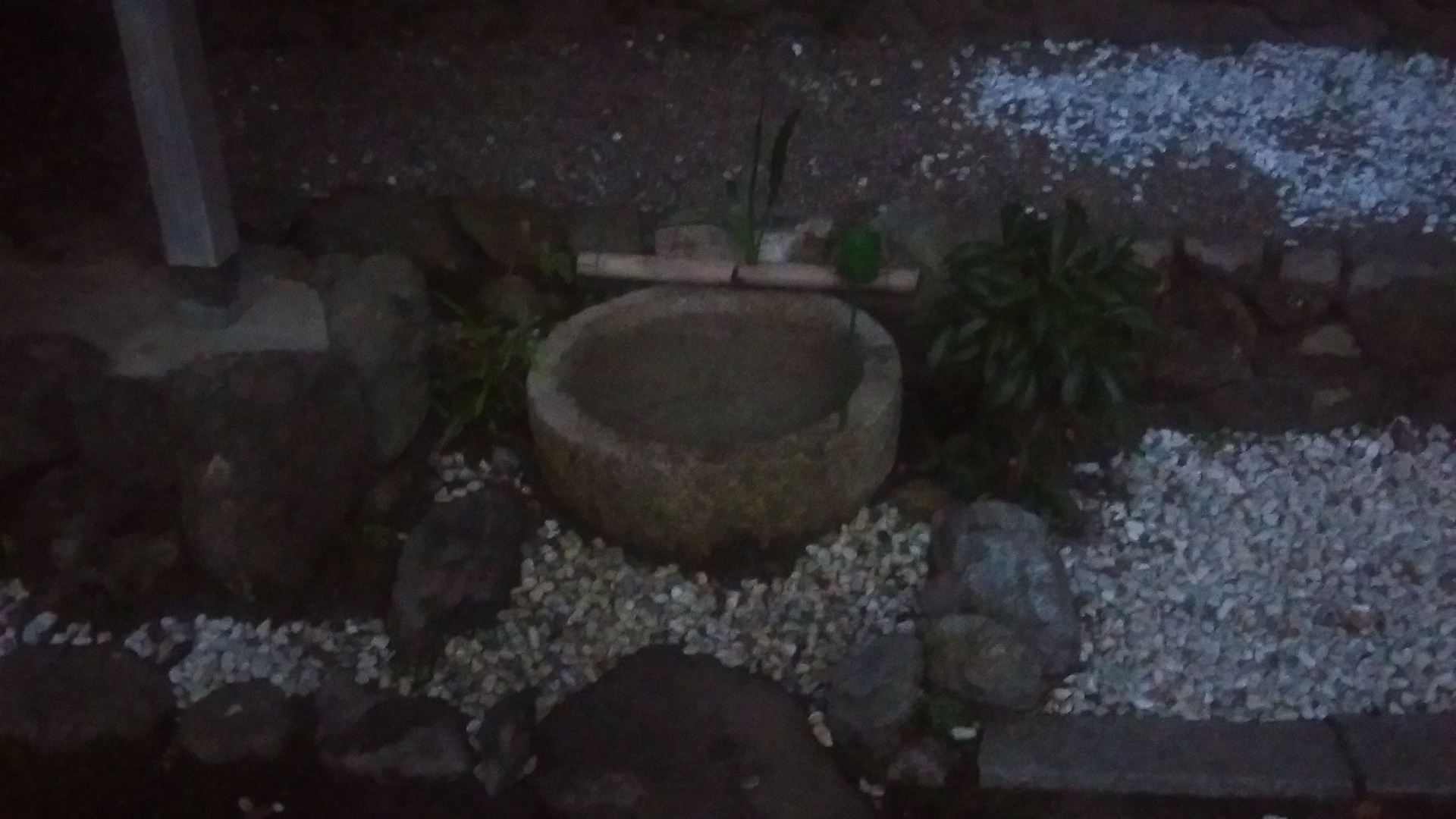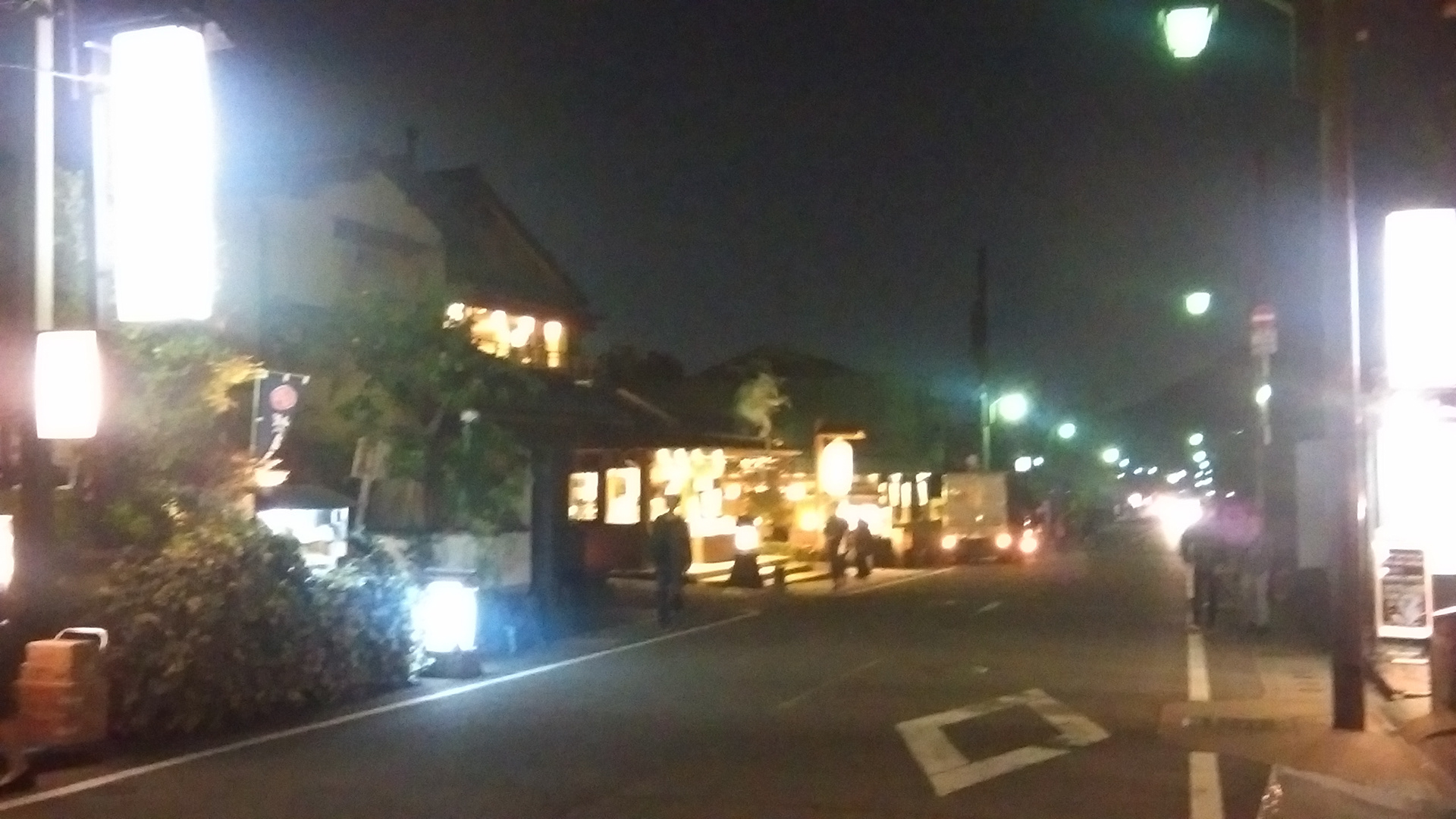 At the end of the day, we went to a local traditional restaurant. I had duck and vegetable Udon. It was so delicious but the bowl was so big. Only 600 Yen.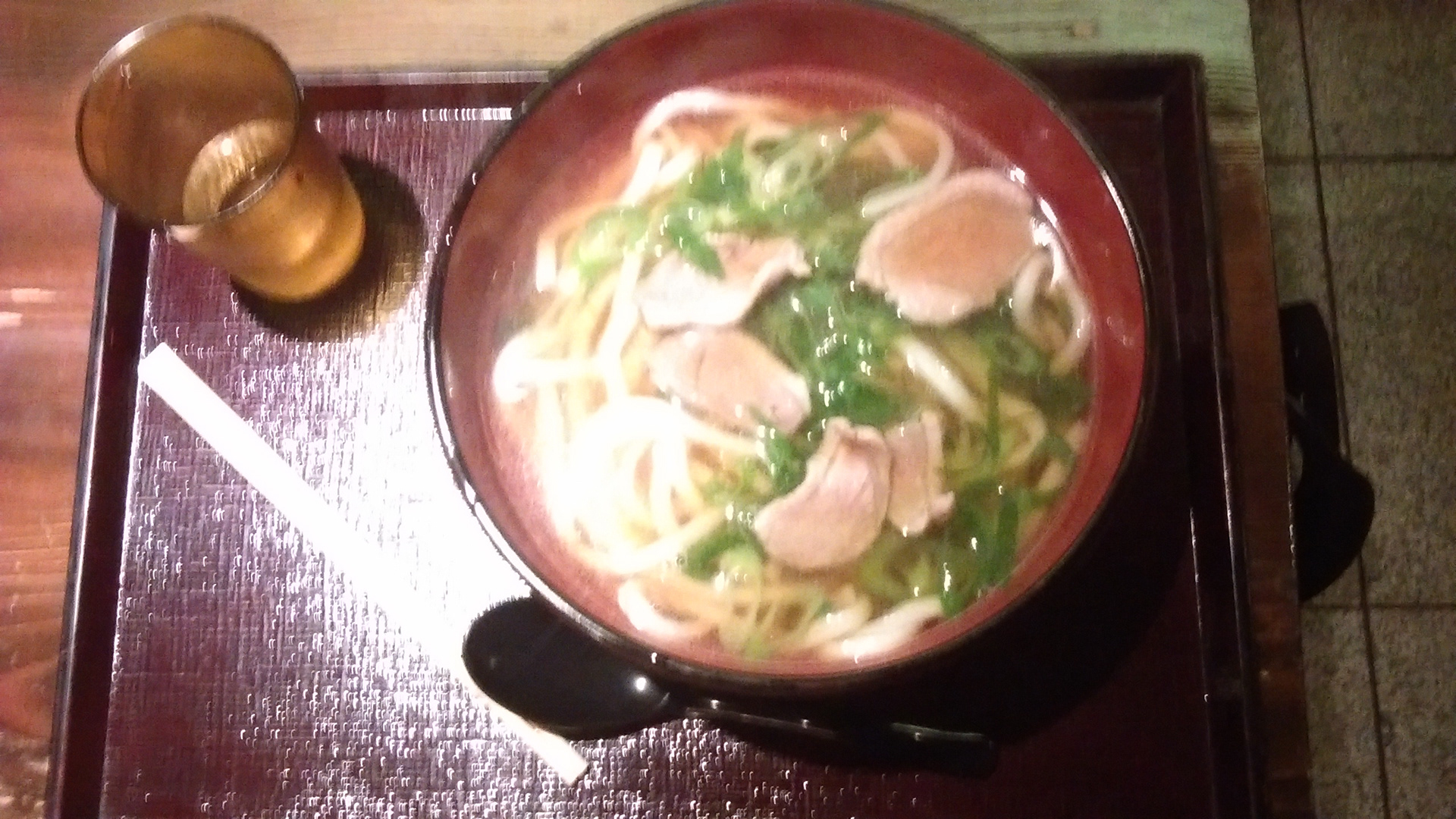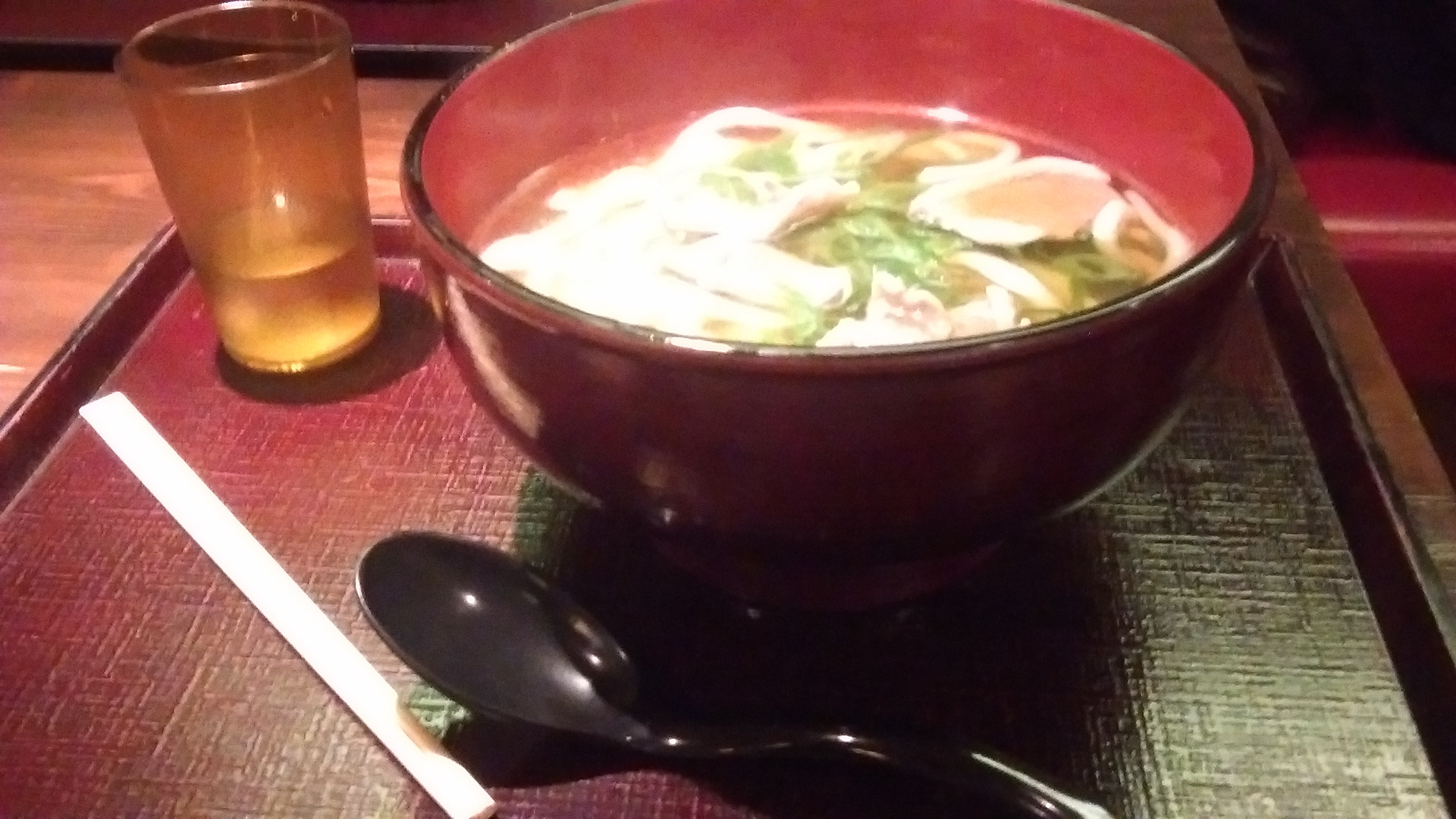 The view of the Toji Temple on our way back to the house.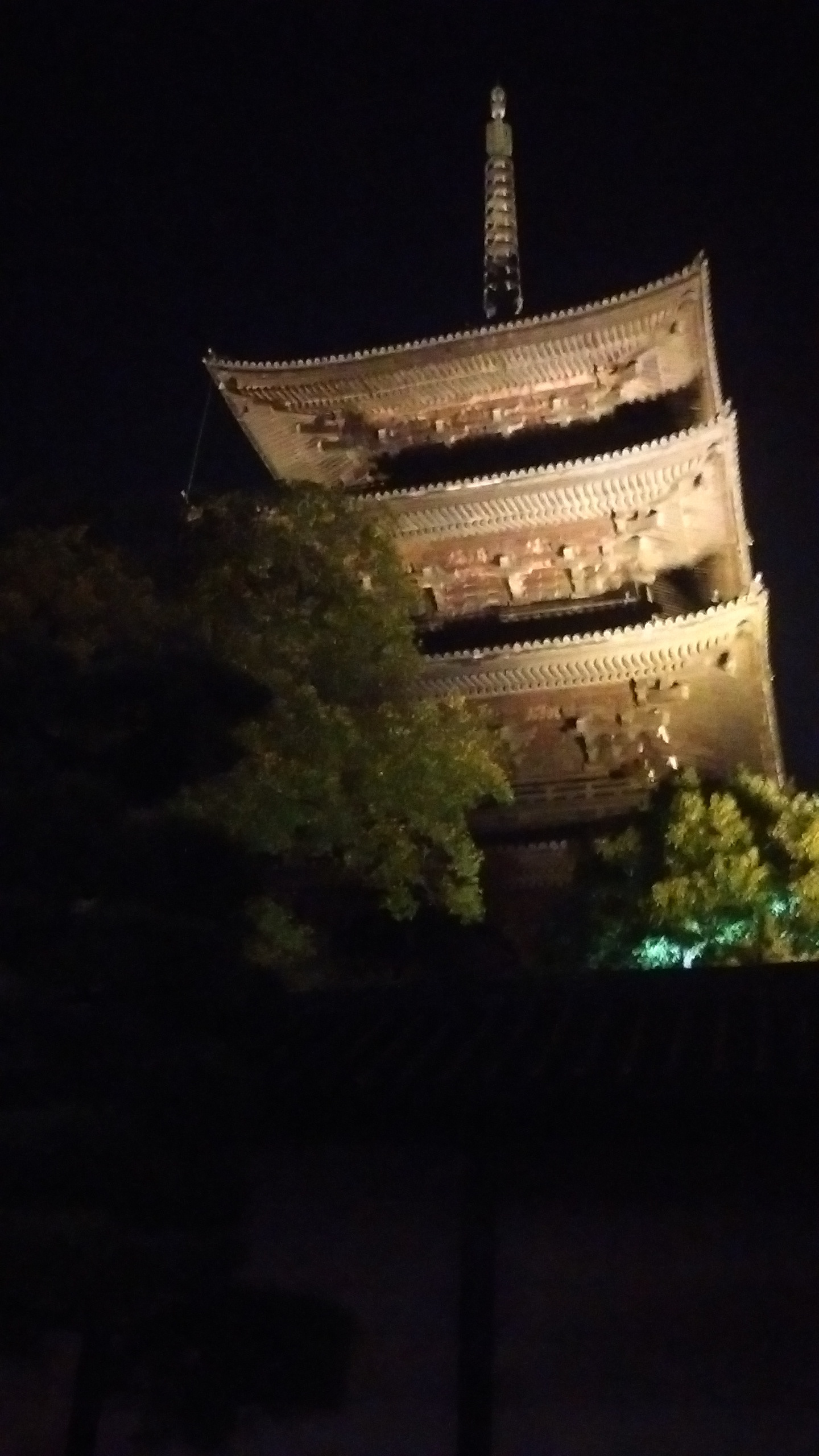 On the second day we decided to break up our trip by going to the Aquarium. I wanted to see the old to the new parts of Japan, and considering how controversial aquariums are towards animal care and rights, we all wanted to see this aquarium. We had heard it had a whale shark and me being scared of fish was terrified to see it but I went non-the-less. We had to take a train to Kyoto, another to Osaka and then a small train to the Aquarium.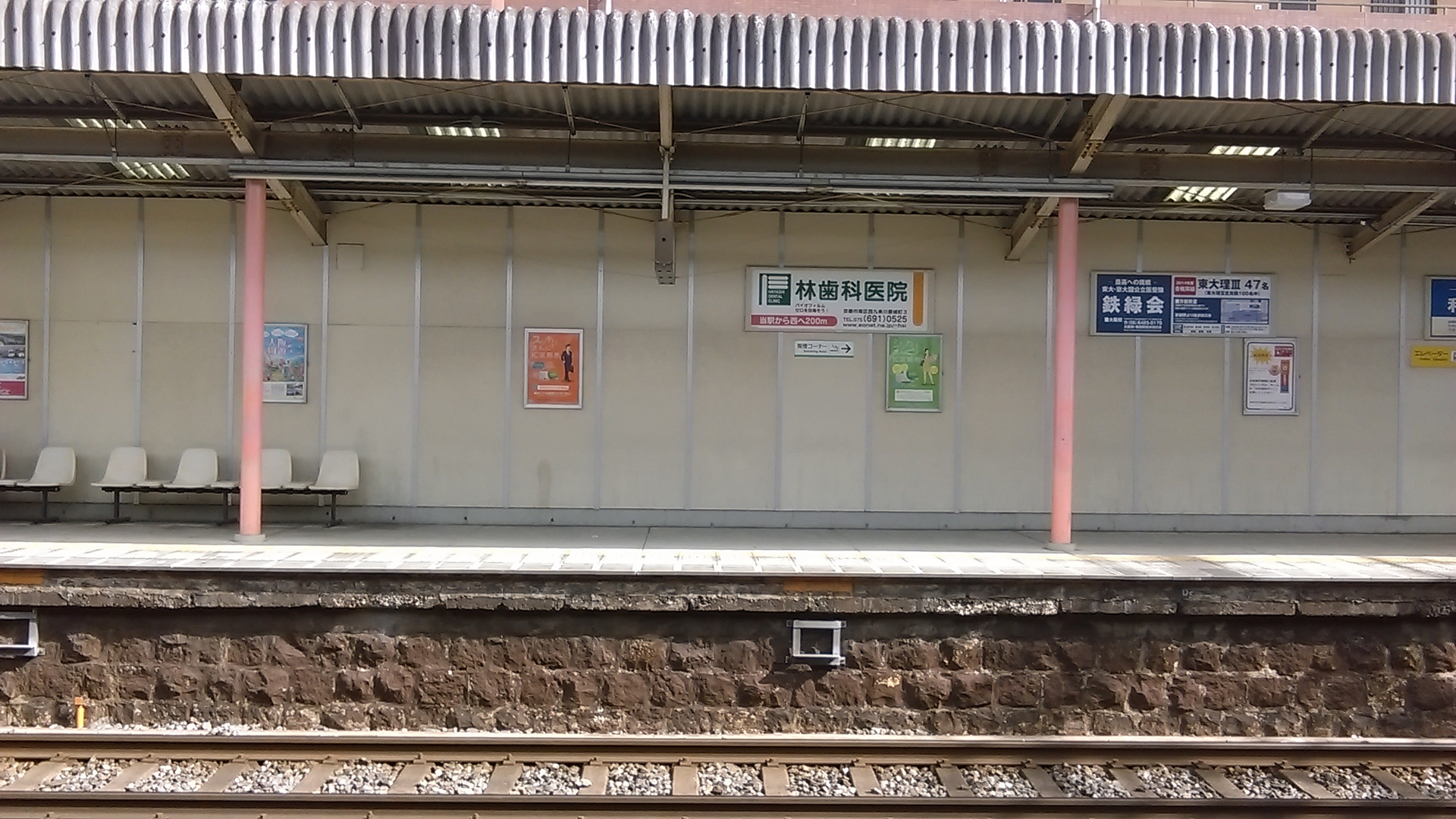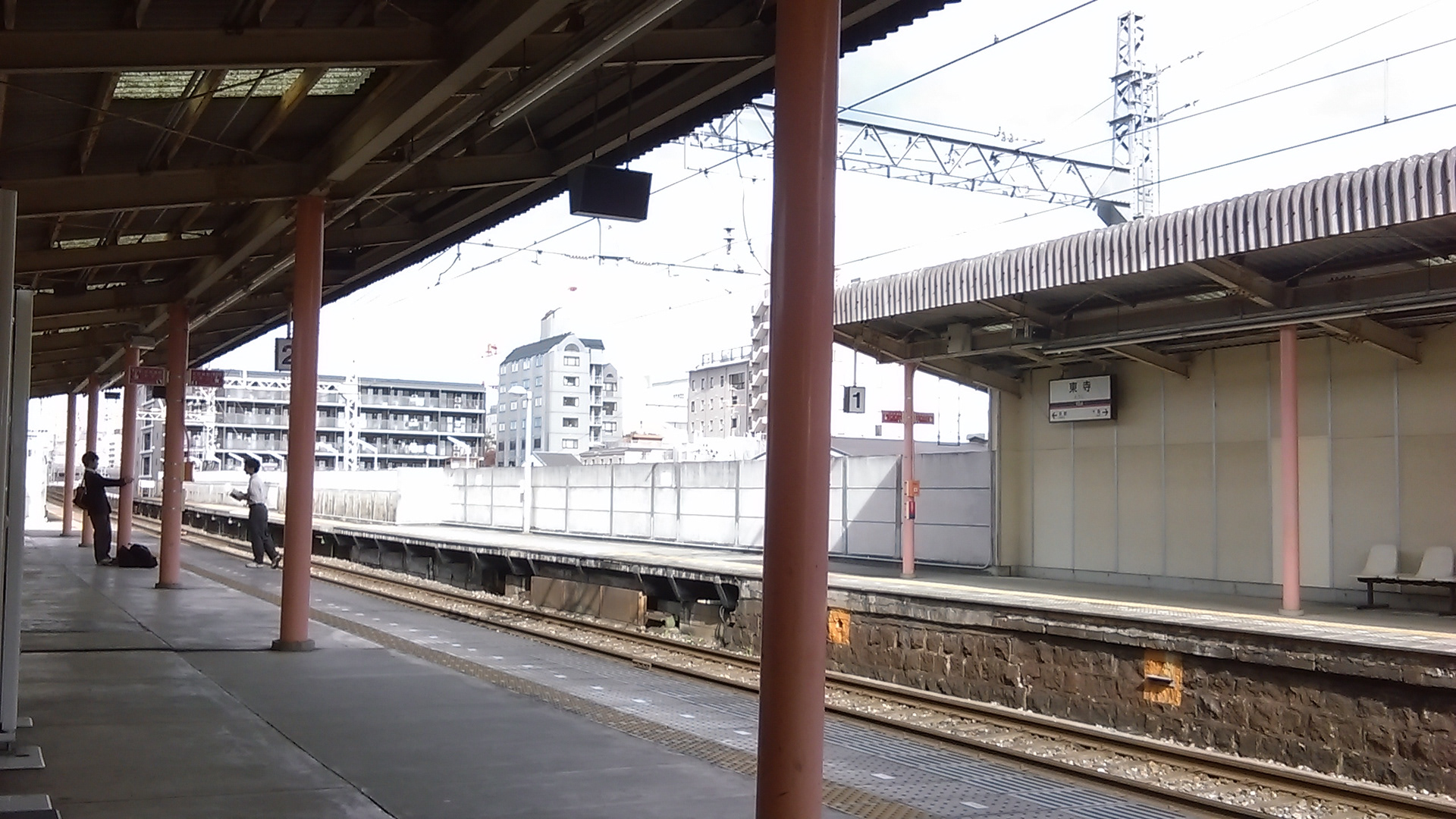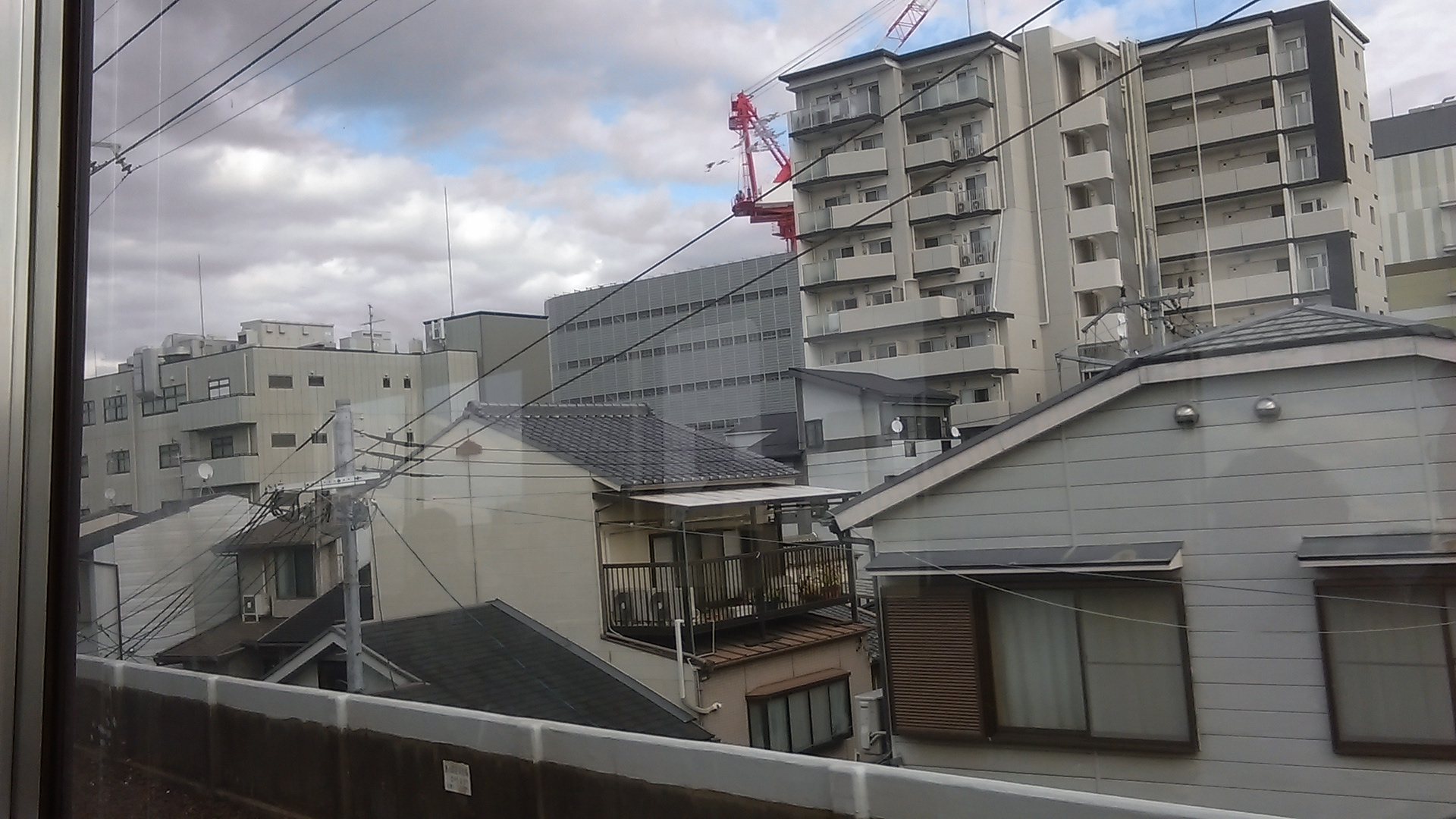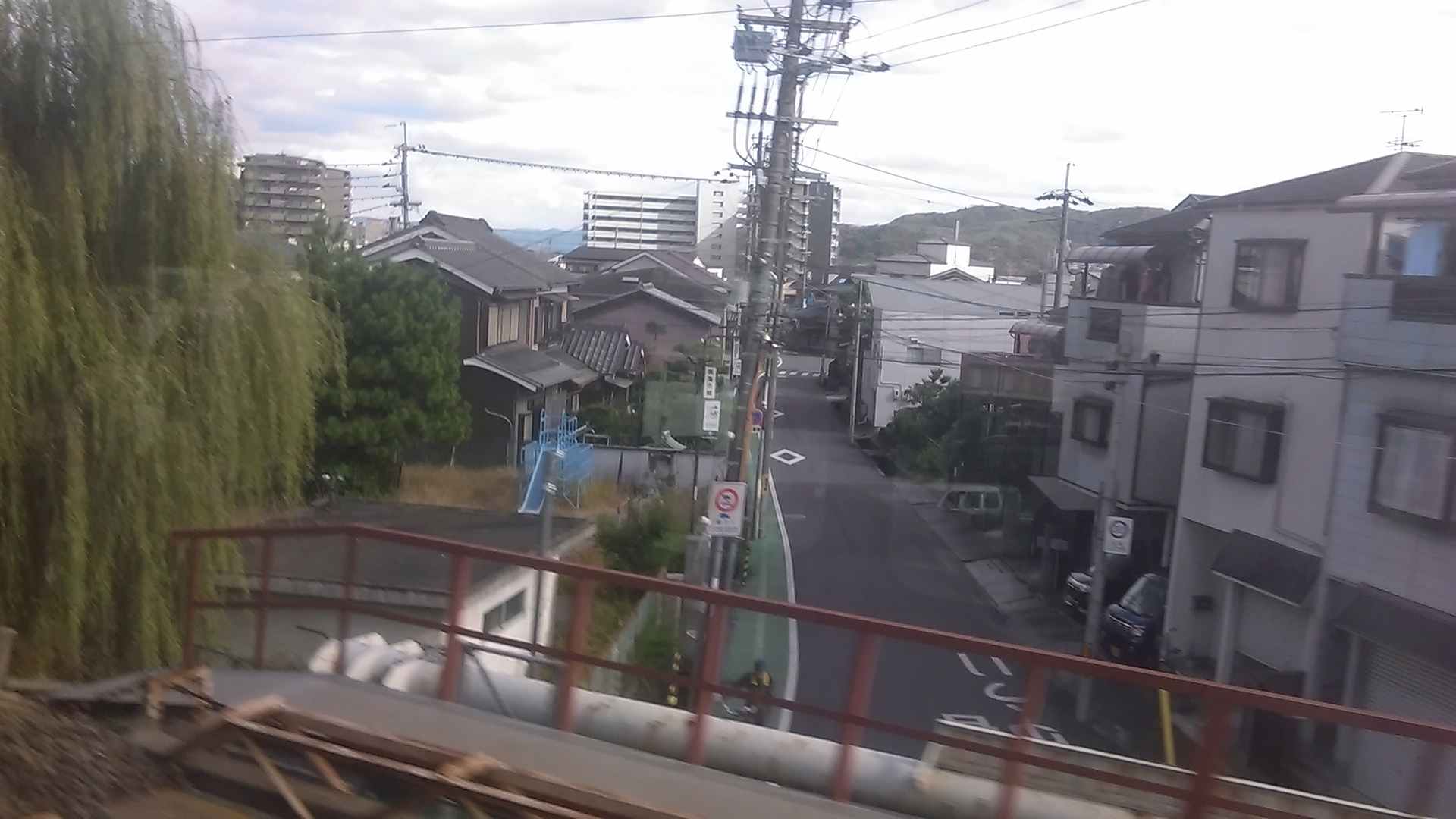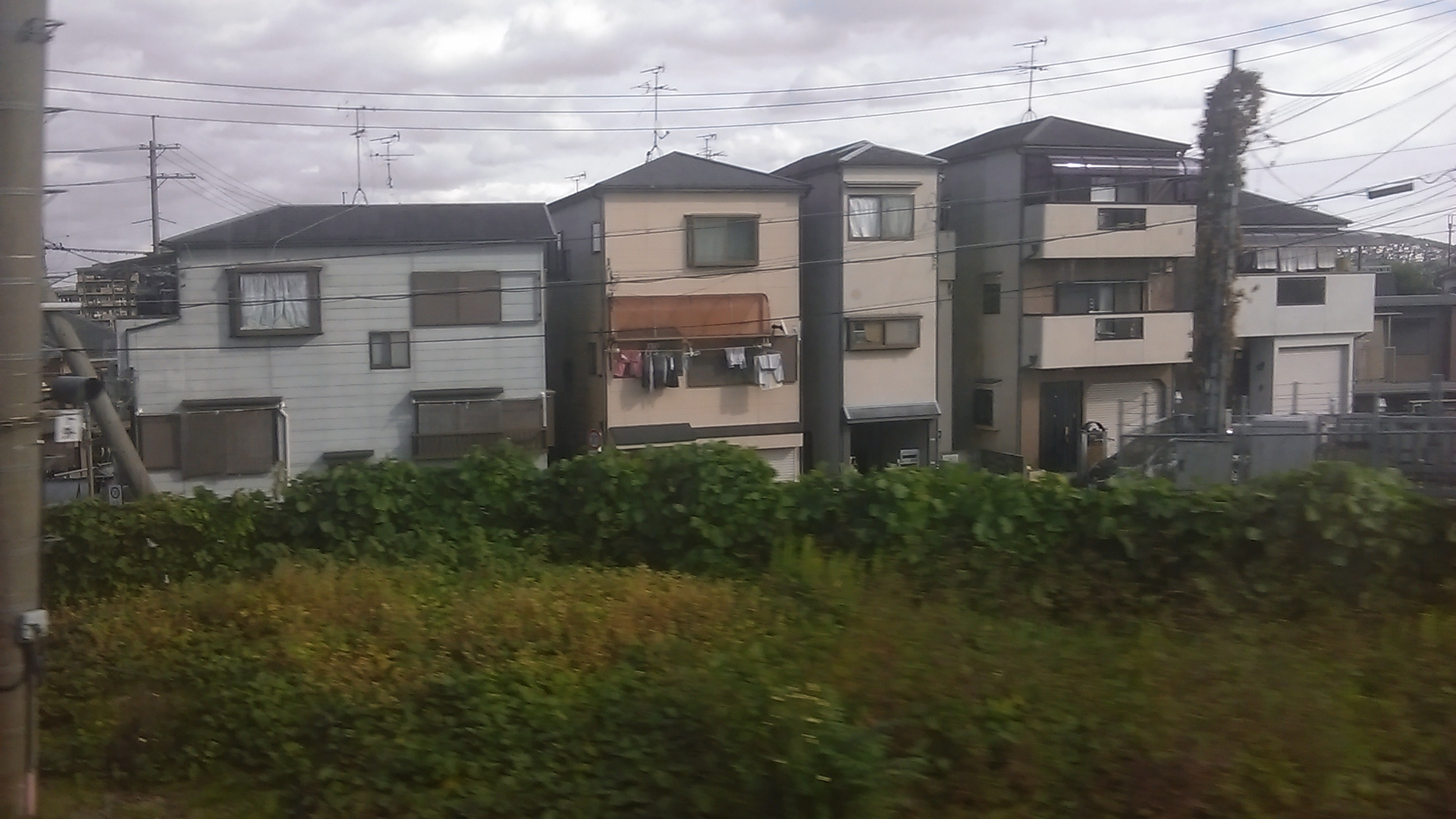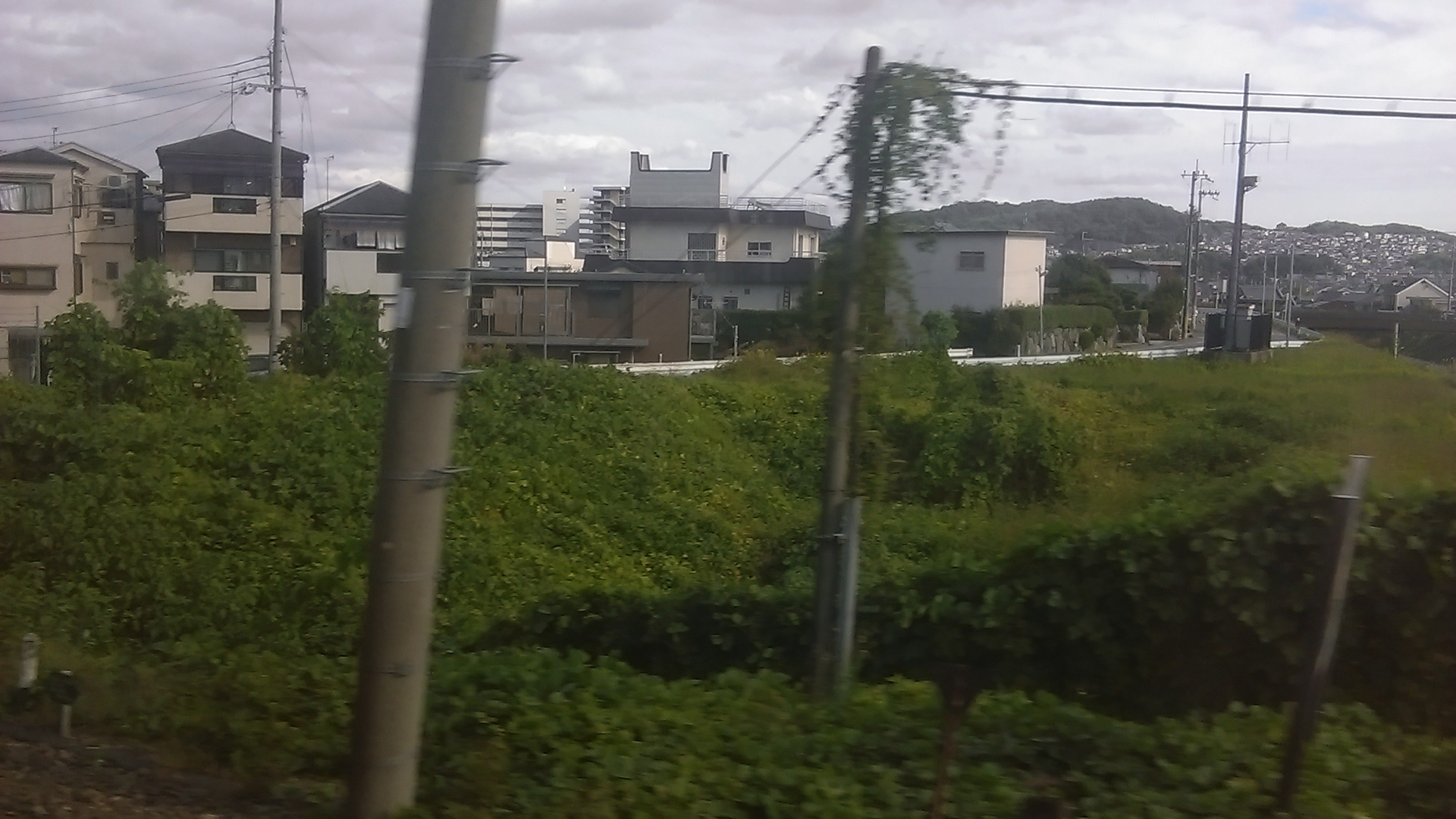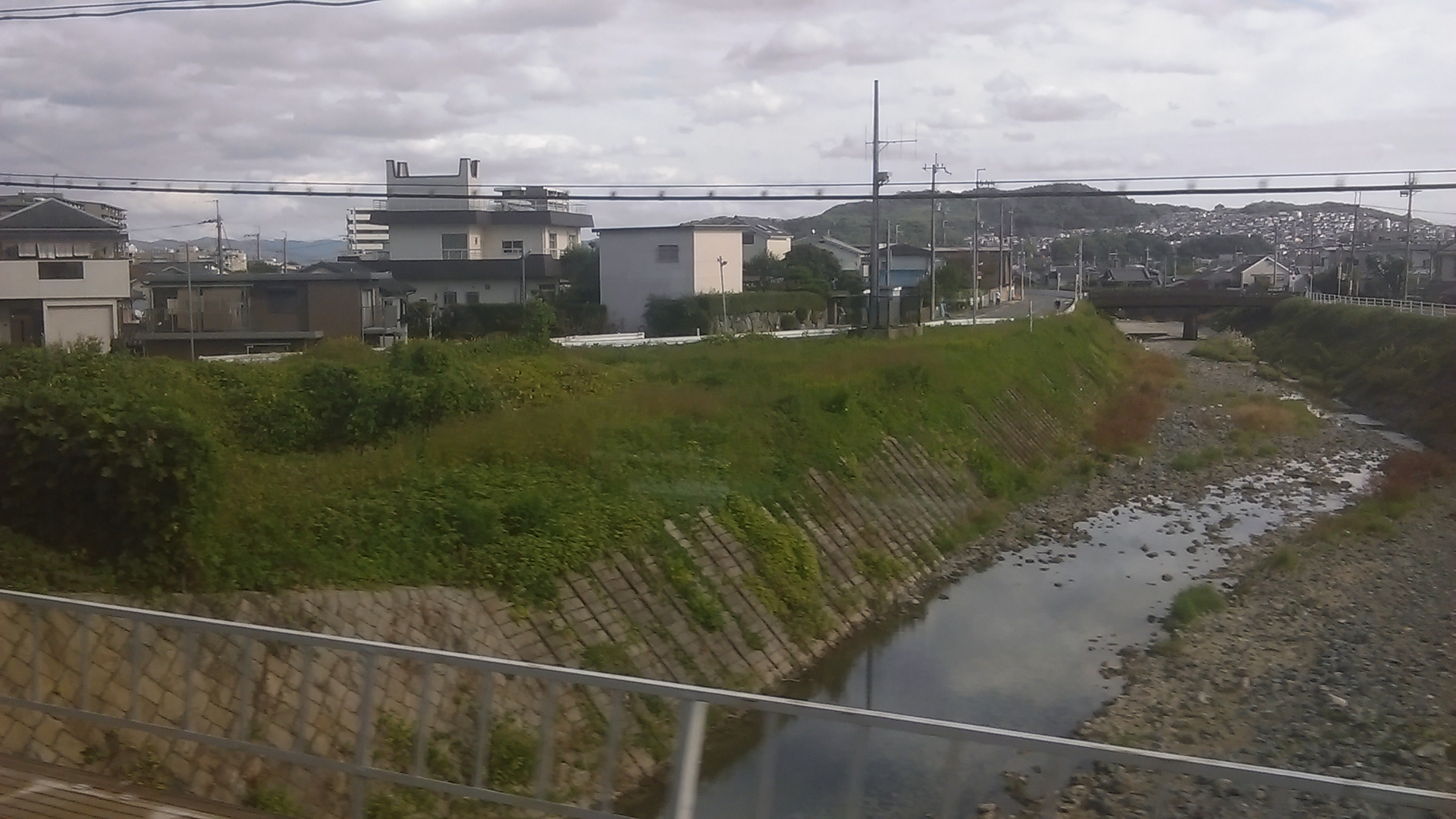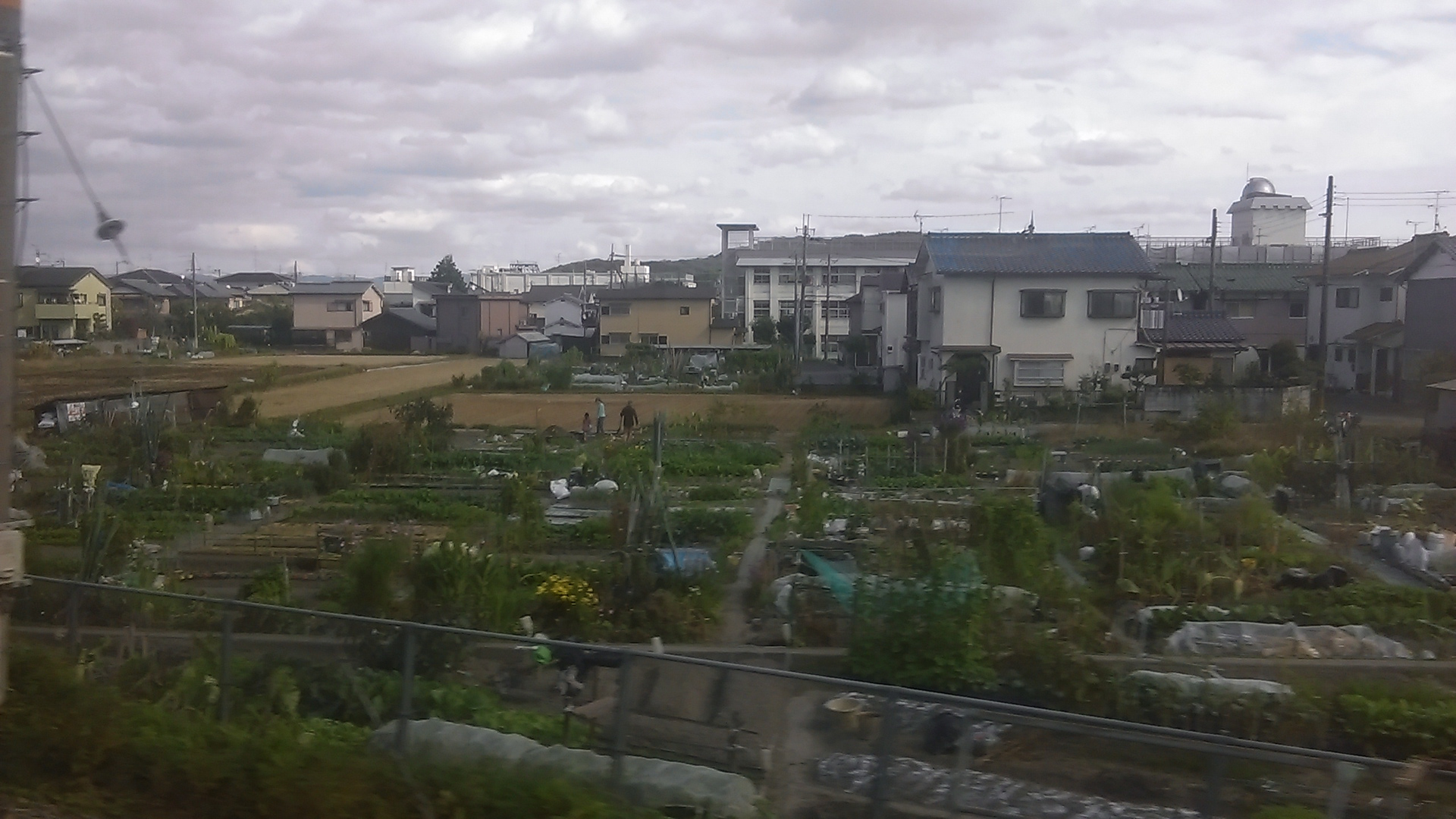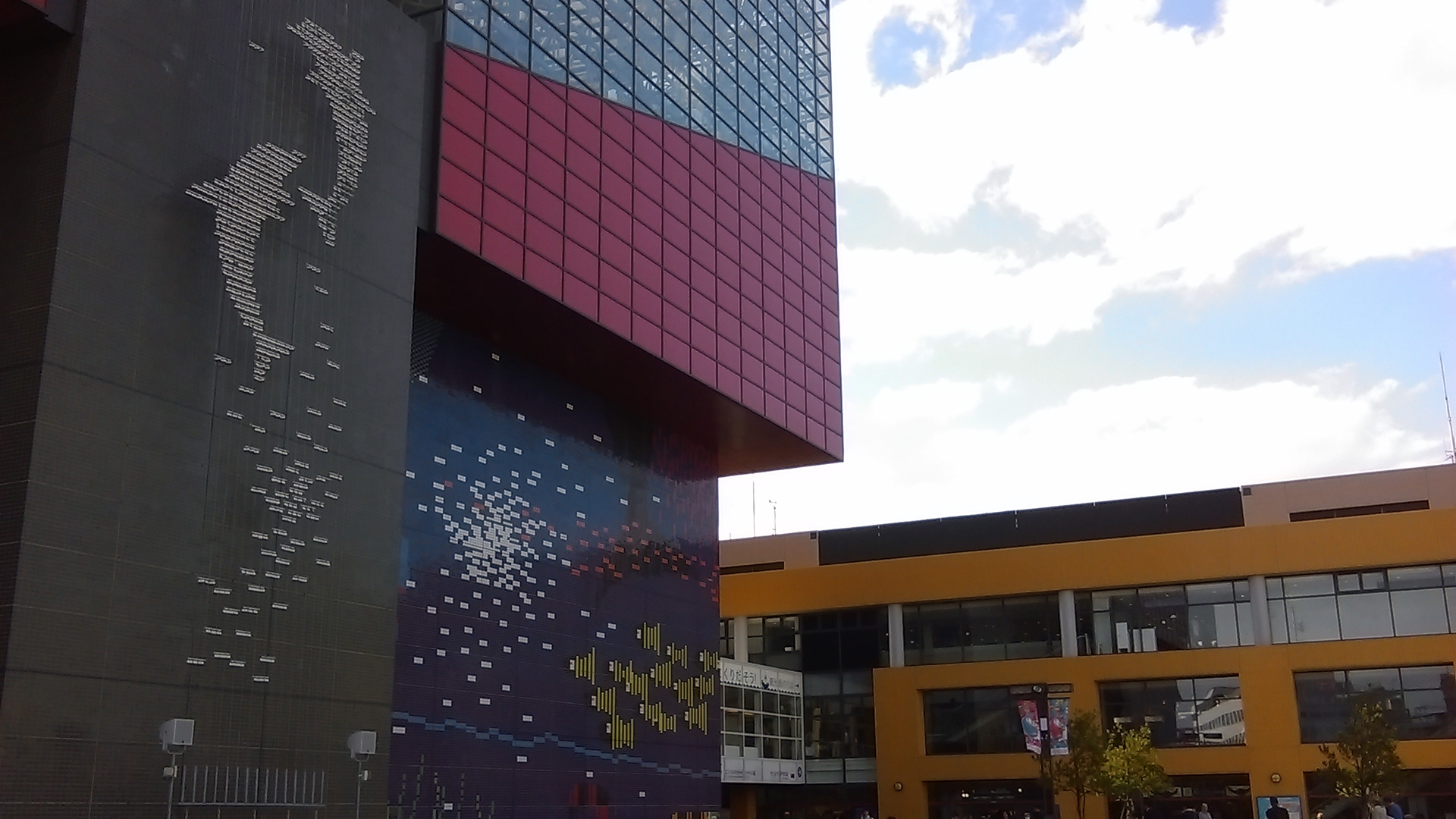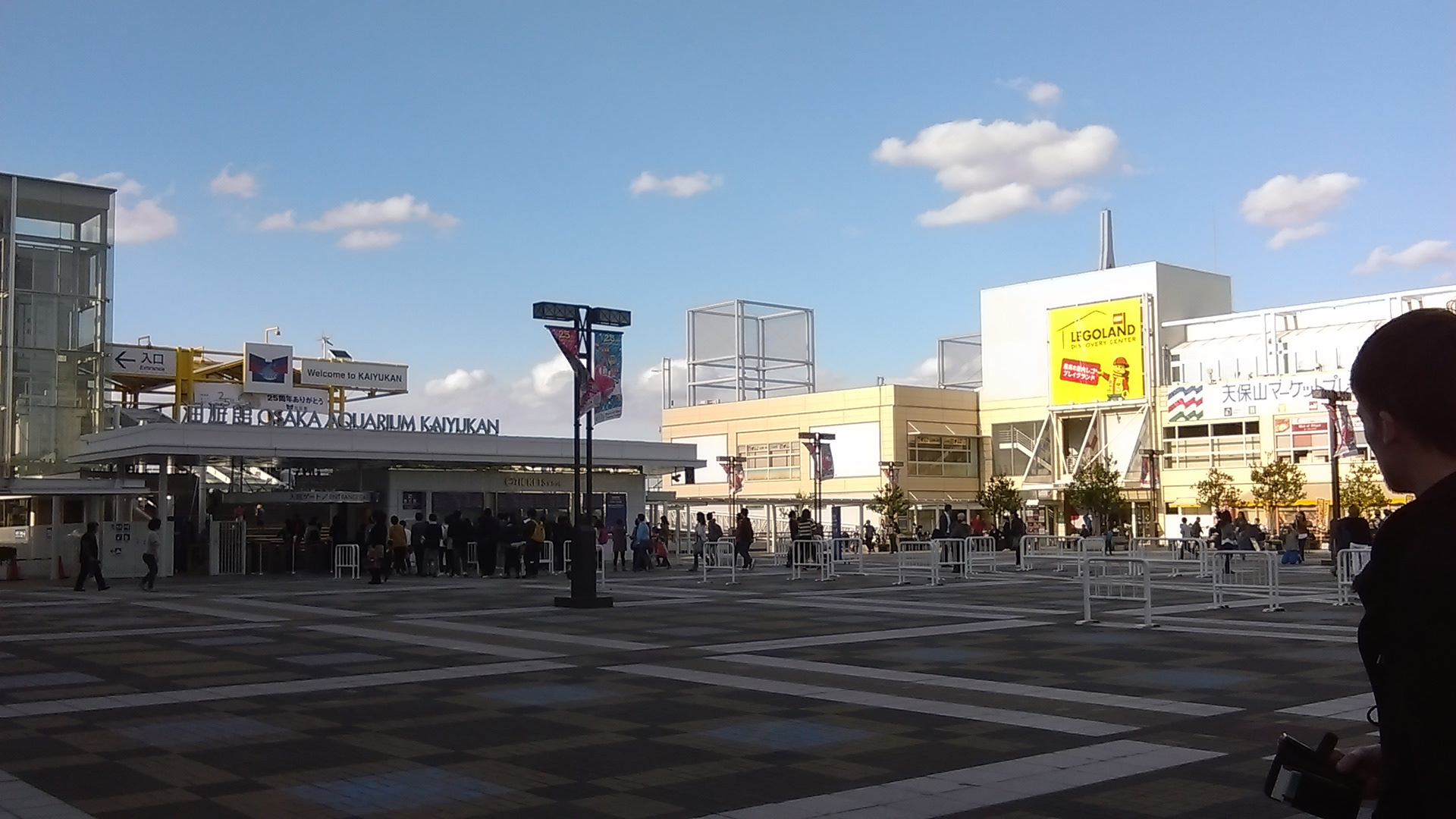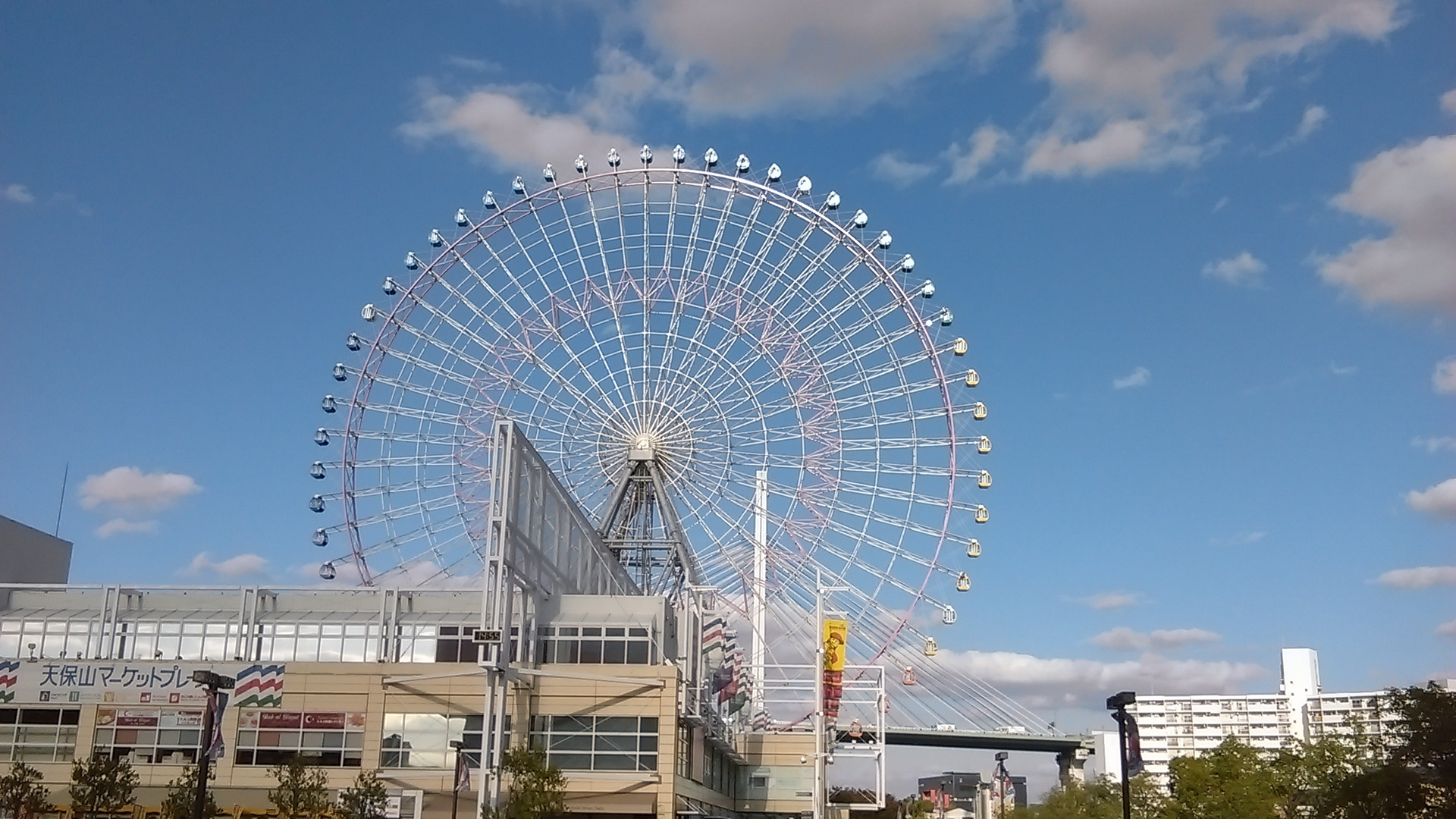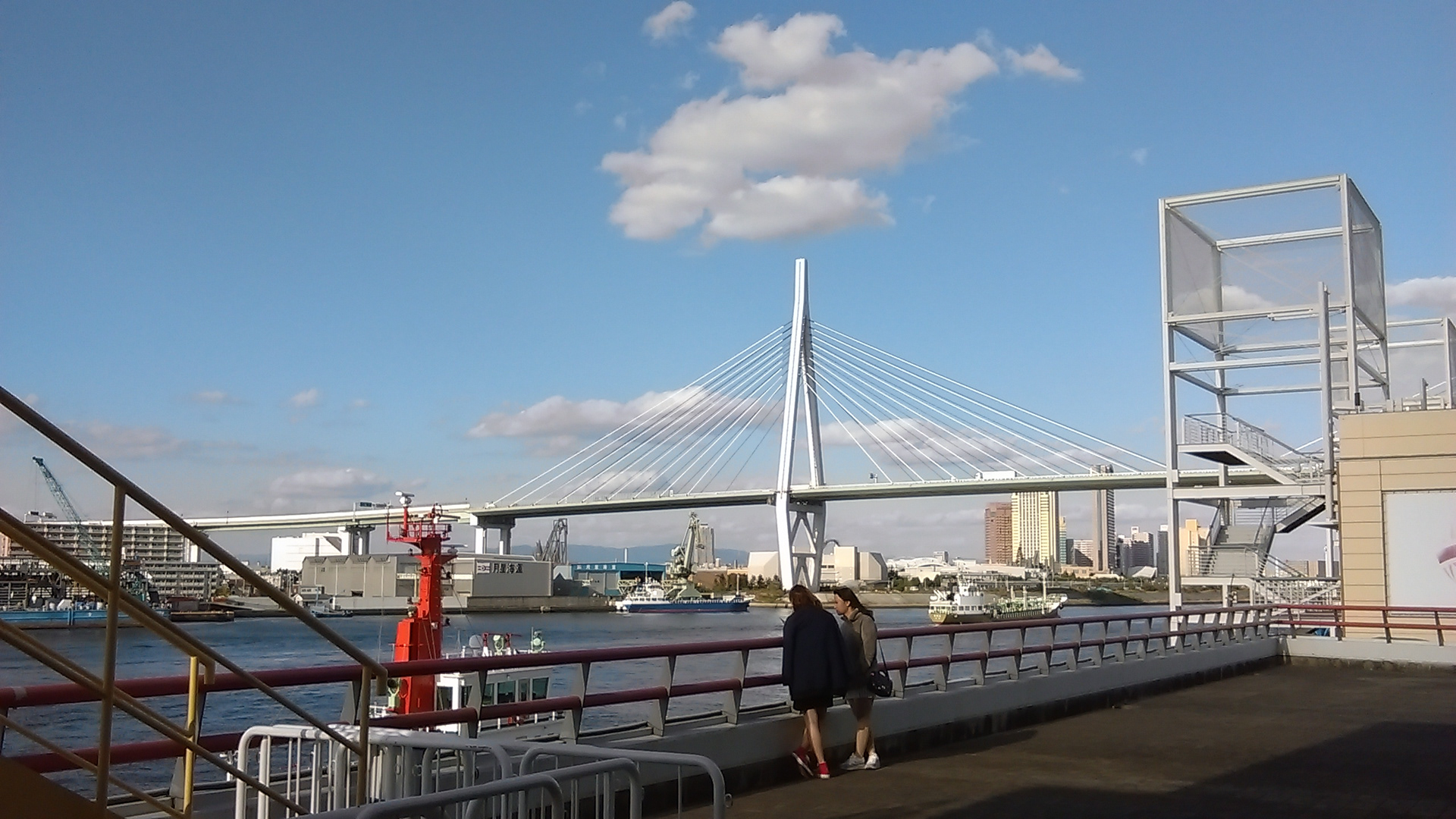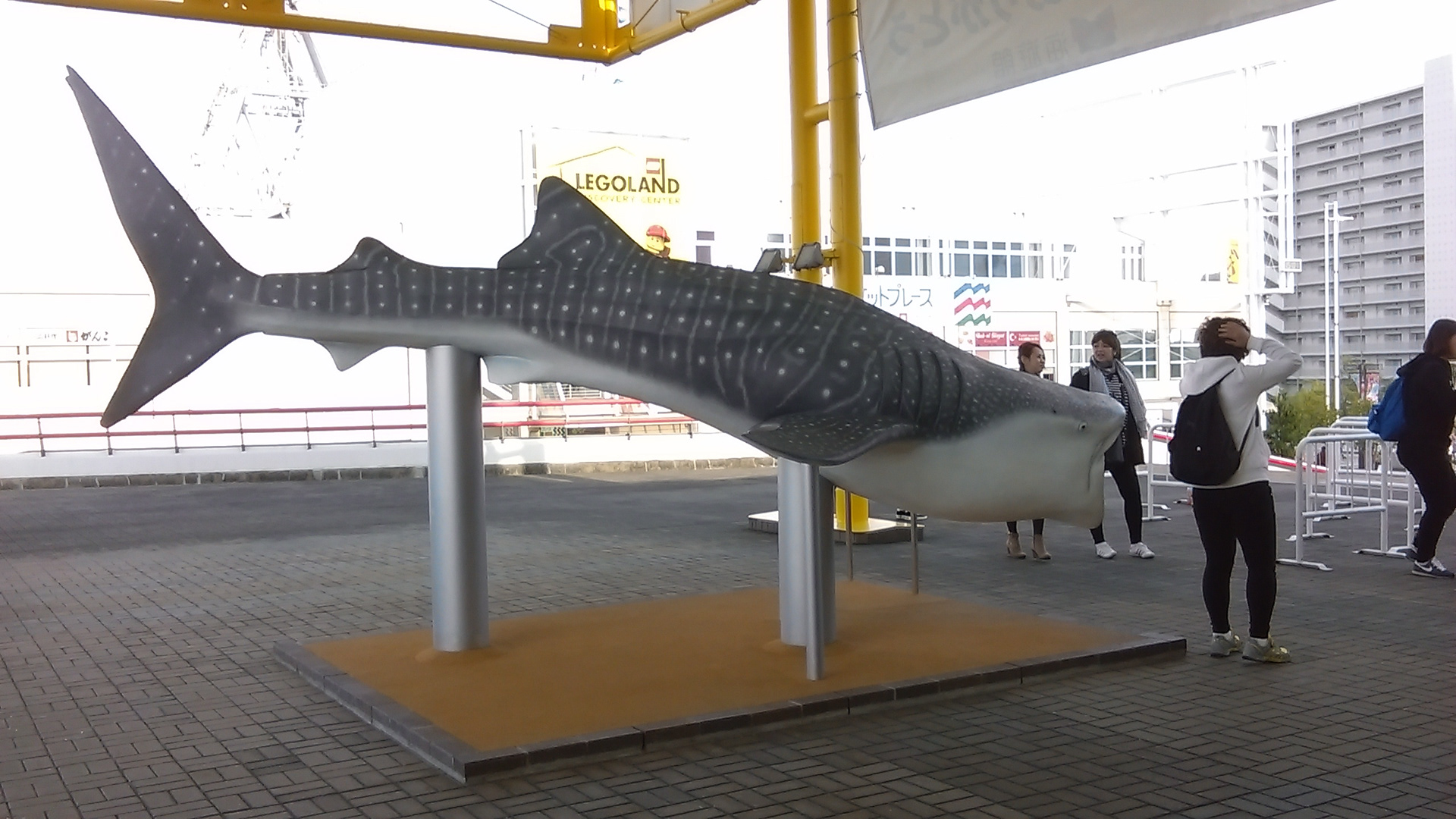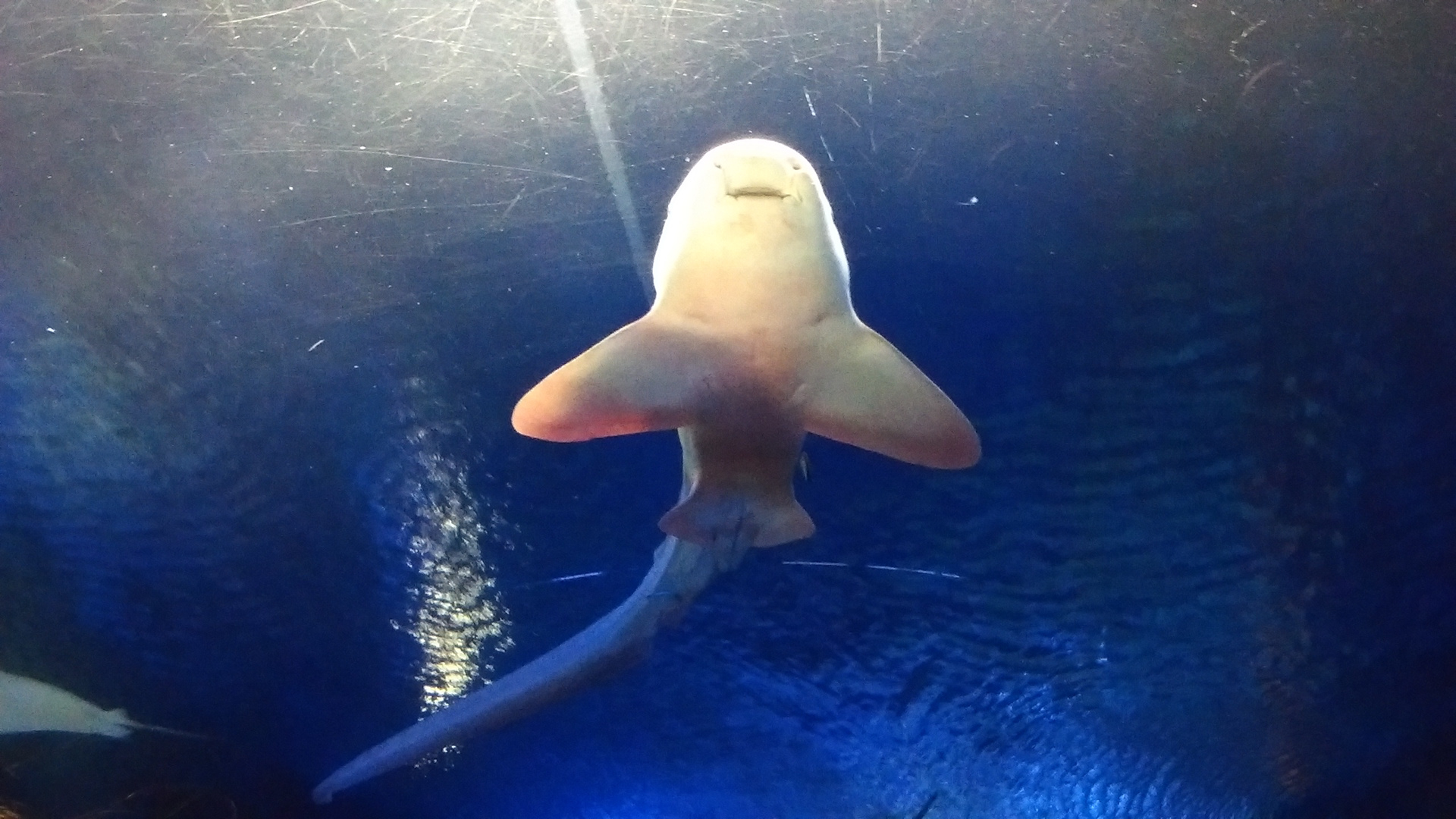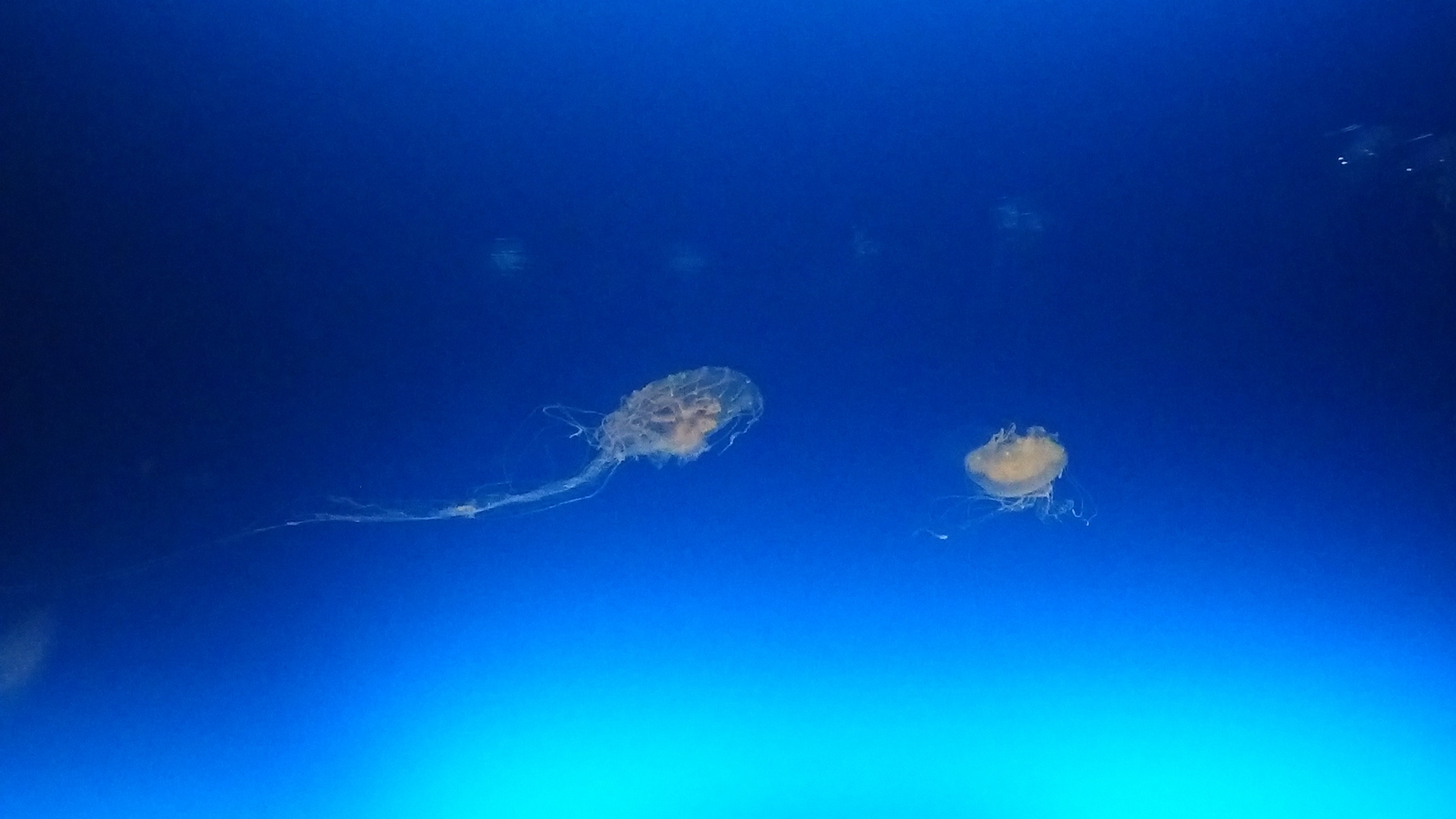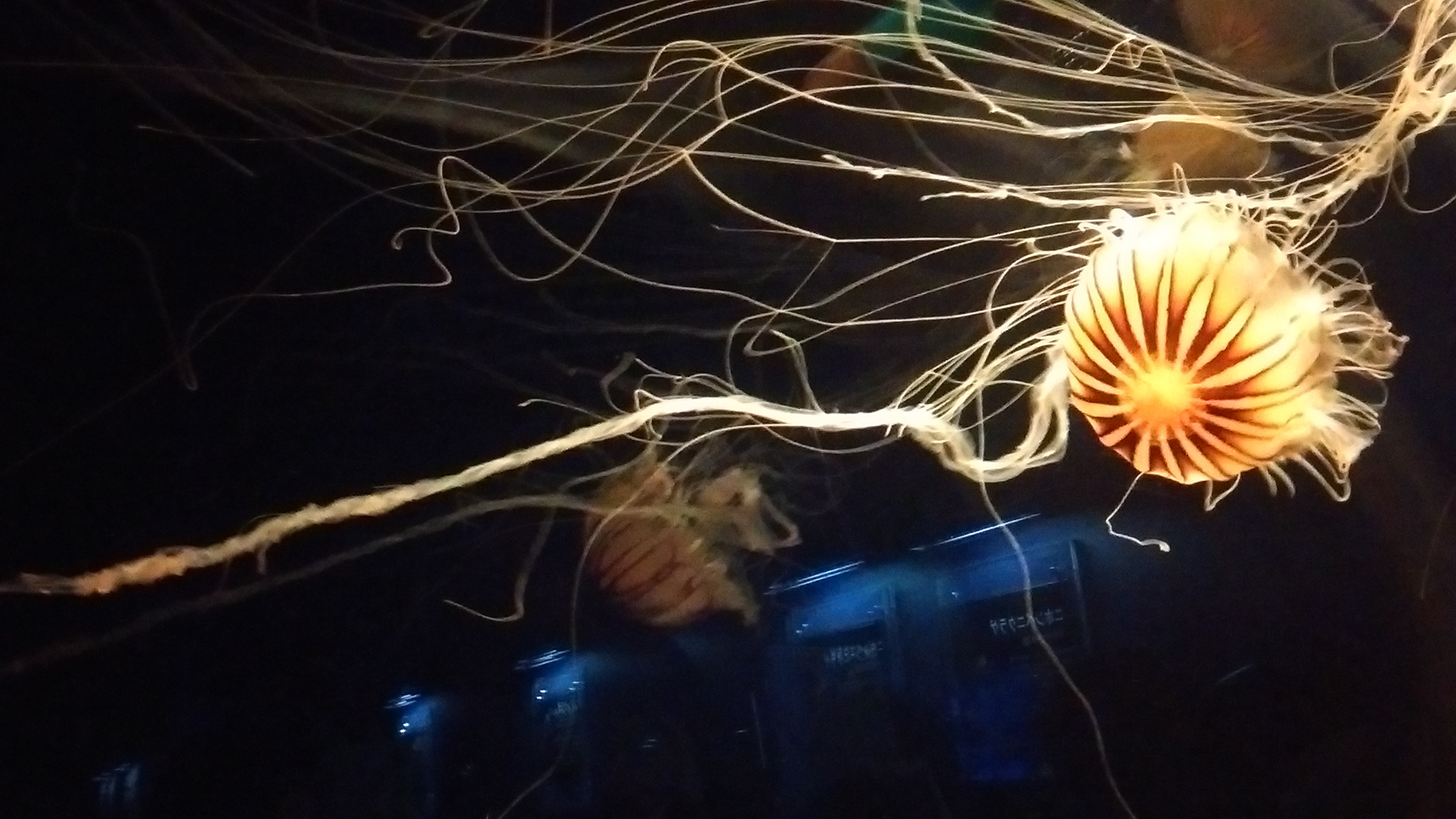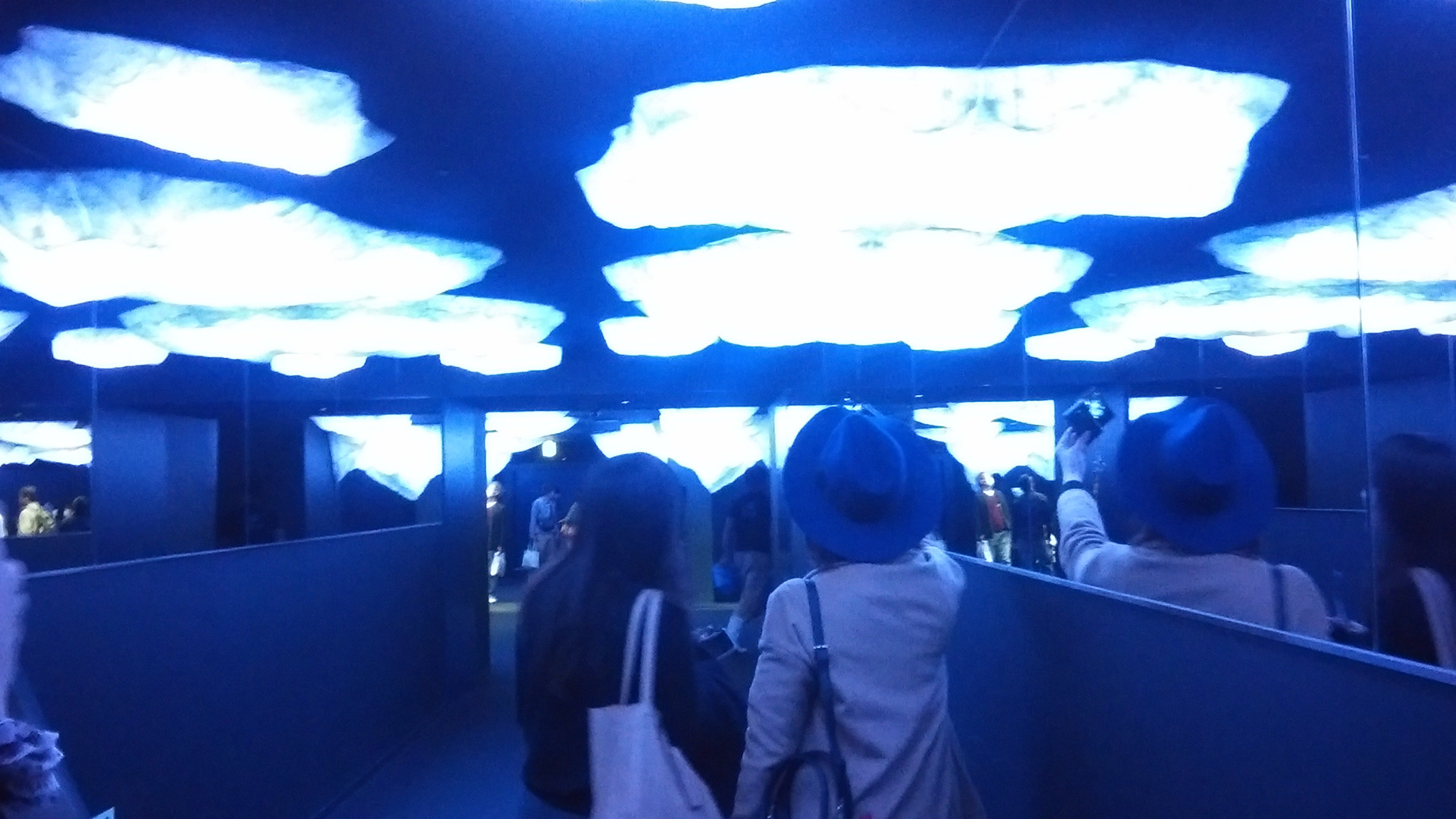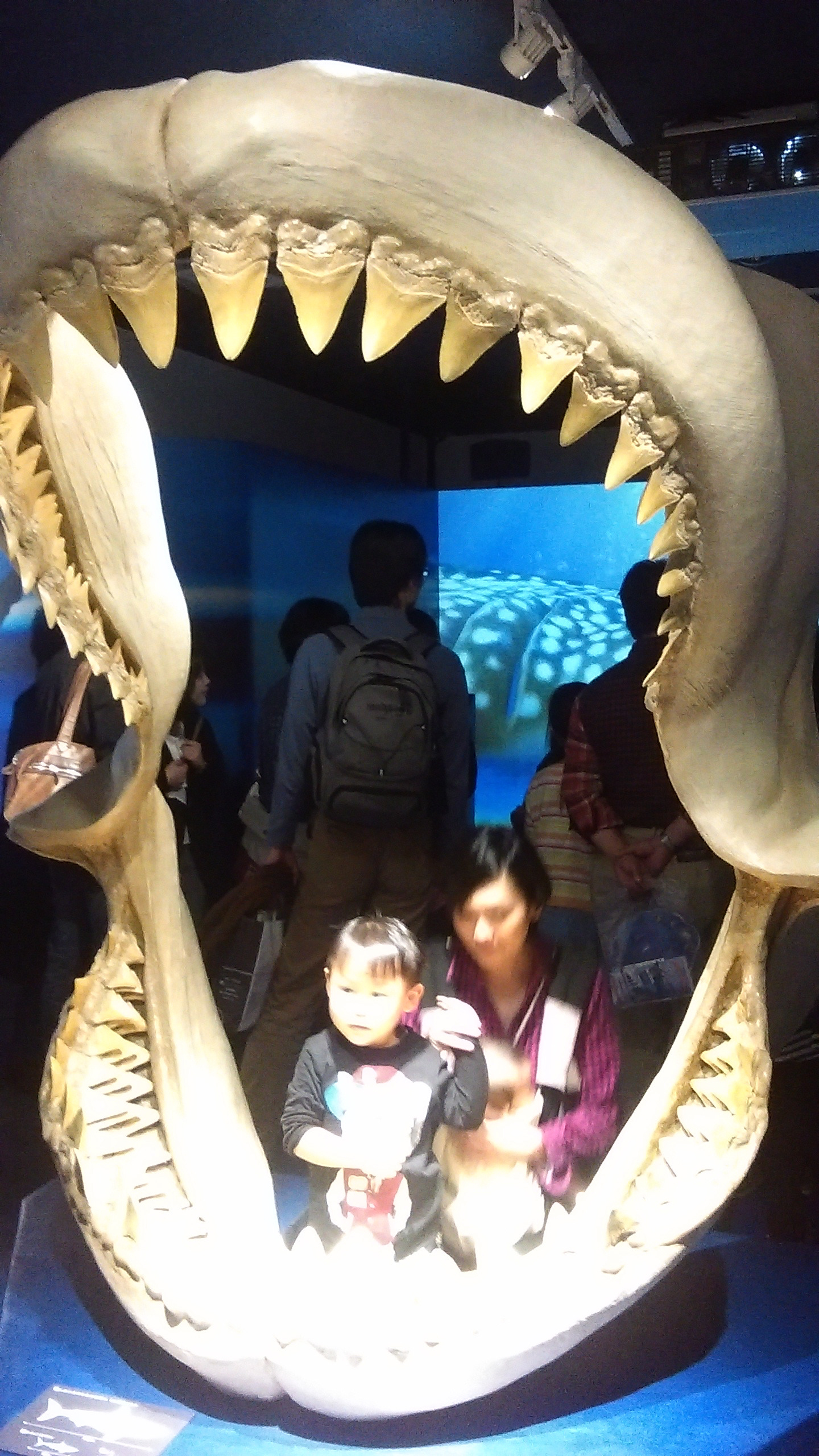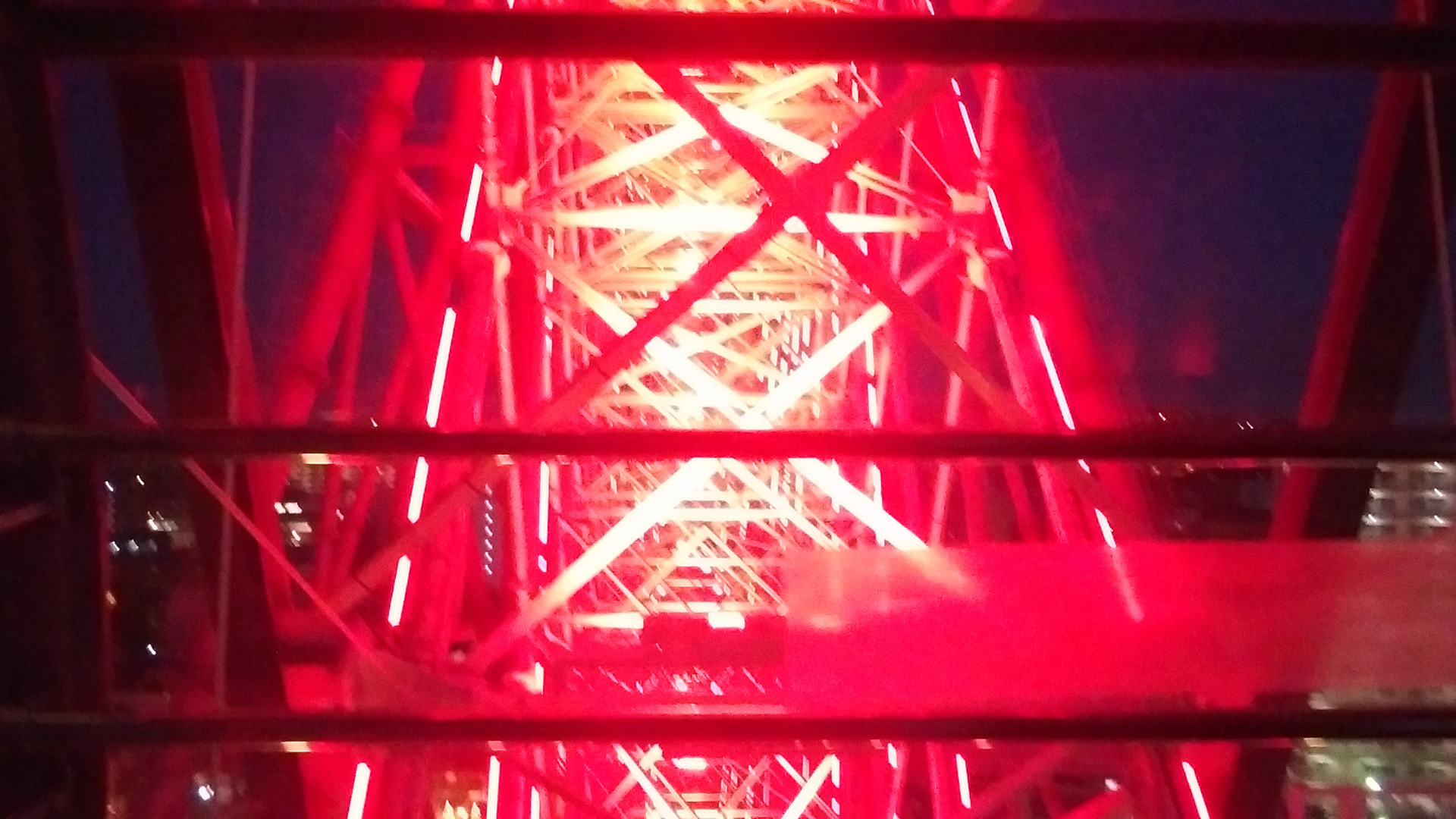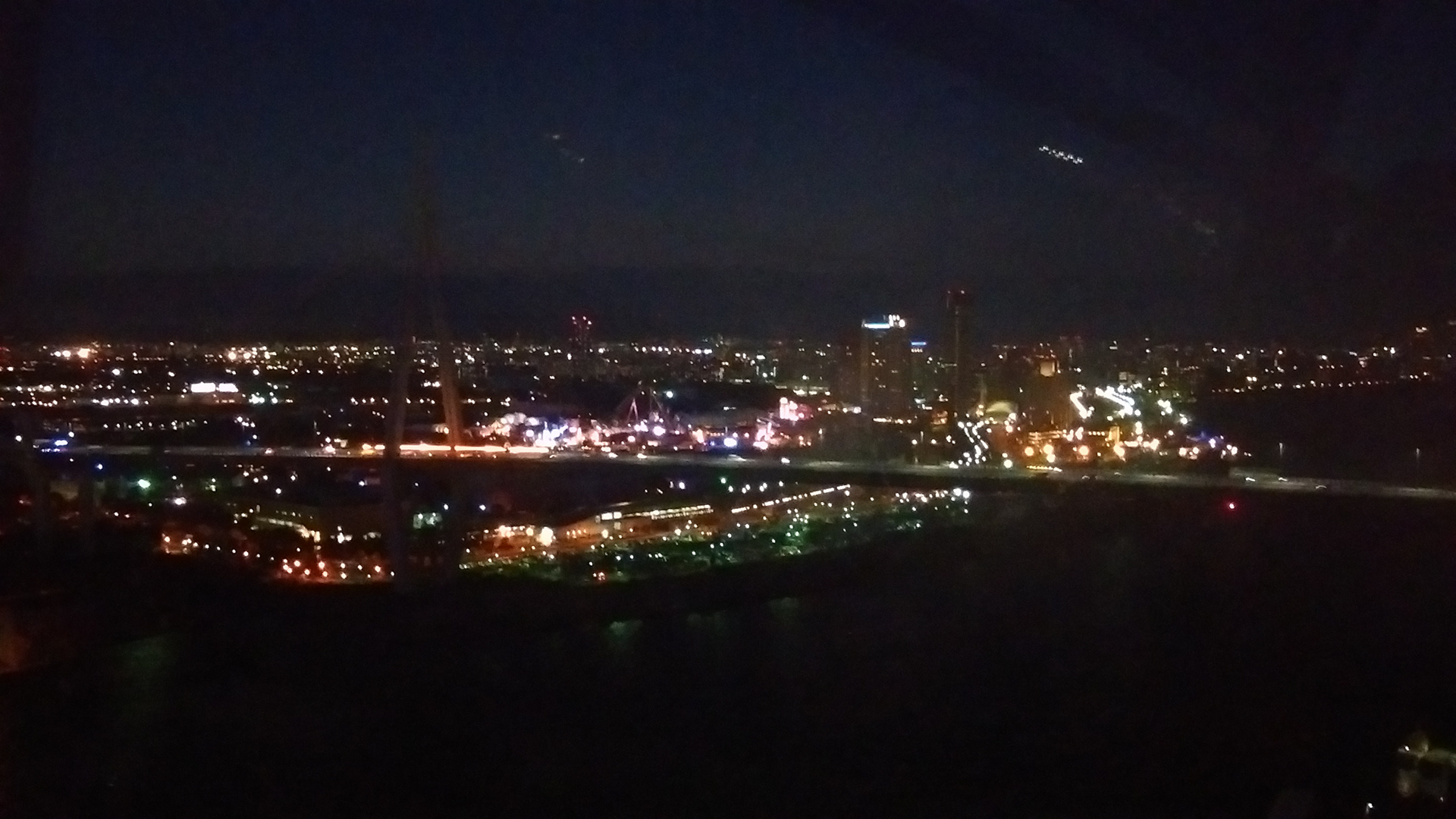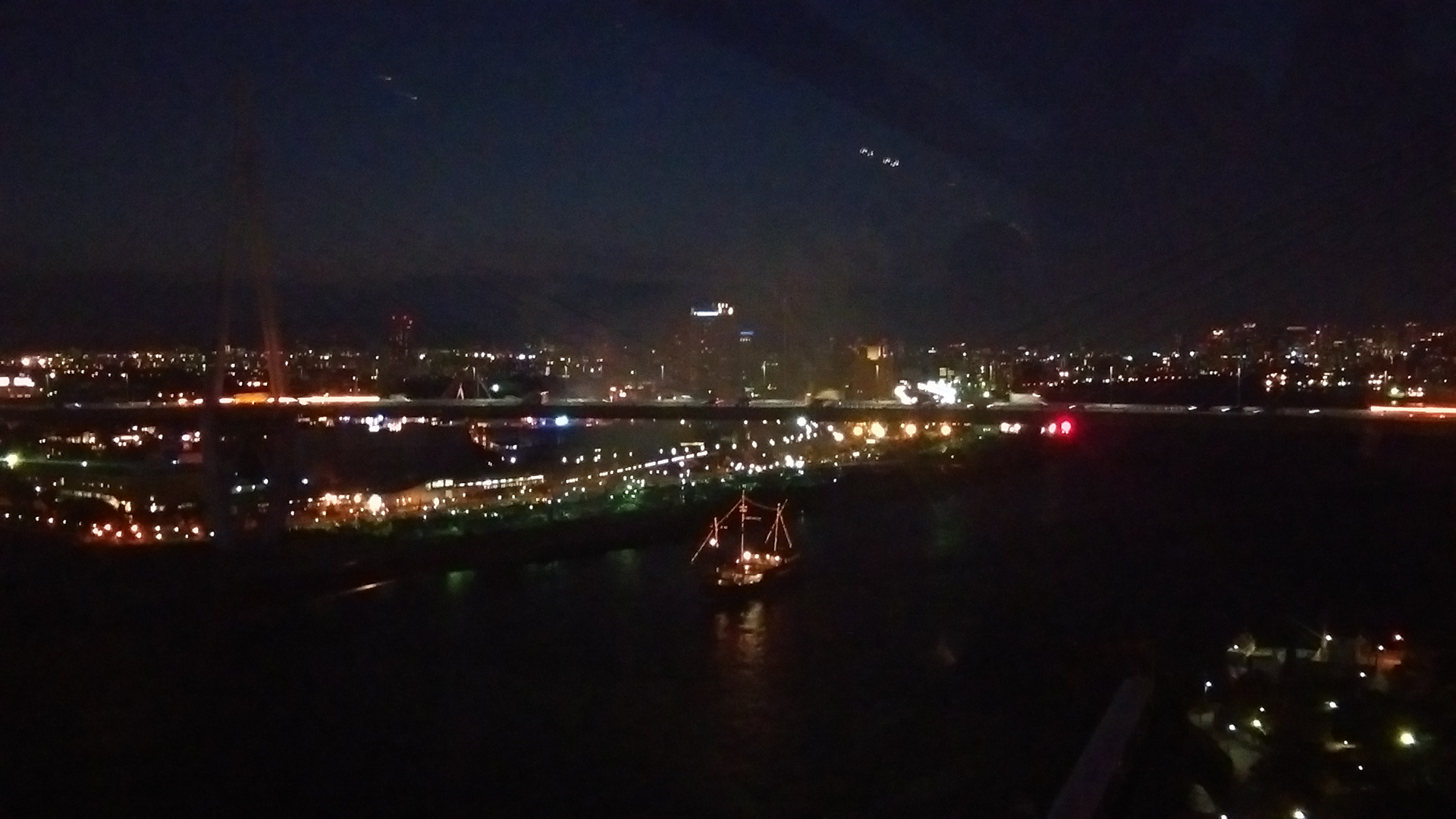 On the way back we stumbled upon a petting zoo. I didn't take any pictures inside as I didn't want to scare any of the animals but there where alpacas, monkeys, capybaras, rabbits, dogs, cats, pigs and lizards in there that you can stroke and feed. It was going really well until I saw some of the dogs where wearing nappies. I didn't know what to think, but I suppose that's better than letting them pee on all of the customers.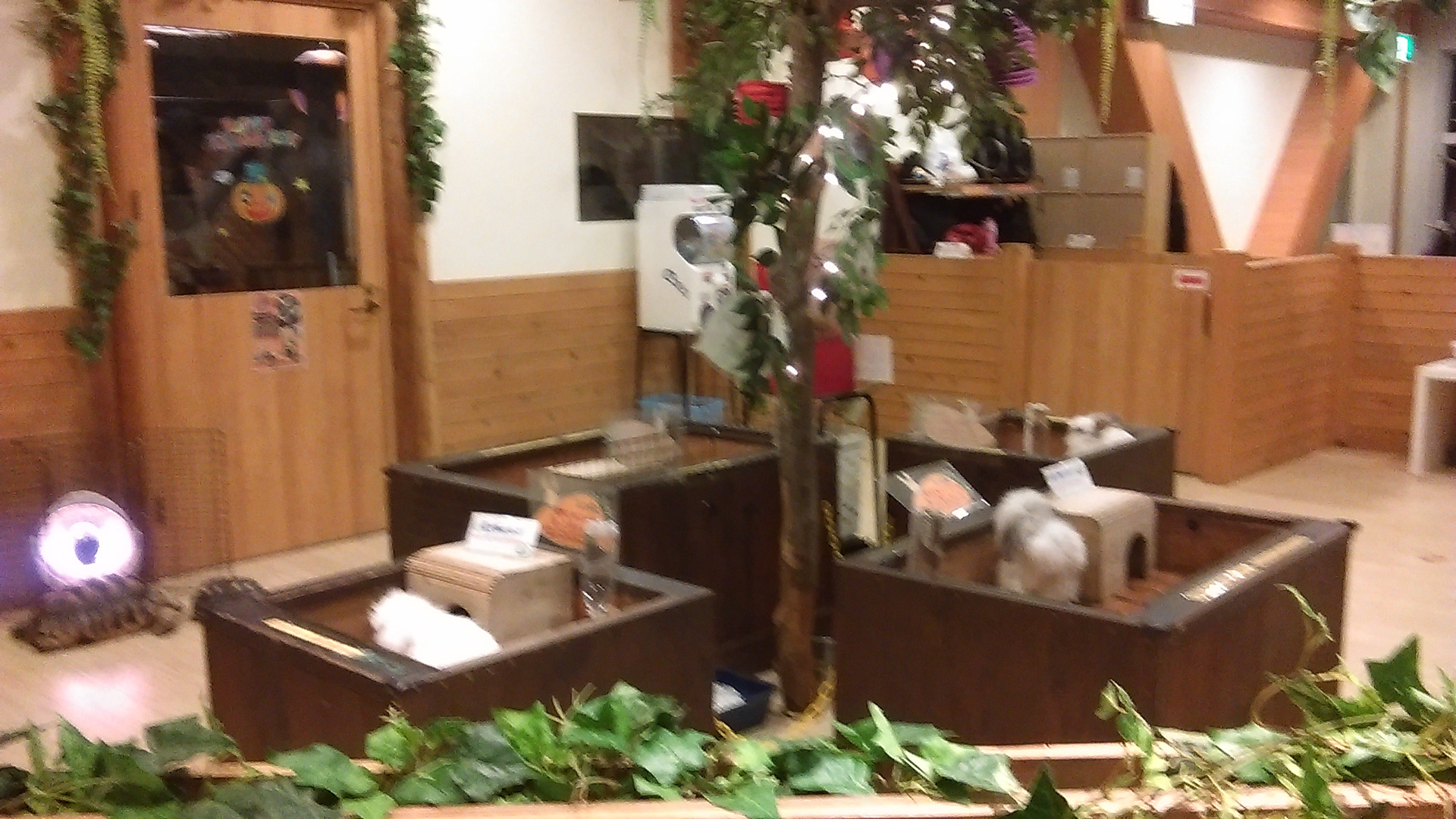 On the last day we all decided to go to Toji Temple. When we got there there was a market that sold a lot of spiritual and old merchandise. They sold guns and bows as well as crystals, statues and Yukatas/Kimono's. I bought myself 2 malas, a christmas present for my sister and my niece, A Yukata for myself and a crystal bracelet.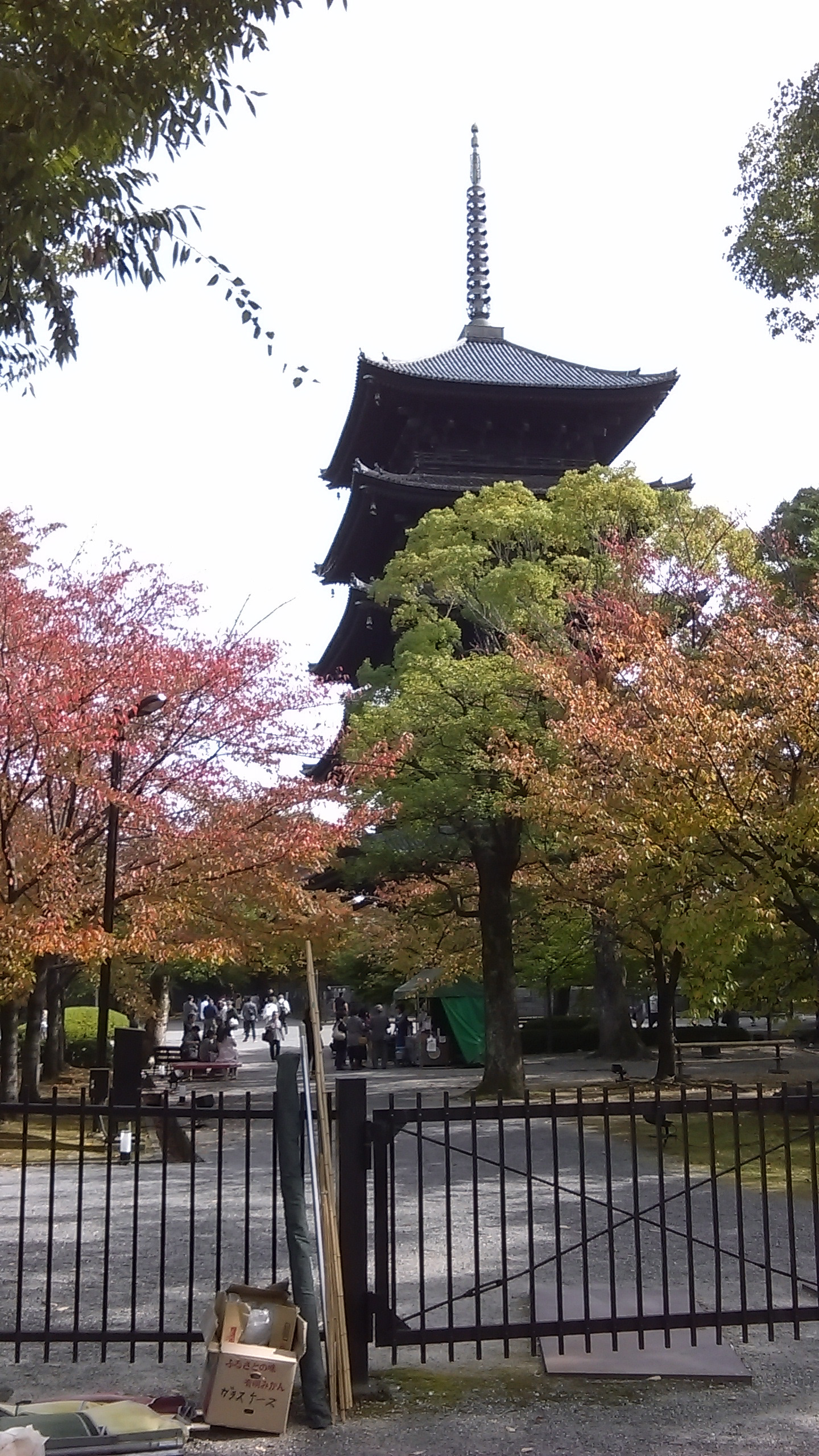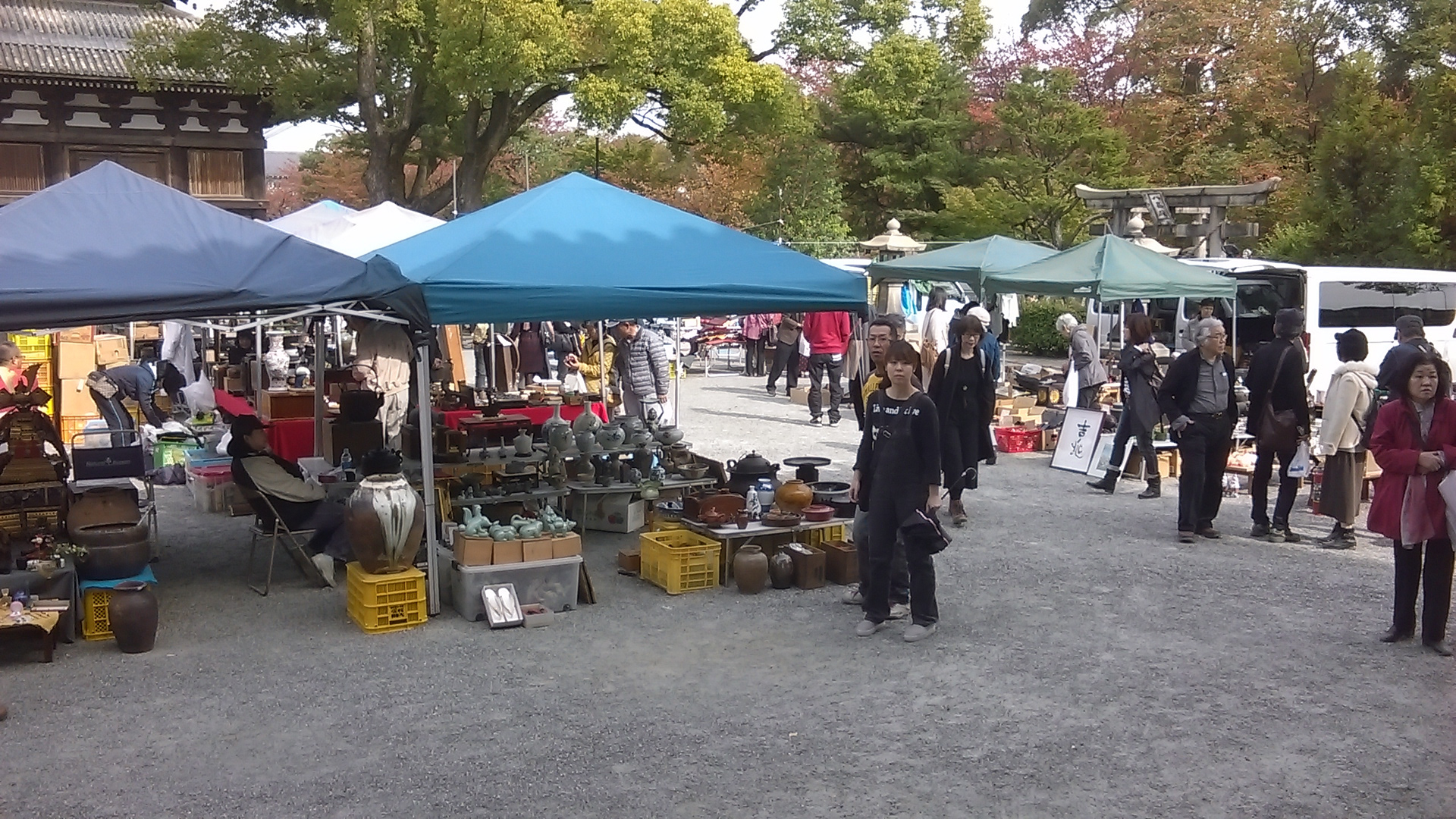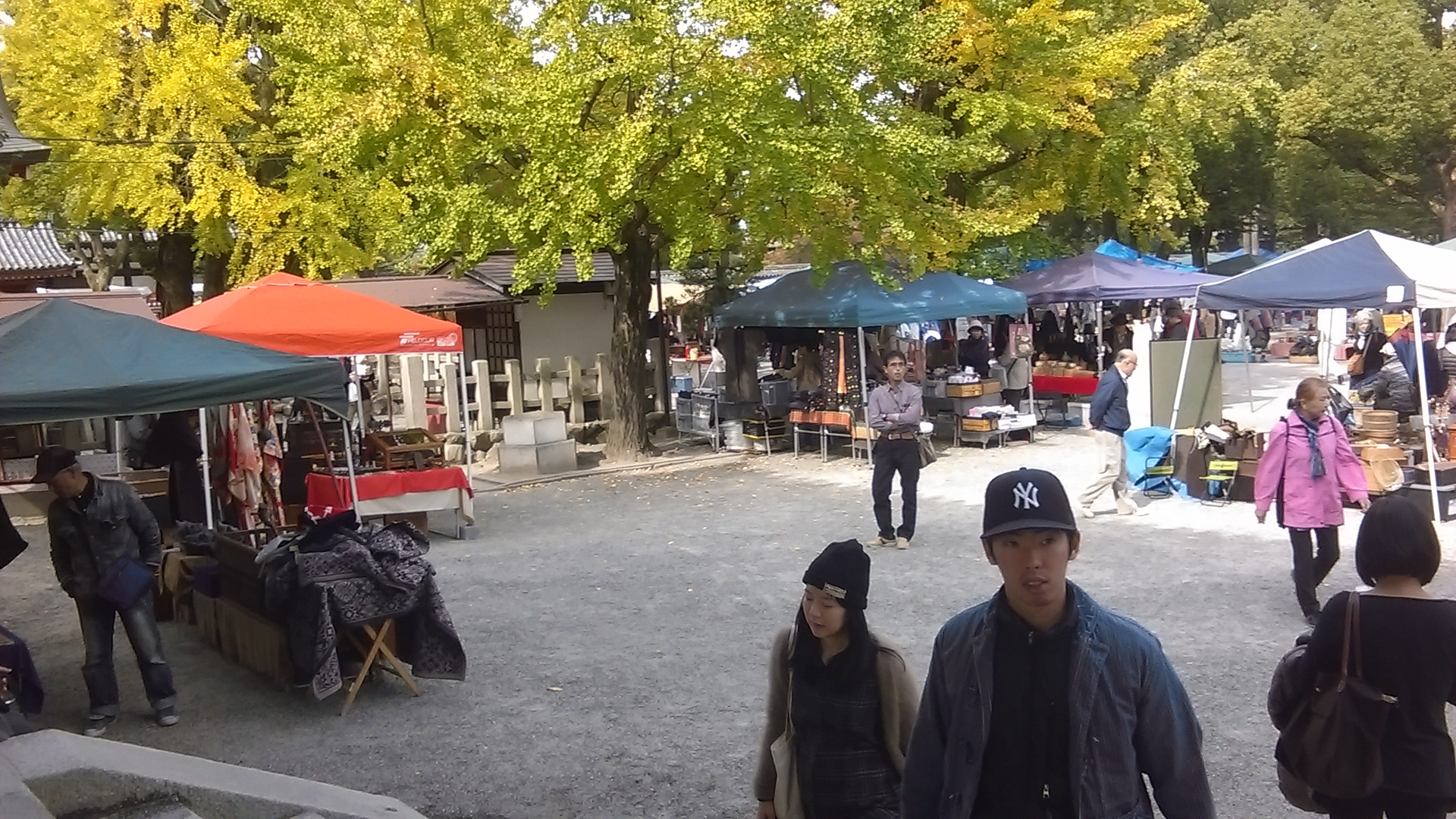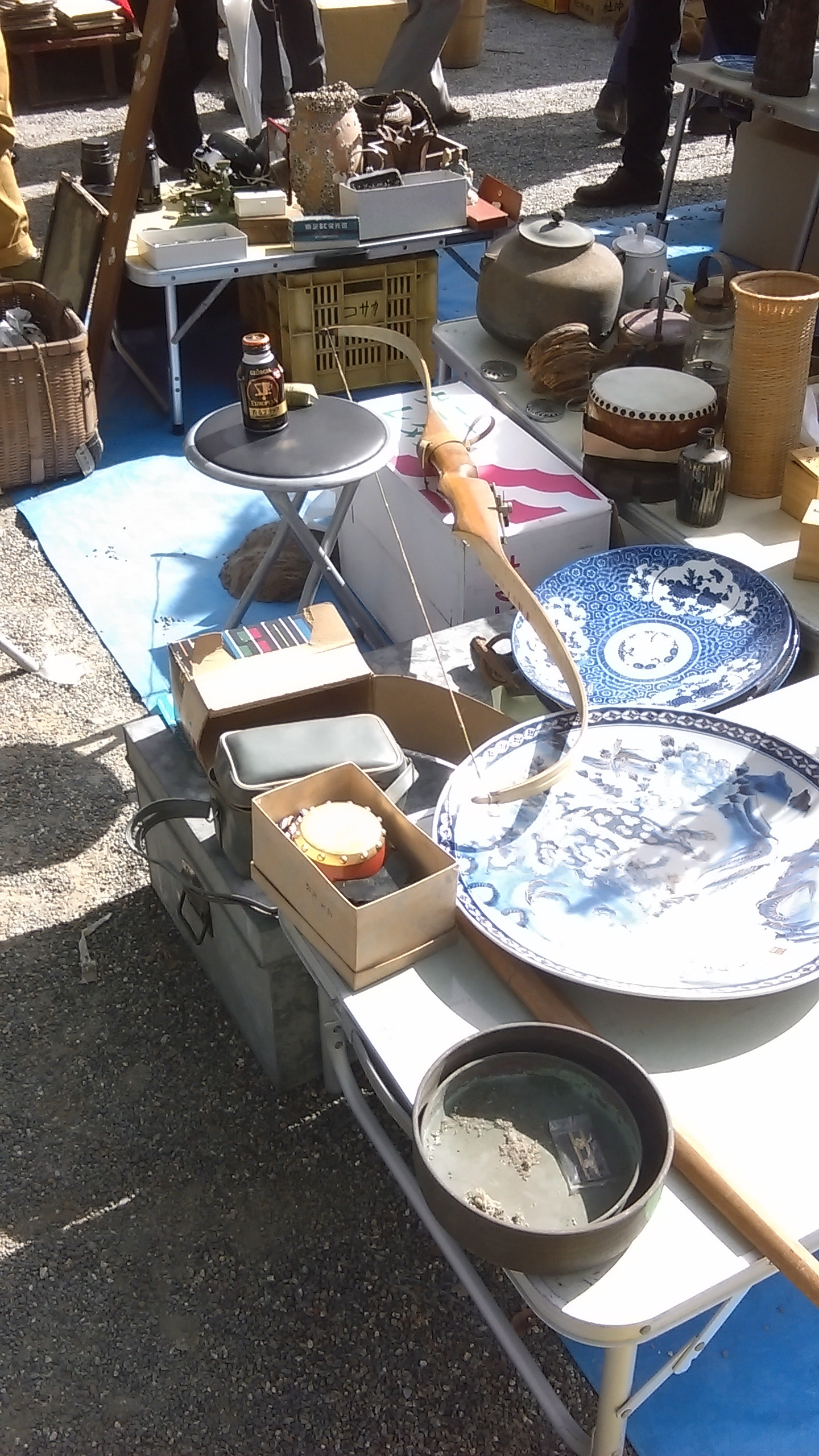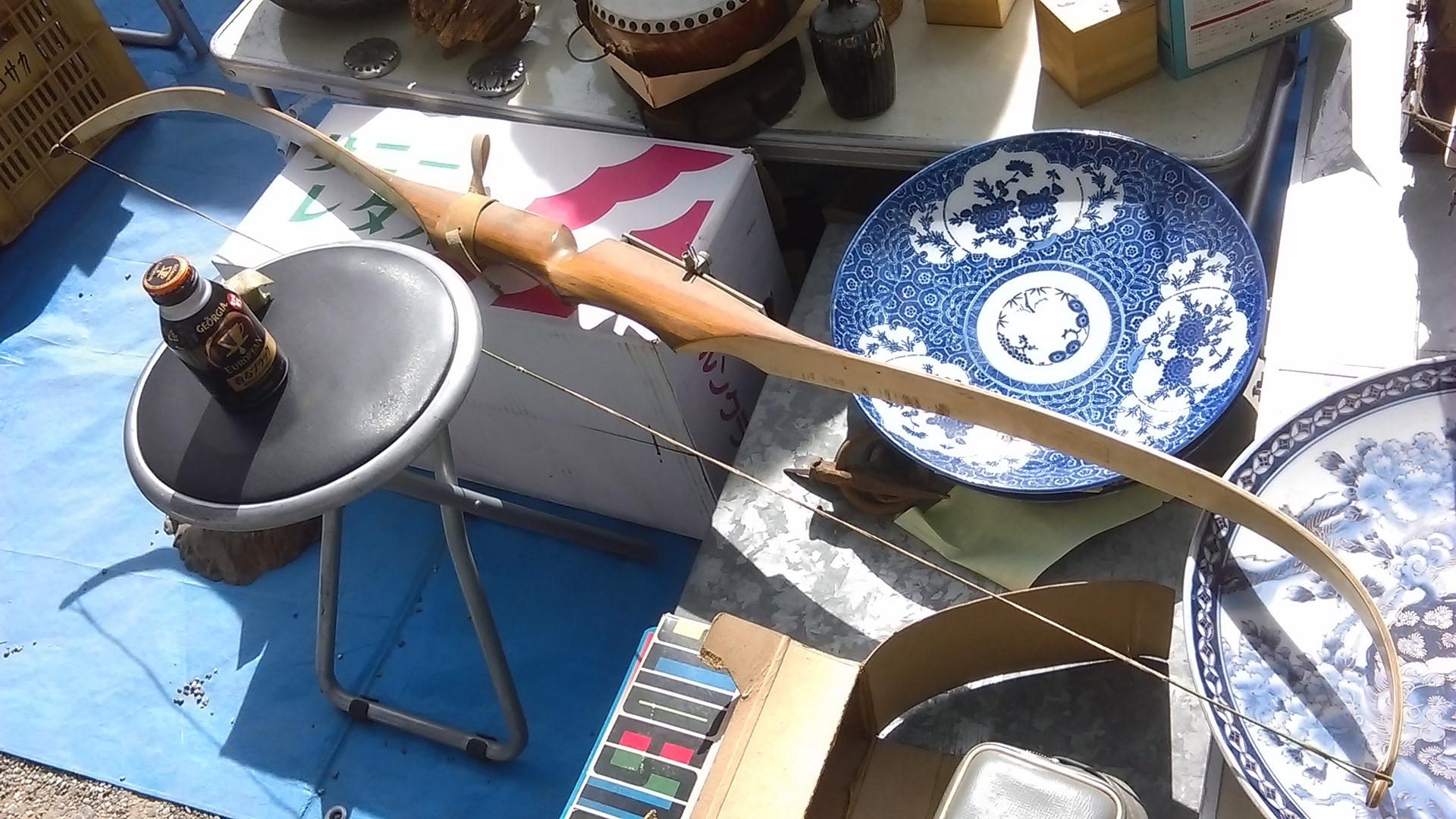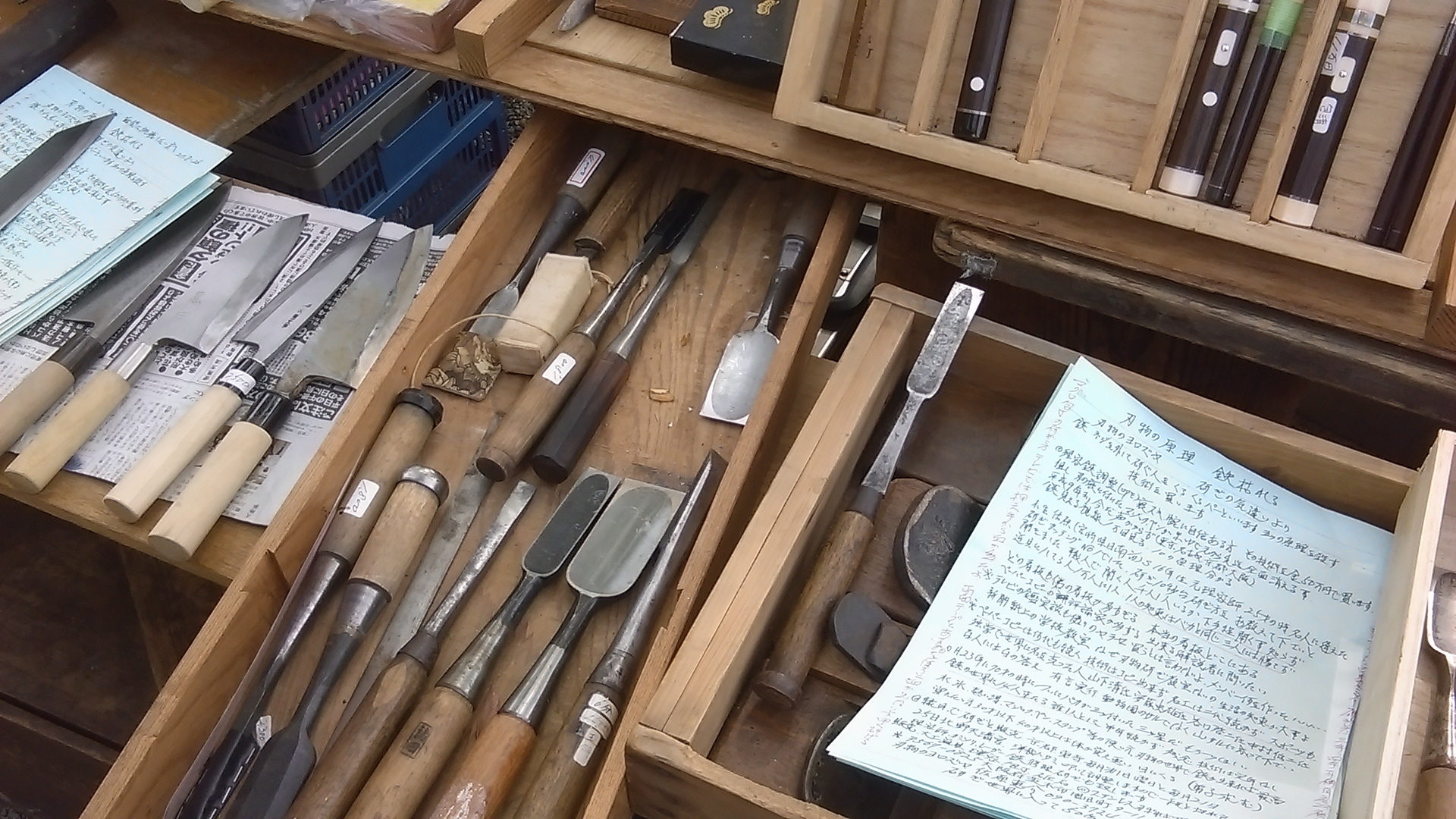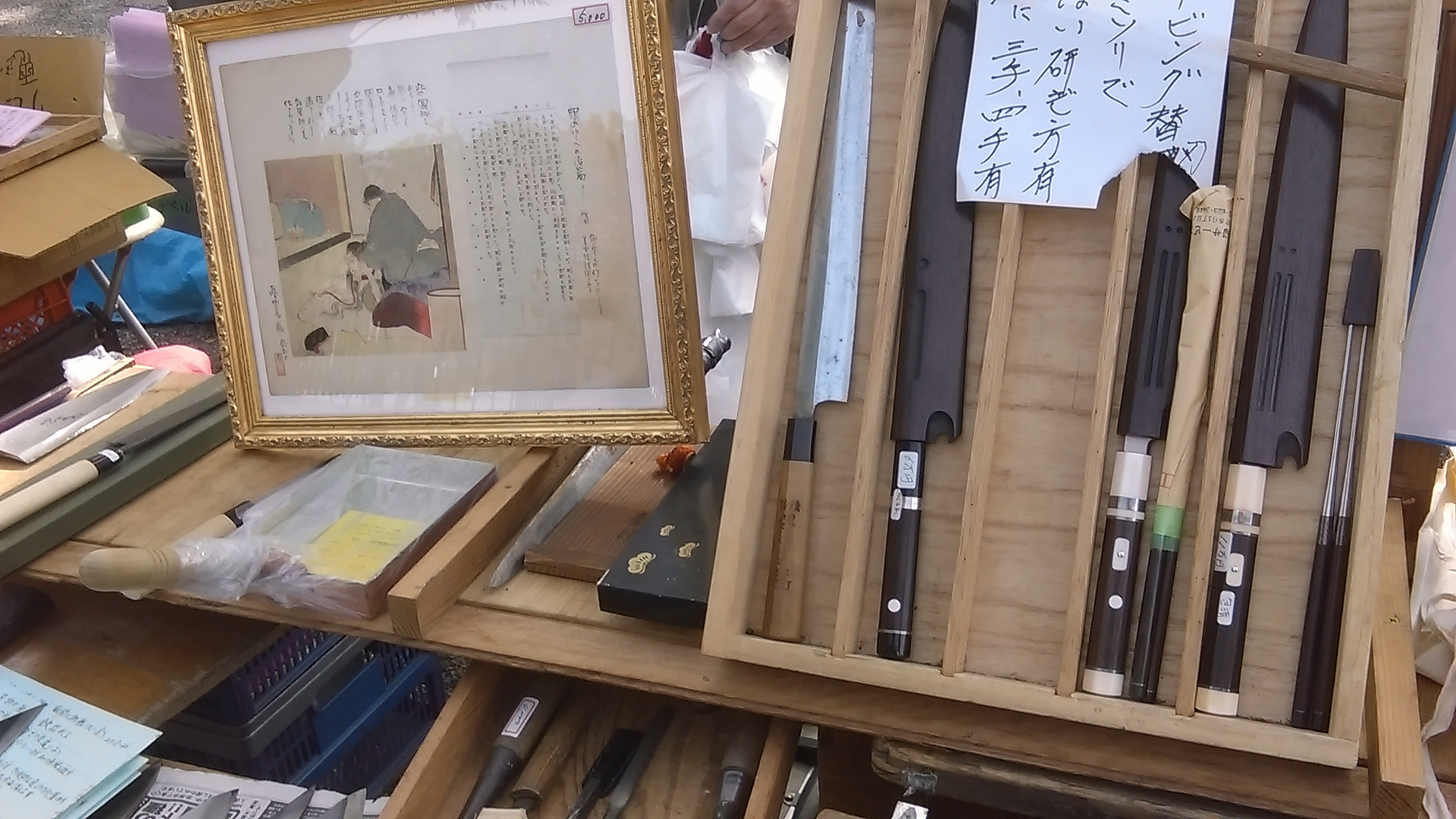 There where so many Katana's, knives and chisels sold at this market. Everything that would be illegal back at home. They even had Pistols and Rifles.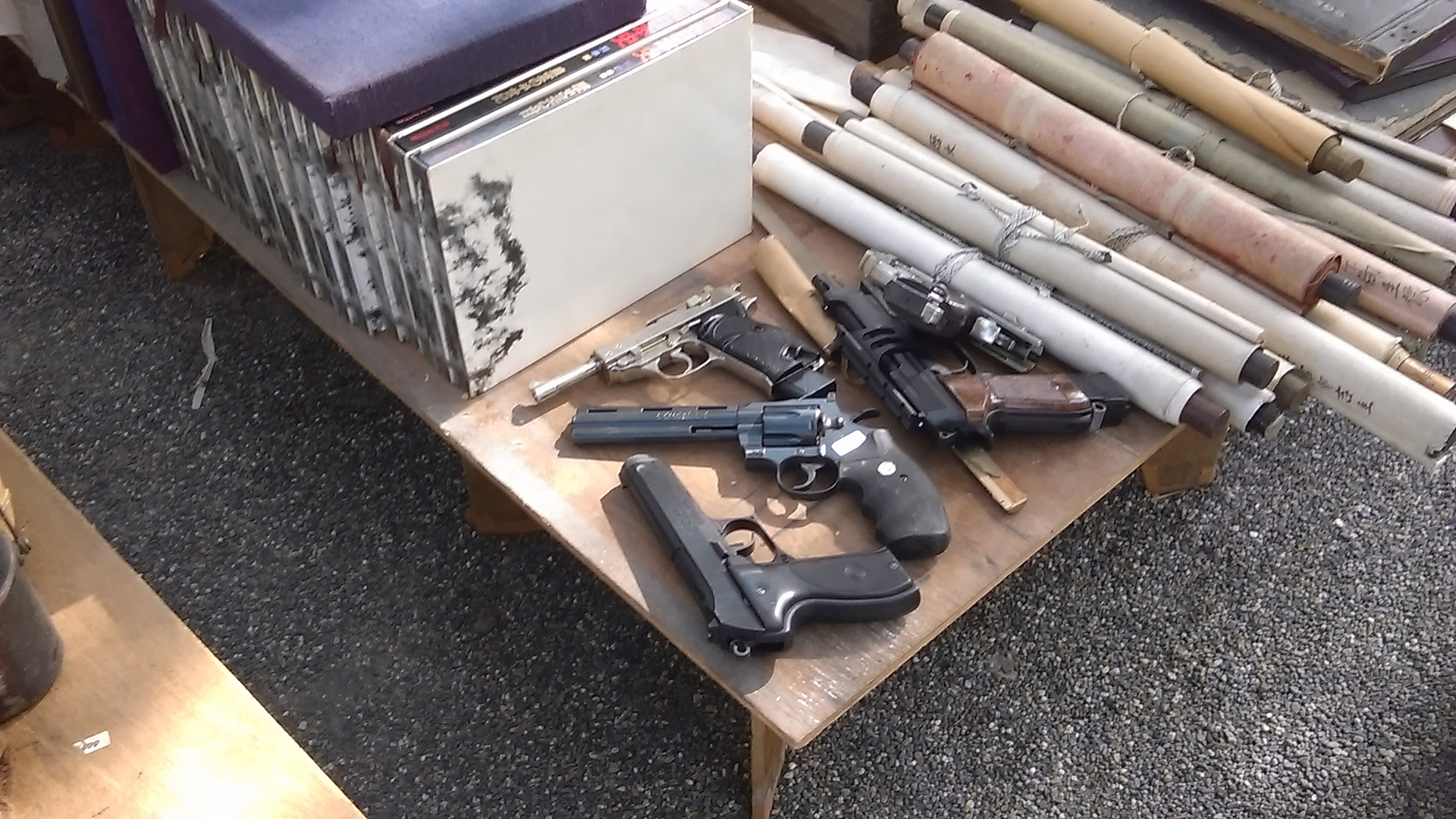 This store sold a lot of WW2 memorabilia told from the Japanese side. It was so interesting and heartbreaking to see that everyone suffered during such a hard time.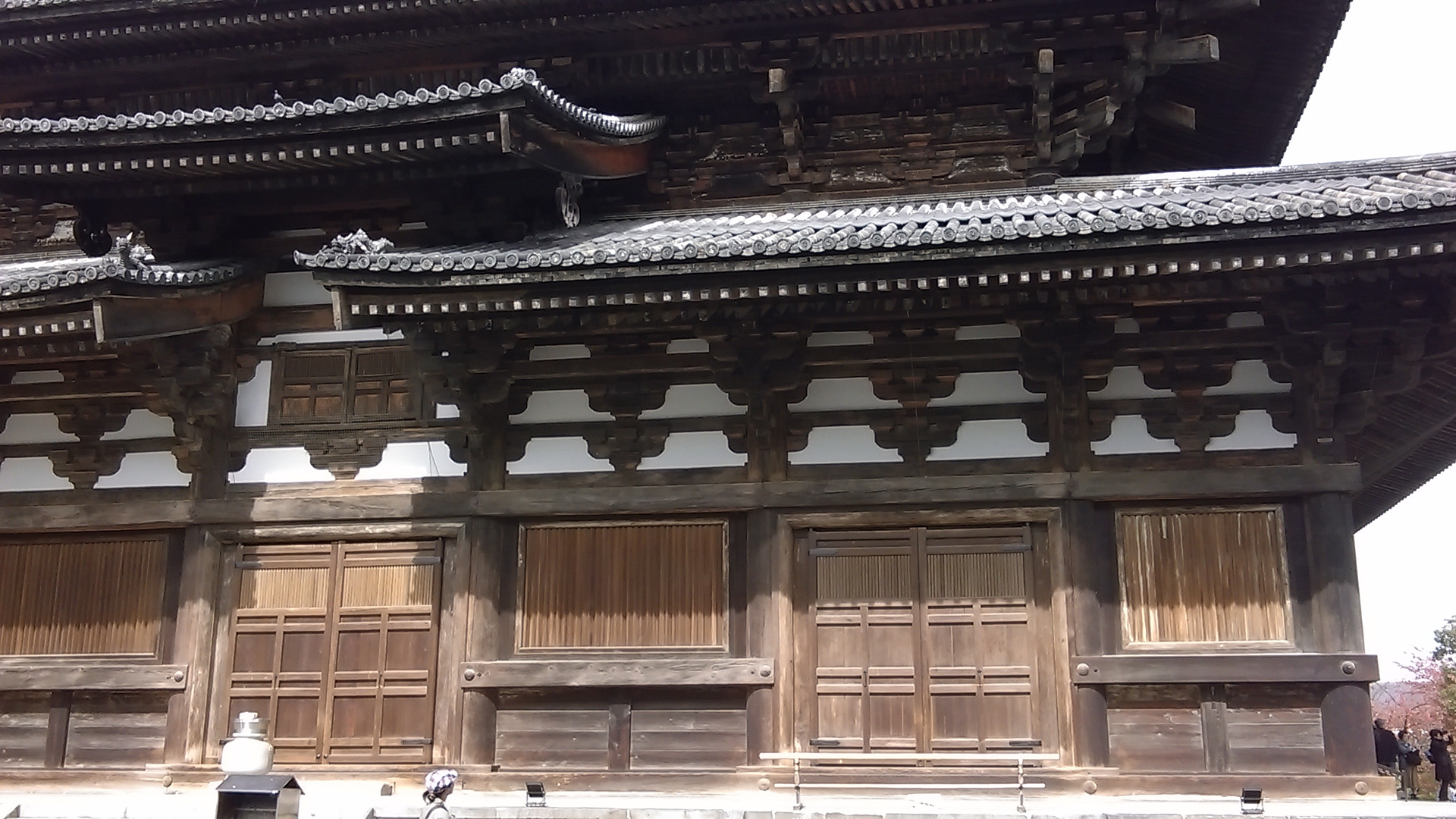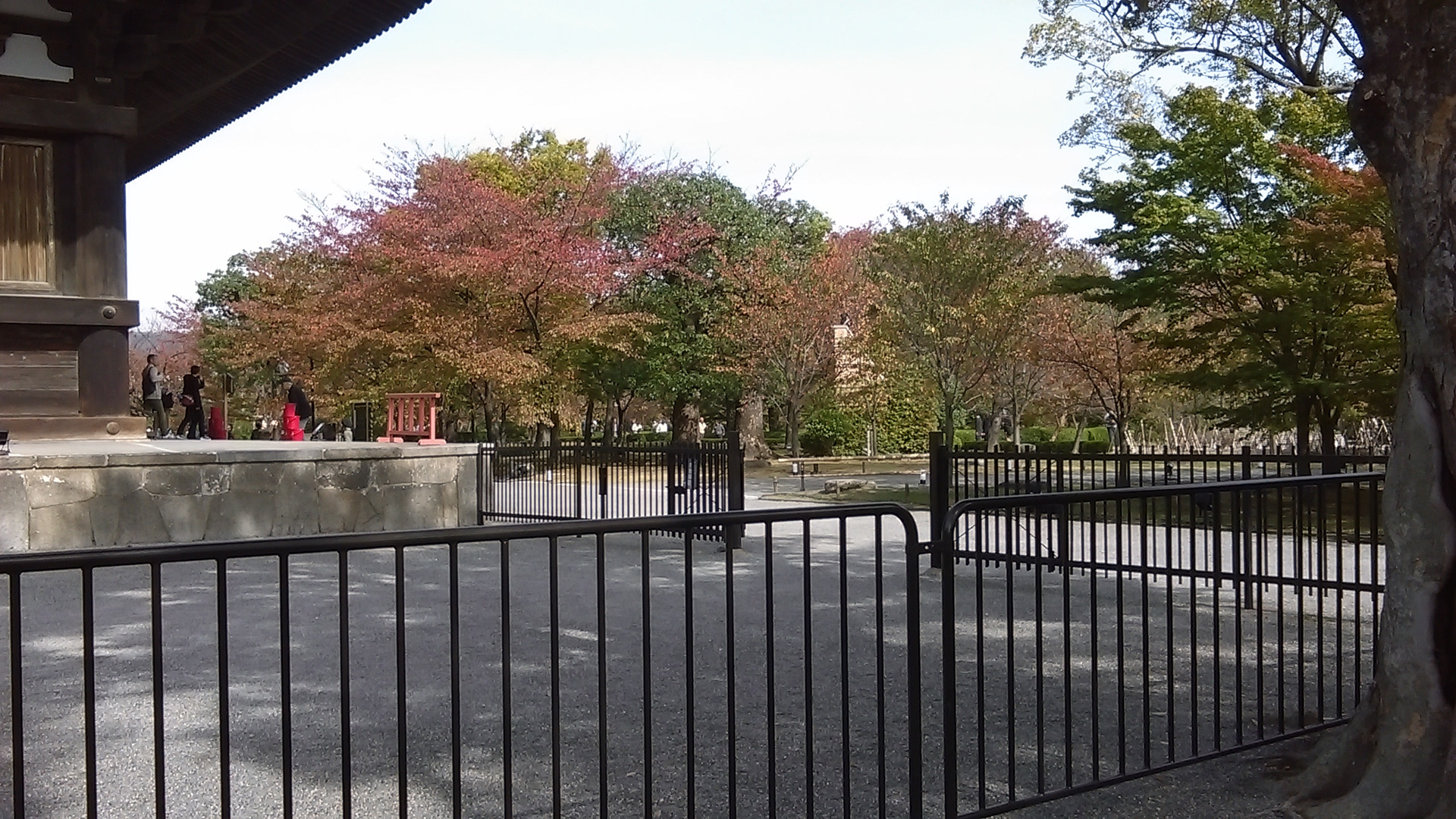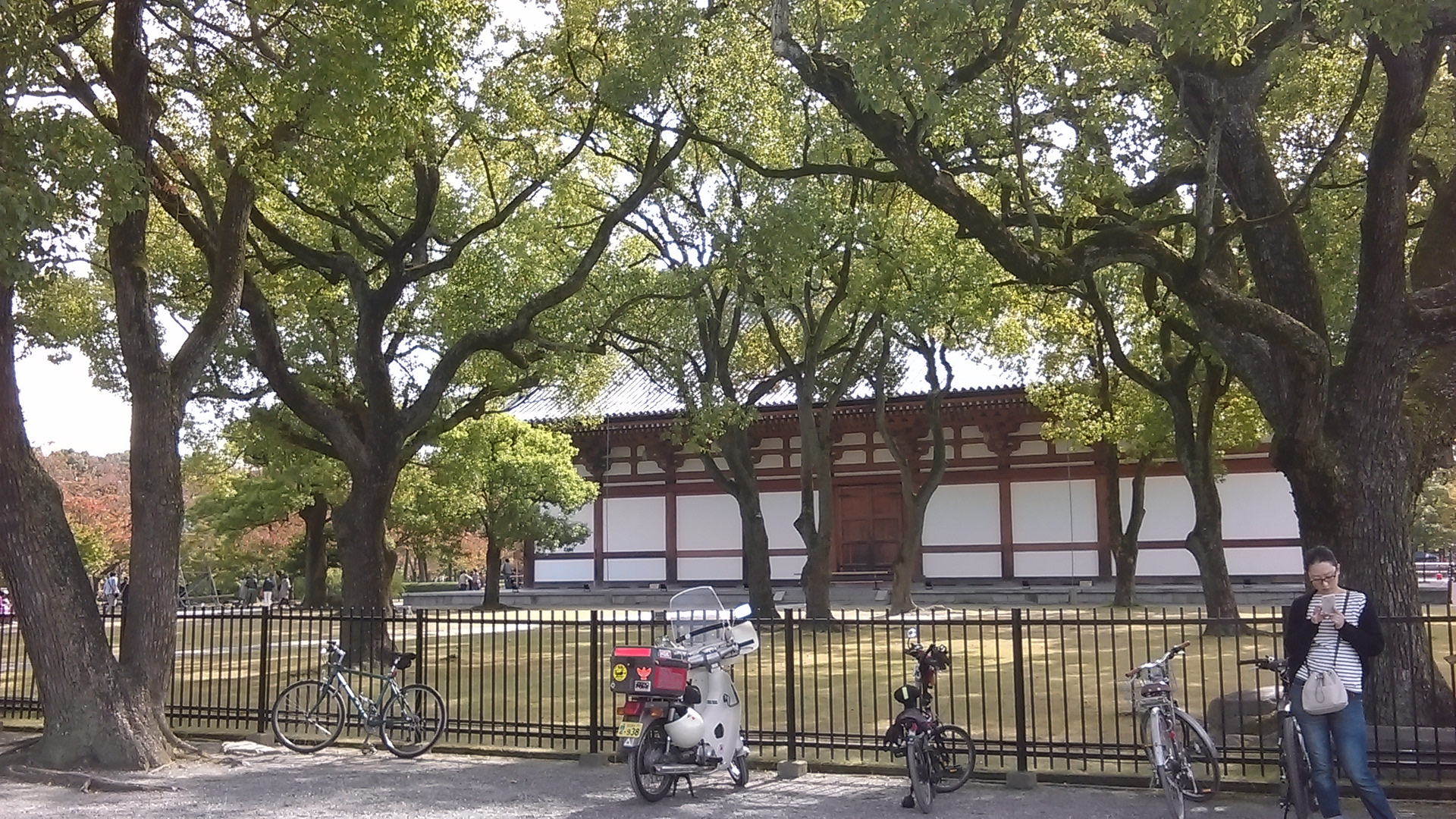 It was so great to see a Monk in this temple. As I walked into the main temple I had goosebumps as I could hear him chanting non stop. I wondered how long he had been there and how long he was staying there for. Dedication.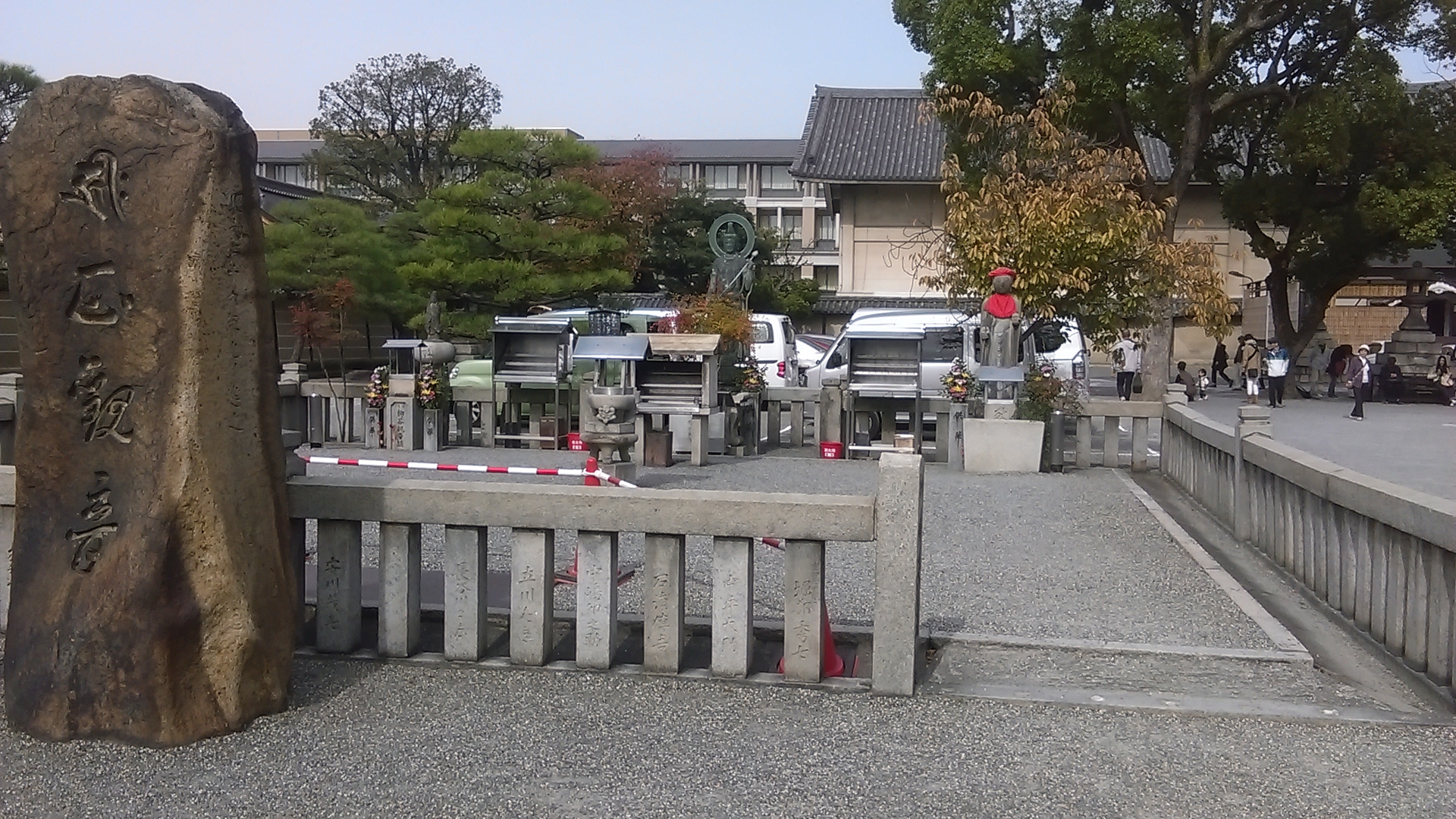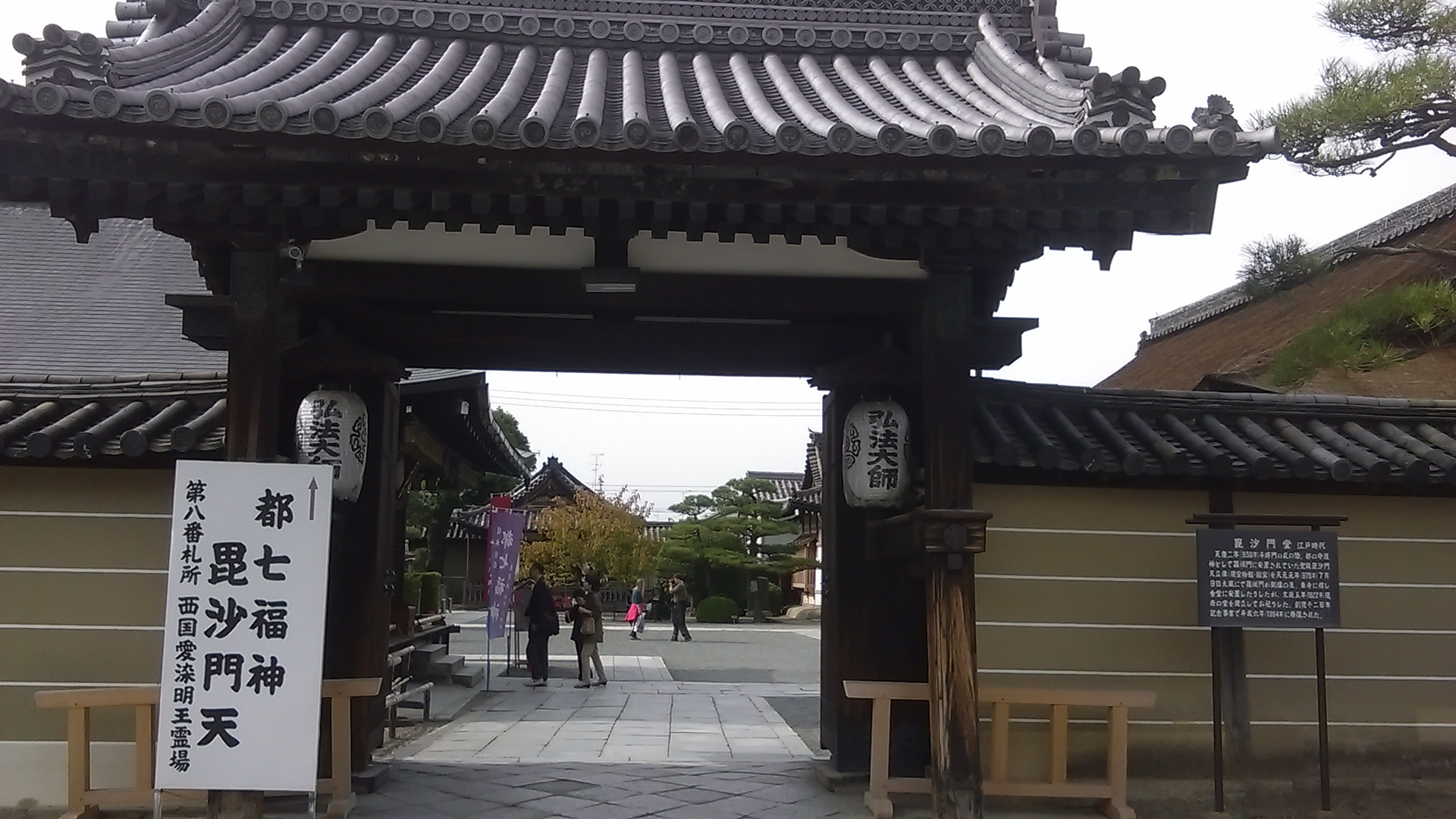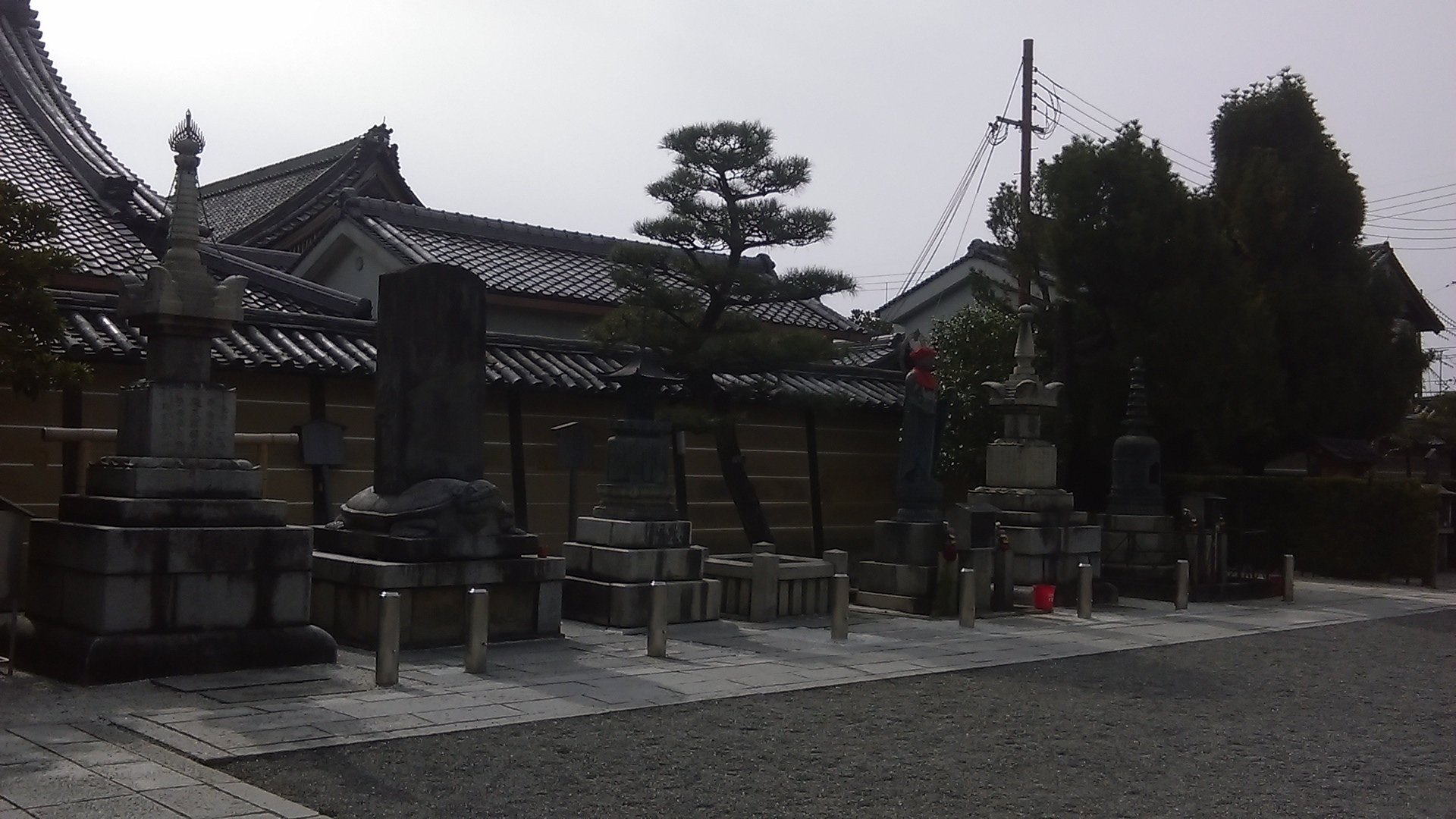 The original plan would have been to go to Nara Shrine but as we wouldn't make it in time for last entry I suggested Universal Studios. And we went! It was interesting and exciting to see how Japan has accepted American movies, Universal Studios was amazing.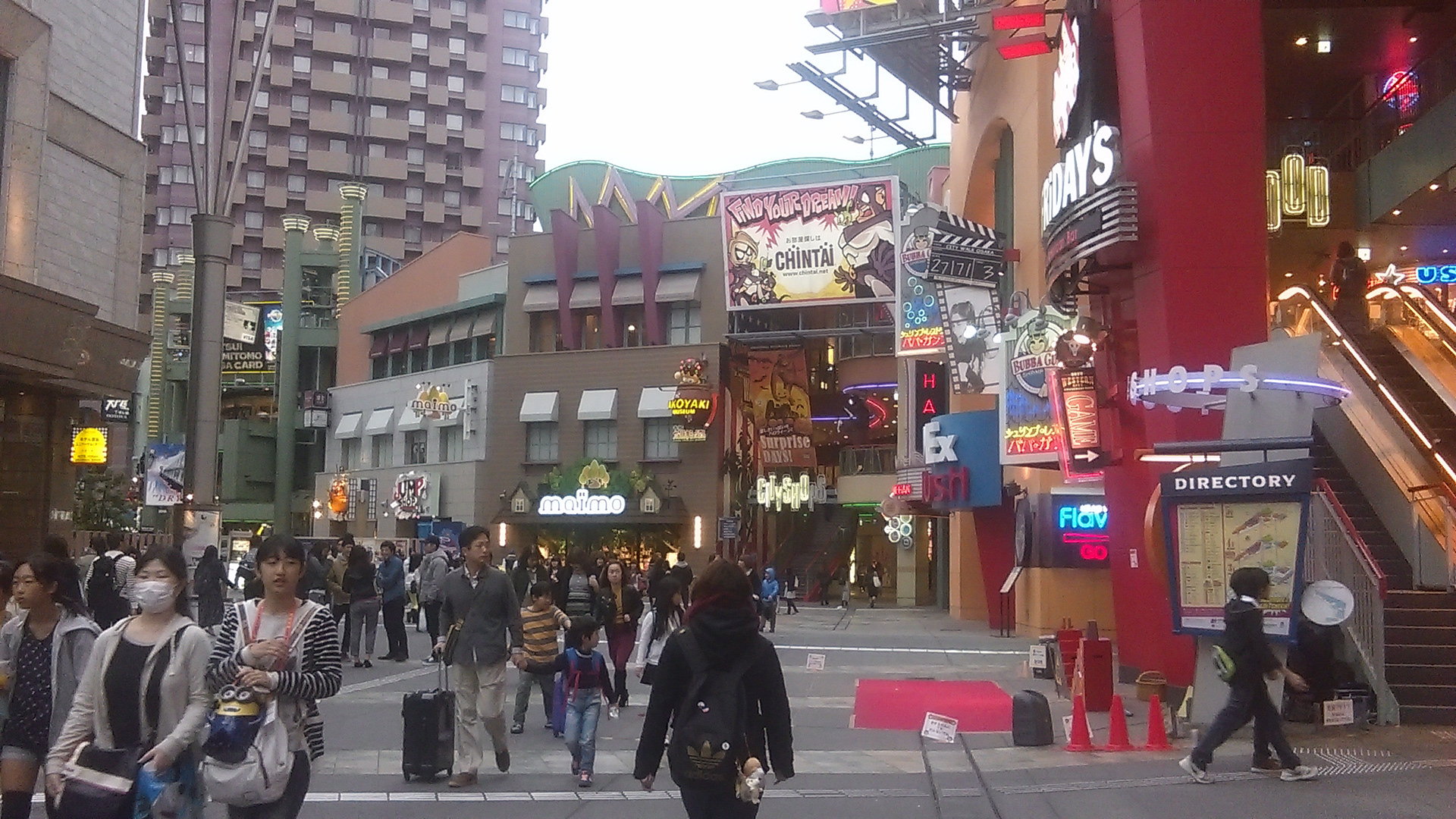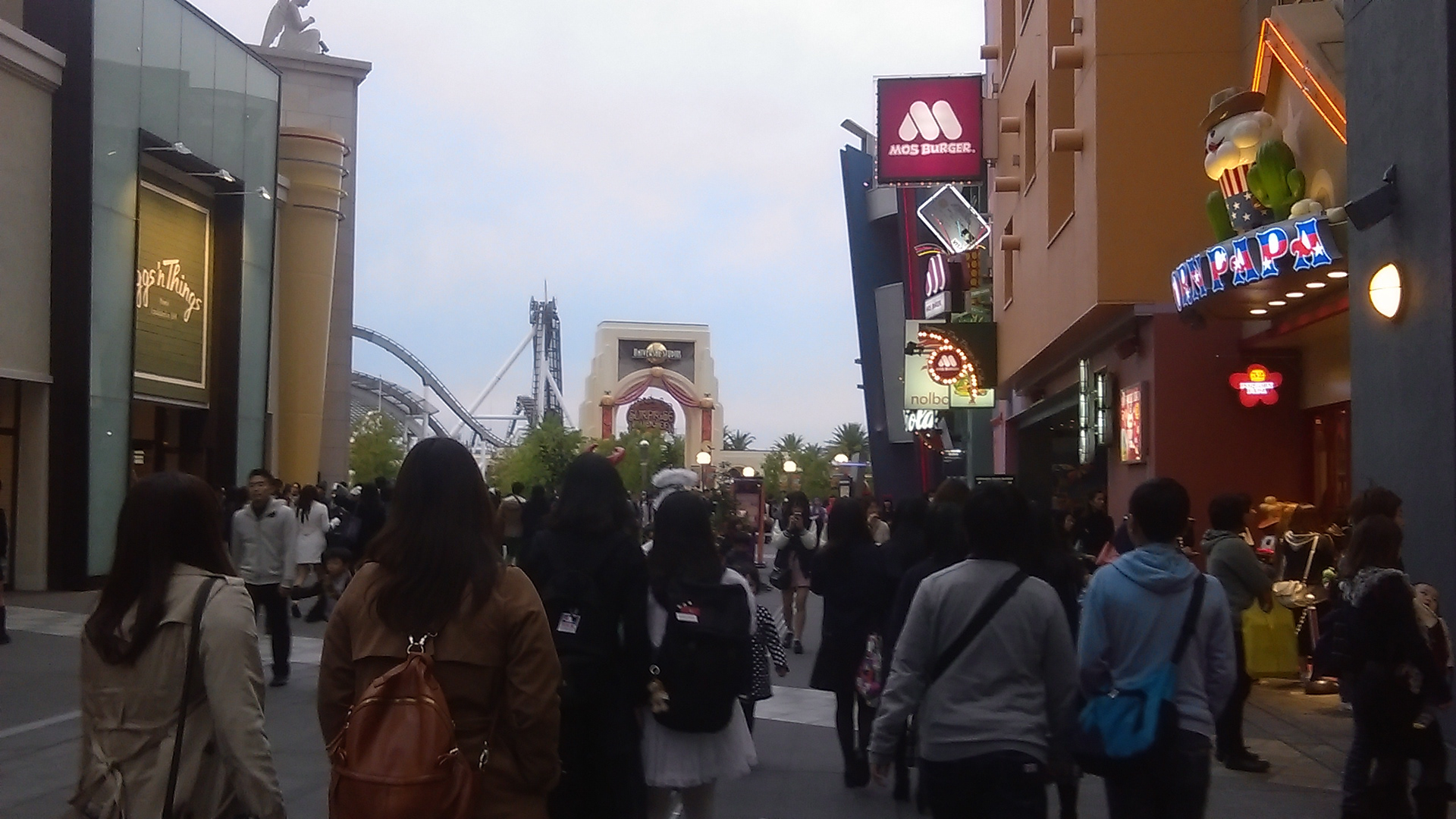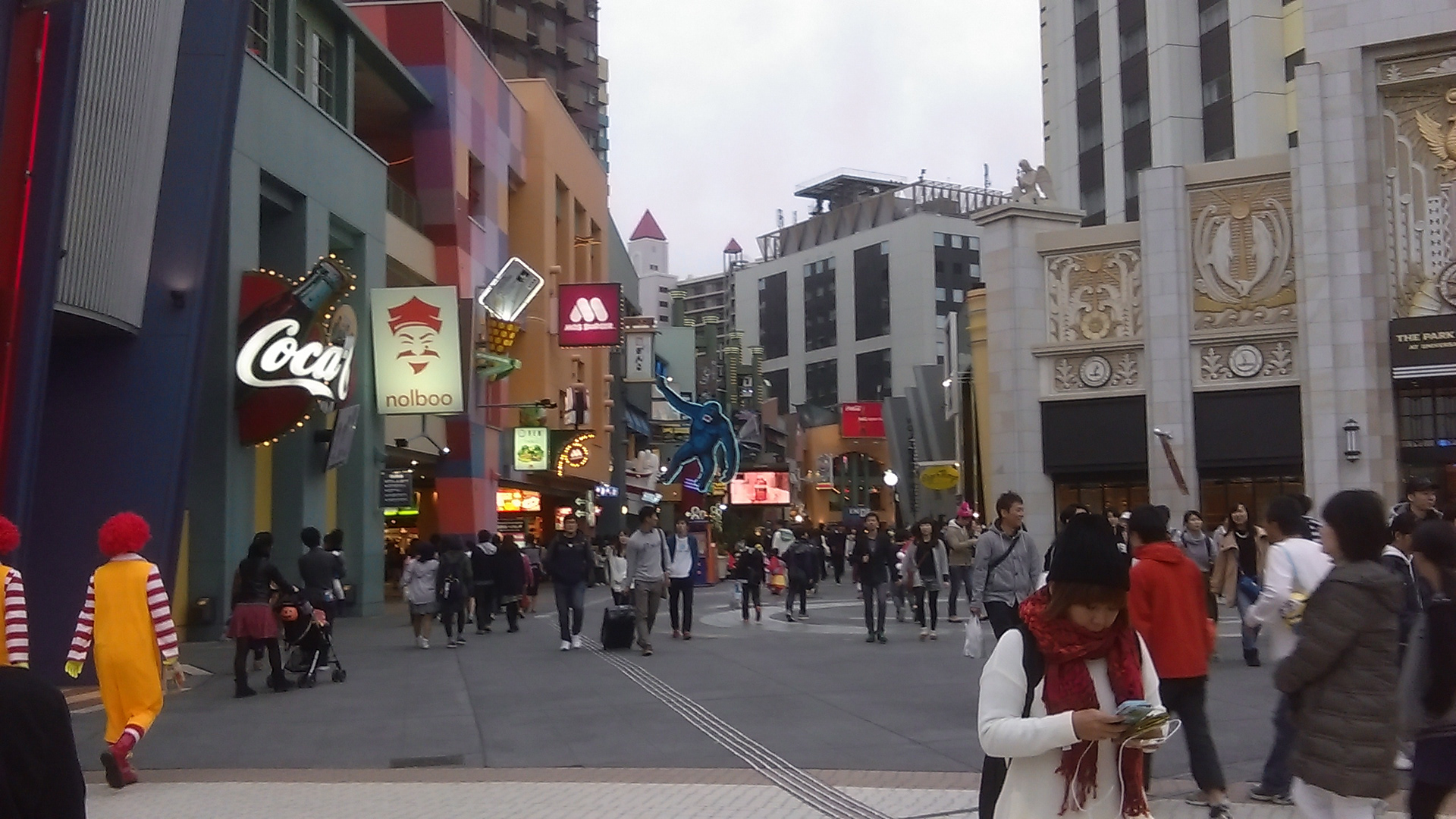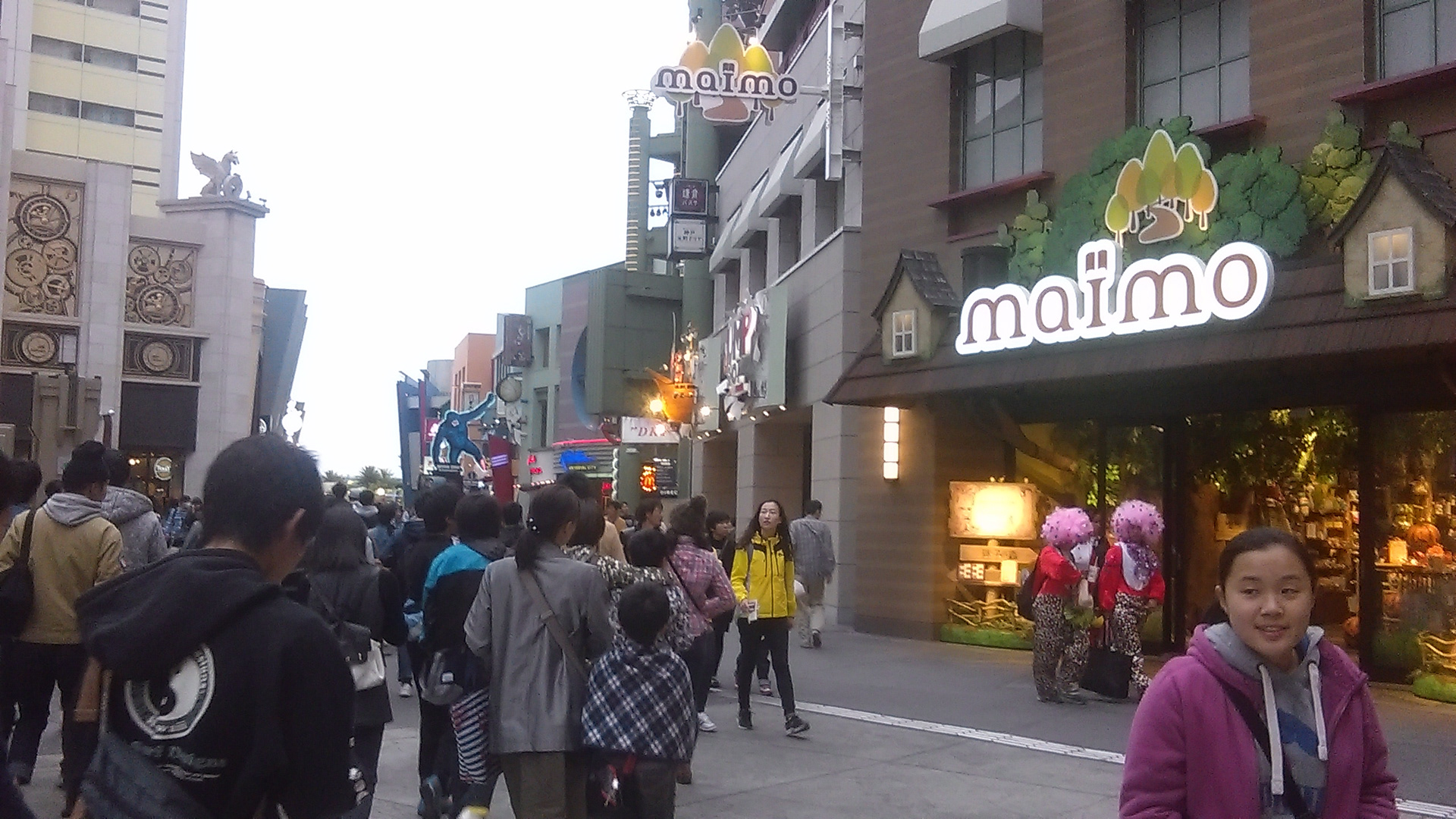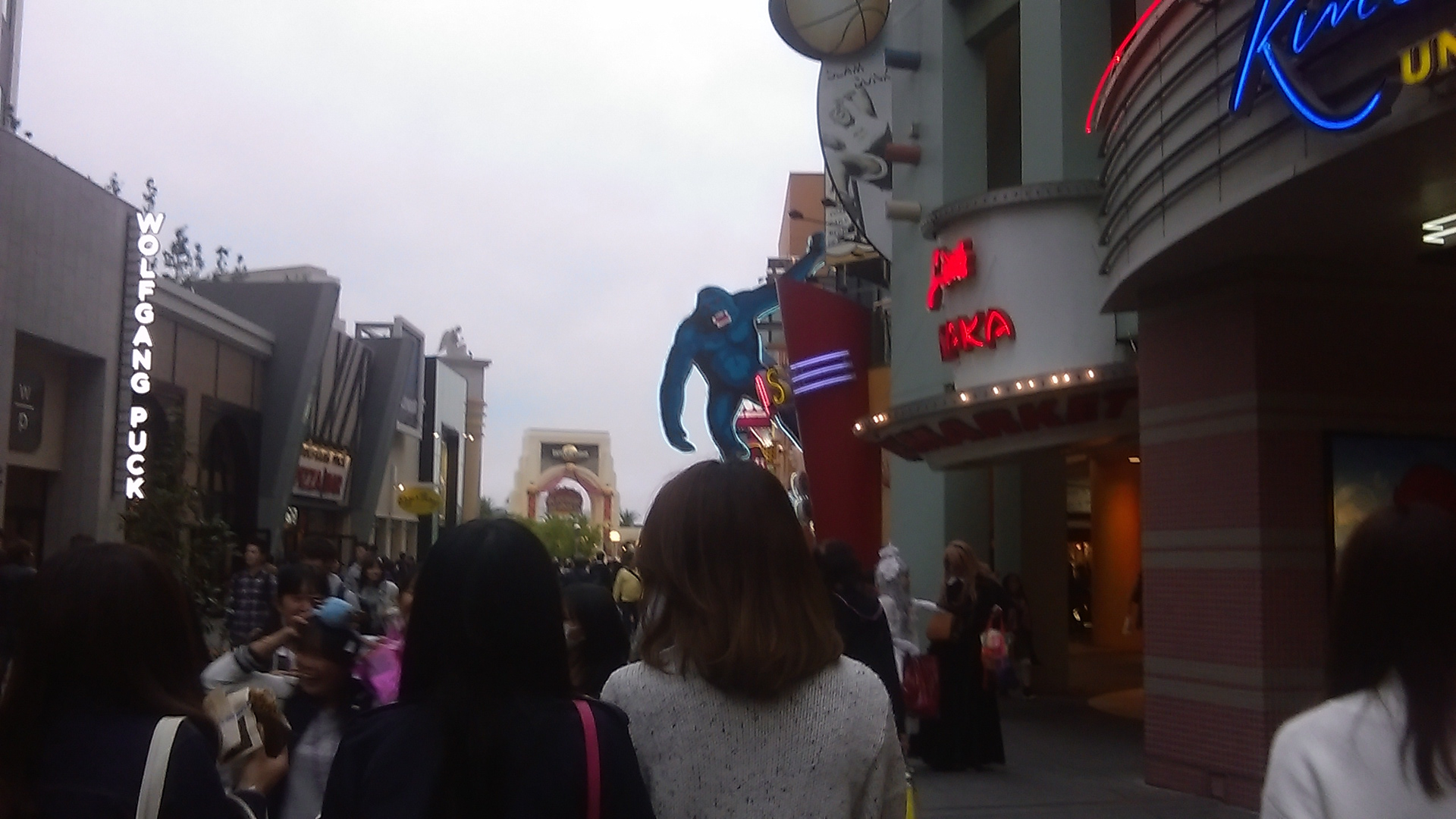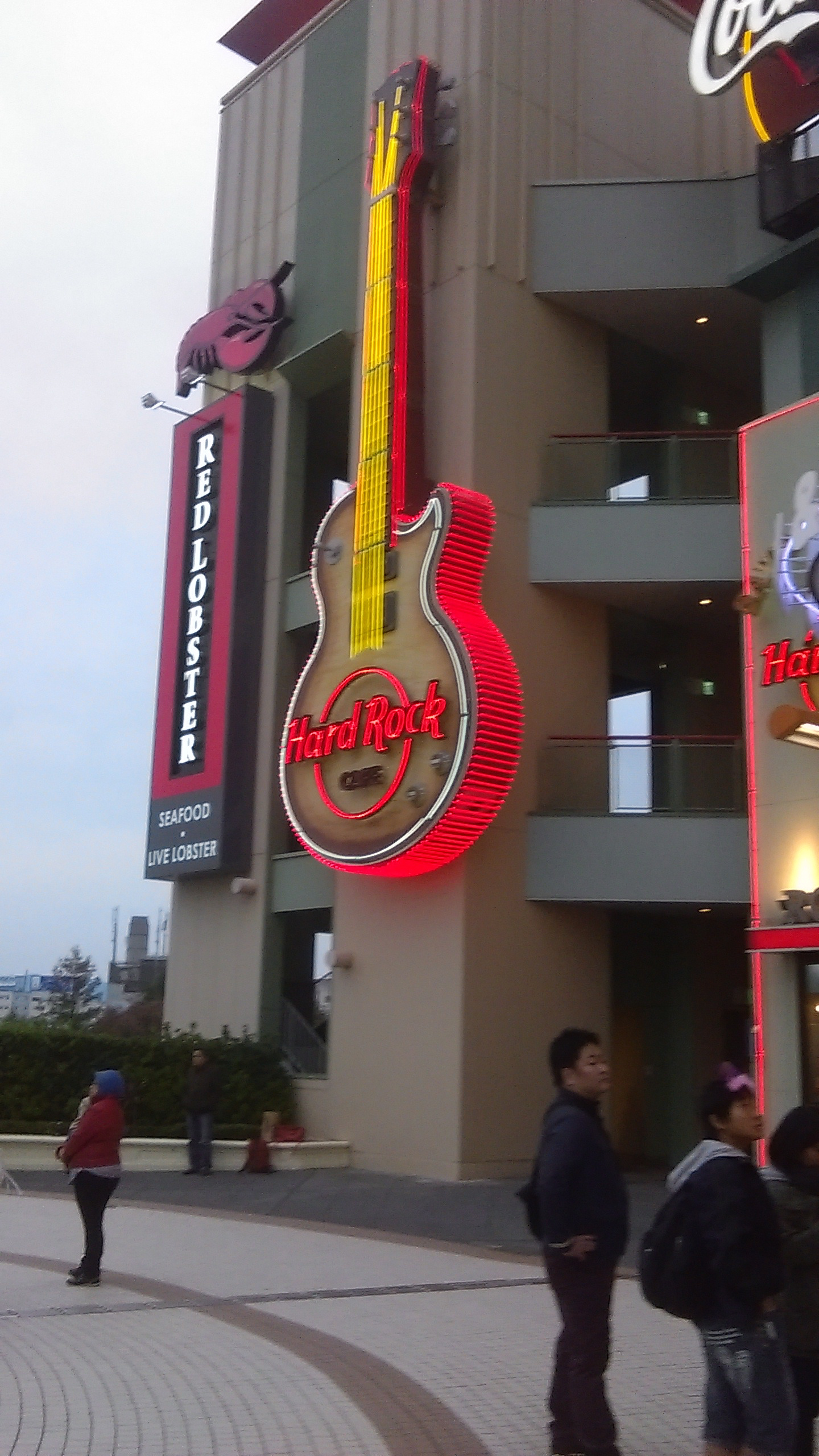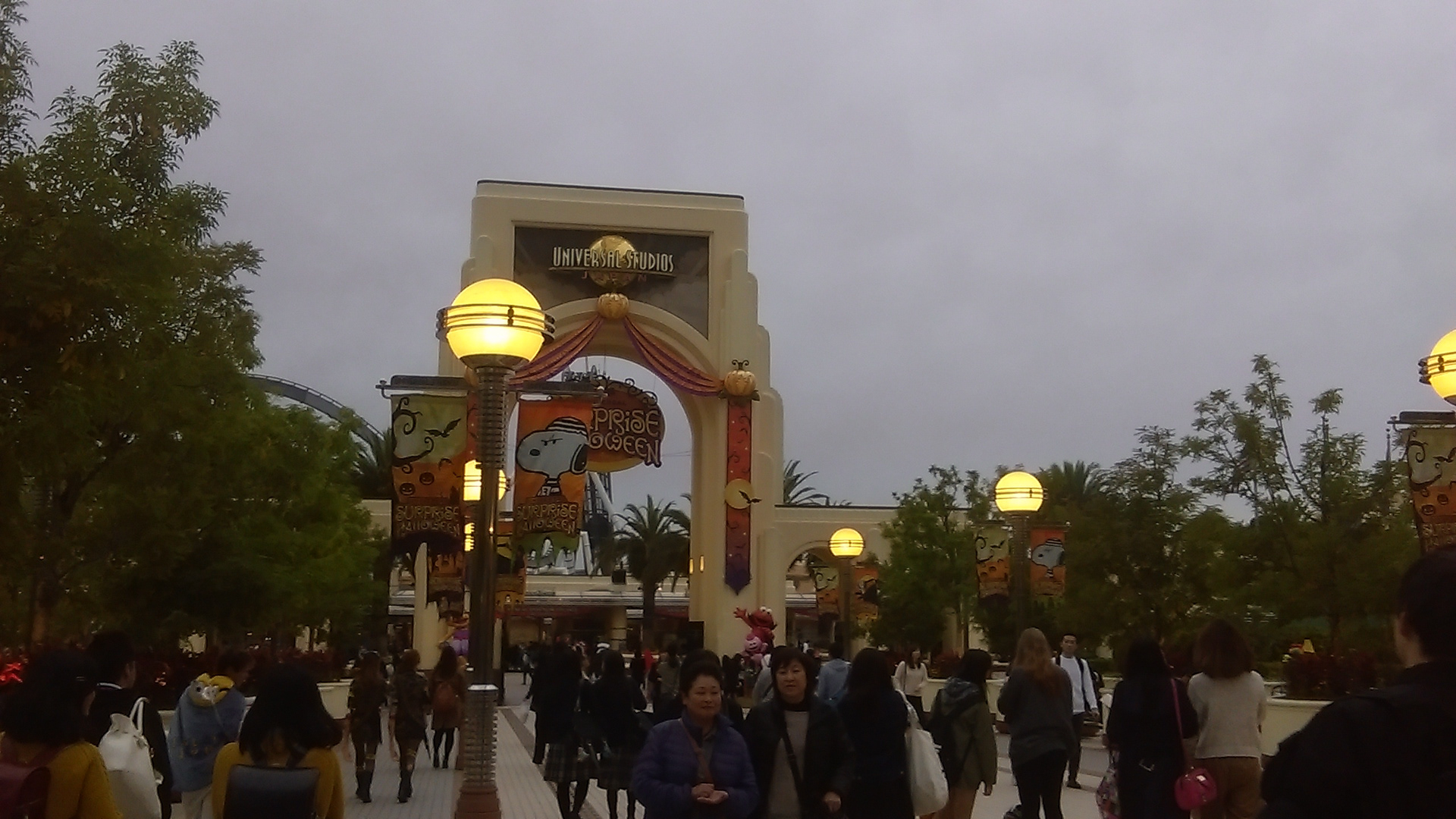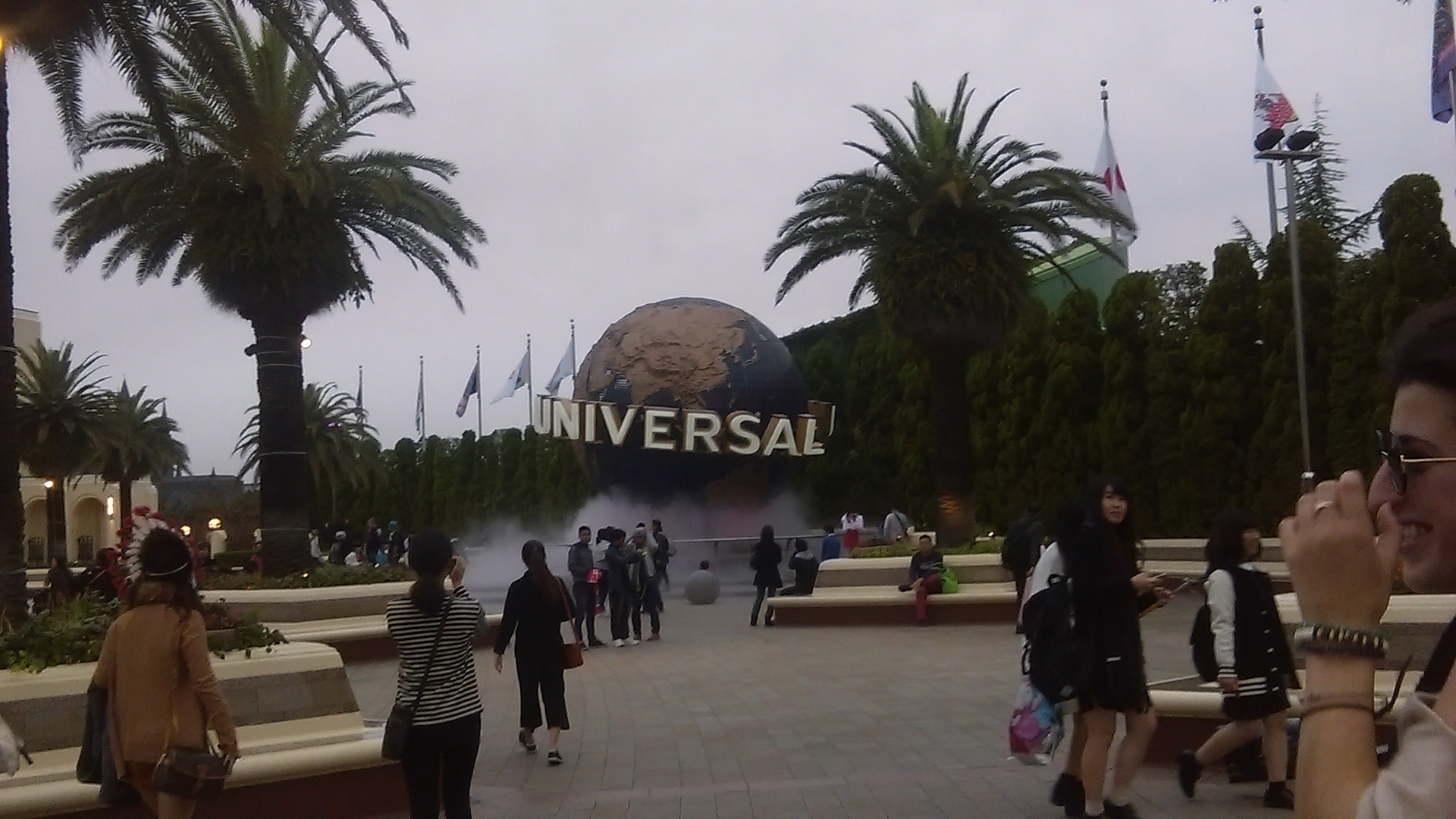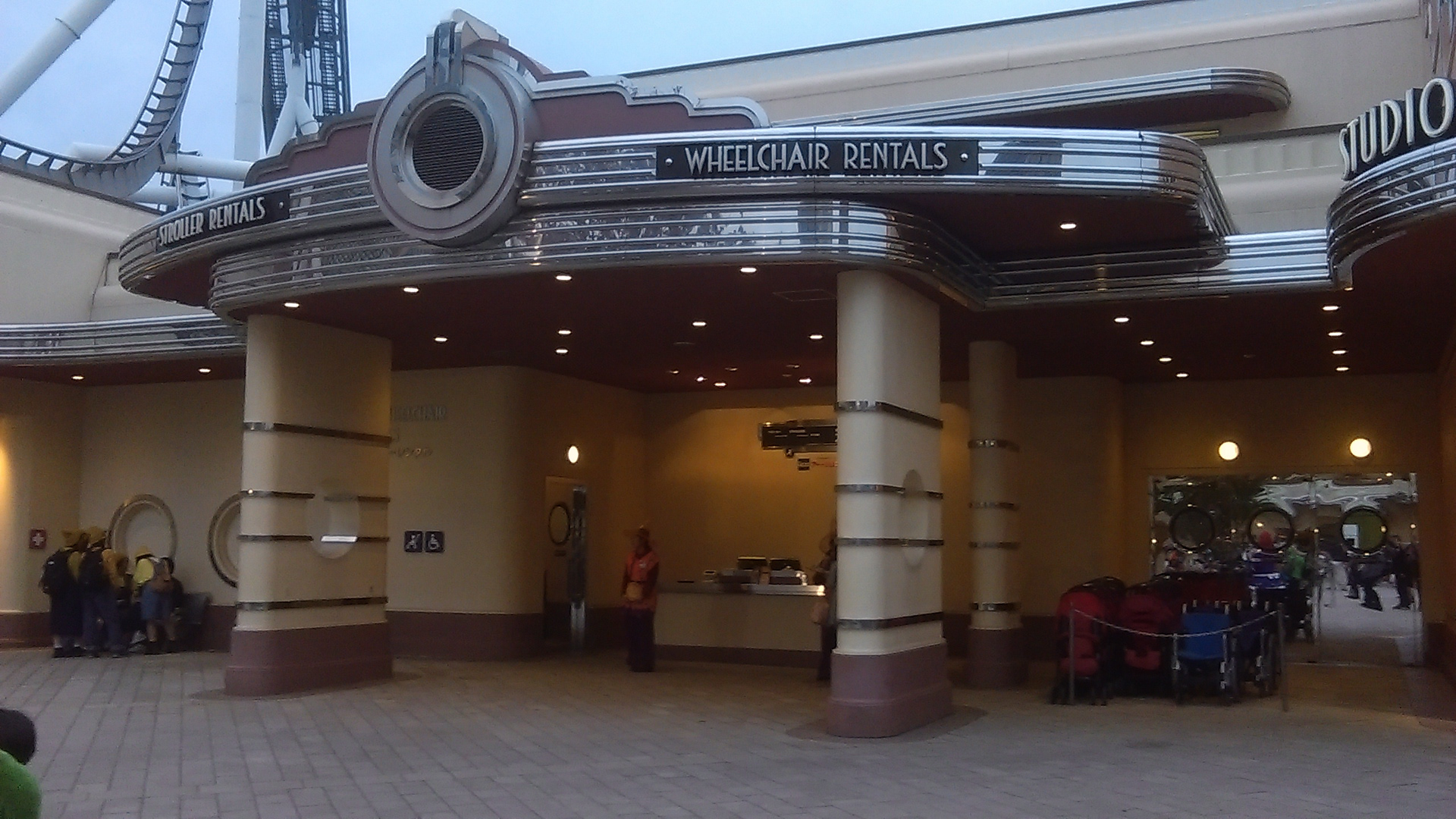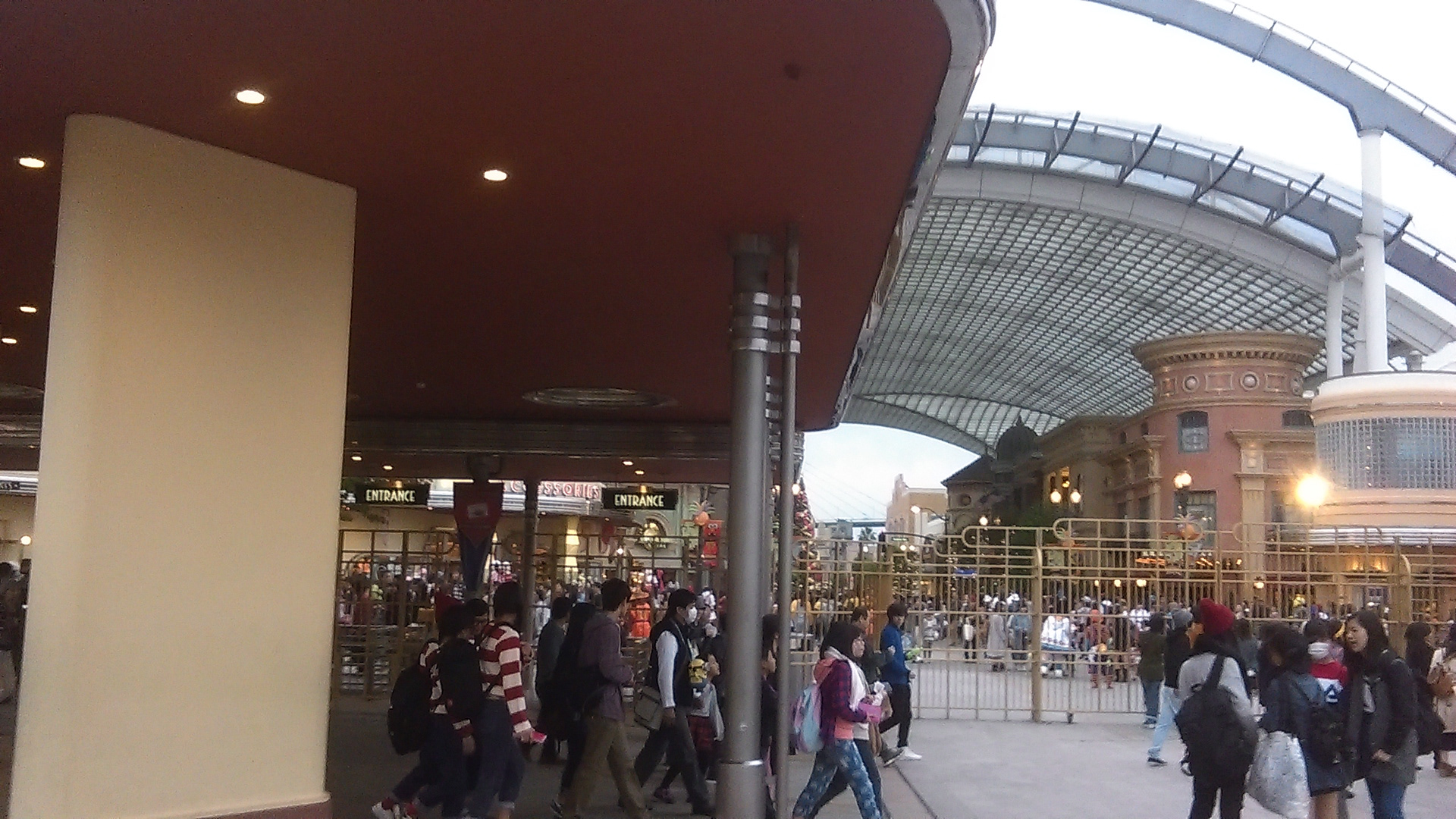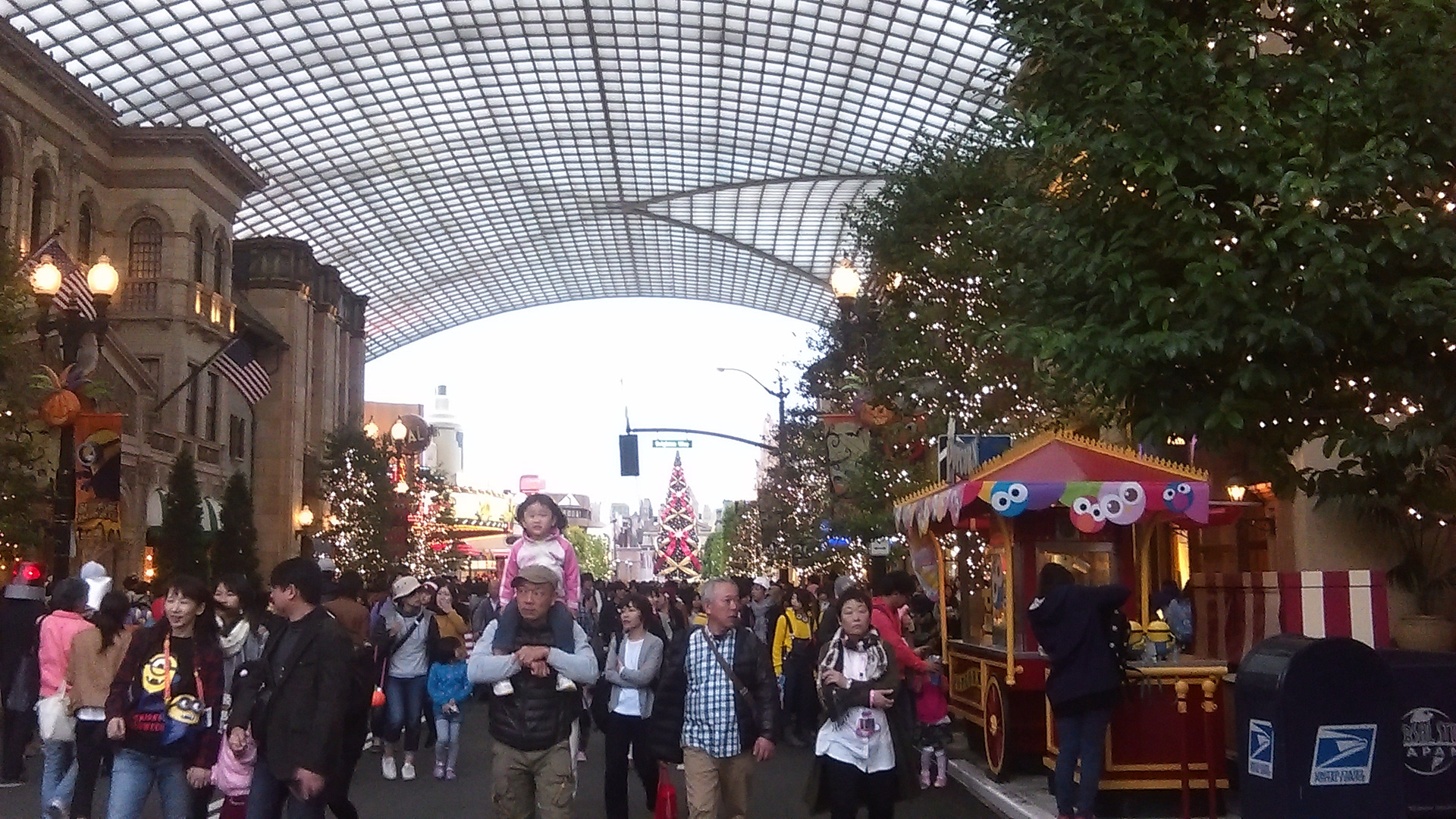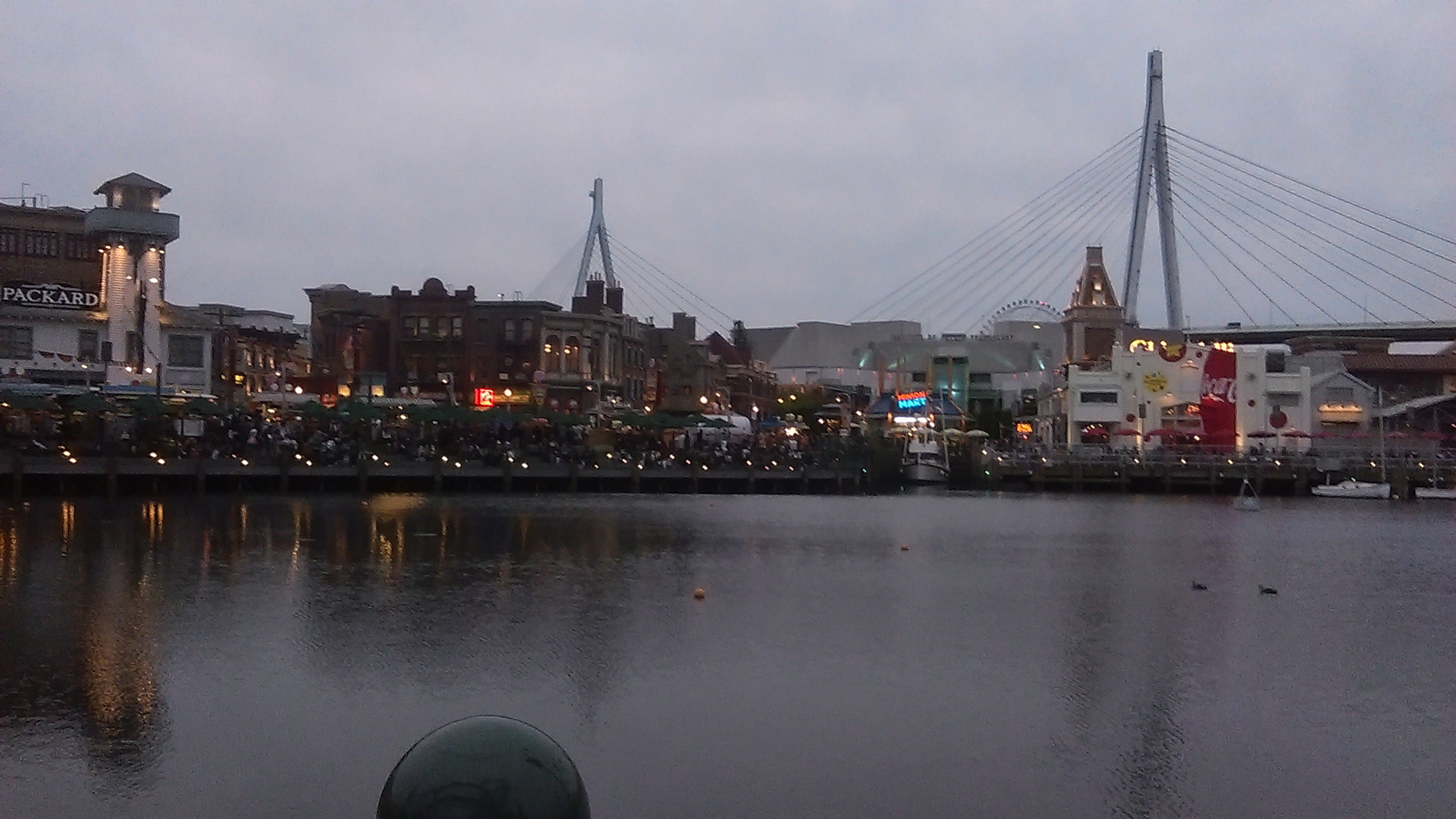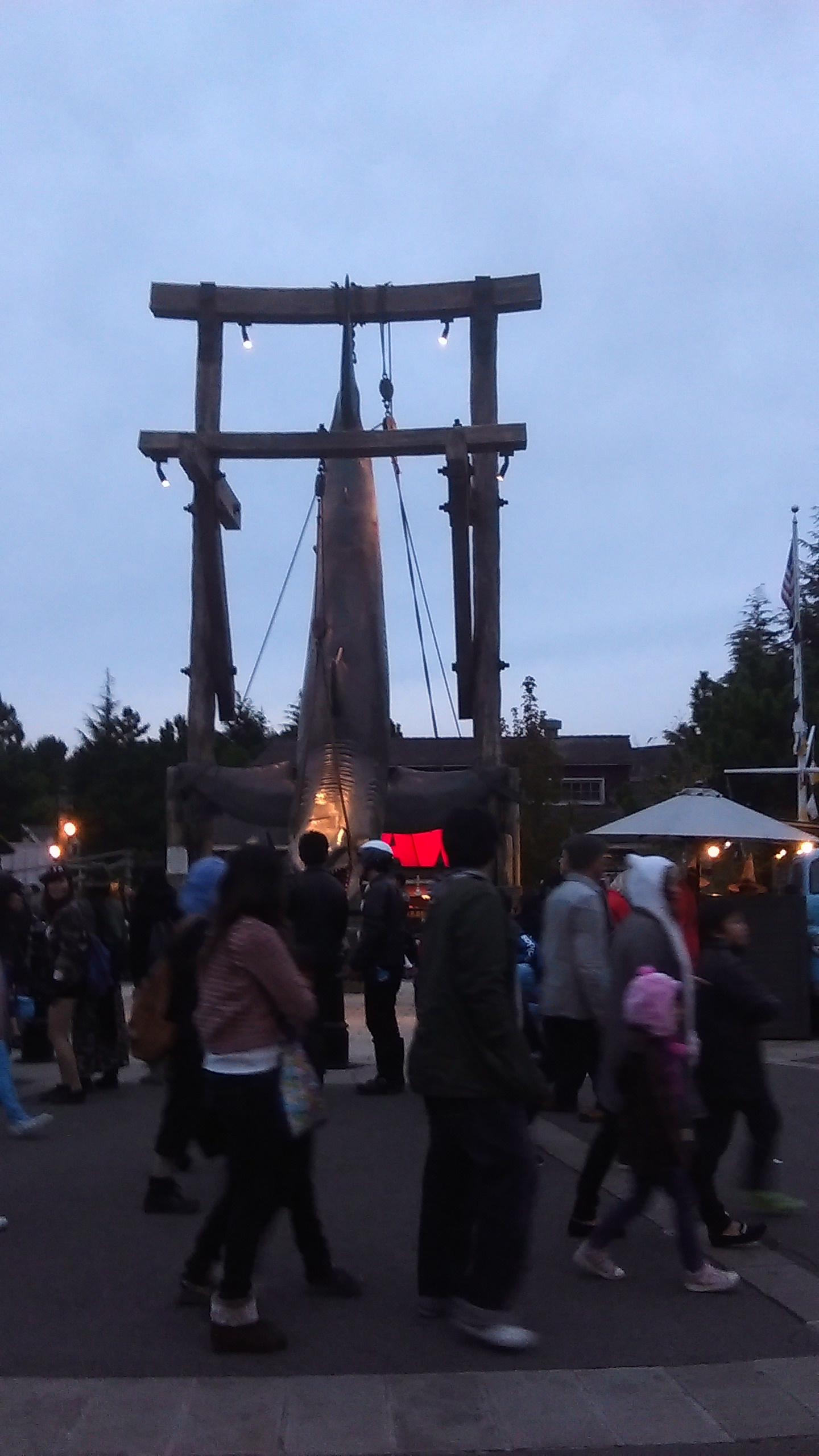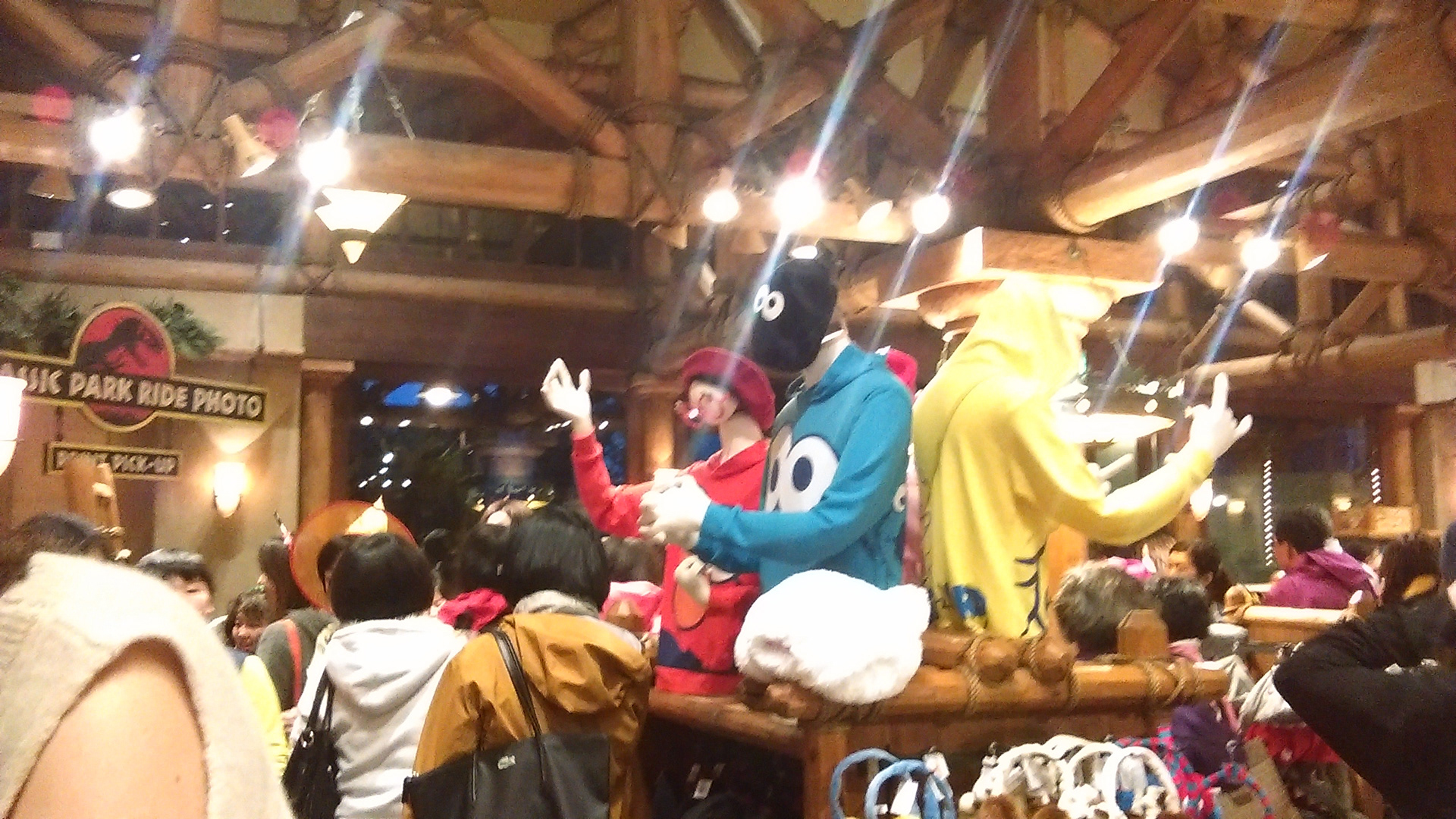 We saw The Wizarding World of Harry Potter!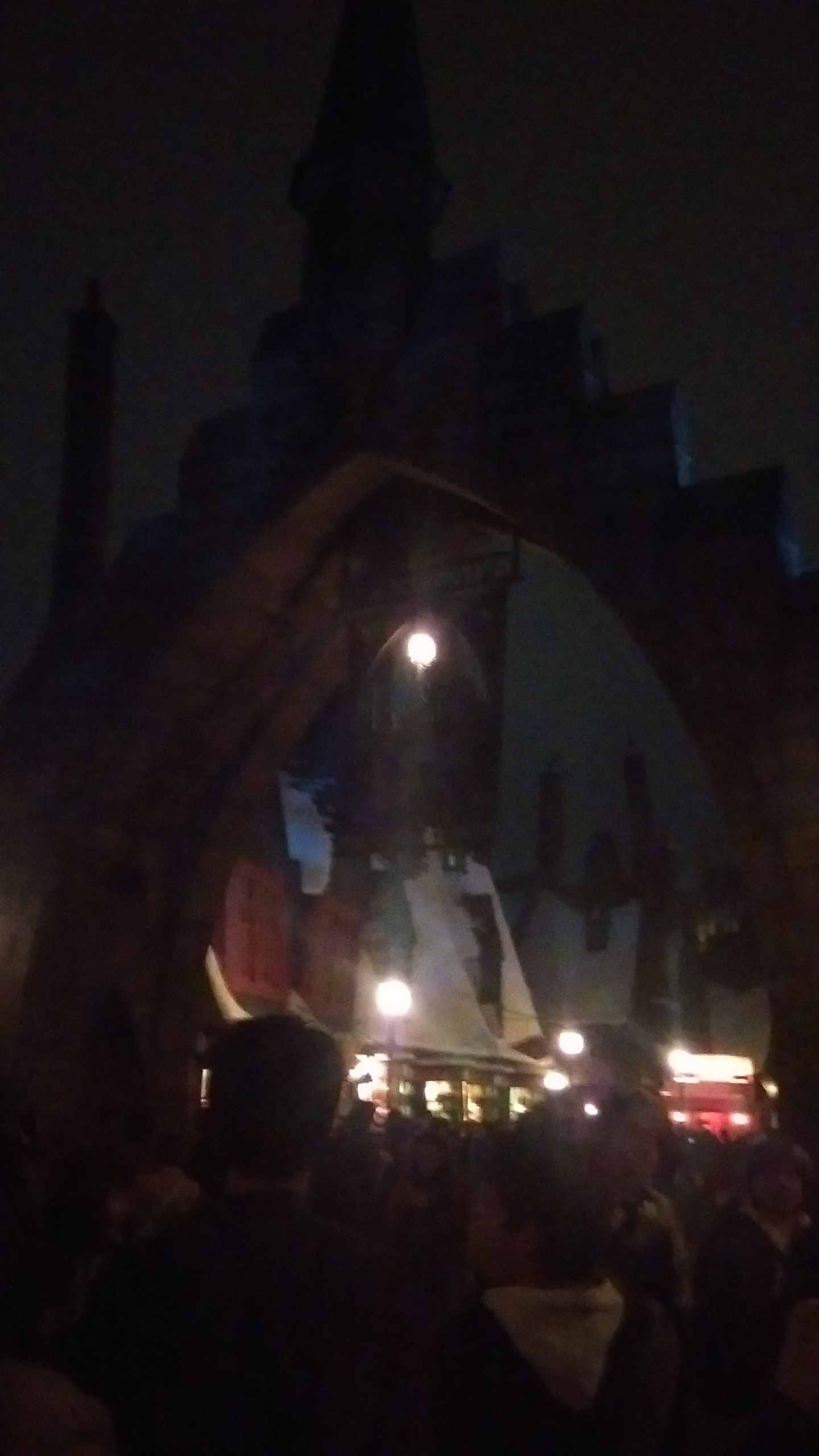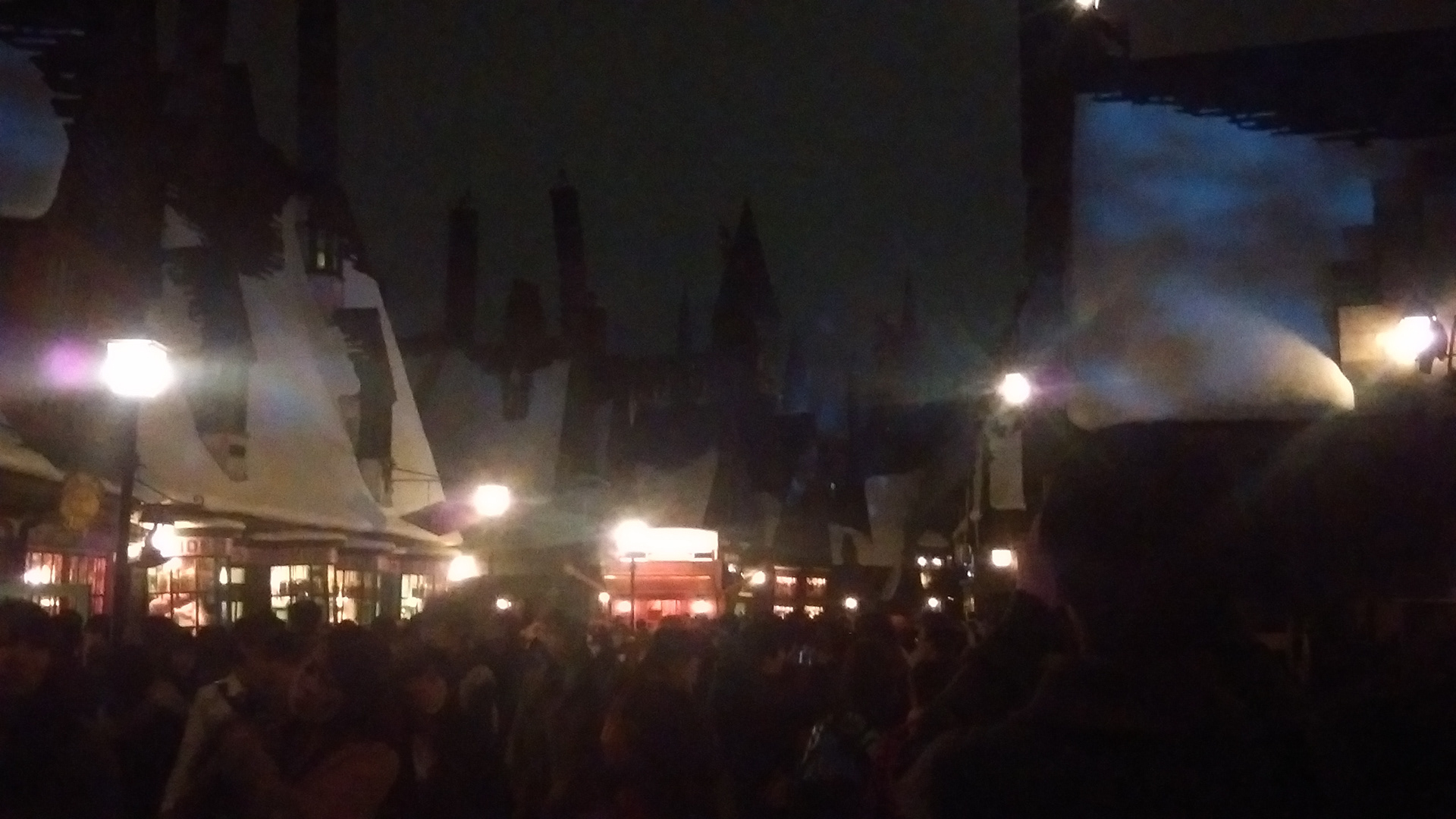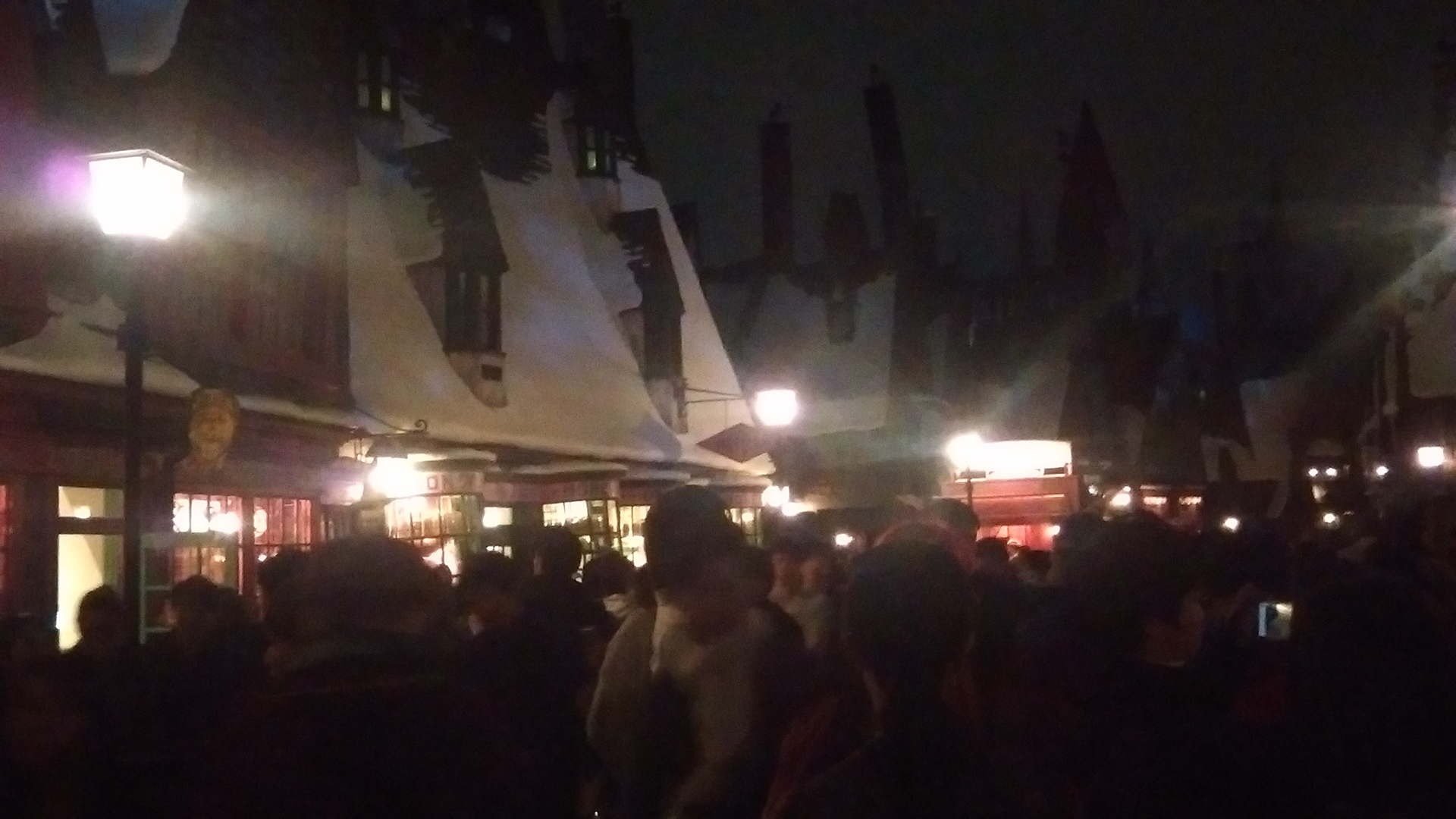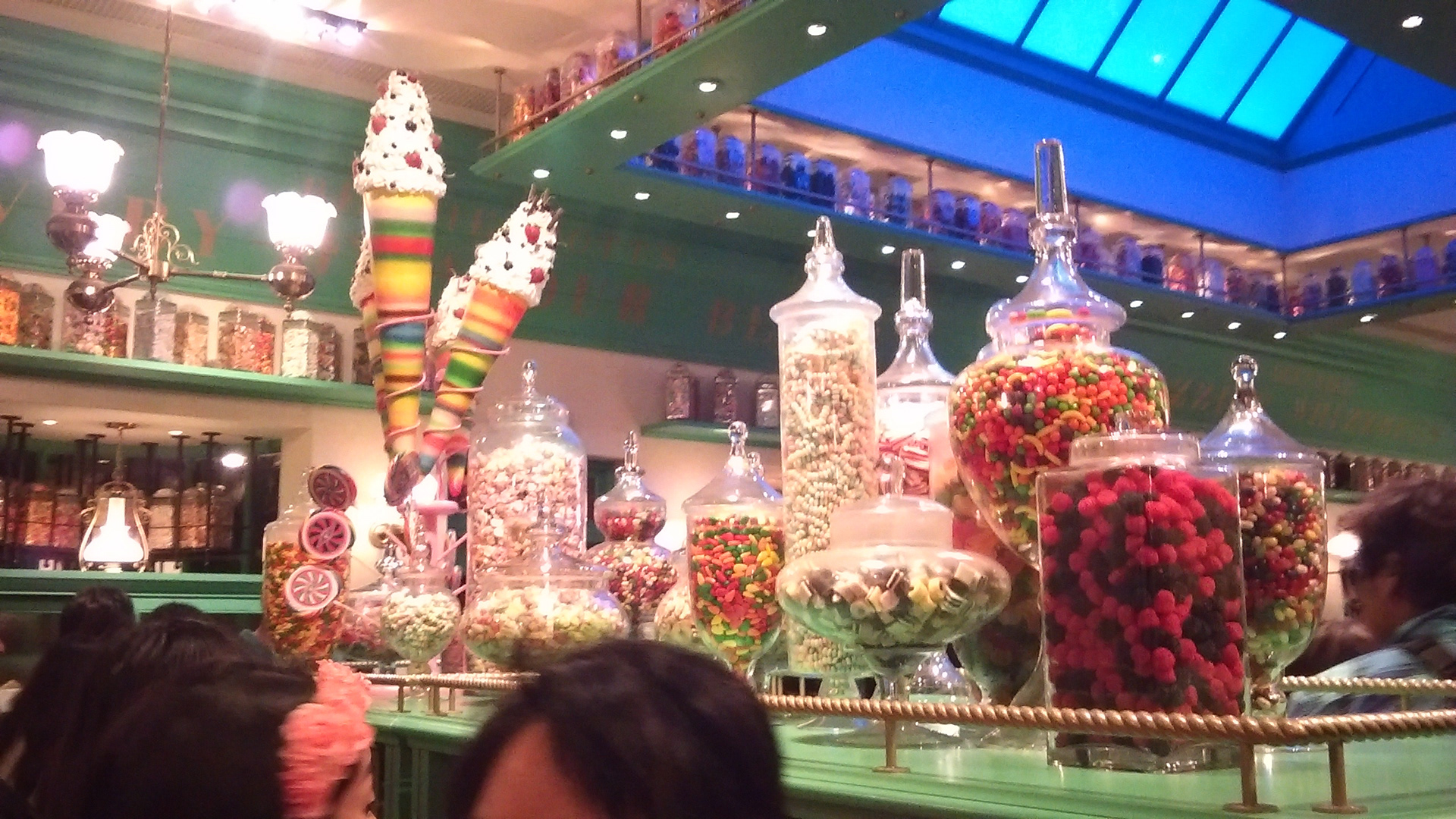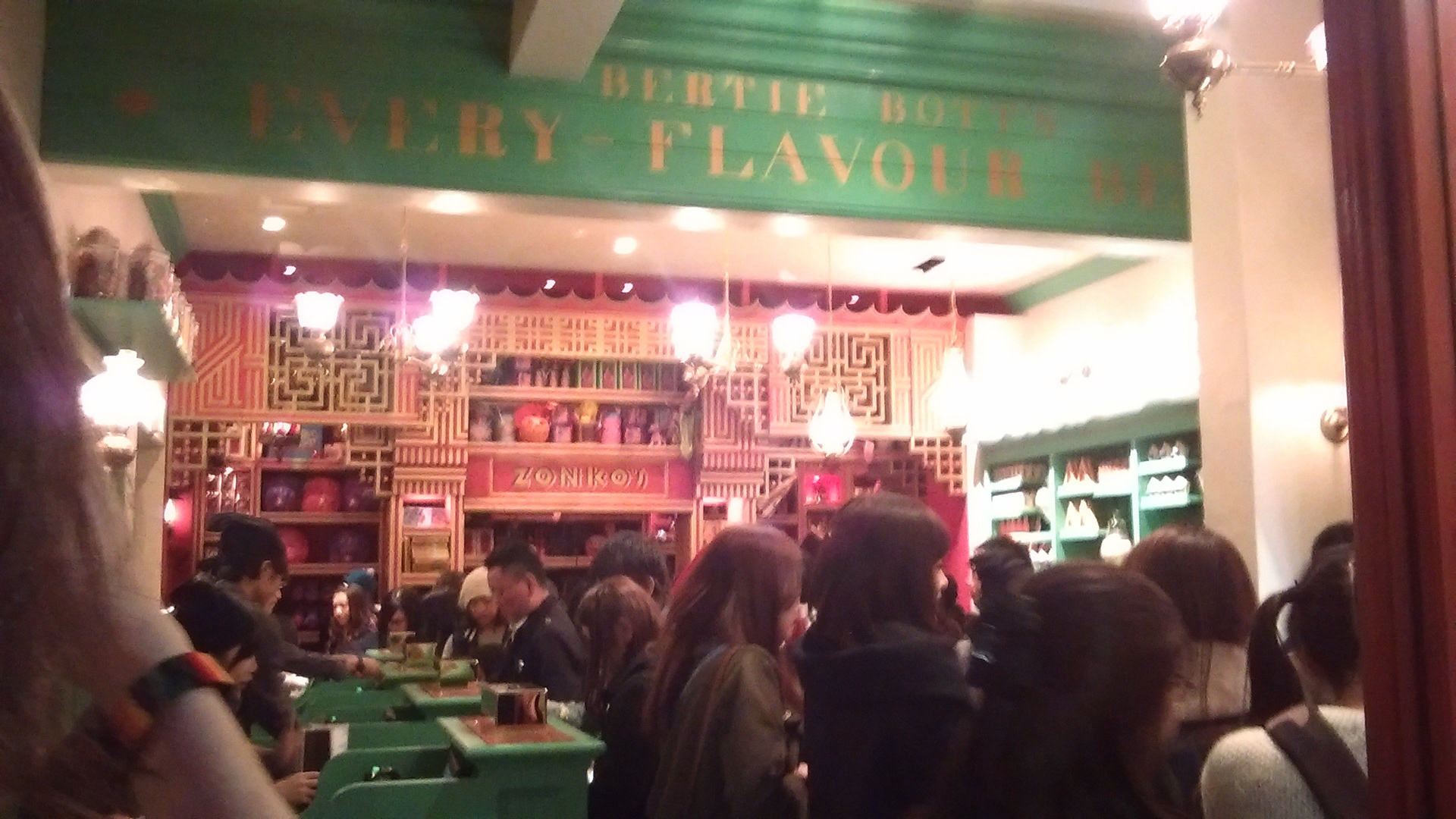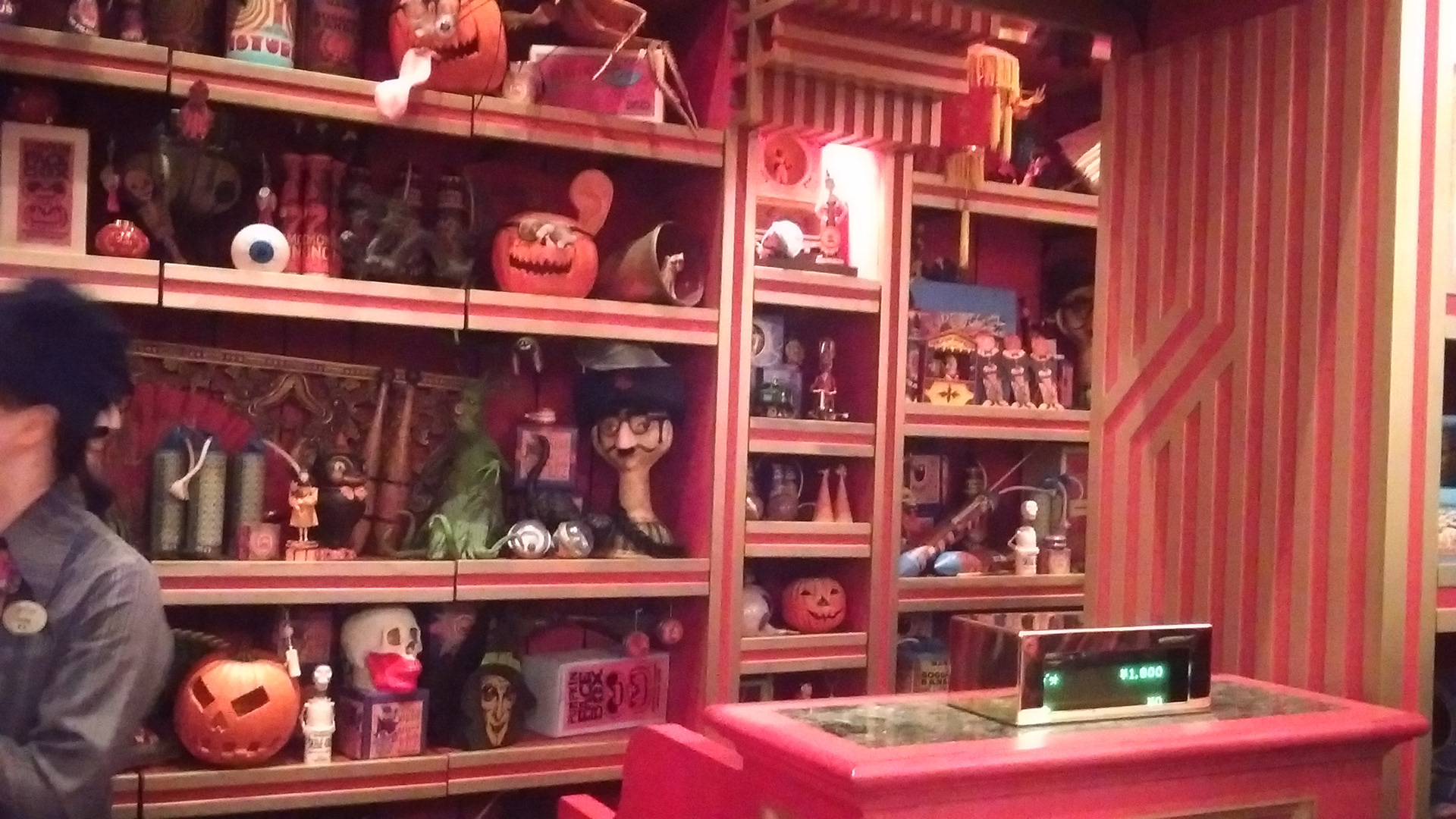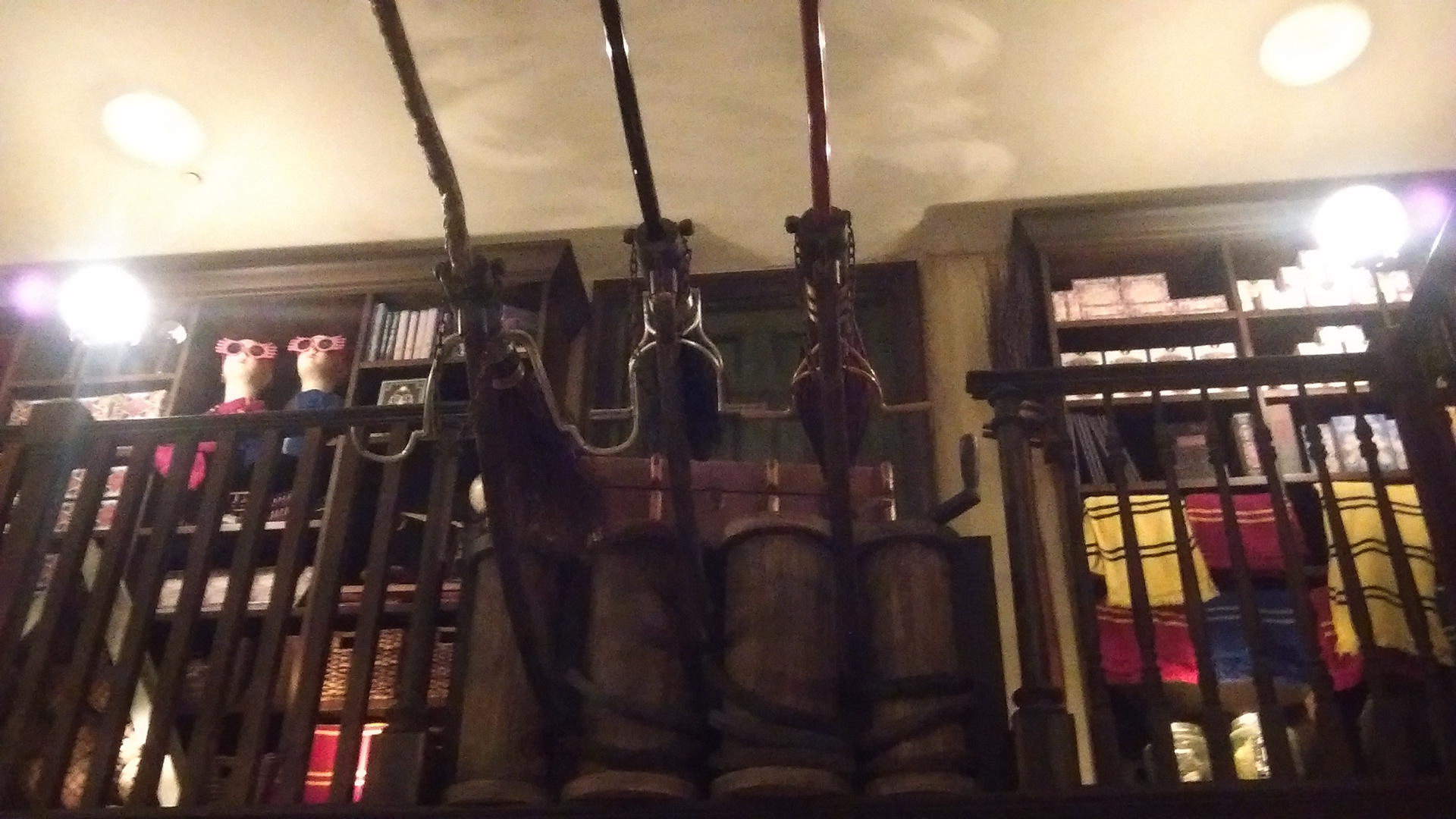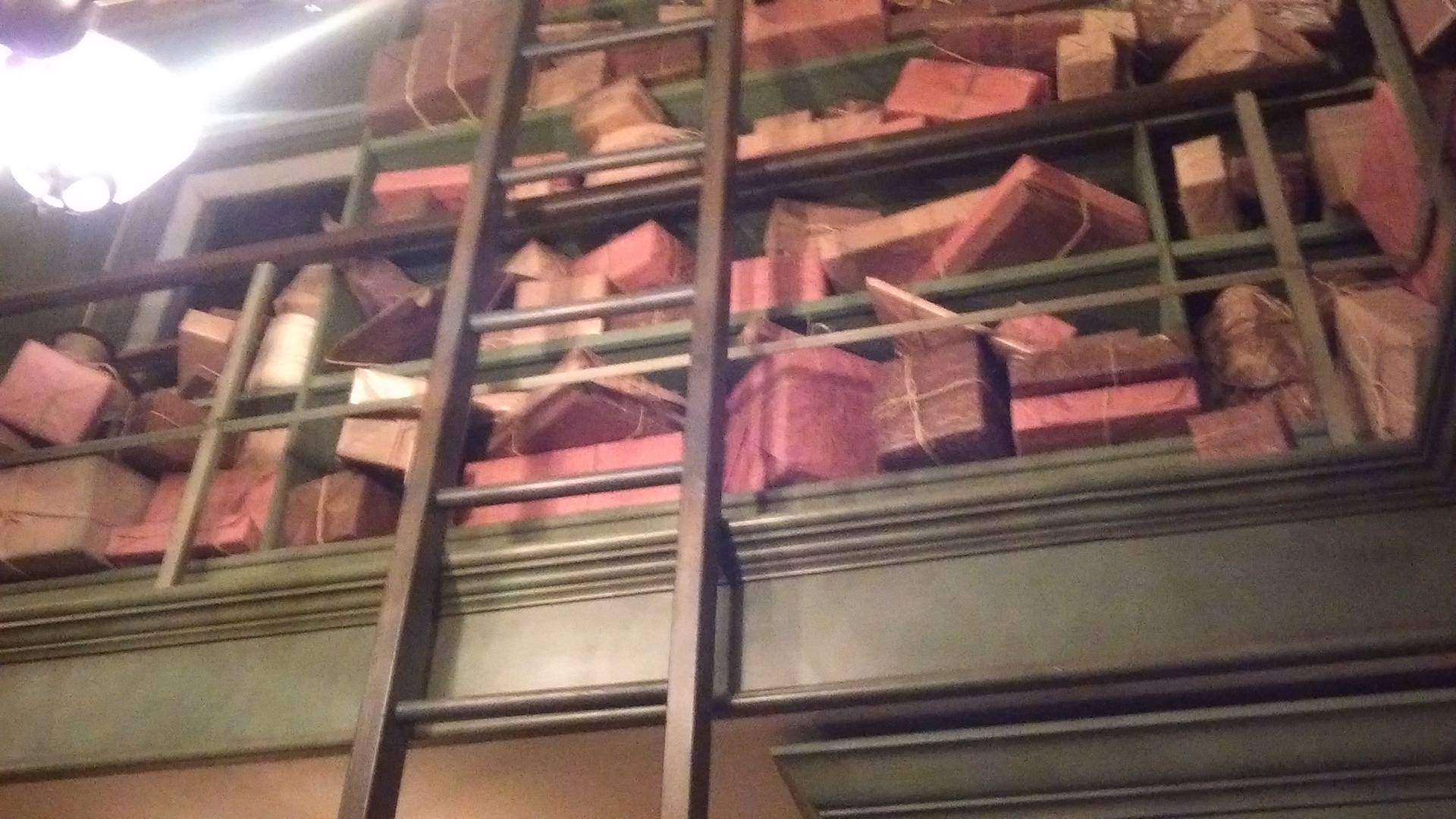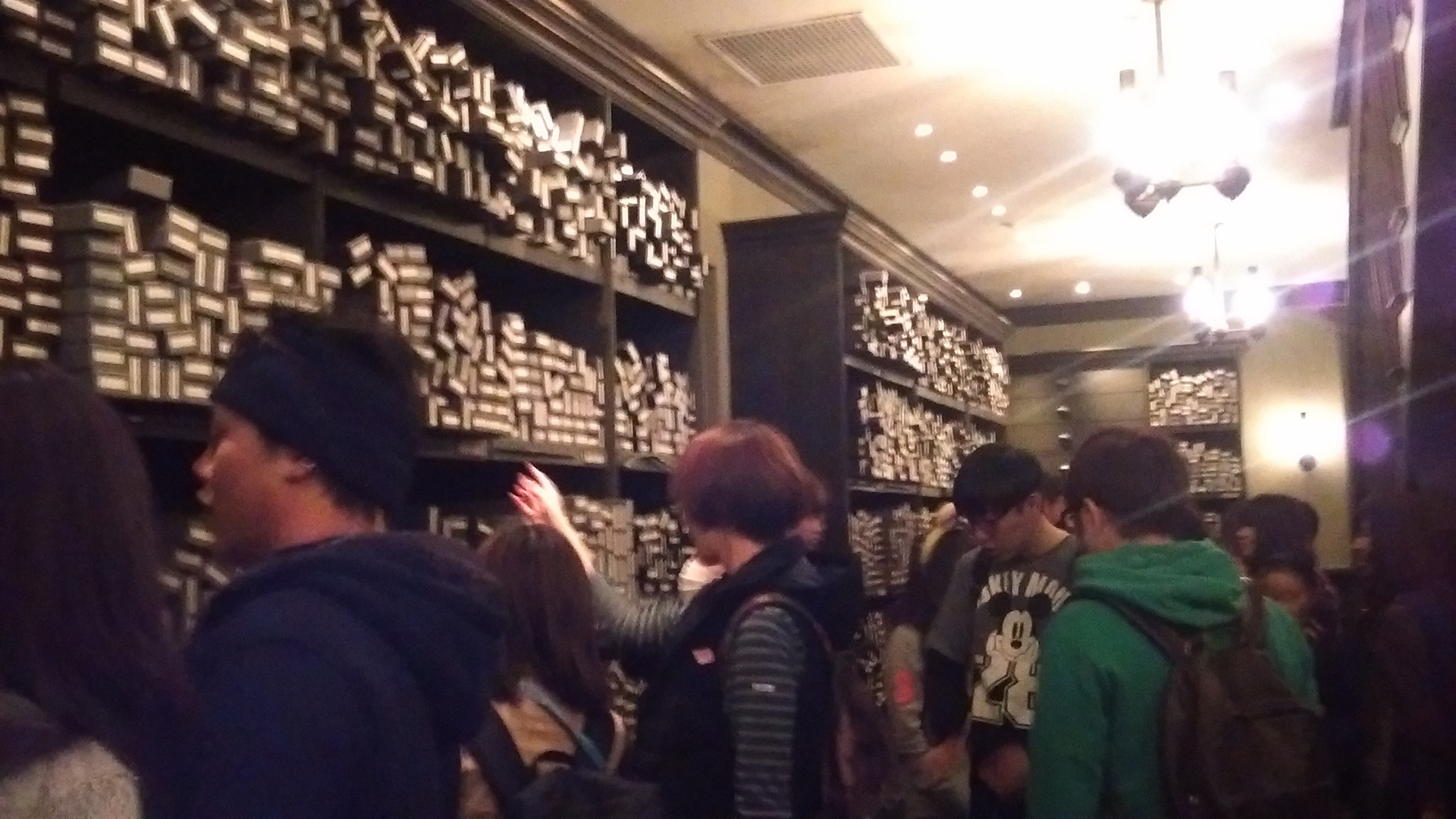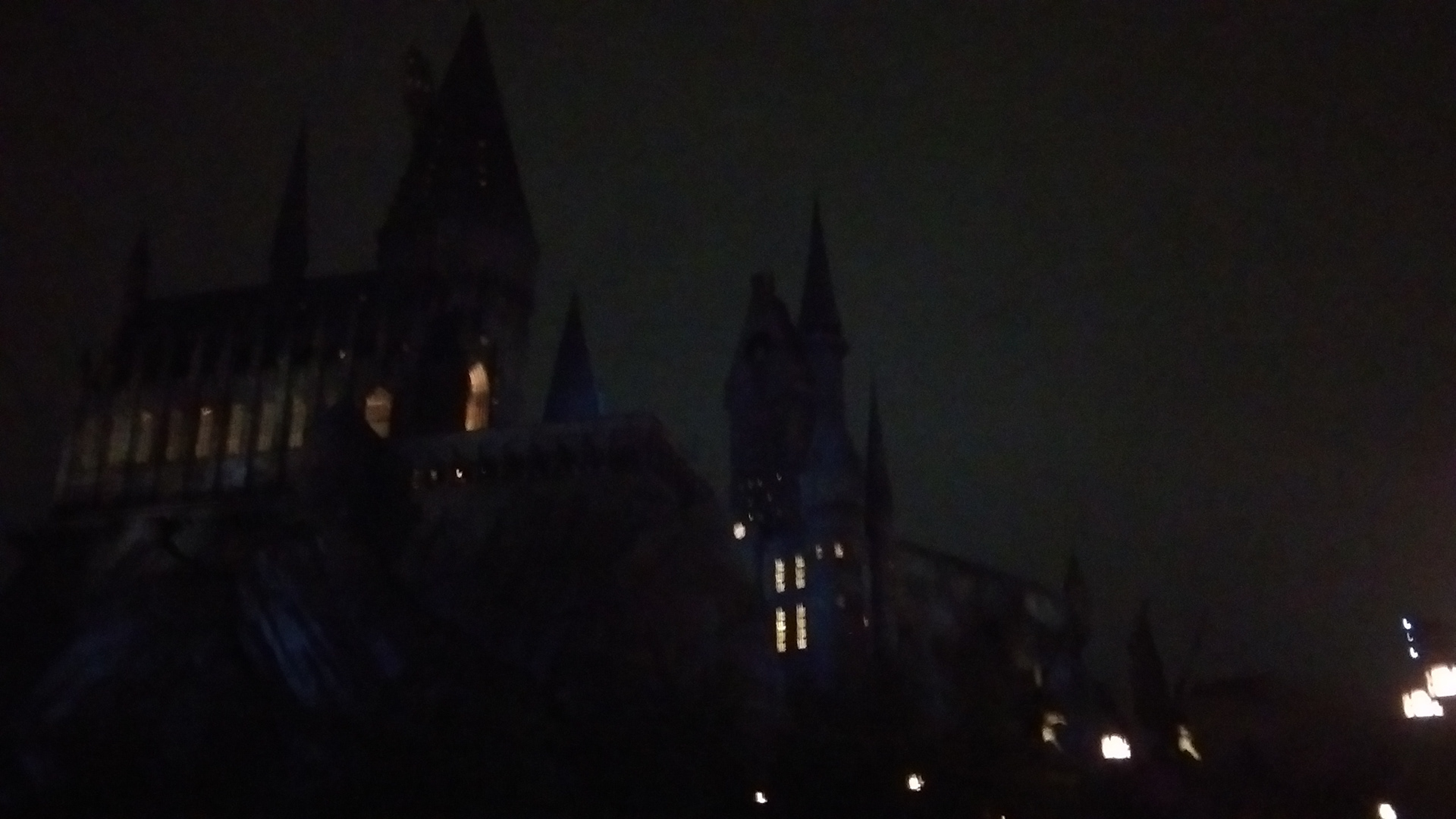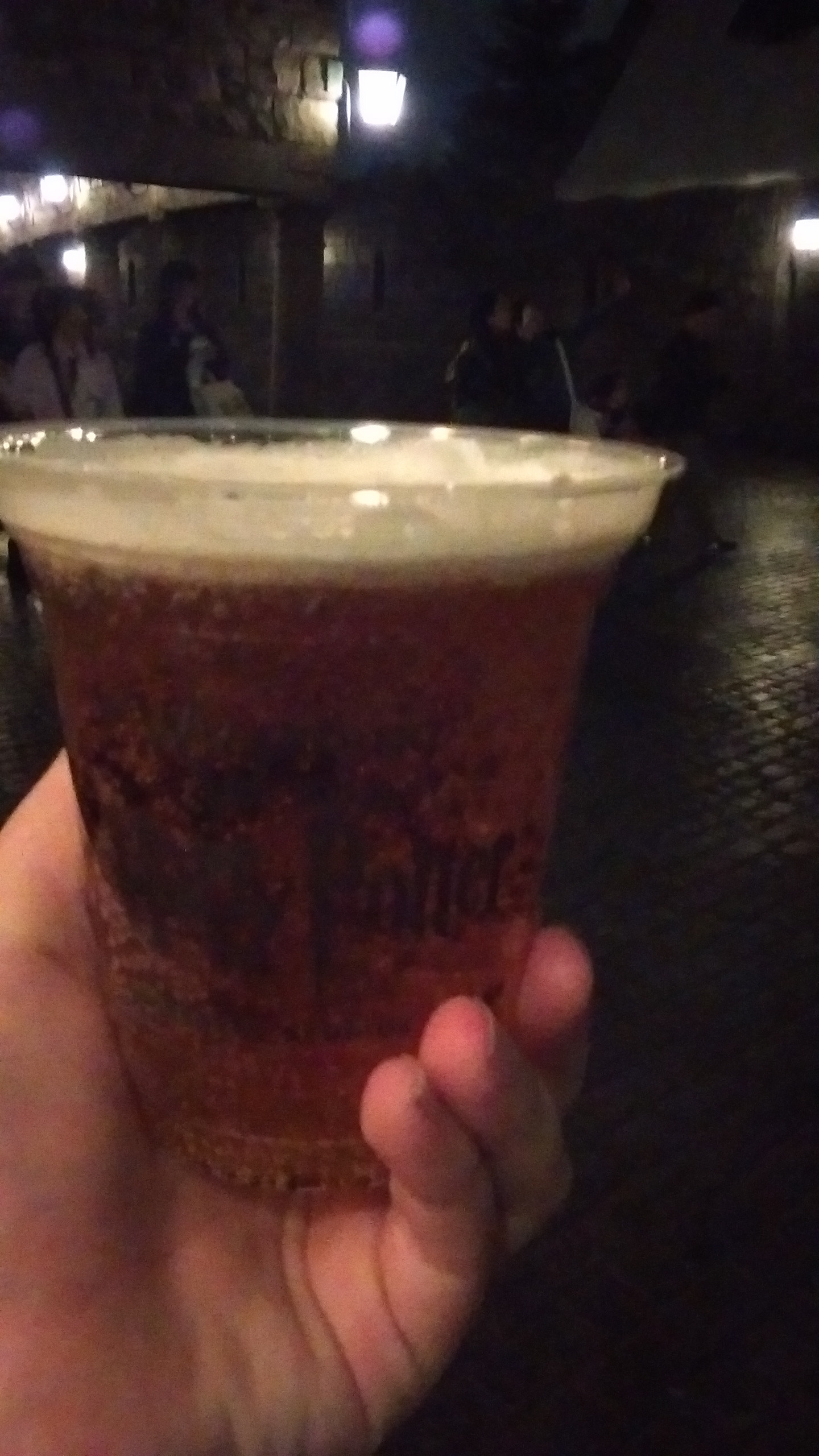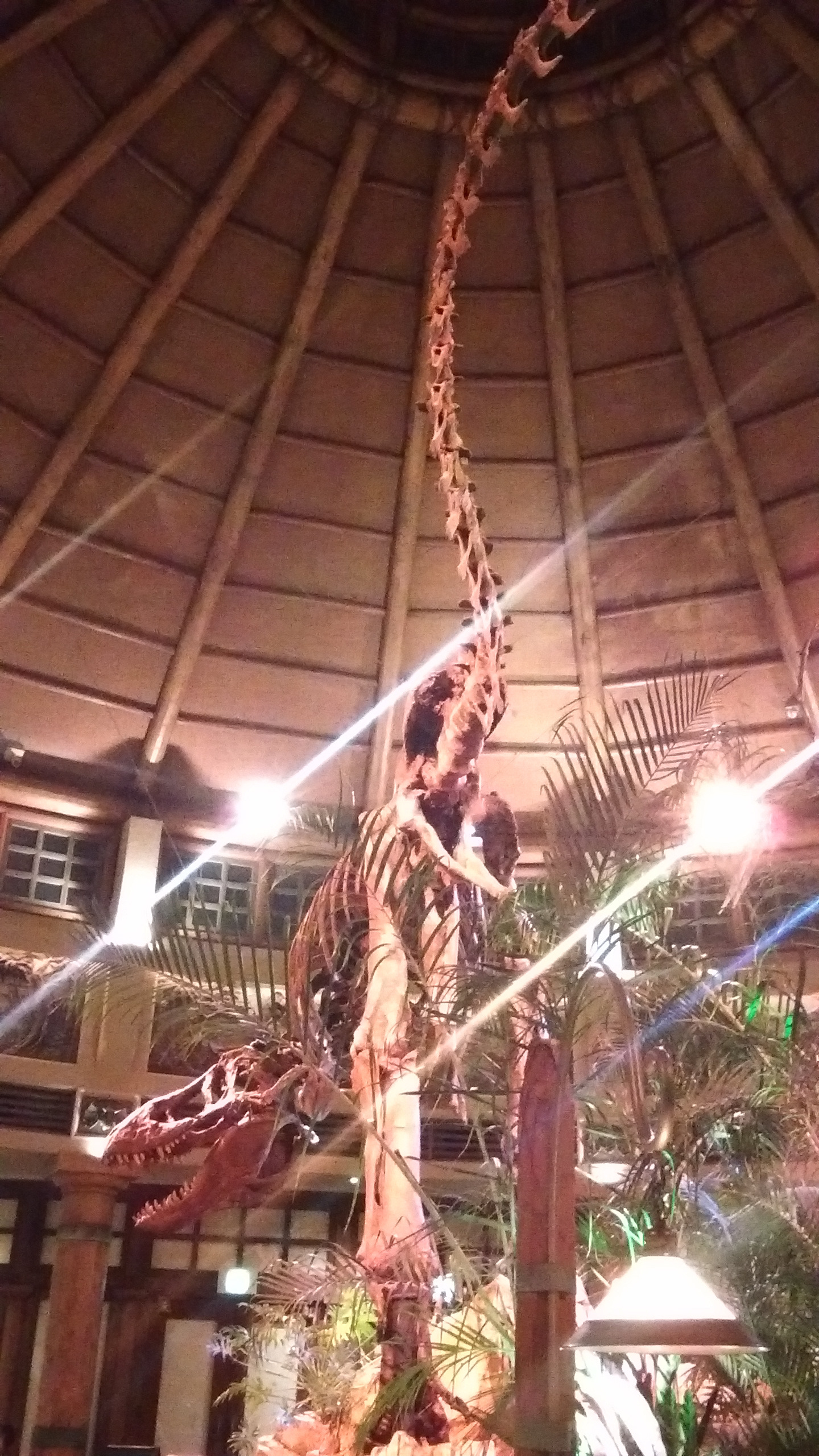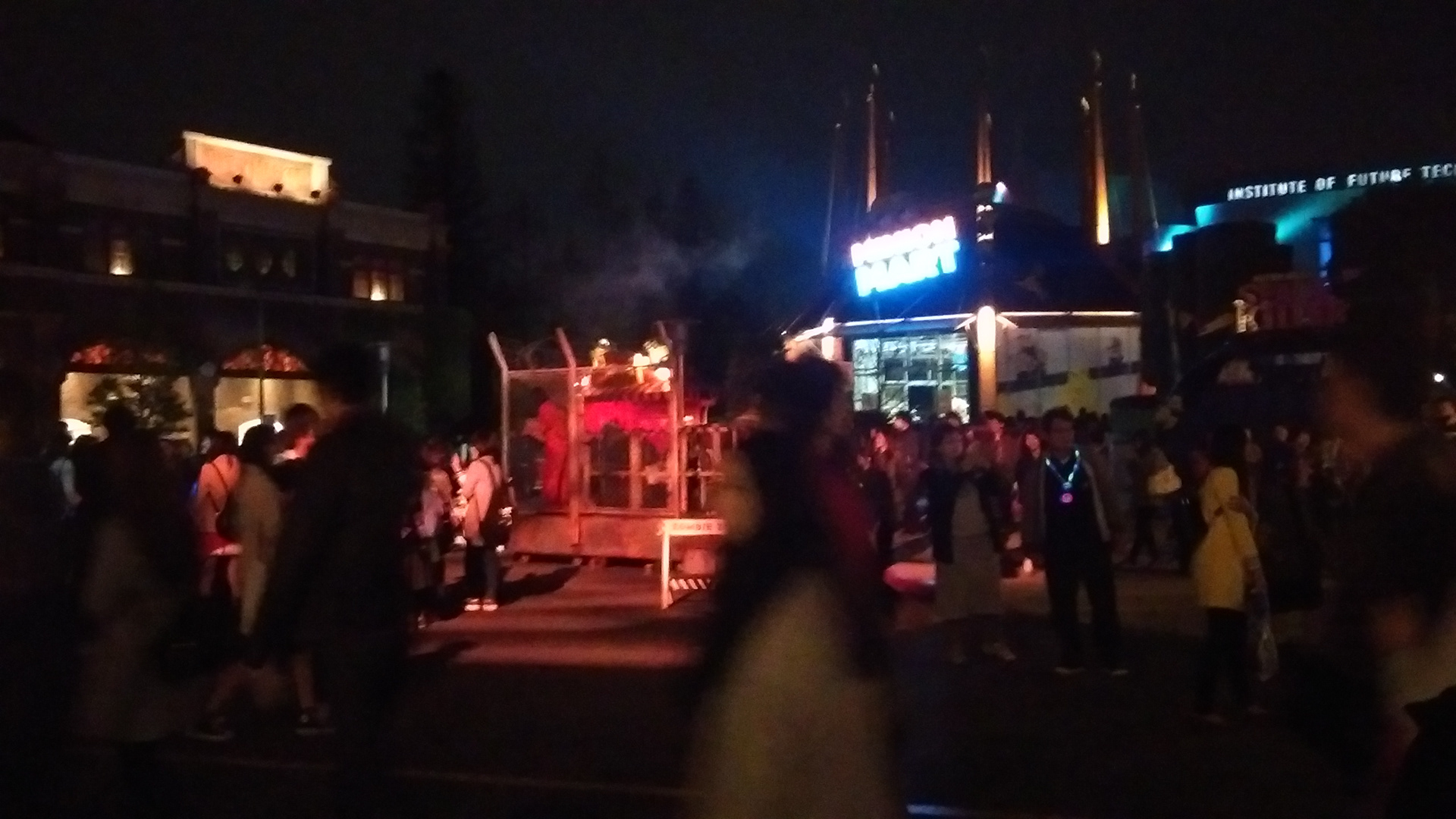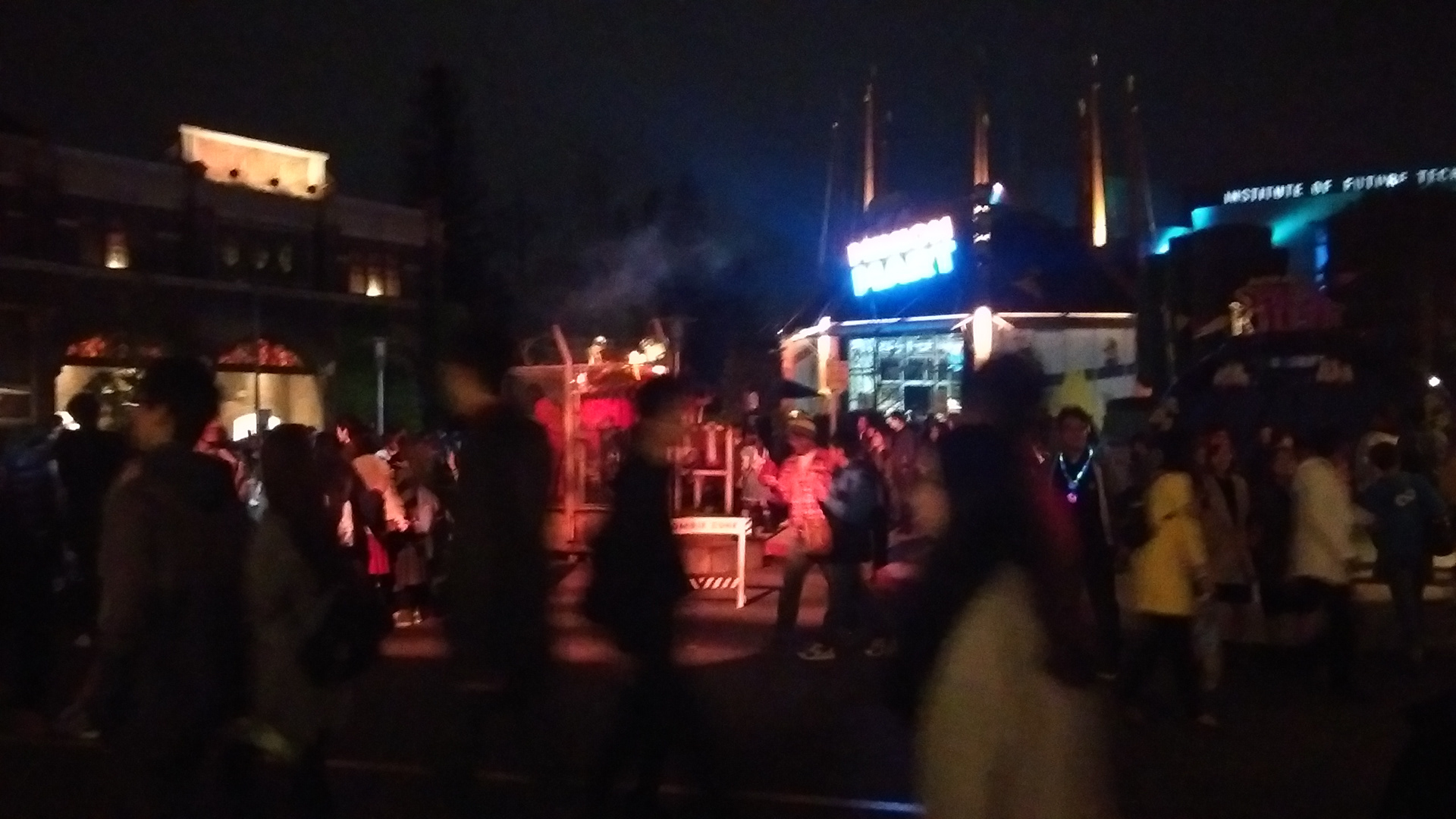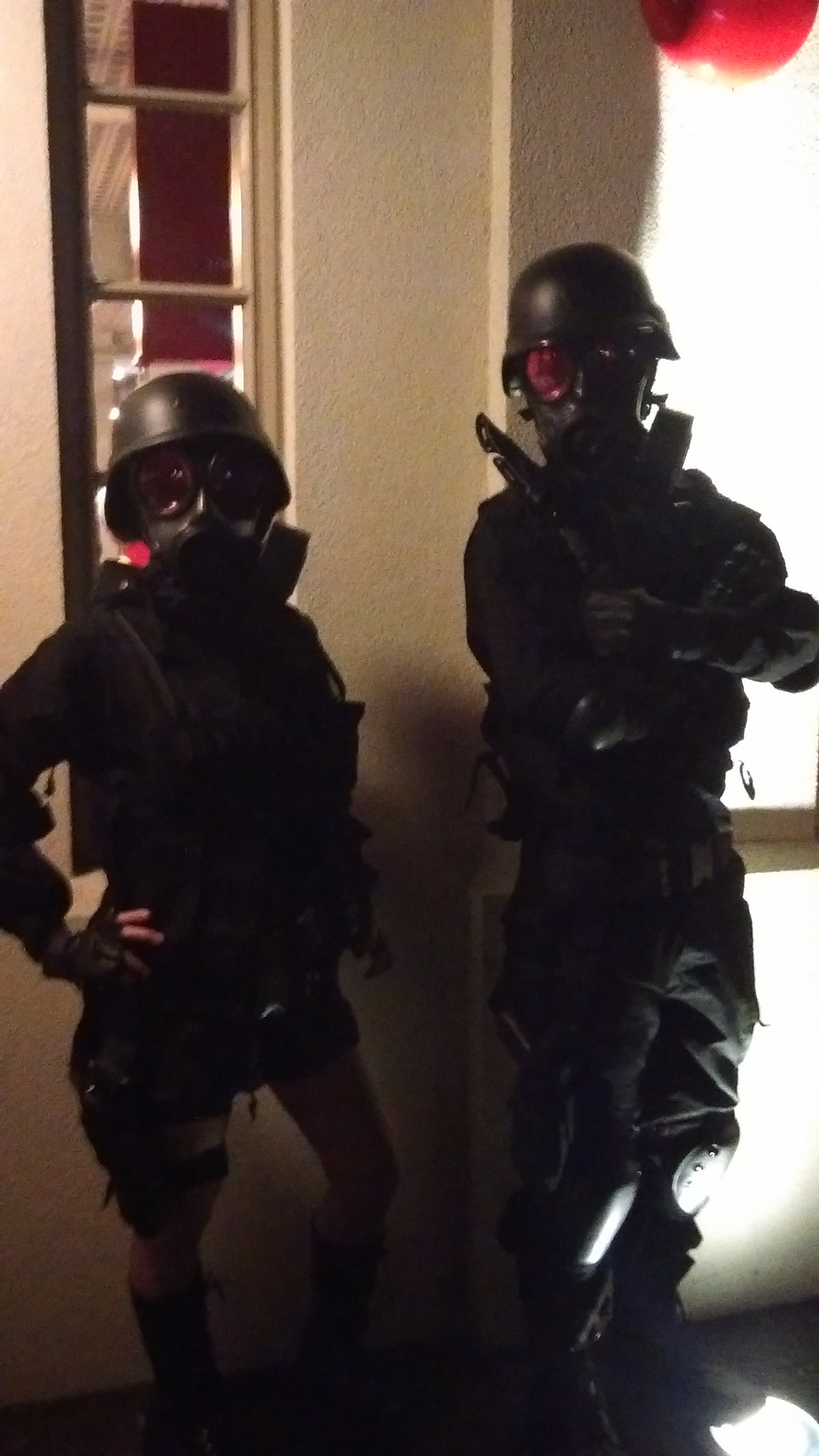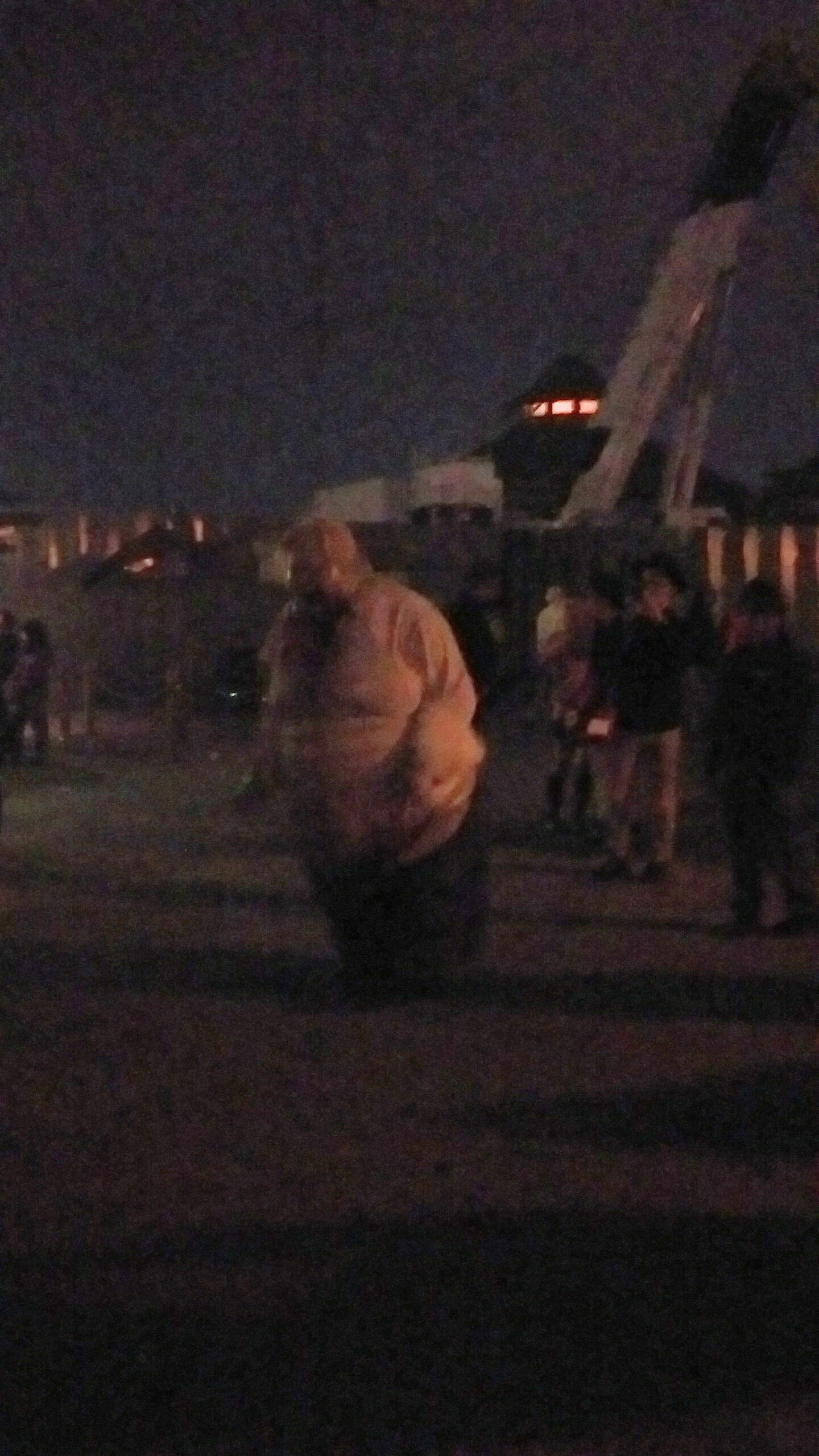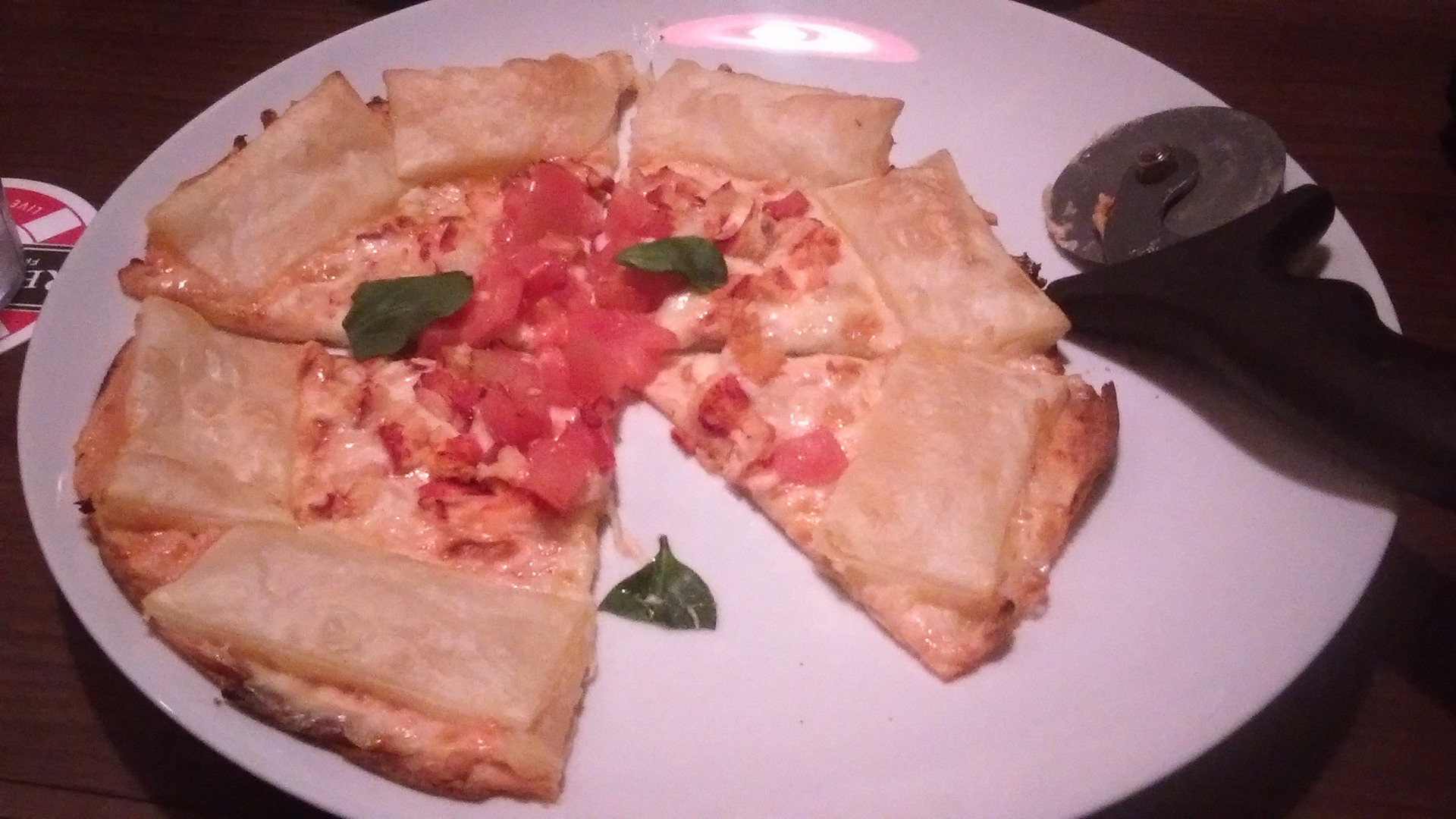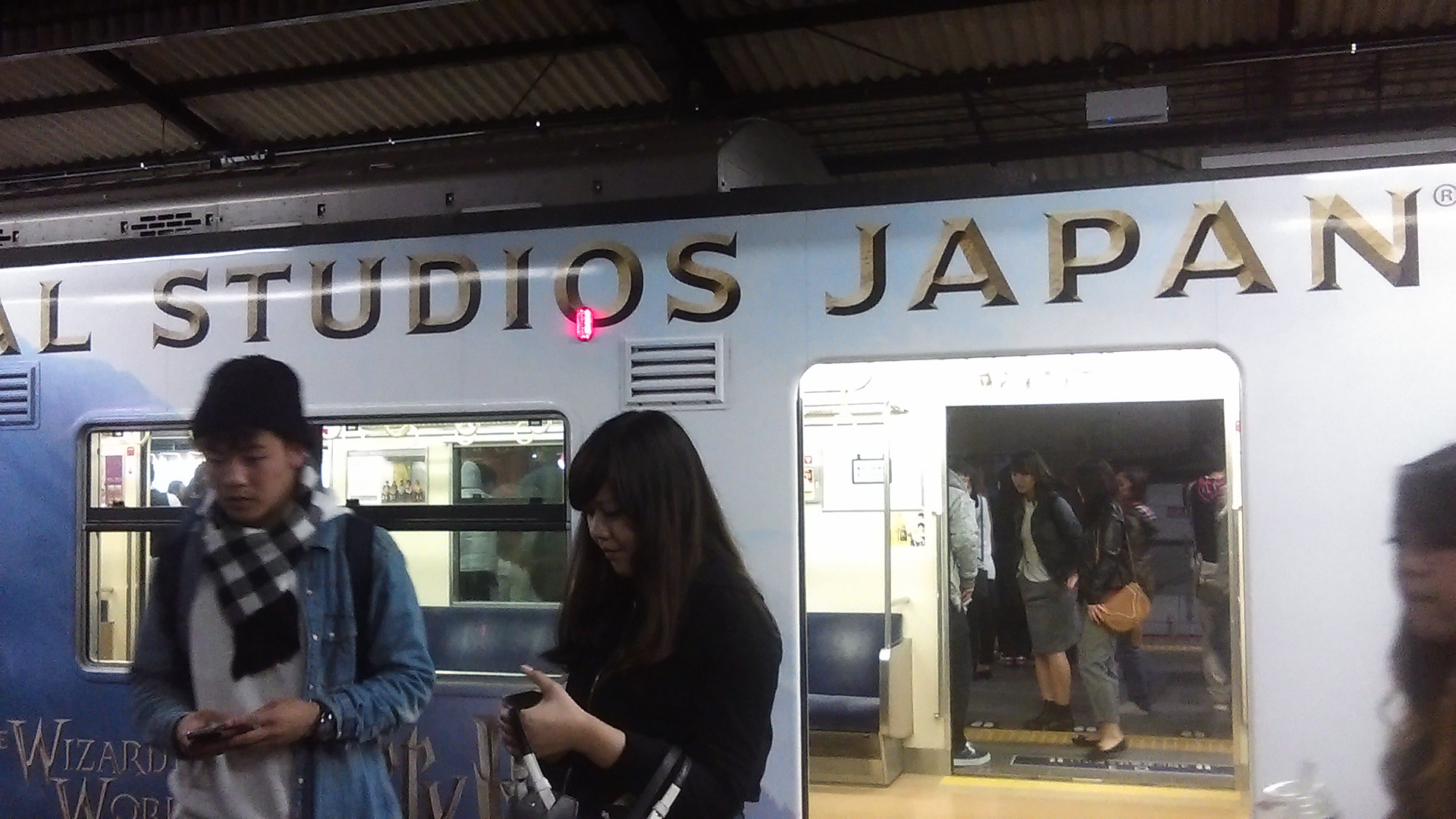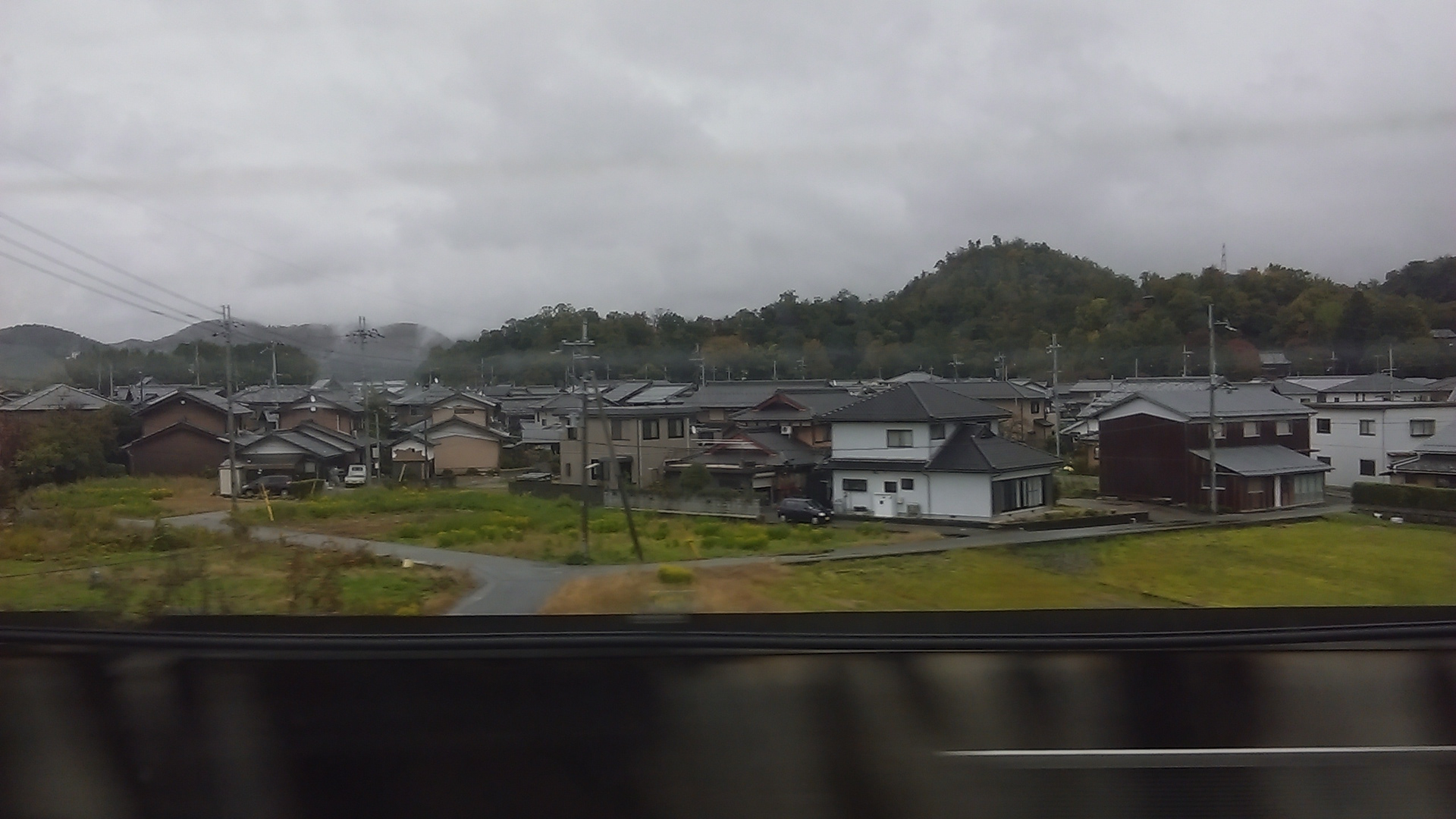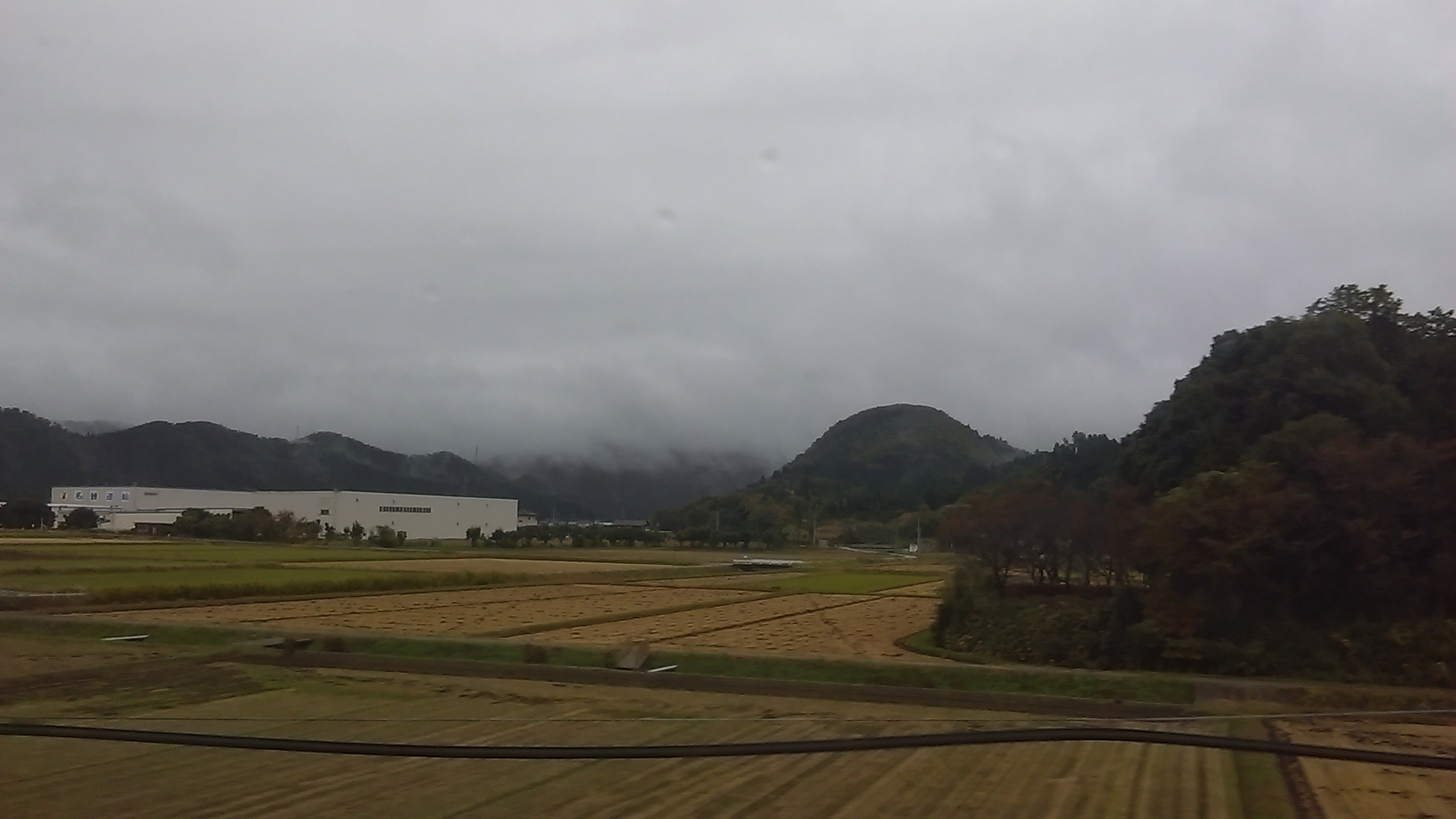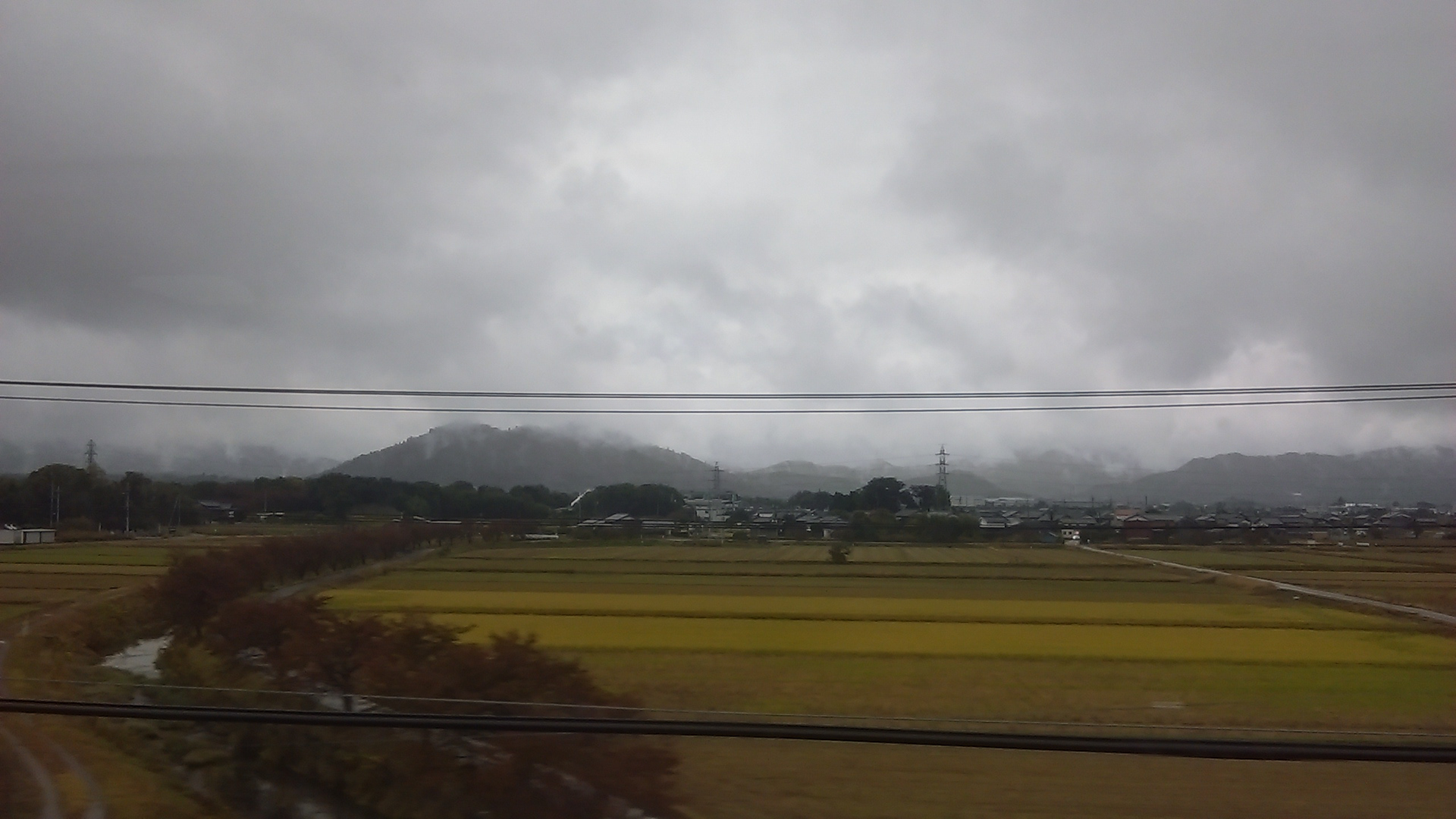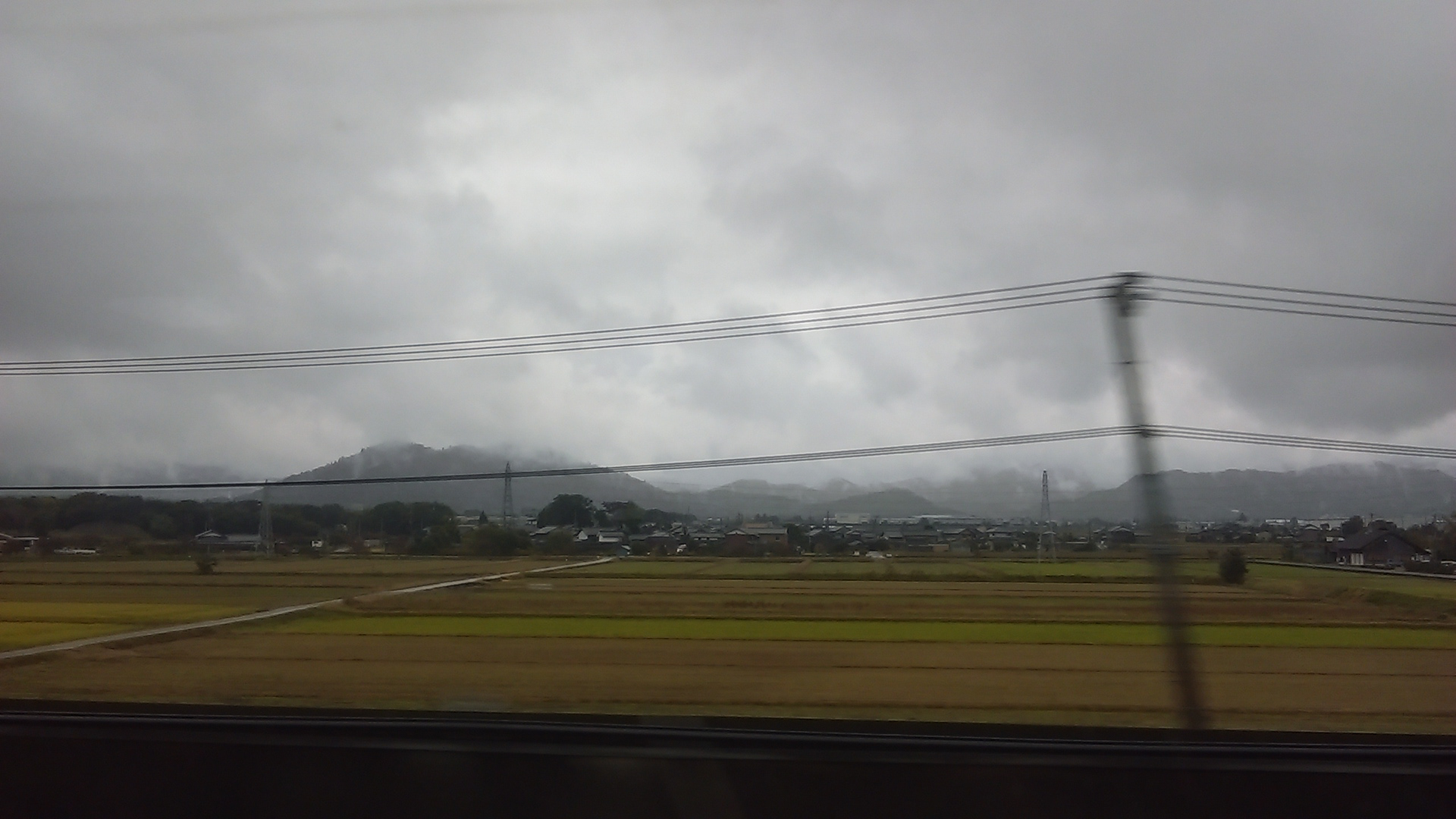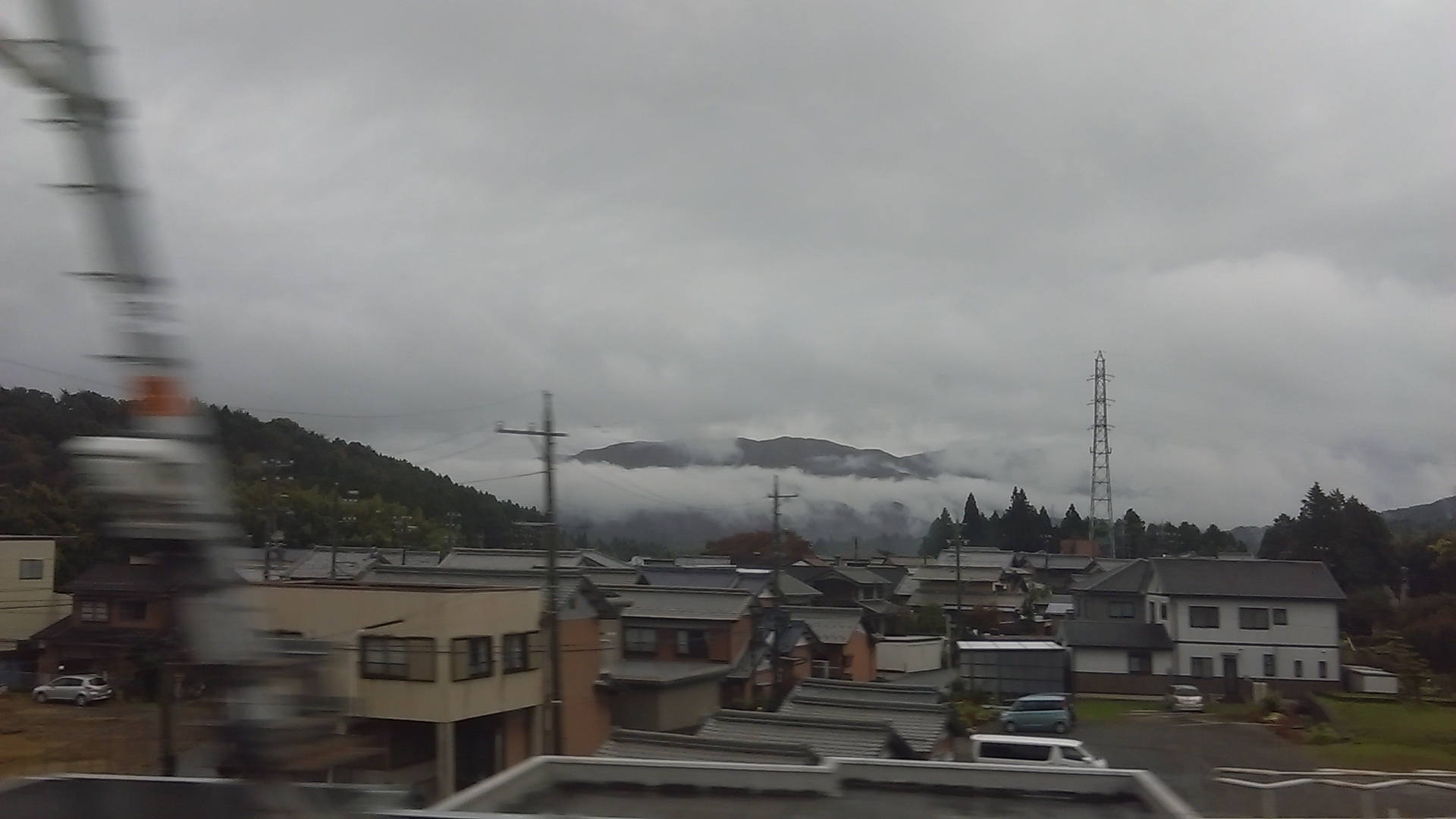 Everything I bought back from Kyoto.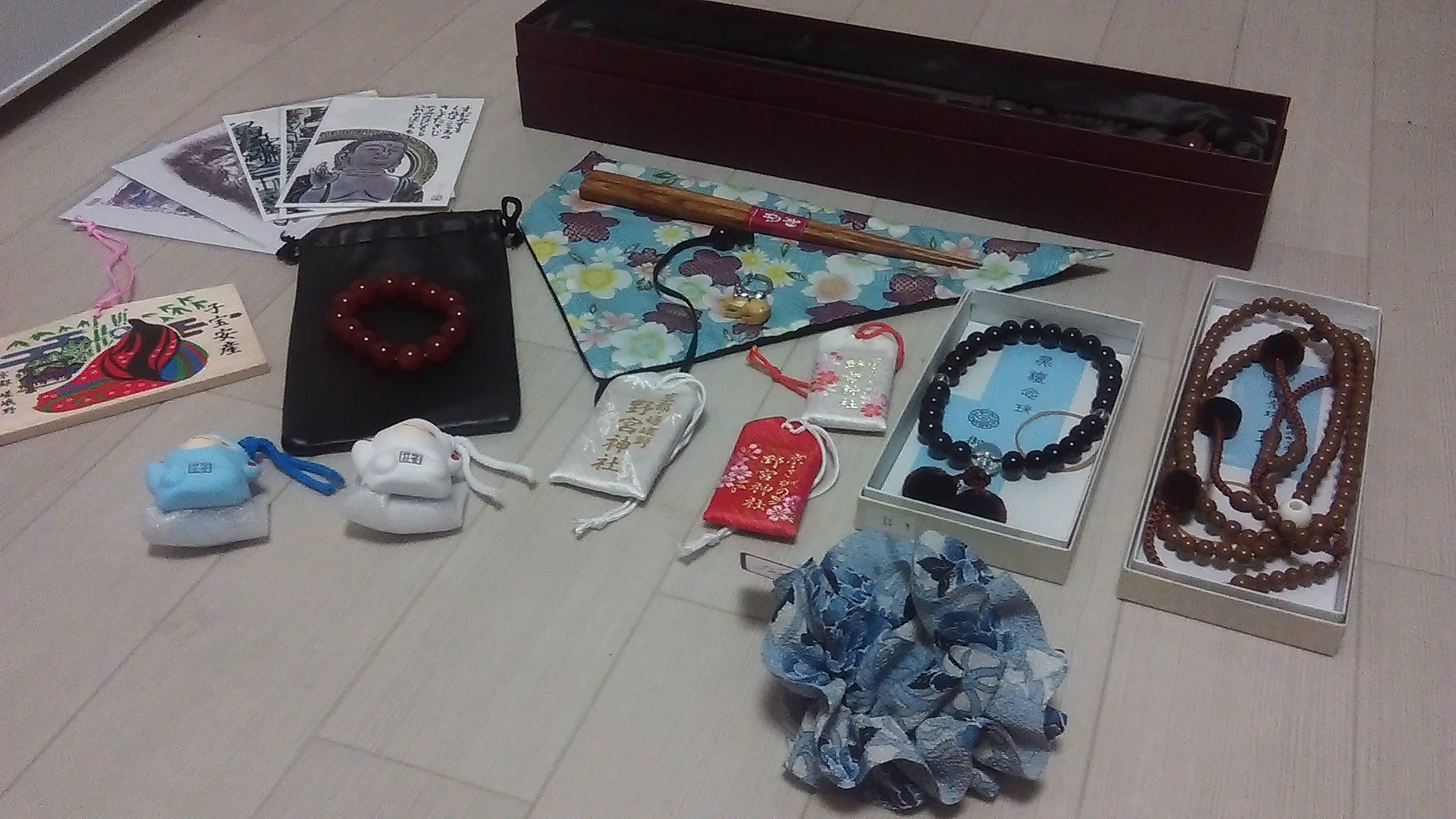 Photo's of my room when I got back.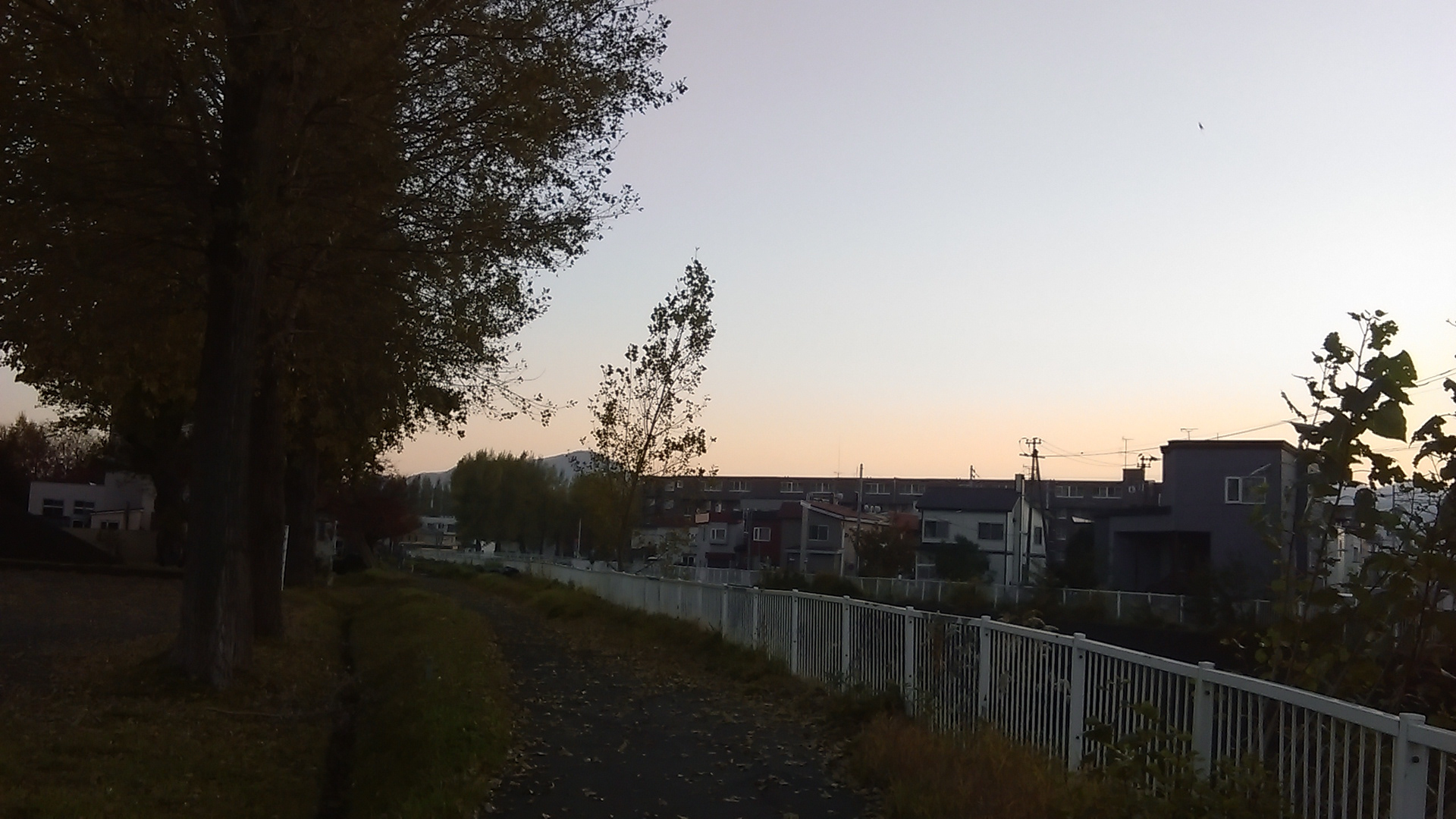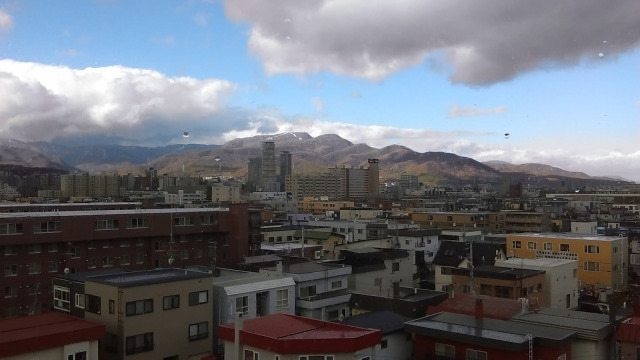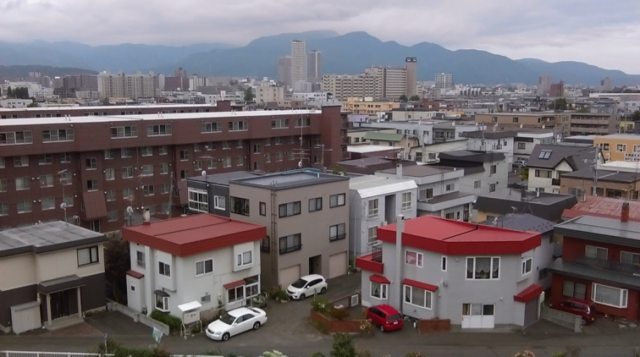 Monday Lessons Since Last Update
Monday mornings are reserved for Free Time. However, in this lesson I was set a christmas card to do to enter a competition. I didn't really have a lot of time to do a design that I really liked but this is the finished result.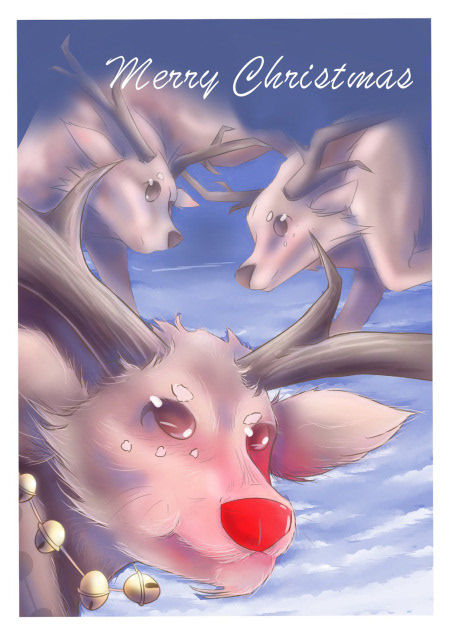 Advertising on Mondays are going well, I am still currently making a self portrait out of text on Illustrator and will upload it when I am finished.

Tuesday Lessons Since Last Update
On a Tuesday morning I have Character Design. I have finally finished my Walking Tournament character.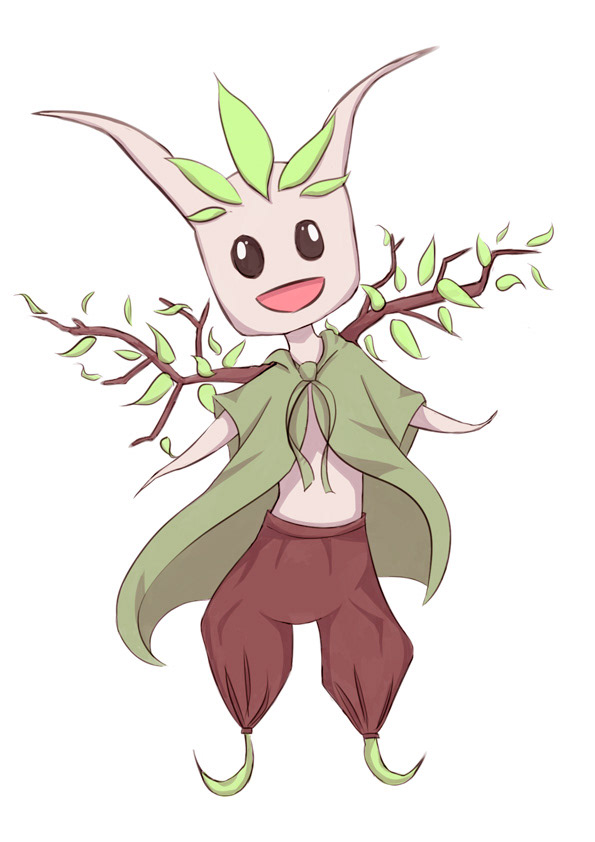 He is based from the beautiful nature which Sapporo has to offer as well as the fighting spirit that everyone shows here. Ganbatte Kudasai – I hope you do your best! He is meant to be a nature spirit; I am always surprised every time I look out the window at the city and how it weaves in and out of the mountains and valleys. The balance between human and nature is spot on here. I am not expecting to win the competition for this guy but it was really fun making a story and (with help from friends) a name for him. They all suggested to call him Twigi. I thought it was cute so went with it. It was such a compliment when people told me he looked like a Pokemon. The ultimate compliment. Now onto making a character for the nearby zoo! Tuesday afternoons are reserved for Manga Class. I have finished my previous one page Manga and am now finalising a story and story board for a ten page Manga about my OC.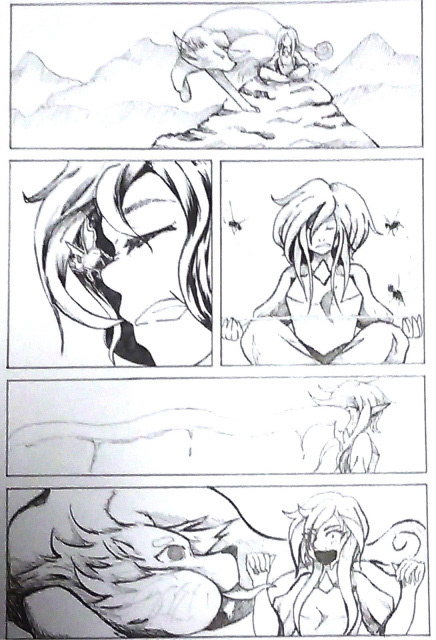 I don't like how the last frame turned out but it's the first time I tried to do a manga page so I forgive myself. Next time will be better!

Wednesday Lesson Since Last Update
I can now remember the whole Hiragana Alphabet! Now on to Katakana. My DTP lessons in the afternoon are going really well. I am now onto making my poster for the food festival after finalising my rough sketch with my Sensei. This is what I have so far.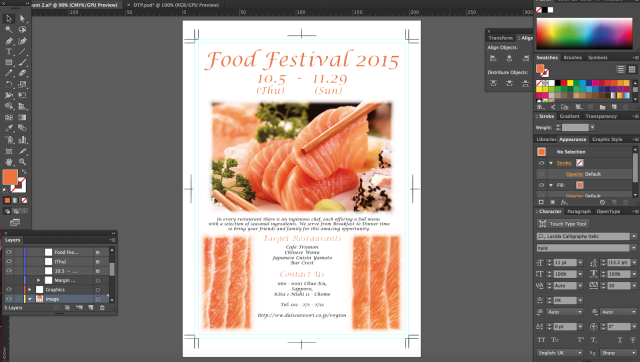 I chose a Sashimi theme, something traditional with really warm and inviting colours. Something different to what I would usually do a food poster about. My teacher is really interested to see how different my poster is to the rest of the class. As I am mixing Japanese and English advertising, the outcome is weird but seems to be working so far. I am going to tweak the translations though for the text. Makes no sense at the moment. I have two weeks to have 80% completed which should be fine. I did all this work in around 20 minutes, so shouldn't be a problem.
Thursday Lesson Since Last Update
My Digital Comics class is going really well. Although I cannot do the two page spreads as the rest of the class – my software being British and not the Japanese Version – So I will finish this and then transfer it over to Illustrator.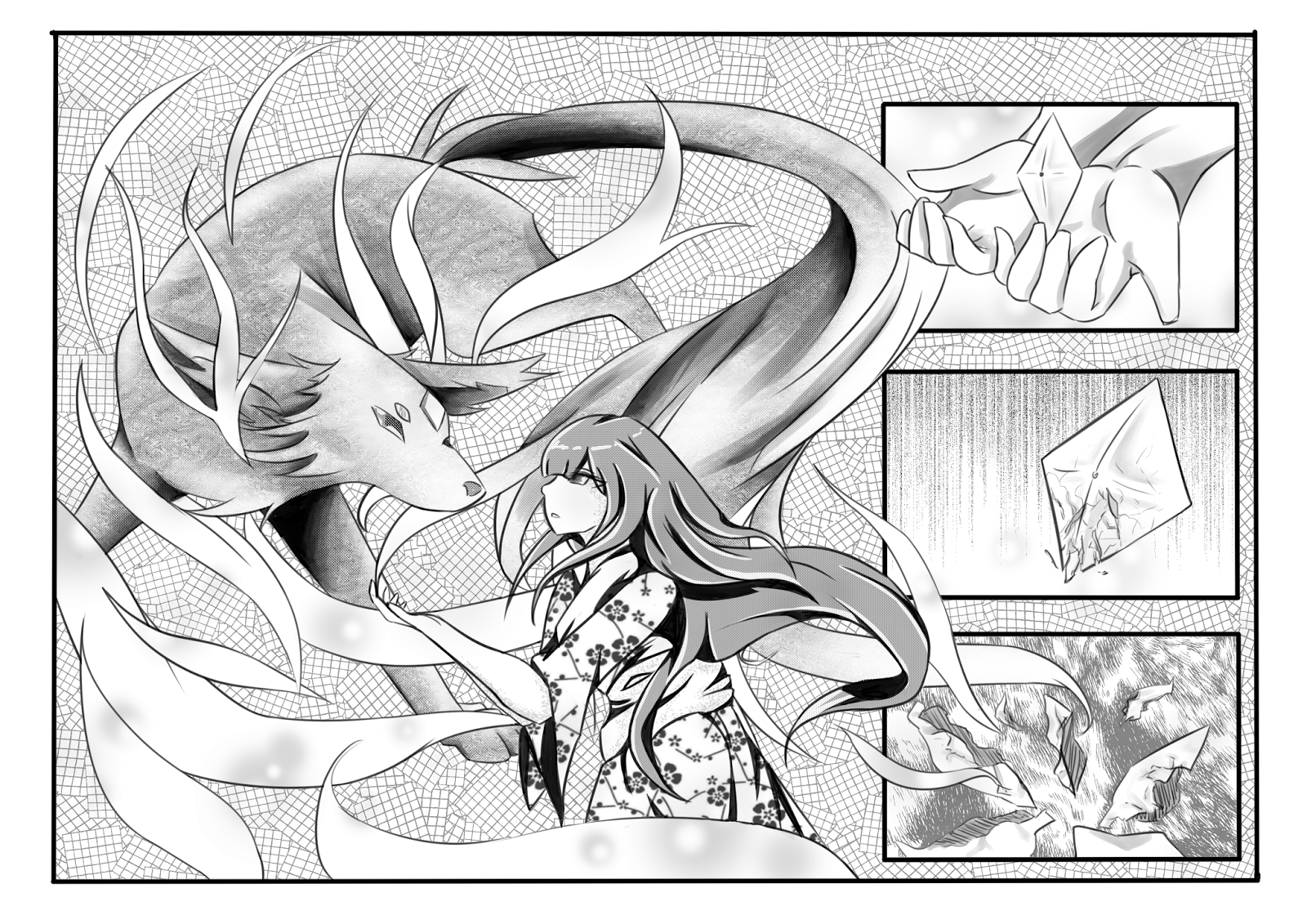 Friday Lesson Since Last Update
Illustration class is going extremely well. Nearly finished. Modelling Plaster an Gouache.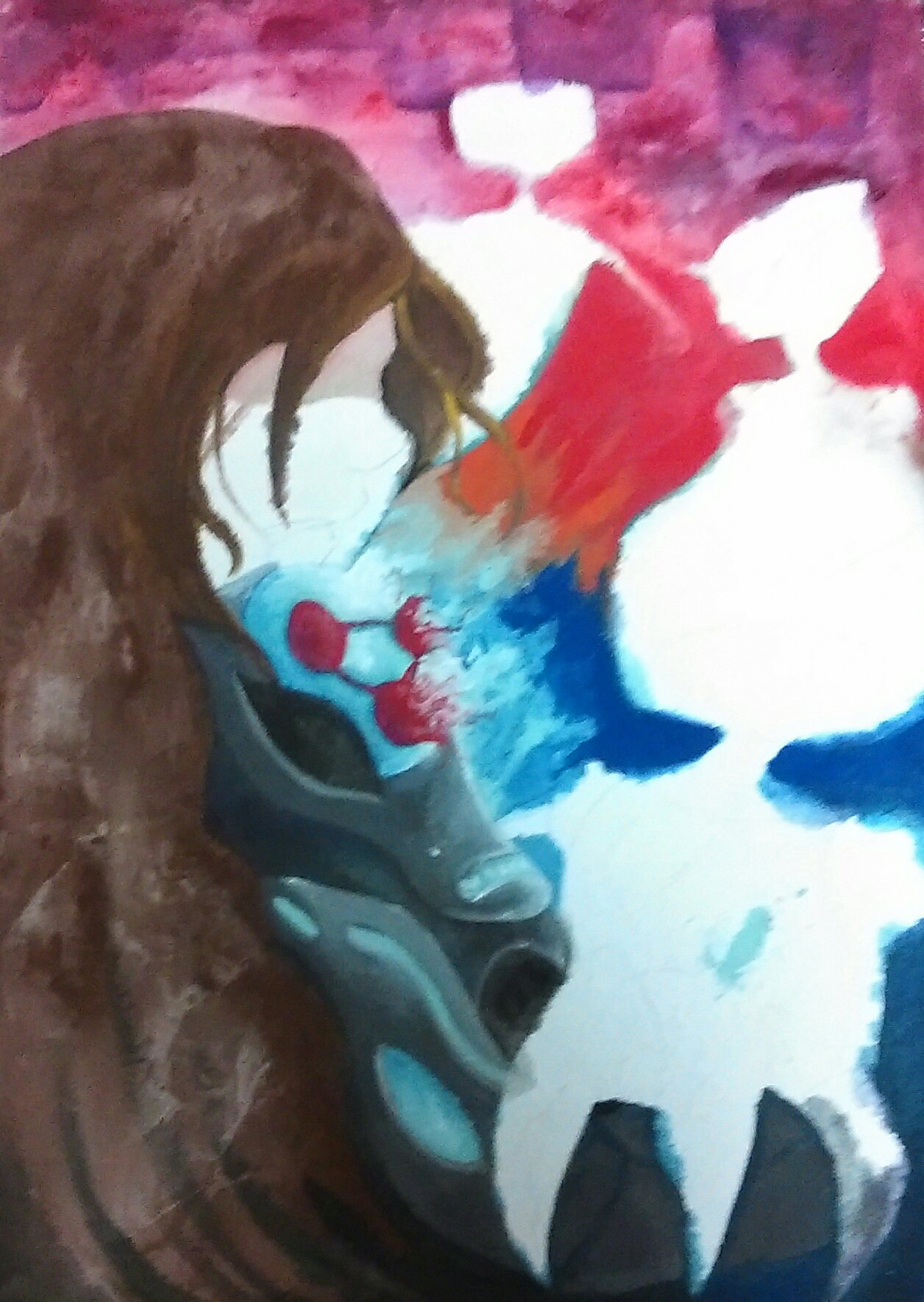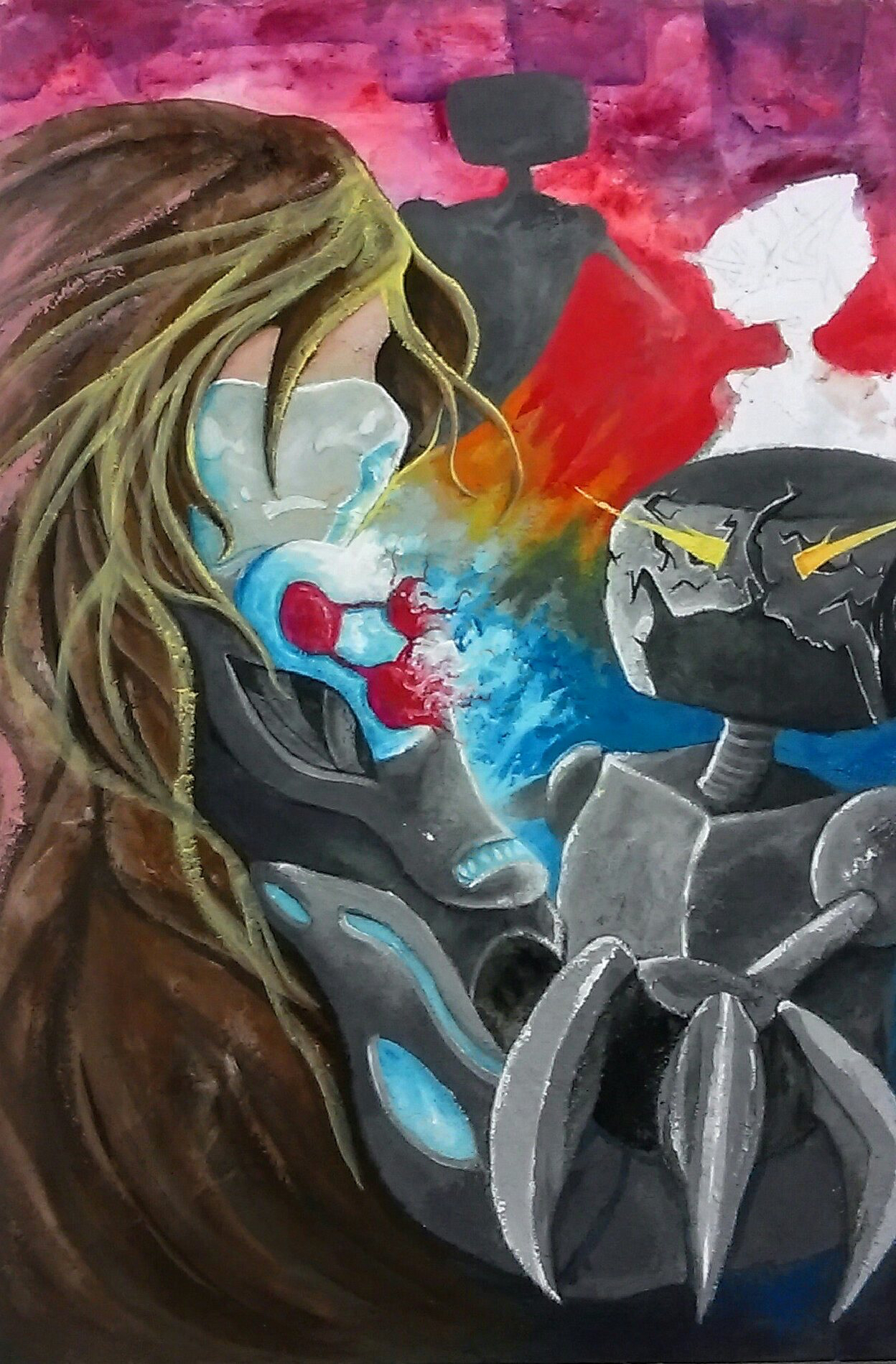 After mapping out where everything goes for Life Drawing Classes (lines took 6 weeks) I could then move onto shading.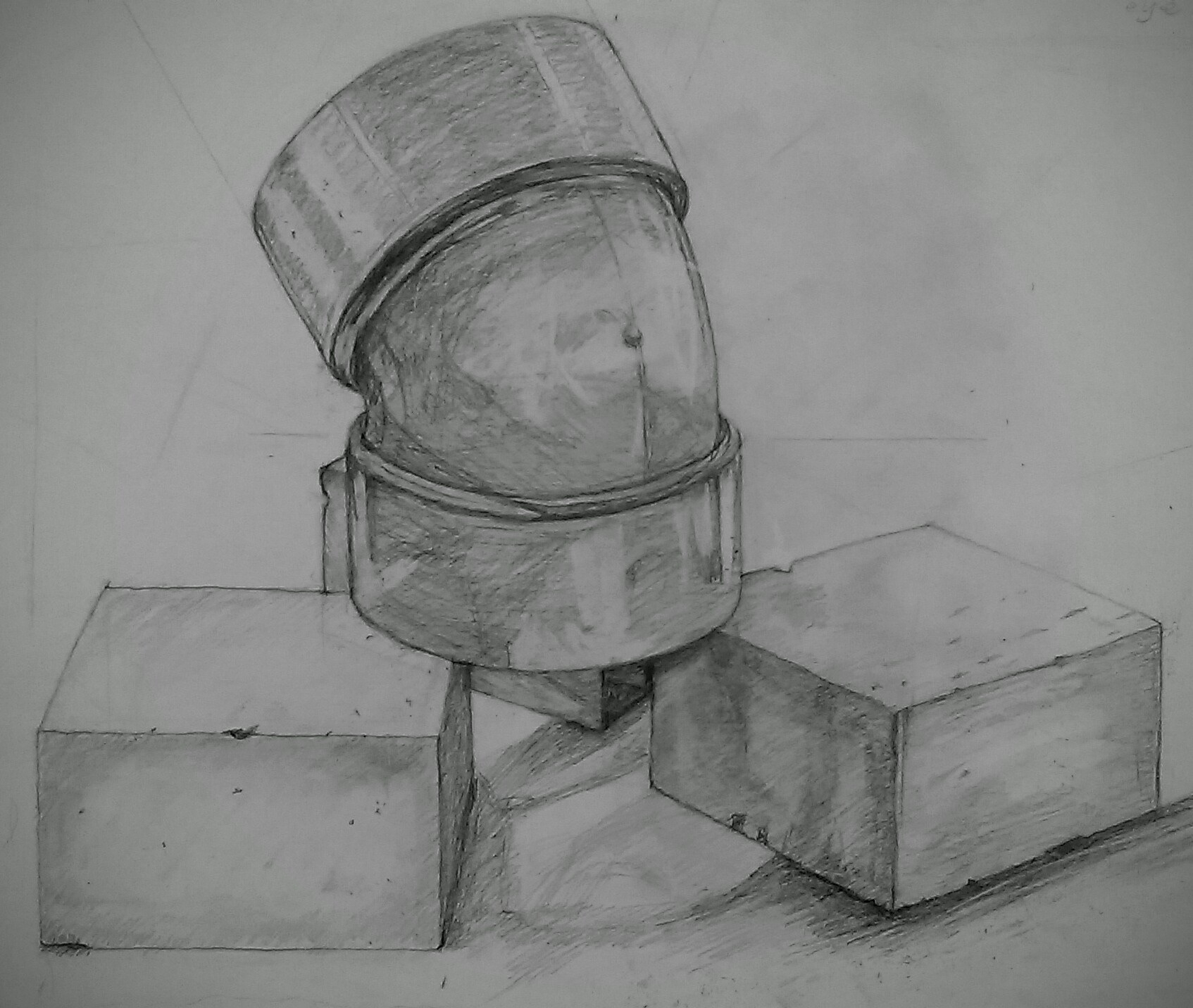 16th November 2015 – In 48 Hours
A lot of things have happened this weekend. This post will not be about my Japanese Adventure though I will talk about how Japan is reacting to the past couple of days. The thing I want to talk about are the atrocities that have happened within the last 48 hours. The world just seems to be crumbling. I don't want to focus on just one event, there are too many things to cover. The Paris shootings, the Earthquake and Tsunami in Japan, the suicide bombings in Beirut, the test train crash in France, the fact that the UK is now on High Alert. There's just too much to talk about so i'll focus on the main news headlines and go from there. I'll first talk about the Paris shootings and the effect it's had in Japan before moving onto my own opinions. Just like much of the world, Japan had lit up their major landmark, Tokyo Tower, in the colours of the French flag to show support to those who died during the attack. I wasn't able to see it as I am in Sapporo, but I can imagine how beautiful it looked.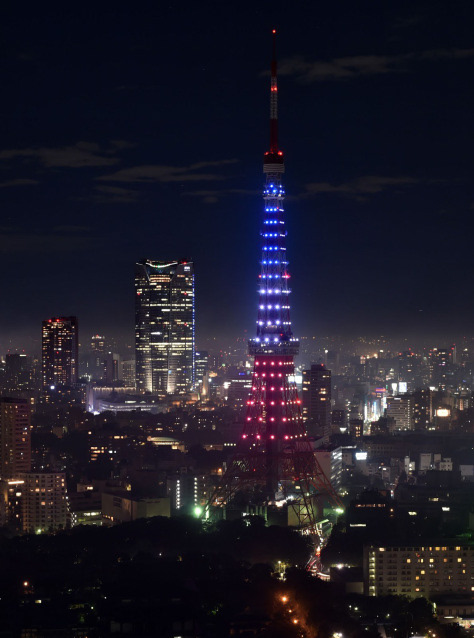 (Photo: http://jto.s3.amazonaws.com/wp-content/uploads/2015/11/n-parisreax-b-20151116.jpg) 
According to JapanTimes, the Japanese Chief Cabinet Secretary, Yoshihide Suga, told reporters in Tokyo the he felt '"a strong shock and outrage" at the "cruel and extremely cowardly acts of terrorism."' ABCNews states that Shinzo Abe, The Japanese Prime Minister who was in Turkey for the G-20 meeting, had a moment of silence with his 'Turkish counterpart', Ahmet Davutoglu, to pay respect to those who where killed by the attacks. '(Prime Minister) Abe said: "We will stand against terrorism regardless of its reasons. We will stand in solidarity with the international community to prevent acts of terrorism."' Japan has joined many nations in their support of the France and by talking to people that I know here, everyone is deeply mourning for Paris. They have been to shrines to pray and put aside time to think about all that had happened.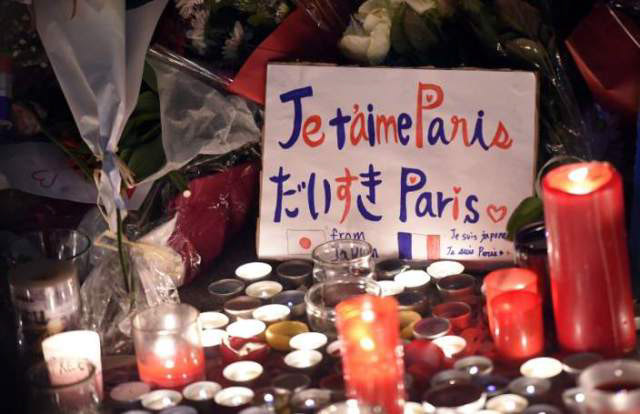 (Photo: http://www.bbc.com/news)
At this time, Japan is suffering too from an Earthquake that triggered a small Tsunami that affected part of the Kagoshima Prefecture. Luckily, no injuries have been reported which is great news considering what the world has had to suffer for the last 48 hours. Some good news at last and as Earthquakes are not uncommon in Japan, no-one is too worried about it. I plan to go to a Sapporo Shrine to see first hand what and how people are praying for the world at this time.
On to talking about Japan and what I have been up to recently. I finished my Digital Comics work and submitted it for grading!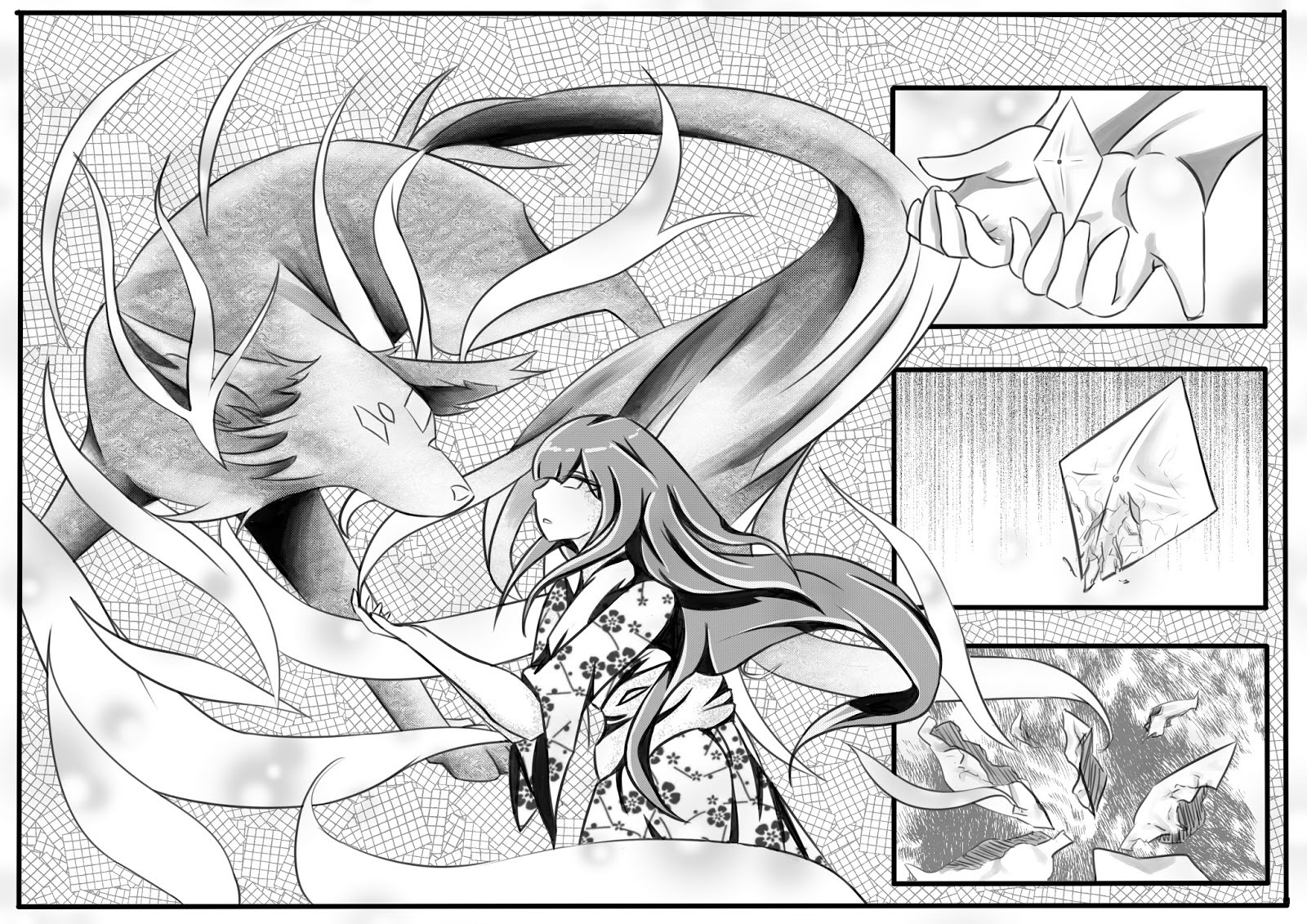 I have moved onto creating a comic which is a scroll down digital comic that is very popular on sites such as Comico and DeviantArt. I have always wanted to draw something like this and decided to do the comic about my main character (OC) called Asumi and her life with her pet. It's going to take a lot of work but i've nearly finished sketching it out. My manga class is going well. I have to create a 10 page manga which is proving difficult. I find it hard to create a story let alone stick to it and plan out pages for it. It's turning out to be more of a 15-20 page manga. Nothing like making more work for myself.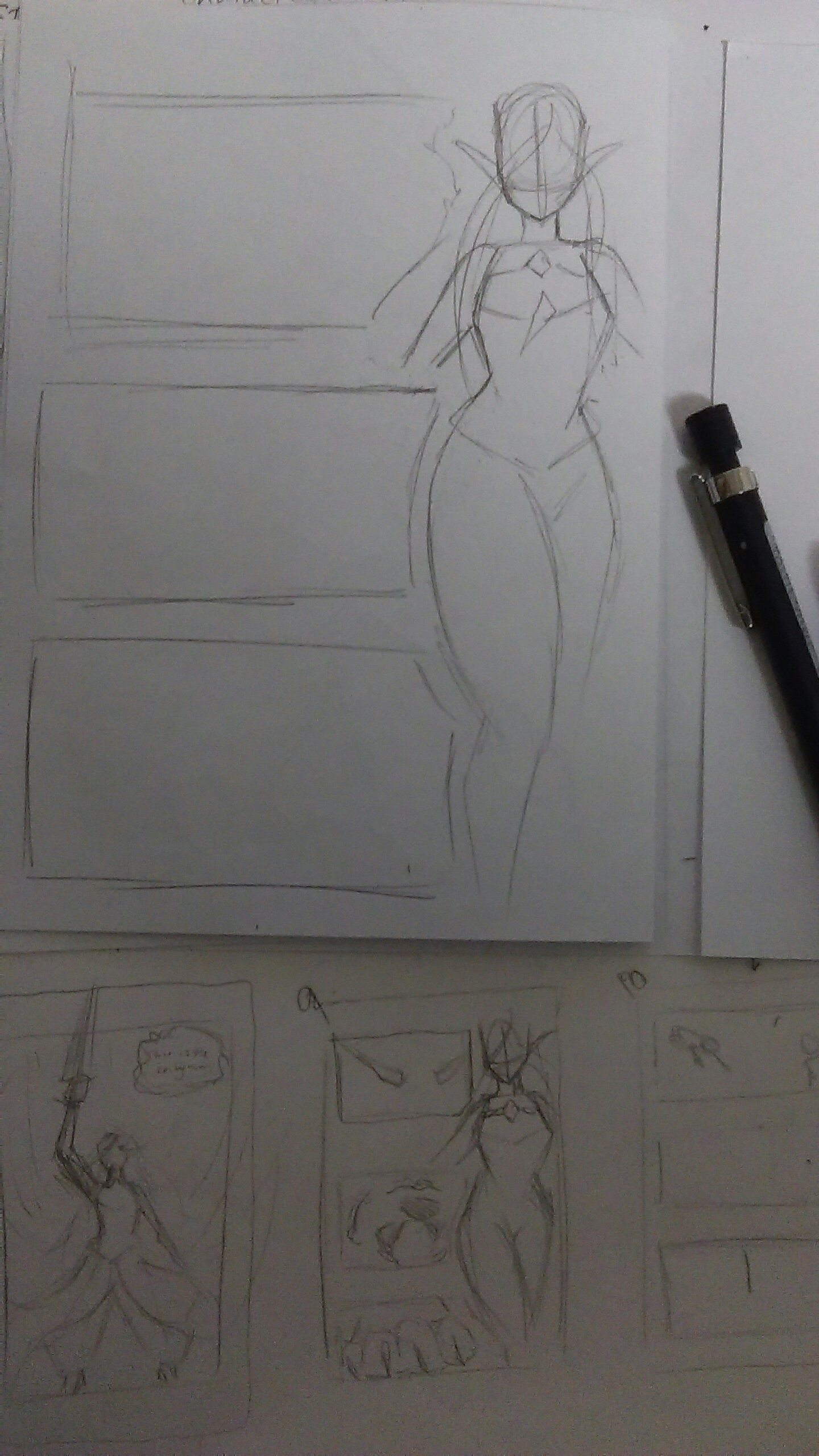 Some sketching for my Manga. Hopefully it'll be good. I seem to struggle with creating stories recently. I can think of the character and the ending to the story but not the beginning and middle. This project is really challenging for me. Today I have Free Work and Advertising after lunch. I missed last weeks Advertising class as I went to a tea ceremony which was amazing. We went to the local high school where we were greeted by the teacher that taught us about Ikebana, a form of traditional Japanese flower arranging. We where taught how to enter the room, how to move around the floor without touching the green strips that marks the edges of the floor mats and how to accept and drink the tea as well as how to make it. We where given a small sweet cake to eat before we drank the tea to counteract the bitterness. We then sat on our knees while we turned the cup clockwise three times, drank the tea and then turned it three times counterclockwise. After the ceremony I was given a chance to make my own tea. I made it without any lumps! I put the powder in the cup, added the water and used a small whisk to mix it all together. There is a certain way in which you must hold the whisk and cup so that the tea doesn't froth but also mixes enough where there aren't any lumps in the tea. Afterwards, we played a Japanese version of Chess and Checkers. It's only slightly different but so much more fun to play.
Character Design is going really well. I have been given y brief for the next project which is to create a mascot for Maruyama Zoo.
This is one of the sketches I have done for it. I think i'll use this one and elaborate on it.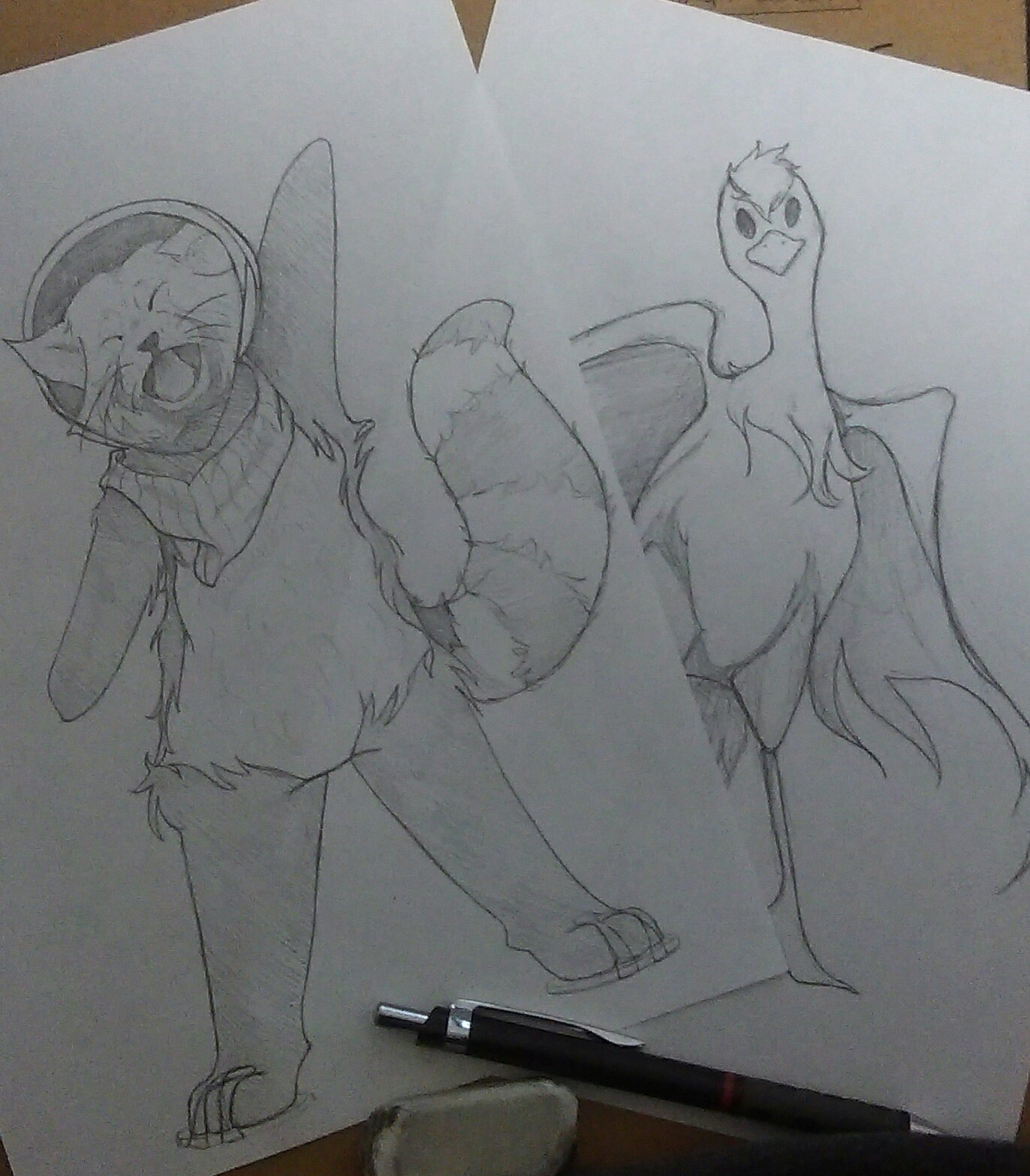 The afternoon was a little weird but very exciting. The rest of my class were practicing interviews so I had no lesson per-say. Instead, I had a talk with my manga teachers and a couple of Mangaka guests. It was amazing being surrounded by people who are such successful Mangakas. They asked me what my favourite anime's and manga's are and we started to set up a meeting with one of their friends who is from England and currently works in Sapporo. I'm so glad I am connecting with such talented people. Hopefully I can become good friends with them all.
In the morning, our teacher took Melina, Jack and I to a Temple located 5 minutes away from Bisen. It was an incredible experience. The Priest there gave us a tour as well as taught us about Zazen, a way to feel peaceful and tranquil. He taught us how to sit properly on the cushion, how to breathe properly and how to just let go and not think of anything. First of all he taught us how to hold our hands and how to walk properly. As we walked to the room, we bowed the Buddha on an altar and then stood in front of a raised sitting area, bowing to the cushion and then away. We turned the cushion – called a Zafu – so the name plate was facing away, and sat on it. After a while, we then turned to face the wall. We weren't allowed to close out eyes as that would lead to us falling asleep. He told us that this is the main difference between Meditation and Zazen.
The Priest rang a singing bowl three times to mark the beginning of the session and twice to signal the end. After this he taught us walking Zazen. We then had a tea ceremony and since we practised before hand we knew what we where doing. We then had a tour of the other building.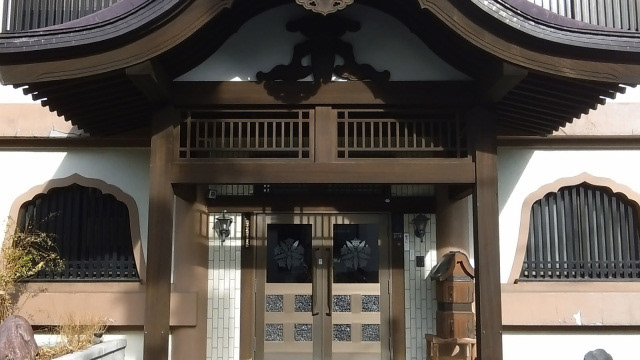 The Priest told us about the belief system of Buddhism, how Buddha isn't a God. He was a person who received enlightenment. The Temple was gorgeous. Everything in the rooms where used. It was so different to churches at home, where most places are dripping with gold and expensive pieces of art. Here, it is so humble, everything has a purpose.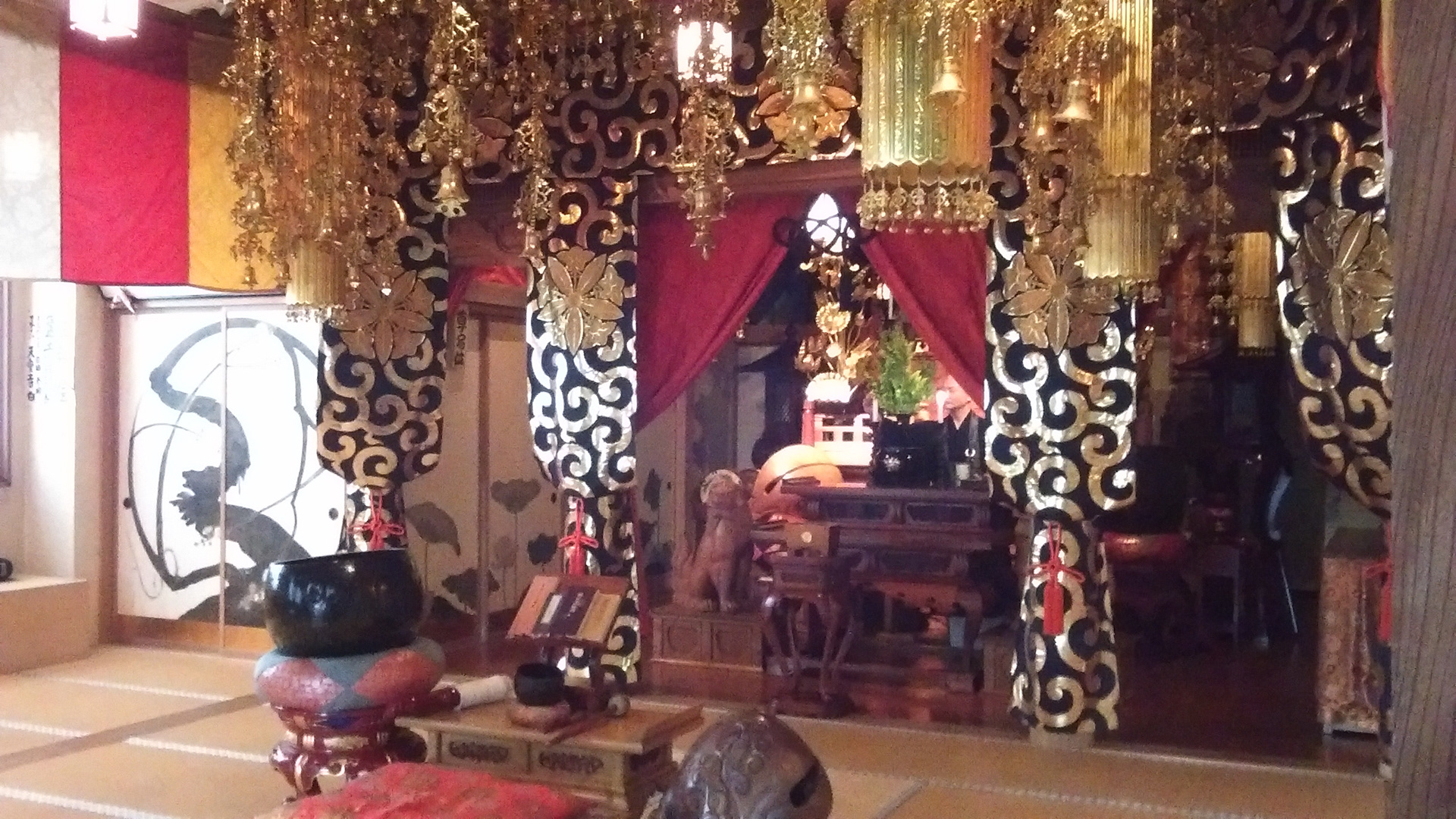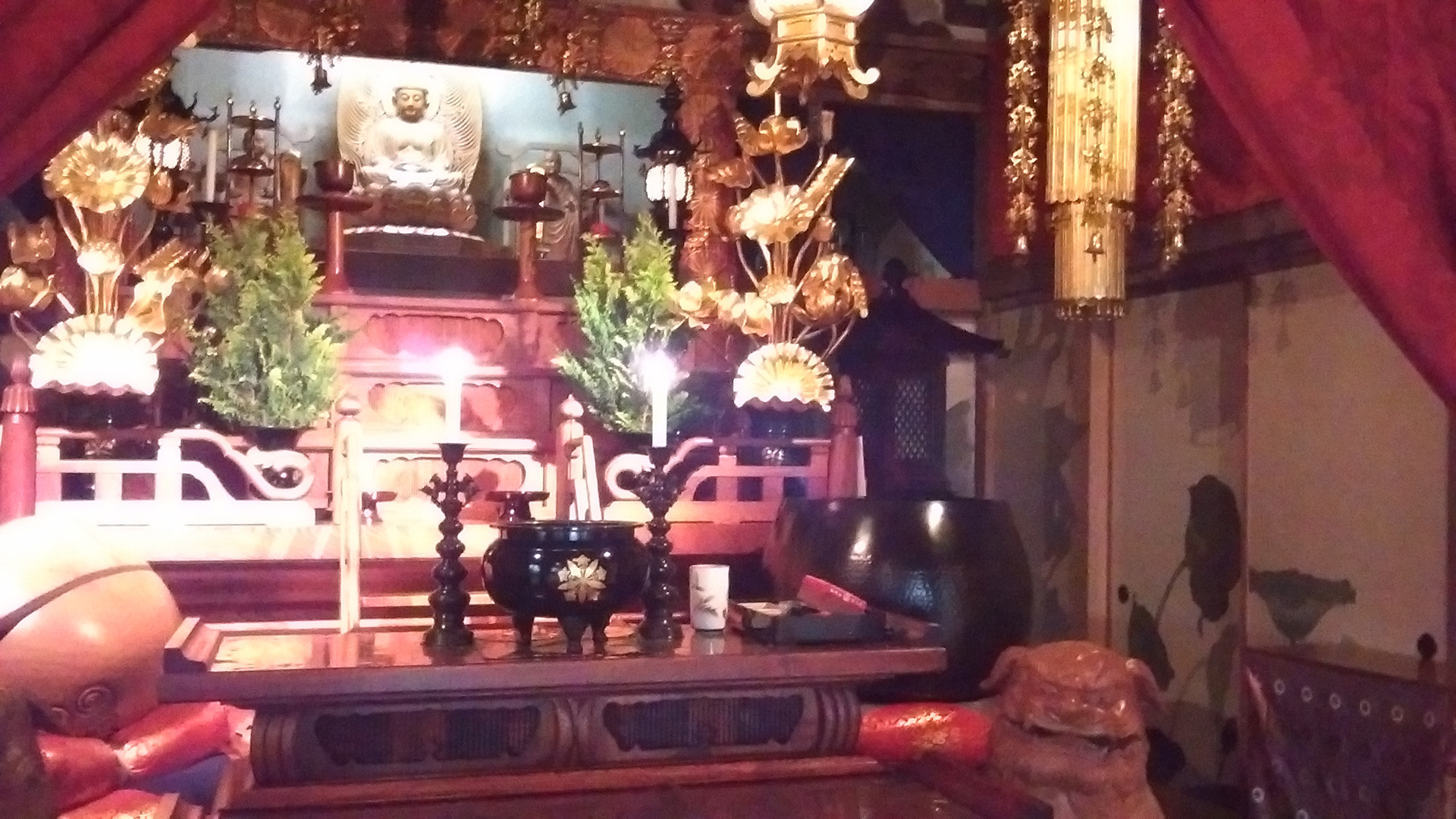 I even got to burn some incense at the main altar. I was told to pick up the powdered incense with three fingers and gently place it onto the lit block. I then bowed and prayed.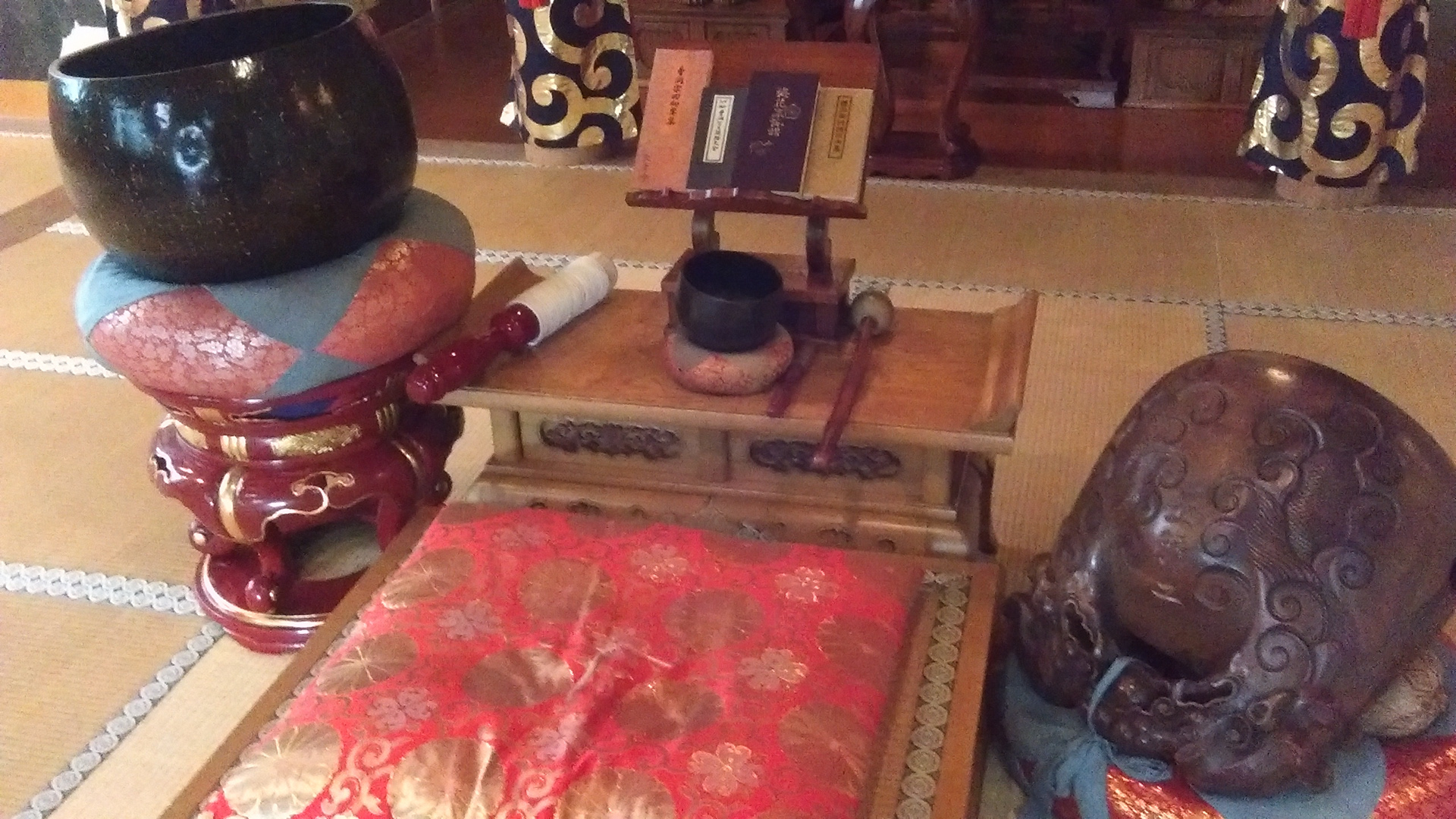 He gave us a demonstration on how he performs the chant for the services/ceremonies they hold here. He rings the giant singing bowl on the left of the picture three times and then hits and steady beat on the half fish half dragon instrument on the right of the picture. It was so enchanting to watch and I definitely got goosebumps whilst listening to it.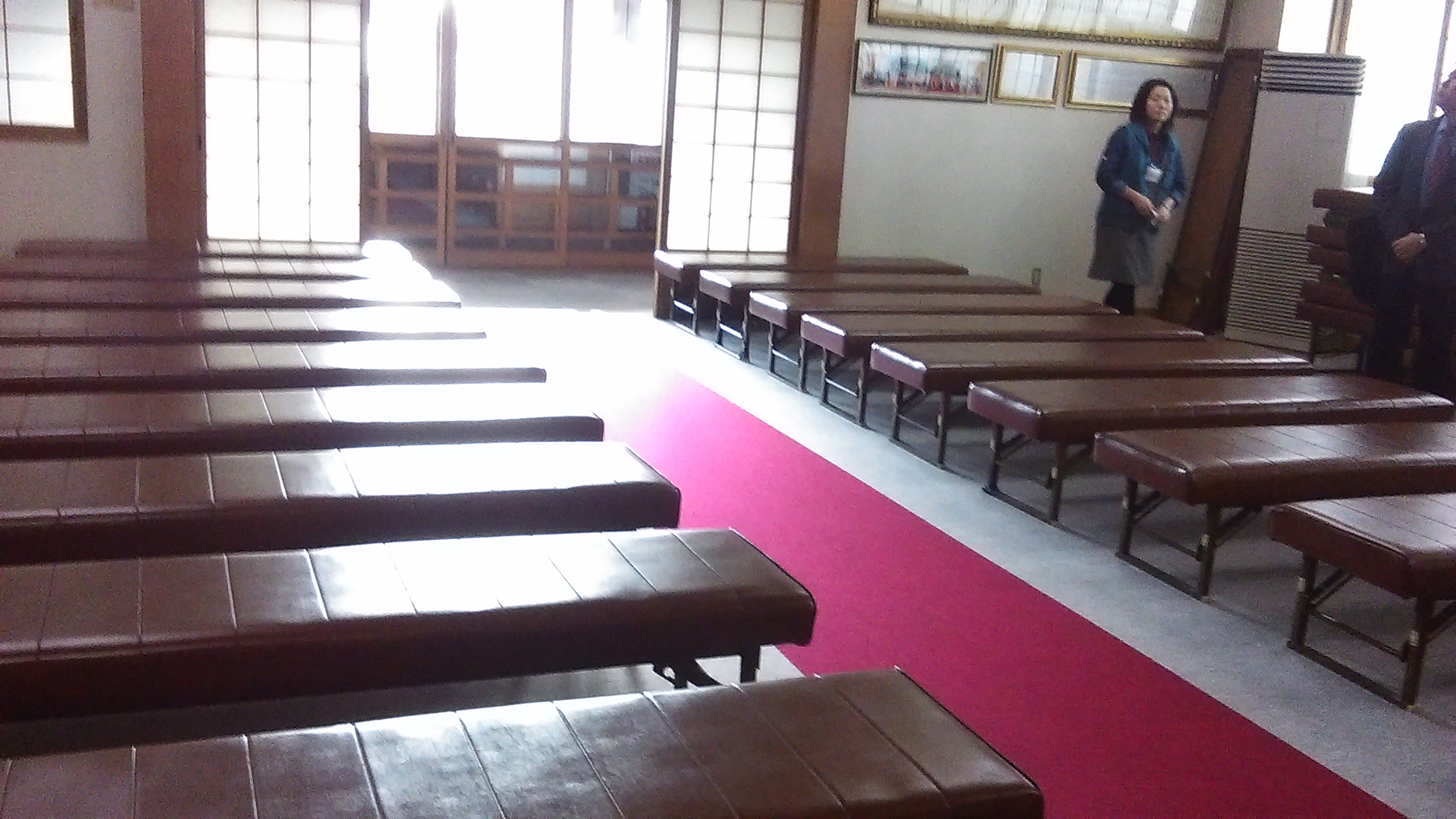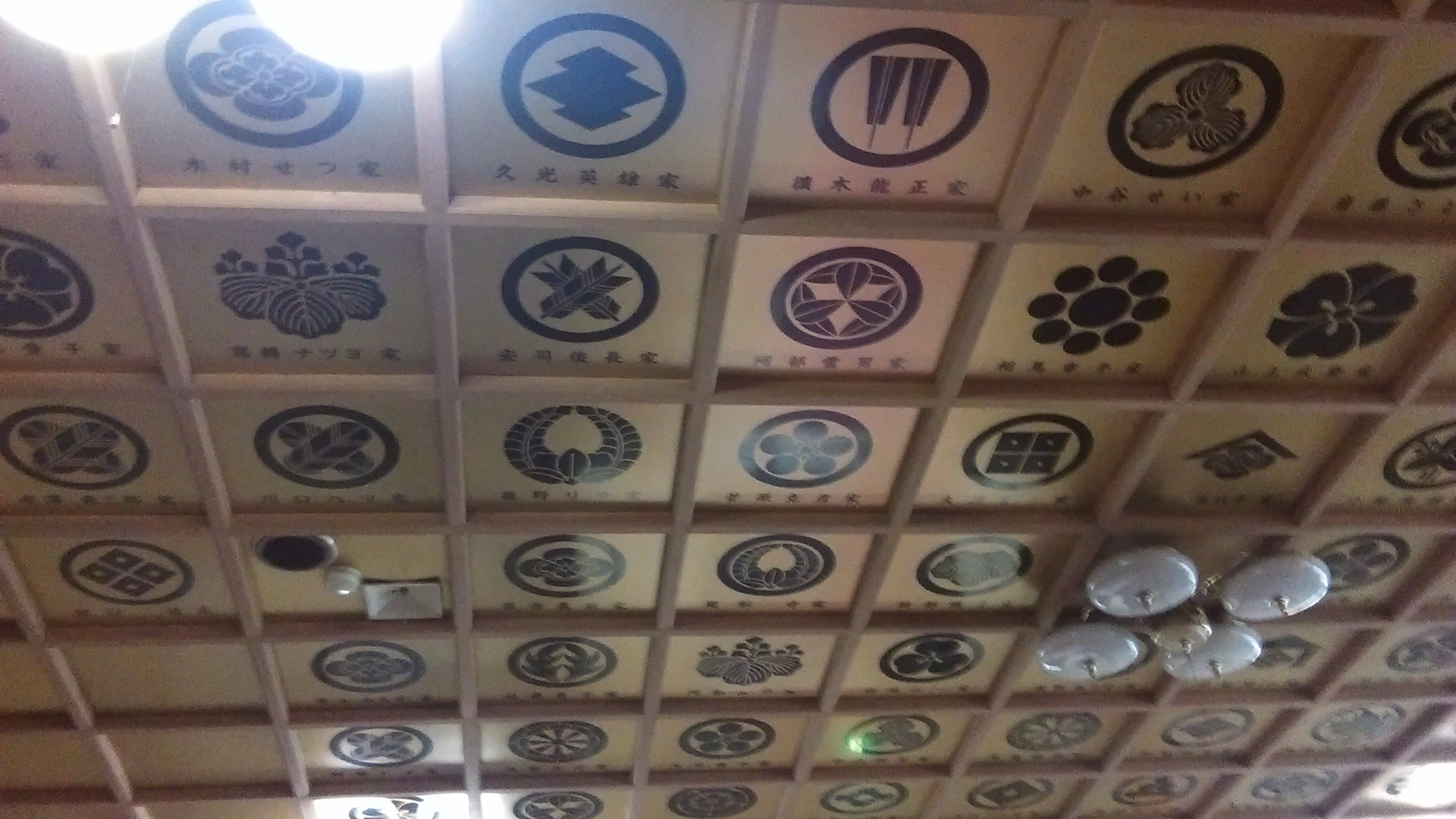 The room was filled of pictures depicting who the worship and pray to.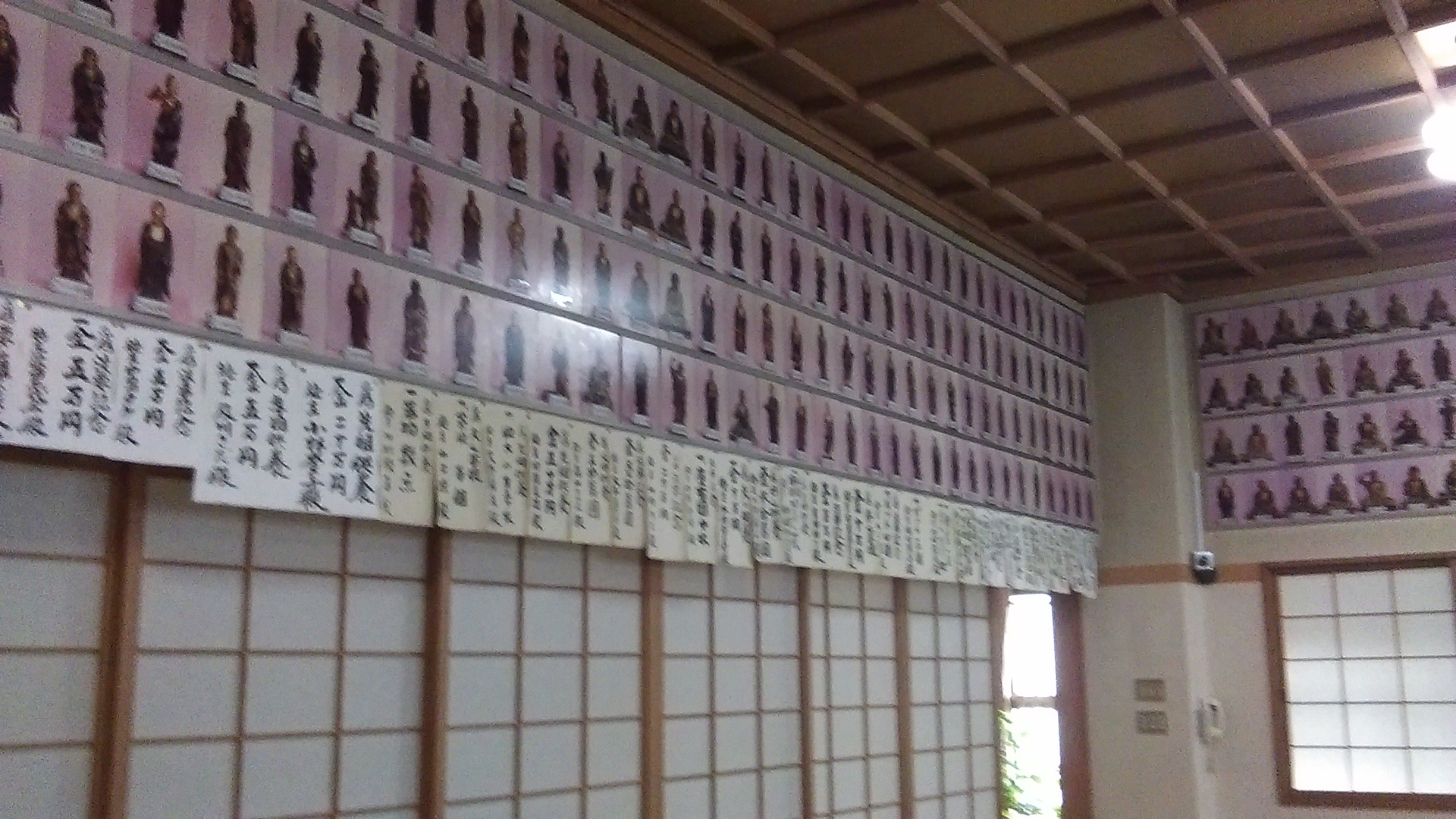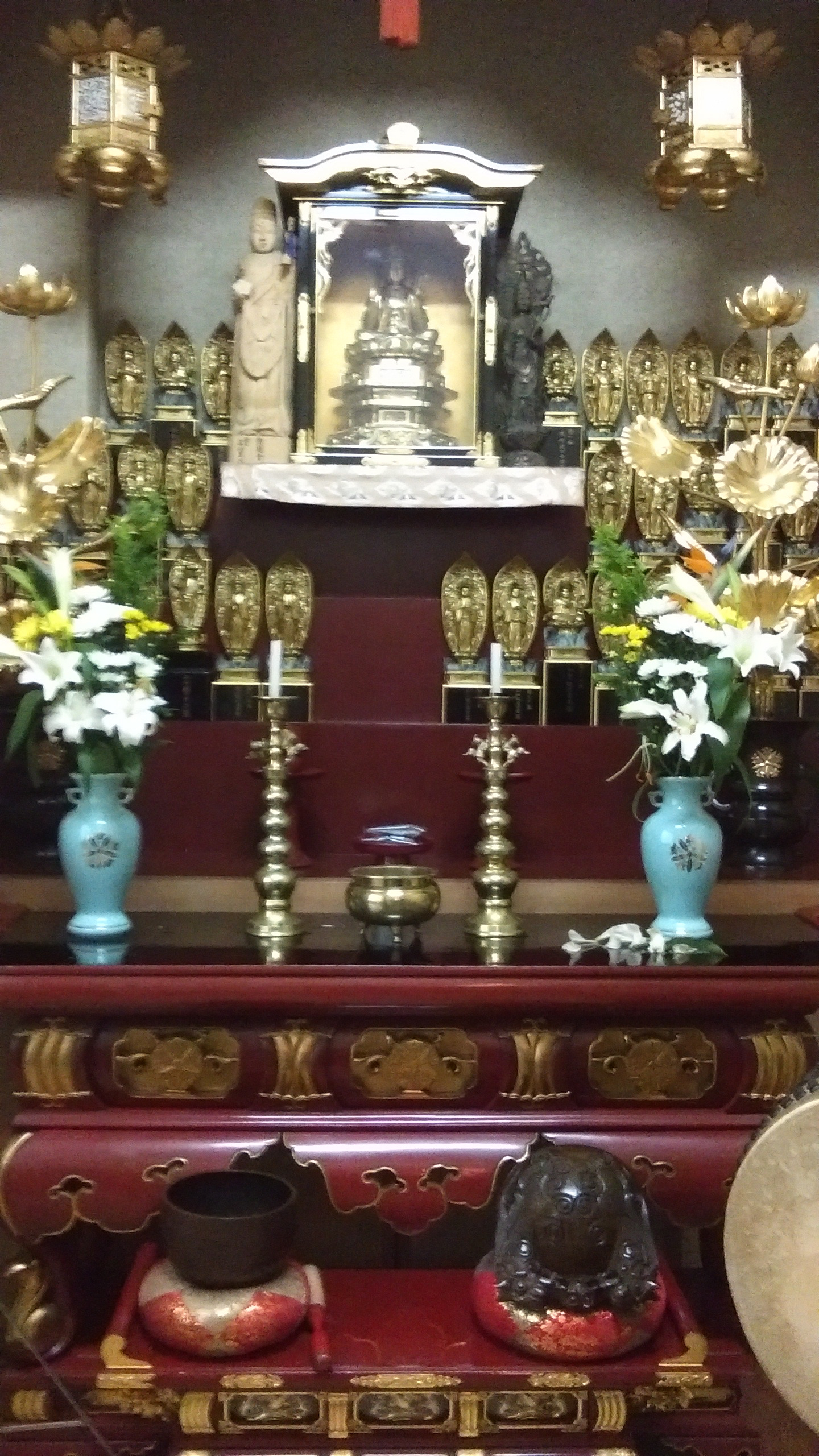 This picture is of a cell of an indoor cemetery. In Japan, families often share a 'cell' where their ashes are kept. On the anniversary of their death, their families come to leave gifts. I find this is a nicer way to stay connected with your dead loved ones and, if you think economically, it saves room in the country. As Japan is relatively small compared to other parts of the world, this is a great way to conserve space whilst still being respectful to those who passed. Everyone gets cremated in Japan when they die.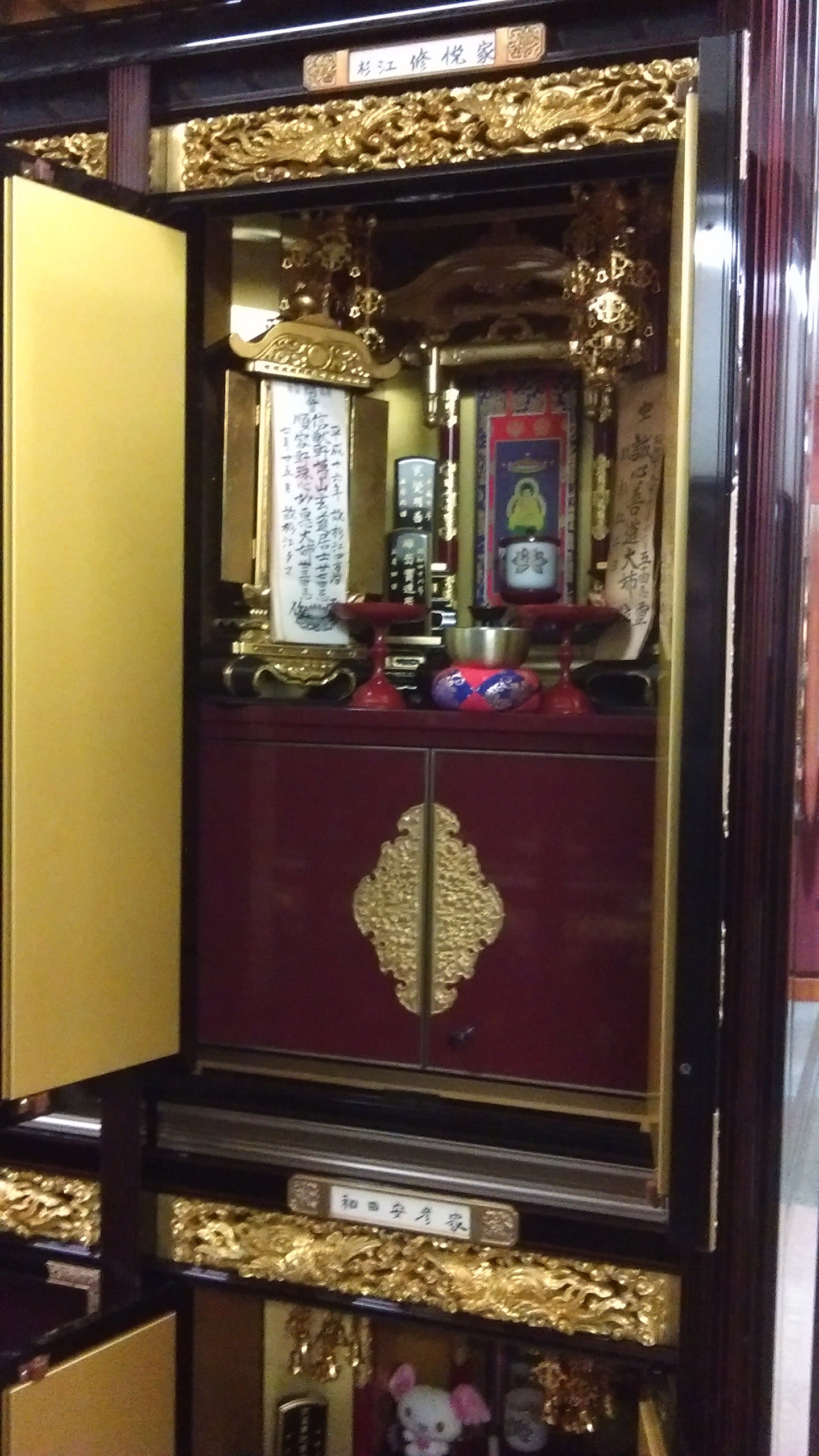 This shrine is dedicated to a 'God' who protects the souls of children. The priest told us that this is a place where people go to to pray for their unborn childs safety but also for those whose child have died. This is a place of both hope and sorrow. It was filled with gifts of sweets and drinks like soda for the children who have died. At every altar there is a place to worship and I love this. It's so personal, so intense. There is a meaning to going, you don't turn up because you feel like you have to. You go when you want to. The Priest told us of the Buddhist belief that everyone is connected, thus no-one is alone. That because of this we must be thankful for all things, especially food as this is what gives us life. It is second to our parents. Without food, meat in particular, we couldn't live and it's the 'we must eat other lives to live our own and we must be thankful' attitude that I really appreciate. Before I came to Japan I was a vegetarian although only for around 4-5 months. Being in Japan has meant I have had to eat meat again. I find it interesting that Buddhists here do not eat meat, yet understand it's importance for those that do eat it. They are thankful non-the-less even though they do not consume it themselves. I find it very accepting and peaceful. That everything happens for a reason.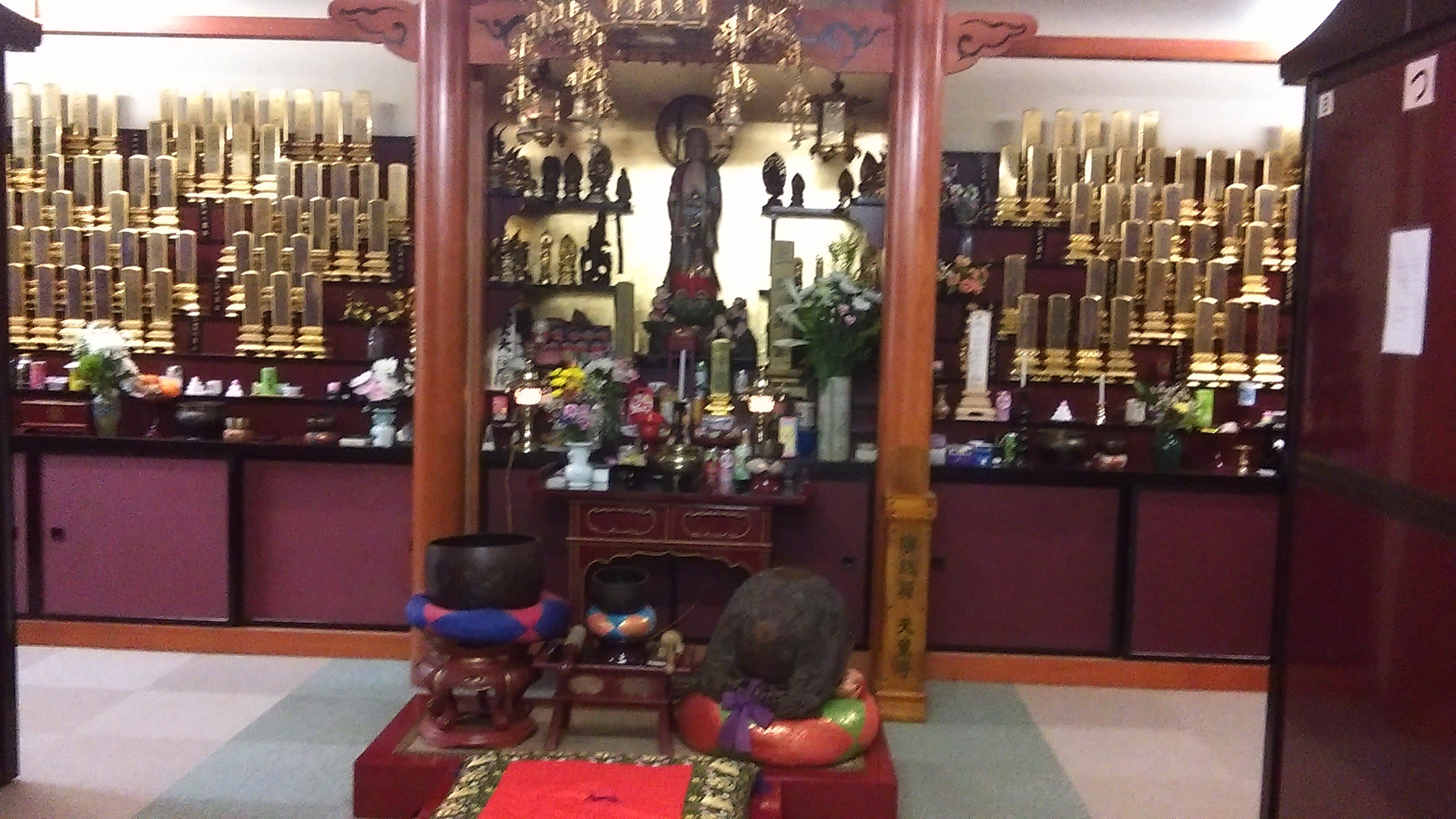 After this I had lunch and went to my DTP class where it was time to hand in my work for deadline.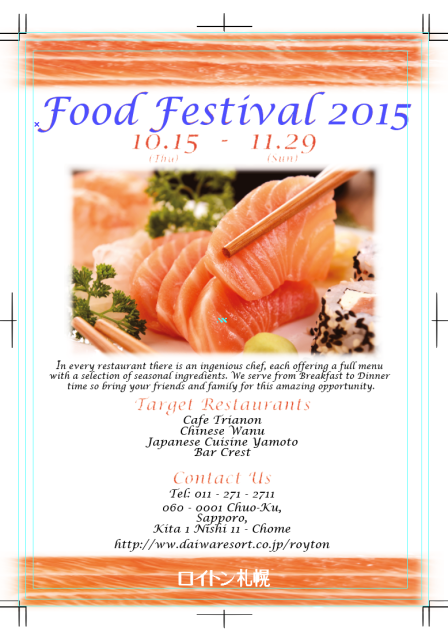 This is the final outcome that I came up with. I'm not entirely happy with the end result but it was hard to balance a happy medium between English and Japanese style advertisement. I also completed my Illustration for Friday morning classes.
So difficult but so much fun to paint.
Ikebane is a form of traditional flower arrangement in Japan that is used for everyday use as well as for Shrines and Temples. They arrangements are made from seasonal flowers with space, colour and size all contributing to the overall composition. These are the pictures of the process of making an arrangement.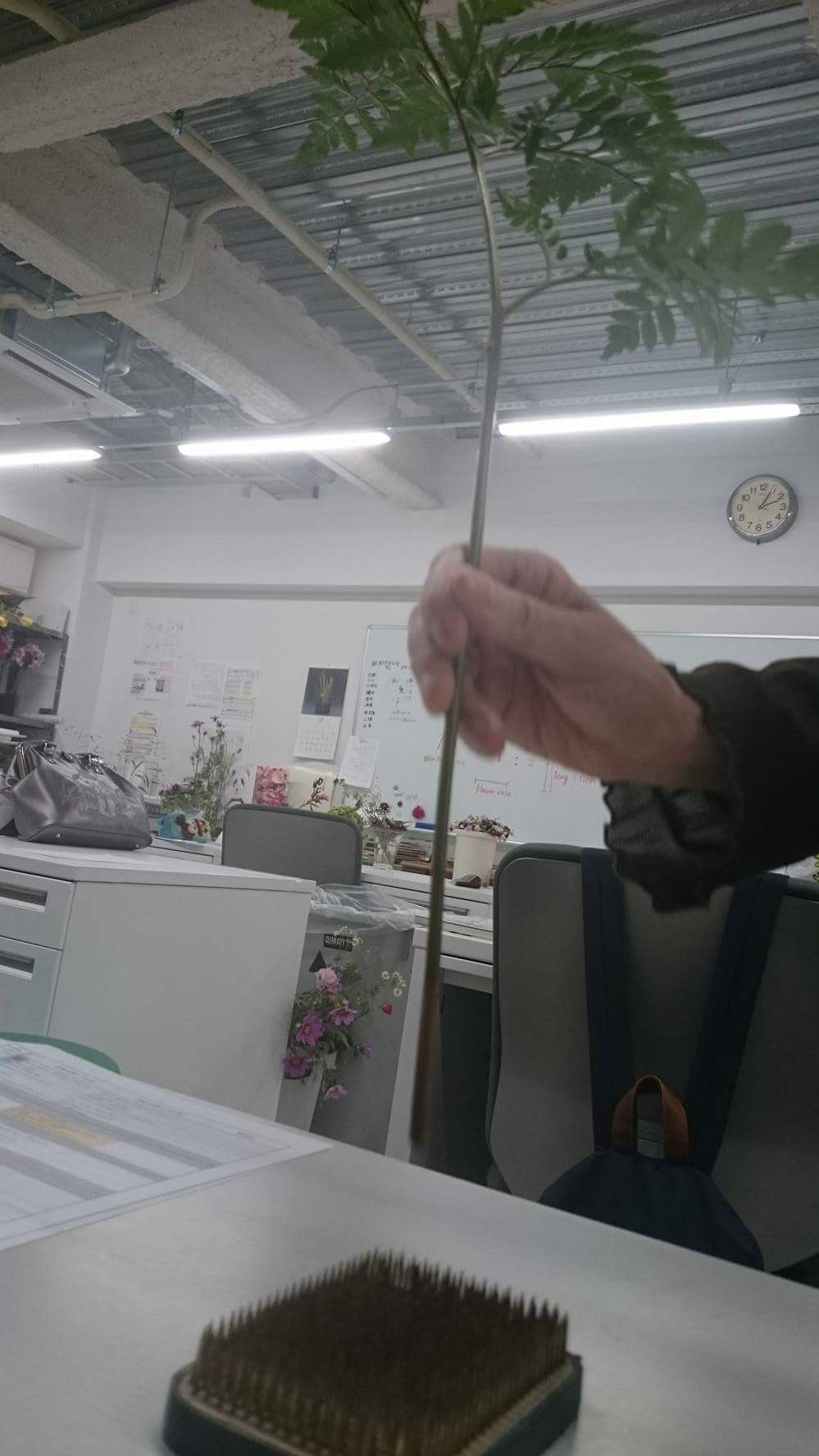 For this class we had to think about what colour flower we wanted to use. We where told that we had to use this spiked base instead of Styrofoam as it is reusable and easier to use in general. We had to chose a container where you could see some of the water.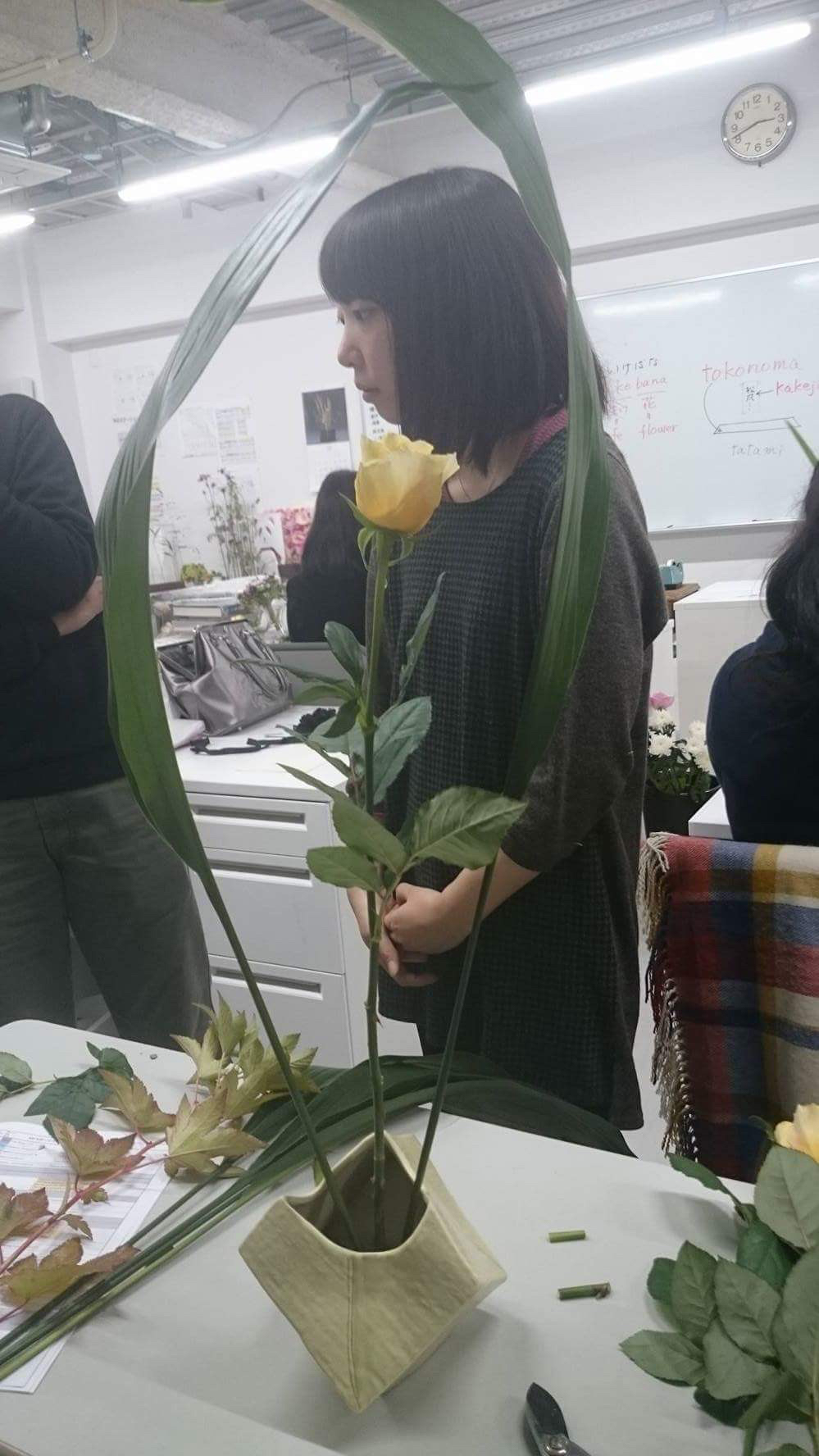 As I was placing the flowers into the vase, I had to think about how I can best utilise the flowers given to me in the best way. I didn't have much to work with but I like simple compositions when it comes to things like this. Still, I had to have some help from the teacher. It turns out I'm not a very good flower arranger.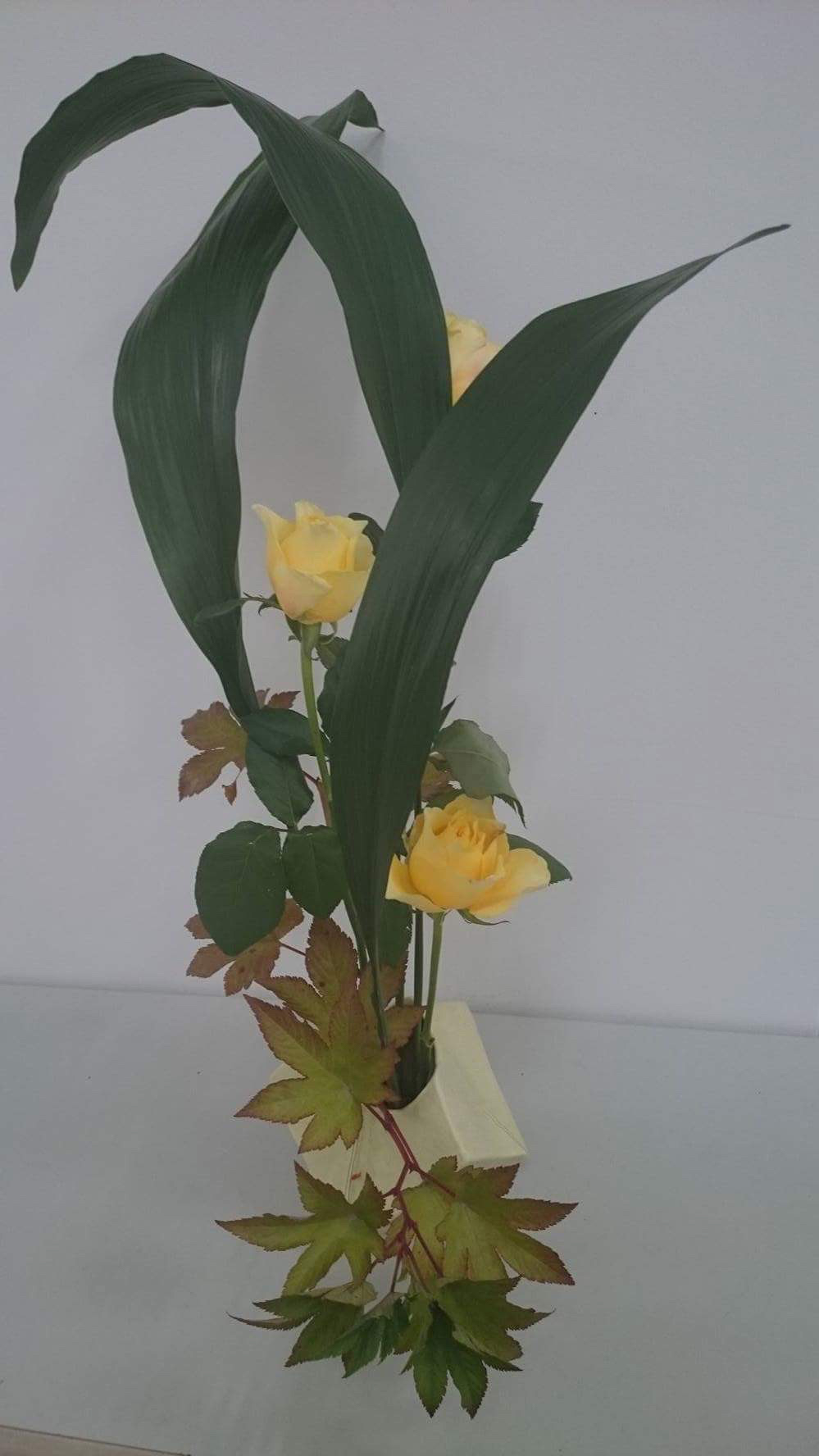 The final outcome. At the end of this class I was given a small bunch of flowers that some of the classmates had made.
20th November – Presentations, work load and random silliness
Illustration went well. I had my presentation today for my final piece and although I had the translated version of my speech I could not speak it out loud to the class. I spoke in English and my teacher repeated in Japanese.
We then had to pick our next theme – individually – from a lottery. I drew Kandoo illustration which is 'Heart Warming'.
Luckily I only have to do a rough sketch as there isn't enough time to make a full painting again. I would really like to finish it anyway at home and send them a file of the finished painting.
I also entered a competition today too. I'm not exactly what it was for, I had about an hour to make a picture and enter as I was only told about it today, but the grand prize is a 22HD Cintique so it's worth a shot. Even if i'm not expecting to win it's great to enter this competition. Since being in Japan I have entered countless competitions, something I would be too shy to do at home. This is the final piece with my submission into the concept behind it: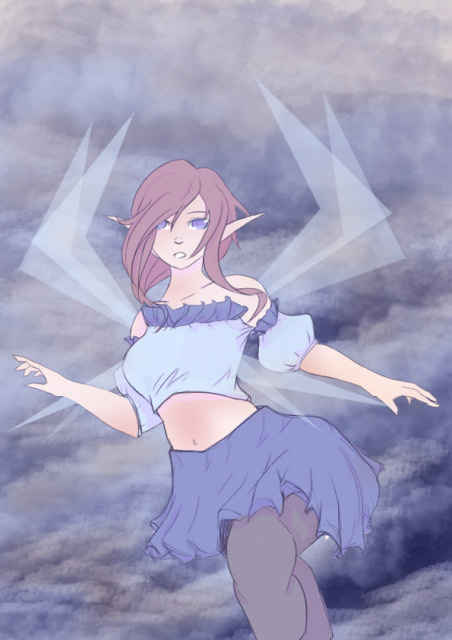 This character is a fantasy character who can control the weather and thus can fly around to her hearts content. Her wings change depending on the weather condition her favourite being thunderstorms and rainy conditions.I call this character type a weather elf, a being that is in charge of balancing the worlds atmosphere. In this world there are many different types of elves, one of my favourites being the weather elf.
Even though I am enjoying my work here, I feel myself slipping greatly in my Manga class. I have never had such a lot of work to do in such a small amount of time. It's really stressful but as I said before, really fun. I know i'll get the work done, it's just a matter of getting enough time to sleep as well as do work. At least this Monday is a holiday!
Life Drawing went extremely well. We had to draw two students in the class, 2X 7 minute gesture poses, and then the rest of the class was one pose with the nude model. We stopped for a break every 10 minutes which I feel is a lot better than the way we do it at home. Fresh eyes on the page can teach you what you need to change without being told by the teacher. You can work it out on your own 
this way.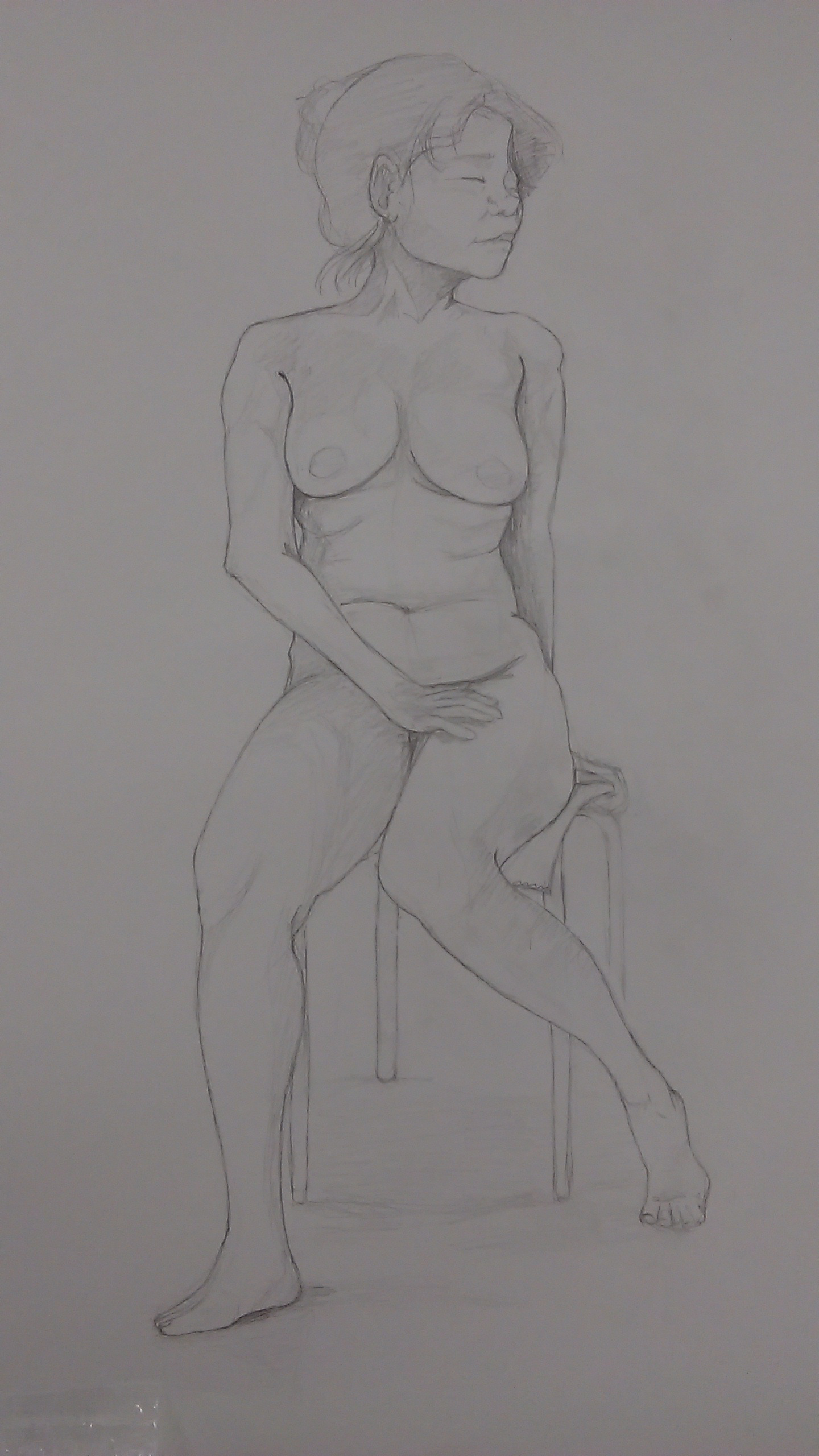 Tomorrow I am going to Maruyama Zoo with Melina which will be really fun. I mainly need to go for research for my Character Design class but mainly because they have polar bears. I've always wanted to see one. On Sunday I have a meeting with the person I met on Tuesday. She's bringing her English friend along. They really want to see some of my work and i'm only just getting used to showing people my sketches. I guess I just don't feel comfortable enough with my own work to show people any of it, including my final pieces. I've always liked my sketches more anyway.
Me and Melina then went into Stellar Place and had a look around again. I bought a really comfy scarf and some Starbucks, a rarity for me to have coffee but it had a craving for a loong time.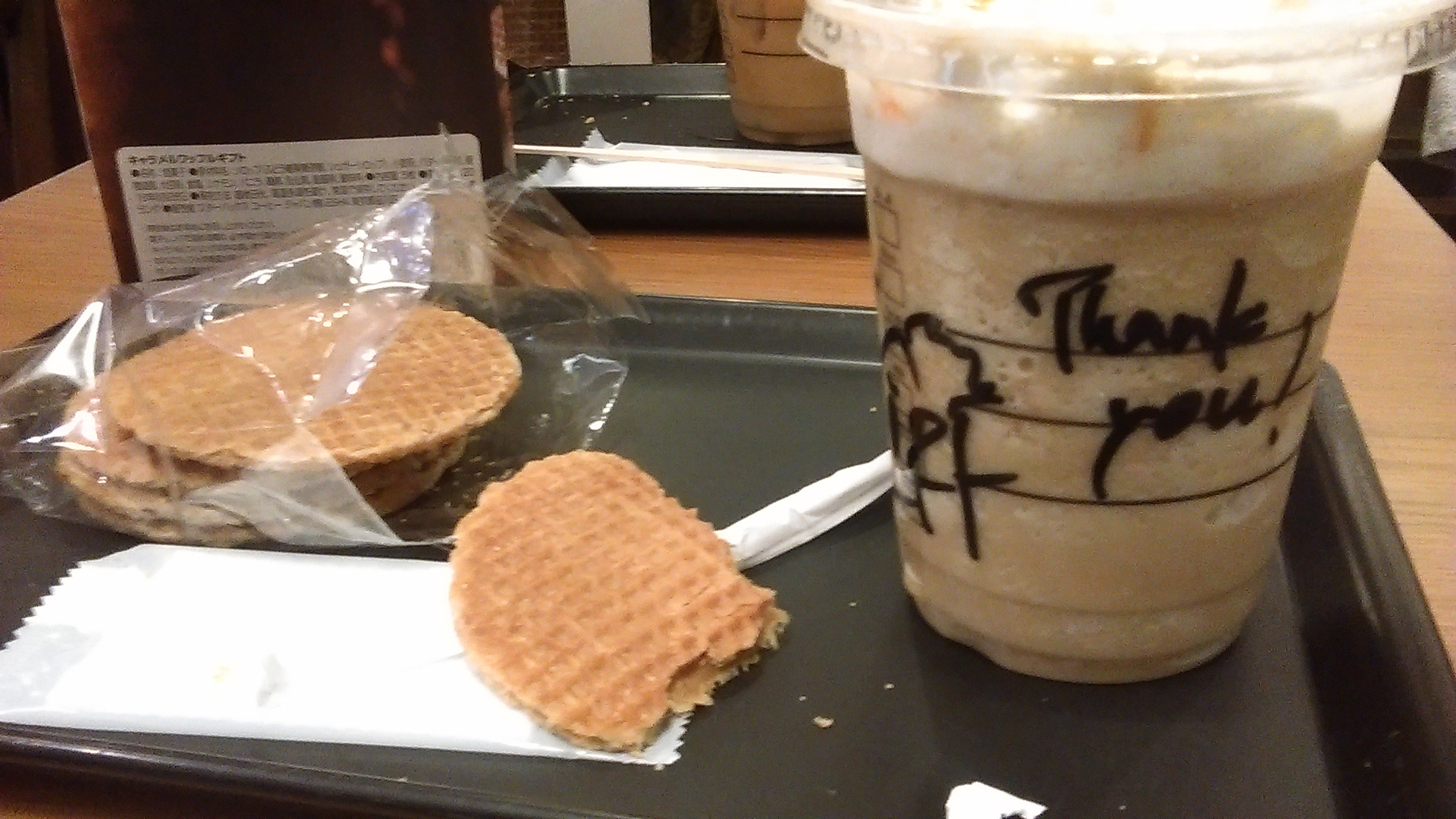 The Pokemon Centre is just where dreams are made of.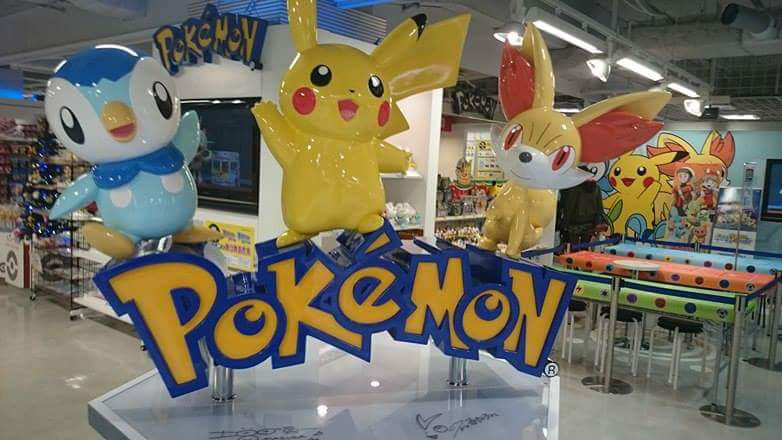 Japanese Galleries, Festivals and Odds and Ends
I have a lot of images that I have found in a hidden folder on my phone and decided to piece them all together for a blog post. Enjoy the randomness.
Pokemon Berry Drops are so good.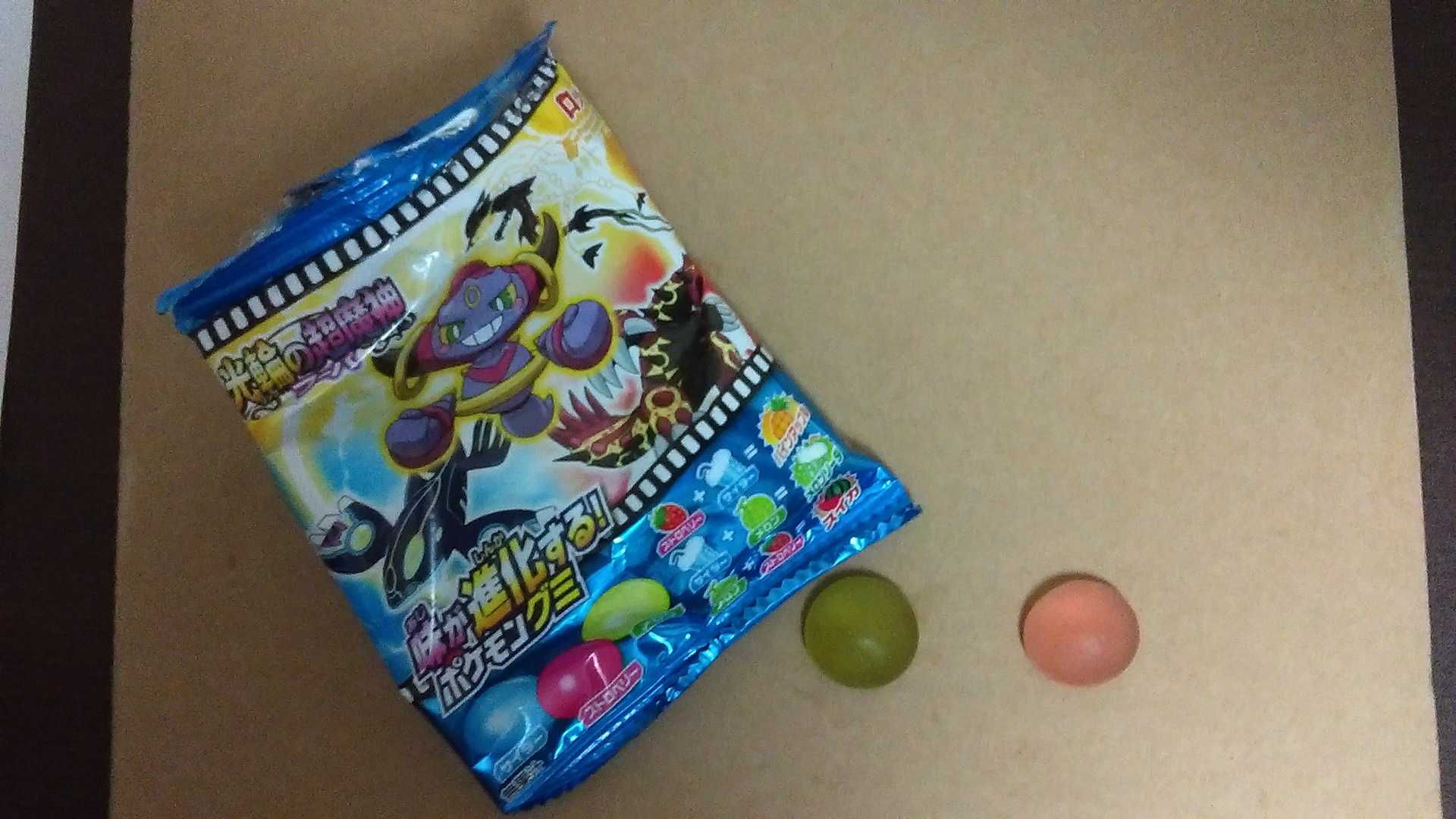 For one of the holidays I was given a gigantic apple. The holiday was to celebrate the time of year when fruit are at its finest to be picked. Lots of people go to farms and fields on this day to pick fruit but I decided to have a wonder around Sapporo as this was towards the beginning of the trip. It tasted so good and I have found that fruit is quite expensive here, so it was a rare treat.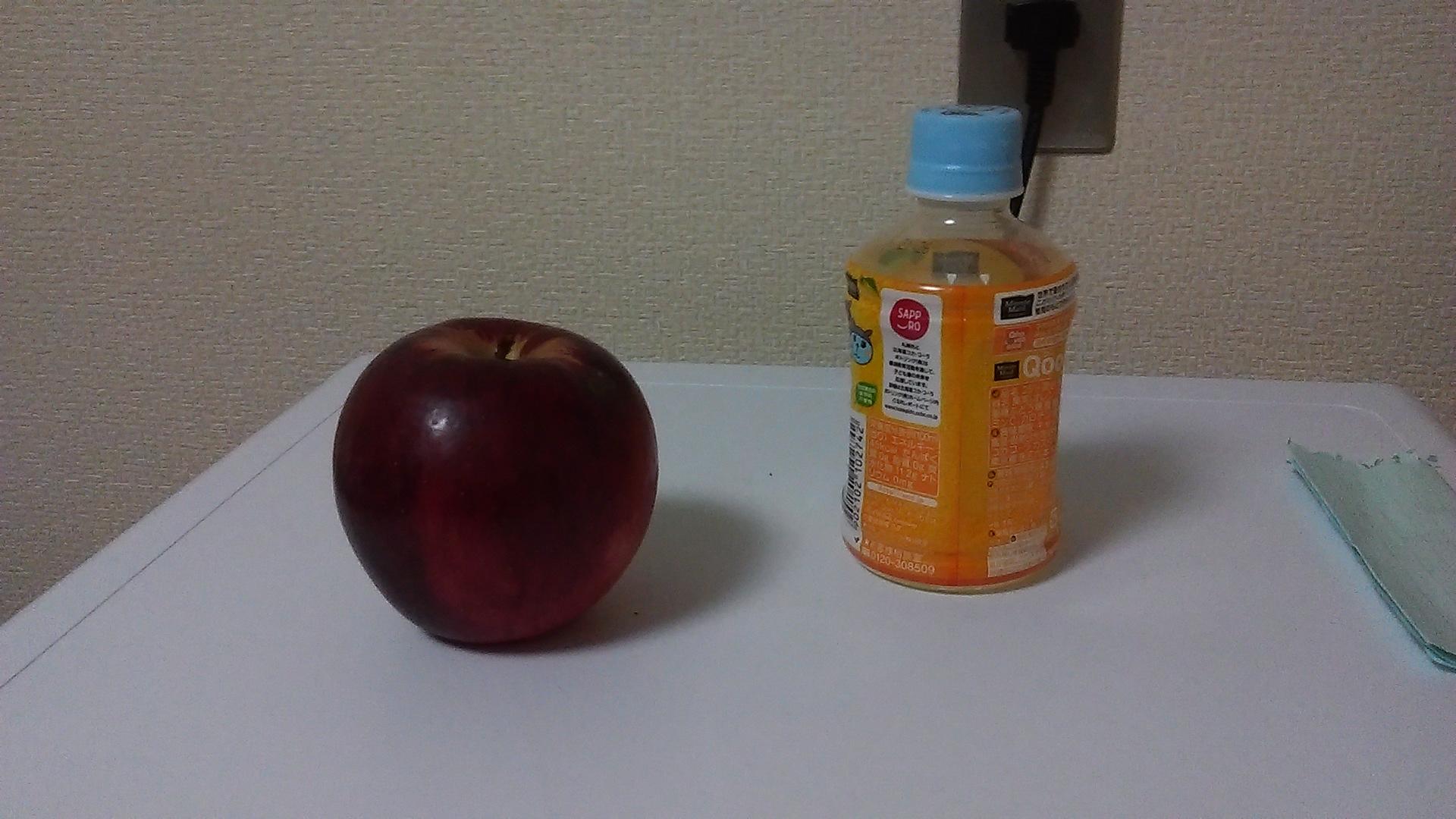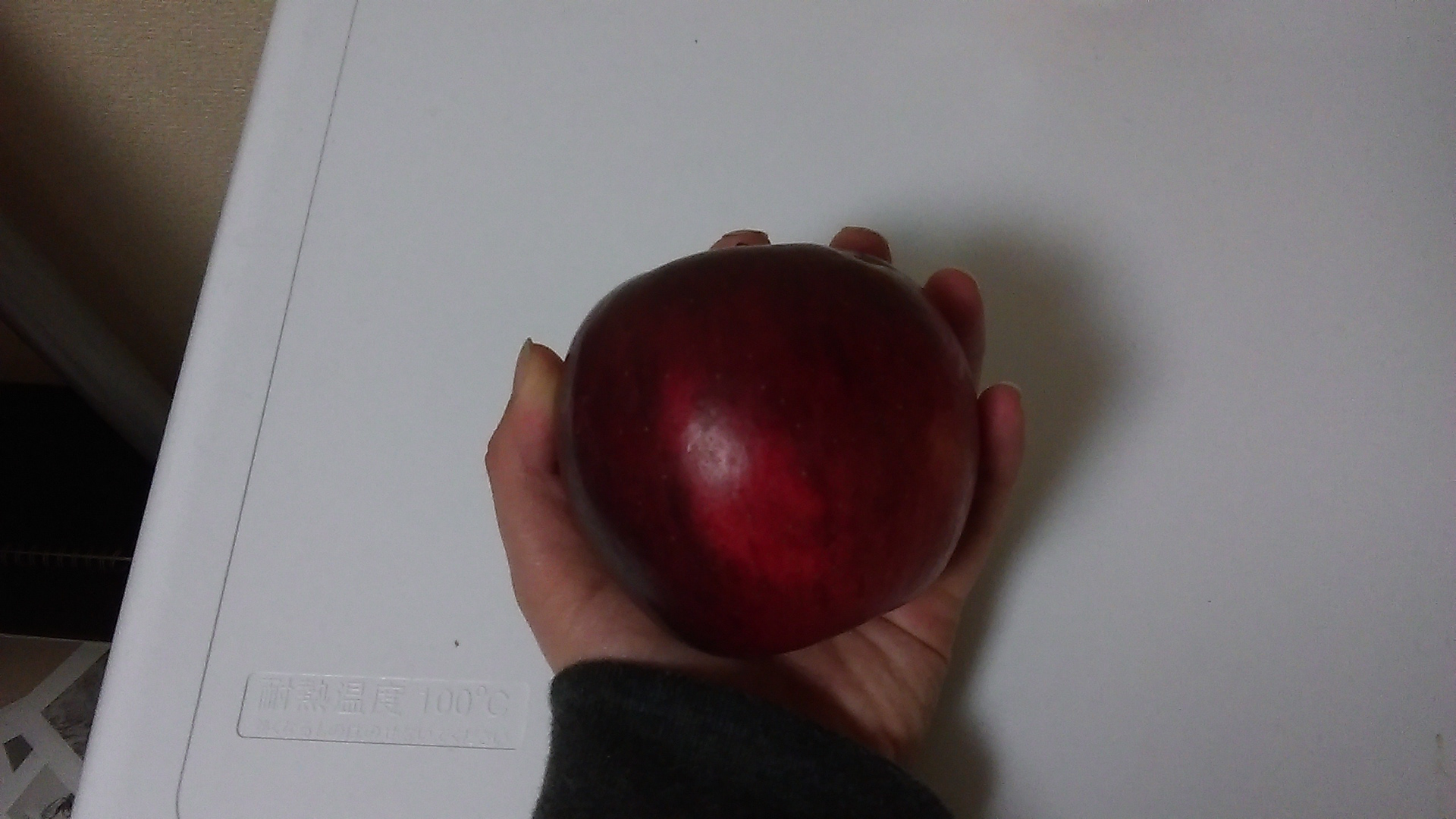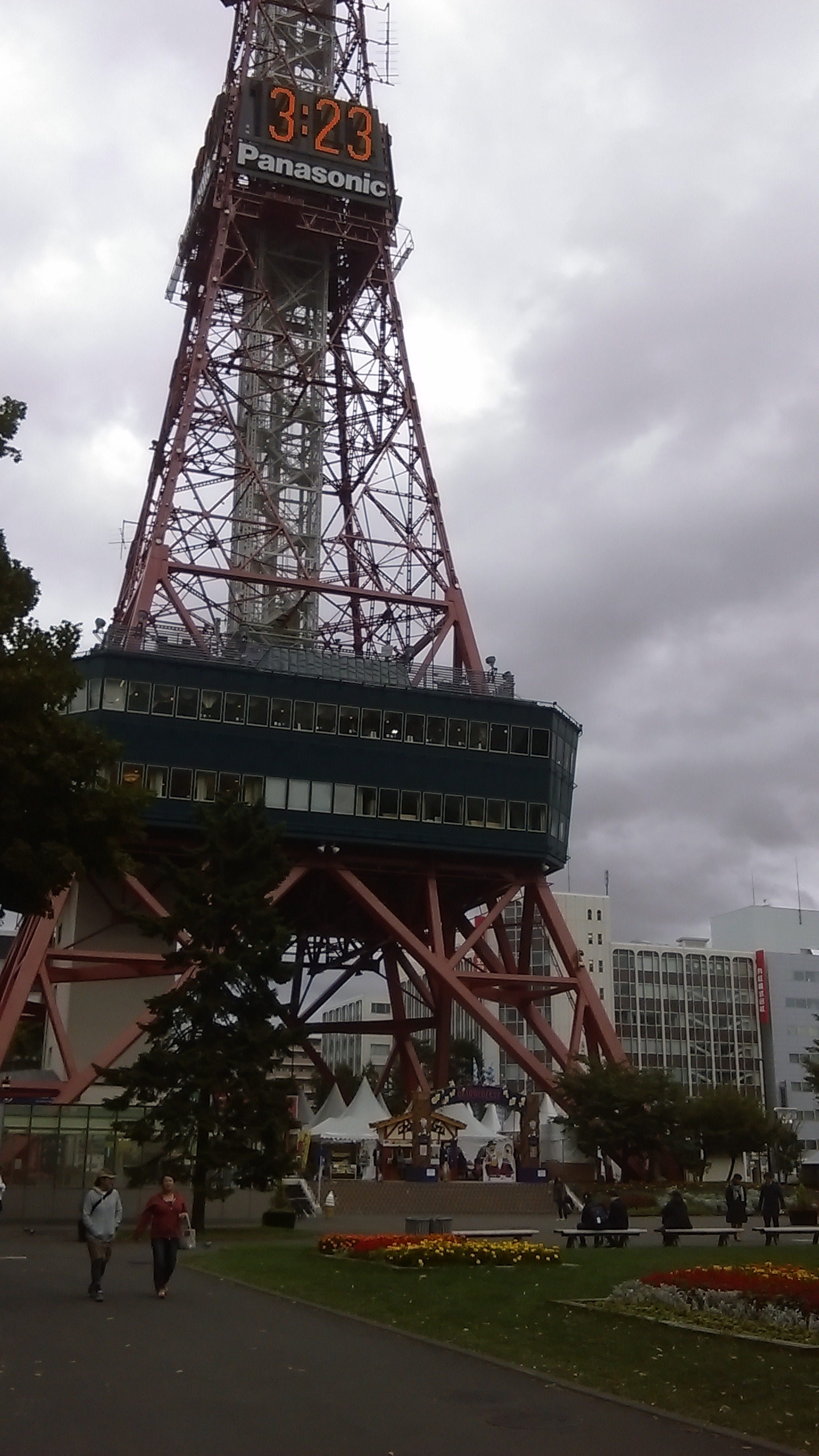 Some delicious food. Yes, that's a Vita in the background. Yes, I may have been playing Lost Song while I was waiting for the food to arrive. Got a good head-start on the English release of the game.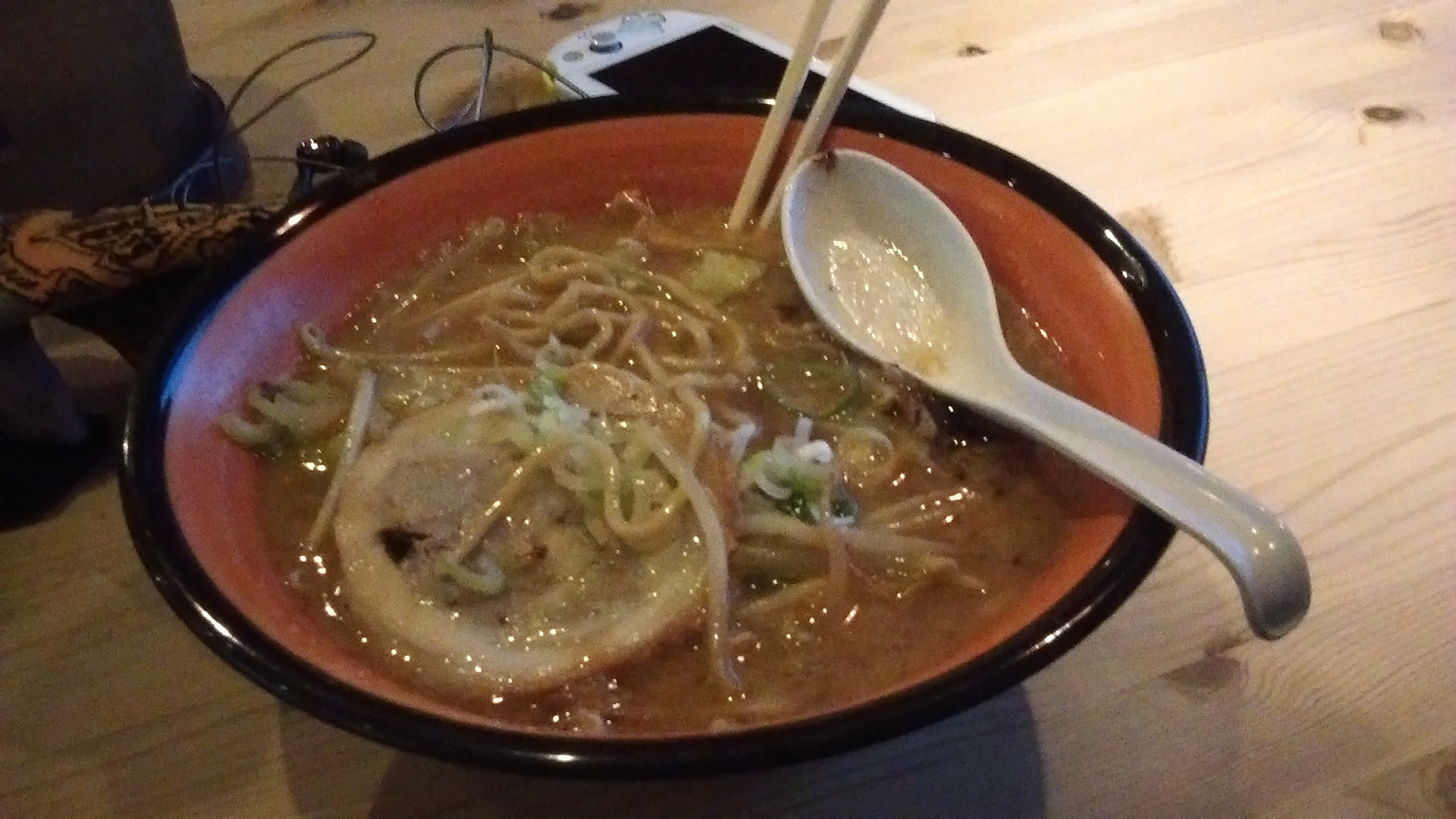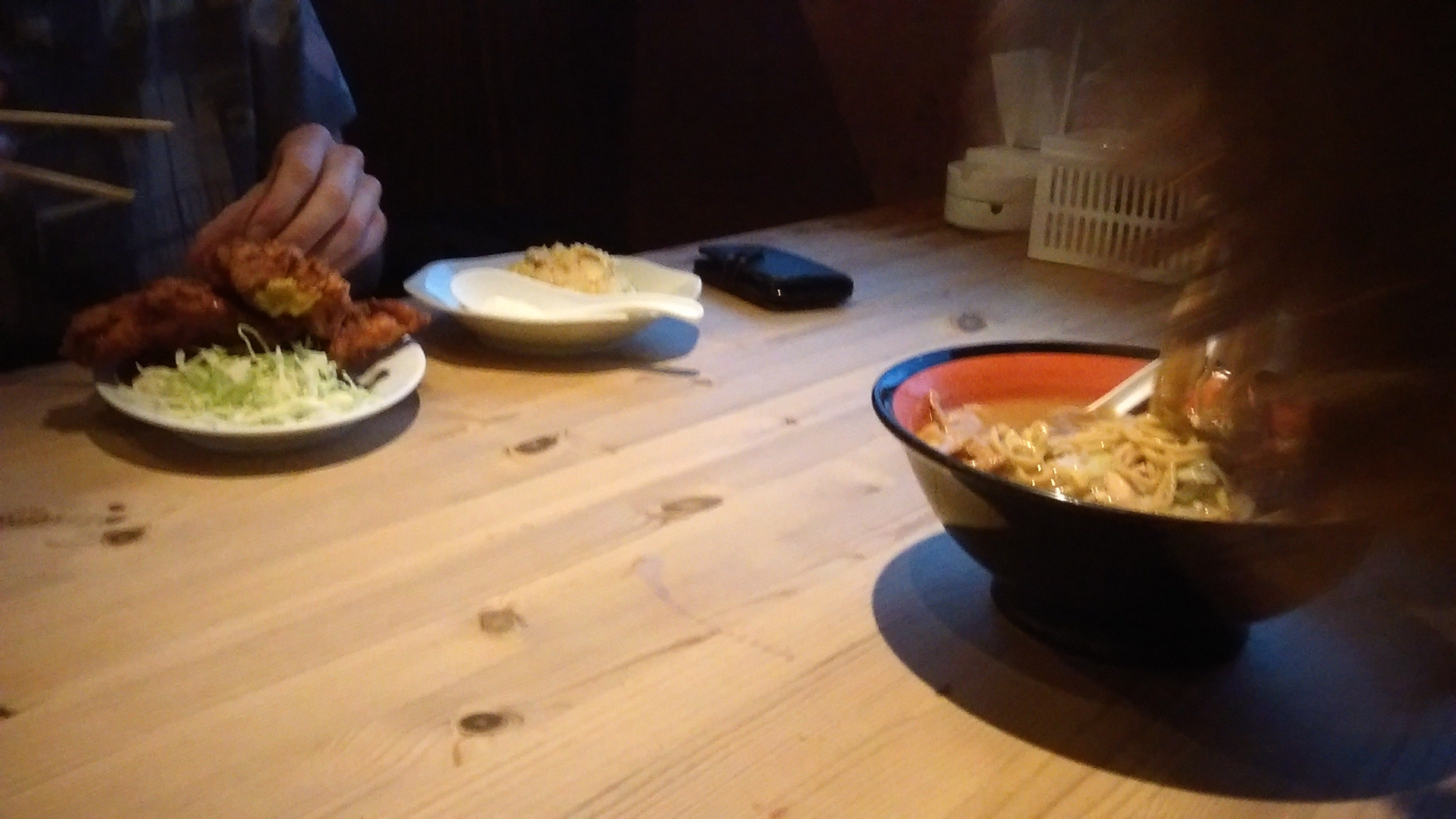 A karaoke room! Fully equipped with every kind of instrument.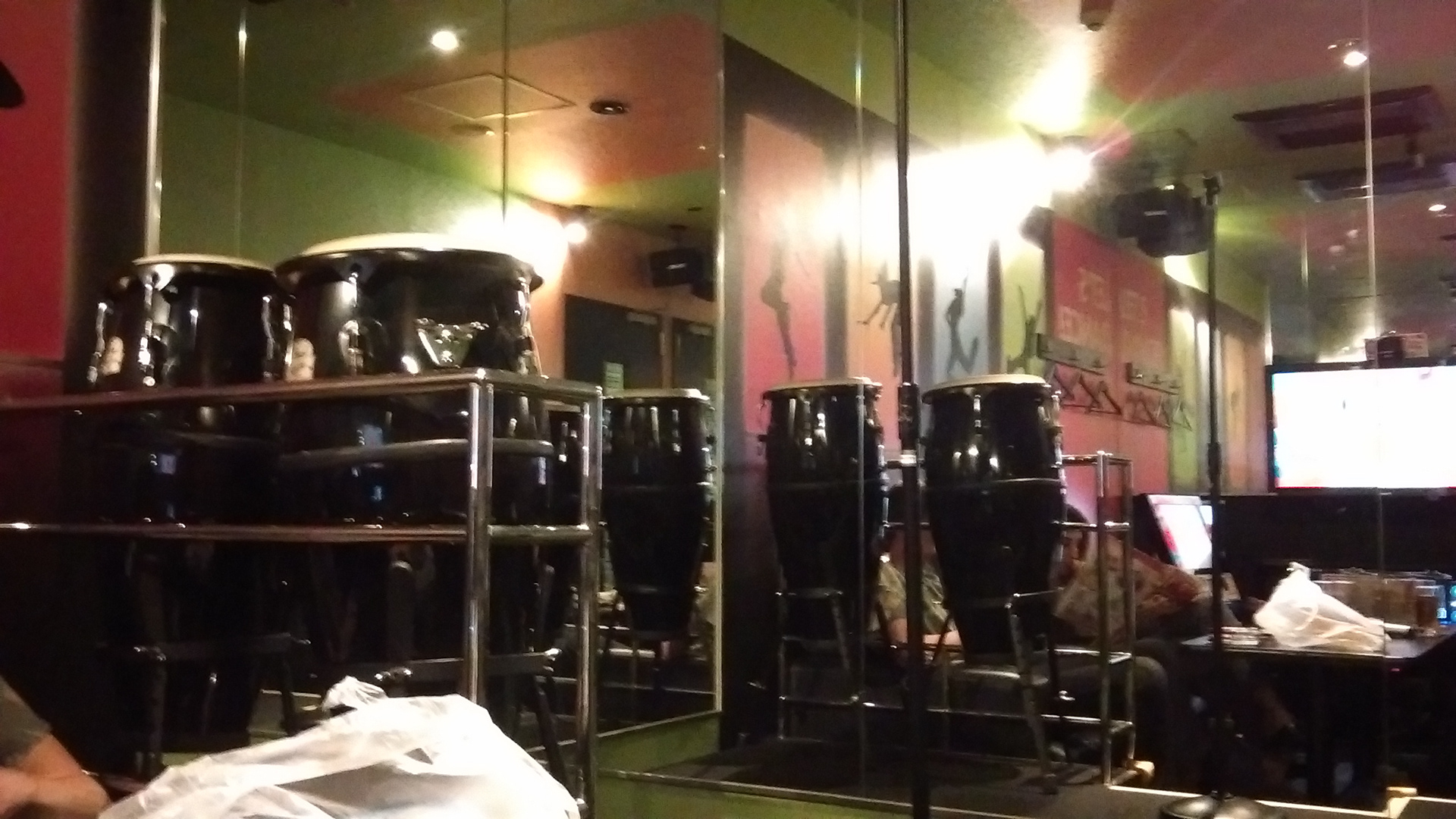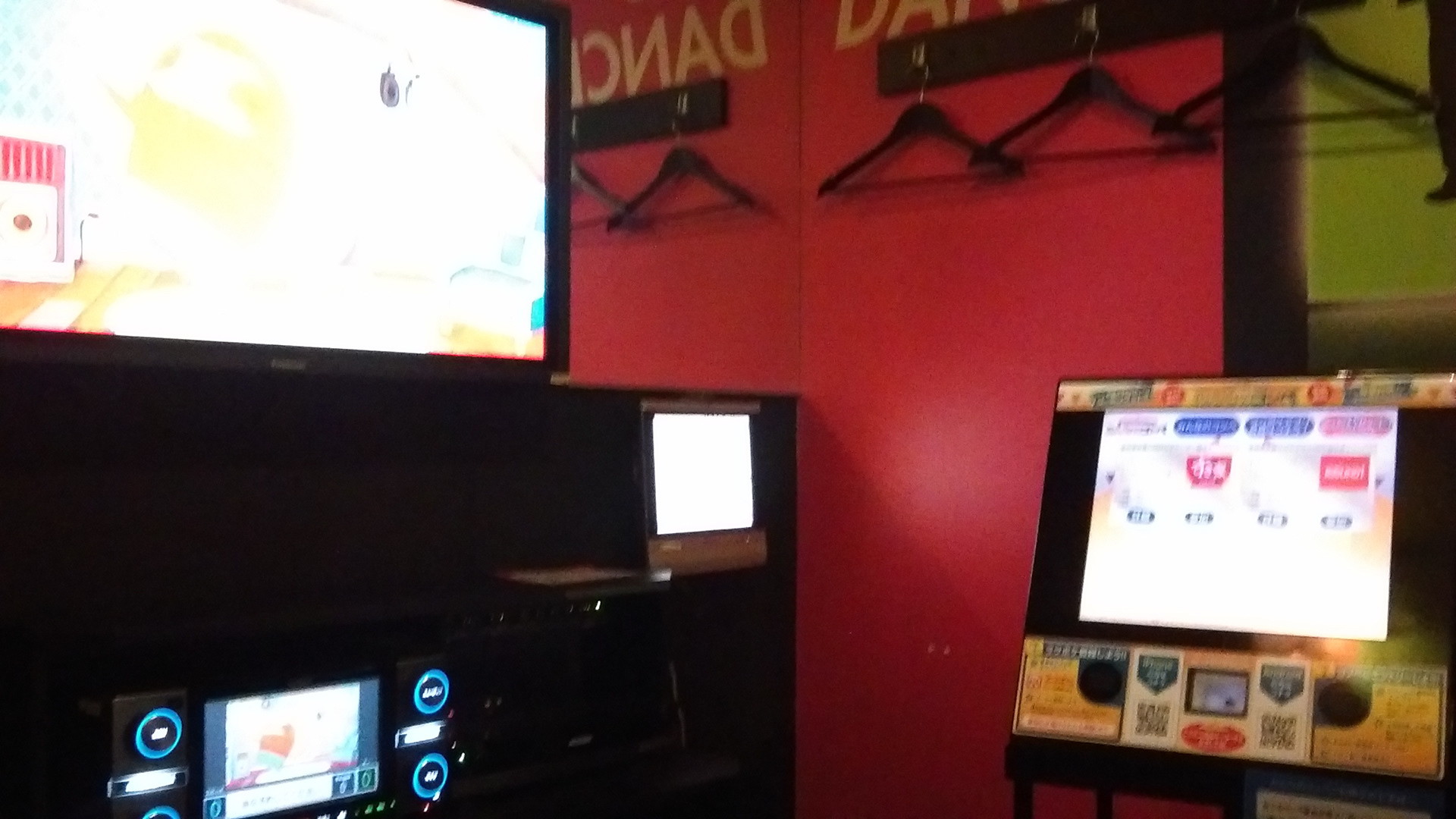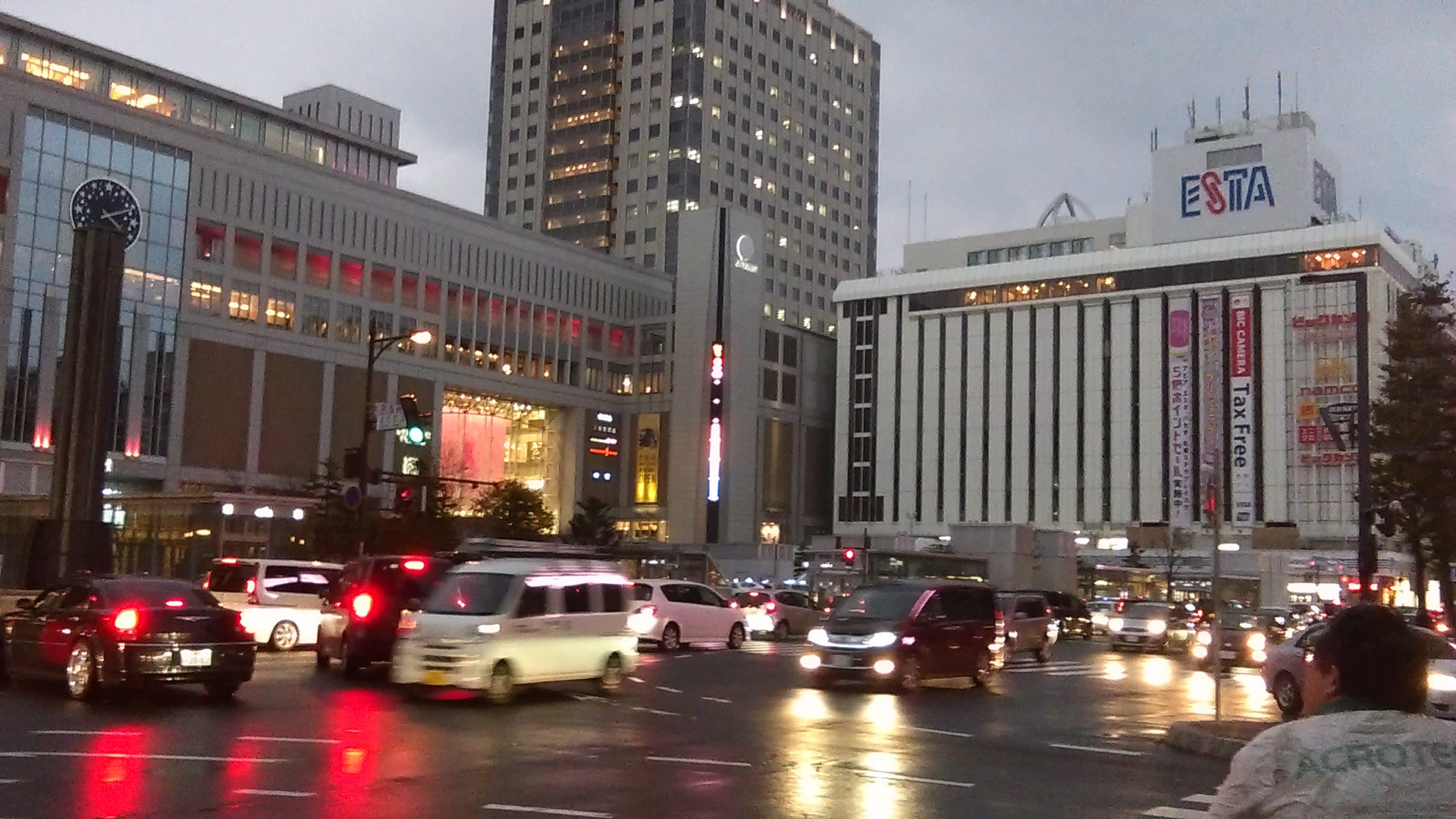 For this Gallery, the whole class went in a free period. If we had galleries like this at home I would go more often. I'm probably going to be arrested for showing these but Oh Well.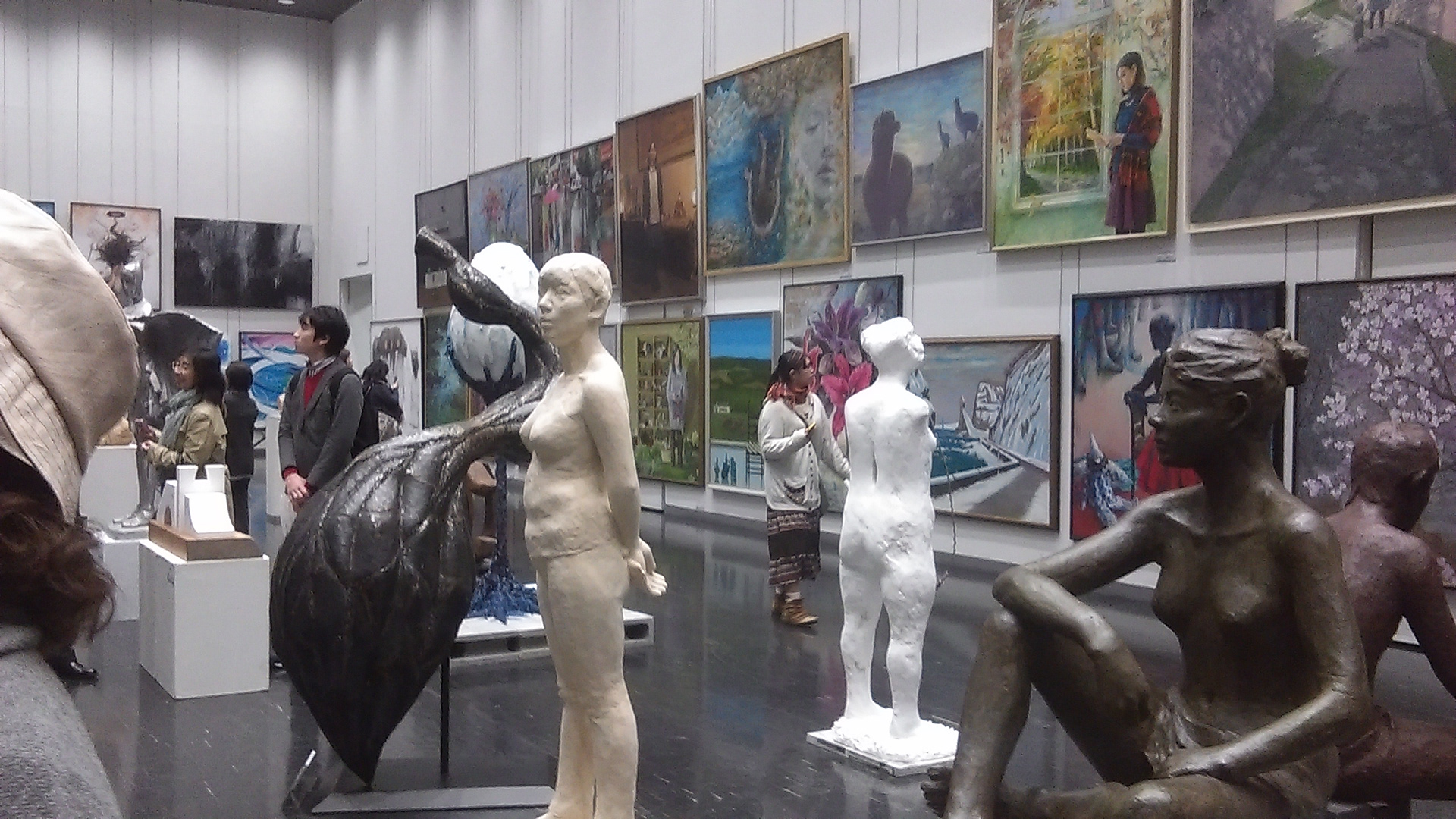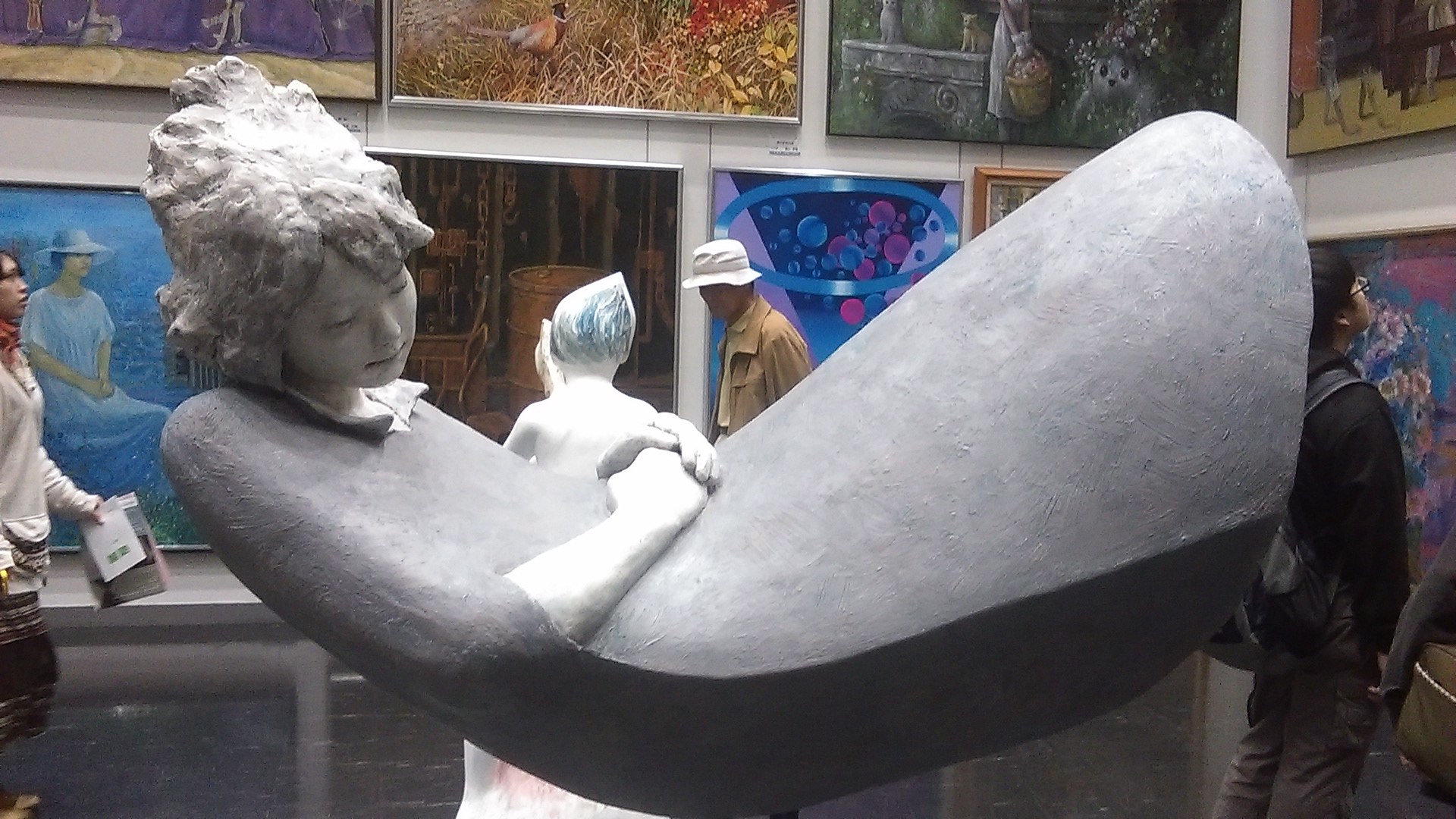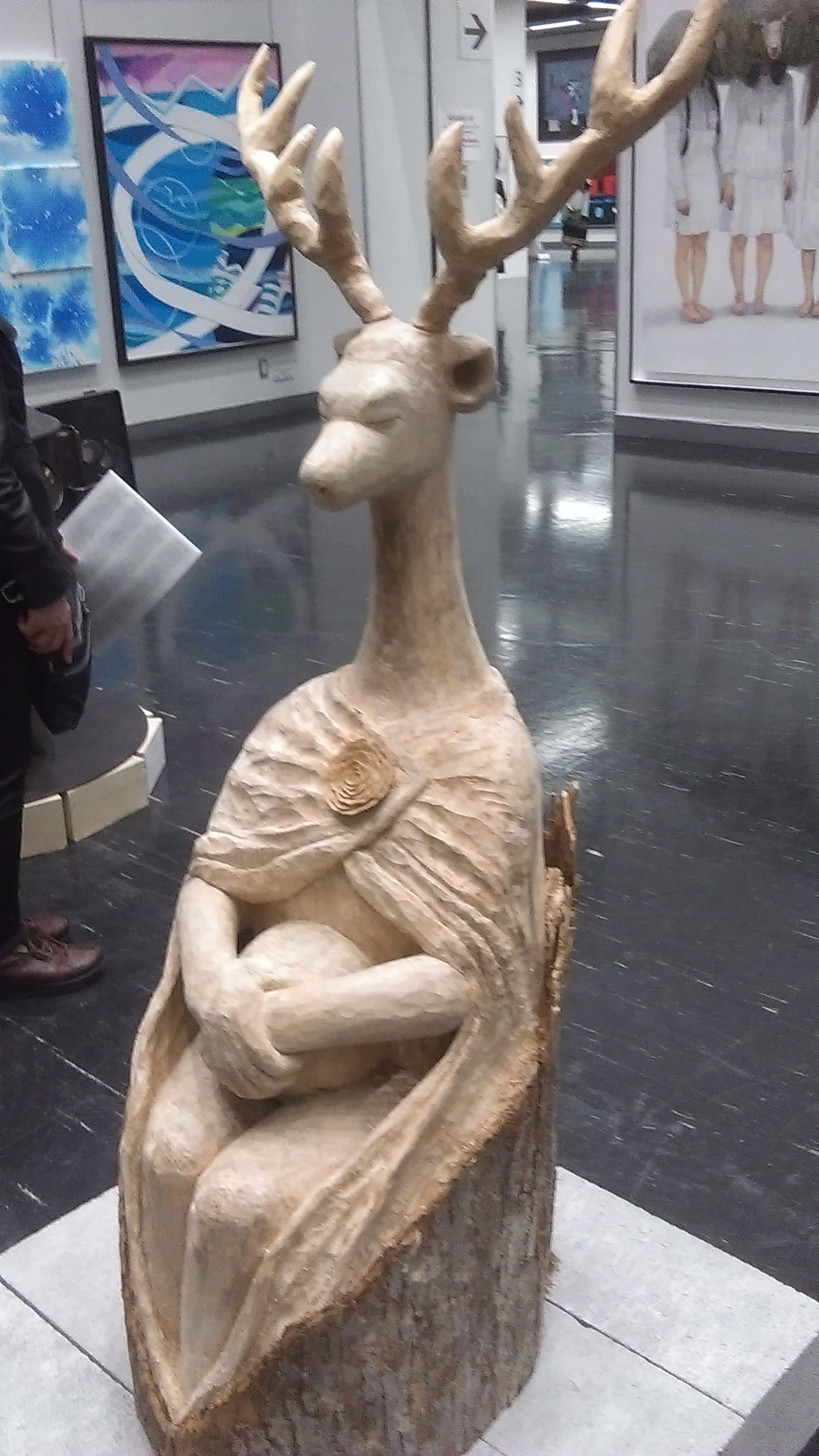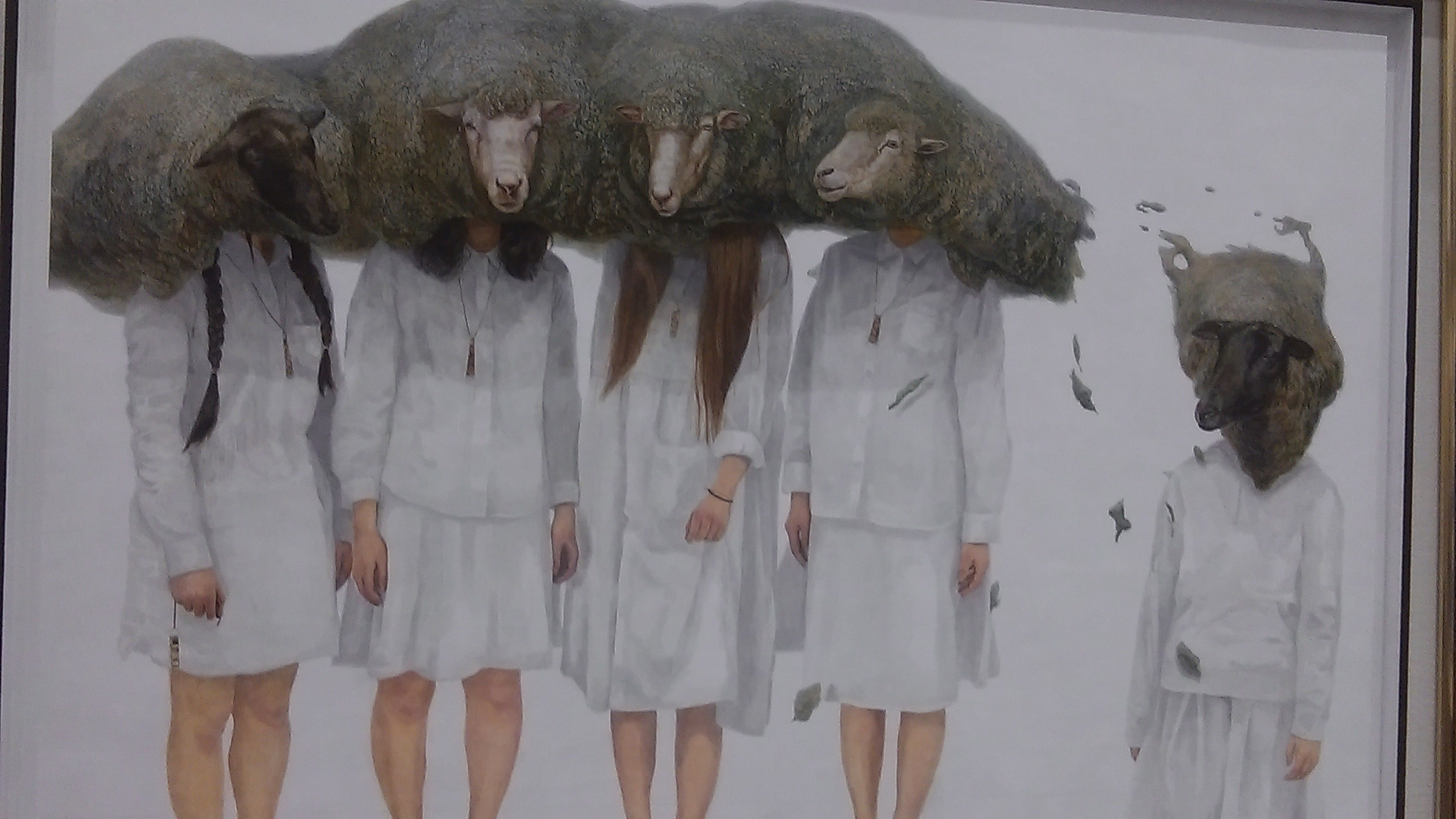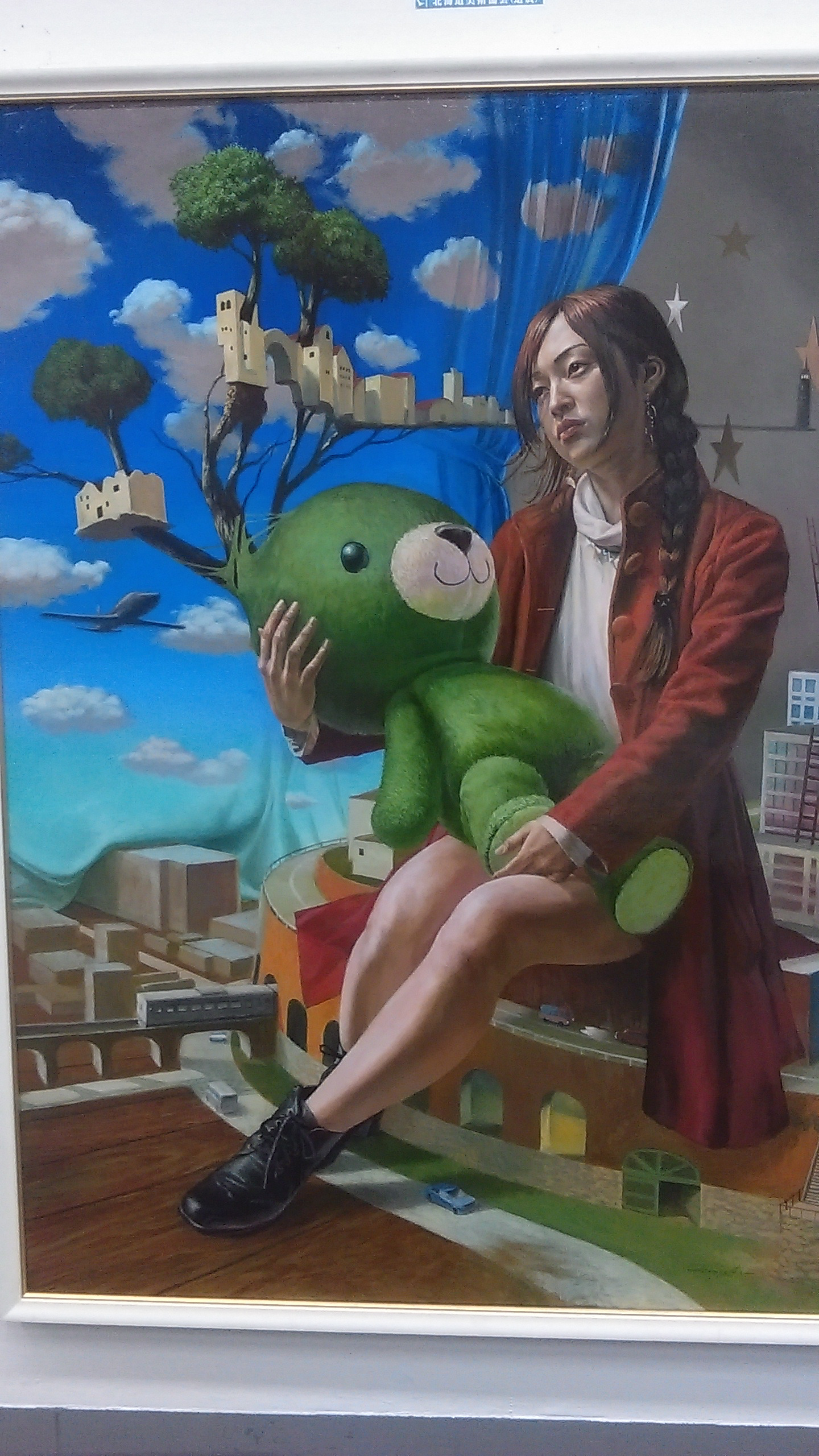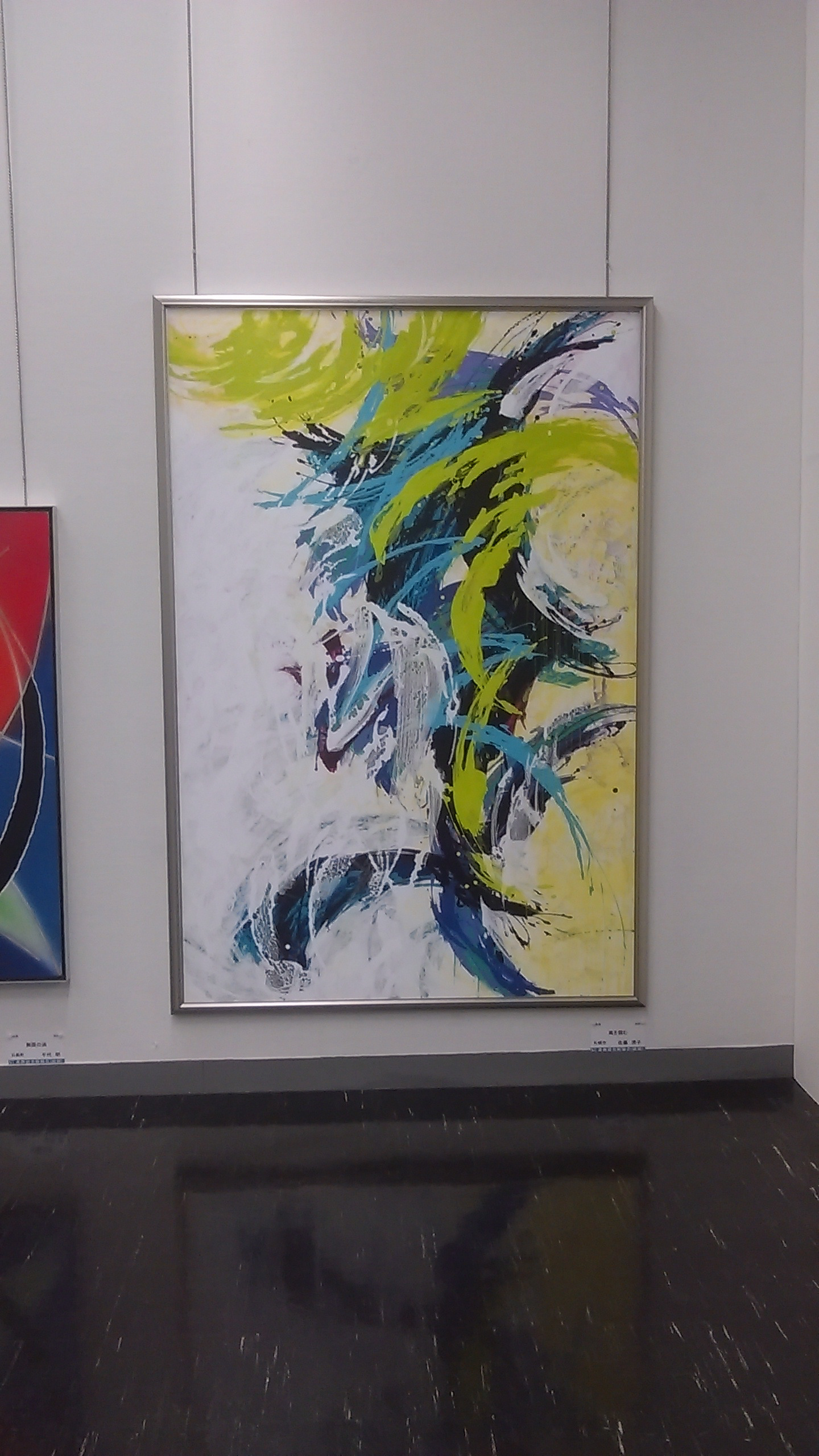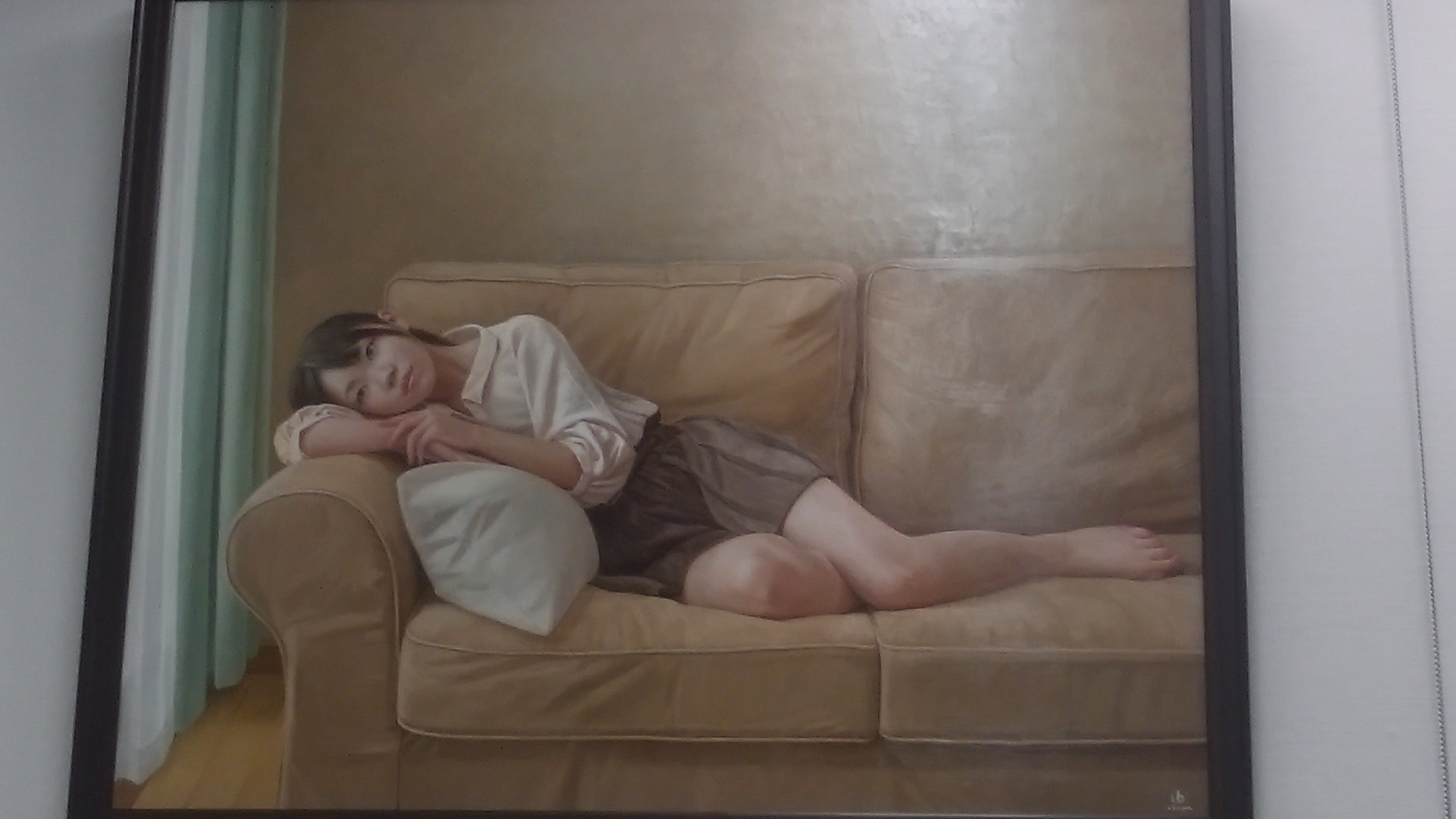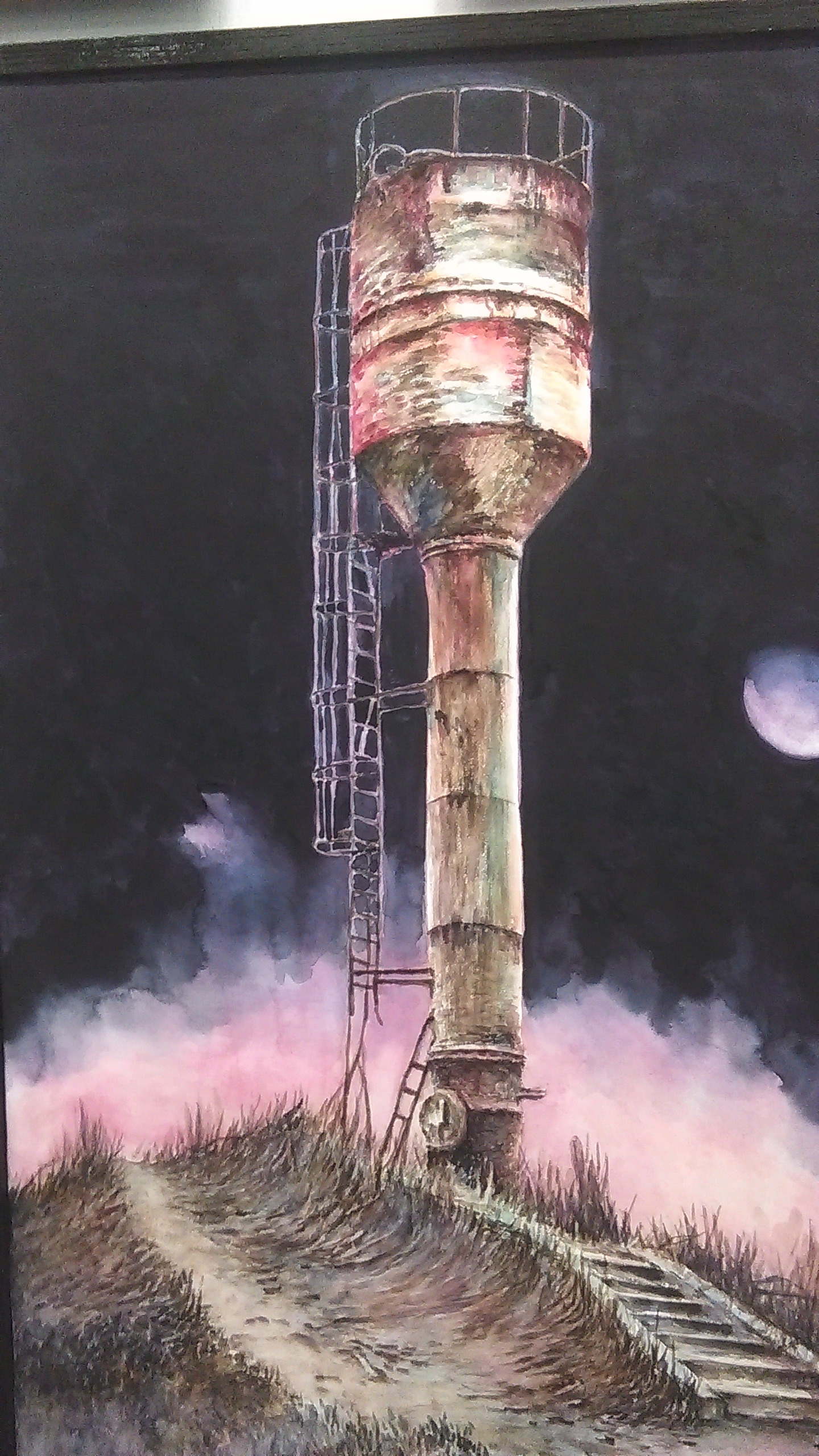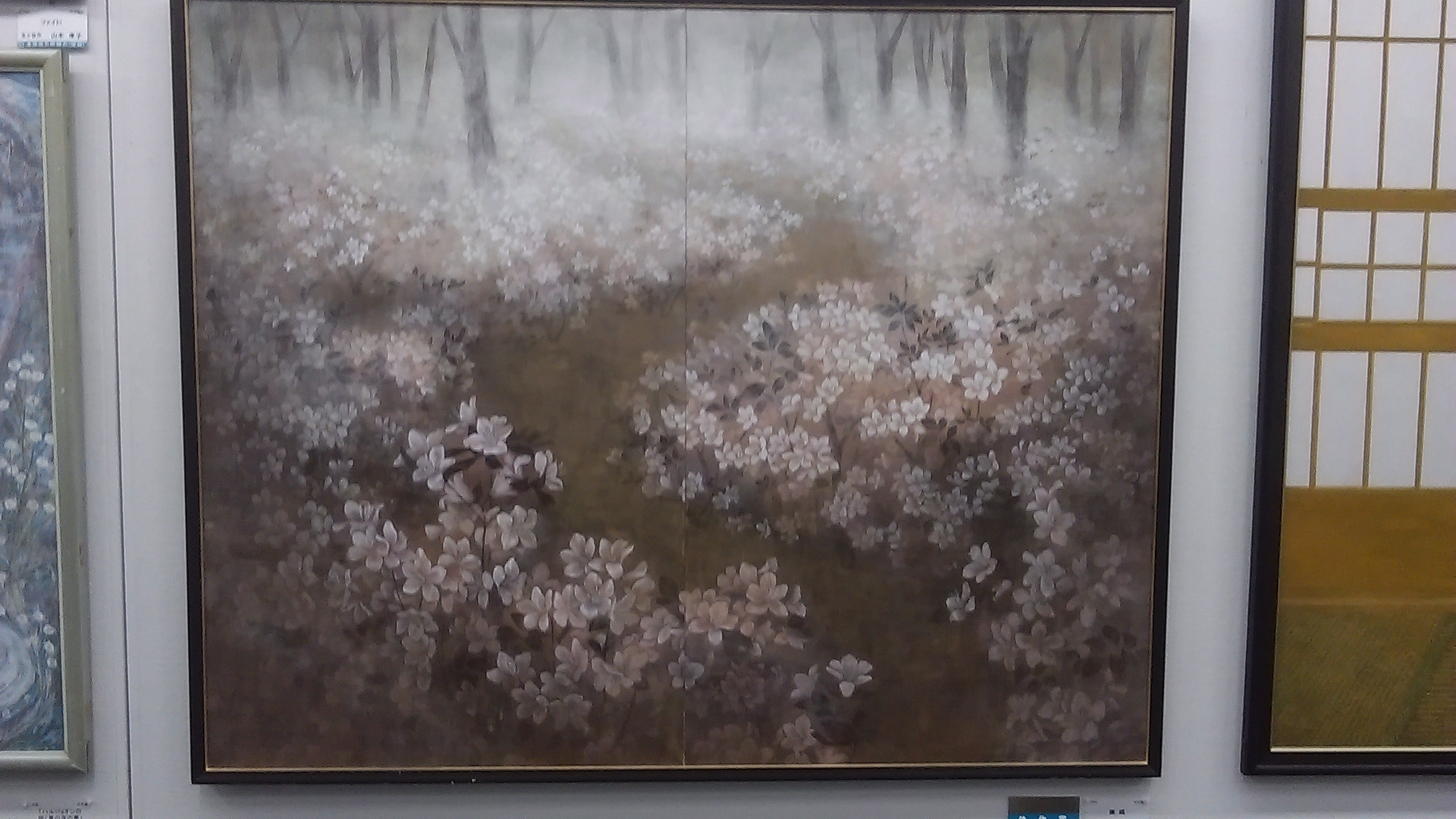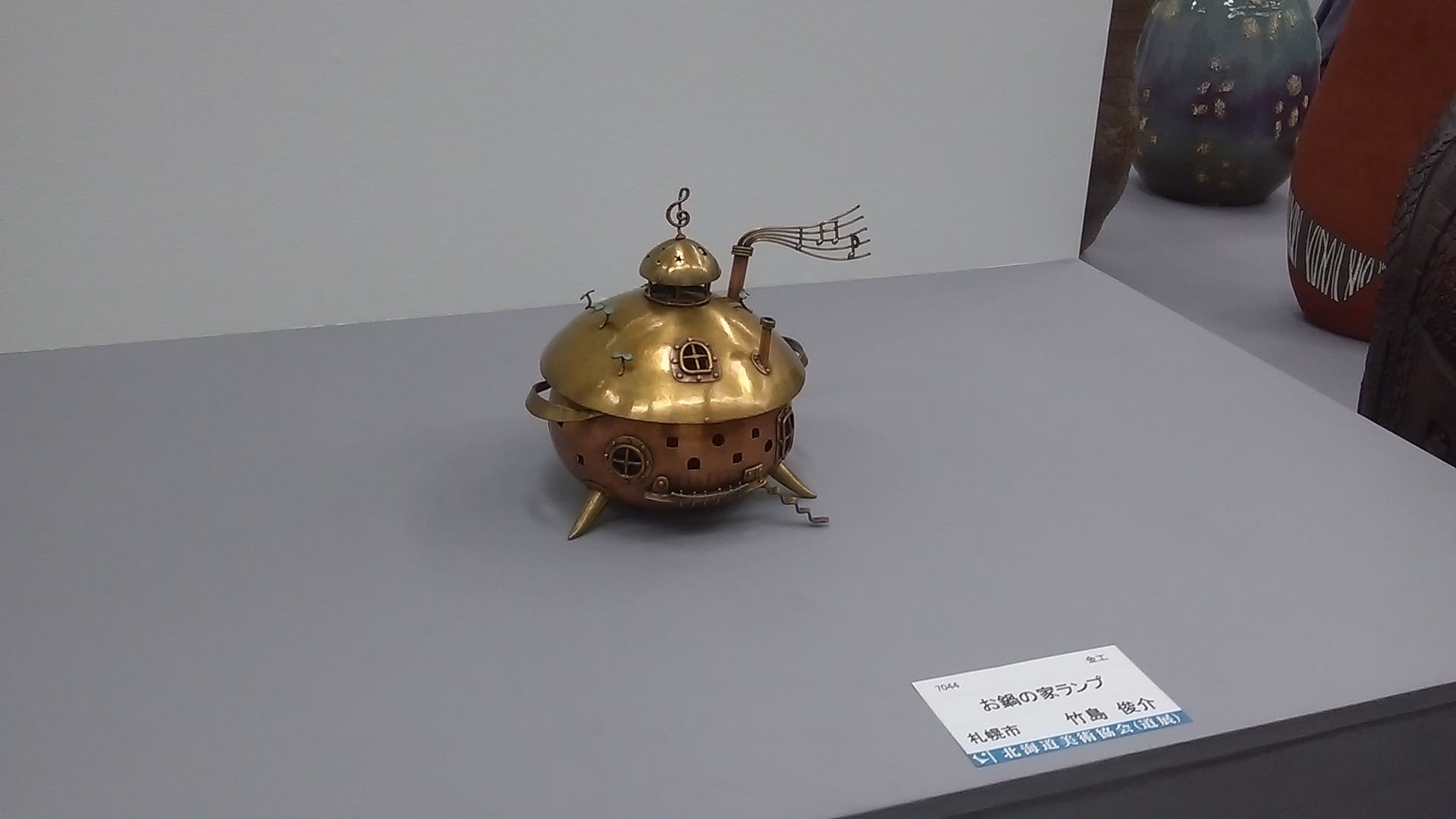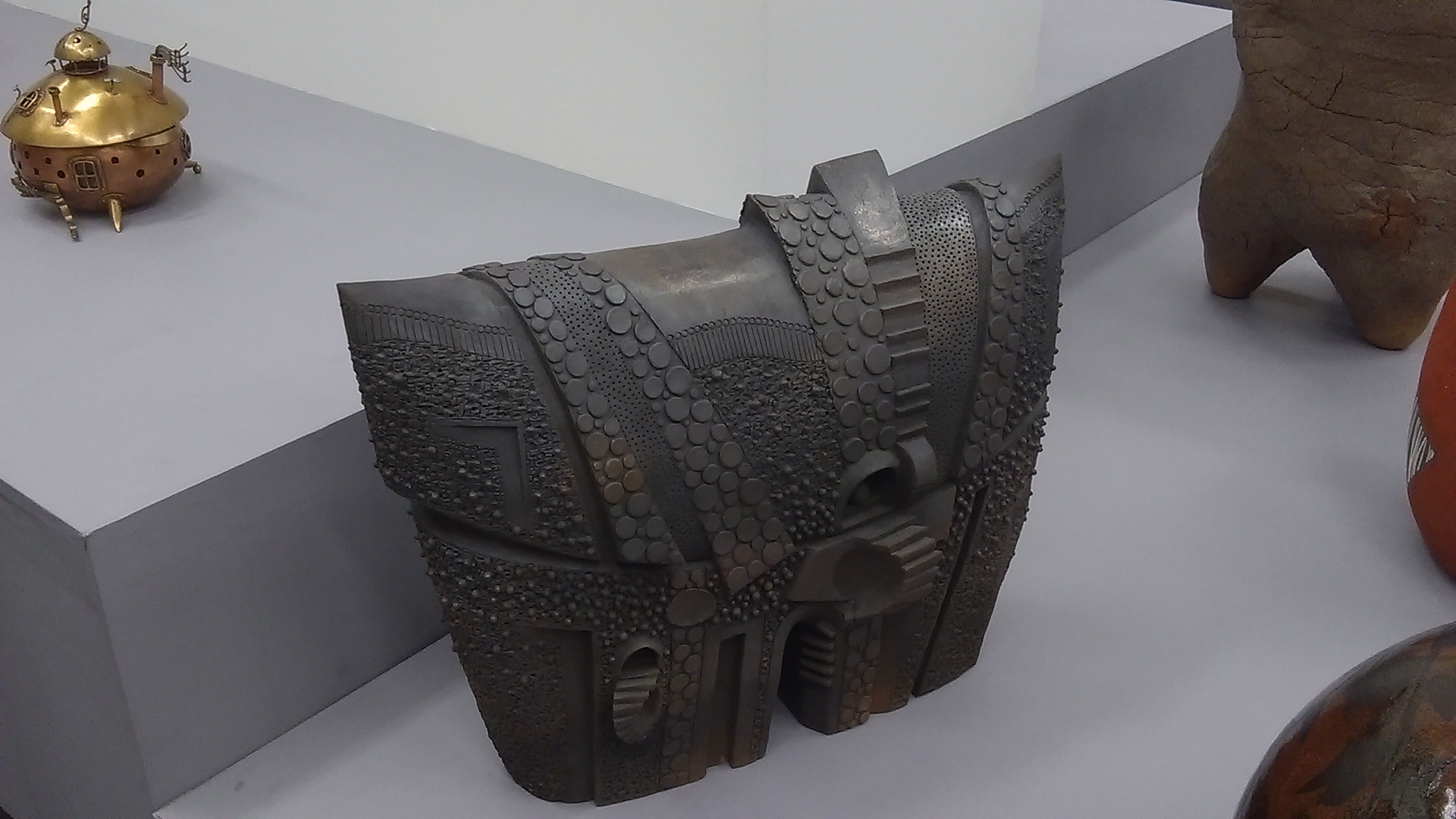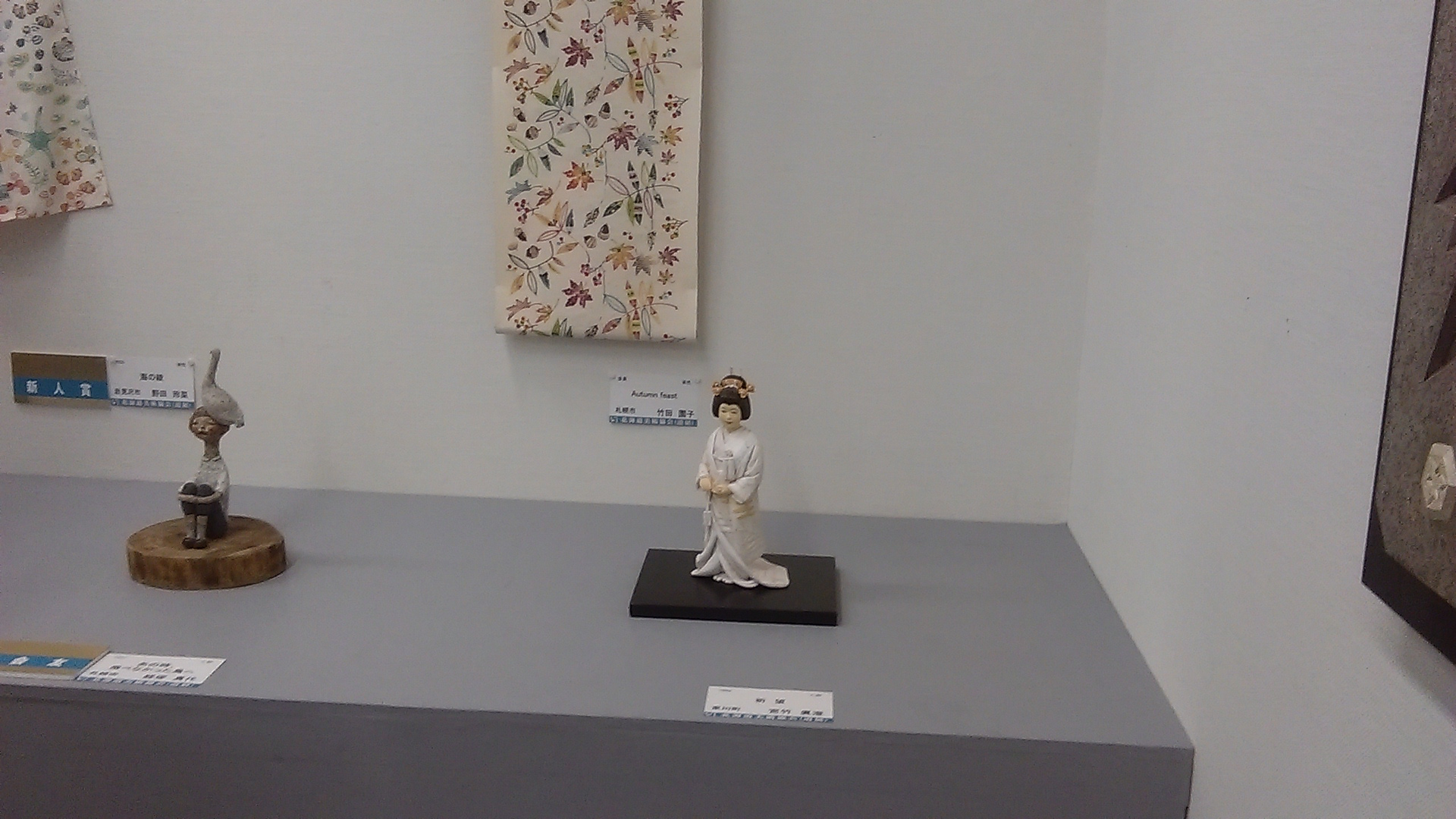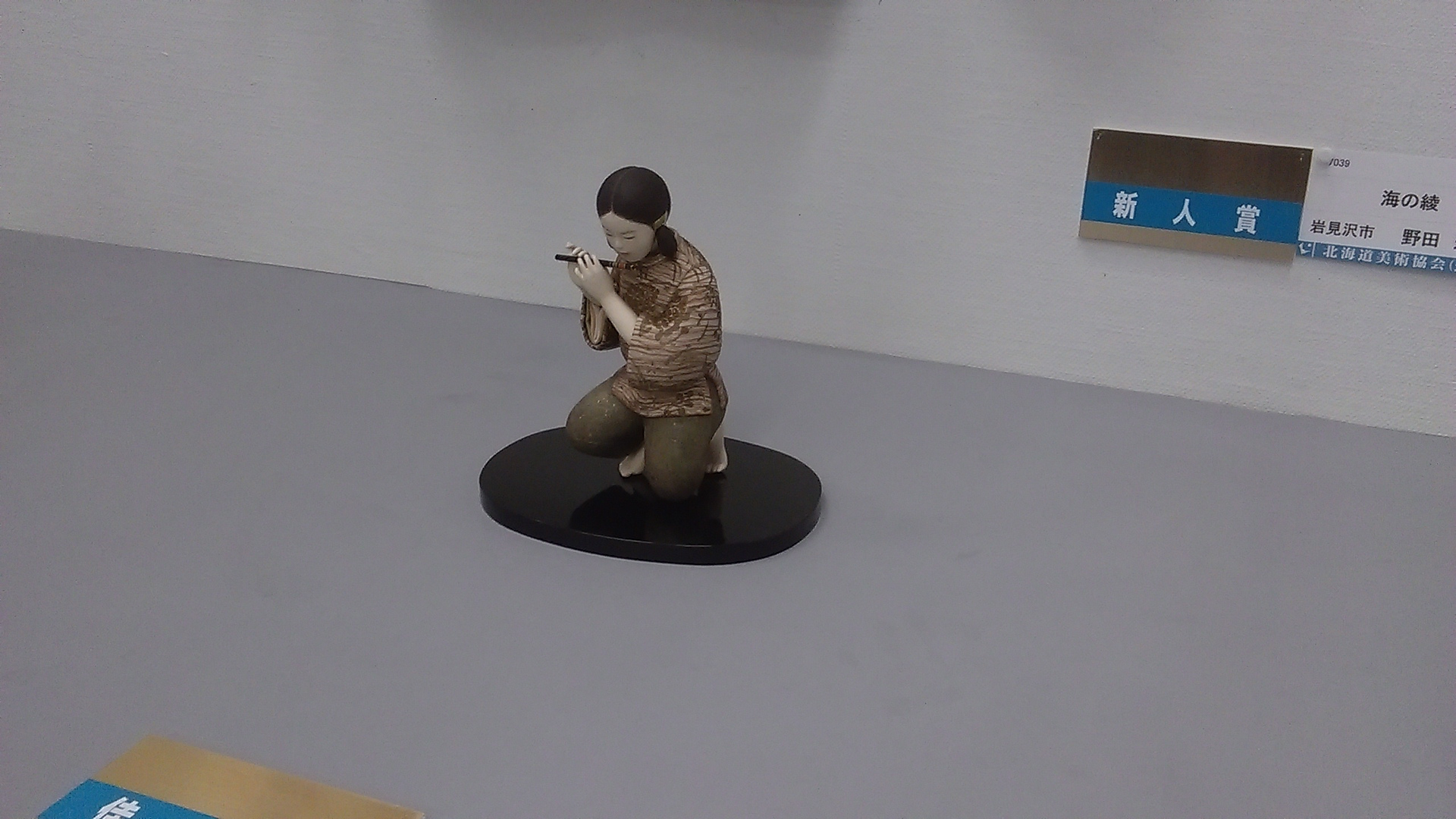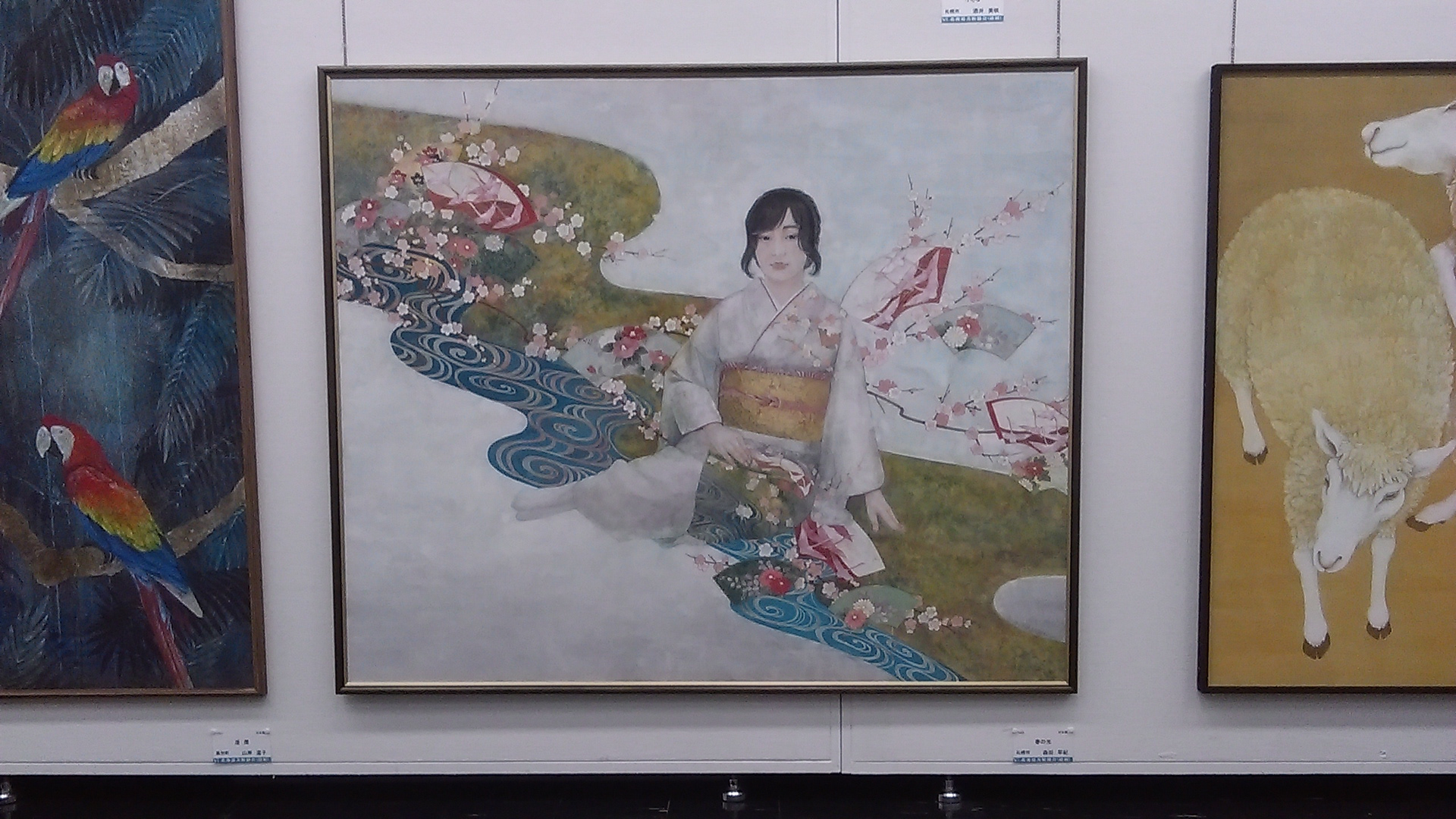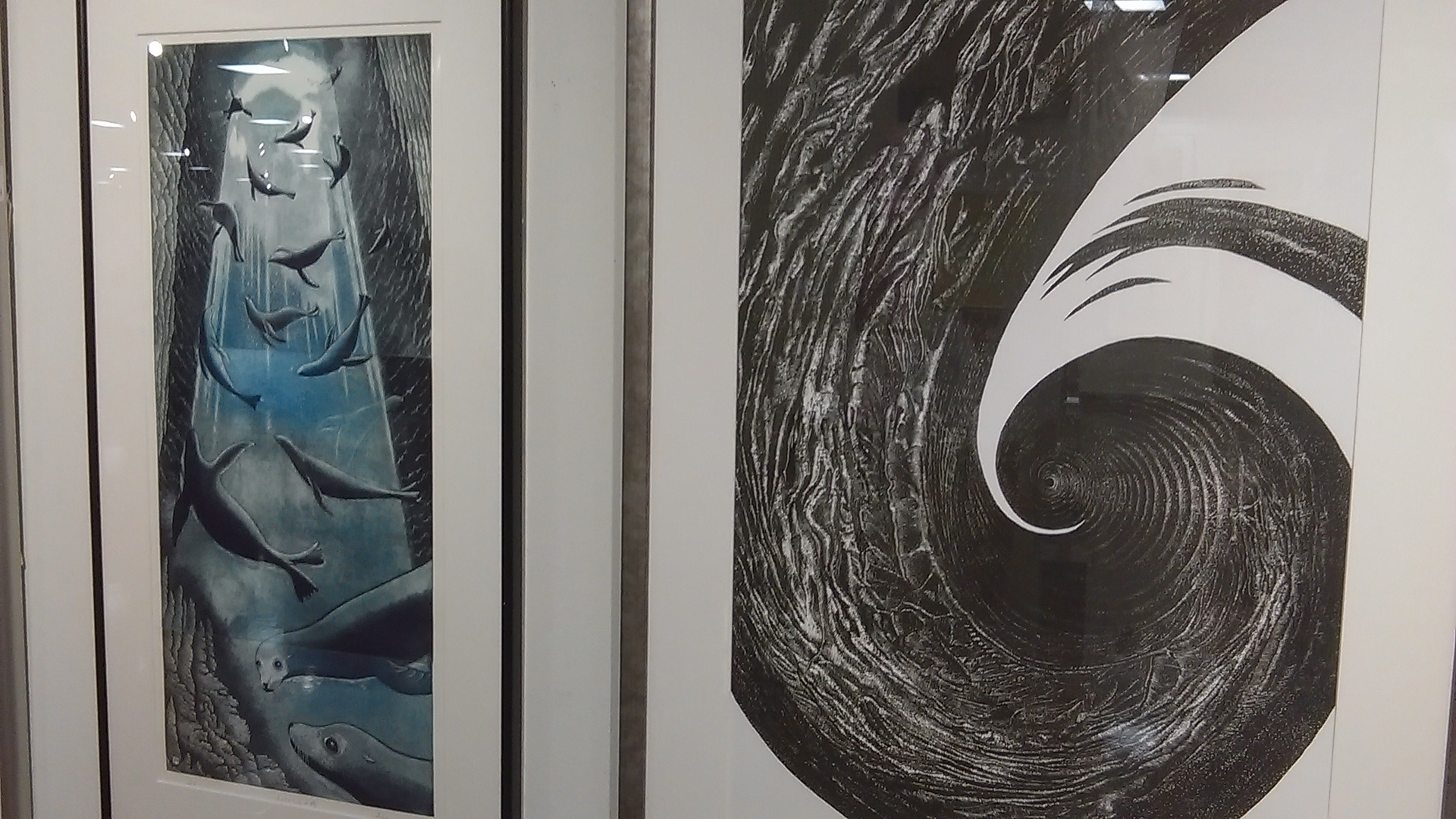 Some of the paintings where so realistic that an up-close photo of one looks like a photograph. Hyper-realism is great.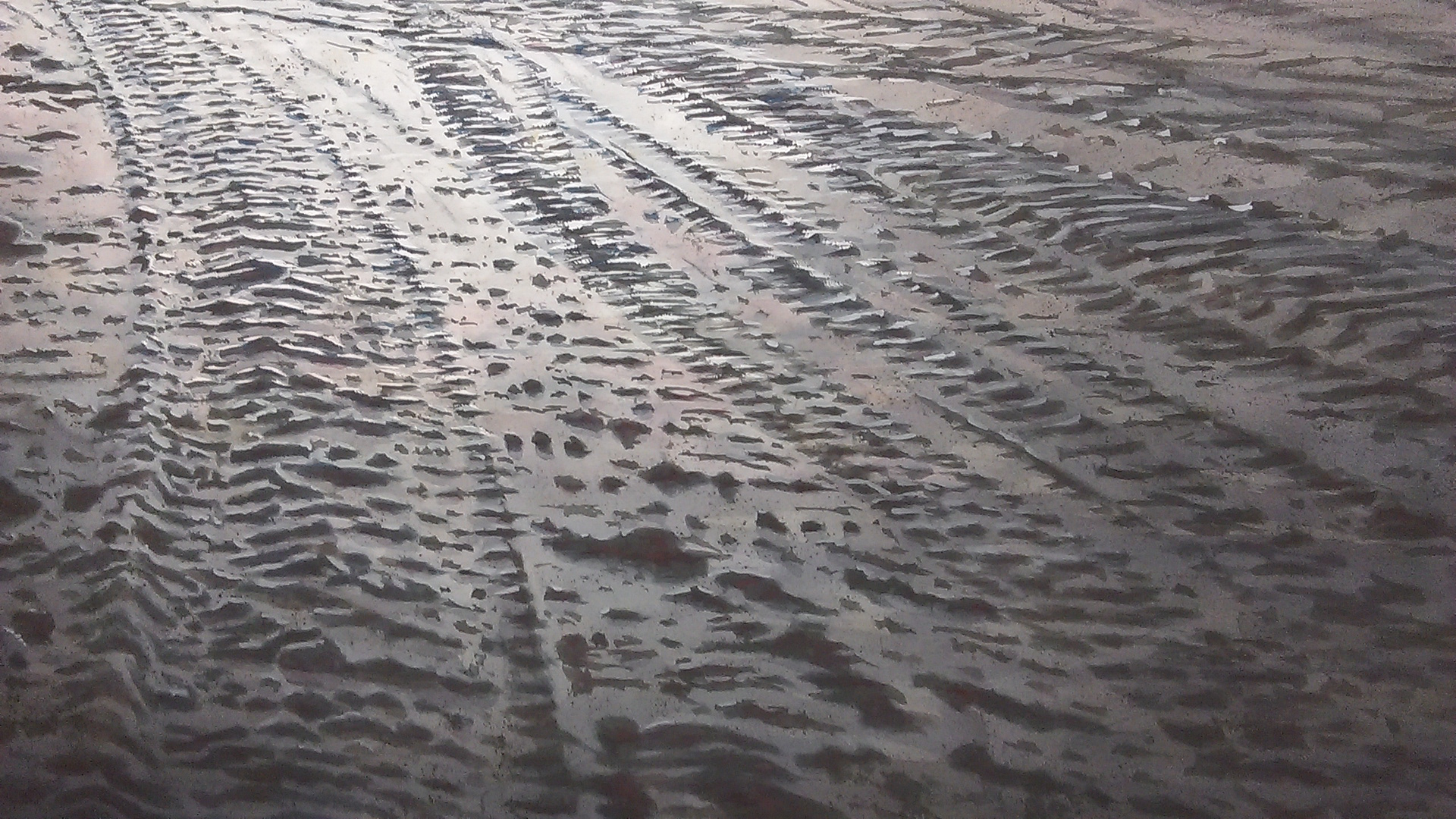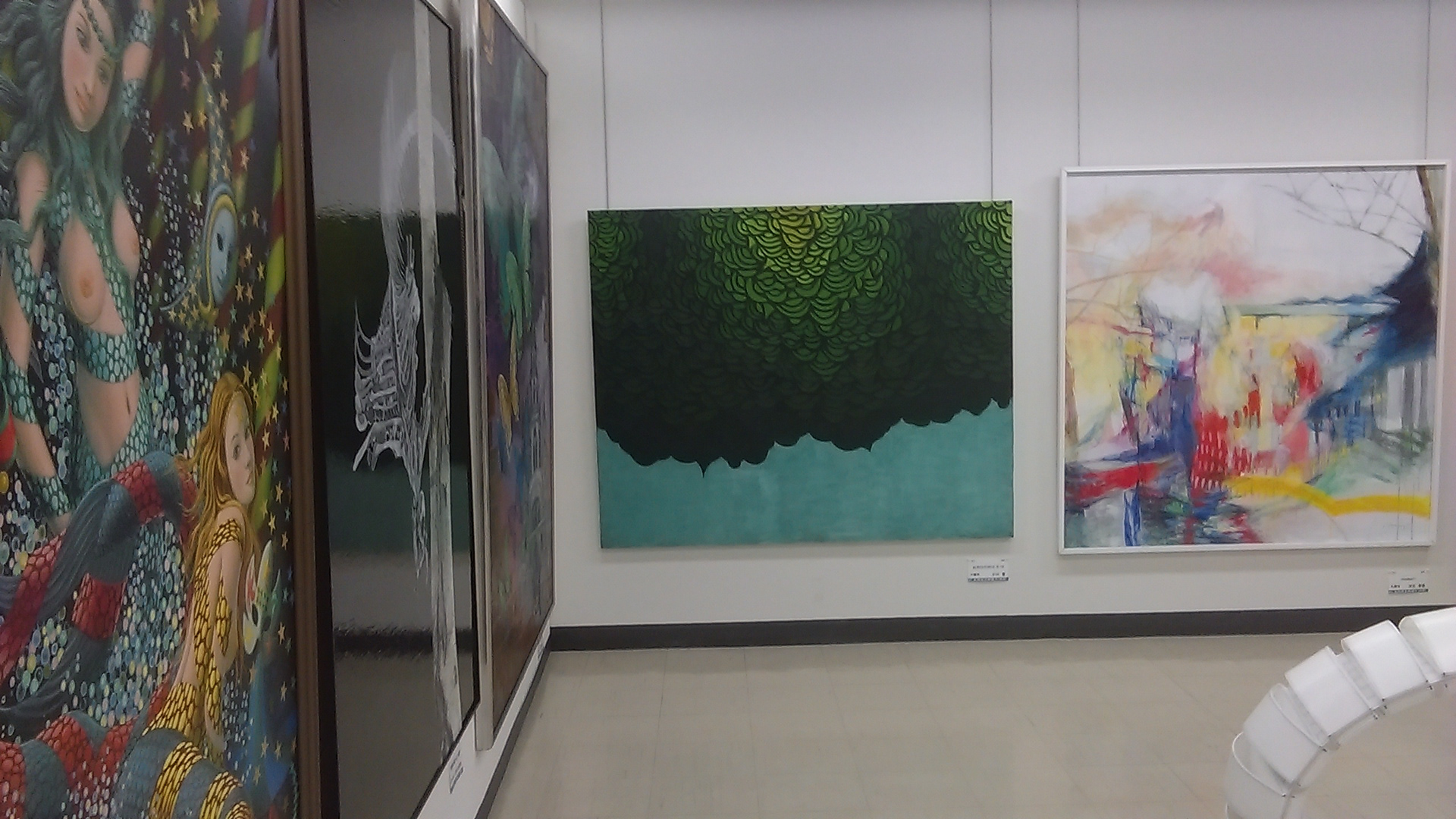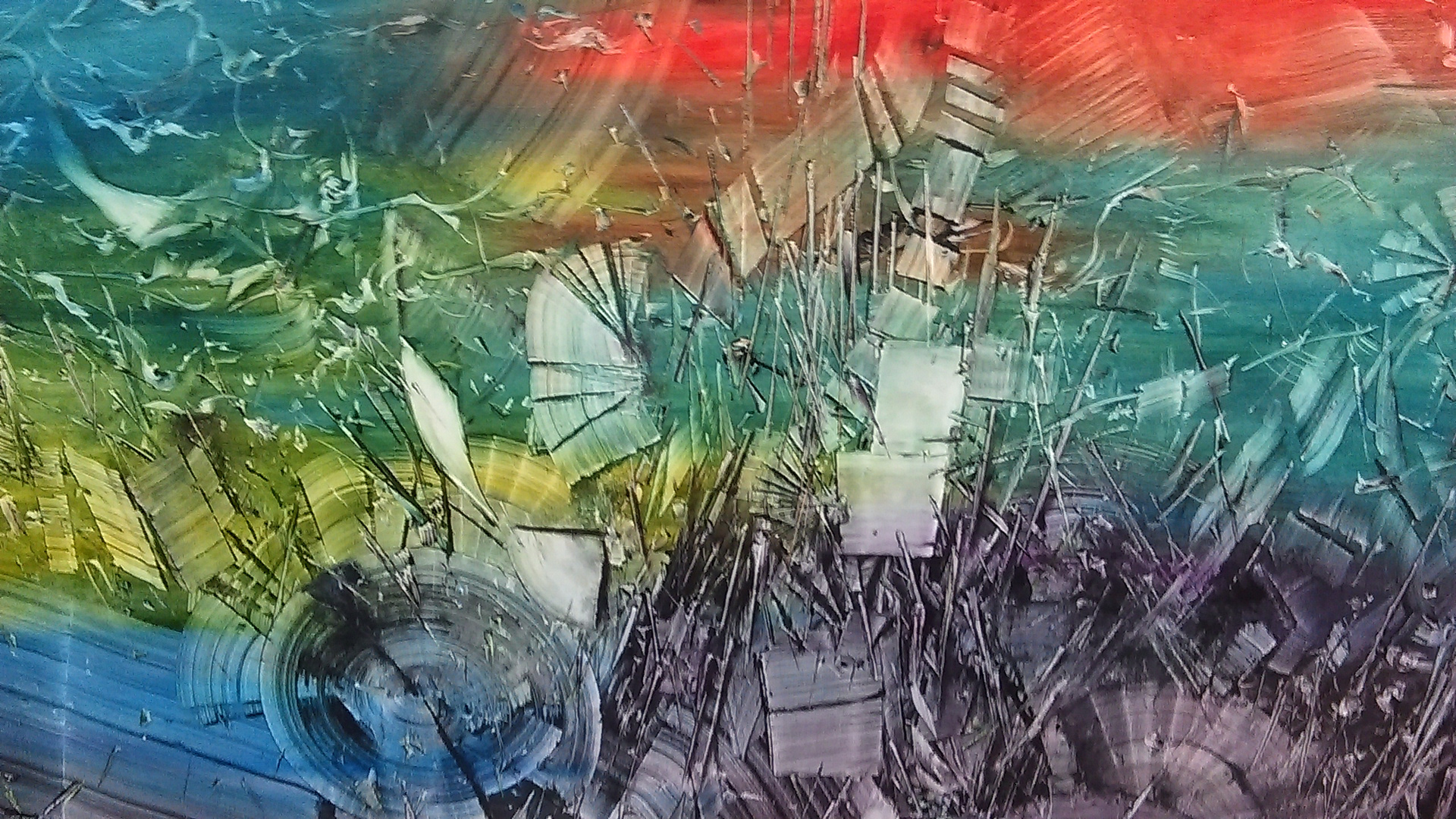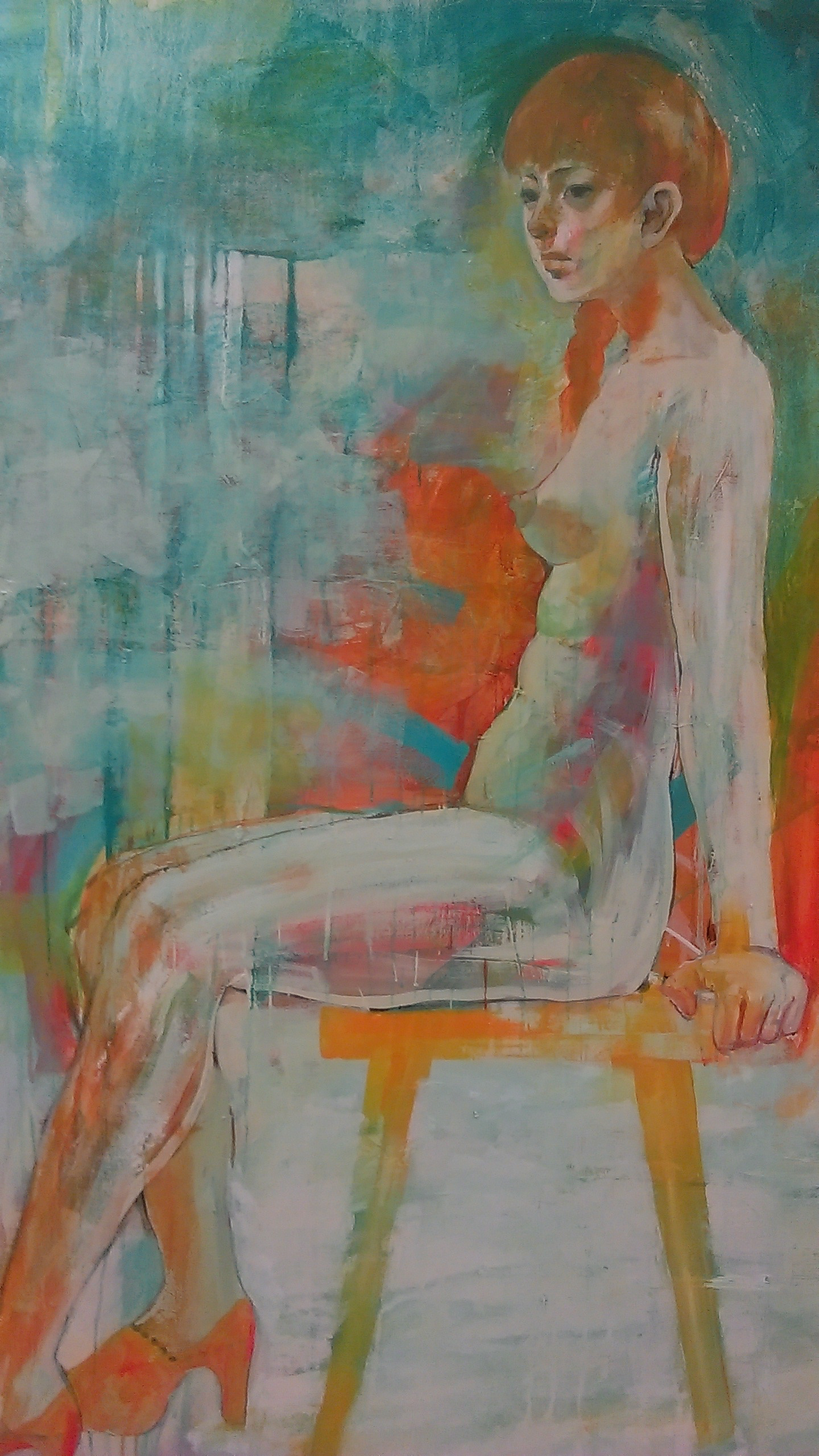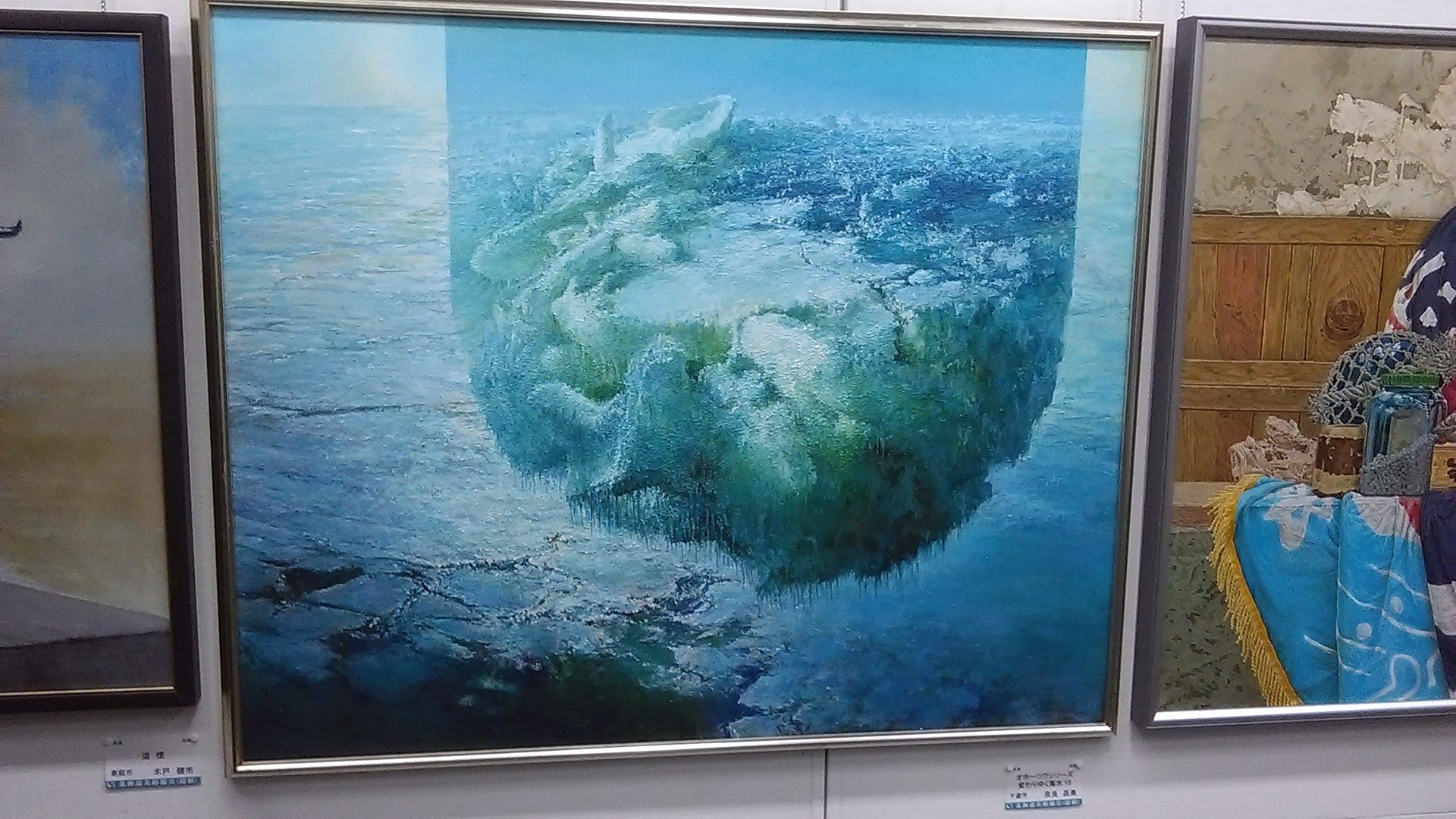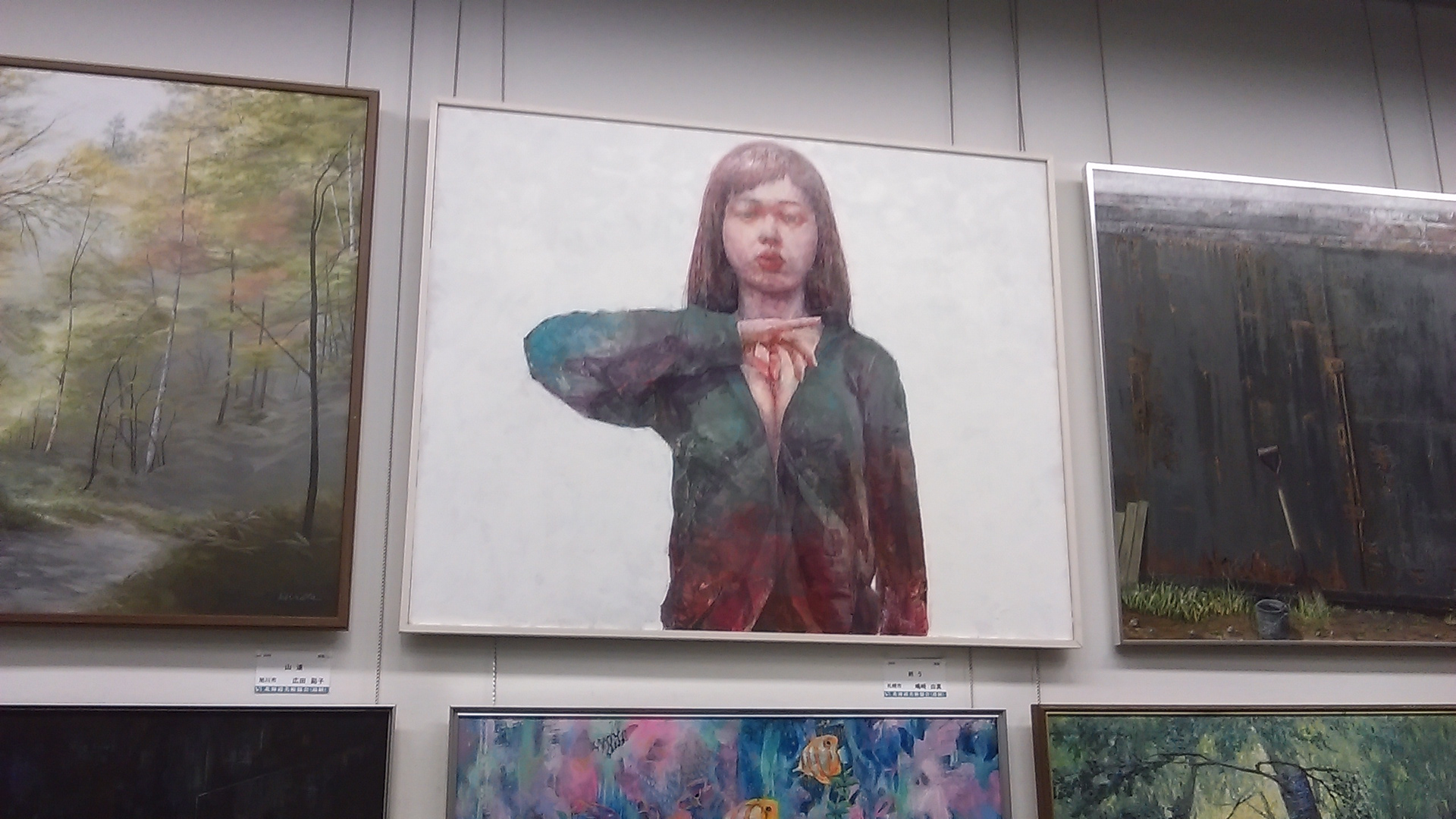 I woke up this morning feeling really refreshed. Over the weekend I had developed some sort of headache so it was great to wake up without one. I also woke up to this: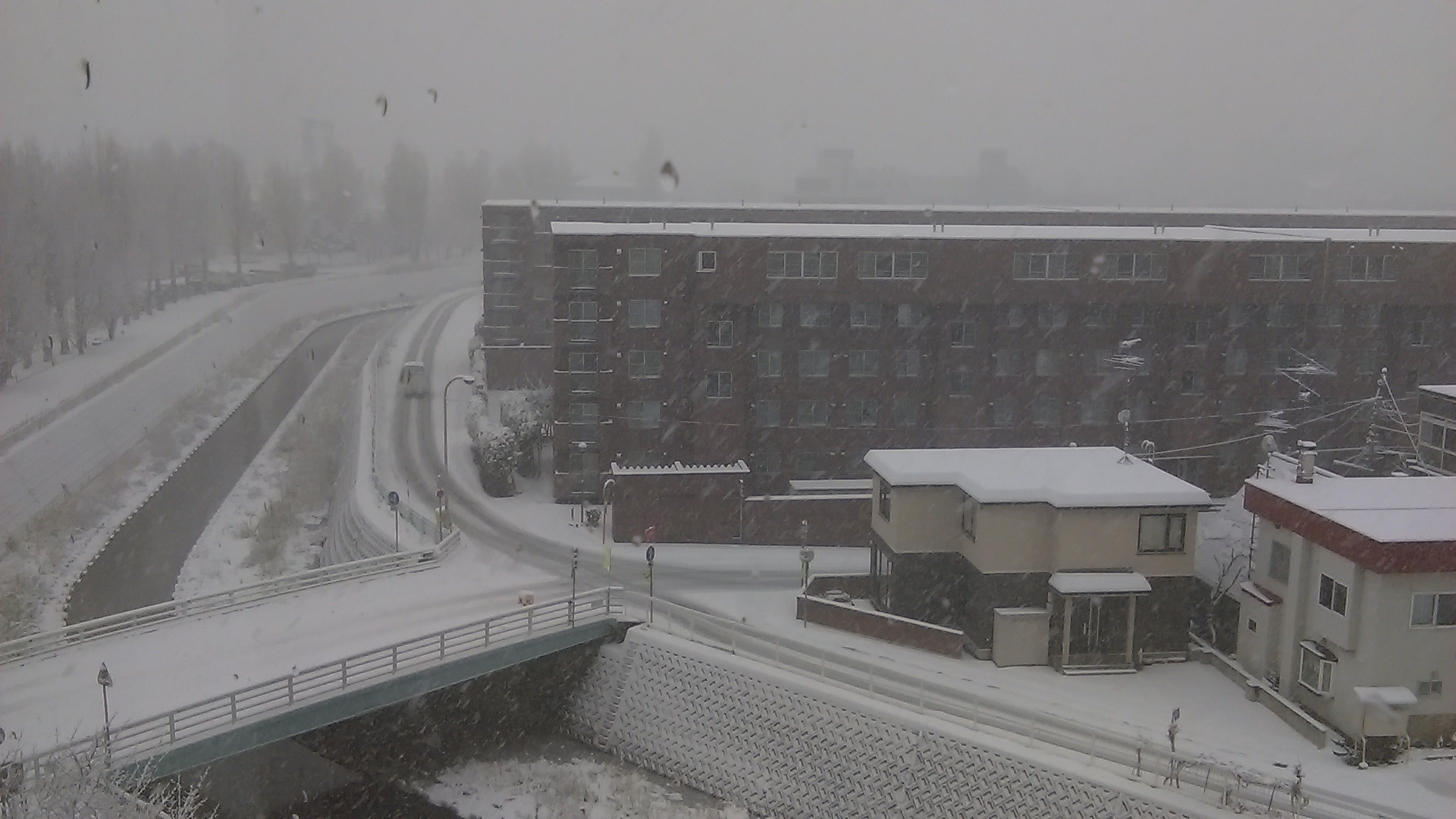 There's snow everywhere! It's so rare for it to snow at home and there's already so much of it from a couple of hours it made me wonder if school would be open today. Of course, it is and no-one seems to be worried nor excited about it. It's normal here and it confused some people I know when I nearly jumped around in excitement. Definitely scarf weather.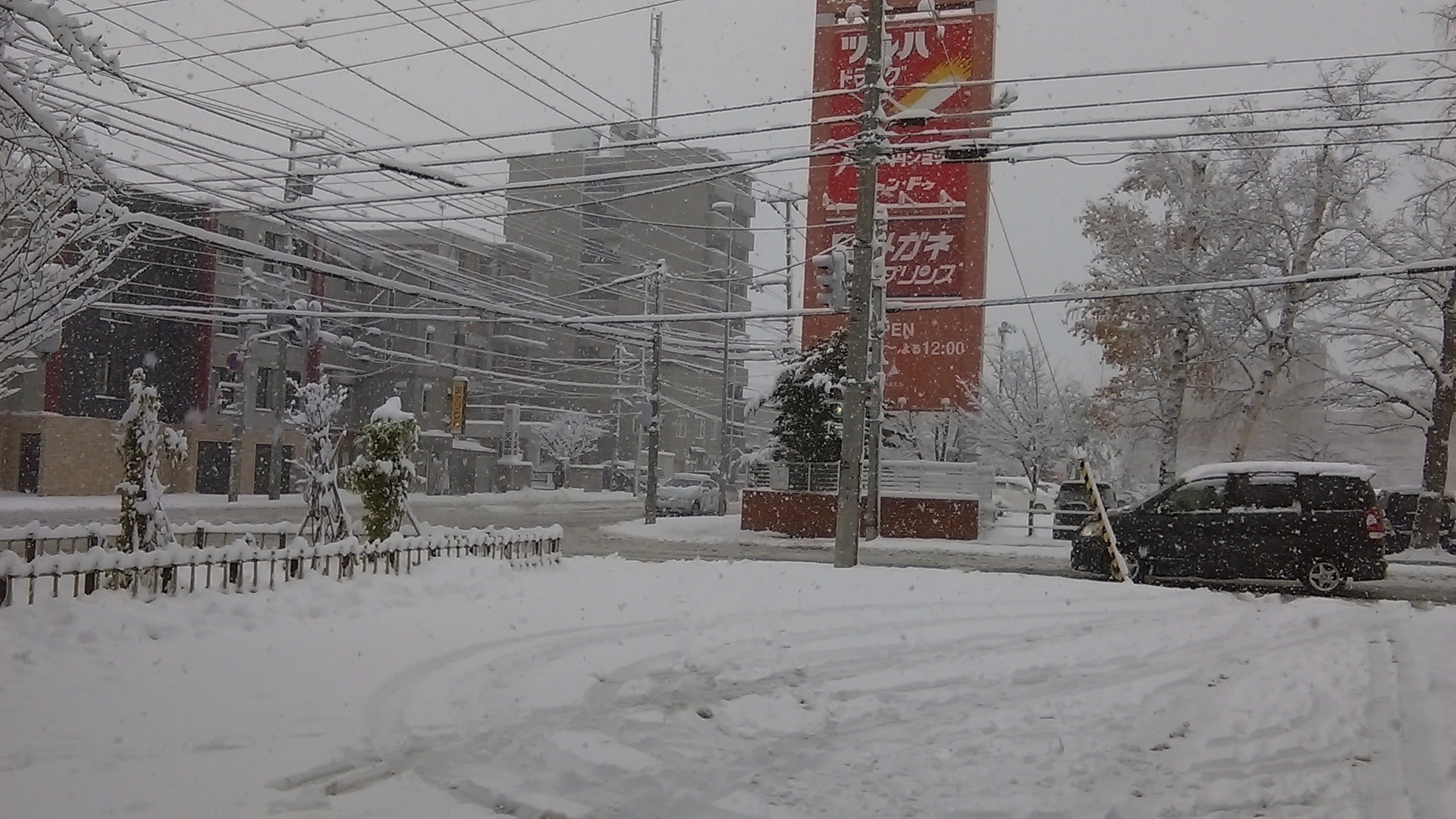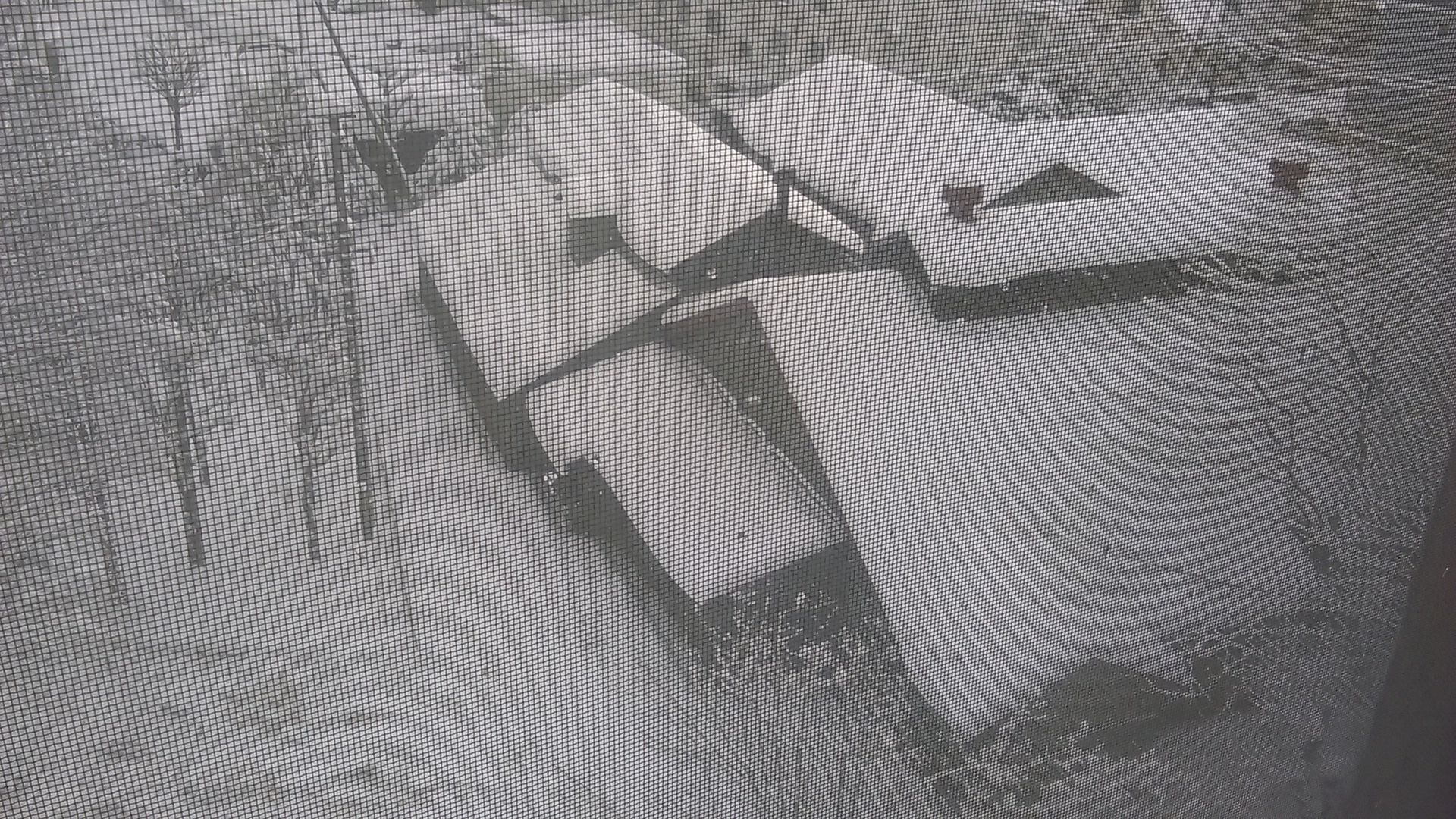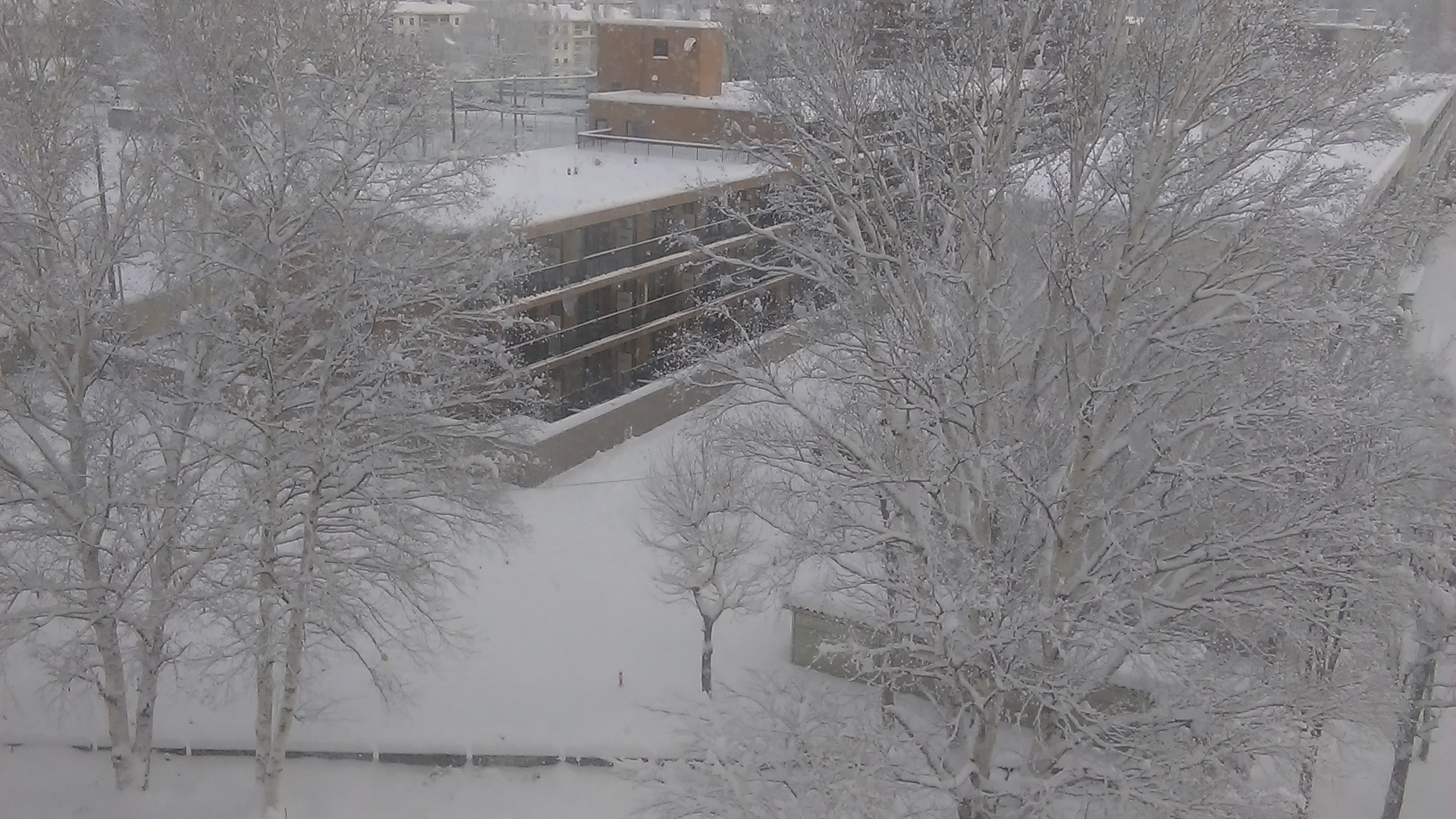 Today I had my last Japanese Conversation class. I'm so glad I have been able to remember Hiragana with Katakana on the way. I then had DTP, but as I have finished my work and I only have two and a half weeks left the teacher said I can have the lesson as a free period. I used it to catch up on Digital Comics so now I have a good plan for what it will be like for the final. I'll get it checked tomorrow and once okay'd I can then draw it up properly on Manga Studio.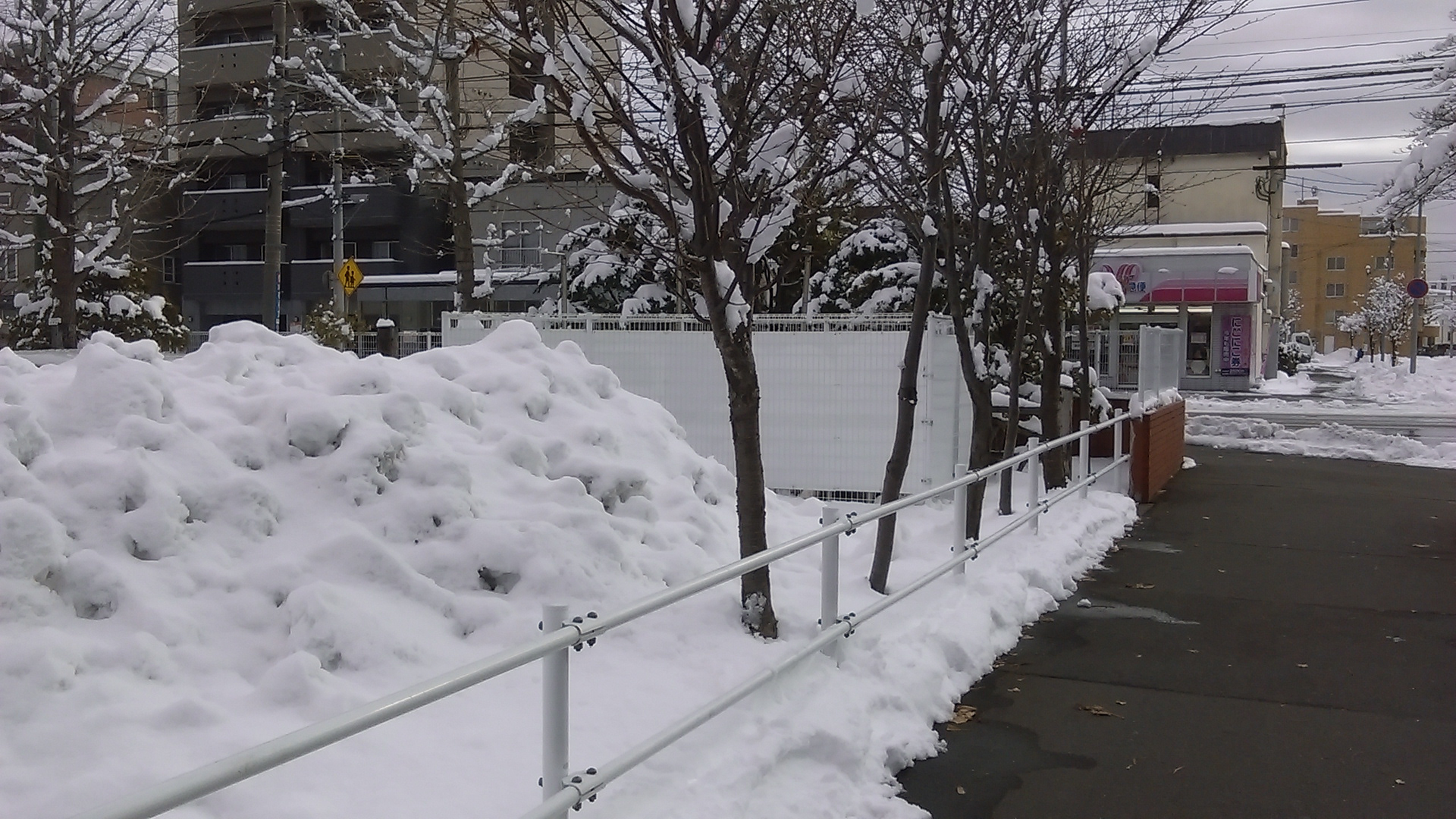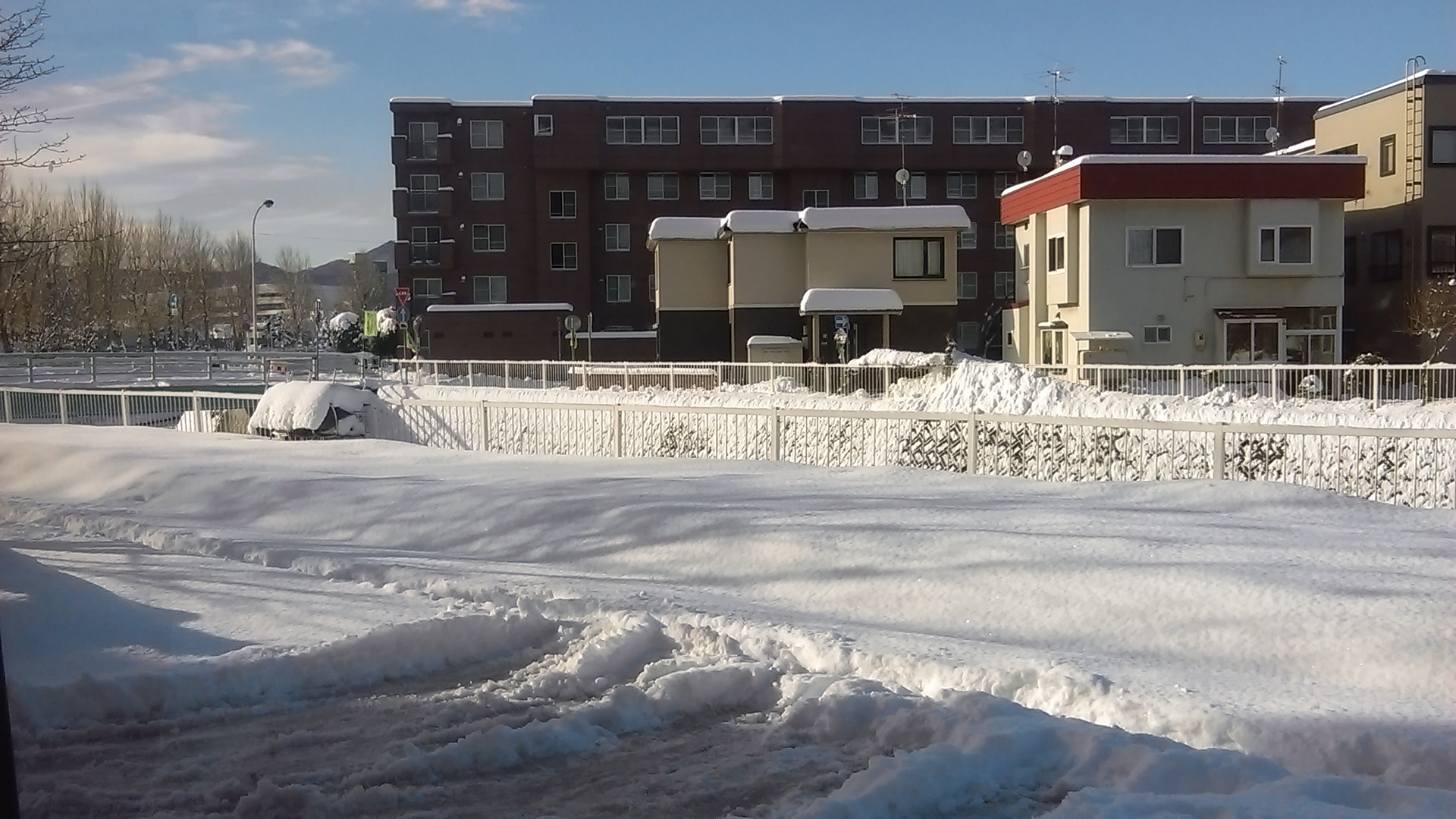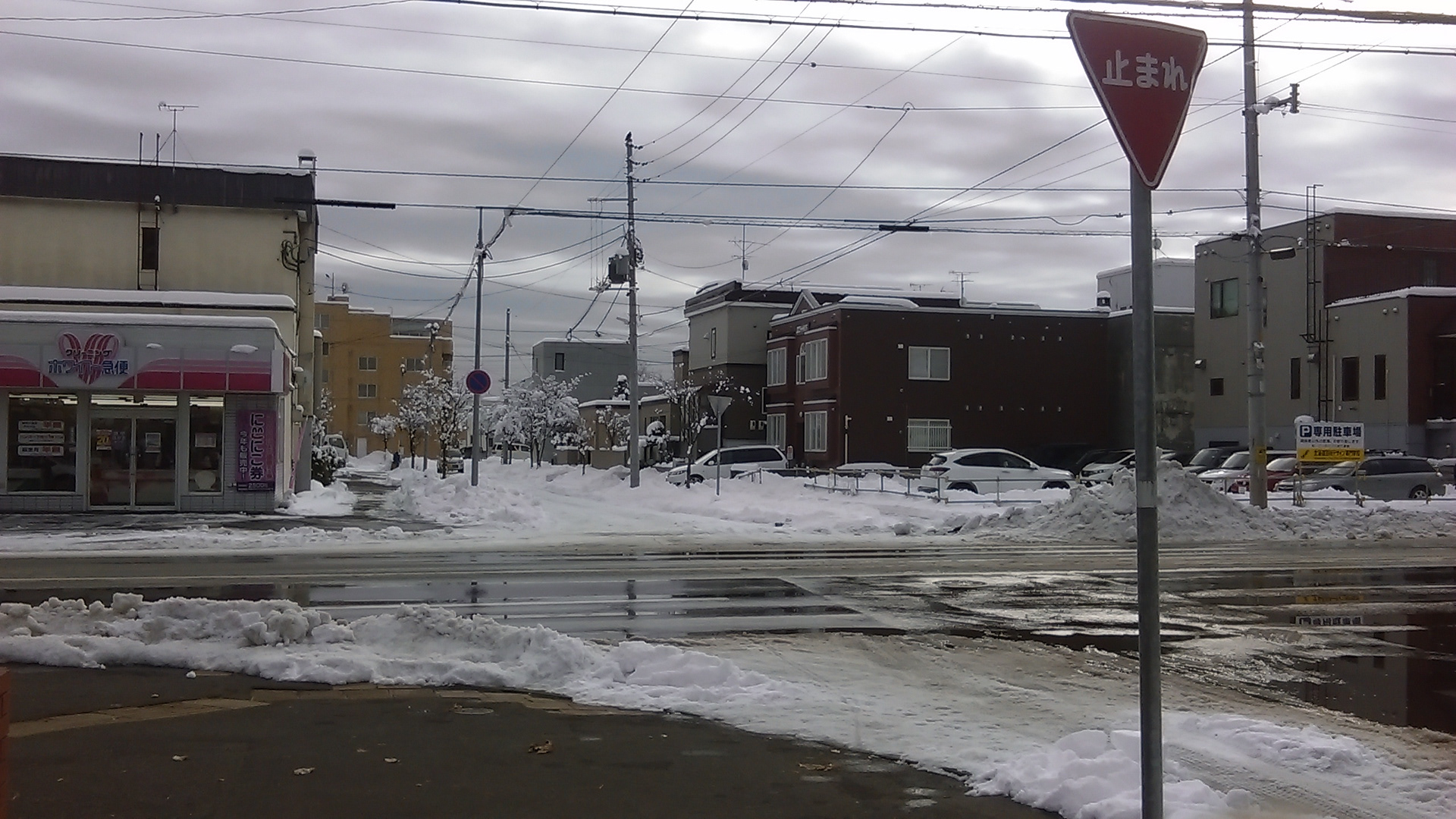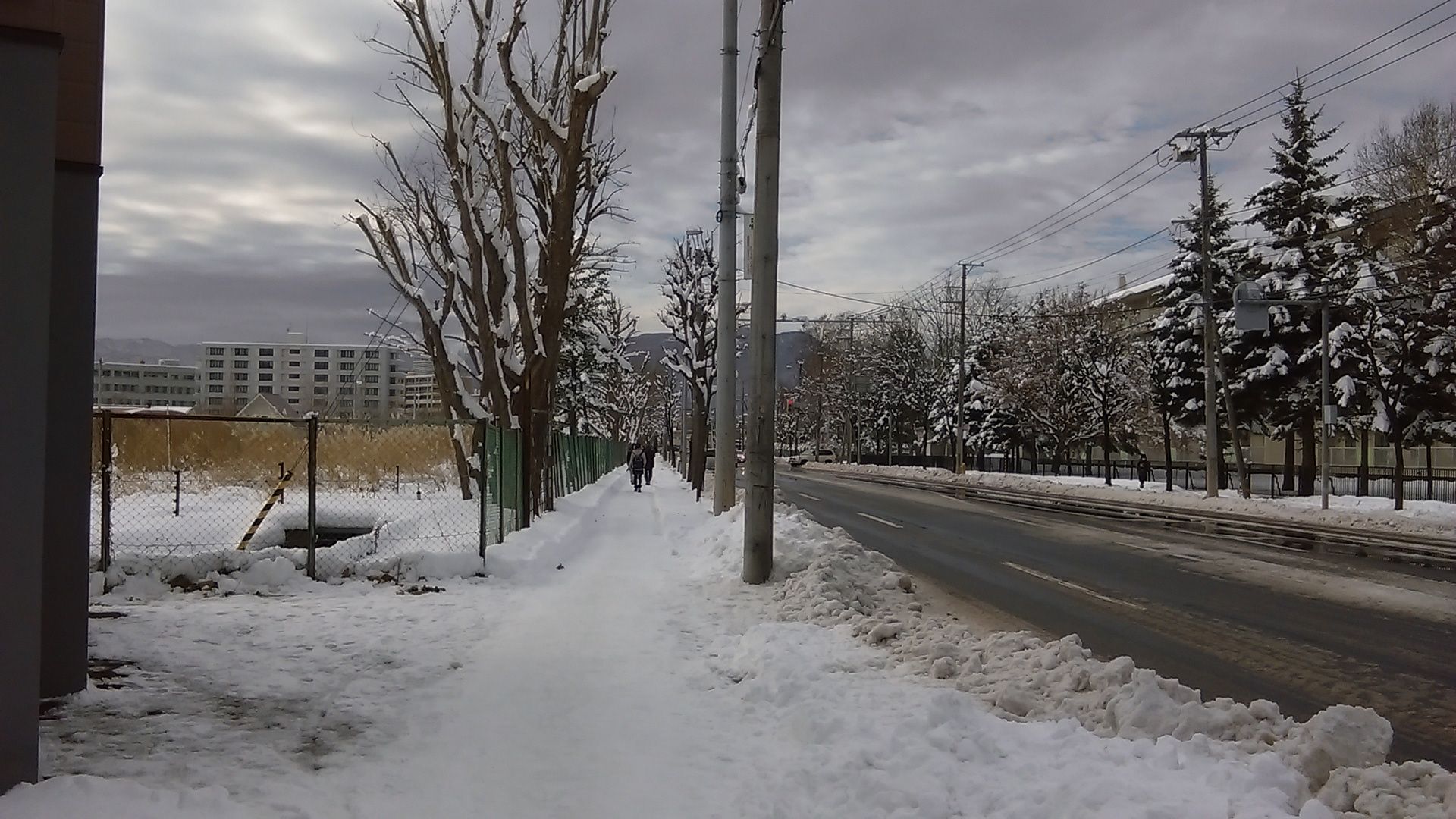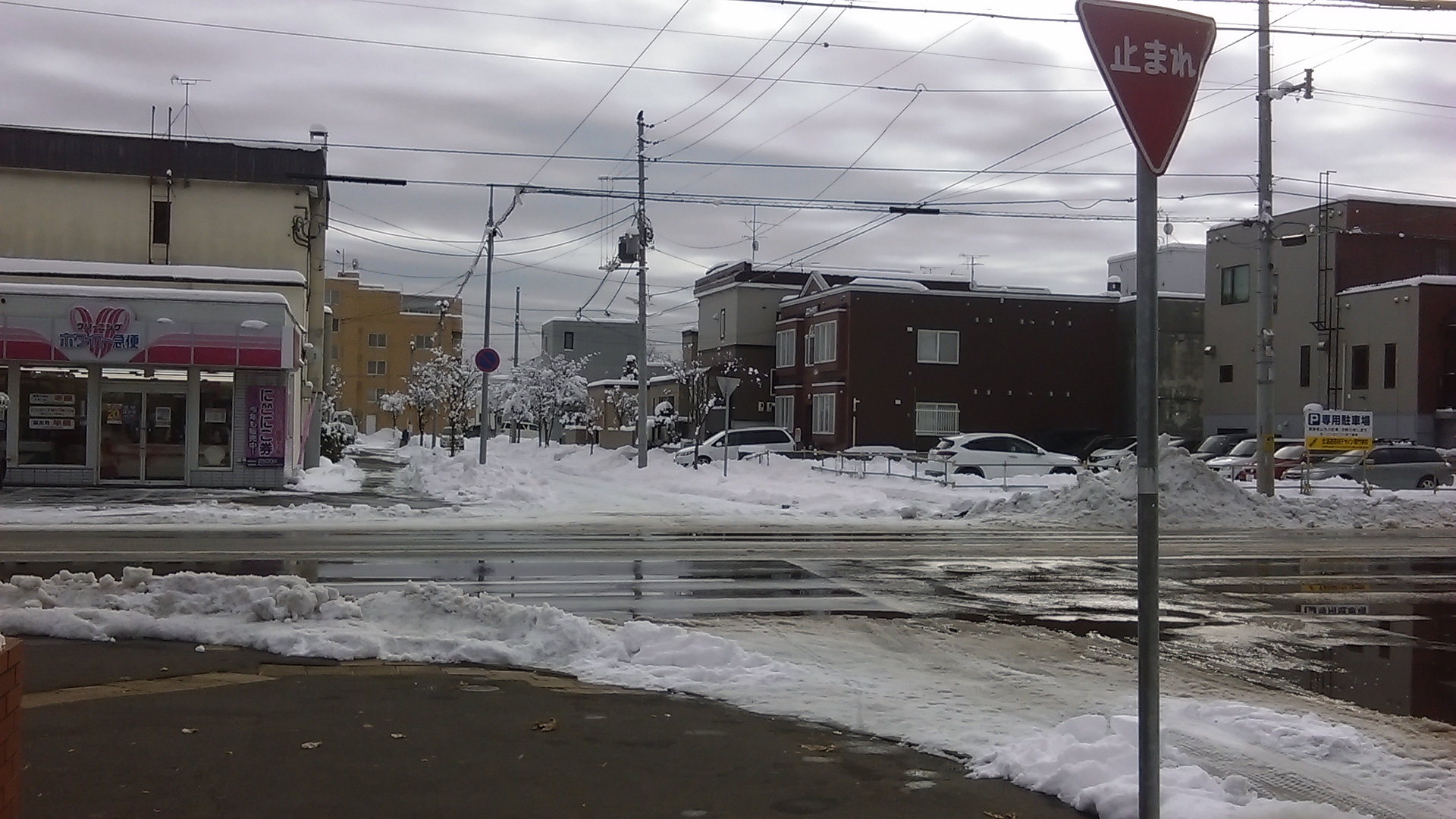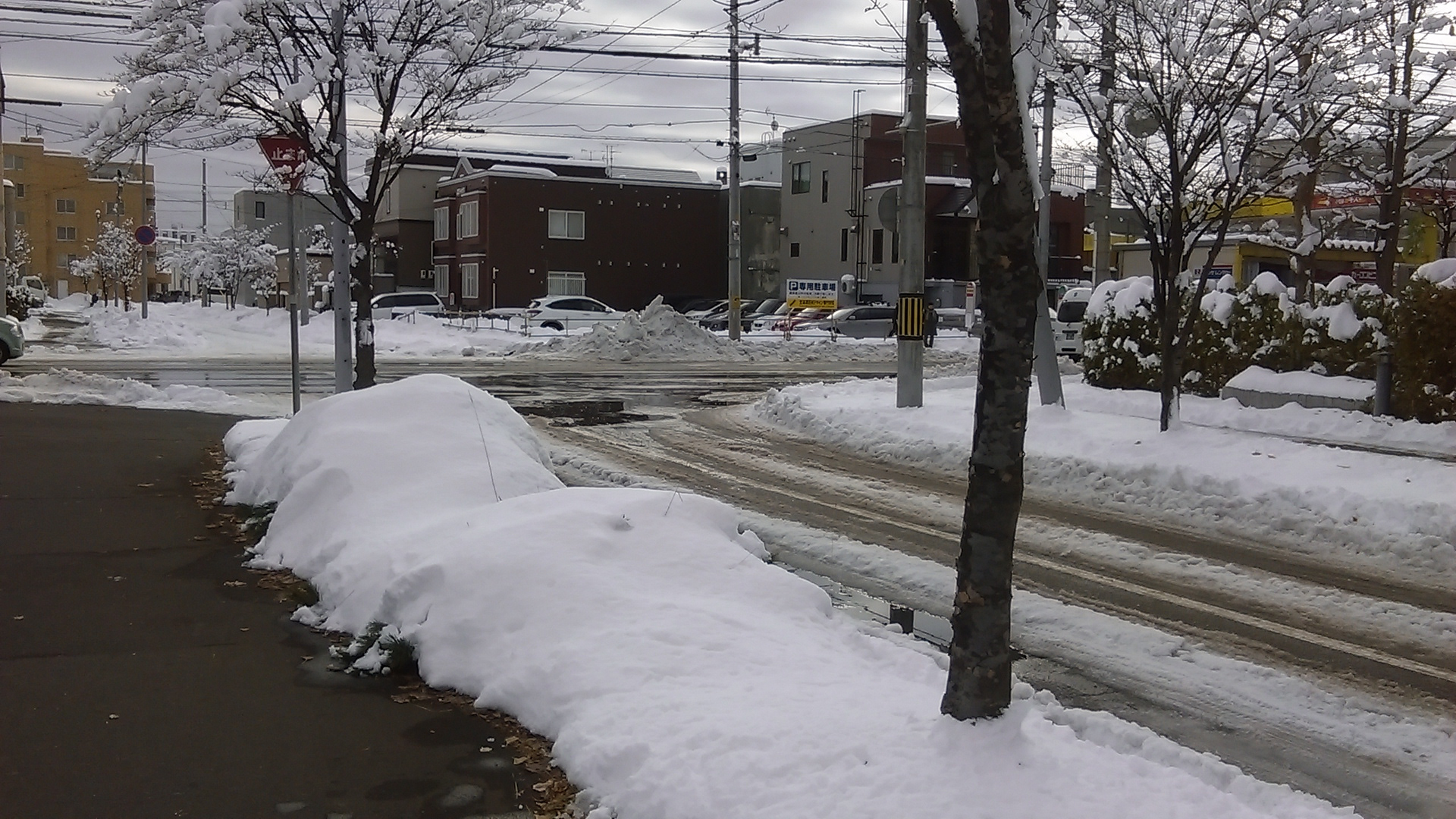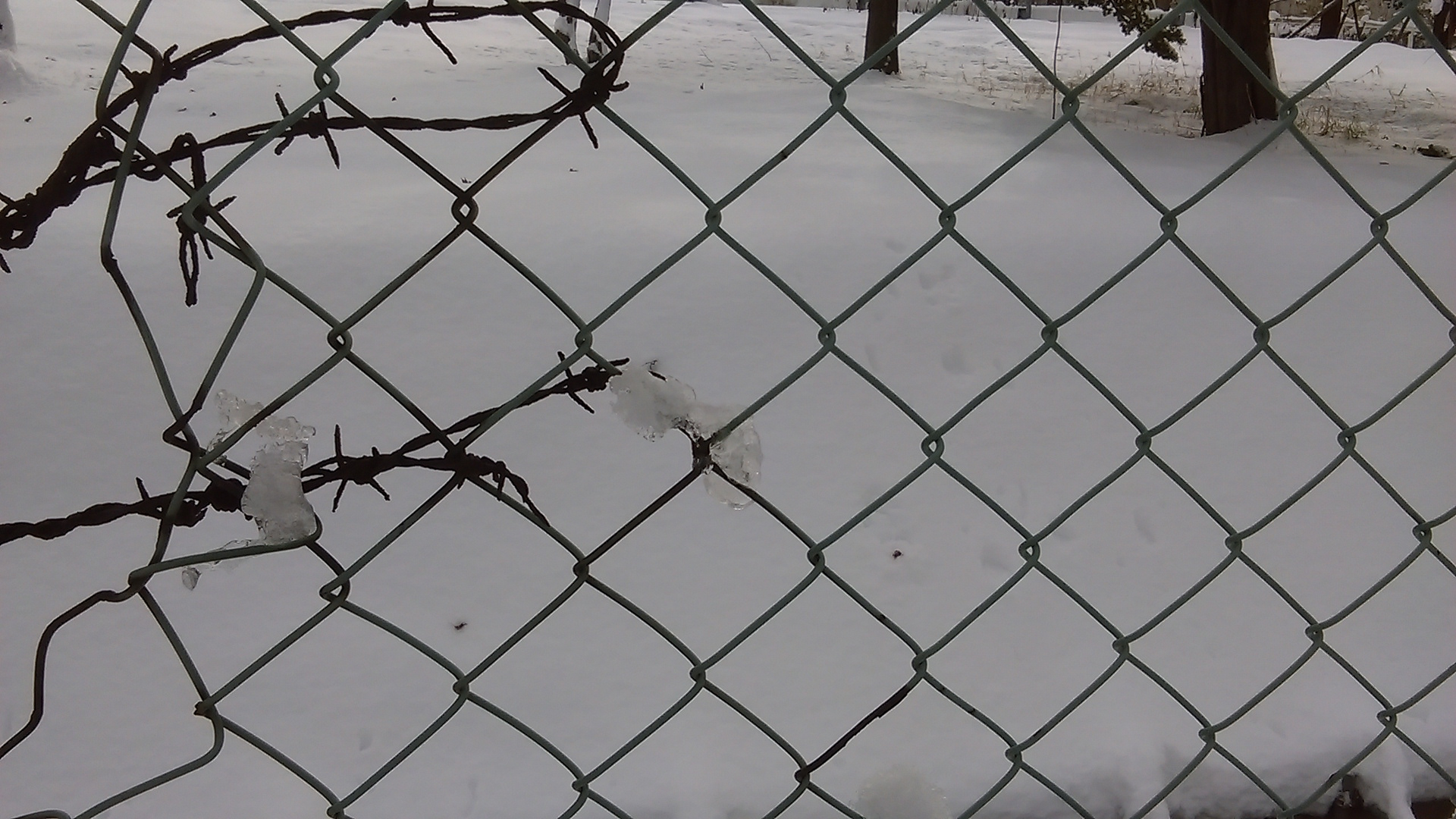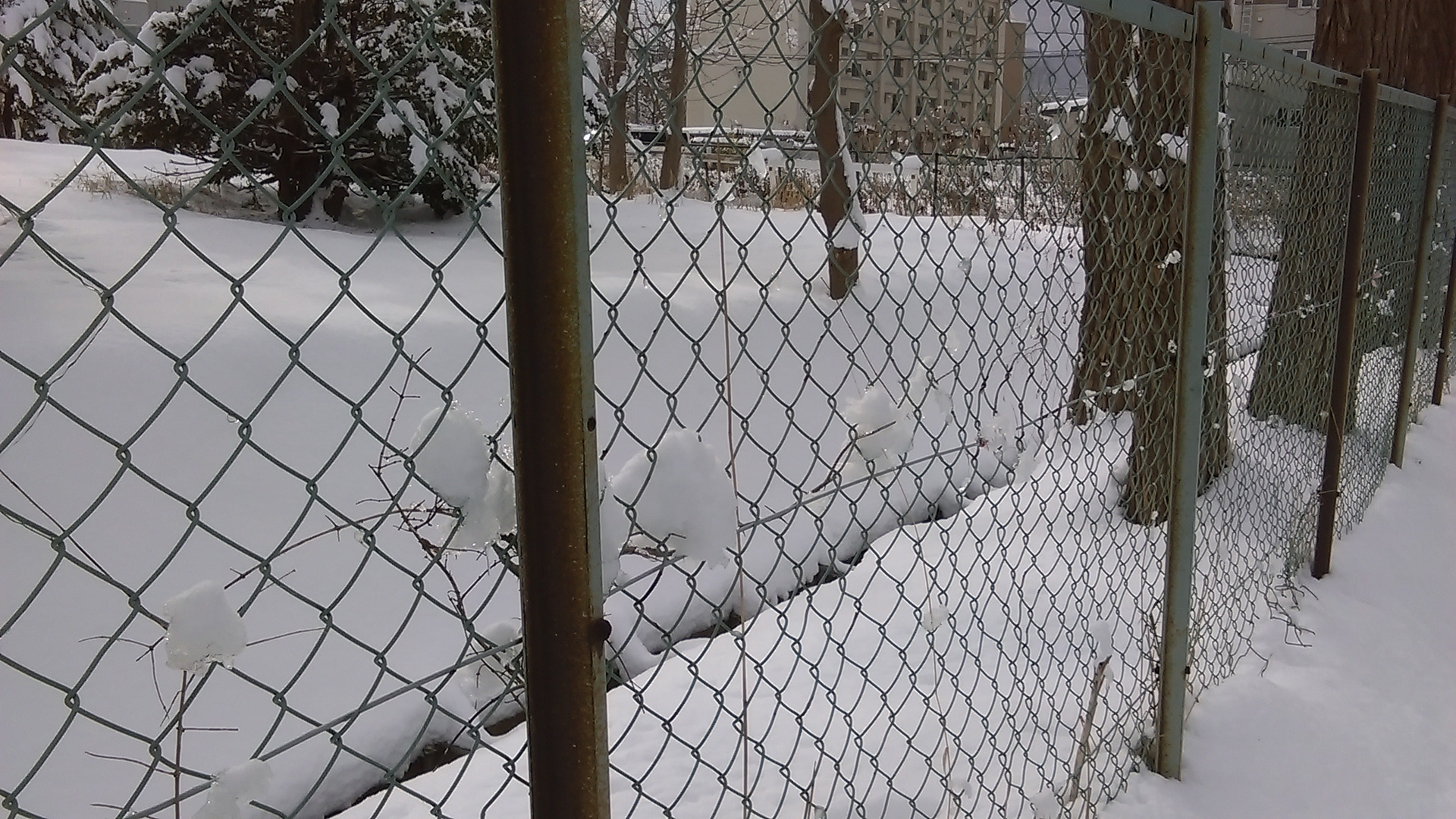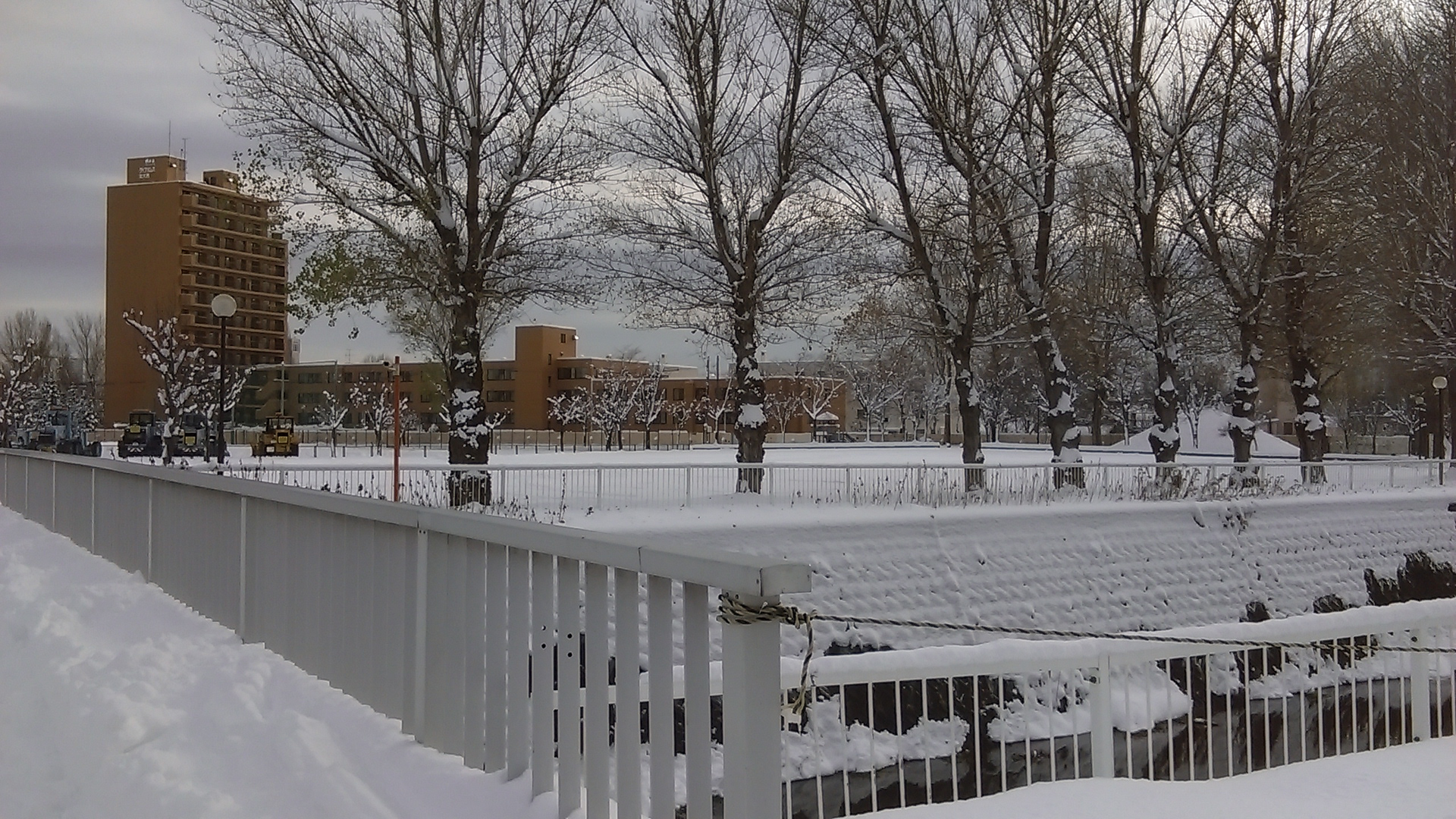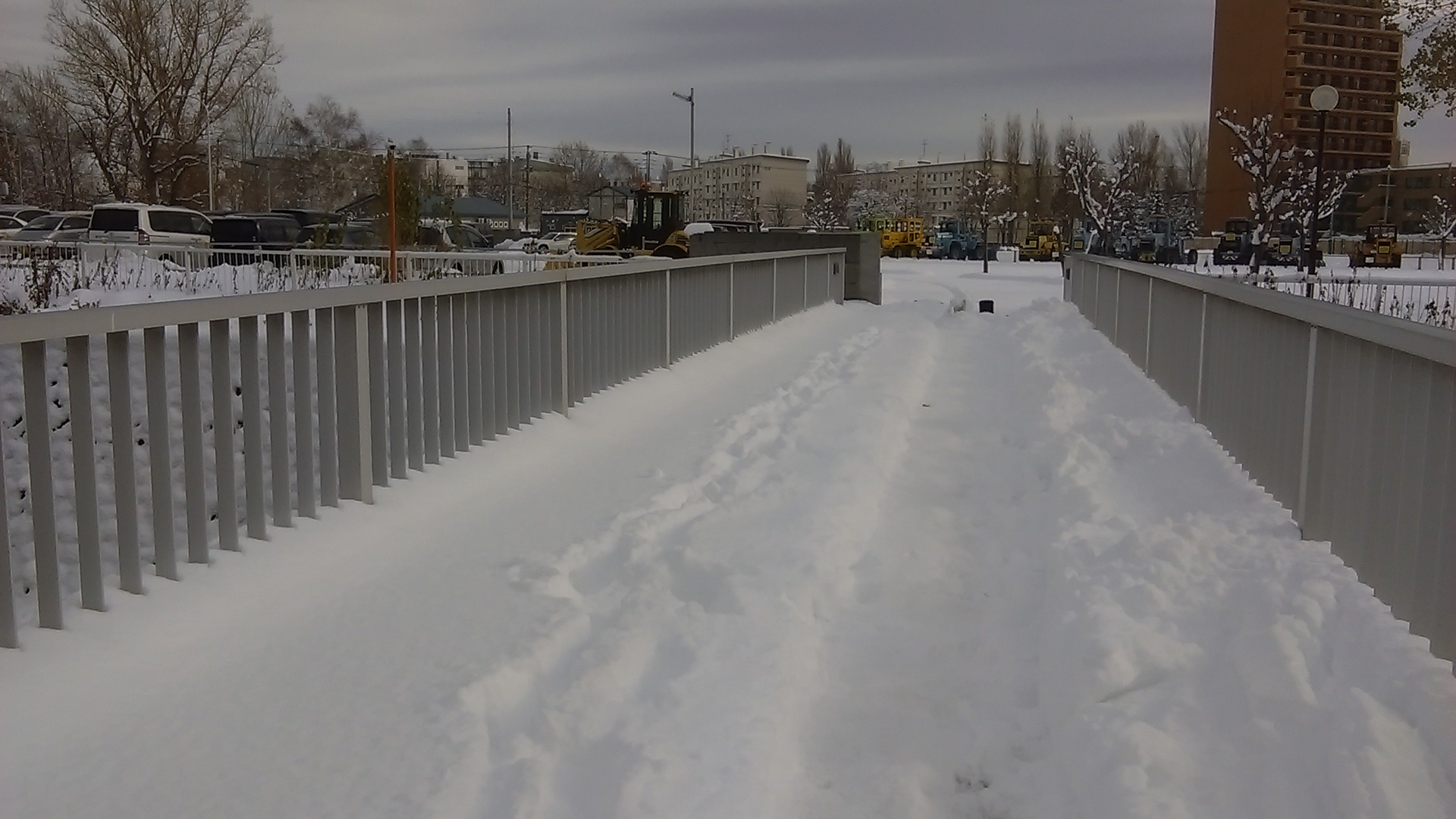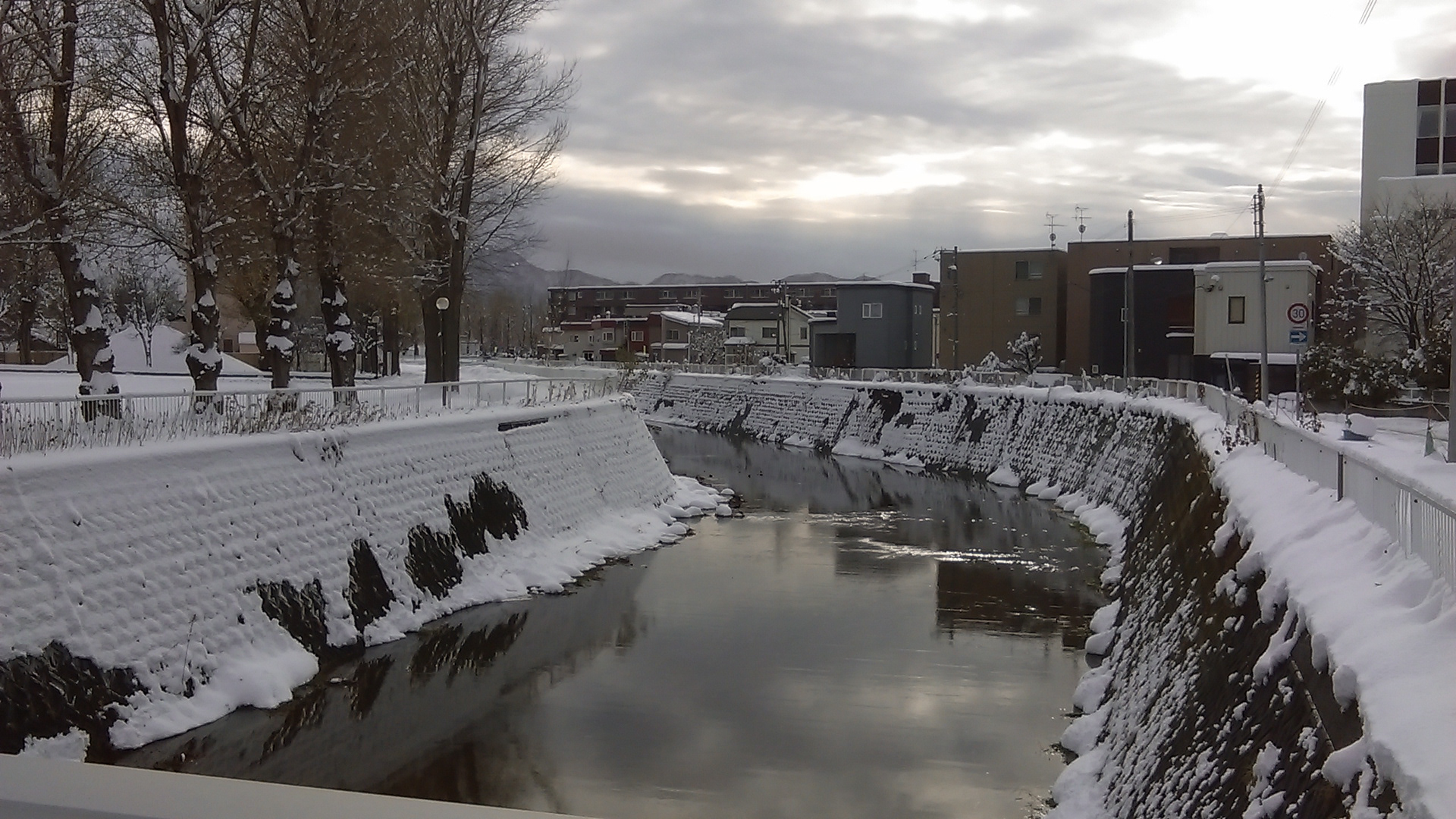 I can't believe that my stay in Japan is nearly over. With only two and a half weeks left, I looked back on my work before I came on this trip. Japan has an effect that I can't explain and when I tried to say this to another illustrator – who is also English and has been living in Japan for over two years – he understood what I was trying to say but couldn't put it into words himself. We both agreed that by being here you grow as a person and an illustrator so quickly. My work keeps leaping in both technical ability and style. I'm drawing things now that I didn't dare try before. I just hope that when I get back to the UK I can keep progressing like this. I have no end of inspiration now and when I sit down to write them all even more ideas flood in. I now have a story that I am working on with one of my characters and I will be adding another section to my blog site called 'Project Elm'. All so secret.
It's so strange being in a different country this time of year. This is going to be the first time that I don't have an advent calendar. Hopefully my parents will put one by anyway so I can continue it when I get back to the UK. First lesson today was a free lesson so I doodled for most of it and watched a movie on my laptop. Things seem to be slowing down now as my time here is coming to a close. Second lesson was Advertising and I have to make a newspaper advert for E.Lo.Ha.Su, a drink made by Coca-Cola. It's really difficult but here it is in progress.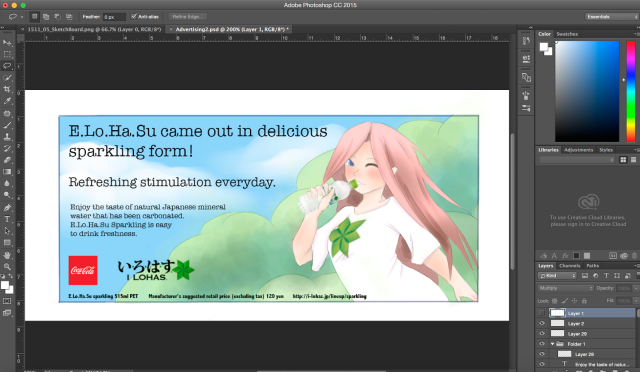 I have a lot more work to do on it yet but I thought I would share it with you all so far. I think today is a McDonalds day.
It's the first day of advent! It's really starting to feel like Christmas now. My first class today was Character Design. I elaborated on my crane using Manga Studio by making the body smaller, thus the wings bigger, and giving him more of an inviting smile. I then coloured him and played around with the colour balance using Photoshop. I think I will choose option 2.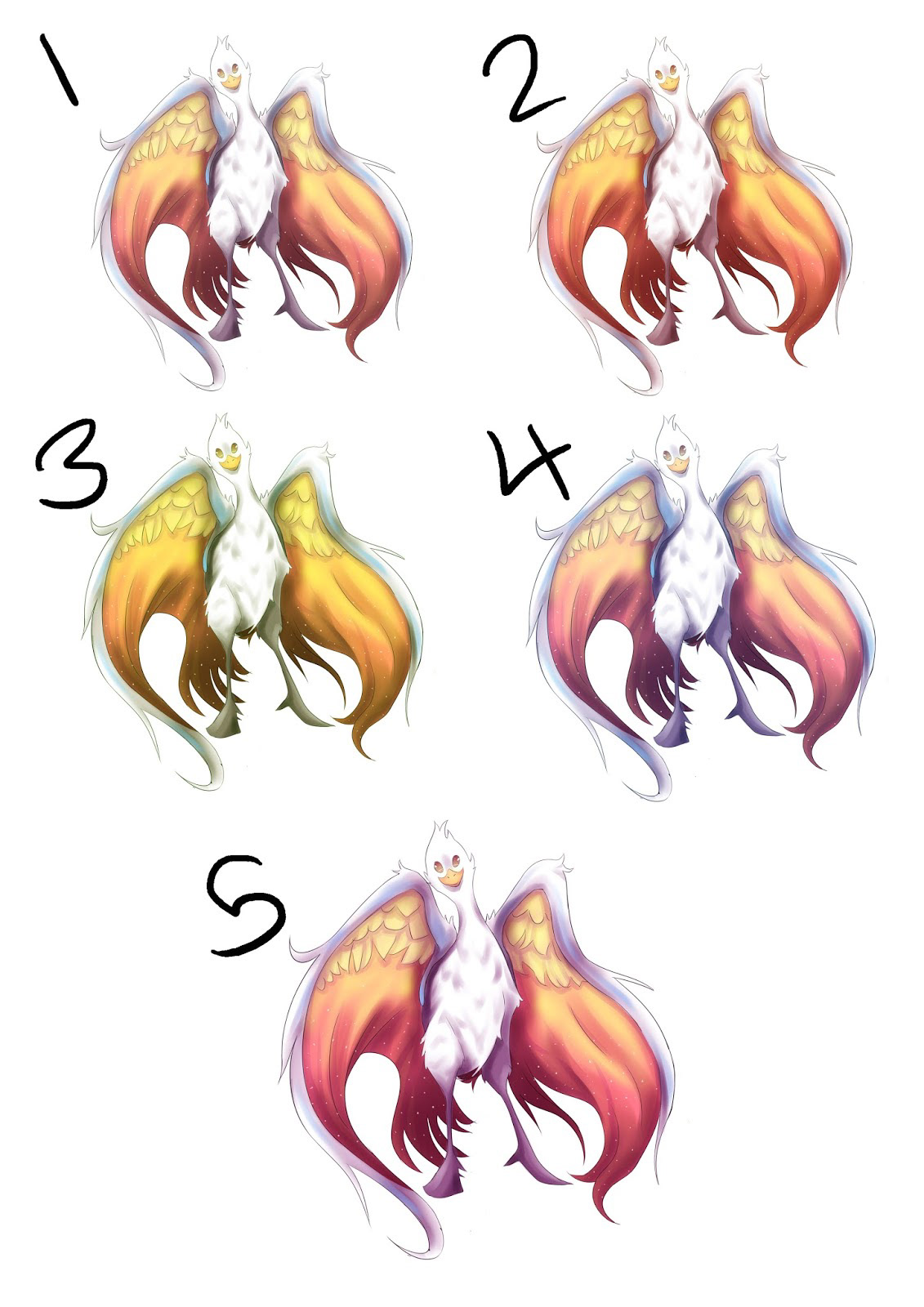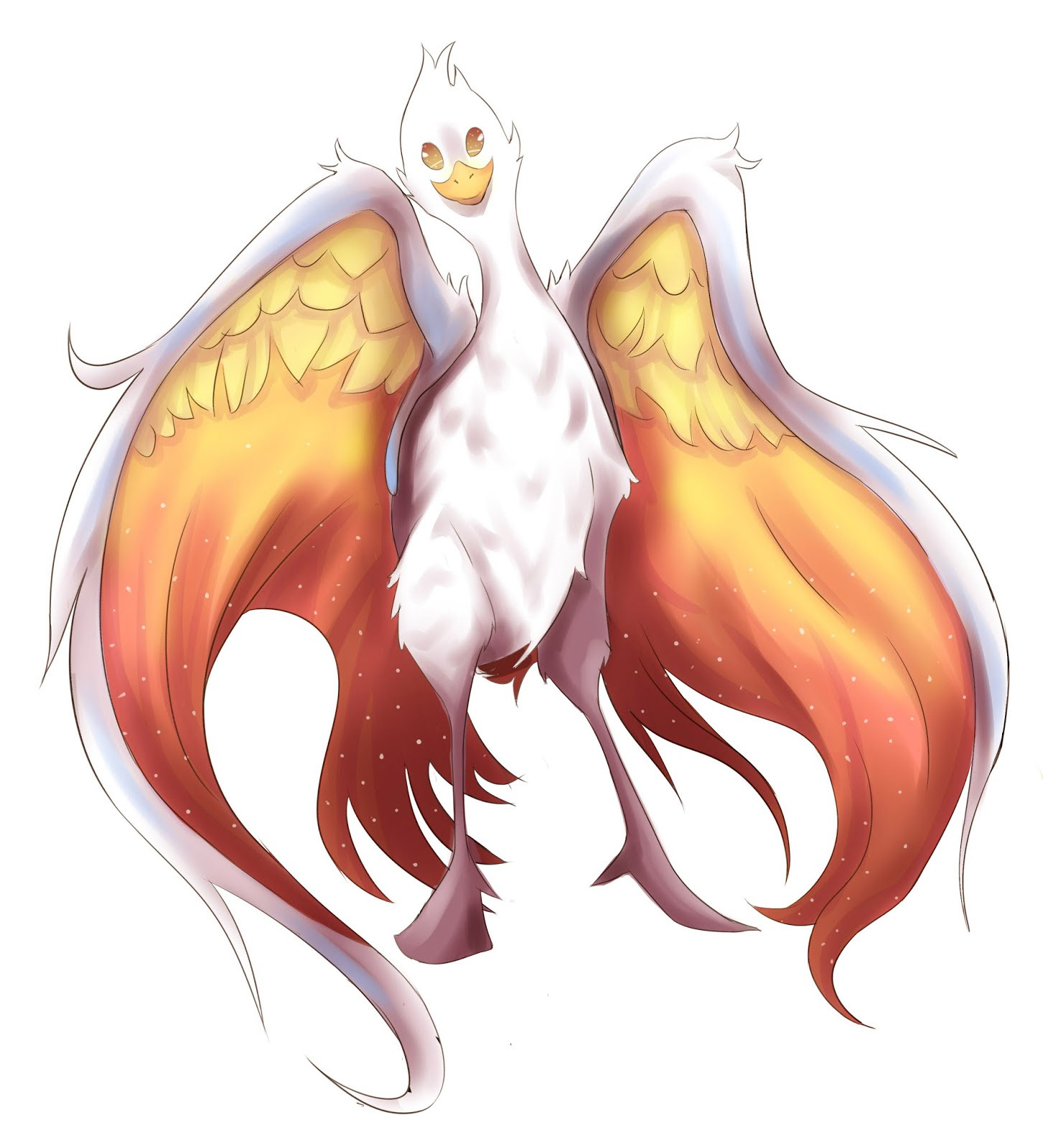 It feels great to be able to listen to christmas music without being called crazy. It's December now, no-ones going to stop me. I then had my Manga lesson in a different classroom where I had my dummy book approved. Now I can start the finished manga. My teacher gave me paper and screen tones for me to do this.
Last night I stayed up pretty late listening to Vocaloid which was really good. It was great to just relax now that the work load has gone down. This morning a teacher from Crafts took Me, Melina and Jack to the Ski Lodge. It was amazing, we went to the sports museum where we went on simulations for skiing, speed skating and tobogganing.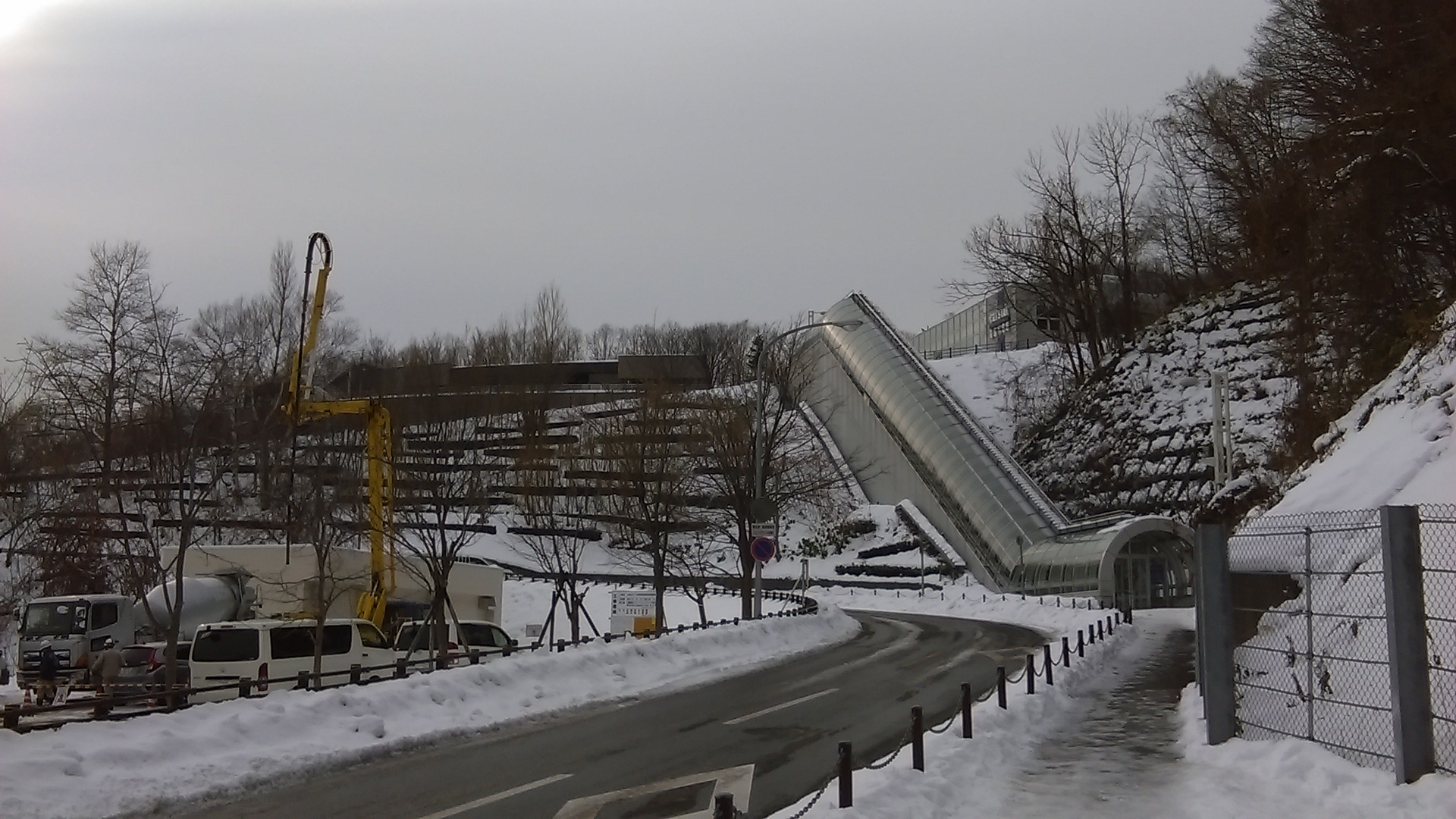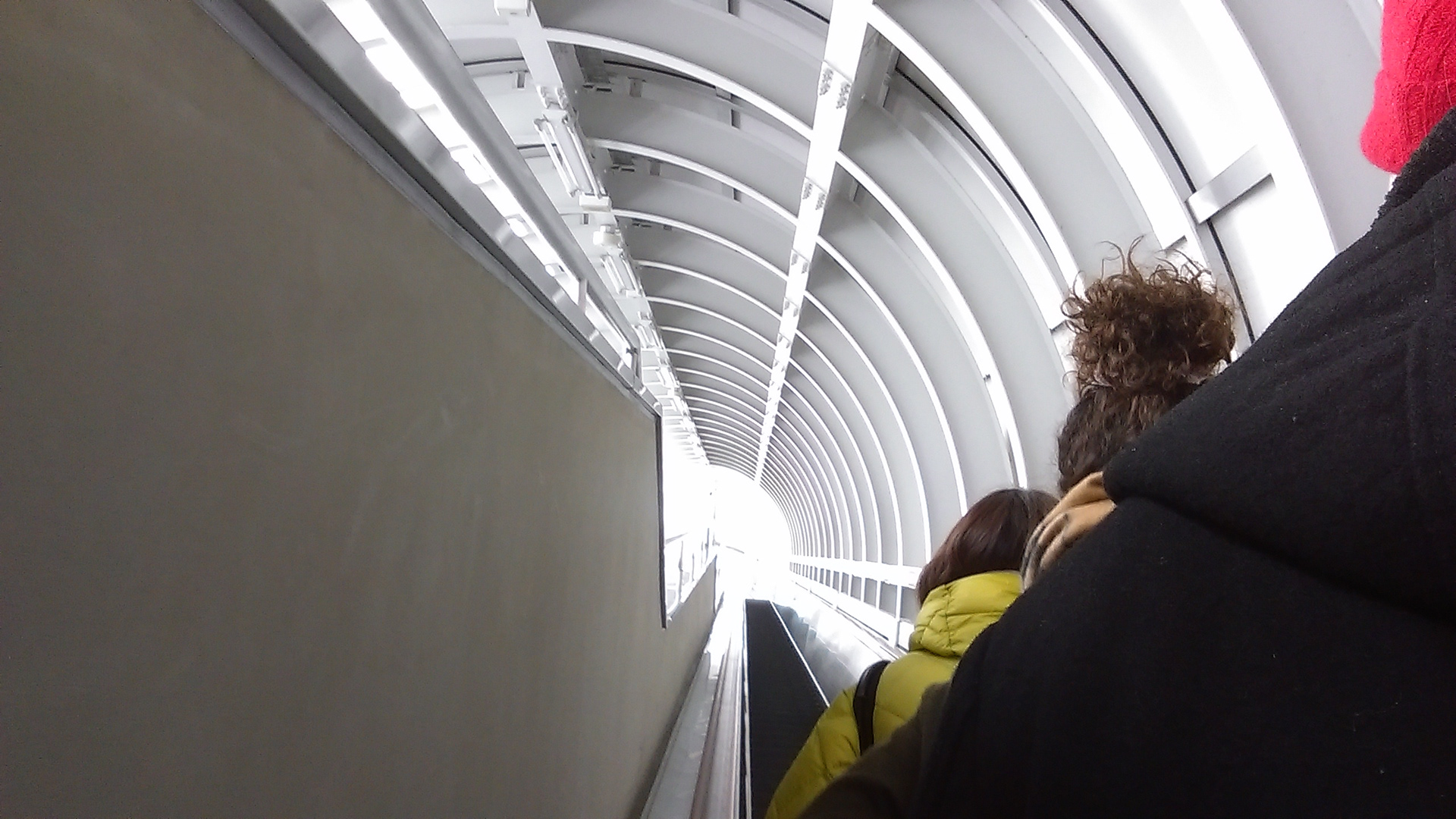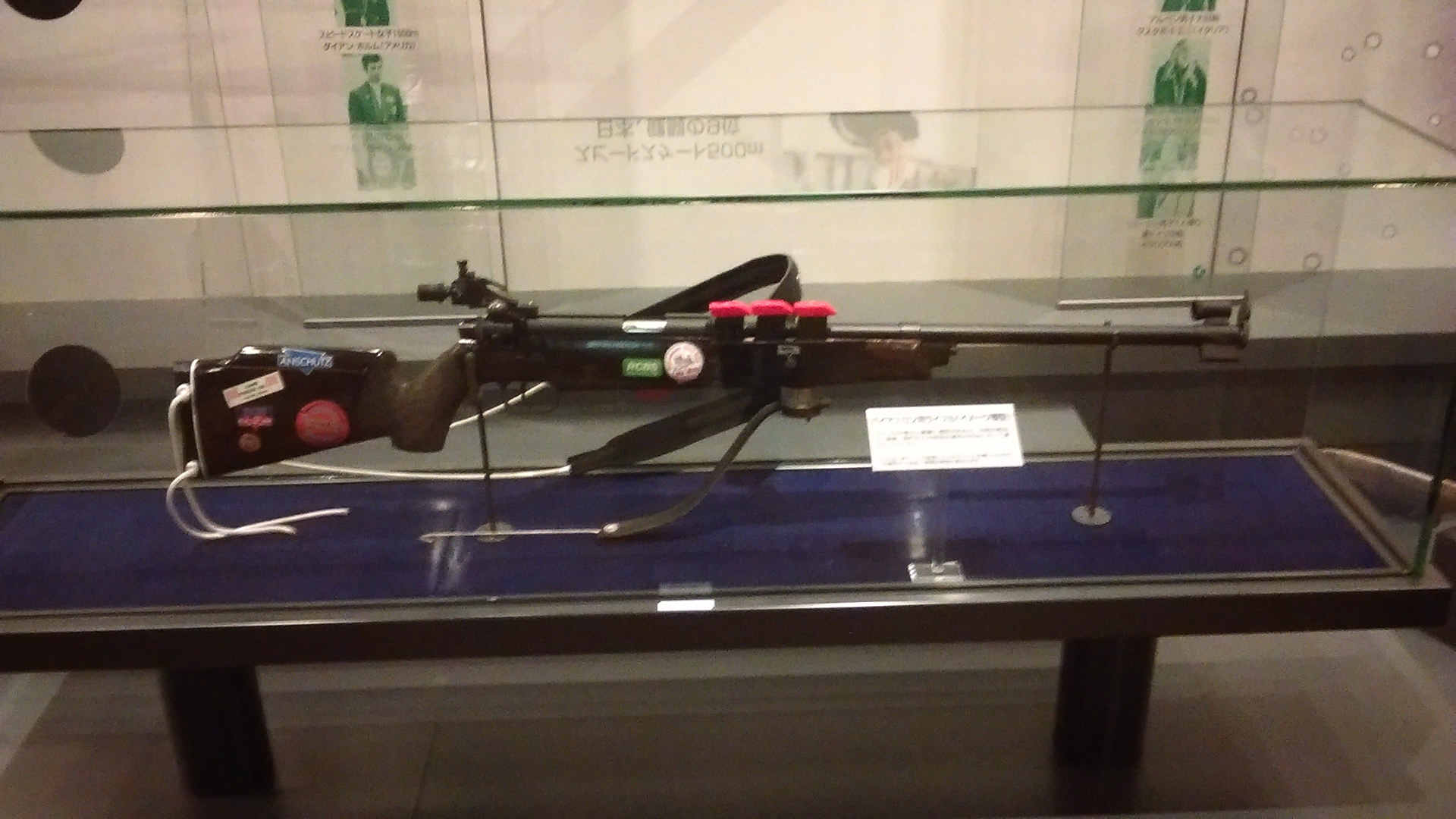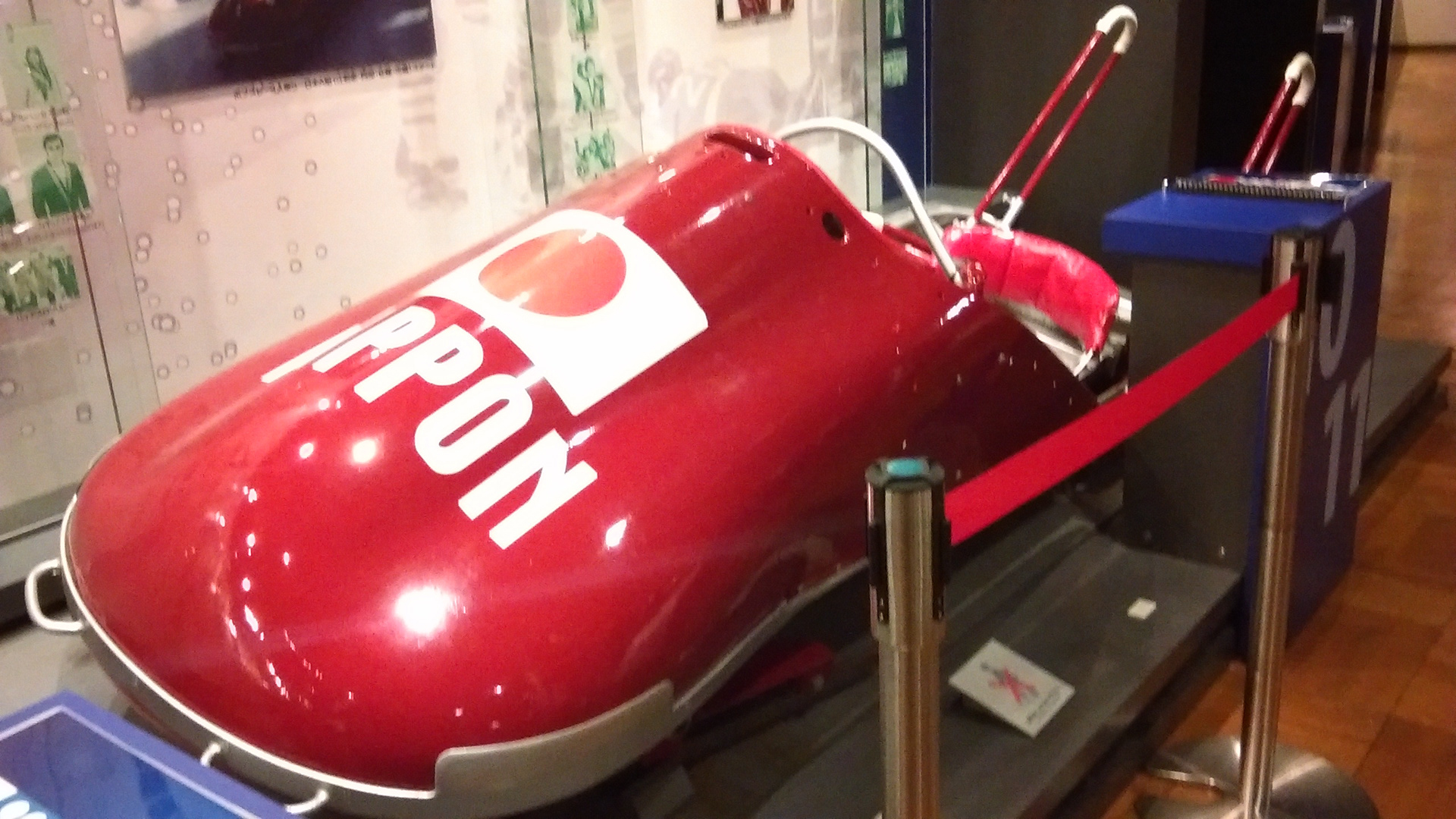 This is the simulation for the Ski jump itself.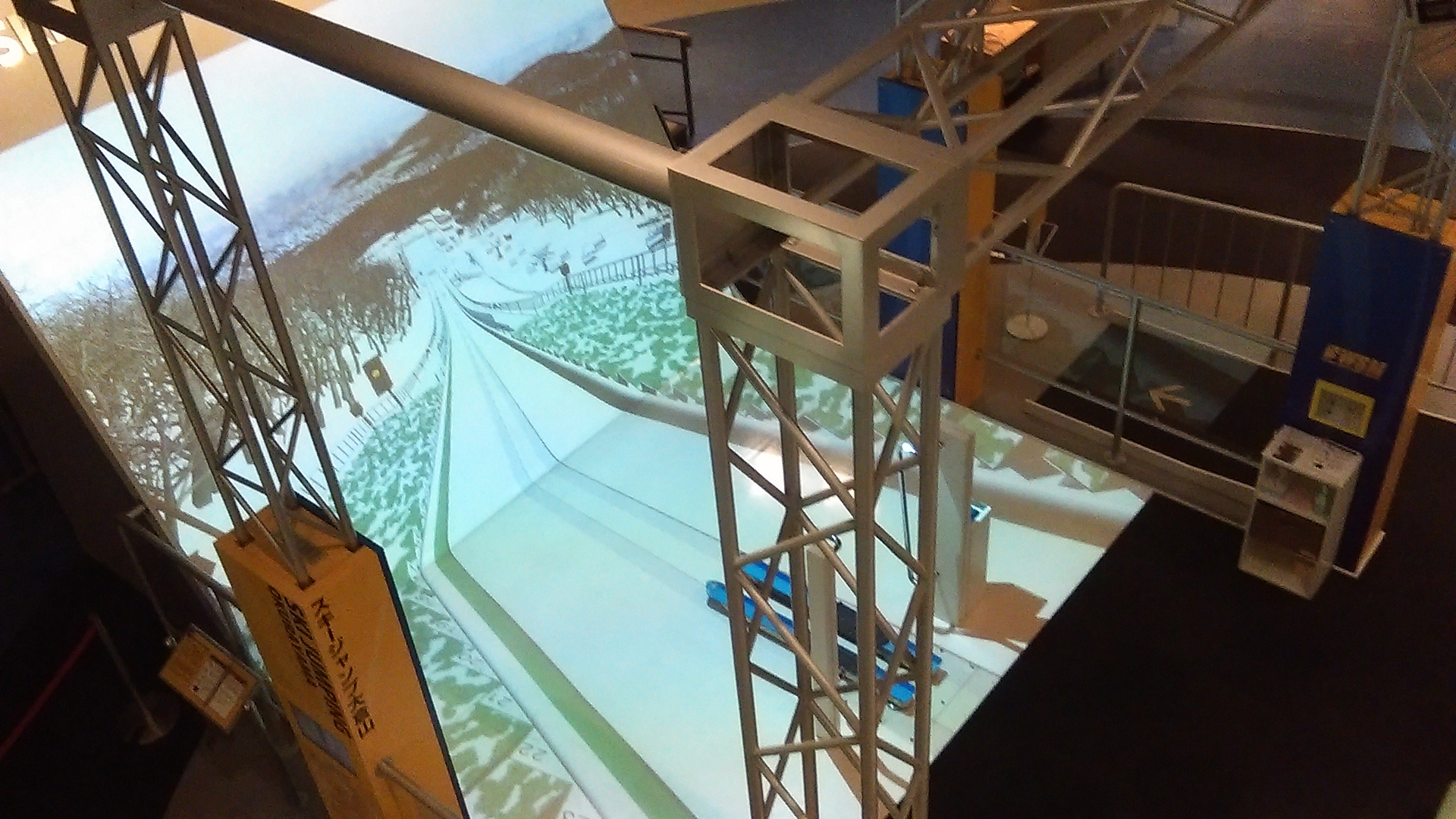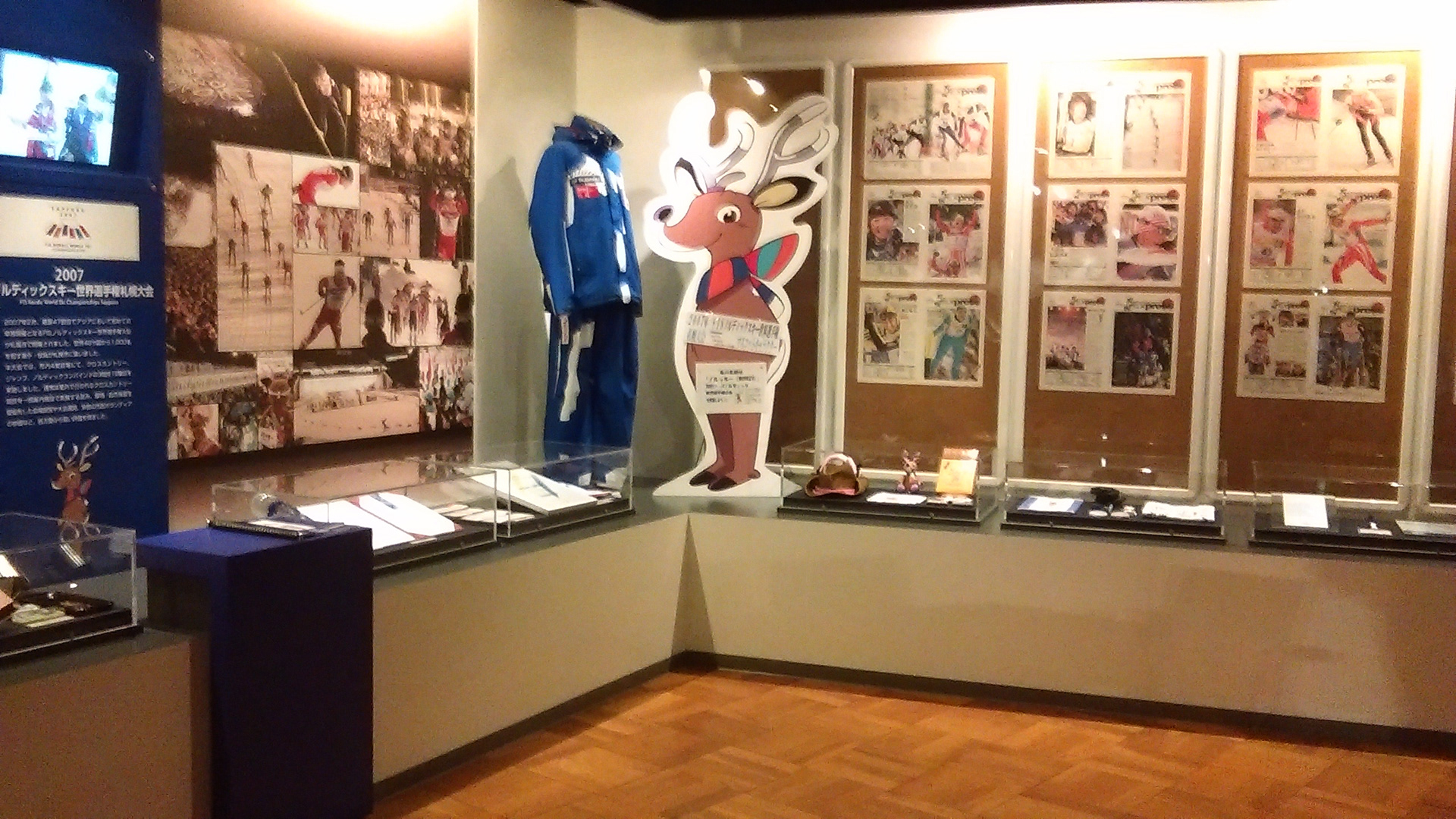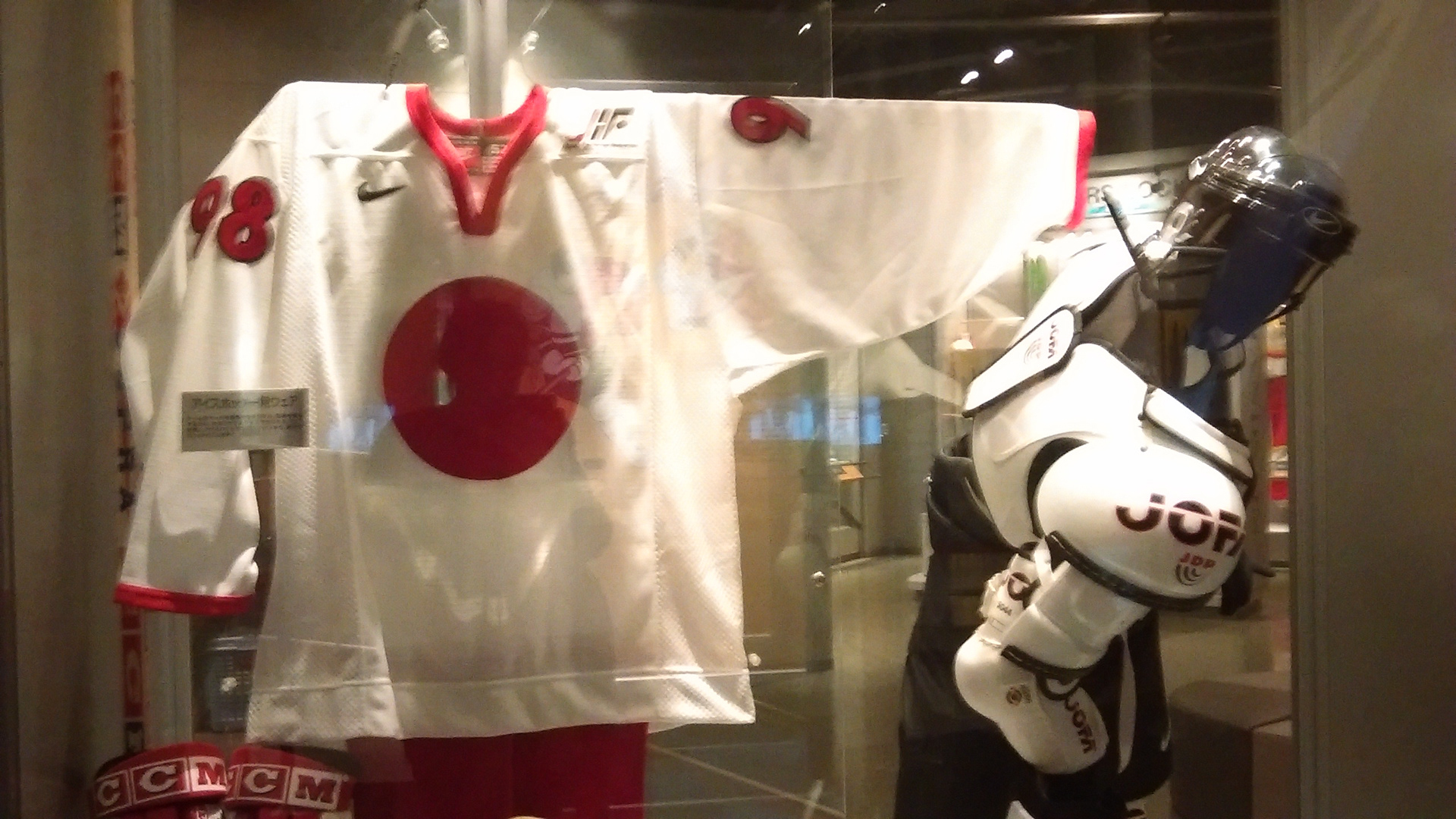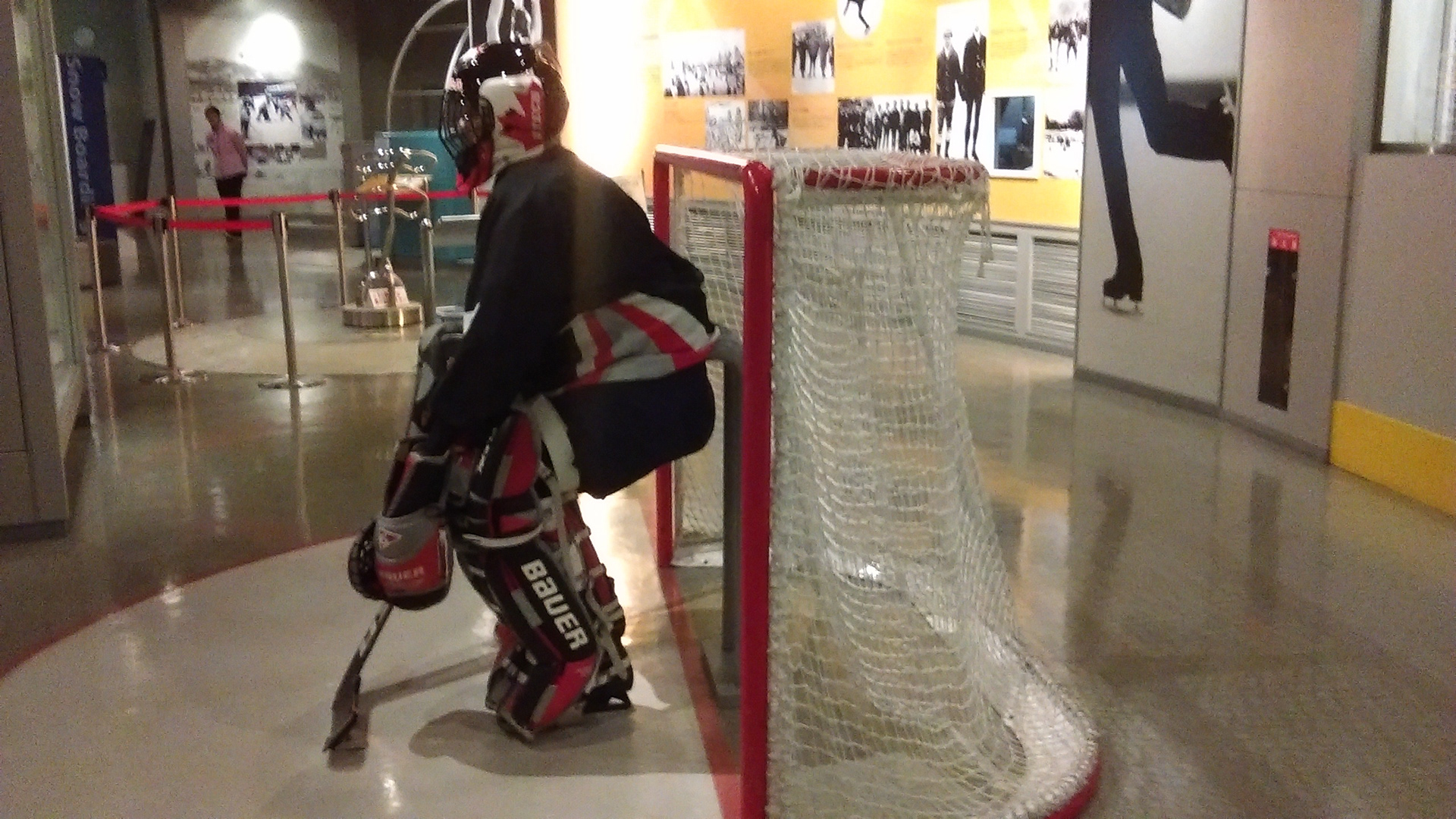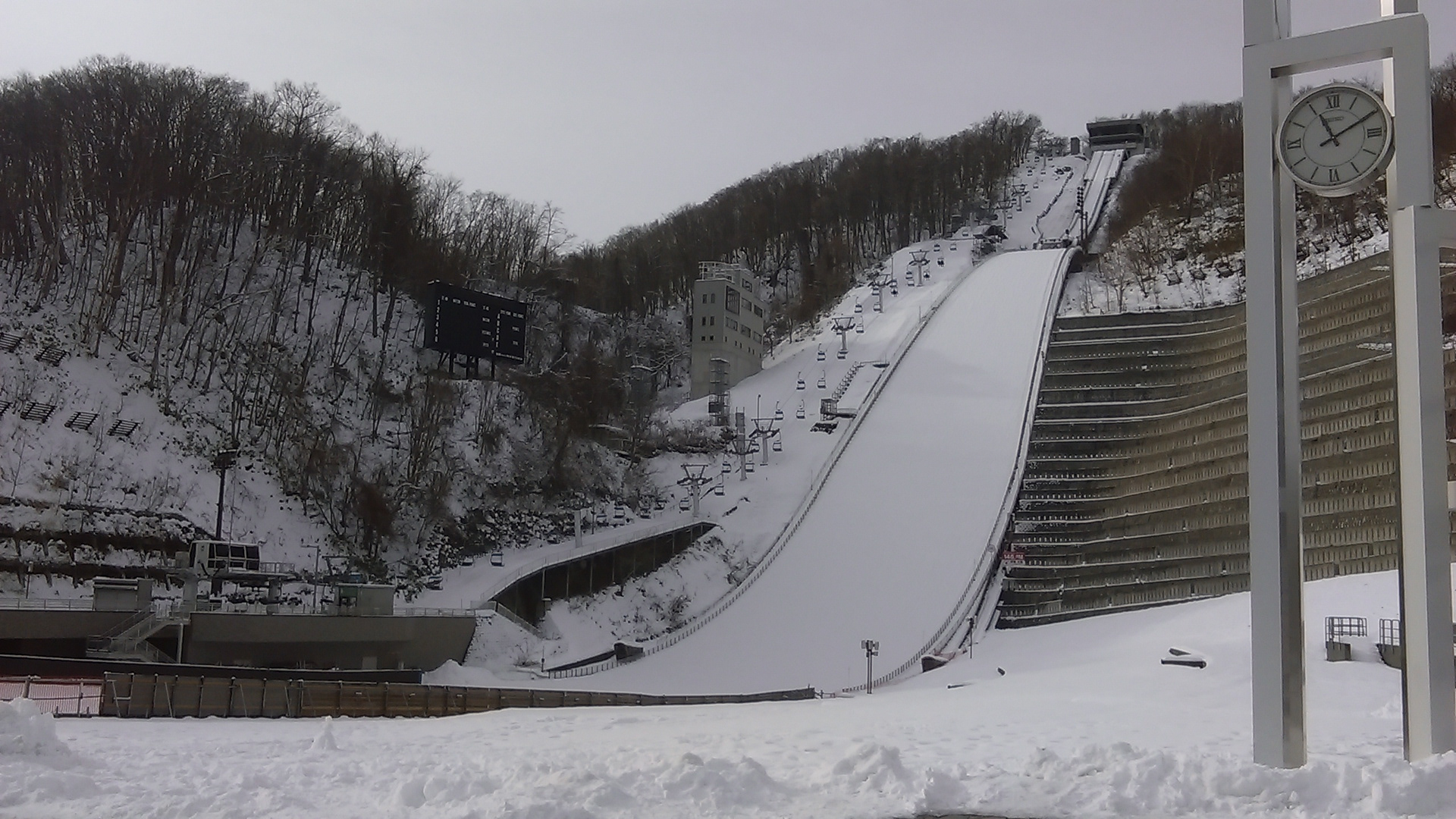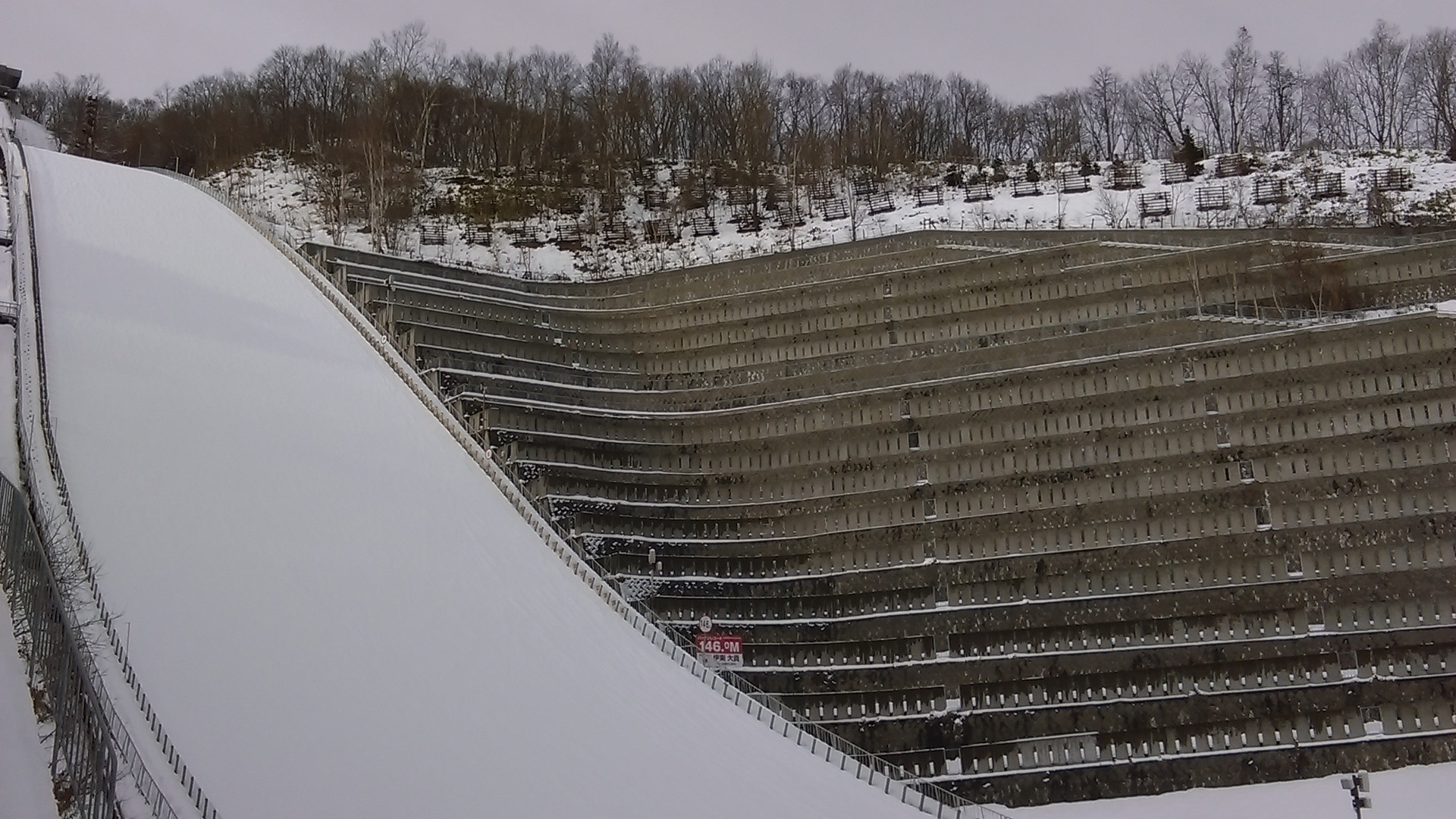 The Ski lift was terrifying but so much fun.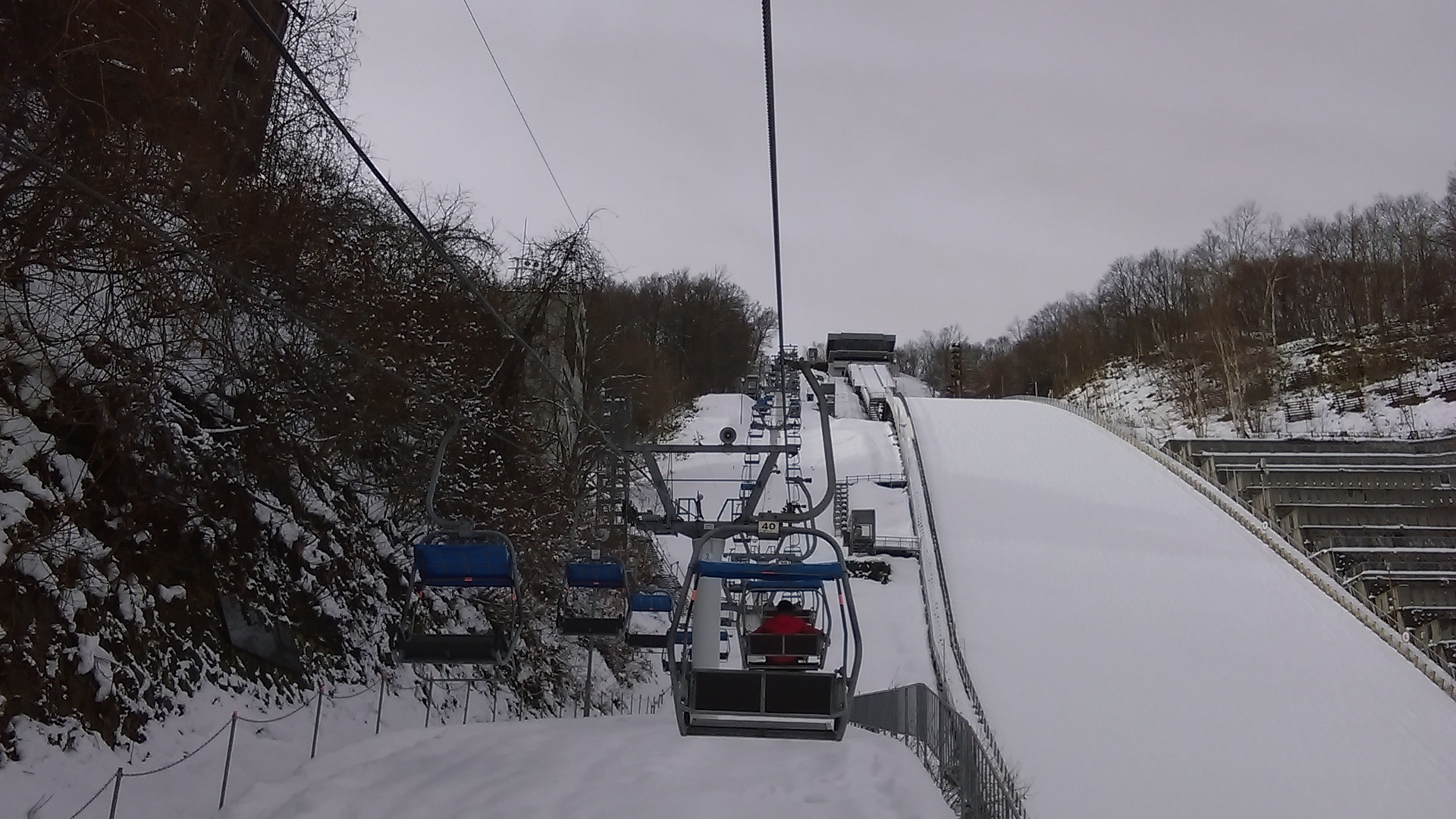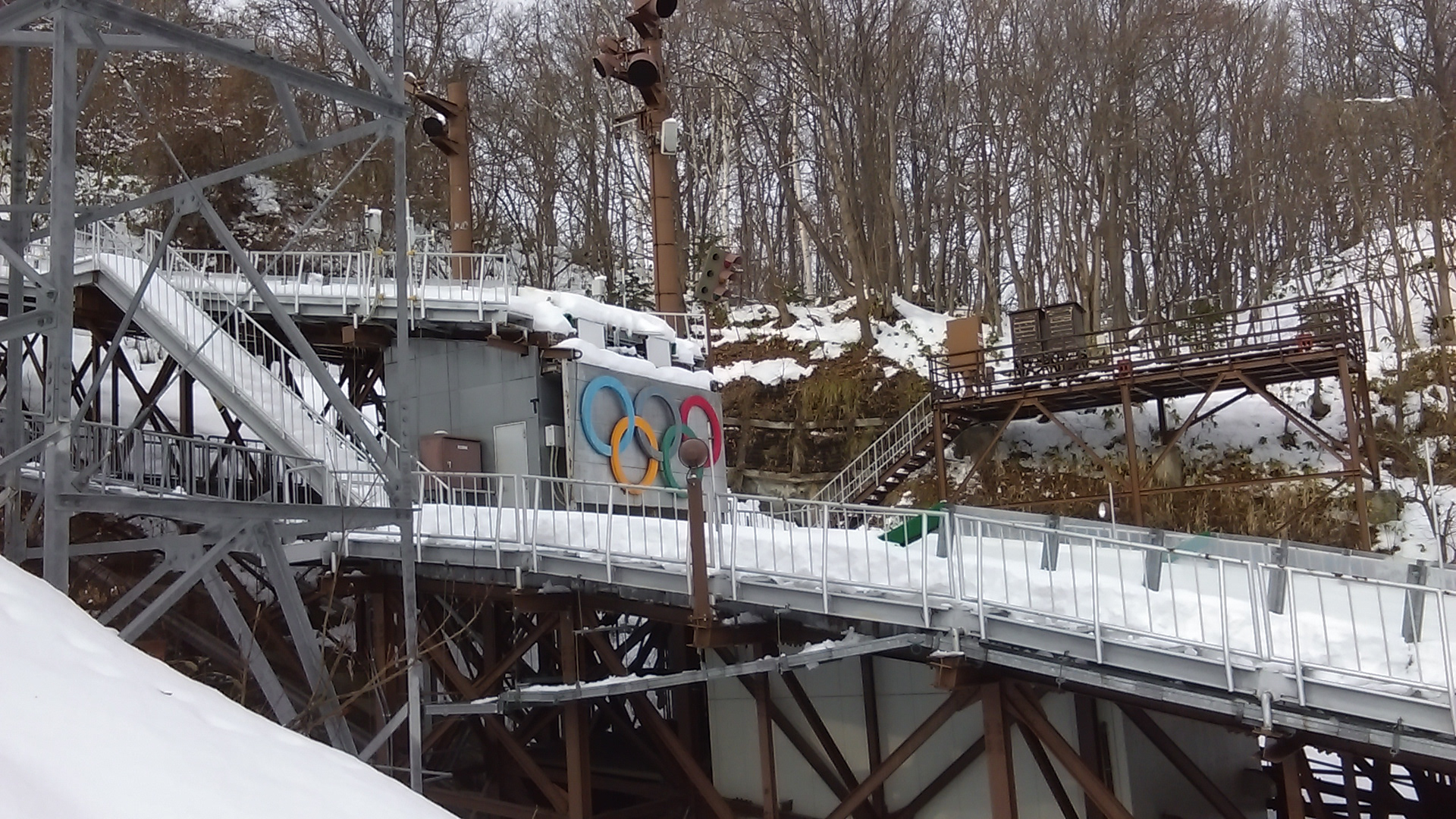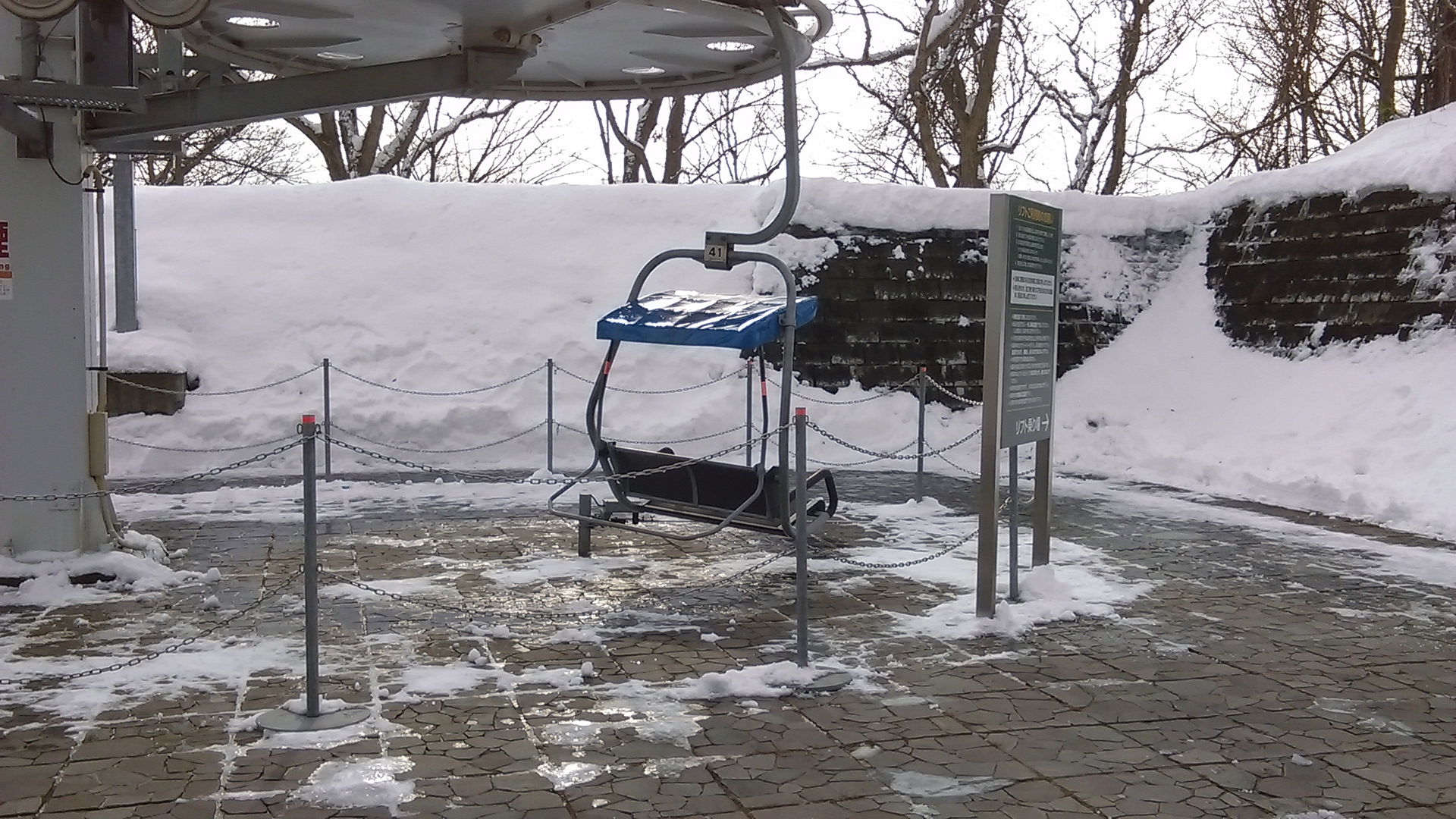 We had a tour guide that showed us to an 'exclusive' part of the Ski Jump. We went to the very edge of the jump itself and we could see the whole of Sapporo. The guide had given me a coat to wear as I didn't know we where going here on this day. We then made snowballs and raced them down the slope which worked surprisingly well.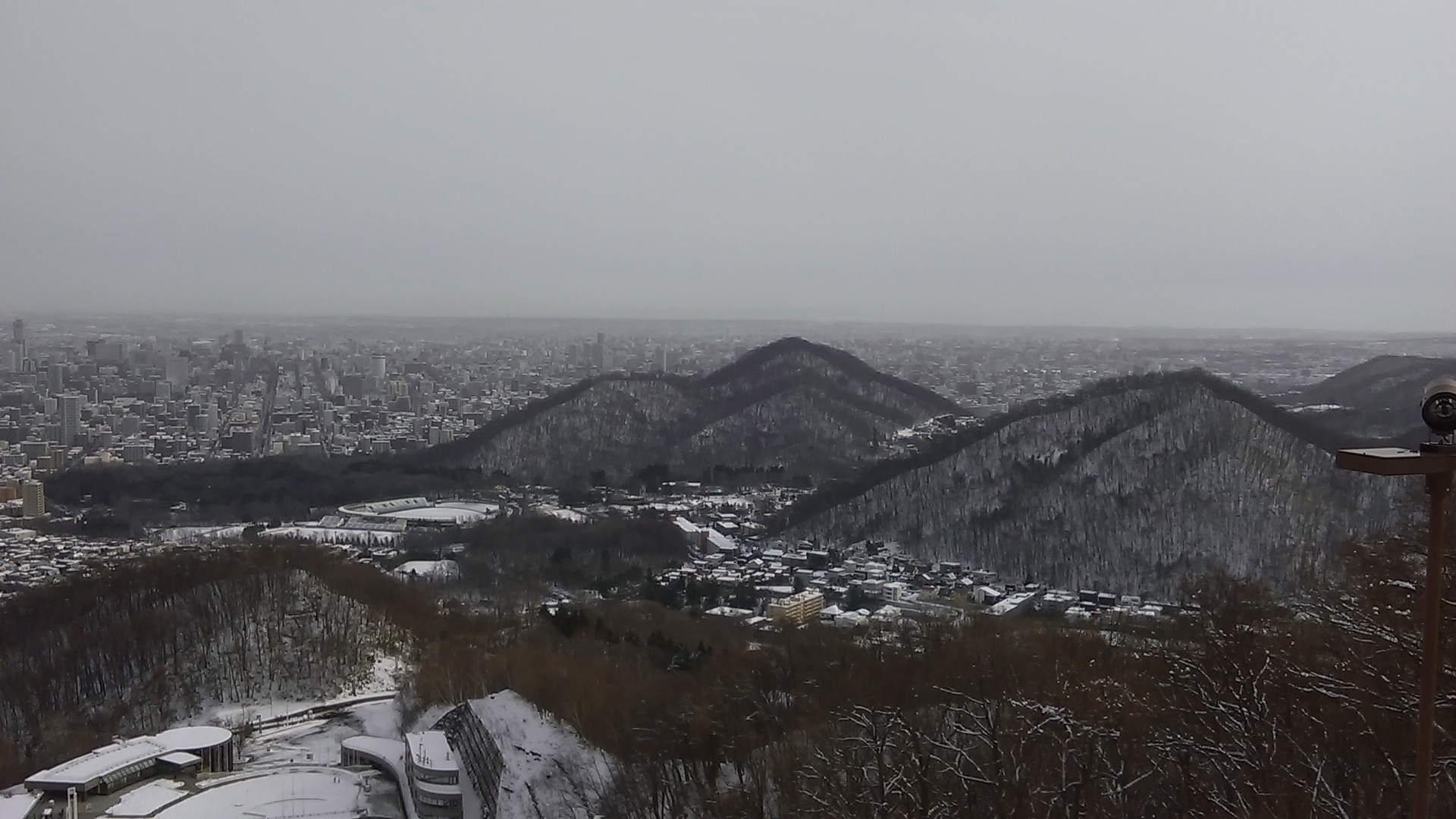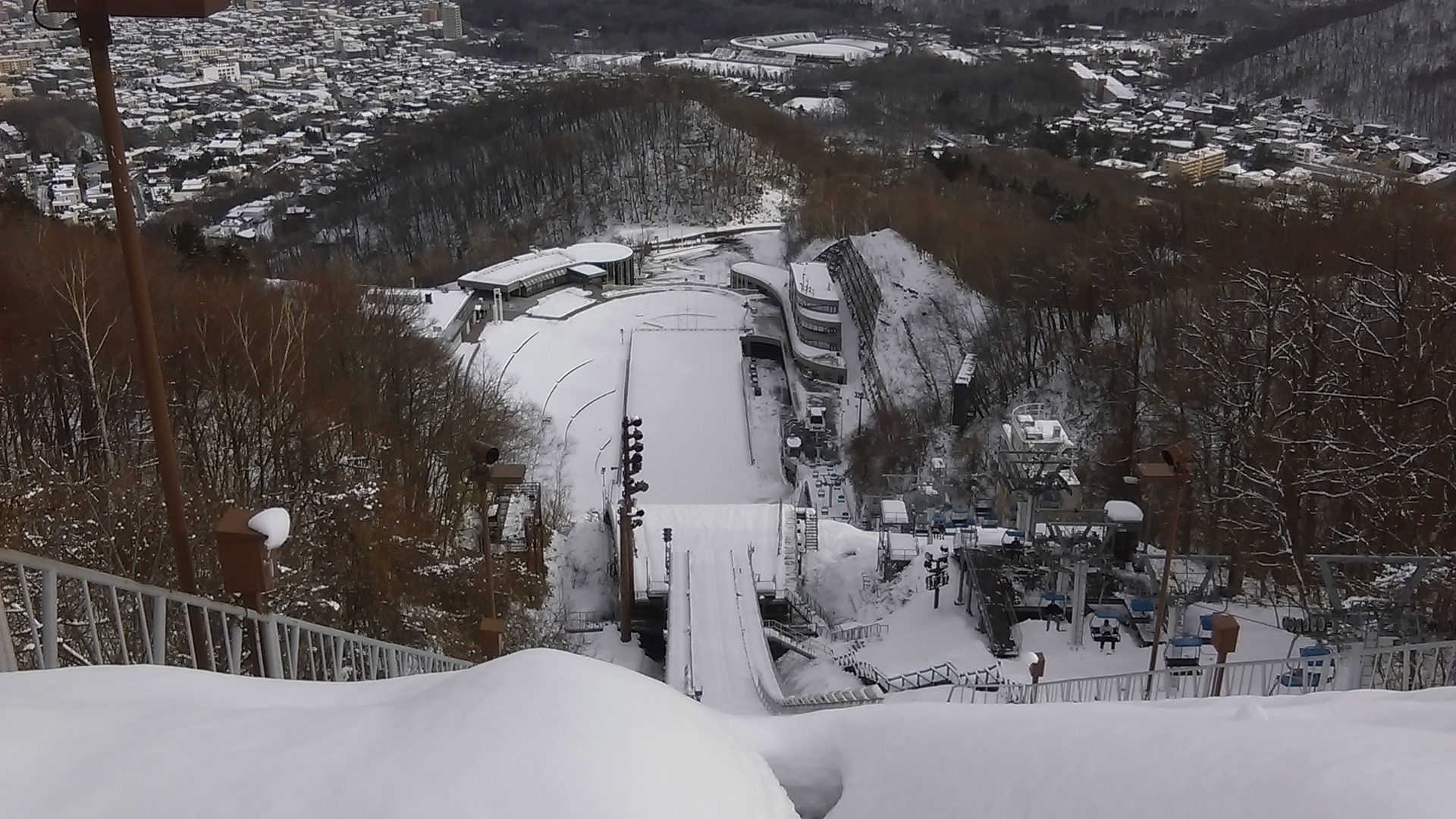 The snow in Japan is so soft compared to home, if we get any. I could see each snowflake when I scooped a small pile into my hand. The teacher then paid for us to use this binocular which had a huge screen on it so you could zoom in and out of landmarks. We could see the T.V tower and Sapporo Station from here.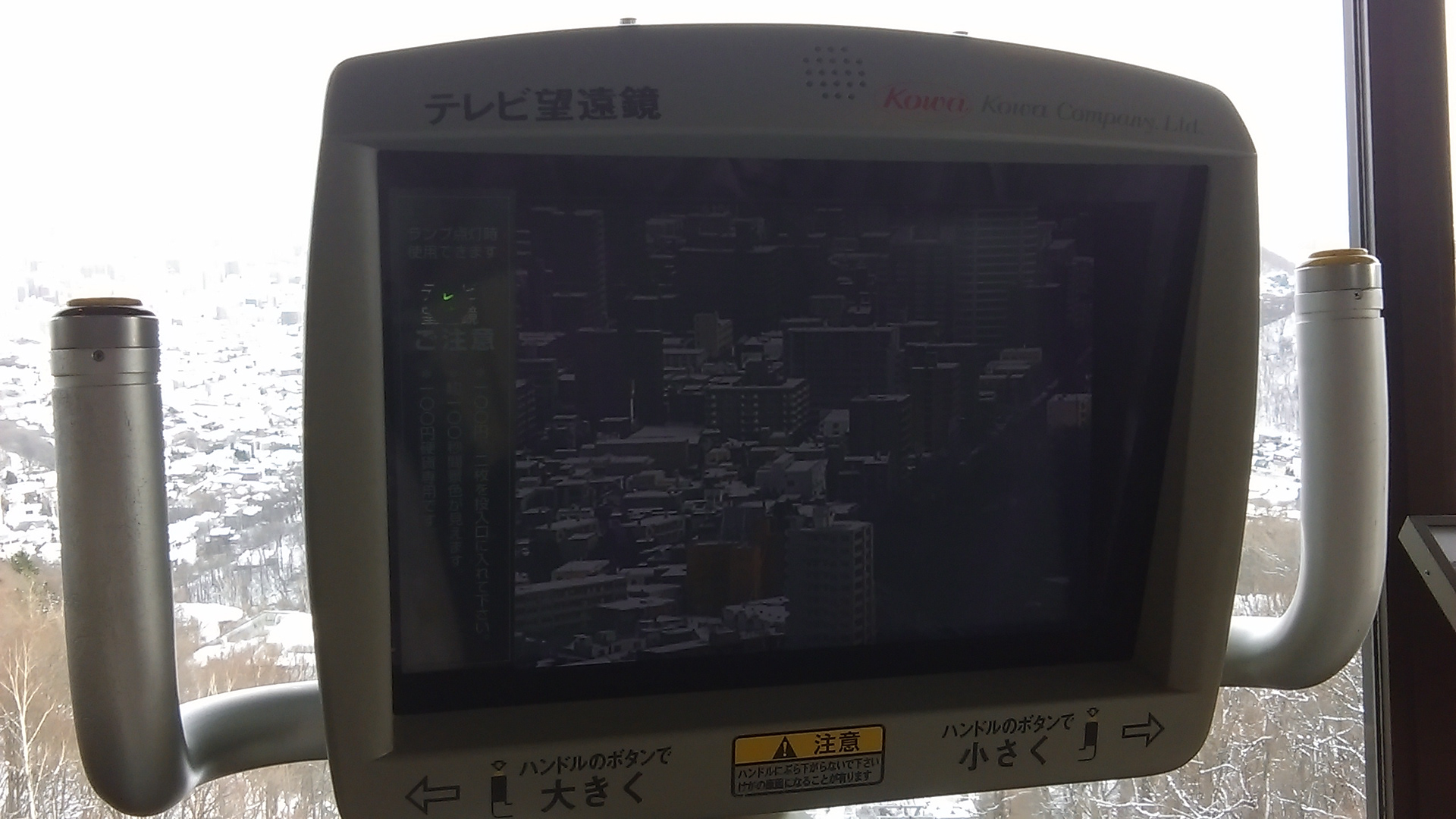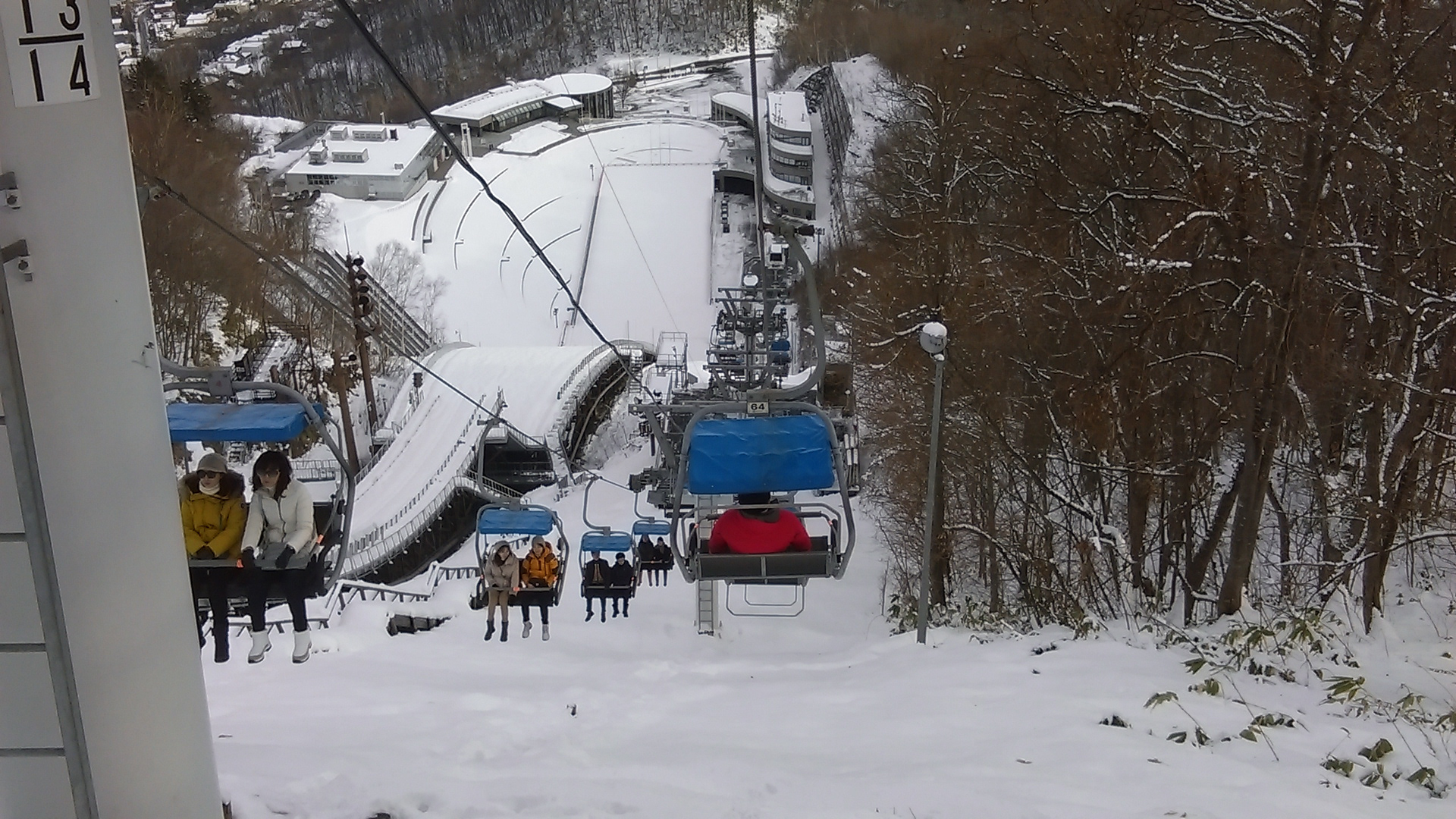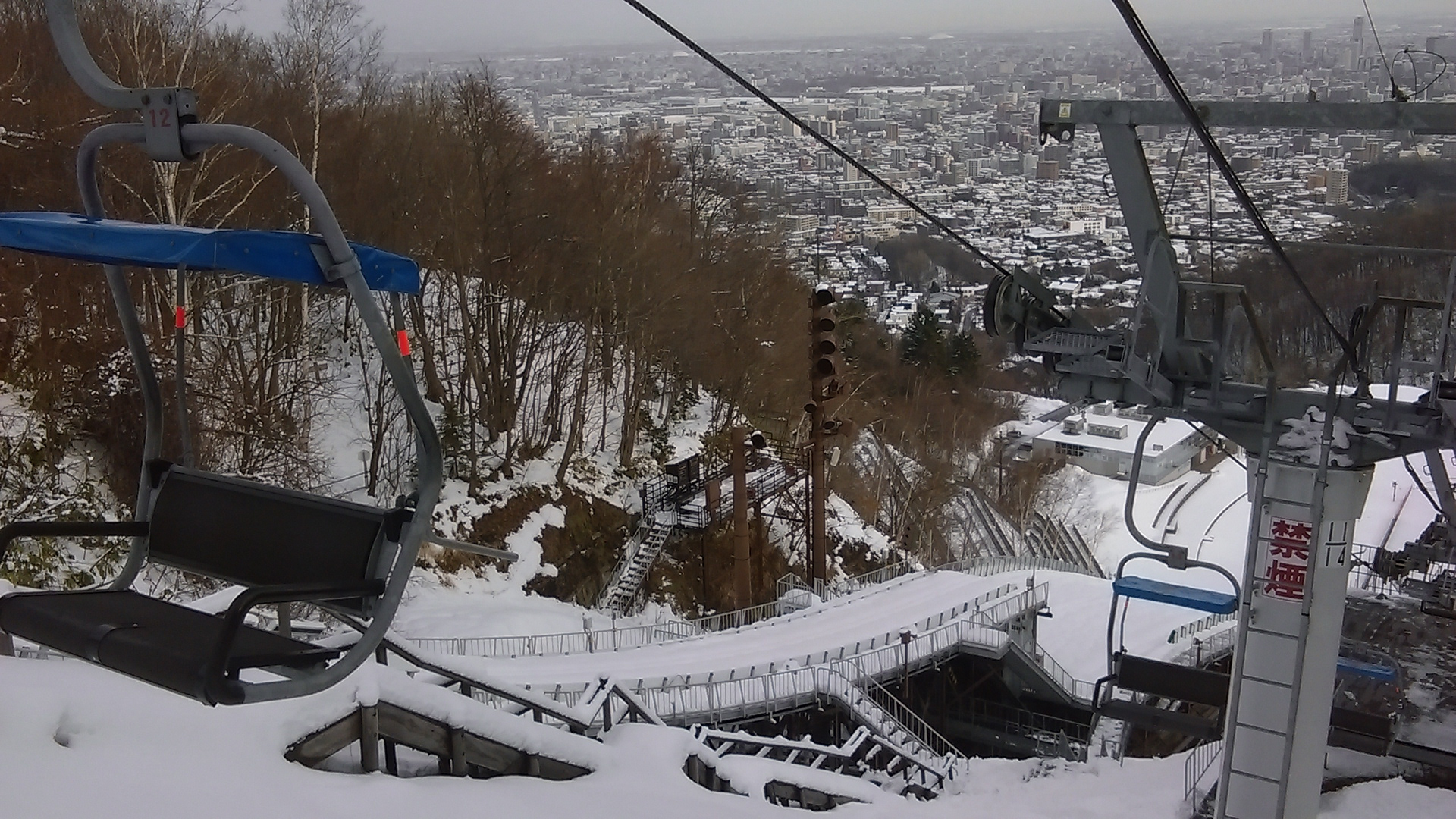 I then went back to Bisen and did free work, sketching out my manga pages ready for inking tonight.
The first lesson today was digital comics. I have most of it inked and coloured now so hopefully I can have that finished by next week. The afternoon was spent doing calligraphy. A man came in to teach us how to write Kanji using brushes and ink. He told and showed us our names in Kanji. My name is spelt as Hana Kiyabani. Ha = Knowledge Na = Name Ki = Tree Ya = Arrow Ba = Horse Ni = Two.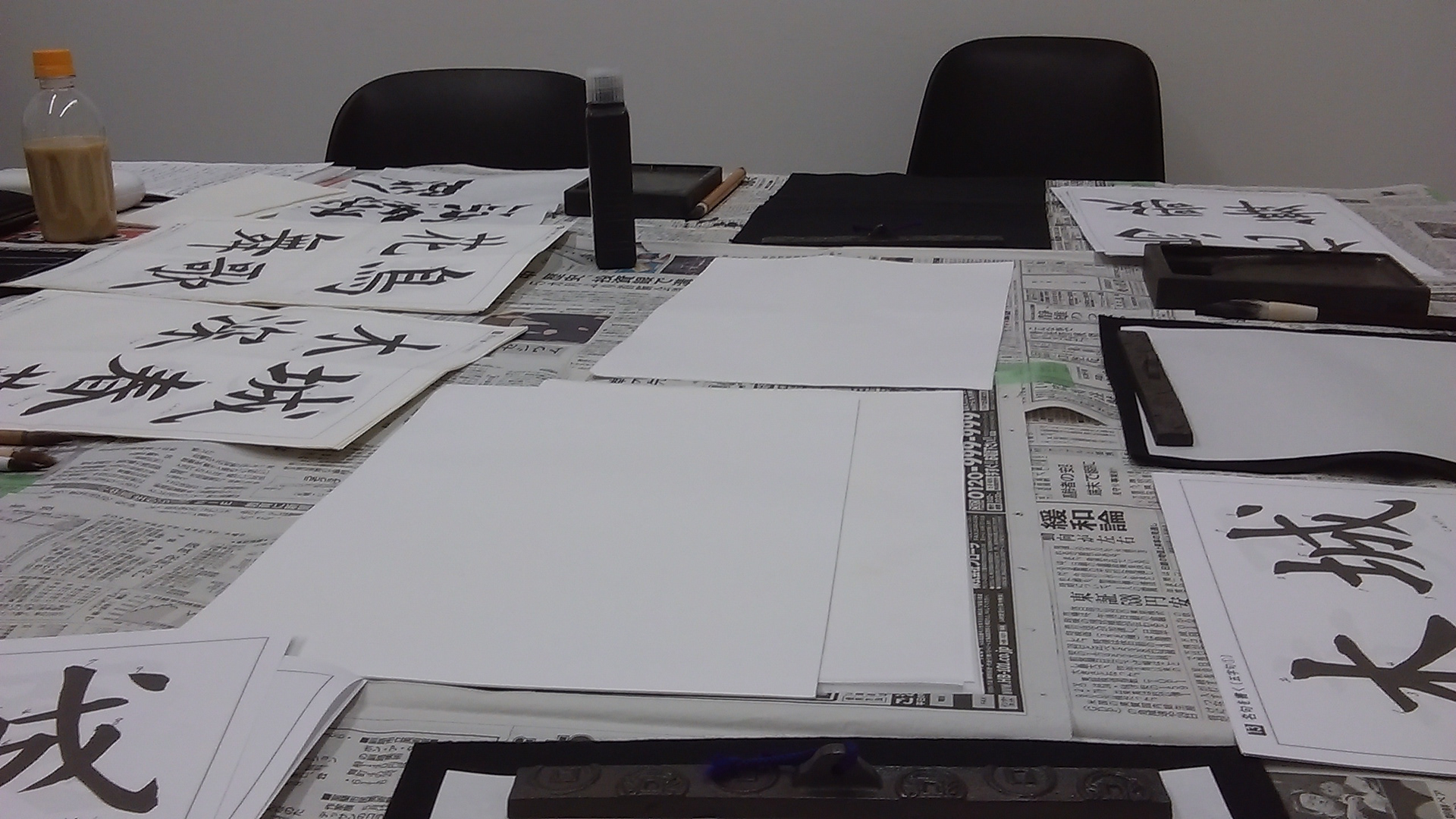 While we where drawing, our teacher told us that he could tell our personalities by our handwriting. He said that for me, I am very calm and I have a lot of self control and control everything I do really well with precision. I then did some more for my Manga class. First I have to sketch out the pages on Manga paper with blue pencil. I then ink over this before using screen tones to add shade and texture to the pages.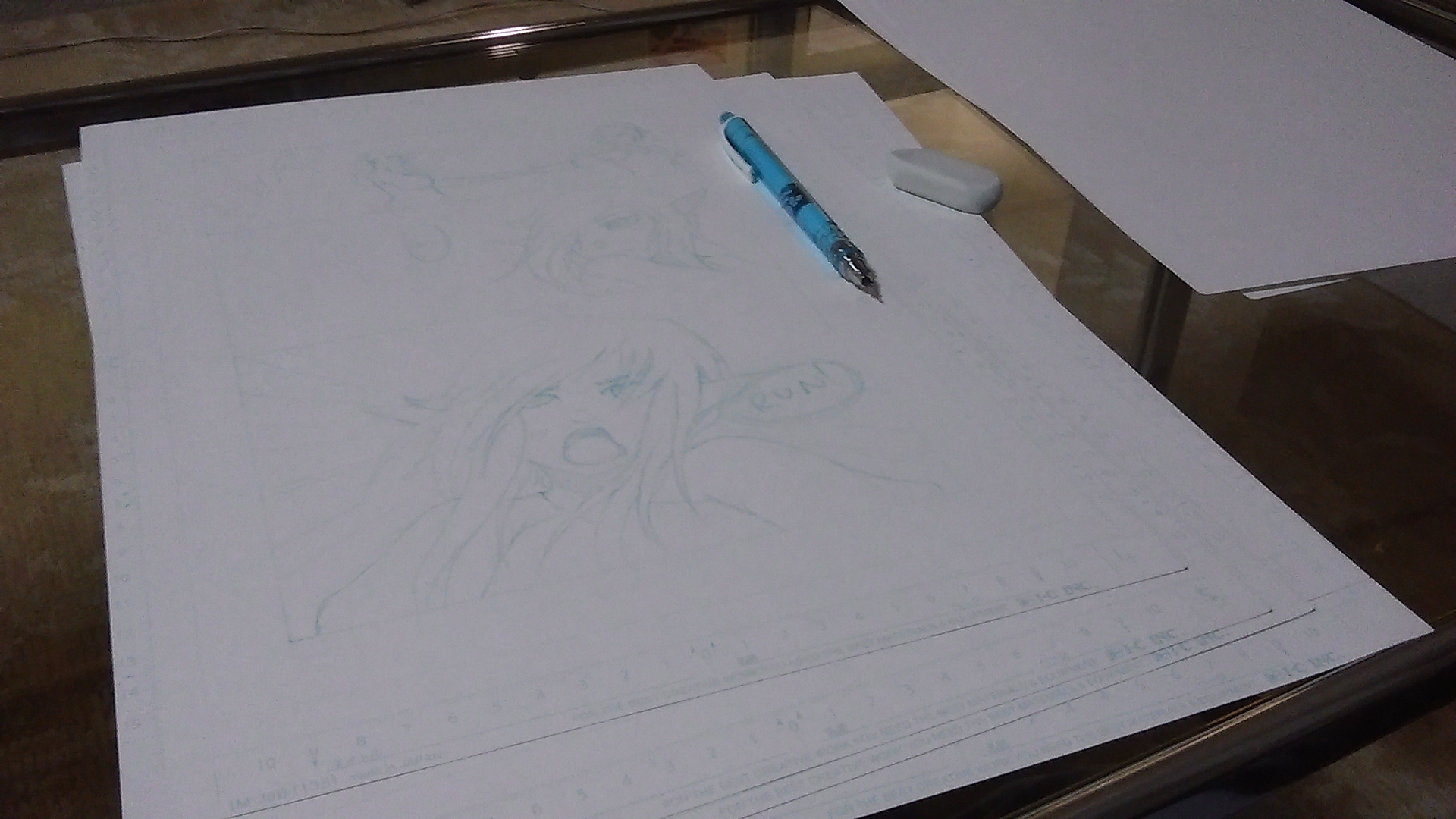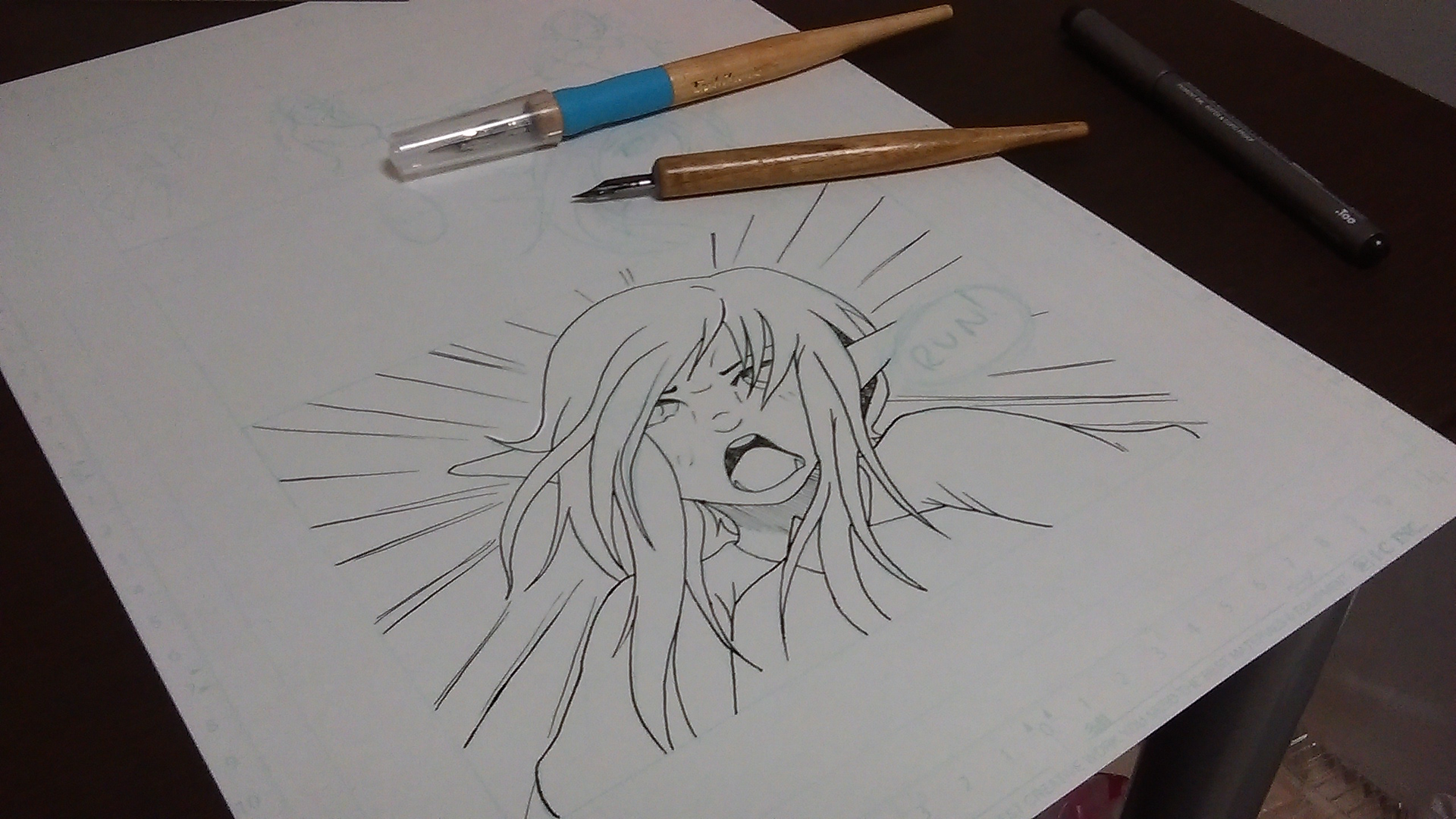 I actually found some chocolate I can bite into. Japan isn't very big on thick chocolate as most things are calorie controlled but now Christmas is on its way they're bringing out the big stuff.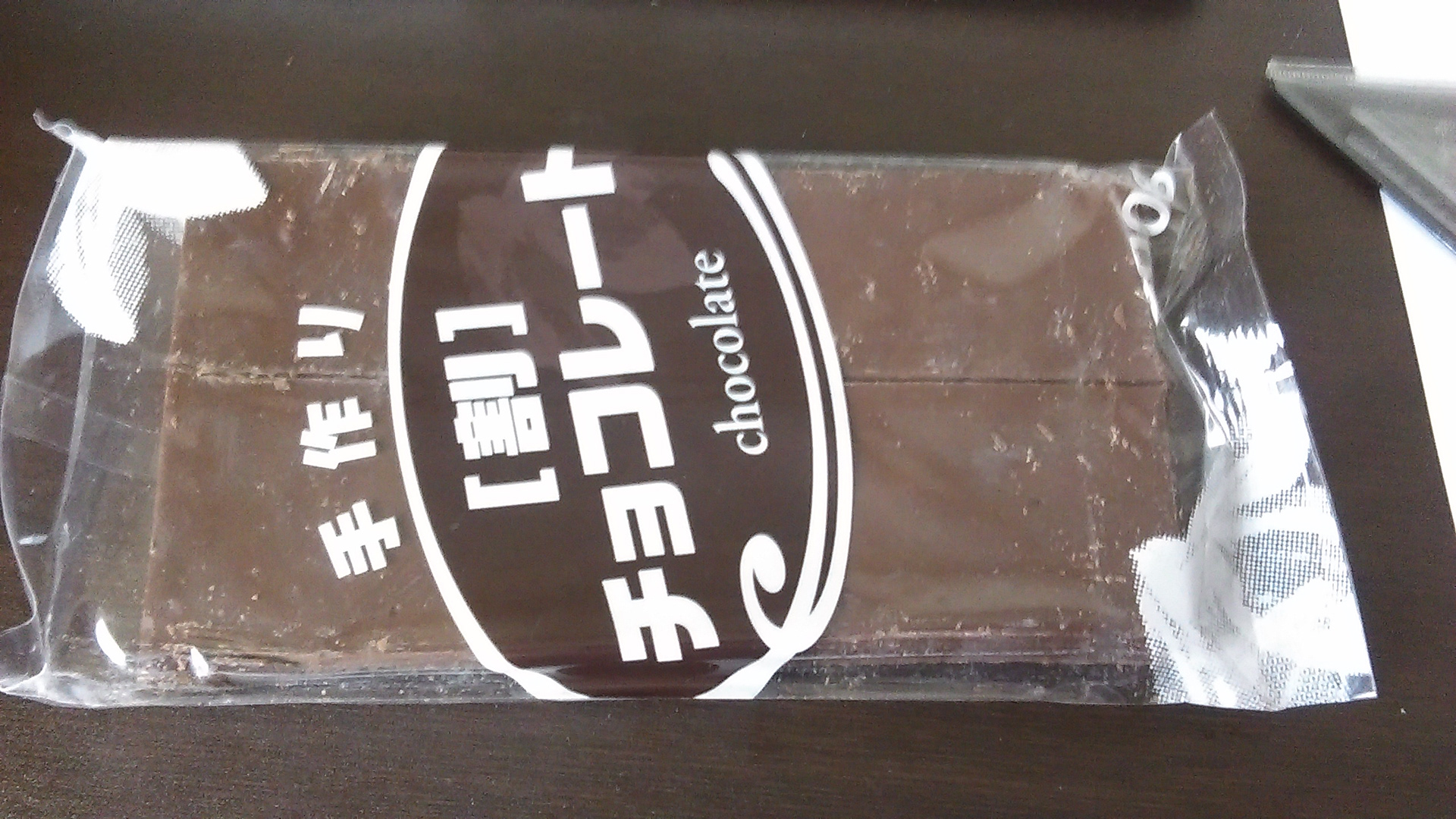 I then went to Stella Place and Central, a huge art store in Odori that sells everything you need to make a Manga. Needless to say I stocked up for when I go home in a weeks time.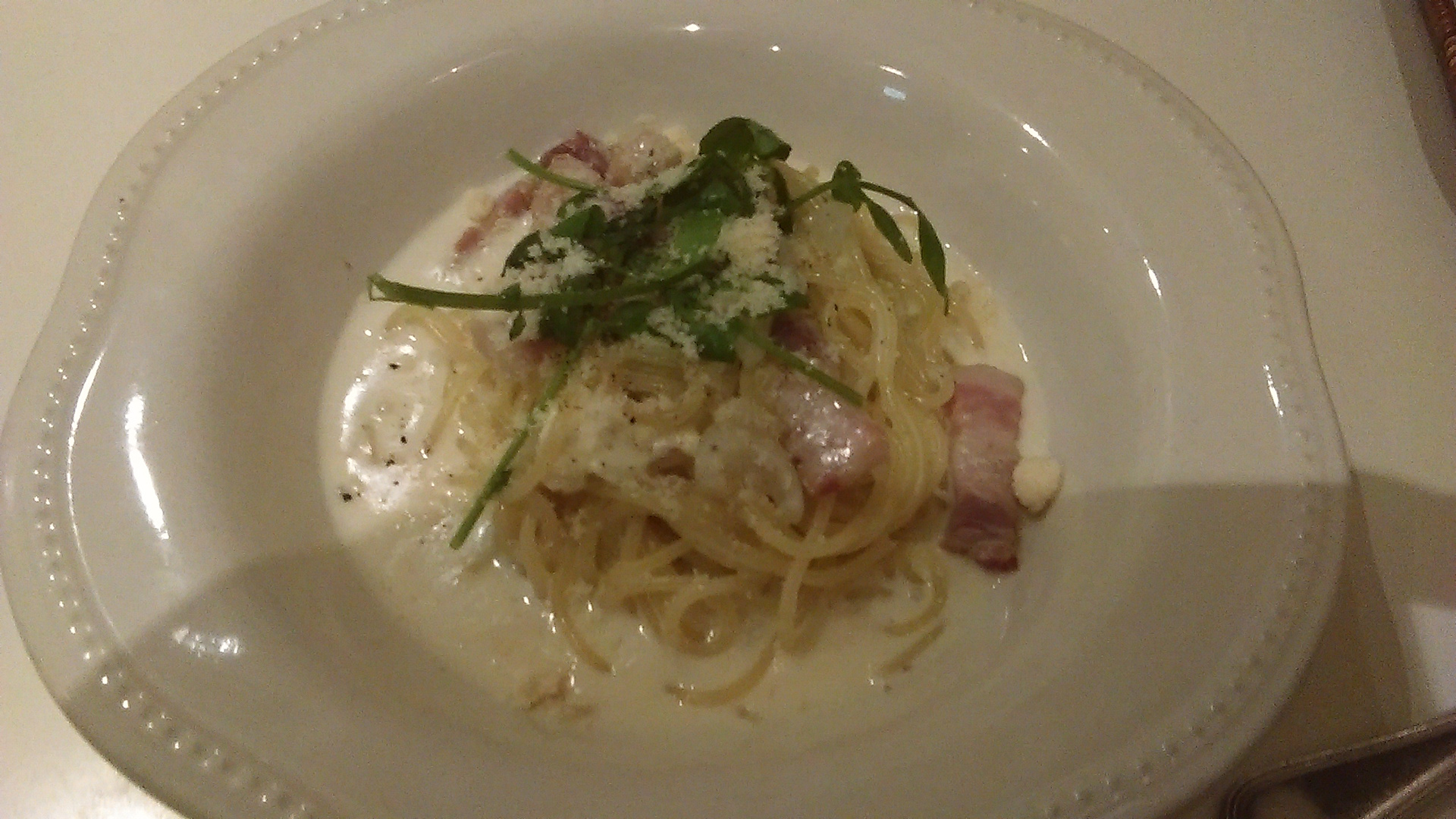 The snow is still falling.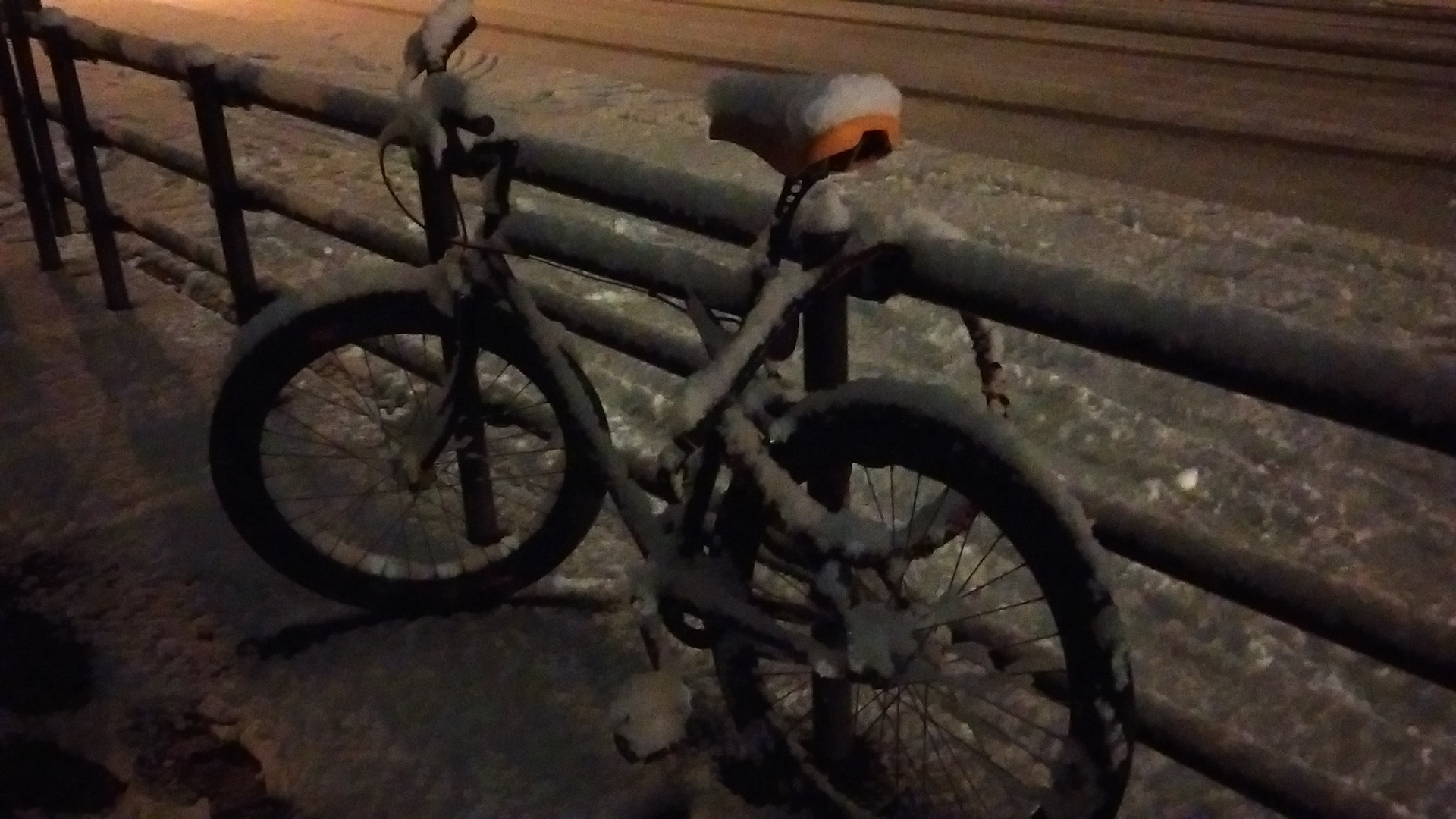 Skin Whitening and Random Ranting
As I look through the giant stores in Japan I often stop in two areas. The technology department and the health care department. Technology in Japan is crazy, message chairs that target every inch of your body, self roaming vacuum cleaners and VR technology is everywhere. Of course, I take most interest in VR and Gaming technology. There's no end to games for every console imaginable, even consoles I never heard of before. Retro and futuristic mix everyday. There is something I want to talk about though. I ventured into the health care section where I am faced with no end of products; I haven't a clue of what any of them do, I use soap and shampoo and that's it really, so to be fronted with all these products was bewildering to me.
The most controversial product to me is the skin whitening creams.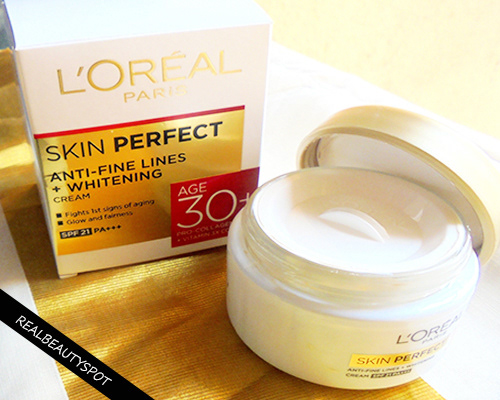 (Photo: http://theindianspot.com/loreal-paris-skin-perfect-anti-fine-lines-whitening-cream-age-30/)
 These creams contain an acid called Kojic Acid which comes from a Japanese Fungi that is known for its anti-oxidant and skin lightening properties. It can also be a byproduct whilst fermenting rice to make Sake. It is made from organic materials, but that does not mean that it is safe to use.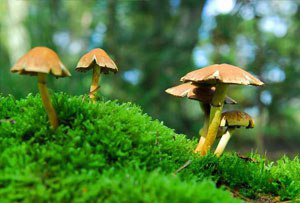 (Photo: http://www.civantskincare.com/blog/?p=124) 
In the UK, you can buy specialist creams that uses this ingredient to get rid of scars and stretch marks but in Japan it is used for something that to me is actually quite worrying. Kojic Acid is in itself pretty safe as long as the product holds no more than 2% concentration. Any more can be toxic for your body. It is also suggested that if you have any cuts or grazes and even if you have sensitive skin then you should NOT use this product as it can cause extra irritation and can also be toxic for your body. Of course, Kojic Acid can have side effects. Everything has. But these are actually quite worrying to me. For some people, the creams can make some peoples skin too white. You can burn more easily when you go out into the sun, some people complaining of extra skin sensitivity after long term use of the products. Itchy skin, inflammation and redness of the skin can occur, some people comparing it to poison ivy allergies. There are of course other natural alternatives to lighten your skin but to be honest I don't see why having white skin is so important. I am often complimented here for looking pale but to me I look sickly. It really is interesting to see other countries views on the 'perfect' skin type. Especially, it seems, in women. Japan seems to have a deep history with white skin. It is seen as the ultimate beauty, dating back to the Nara period (710-90). Woman would paint their faces with white powder called Oshiroi and became a symbol of aristocracy. It was only until the Edo period (1602-1868) that it became more common practice amongst commoners. It is a concept that has stuck throughout the development of the Japanese culture.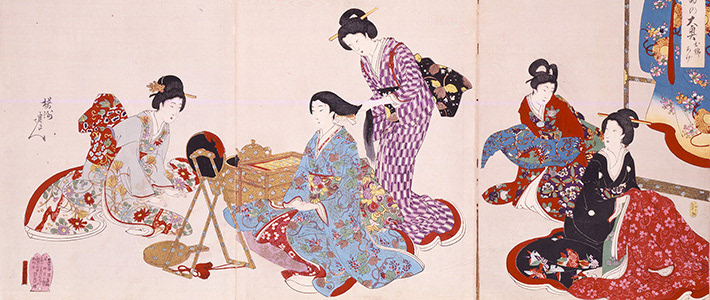 (Photo: http://www.nippon.com/en/views/b02602/) 
A lot of youth today want to achieve the perfect looking skin, smooth and glass like and almost like a living doll; more currently known as Lolita Cosplay in the UK.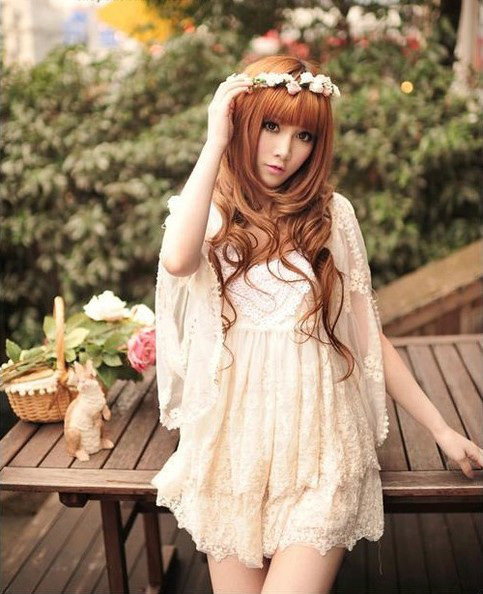 (Source: http://dollydynamite.com/collections/26355-all-products/products/7746681-spring-lace-dress) 
(Information sources:http://skinwhiteningforeversecrets.com/kojic-acid/ 
Christmas music in Japan is so catchy. I heard this song a few years ago while I was playing Osu! called Winter Bells. I heard it for the first time today in a store here. Winter Bells I keep whistling it, it won't go out of my mind. Kiyoshi, Kono Yoru Japanese All I Want For Christmas
Here's a picture of Sapporo before the snow came. The Christmas lights had been turned on a couple days before I took this picture.
Today I had my last Digital Comics class and in the afternoon I was taught brush painting. At first I had to paint rocks, then trees and then waterfalls before moving onto a finished piece inspired by another artists work.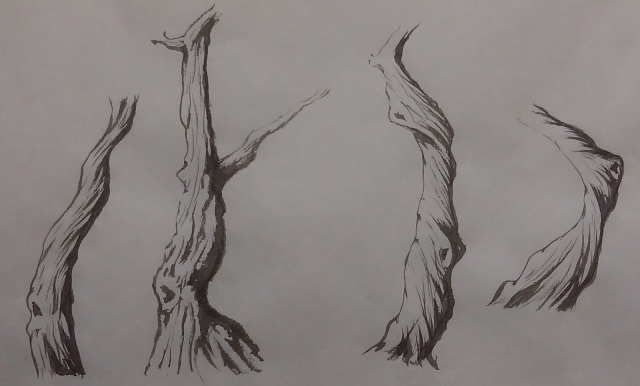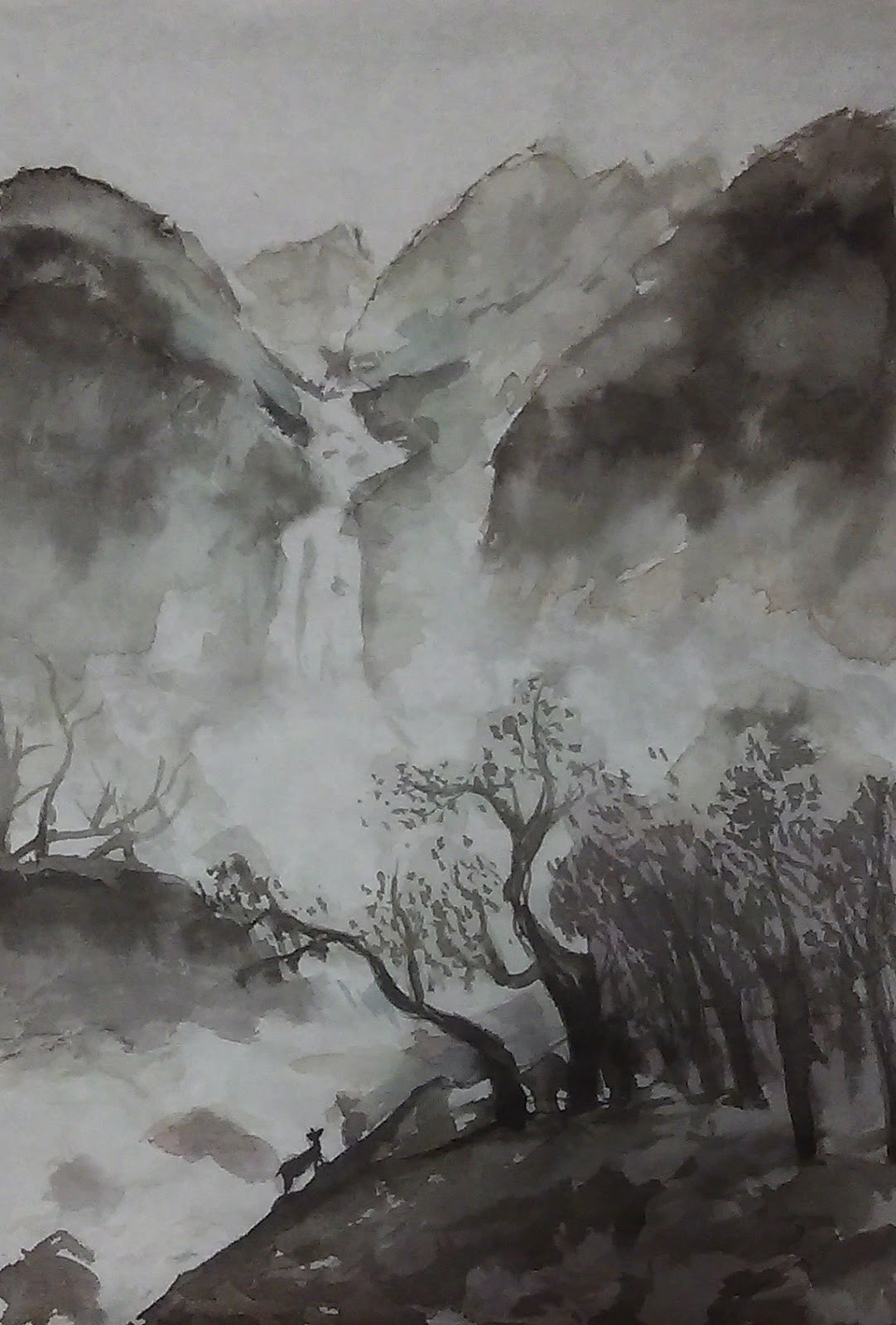 Everyone really seemed to like my tree paintings.
My morning class was Illustration which was really fun. I was able to just sketch whatever I wanted to in this lesson.
At lunch time my teacher gave me some parting gifts!
She gave me the first volume to her newest manga with a note inside just for me. She also gave me a Deleter starter set to draw more manga pages with!
She is so kind and inspiring I am going to miss her so much.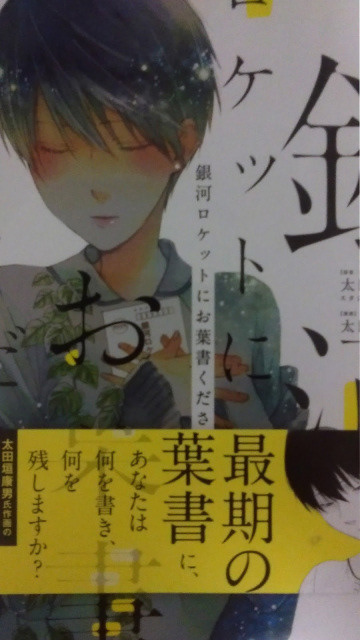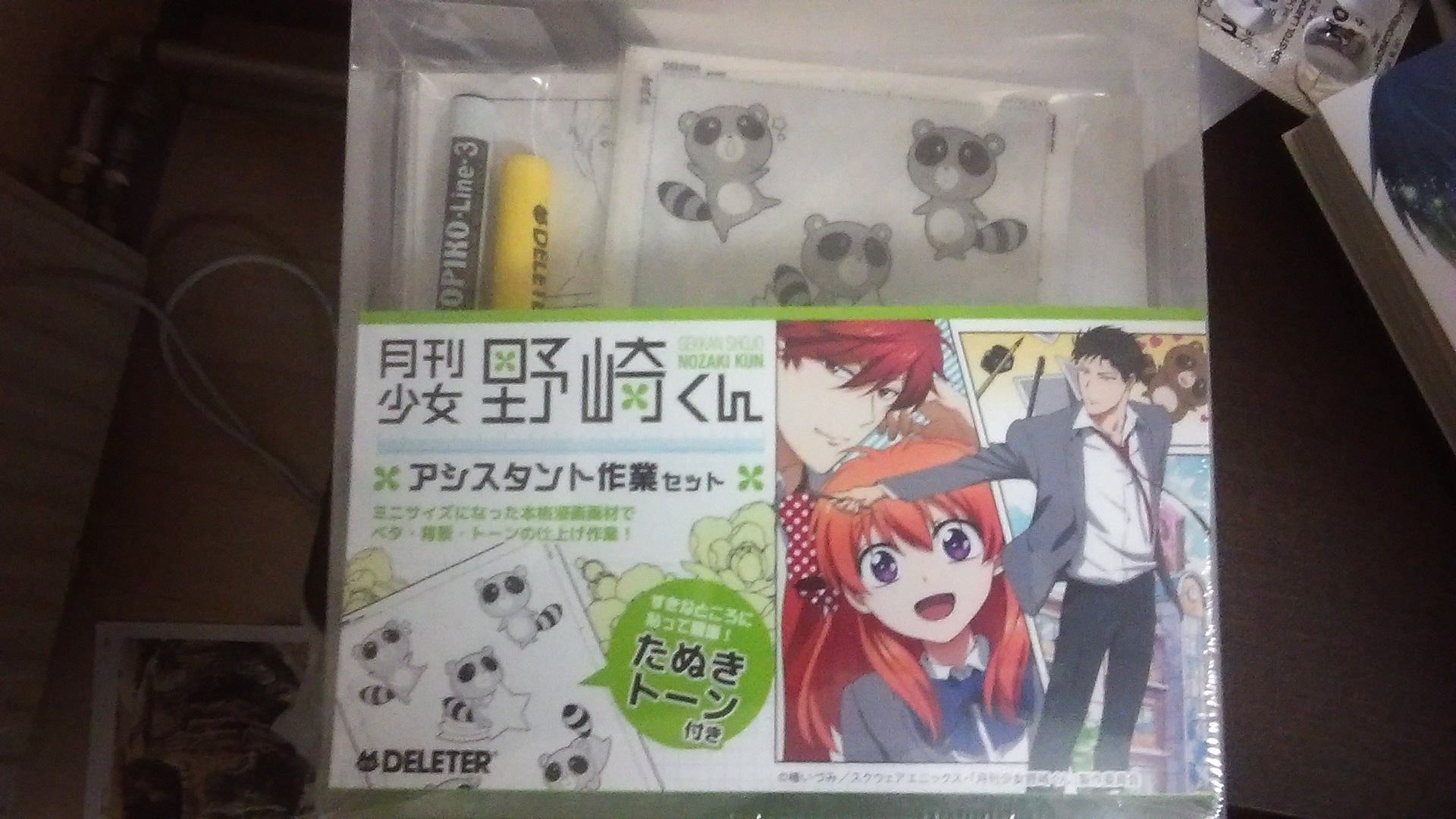 My afternoon class was Life Drawing where I had to draw out an origami bird, that another classmate kindly made for me, onto coloured pencil with a white and black pencil.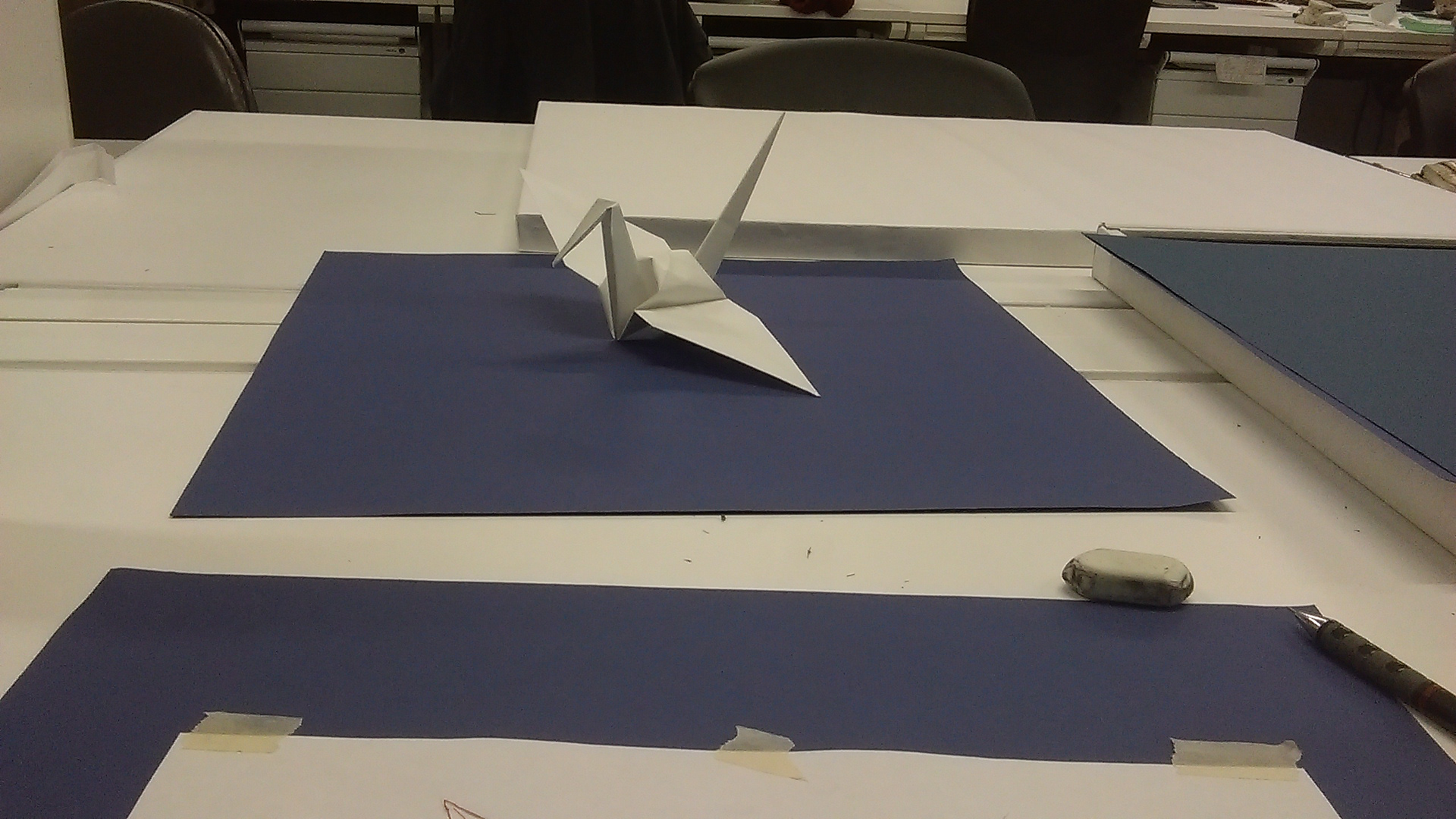 I had to sketch it out onto plain paper first which I then dusted white chalk onto the back and traced onto the coloured pencil.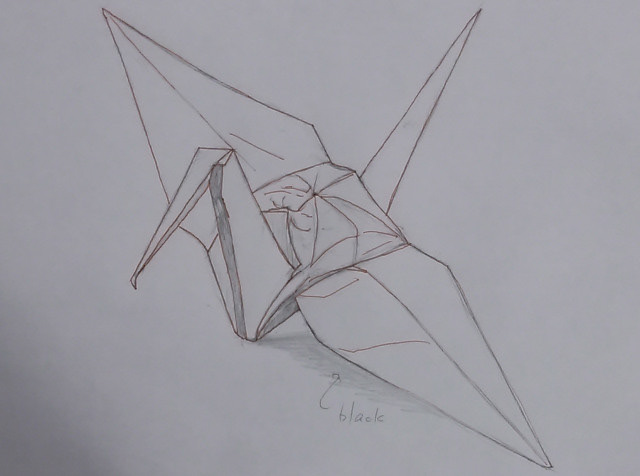 I then draw into it with a white pencil and black pencil. This is the finished piece.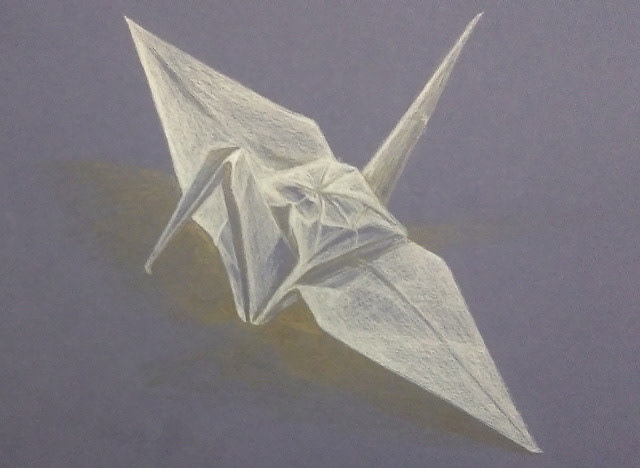 Today was incredible. I went into a book and game store that I went to previously and picked up God Eater Rage Burst and Lord Apocalypse to add to my Vita collection. I then had a pizza at the restaurant opposite which I had been to a couple times previously. I then went into Stella Place and to my surprise the one and only Fujita Maiko was doing a concert in the middle of the shopping centre for a radio station. I had to stop and listen to her. I obsessed for the longest time over her music and I finally got to see her live. I managed to voice record the whole thing but only compiled two of her songs into this video.  Click Here (Just as a side note, I would thoroughly recommend Shigatsu wa Kimi no Uso – 四月わ君のうそ – if no-one has seen it yet. So good.) I then found the Studio Ghibli store. It was amazing!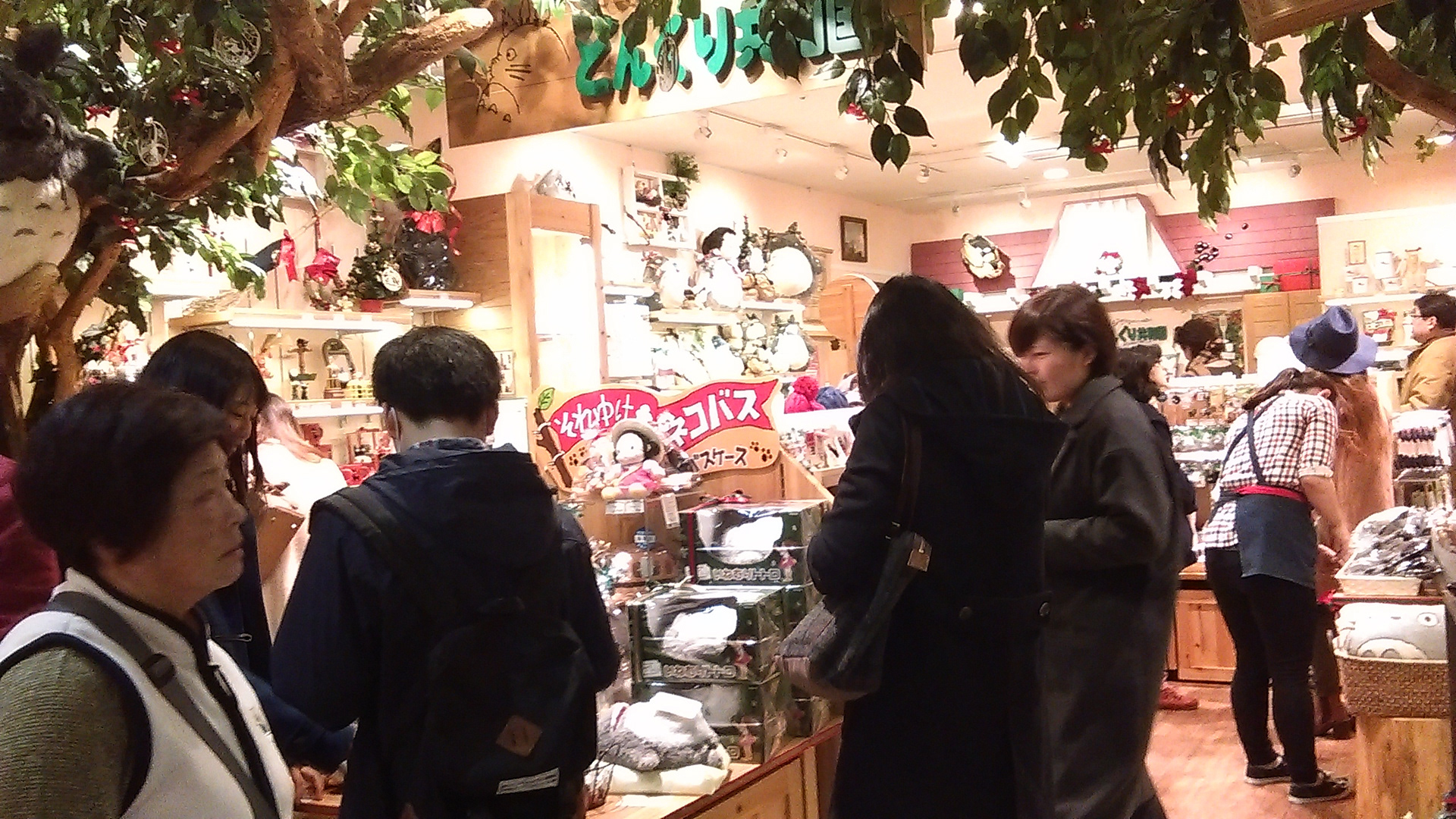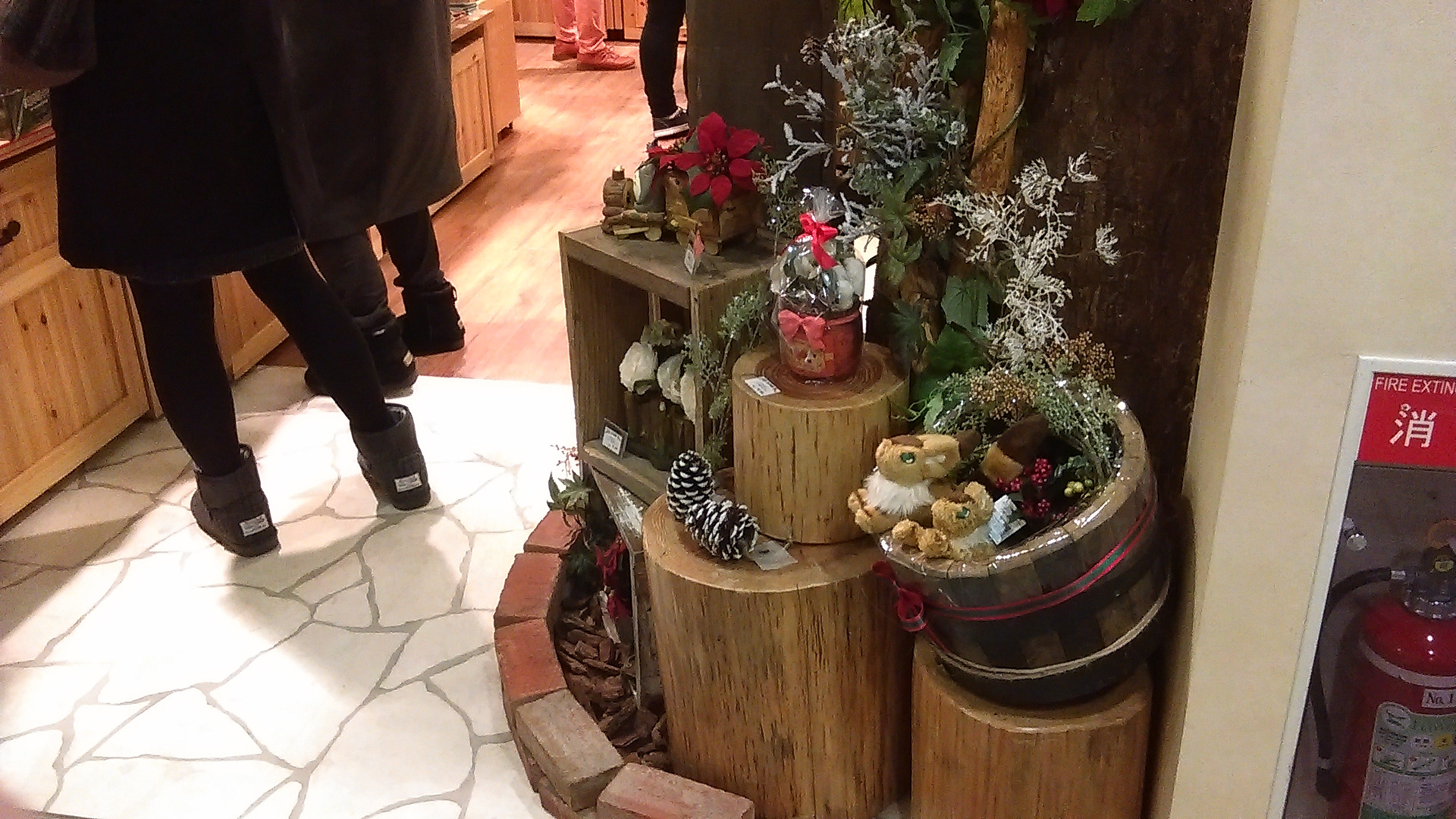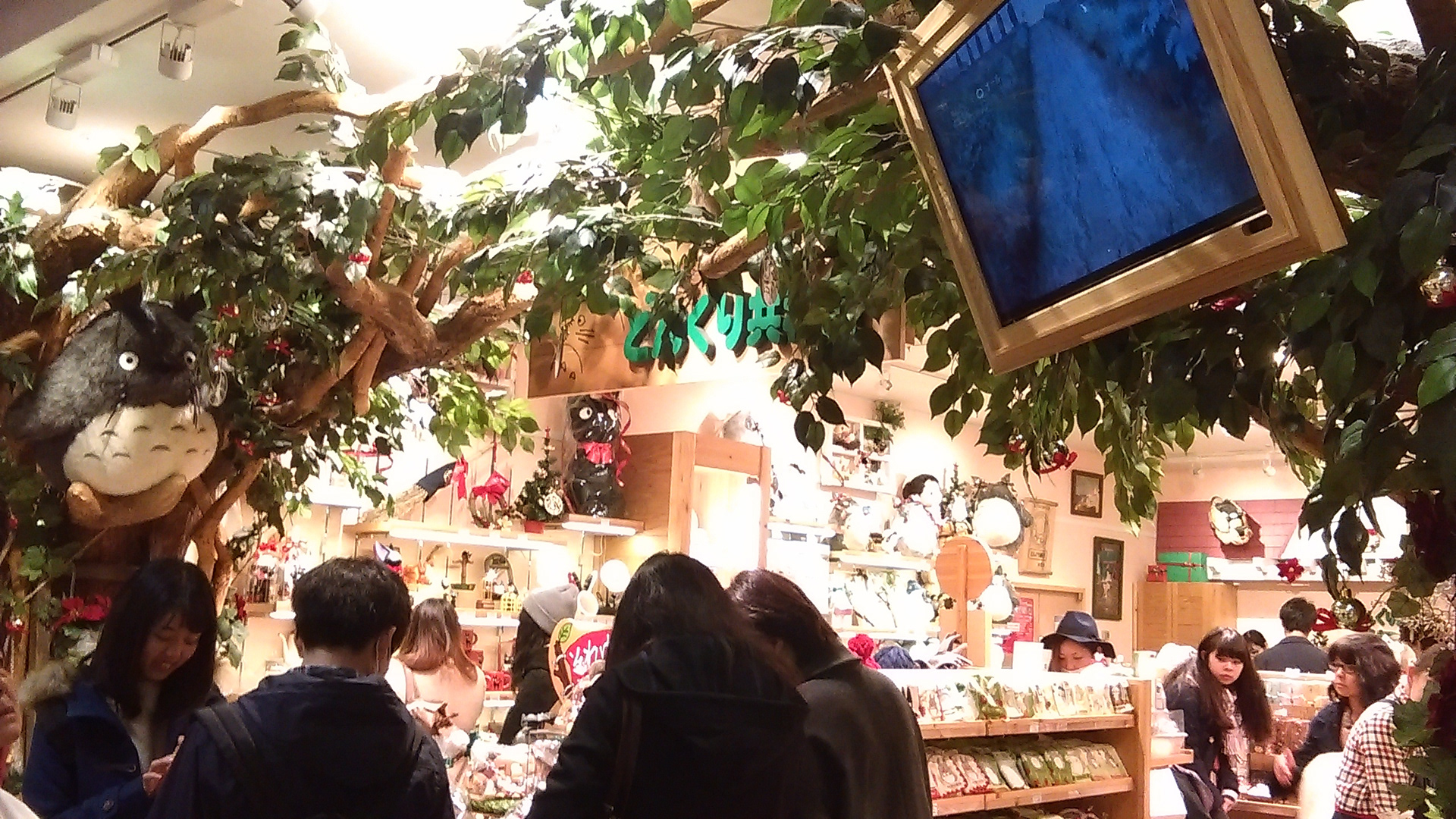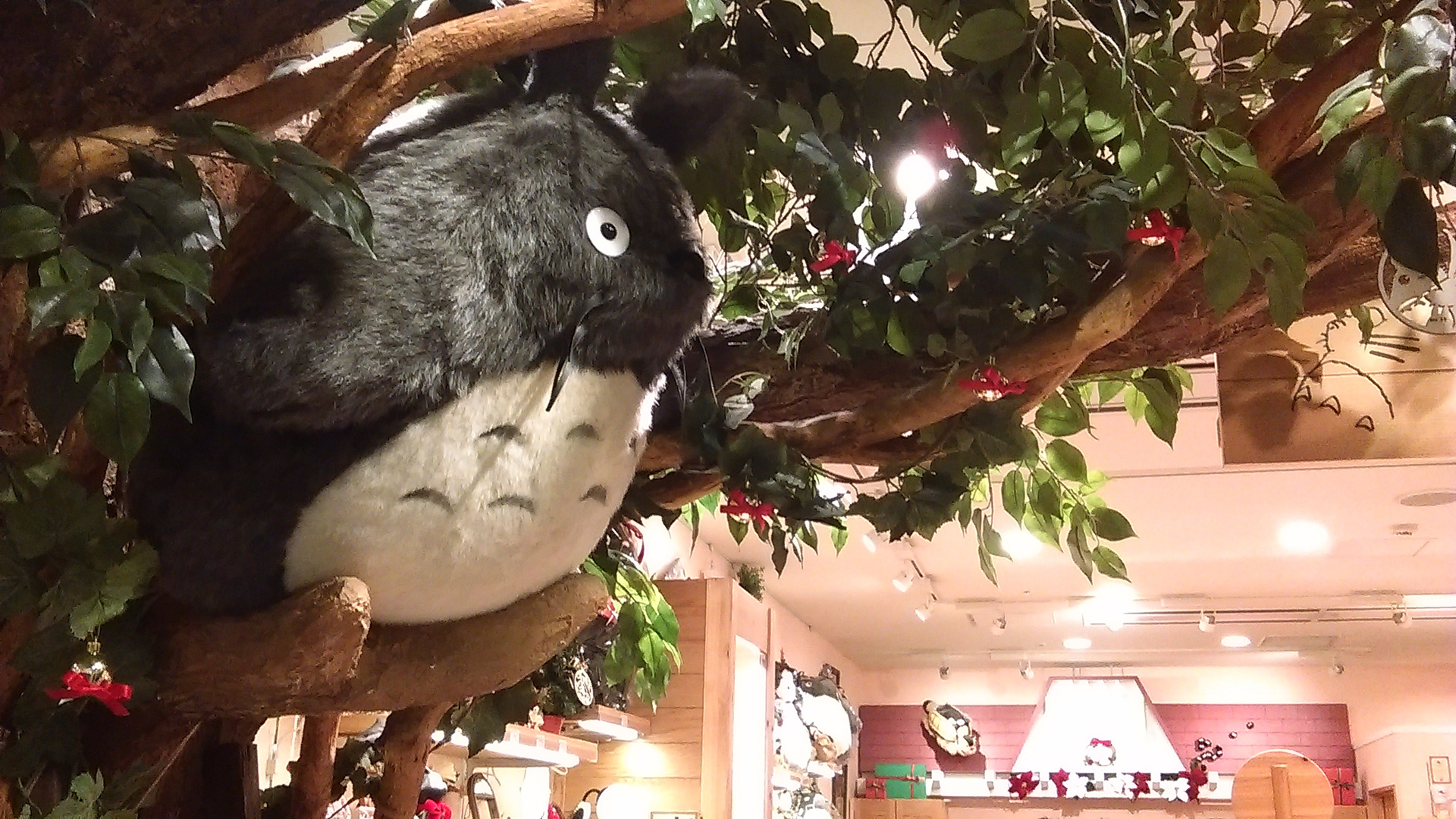 Everything in Japan is so Christmassy right now.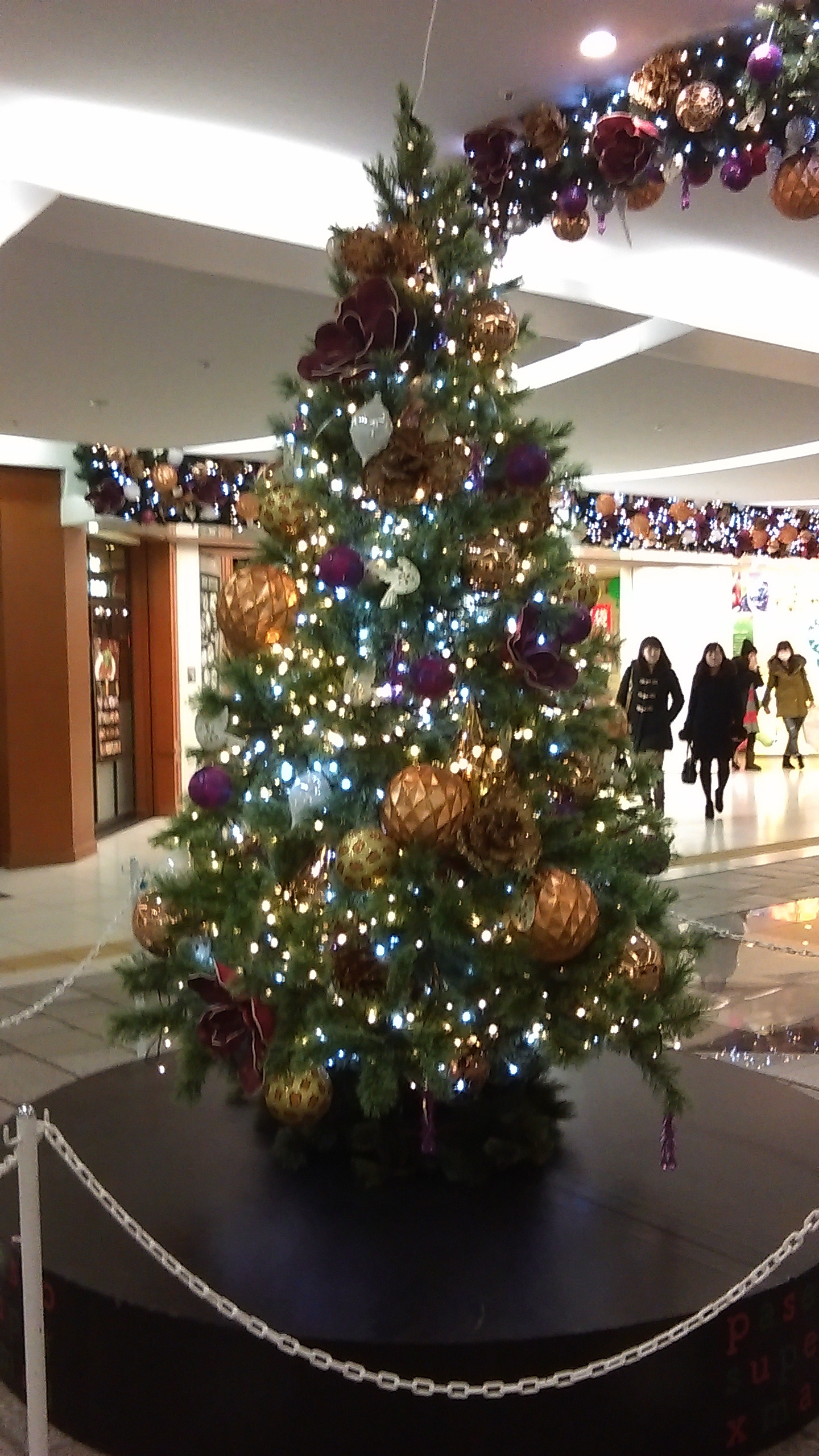 It's so sad that it's my last weekend here. I don't want to leave but at the same time i'm extremely excited to see everyone again, especially my niece!
My last day of classes. The time has flown by so quickly, it feels like I have only been here for a couple of weeks, definitely not 3 months. I had my normal first class of free work and at the end I was given a chance to say a few words. I could only mutter a "I'm going to miss you all. Thank you so much.", if I said any more I would have burst out in tears there on the spot. At lunch time I then met with Ayaka who gave me such a sweet gift of chopsticks in the shape of colouring pencils and a hand written letter. She is an incredible person, same for everyone I have met here. I really don't want to leave after making so many amazing friends but hopefully I can keep in touch with them on Line and come back to visit them soon. I came home to tidy my room and pack the last of my things before I have to leave on Wednesday.
Tomorrow I have to come in before 9am to collect my certificate. It will be the last time I get to see everyone. I am so thankful for this experience. Without it I wouldn't have grown so much as a person and as an illustrator.
Melina and Jack are going back to England tomorrow straight after they pick up their certificates so I will have a whole day to visit a few places before I leave. There's so much I haven't been able to do here and yet, I have done so much. It would take 5 lifetimes to do everything in Sapporo alone.
I have learnt so much, grown so much confidence. Japan changes you for the better. I would thoroughly recommend to anyone who is thinking of studying here to get on the plane right now and go. It's an opportunity you do not want to miss.
Today I picked up my certificate from the headmaster. He had us all line up in front of our teachers and one by one awarded us with our certificates. It was such an emotional goodbye but an experience that will always stay with me. I then came back and said goodbye to Melina as she had to be at the airport for that day and then I tidied my room and got all of my bags put together.
Today is the day that I leave for the airport. I realised that I never actually took pictures of my room so here it is.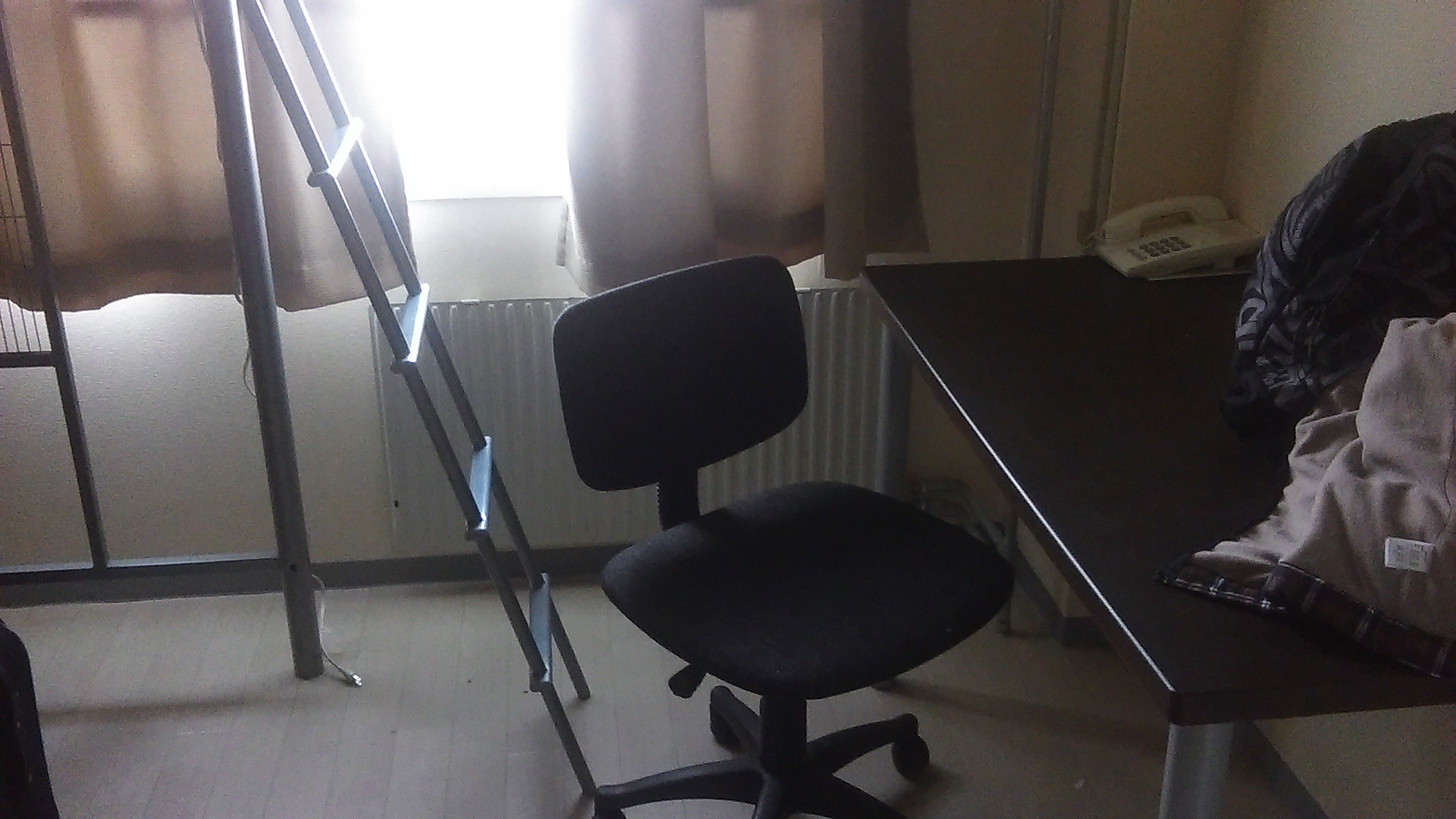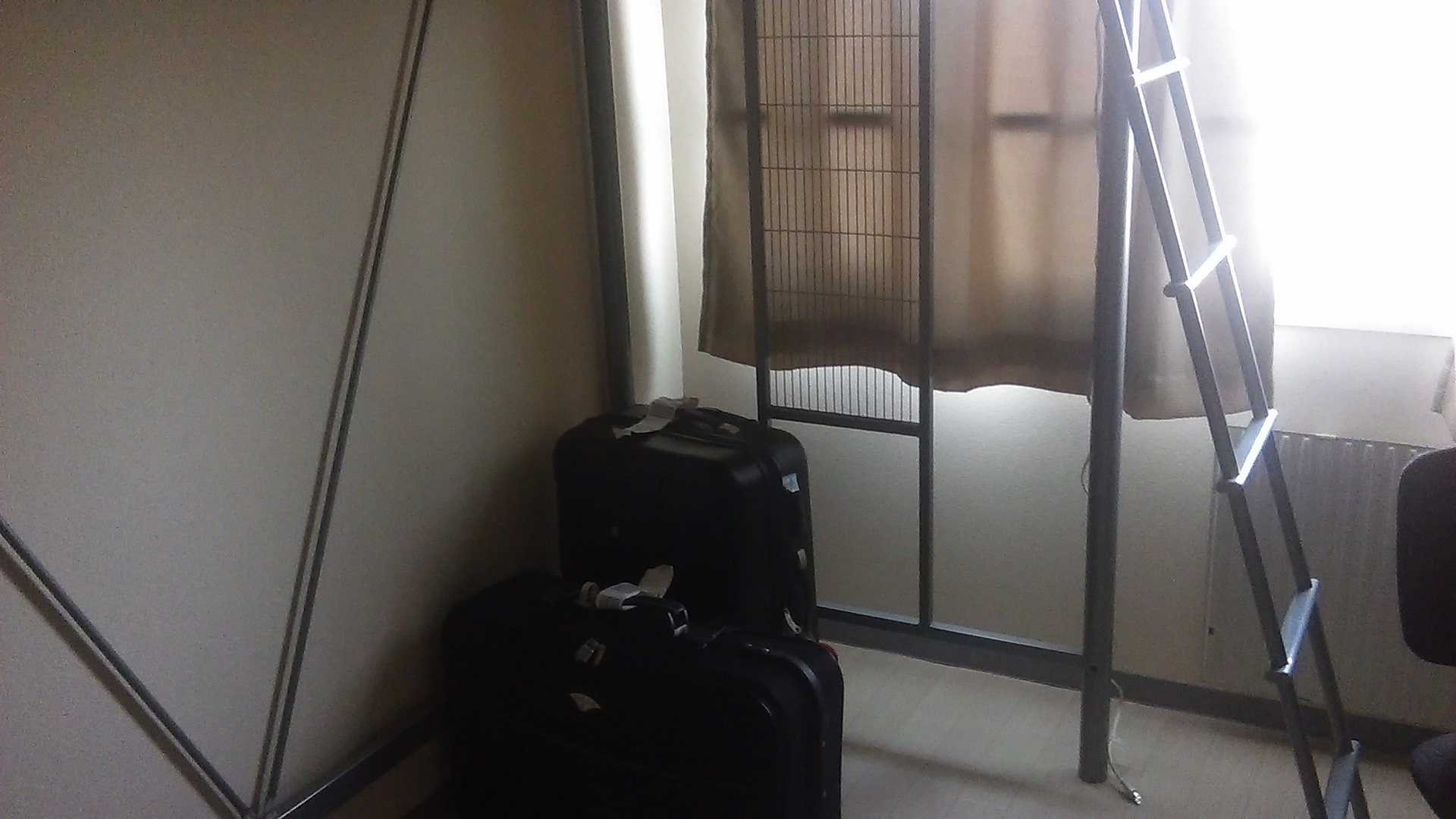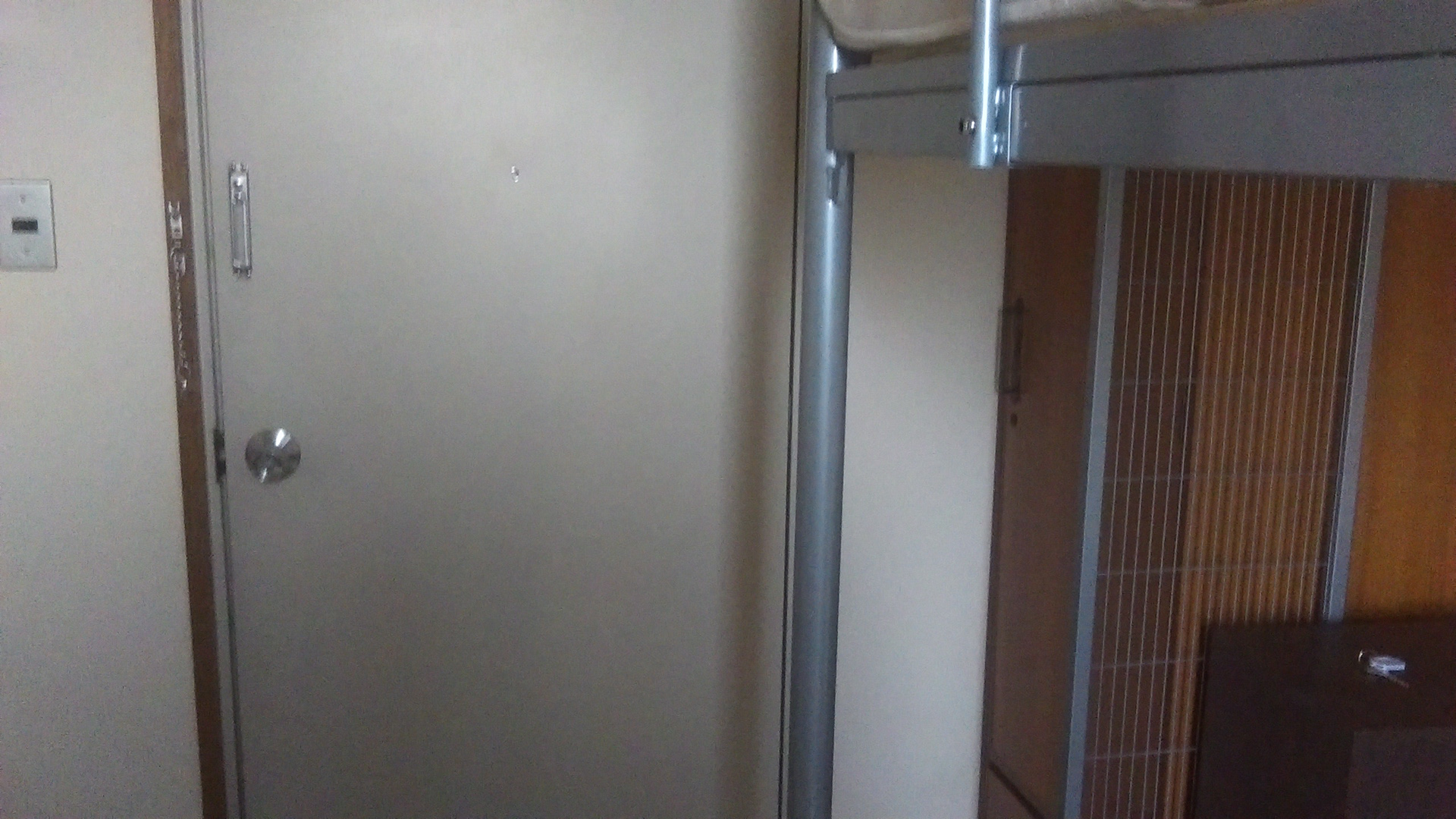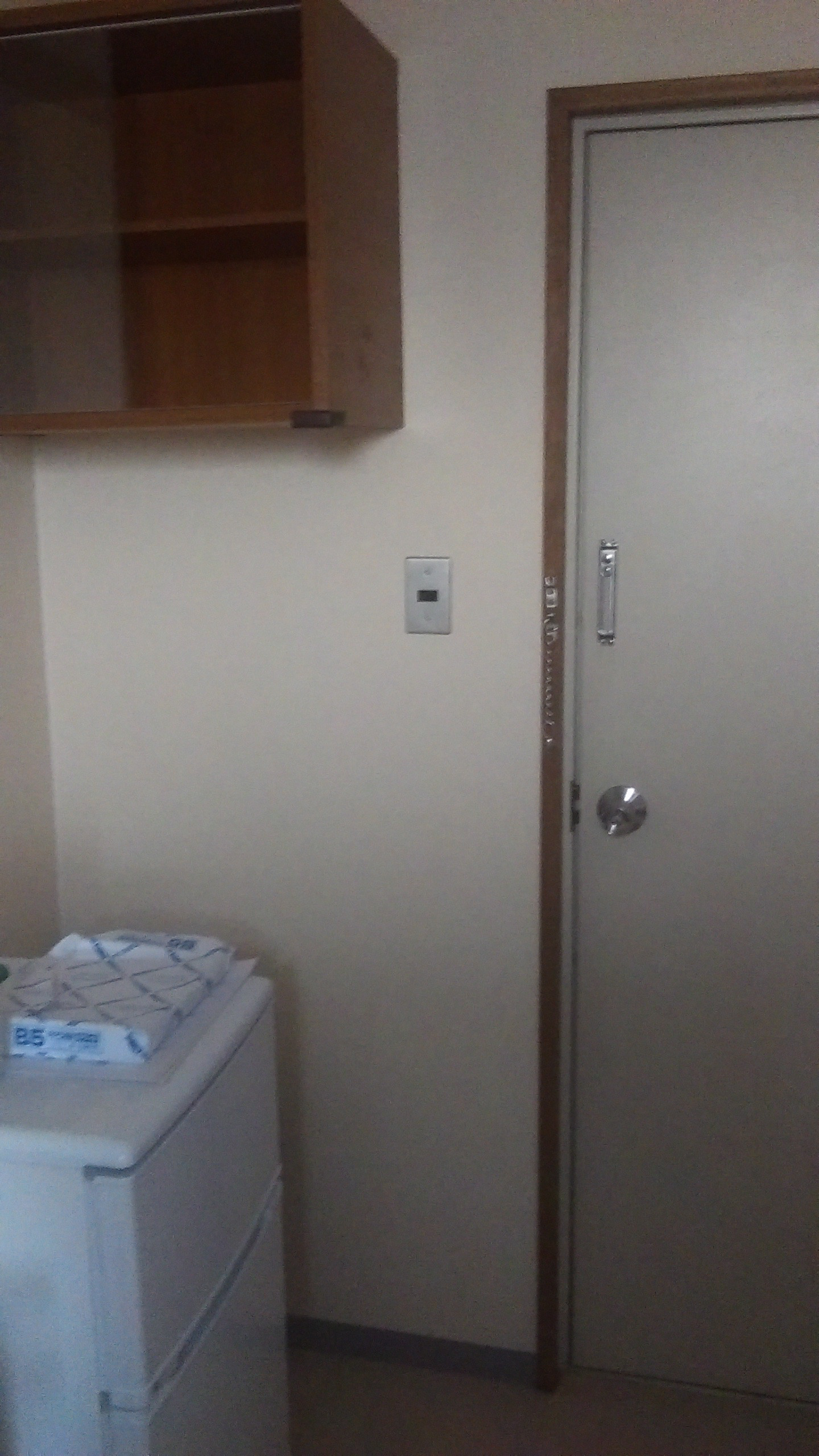 My little home for 3 months.
I am meeting with the person in charge of my dorms at 12 today so I can check into the hotel at 3pm. I need to be at the check in for 4 so I can bored my flight at 7 so I'm really glad that I organised this before I came here.
After checking out of my hotel that was in the airport, I had some breakfast and made my way to my gate for my first flight. My flights went really well, although I had a huge migraine through most of it and being sick on the last flight really wasn't a good way to end the trip but over all it took around 19 hours on the plane which was shorter than last time. I then had a 7 hour trip in the car from London to my home which was okay, enough time to catch up with my parents. Saying goodbye to Japan is hard but I know it's not forever. I will come back soon, hopefully with a career and a home in Japan sometime in the near future.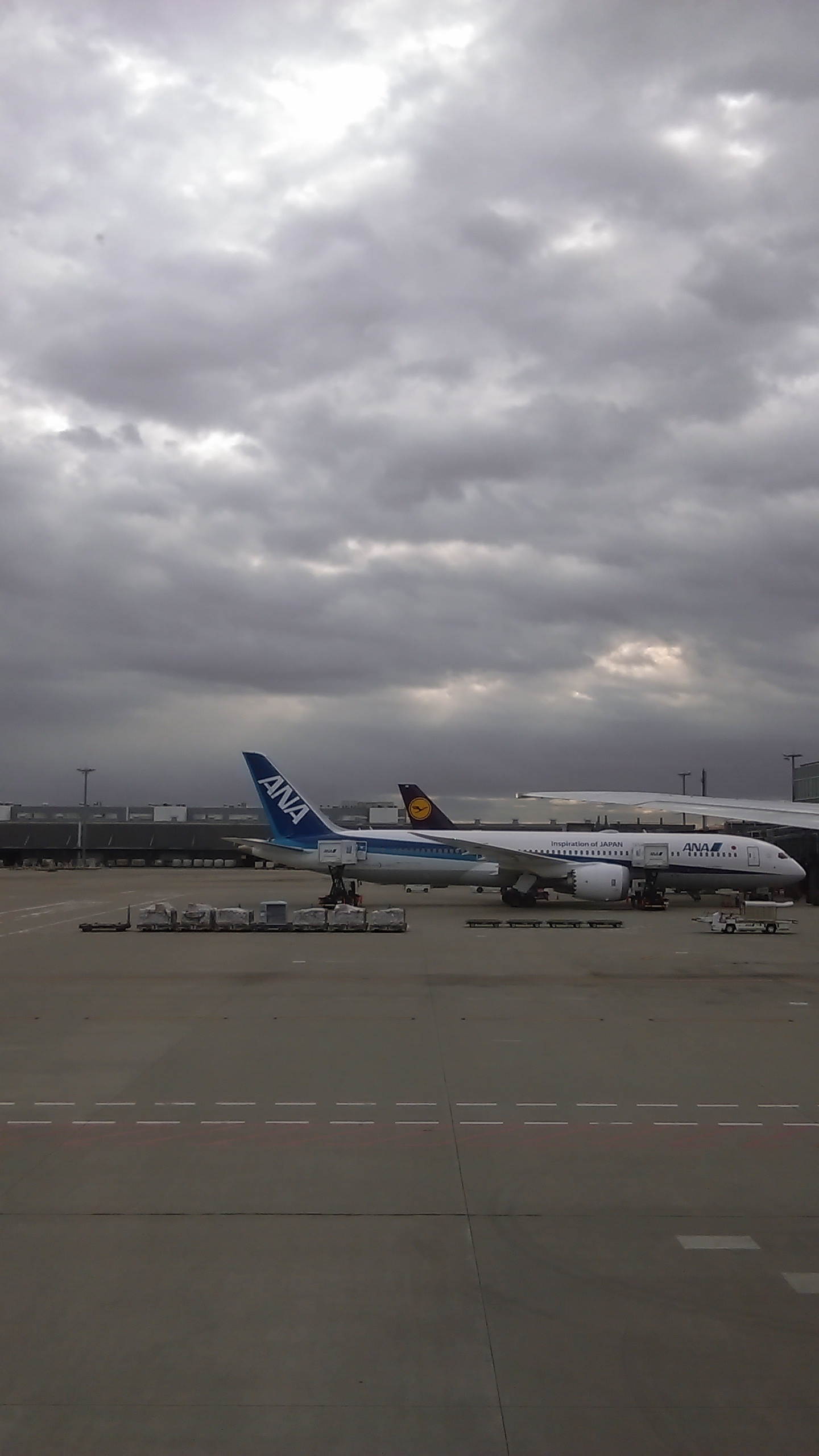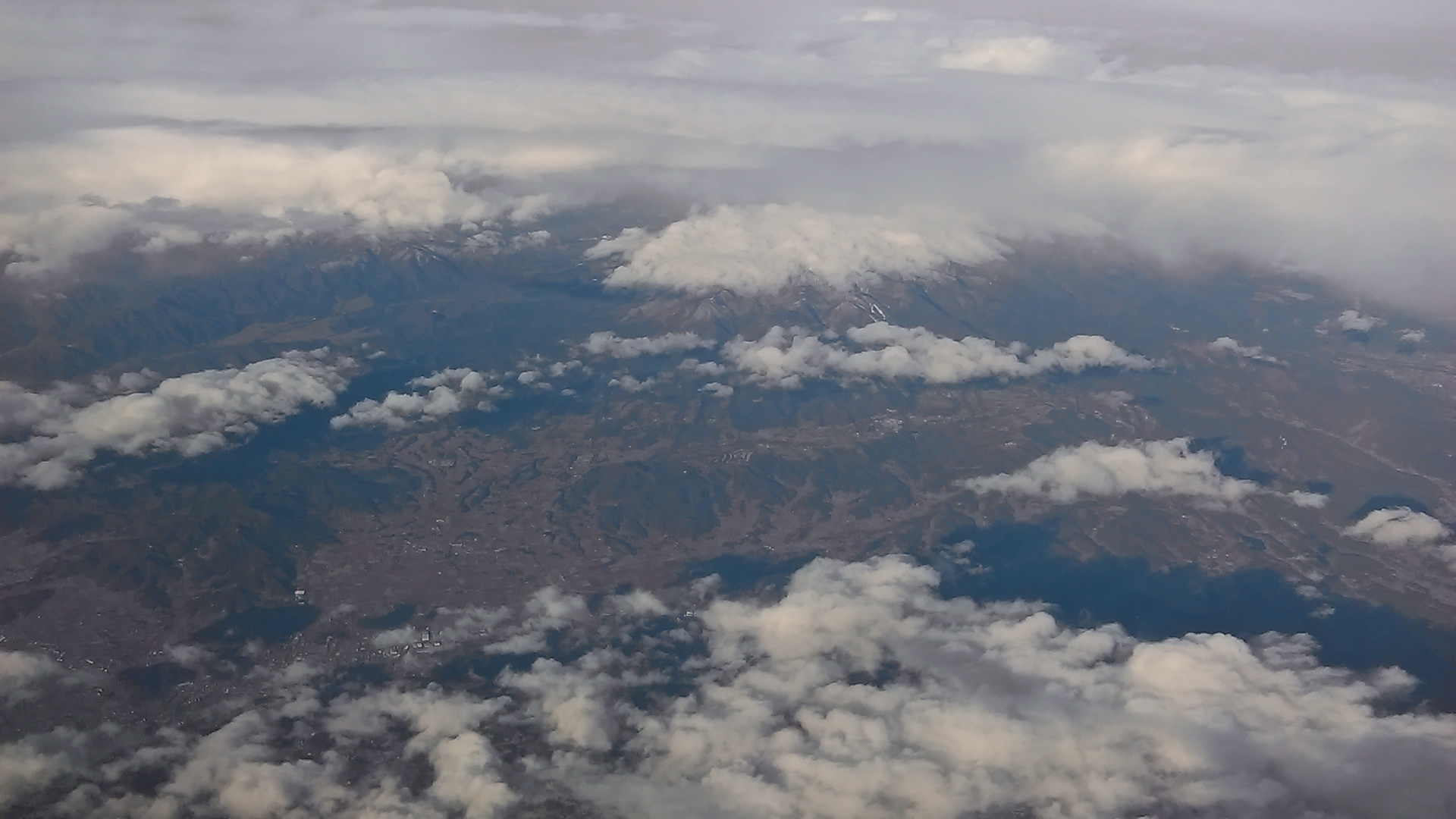 27 December 2015 – Missing Japan
Yes. I am missing Japan. So much it makes me want to cry. Top 5 things? 
1. My friends. I miss everyone so much there it's crazy. 
2. Manga and Games – It is everywhere compared to here! 
3. The food. The food is sooo goooood there. 
4. The music. I listen to a lot of Japanese music at home, but there is just something about listening to it there. It's magical. 
5. The city! I am a country person through and through but the way that Japan integrates nature and their cities are just incredible. Balanced and beautiful. 
BONUS: The language. When you translate things literally into English you really realise how poetic the Japanese language is. It's truly beautiful and am so grateful for being taught the basics so I can now go forth and learn more. Thank you for the foundation of my learning of this beautiful language Bisen! 
Top 5 things I have learnt? 
2. I can make friends everywhere, not matter what people have told you in the past, you can be loved be all kinds of people. 
3. Essential techniques for my future career! 
5. Shoganai, it can't be helped, is one of my favourite phrases in the Japanese language. I often catch myself whispering this to myself if something doesn't go to plan. 
BONUS: I love Japan, everything from it's historic culture through to its technological advancements. I just do and I really want a career there. This trip has confirmed this for me. Coming back to the UK has been more of a culture shock than when I arrived in Japan.
I need to get used to the fend for yourself attitude here. The people I spoke to in Japan, even strangers, wanted to help. It was a surprise when a worker from one store came out of the store with me to take me to another that I was enquiring about. They go out of their way to help you. A lady stopped her car when she saw us walking on the street in the pouring rain to give us umbrellas. You don't get that so much in the UK.
I'm not hating on the UK, it's just different. I love my home country just as much.
Now that Christmas is out of the way, I can looked to New Years. I want to work even harder than before to develop and learn so I can achieve my dream of working in Japan as an illustrator. I have a long way to go but I want to enjoy the journey. Thank you Bisen. I miss you!